Orlando City vs. Inter Miami: Final Score 1-1 as Sloppy Lions Drop Points at Home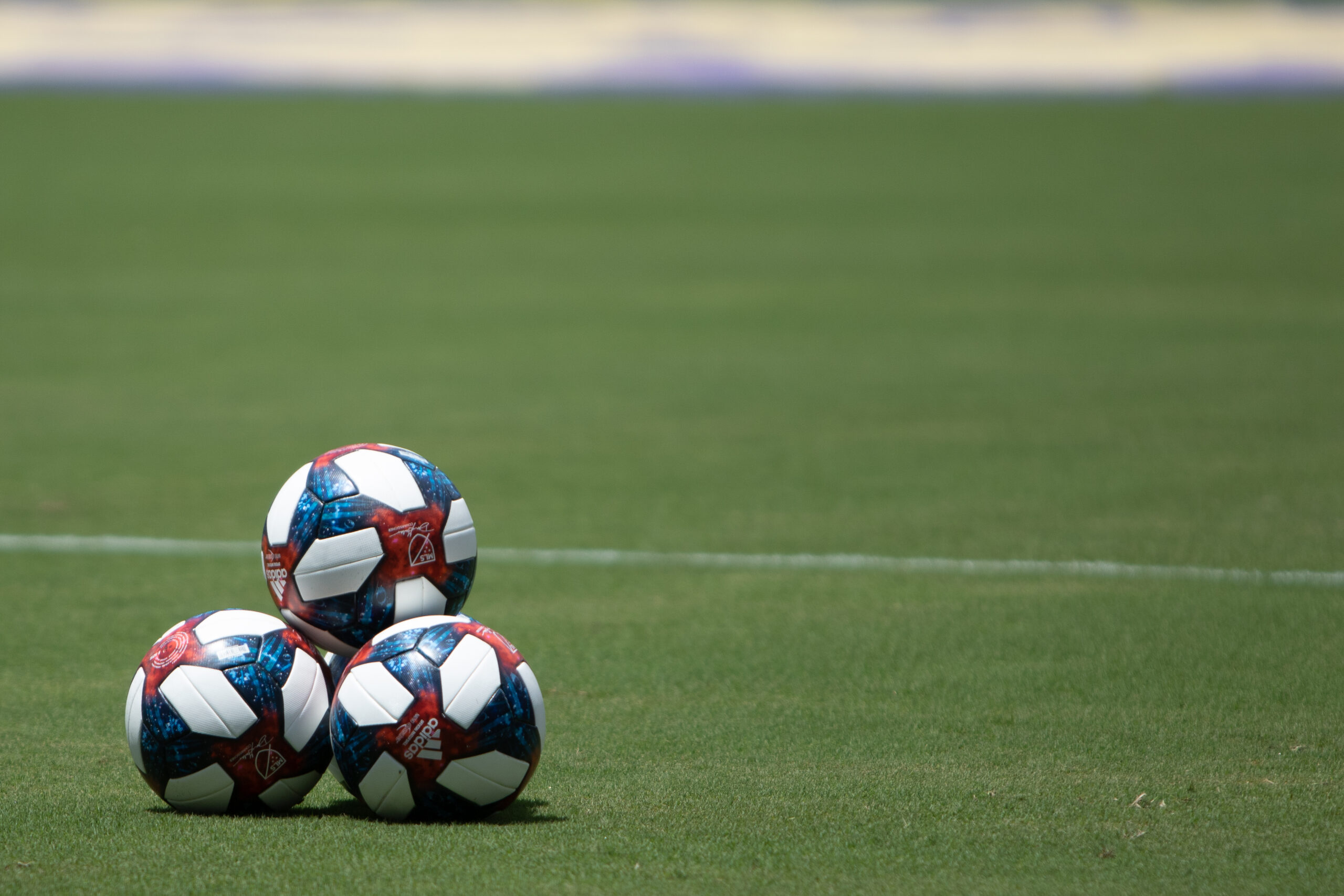 Antonio Carlos gave Orlando City a lead late in the first half but the Lions were wasteful and gave the ball away cheaply in the second half, allowing Inter Miami to sneak out of Exploria Stadium with a 1-1 draw after Kieran Gibbs' goal. It was an unsatsifactory result for Orlando City (8-4-5, 29 points), which had a chance to close the gap on New England but couldn't hold the lead against last place Miami (3-8-4, 13 points).
Tesho Akindele had a late goal disallowed for offside, which didn't help matters. Miami's point in Orlando was the first time in the Tropic Thunder rivalry that the Herons took any points away from the Lions at Exploria Stadium.
"I think it was a difficult game for both (teams)," Orlando City Head Coach Oscar Pareja said after the game. "It didn't flow for either team, I think, from the beginning. We couldn't find a rhythm. Miami didn't create any chances but we didn't have that volume in attack that we used to have, either."
Pareja's lineup was almost unchanged from the starting XI against Atlanta. Mason Stajduhar got his second straight start, with Adam Grinwis on the bench and Pedro Gallese still out. Kyle Smith and Ruan flanked center backs Robin Jansson and Carlos. Junior Urso started in place of Uri Rosell in the only change, alongside Andres Perea in the central midfield. Chris Mueller and Mauricio Pereyra facilitated the attack to Nani and Benji Michel.
Orlando City was sloppy in possession in the opening 10 to 15 minutes, trying to find a way through the Miami midfield trio of Blaise Matuidi, Victor Ulloa, and Gregore. Miami's defense was only partly responsible for the numerous poor passes or bad touches, but some of it was just sloppiness on the part of the Lions as they tried to settle into the match. Inter Miami committing seven of the game's first 11 fouls and 10 in the first half didn't help the flow of the game, either, but the Lions seemed to lack a sense of urgency for long stretches in the match.
The first good look for Orlando came in the 19th minute. Pereyra floated a cross in for Nani, who timed his run well. The captain got his head on the ball but struck it right at goalkeeper Nick Marsman. Four minutes later, Perea followed his own blocked shot and fizzed a strike just over the crossbar.
Pereyra freed himself up for a shot in the 37th minute but his effort was too close to Marsman, who made the save. Two minutes later, Smith nodded just wide off a Nani corner kick cross.
The Lions found an opener in first-half stoppage time. Michel won a corner kick and the Lions played short, which is usually when things go wrong. But instead, Nani delivered a fantastic ball into the area for Carlos to nod home.
Putting it all on the line for the goal! Vamos! #ORLvMIA | #VamosOrlando pic.twitter.com/EawyaS3wWb

— Orlando City SC (@OrlandoCitySC) August 5, 2021
Unfortunately, Carlos clashed heads with Kelvin Leerdam right after the header and needed a visit from the trainers. He finished the first half on the sideline being checked for a possible concussion and subbed off at the break for Rodrigo Schlegel.
After the match Pareja said the team is waiting for the doctors to fully evaluate Carlos to determine his condition and how to proceed.
Orlando City attempted more shots (8-1), fired more on target (3-0), held more possession (56.6%-43.4%), and passed more accurately (89.4%-85.6%), with each team winning three corners in the opening half.
The Lions should have doubled the lead in the 51st minute. A great through ball sent Ruan in behind the defense on the right. With options to shoot or find one of two teammates in the area, he sent a cross into the path of a defender and it was knocked harmlessly away.
A minute later, Miami sent a warning shot across Orlando's bow. Schlegel got himself out of position after tussling with Gonzalo Higuain, allowing Robbie Robinson to break in on goal. Robinson stayed wide and beat Jansson. Stajduhar came out to cut down the angle and Robinson chipped the ball over the top. Smith came back and made a leaping play to head the ball off the goal line to preserve the lead.
El Soldado to the rescue. 🚫@RealKyleSmith24 comes out of nowhere to keep the #VamosOrlando shutout intact. pic.twitter.com/NXU42z8XFO

— Major League Soccer (@MLS) August 5, 2021
Miami tied the match in the 66th minute after Orlando had multiple opportunities to clear the ball out of their end but couldn't find the handle or make a good pass out of traffic. The ball ended up on Miami's attacking right side and Victor Ulloa sent in a cross to the back post. Ruan was no match in the air for Gibbs who nodded just inside the left post, leaving Stajduhar no chance for a save.
A fullback connection and Gibbs heads it in the back of the net for a phenomenal goal!

| #ORLVMIA | 1-1 pic.twitter.com/vm8IyjUnH5

— Inter Miami CF (@InterMiamiCF) August 5, 2021
Smith nearly handed a winning goal away just seconds later. His back pass was too soft, allowing Lewis Morgan a chance to get to it. Stajduhar did well to get off his line quickly and take the ball off Morgan's foot in the 67th minute.
67' | BIG TIME STOP 🛑 Mason keeps us level 💪

1-1 | #ORLvMIA pic.twitter.com/Itbvw8DdLb

— Orlando City SC (@OrlandoCitySC) August 5, 2021
Orlando fashioned its next good chance in the 74th when Nani got down the left. He shot from a tight angle and Marsman was able to fight it off for a corner. Five minutes later, a pass sent substitute Silvester van der Water down the right but the Dutchman didn't hit the ball cleanly with his weaker foot and it squirted well wide of goal.
The Lions thought they'd regained the lead in the 82nd when Smith sent a cross in that Marsman spilled in front. Akindele tapped it in while Miami players argued with referee Armando Villarreal. After consulting with the Video Assistant Referee, Villarreal went to the monitor and didn't take long to overturn the goal, ruling Akindele offside in the buildup.
"I think Silvester had the ball at the top of the box. I thought he was going to shoot, so I ran in to get the rebound, but he passed the Kyle," Akindele said. "So I came back, and then when Kyle crossed I ran again and I guess I was barely offside. I saw the video. It did look like I was a bit offside, so it's fair enough. You get some bounce your way, some don't bounce your way."
The last good look for Orlando came in the 91st minute when Pereyra fired over the bar from just outside the area and that was that.
The Lions out-shot the visitors 14-4 (4-2 on goal), held more possession (56.7%-43.3%), passed more accurately (88.9%-81.9%), and earned more corners (7-4), but have only one point to show for a game in which Miami created very little. The Herons will happily take the point and their third non-loss in a row (1-0-2) and head back south.
"We couldn't combine as usually we do and maybe we are not now in our best shape," Pereyra said. "We are suffering a lot to win the games and we need to keep working and keep growing to go to the next level and try to go to the end of the season in the best shape."
"At the end of the day, it was just disappointing," Akindele said. "We expect to win games at home, especially when we're up 1-0. I think that we have the quality to close it out, so it's disappointing. I think it's not like the defense let us down or the offense. I think we just need to — as a group — be more solid and make sure when we have a lead, we take care of it and that when we're at home we win the games."
---
The Lions have another quick turnaround, with a trip to play FC Cincinnati on Saturday looming. That match is set for 7:30 p.m.
Orlando City vs. New York Red Bulls: Final Score 3-0 as Lions Extend Unbeaten Run to Five Games
A Facundo Torres brace and two goal contributions from Ivan Angulo led the Lions past 10-man New York.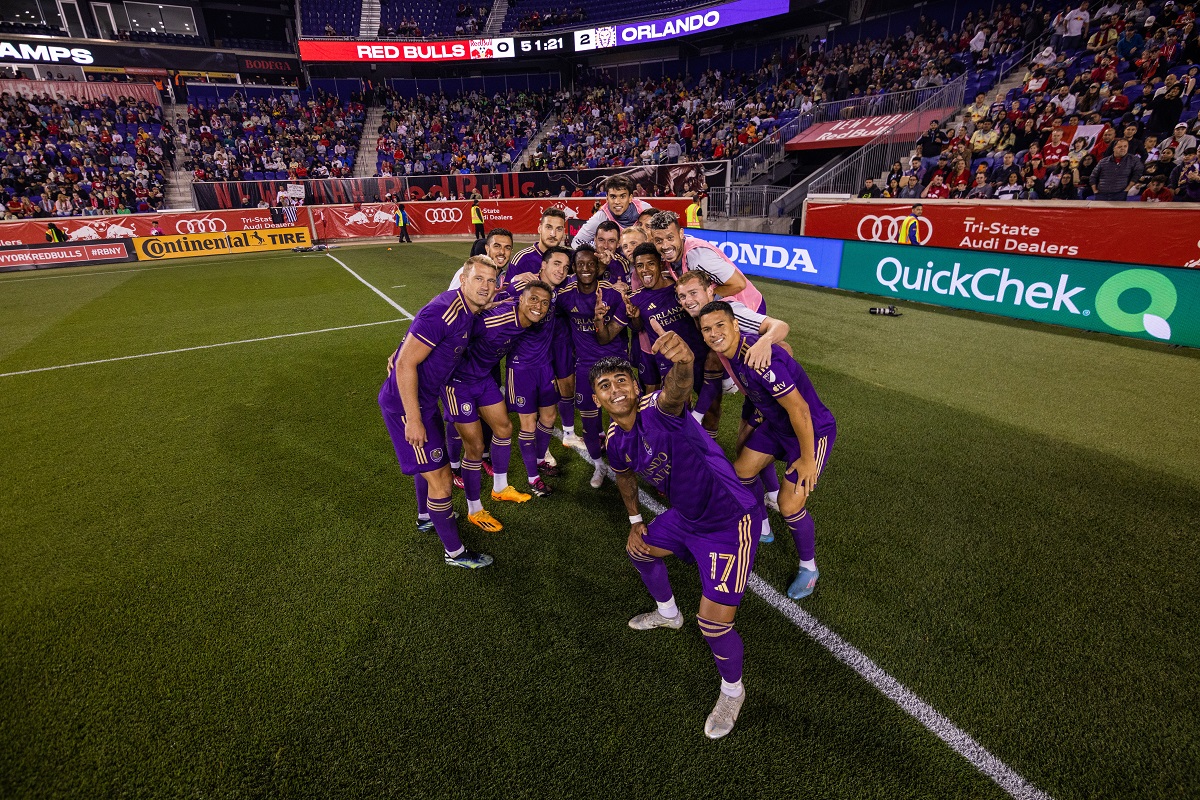 Facundo Torres scored a brace — getting one of his goals from the penalty spot — after Ivan Angulo opened the scoring, and the two wingers led Orlando City to a 3-0 win over the New York Red Bulls at Red Bull Arena in Harrison, NJ. The Lions (6-4-5, 23 points) extended their unbeaten streak to five games (2-0-3), improved to 4-1-2 on the road, and beat the Red Bulls (4-6-7, 19 points) for the fourth consecutive match in all competitions.
Angulo's first-half goal was the difference at halftime but just after the restart, the hosts had a player sent off, then conceded a penalty, and New York finished with nine men after using all five substitutions due to Lewis Morgan picking up an injury.
"It's a great victory for our team. We needed something like that at this stage of the season," Orlando City Head Coach Oscar Pareja said after the match. "We're still finding ways to get better, but when you look back and see how we have overcome moments…today was another good example of the character of the players. And under that discipline and cohesiveness with the players on the field, we found our ways to score in the right moments and beat a difficult rival that never gave up. So we're very happy with the victory."
It was Pareja's 50th win as Orlando City's coach in all competitions.
Pareja's lineup was the same as last weekend vs. Atlanta, featuring Pedro Gallese in goal behind a back line of Rafael Santos, Robin Jansson, Antonio Carlos, and Kyle Smith. Cesar Araujo and Wilder Cartagena continued their central midfield partnership behind an attacking line of Angulo, Mauricio Pereyra, and Torres, while Ercan Kara led the attack up top.
The first half was a complete rock fight, with neither side getting much done in the first 15 minutes. New York had the better of the play, however, with Gallese getting caught far from his net in the 12th minute, but the defense was able to clear the centering pass. Two minutes later, New York got forward when Carlos took a forearm in the back and went down. When no call came, Dru Yearwood raced forward and got to the ball at the end line, but Gallese blocked his tight-angle shot out for a corner.
The Lions opened the scoring in the 18th minute. Defender John Tolkin got caught high up the pitch and Orlando made the hosts pay. Cartagena unlocked the defense with a through ball for Angulo to run onto. The Colombian dribbled in, avoided a sliding challenge attempt from Dylan Nealis, and fired home with his left foot for his third goal of the season.
Much of the rest of the half consisted of Orlando surviving transition attacks and then turning the ball over shortly after taking a goal kick. The Red Bulls had a golden opportunity in transition in the 30th minute, but Luquinhas hit a soft shot right at Gallese after Pererya lost the ball just past the halfway line, igniting the Red Bulls' transition game.
Torres laid off a ball for Smith in the box in the 41st minute, and the defender should have done better from that position, but he sent his shot about six yards wide of the left post.
The Red Bulls presented a ton of difficulty in what was announced as a minimum of five minutes of stoppage time (for…reasons), which ended up becoming eight. Tom Barlow should have scored into an empty net in the seventh minute of injury time but he fired well over the bar from the top of the box with Gallese out of position from an initial shot attempt.
The Lions held more possession in the opening half (52.1%-47.9%). The Red Bulls had more shots (7-2) and shots on target (2-1), earning the only corner of the opening period. Neither team passed well, with Orlando City holding a slim 76.1%-74.9% advantage. But it's where the Lions made poor passes — the middle third of the field — that was concerning and led to most of the danger New York presented.
The game got weird just after the restart. Just two minutes after the break, a ball over the top found Kara, who powered past Andres Reyes. The big center back, who was on a yellow card for a high hit on Torres late in the first half — a play that was reviewed as a possible red but wasn't changed after review — pulled Kara back in transition and received a second yellow card, ending his night after 47 minutes.
The Red Bulls cleared the ensuing free kick, but moments later, when play stopped, referee Victor Rivas went to the monitor again to review the earlier set piece. Sean Nealis had pulled Jansson down from behind as the ball was arriving, and Rivas awarded a penalty after watching the replay. Torres stepped up to the spot and beat Coronel — who guessed correctly — putting it in the top right of the net with a great deal of power. Torres' second goal via penalty against New York this season made it 2-0 in the 52nd minute.
Torres said Coronel tried to psych him out before the penalty.
"I think everyone agrees that if a penalty is well taken, there's limited possibilities that the goalkeeper has to save it," Torres said through a club interpeter. "And so, I had that in my mind walking up, even though this goalkeeper knows me a little bit. And he was actually saying that to me when I was walking up to take the penalty and mentioning that he knows me and that he's faced me before. But like I said, when when you're taking a penalty, if it's well taken, the penalty taker has the more possibilities to put it in the back of the net. So that was kind of what I was thinking going in, is if I take this well, there's not much that he can do about it."
Torres took it well.
Things looked good for Orlando after the second goal, but then Araujo went down with an injury and had to be subbed off, with Felipe entering the battle in the 57th minute.
Even down two goals and a man, the Red Bulls continued to press high up the pitch. Even up a man, Orlando City continued to be careless with the ball, giving up possession repeatedly and flirting with New York's counterattack game. Tolkin saw his shot deflect out for a corner in the 58th minute. Orlando cleared and Torres raced down the field in transition but somehow managed to get dispossessed, allowing the hosts to come the other way. Yearwood fired wide on the other end to end the counter-counterattack.
Pareja sacrificed Kara and Pereyra for Duncan McGuire and Martin Ojeda after that, and things calmed down for a few moments. Angulo was sent down the left in the 65th minute and his shot from a tight angle was saved by Coronel.
Torres put the game away in the 72nd minute. The Lions cleared a set piece and Ojeda knocked the ball down the pitch on the recycle attempt. The ball ended up in acres of space and Angulo blazed past Frankie Amaya to reach it first and carry it down the left. He drew a second defender toward him, and then fed a perfect pass to his right for Torres to bury.
The hosts, to their credit, did not give up. Down a man and three goals, after playing in Miami three nights earlier, the Red Bulls just kept coming. Second-half sub Elias Manoel fired a shot that Jansson blocked in the 76th minute.
Torres had a chance to complete his hat trick a minute later, but he unselfishly tried to cross for Ojeda, and the defense knocked it out for a corner. A minute later, Torres sent a well-shaped cross from the left to Ojeda, but the Argentine smashed his volley effort into the ground and it bounced off target.
New York then won a series of late corners and Orlando had a scary moment in the 82nd minute when Dylan Nealis fell into Gallese's leg as the goalkeeper was landing after catching the ball. Gallese looked to be in a great deal of pain and distress, but after several minutes of treatment he was able to continue.
He didn't look steady moments later though, when he took too much time to make a pass and it was nearly blocked into the goal behind him by Manoel. It went just wide.
Jansson blocked a menacing shot from Morgan in the 91st minute, and the New York midfielder went down after the shot. Morgan was unable to continue. The Red Bulls were out of subs and had to finish the game with nine men. Nevertheless, they kept pressing and winning the ball from a careless Orlando side, but the Lions were able to see out the eight minutes of stoppage and claim all three points.
The Lions finished with more possession (51.2%-48.8%) and fired more shots on target (5-2). The hosts passed more accurately (79.2%-78%), attempted more shots (14-7), and won more corners (8-2).
Orlando City's three goals were the most conceded by New York's stingy defense this season, and the Lions matched their season high with three goals in the match, which they set in their last road game at Inter Miami.
Pareja said the counterattacking style of play was the game plan entering the match.
"New York is a team who like to press high all the time, and their intensity to create chaos and and confuse the teams, forcing them to make mistakes, is a style that we respect and we know. Every time we play against them it's that way. But that provides some spaces in behind and with them it's a key to be sharp in the moments that the game allows us to get in behind and be lethal in those moments, and that was exactly what happened tonight."
---
Orlando City returns home next Saturday to host the Colorado Rapids at 7:30 p.m.
Orlando City vs. New York Red Bulls: Preview, How to Watch, TV Info, Live Stream, Lineups, Match Thread, and More
The Lions look to get their offense going on the road against one of the league's stingiest teams.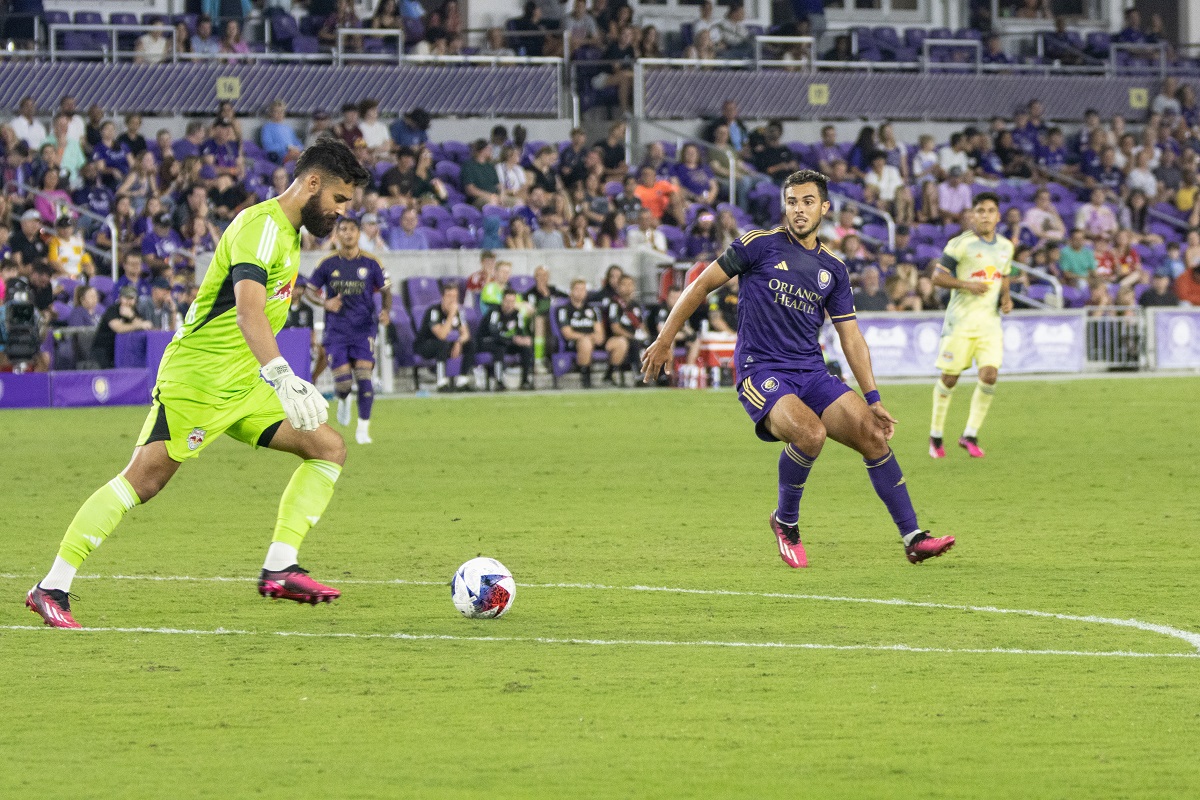 Welcome to your match thread and preview for a Saturday night match-up between Orlando City (5-4-5, 20 points) and the New York Red Bulls (4-5-7, 19 points) at Red Bull Arena in Harrison, NJ (7:30 p.m., MLS Season Pass on Apple TV). This is the second of the two scheduled league matches between the sides this season.
Here's what you need to know for the match.
History
The Lions are 7-9-2 in 18 league meetings with the Red Bulls in the all-time series (8-9-2 in all competitions), with a record of 3-5-1 in road matches.
The most recent meeting between the sides took place on opening day, with Orlando City winning 1-0 on a Facundo Torres penalty kick on Feb. 25 at Exploria Stadium. Sean Nealis' handball allowed the Lions to start the season with a victory.
Orlando City won the most recent meeting at Red Bull Arena, a 1-0 decision on Aug. 13, 2022, thanks to a Torres goal. That allowed the Lions to split the regular-season meetings and take two of three against New York in all competitions in 2022.
The Lions scored five unanswered goals to turn a 1-0 deficit into a 5-1 romp in the U.S. Open Cup semifinals on July 27, 2022 at Exploria Stadium. Cesar Araujo scored his first two professional goals on set pieces, while Mauricio Pereyra, Torres, and Benji Michel also found the net.
The win last August allowed the Lions to snap a four-game winless streak (0-3-1) in the regular-season series. The last of those non-wins came on April 24, 2022, when the Lions were walloped 3-0 at home on goals by Luquinhas, Cristian Casseres Jr., and Lewis Morgan, and Orlando City failed to get any of its measly three shot attempts on target.
The Red Bulls swept the season series in 2021. The teams met at Exploria Stadium on July 3 of that season with New York taking home a 2-1 win. Casseres opened the scoring just six minutes in, but Chris Mueller pulled the Lions level early in the second half. Fabio's late goal lifted the visitors. Pereyra's poor penalty was saved by Carlos Coronel, which cost Orlando City a better result.
The Red Bulls also handed Orlando City its first loss of the 2021 season, a 2-1 affair at Red Bull Arena, on May 29, 2021. Nani was suspended for that match and it showed, as the Lions were sloppy in possession and lacked composure on the ball. New York took the lead on goals by Caden Clark and Casseres, before Silvester van der Water pulled one back late. The Dutchman had a golden opportunity to tie the match moments later but skied his shot well over the bar.
The Lions got a road draw on Oct. 18, 2020, with Brian White equalizing deep in stoppage time in a 1-1 match. Nani had put the Lions ahead in the second half with a penalty kick goal and Orlando clinched its first ever MLS playoff spot despite spilling those late two points. That was the last match in the club's record 12-match unbeaten streak in MLS play.
Orlando got the better of New York at Exploria Stadium on Oct. 3, 2020, winning 3-1 on goals by Daryl Dike, Junior Urso, and Antonio Carlos. Florian Valot scored for New York.
The Red Bulls won 1-0 at Exploria Stadium on July 21, 2019. White's goal stood up as Carlos Ascues, Tesho Akindele, and Sacha Kljestan each hit the woodwork in the second half. Prior to that, the Lions eked out a 1-0 win at Red Bull Arena on Kljestan's goal on March 23, 2019. Before that game, the home team had won each of the previous five home games in the series, splitting a pair of matches during the 2017 and 2018 seasons.
The teams split two meetings in 2018, with the Red Bulls grabbing a 1-0 result in the 2018 season finale to capture the Supporters' Shield and the Lions pulling off a 4-3 home victory on March 31, 2018. Each team won at home in 2017 to split the two-game series, with New York winning 3-1 on Aug. 12, and Orlando City opening the season series with a 1-0 win on April 9 behind Servando Carrasco's goal.
The teams met three times in 2016, with New York going 2-0-1. The teams split two games in 2015, with the road team winning both times, including Orlando City's 5-2 win in New Jersey behind a Cyle Larin hat trick.
Match Overview
Orlando City enters this match on a four-game unbeaten run but only one of those was a win (1-0-3) — on the road at Inter Miami two weeks ago. Two of those three draws saw Orlando take a 1-0 lead but fail to add a second goal, with both New York City FC and Atlanta United stealing points with equalizers after the 85th minute.
The Lions are 3-1-2 on the road this season, which is much better than their 2-3-3 home mark. City has gotten a result in two straight away games (1-0-1).
New York is coming off a 1-0 win at Inter Miami on Wednesday night. That was the Red Bulls' first road victory of the year, as they improved to 1-4-4 away from Red Bull Arena. They've been much better at home, going 3-1-3 so far in 2023. New York has won two straight home games and has gone 3-1-2 since Troy Lesesne took over as coach following the firing of Gerhard Struber.
The Red Bulls' success has been entirely predicated on their defense. They've scored just 11 goals in 16 games — the worst in Major League Soccer — but they have conceded only 13 goals on the season, which is second only to Nashville's 10 (in 15 games). New York doesn't allow many shots, and the Lions have been held to fewer than four shot attempts in two of the last three regular-season meetings and just six back in February (one on target). That defense, led by John Tolkin, Andres Reyes, and Nealis, and fronted by several capable defensive midfielders/wingbacks, has limited opponents' chances and Coronel is a solid goalkeeper behind them.
Morgan's return from injury could bolster the New York attack, which is generated largely through turning opponents over and getting transition opportunities. Tom Barlow and Cory Burke pace the Red Bulls with two goals apiece, along with Reyes — a formidable aerial presence — and the injured Omir Fernandez.
"We played them [the New York Red Bulls] already here at home. We know how they are and their characteristics," Orlando City Head Coach Oscar Pareja said ahead of the match. "We will work during the week with our tools. It will be great if we cannot just dominate the game but open it up and then lead the game and just walk out with three points. That's what we want."
Orlando City will be without Gastón González (thigh), Abdi Salim (knee), and Michael Halliday (international duty), while Luca Petrasso (thigh) has been upgraded to questionable. New York is without Serge Ngoma (hamstring), Fernandez (hamstring), Steven Sserwadda (knee), Cam Harper (red card suspension), and Daniel Edelman (international duty).
Match Content
---
Official Lineups
Orlando City (4-2-3-1)
Goalkeeper: Pedro Gallese.
Defenders: Rafael Santos, Robin Jansson, Antonio Carlos, Kyle Smith.
Defensive Midfielders: Cesar Araujo, Wilder Cartagena.
Attacking Midfielders: Ivan Angulo, Mauricio Pereyra, Facundo Torres.
Forward: Ercan Kara.
Bench: Mason Stajduhar, Thomas Williams, Rodrigo Schlegel, Dagur Dan Thorhallsson, Felipe, Shak Mohammed, Martin Ojeda, Ramiro Enrique, Duncan McGuire.
New York Red Bulls (4-2-3-1)
Goalkeeper: Carlos Coronel.
Defenders: John Tolkin, Sean Nealis, Andres Reyes, Dylan Nealis.
Defensive Midfielders: Dru Yearwood, Peter Stroud.
Attacking Midfielders: Tom Barlow, Cristian Casseres Jr., Luquinhas.
Forward: Cory Burke.
Bench: Ryan Meara, Hassan Ndam, Kyle Duncan, Wikelman Carmona, Frankie Amaya, Lewis Morgan, Elias Manoel, Dante Vanzeir.
Referees
REF: Victor Rivas.
AR1: Jeffrey Greeson.
AR2: Adam Garner.
4TH: Alexis Da Silva.
VAR: Kevin Terry Jr.
AVAR: Eric Weisbrod.
---
How to Watch
Match Time: 7;30 p.m.
Venue: Red Bull Arena — Harrison, NJ.
TV/Streaming: MLS Season Pass on Apple TV.
Radio: FM 96.9 The Game (English), Acción 97.9 FM and 810 AM (Spanish).
Twitter: For rapid reaction and live updates, follow along at @TheManeLand, as well as Orlando City's official Twitter feed (@OrlandoCitySC).
---
Enjoy the match. Go City!
Lion Links: 6/3/23
The Orlando Pride hit the road, OCB players called up, USMNT U-20 squad can make history, and more.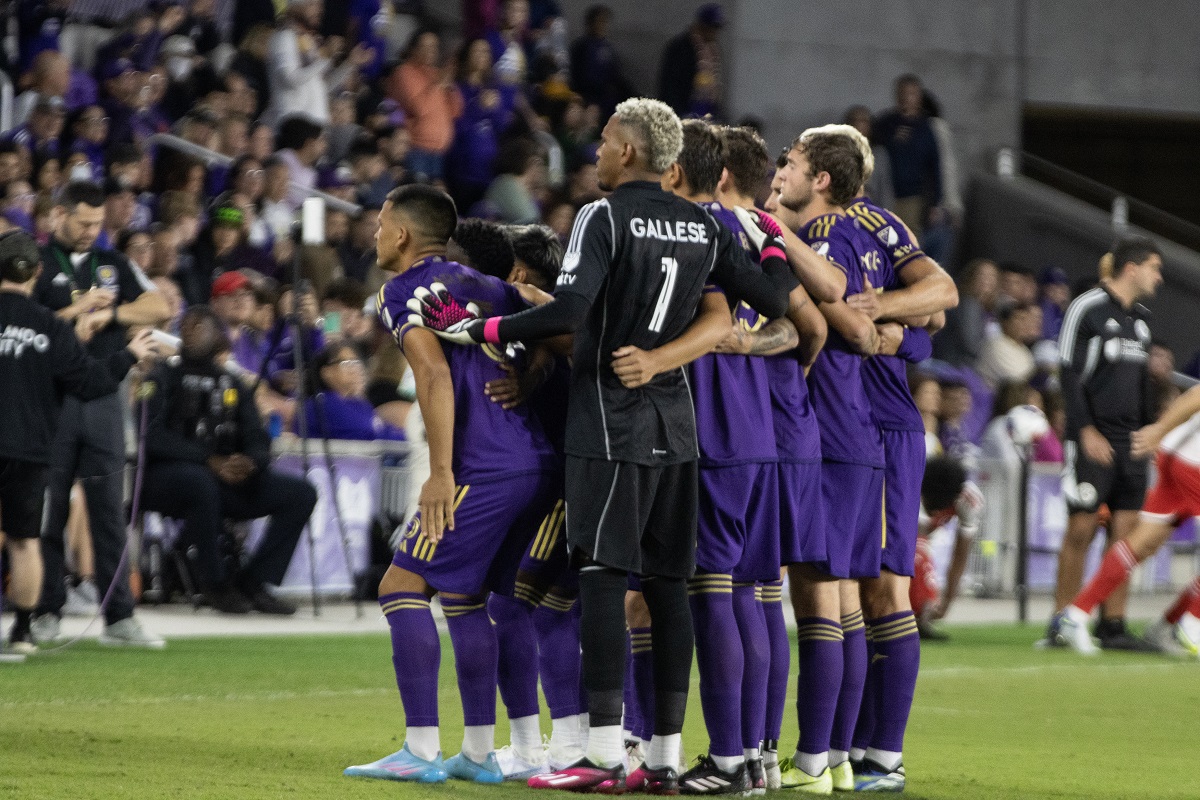 Merry match day morning, Mane Landers! I hope you have multiple screens ready as both Orlando City and the Orlando Pride are in action this evening. Hopefully, it will be a weekend of better results for the clubs, as both are coming off difficult results. It's been a busy week for me already and it won't slow down anytime soon, so enjoying matches is a nice break. Let's get to the links.
Orlando Pride Start a Busy Stretch
The Orlando Pride are heading west to play the Houston Dash tonight, followed by an NWSL Challenge Cup match against NJ/NY Gotham FC on Wednesday, and then back to Exploria Stadium to host the Portland Thorns next Sunday. Three games in nine days will test the club's depth and it's reasonable to expect a heavily rotated side in the Challenge Cup match. The Pride enter tonight looking for a second straight win over the Dash. To make that a reality the Pride will need to create and this time convert on the chances on goal.
OCB Venezuelan Call-ups
Goalkeeper Javier Otero and fullback/winger Moises Tablante have been called up to the Venezuelan National Football Team for a pair of friendlies this month (translate). Venezuela will face Honduras on June 15 in Washington, D.C. and Guatemala at Rentschler Field on June 18 in East Hartford, Connecticut.
Orlando City B may only be without them for one match, but the team will certainly miss the pair during the time they are on international duty. Otero has been very good in goal, and Tablante has been contributing to the attack. Of course, it is an honor for both to represent their national team and we wish them well.
Pride Month Kicks Off
Both Orlando City and the Orlando Pride are celebrating Pride Month with logo changes for both squads. The Pride will be hosting the "Pride in our City" match against the Portland Thorns on June 11 in tribute to the victims of the Pulse Nightclub tragedy.
The Lions and the Pride are only two of many other sports teams to recognize and celebrate the LGBTQIA+ communities in June. Other teams include the Wilf-owned Minnesota Vikings and Florida-based Major League Baseball club, the Tampa Bay Rays.
USMNT U-20 Opportunities
When the U-20 USMNT squad meets Uruguay on Sunday there is the possibility that some of the players will also make an appearance for the senior squad in the 2026 World Cup. It's also possible that this team can advance, possibly to the final. If so, they will make history. If the team makes it past Uruguay either Brazil or Israel will await in the semifinal. Of course, the U.S. is not the only team in Argentina with a path to the trophy.
Free Kicks
---
That will do it for today. Check back for our coverage of both Orlando City and the Orlando Pride. Vamos Orlando!