Orlando City vs. D.C. United: Preview, How to Watch, TV Info, Live Stream, Lineups, Match Thread, and More
The Lions will try to reverse both their home struggles and their run of results against Wayne Rooney's United.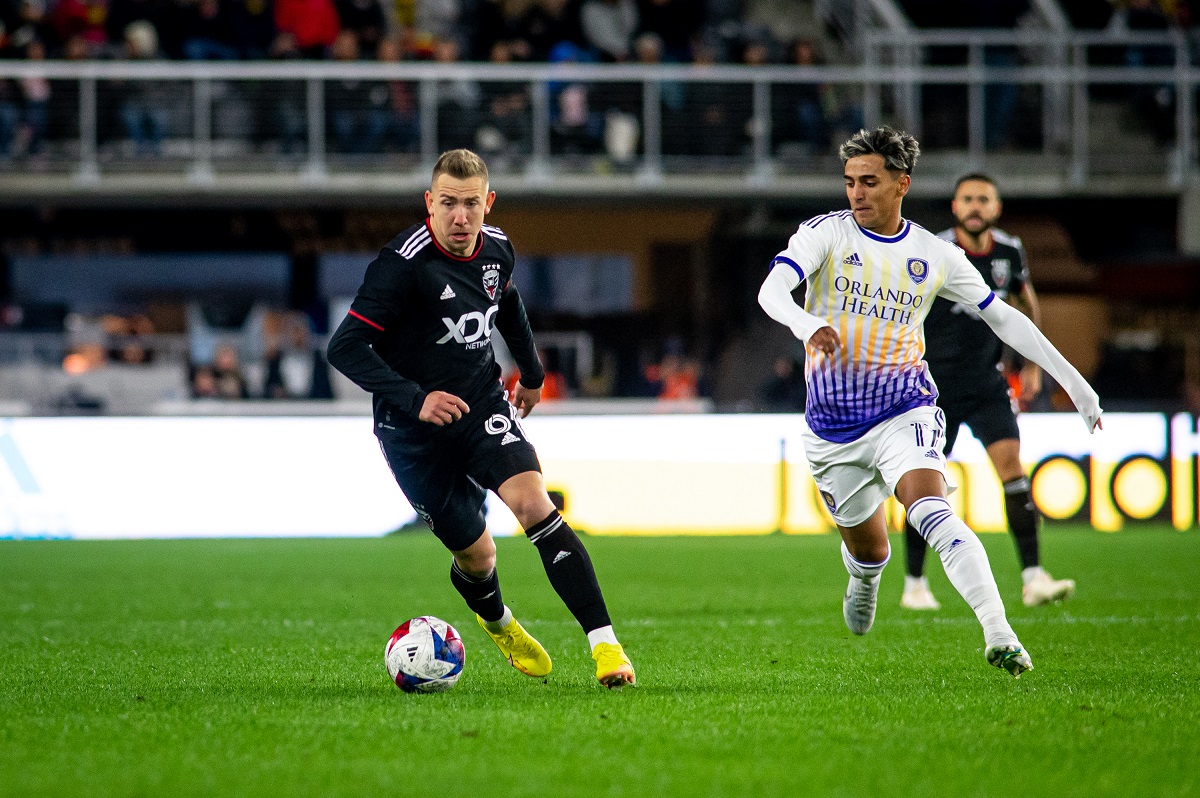 Welcome to your match thread for a Saturday night match-up between Orlando City and D.C. United at Audi Field (7:30 p.m., MLS Season Pass on Apple TV+). This is the second of the two scheduled MLS matches this season between the Lions (3-2-2, 11 points) and the Black and Red (2-4-2, 8 points). The teams drew in their first meeting of the season. (More on that below.)
Here's what you need to know ahead of the match.
History
The Lions are 6-8-2 against D.C. in the all-time league series since the club joined MLS, and 6-8-3 in all competitions. Orlando is slightly better on its own pitch, going 4-3-1 in home matches against D.C. The Black and Red have managed three consecutive results in the series (2-0-1) since Wayne Rooney took over as D.C.'s manager. Oscar Pareja is 5-5-2 in his managerial career against D.C.
Orlando City is just 1-2-1 at home this season and D.C. is 1-2-1 on the road, with that away win coming last week at CF Montreal.
These teams squared off in D.C. just a few weeks ago in D.C., splitting the points in a 1-1 draw at Audi Field on March 11. Duncan McGuire scored his first MLS goal in the match but Chis Durkin leveled things late in a match that was sandwiched between Orlando City's two legs of Concacaf Champions League play against Tigres UANL.
D.C. swept the season series in 2022, despite being a terrible team that "won" the league's Wooden Spoon by no small margin. The meeting in D.C. last year took place July 31 and saw Orlando City dominate the first half but miss multiple glorious chances to put the game away early. The Lions were wasteful and took only a 1-0 lead into stoppage time, thanks to Junior Urso's first-half goal, only to fall 2-1 on stoppage-time strikes by Chris Durkin and Taxi Fountas.
The teams also met on Independence Day at Exploria Stadium (the league seems to like to make these teams play twice just a few weeks apart), with D.C. putting together a performance out of nowhere in a 5-3 road win. Fountas netted his first MLS hat trick and Kimarni Smith and Nigel Robertha added their first goals of the season. Facundo Torres, Ercan Kara, and Alexandre Pato scored for Orlando, threatening to bring the Lions back, but Orlando could never get on level terms.
The teams met twice in 2021, including Oct. 2 at Exploria Stadium. Daryl Dike scored a dramatic, late winner deep in stoppage to lift the Lions to a 2-1 home victory. Robin Jansson scored a first-half goal off a corner kick scramble to offset an early Julian Gressel strike. The first match of 2021 took place on May 16 in D.C., with the Lions winning 1-0 on an early Mauricio Pereyra goal. That win snapped United's 3-0-1 streak in the series in league play and 3-0-2 in all competitions dating back to City's previously most recent win over D.C. back in 2017.
The teams did not meet in what was an odd 2020 season.
D.C. United swept the season series in 2019, winning 1-0 at Audi Field back on June 26, 2019. Wayne Rooney's wondergoal from his own half of the pitch caught Brian Rowe napping and served as the only scoring in that match. The Lions fell 2-1 at home on March 31, 2019, with set pieces ruining the night for Orlando. You might recall the controversy that surrounded the winning goal, with then-coach James O'Connor visibly upset after the match. Steve Birnbaum scored the first on a set piece and Rooney scored the second on a free kick that he took from wherever the hell he wanted rather than where the foul occurred. Frederic Brillant bulldozed Rowe on the play as the ball sailed into the net.
D.C. was 1-0-2 in three total meetings (two in league play) in 2018. Orlando swept the two league meetings in 2017, the teams split two lopsided games in 2016 — with each team winning at home — and the Black and Red went 2-1-0 in the first three meetings back in 2015.
Match Overview
Orlando City is coming off a come-from-behind 2-1 win over Minnesota United last Saturday night at Allianz Field. The win kept the Lions unbeaten on the road in 2023 and they'd love to start replicating that success at Exploria Stadium. OCSC is winless at home in three matches (0-2-1) with two consecutive losses in league play. Toss in a 1-1 draw with Tigres and you need to go back to opening day since Orlando won at home.
Conversely, D.C.'s win at Montreal last weekend was the club's first win anywhere since a victory at Audi Field on opening day against Toronto FC.
The Lions will need to be aware of where Christian Benteke is at all times. The former Crystal Palace, Liverpool, and Aston Villa man leads D.C. in goals (3), shots (22), and shots on target (8). D.C. looks for him often and from everywhere. Watch for goalkeeper Tyler Miller to launch long balls to the 6-foot-3 guy up top.
Greek Designated Player Taxiarchis Fountas is D.C.'s all-time leading scorer against Orlando City, with four goals to his credit. Fountas, who did not play in the first meeting due to a thigh injury, has only played four matches this season (three starts) but is already second on the club in shots (14) and tied with Benteke for shots on target (8). Polish international Mateusz Klich is another D.C. player that Orlando City will need to keep an eye on. Klich has a goal and a pair of assists on the year.
"The league is in a moment where teams are adjusting. It's a journey of 34 games and now we're at seven or eight and I think all of the coaches are trying to look for the best positioning, the best model, and best structure, so we're expecting teams and rivals to change," Pareja said ahead of the match. "Based on our last performance against D.C., we did play well. We were 10 minutes out from bringing home three points and they ended up tying the game. I think they're going to come with a couple of new players that they have that did not play that one game. They won against Montréal [last week] so their motivation should be high too. All those things have to be in the equation, and most importantly, as we always say, is to see if we can impose our style and our ways. It's going to be a challenge against a good rival like any other."
The only player on Orlando City's availability report heading into the weekend is Homegrown fullback Michael Halliday (thigh), who remains out. D.C. lists Brendan Hines-Ike (foot), Martin Rodriguez (knee), Nigel Robertha (ankle), Derrick Williams (thigh), and Mohanad Jeahze (thigh) as out for tonight.
Mandatory Match Content
---
Official Lineups
Orlando City (3-4-2-1)
Goalkeeper: Pedro Gallese.
Defenders: Rodrigo Schlegel, Robin Jansson, Antonio Carlos.
Midfielders: Gaston Gonzalez, Mauricio Pereyra, Cesar Araujo, Ivan Angulo.
Attacking Midfielders: Facundo Torres, Martin Ojeda.
Forward: Duncan McGuire.
Bench: Mason Stajduhar, Rafael Santos, Kyle Smith, Abdi Salim, Wilder Cartagena, Felipe, Dagur Dan Thorhallsson, Ramiro Enrique, Ercan Kara.
D.C. United (4-4-2)
Goalkeeper: Tyler Miller.
Defenders: Victor Palsson, Donovan Pines, Steven Birnbaum, Ruan.
Midfielders: Mateusz Klich, Lewis O'Brien, Russell Canouse, Pedro Santos.
Forwards: Christian Benteke, Taxiarchis Fountas.
Bench: Alex Bono, Andy Najar, Matai Akinmboni, Jacob Greene, Jackson Hopkins, Chris Durkin, Yamil Asad, Theodore Ku-Dipietro, Kristian Fletcher,
Referees
Ref: Lukasz Szpala.
AR1: Jose Da Silva.
AR2: Andrew Bigelow.
4TH: Tori Penso.
VAR: Edvin Jurisevic.
AVAR: Tyler Wyrostek.
---
How to Watch
Match Time: 7:30 p.m.
Venue: Exploria Stadium — Orlando.
TV/Streaming: MLS Season Pass on Apple TV+.
Radio: FM 96.9 The Game (English), Acción 97.9 FM, 810 AM (Spanish).
Twitter: For rapid reaction and live updates, follow along at @TheManeLand, as well as Orlando City's official Twitter feed (@OrlandoCitySC).
---
Enjoy the match. Go City!
Orlando City at New York City FC: Five Takeaways
What did we learn from Orlando City's 2-0 loss to NYCFC?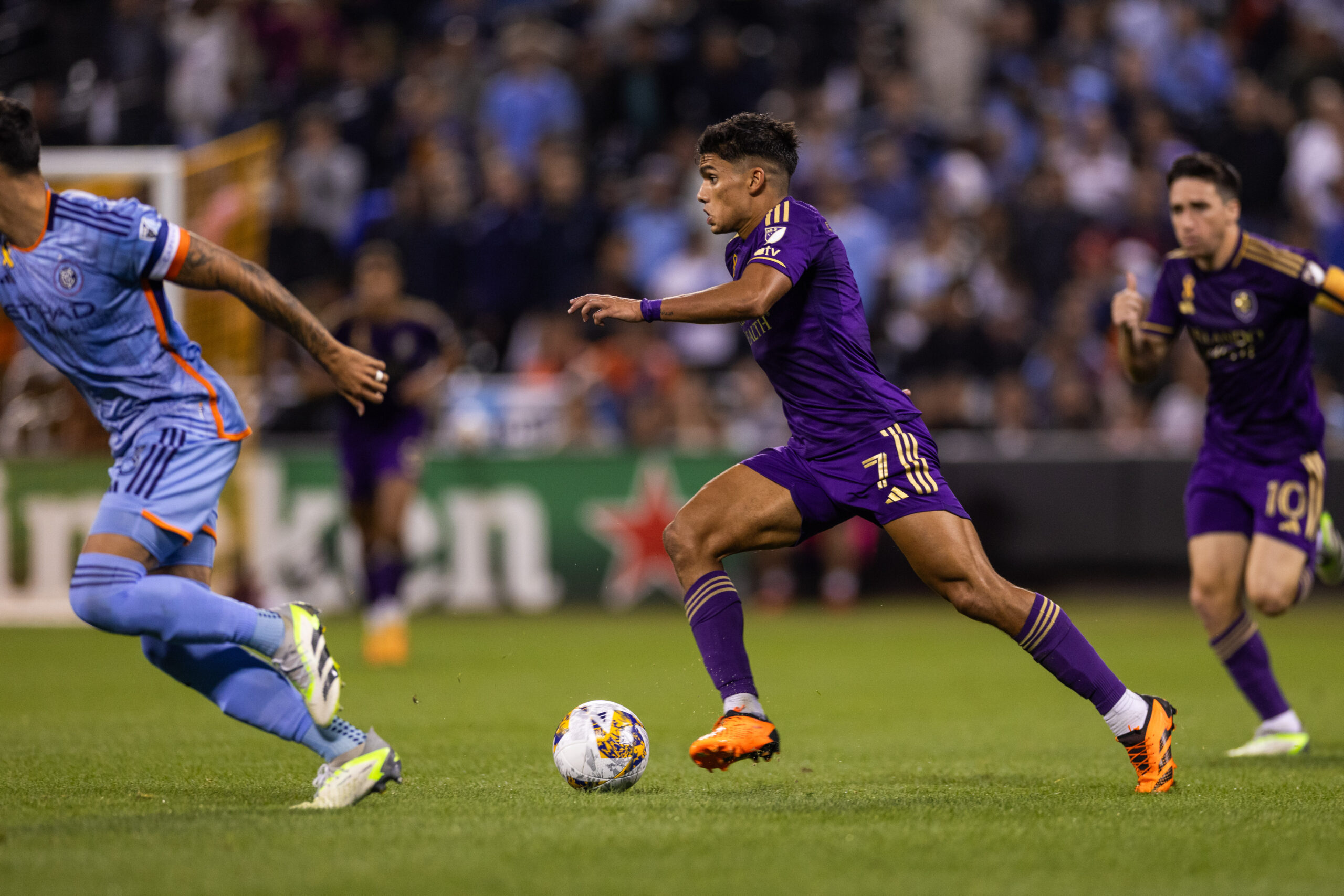 Orlando City traveled to a baseball field to take on New York City FC. This time it was Citi Field and not Yankee Stadium. While it is a slightly bigger field, it's still not the way that soccer should be played. Nevertheless, the Lions had the opportunity to secure a playoff berth with a win or a draw against the Pigeons. A 2-0 loss to NYCFC made that a lot tougher.
What follows are the five takeaways from a mostly forgettable match in which Orlando City clinched a playoff berth despite the loss.
Gallese Keeps it Close
It started early with a huge save from Pedro Gallese on former Lion Andres Perea's shot from inside the box. El Pulpo even made the save on Santiago Rodriguez's penalty kick, but the follow up by Mounsef Bakrar was well away from him and thus there was not any way for him to make the save. Gallese ended up with five saves on the night and was a big reason that it wasn't worse than it was.
Enrique is no Defender
Ramiro Enrique tracked back in defense, following Rodriguez after a midfield turnover. Unfortunately, Enrique is not a defender and he got his feet tangled with Rodriguez. Although it was initially called a goal kick and no foul was given, referee Ismail Elfath took another look at the play on the replay monitor. The penalty was probably rightly called and Rodriguez took the shot. As mentioned above, Gallese made the save but it still ended up in the back of the net due to a failure to react before Bakrar.
Second Half Adjustments
Oscar Pareja made some halftime adjustments, moving Ivan Angulo from the left side to the right, and pushing Facundo Torres more central. At the 58th minute mark he brought on Martin Ojeda, Duncan McGuire and Luca Petrasso. Given how Enrique and Rafael Santos were playing, this was a good decision. However, given these were offensive minded changes, Orlando City gave up a second goal. We're so used to Pareja's adjustments creating results that when they don't, it's a bit of a surprise.
Hangover Match
Orlando City played an emotional and draining match on Saturday. Enrique was a hero in that match, but was unable to sustain his performance in his time on the pitch against NYCFC. Of course, he wasn't the only player who didn't play as well as last match. The entire team looked out of sorts all night. The Lions have been good on the attack recently, but were unable to generate much in the way of decent chances. Of the 11 shots taken by Orlando City, only two were on target. I don't usually say that Pareja should rotate the lineup heavily, but perhaps he should have on this night. I doubt it could have been worse.
Sloppiness is Contagious
Every team has sloppy matches. Some more than others, but it shouldn't be surprising. What matters is when the sloppy match happens, how bad does it hurt? Fortunately, Orlando City made the playoffs thanks to Atlanta United earning a draw against D.C. United. The irony of Atlanta helping Orlando make the playoffs is something to enjoy.
Now, the sloppiness I mentioned. Rodrigo Schlegel was not his usual self. As mentioned above, Santos was not good, nor was Mauricio Pereyra. So many of Orlando City's players were just a bit off, and the loss is the result. I'm not going to dwell on it though because it was merely match number two of three in a nine-day period. The Lions are in the playoffs and Inter Miami is up next.
---
That is what I saw in Orlando City's loss to NYCFC last night. The good news is that Orlando City is now playing for home field advantage in the playoffs. Let me know your thoughts below.
Lion Links: 9/21/23
Orlando City clinches playoff berth despite loss, Eastern Conference standings remain close, USWNT plays South Africa tonight, and more.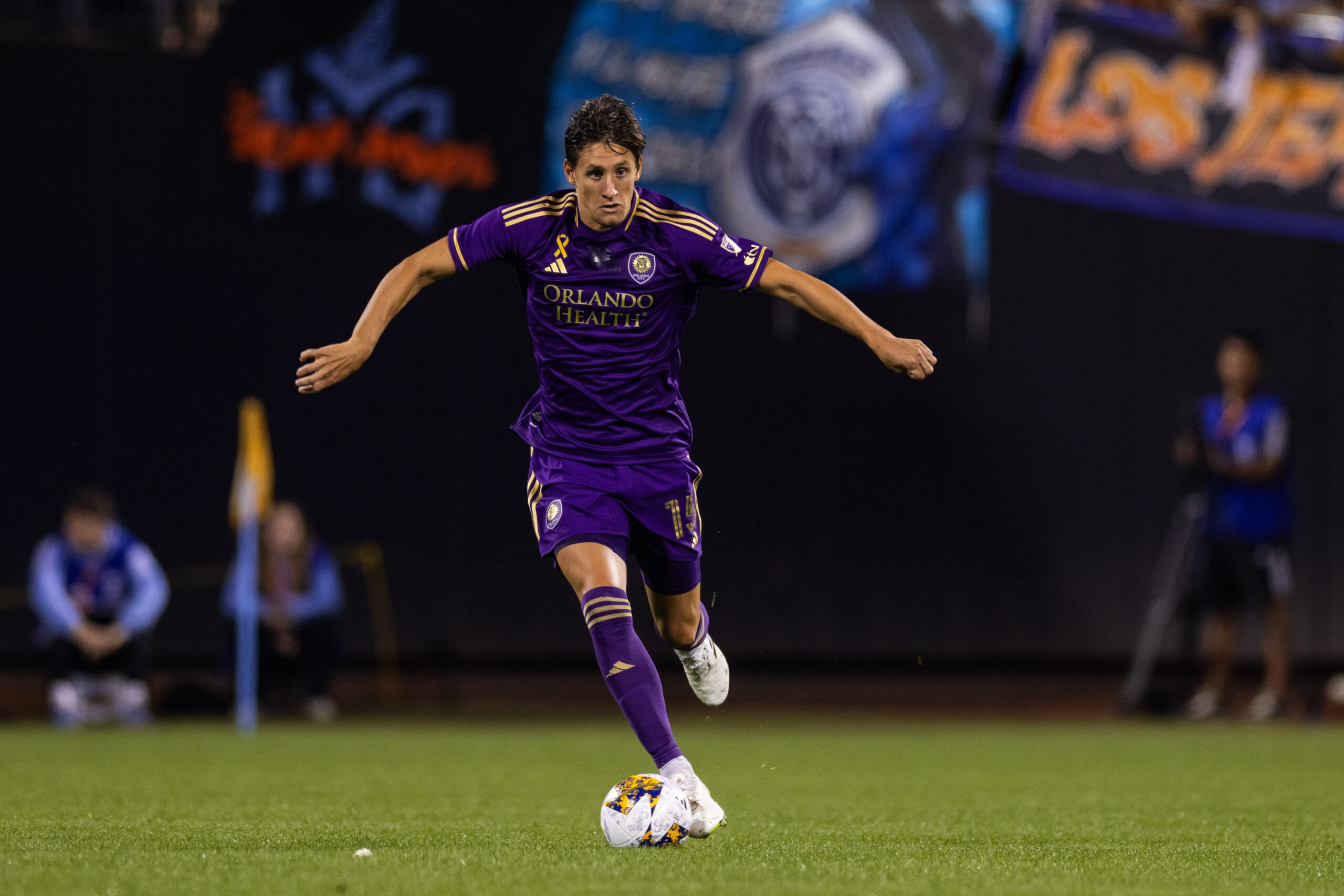 How's it going, Mane Landers? Last night's result wasn't the best outcome by any means, but losing on the road on short rest after a huge win isn't the worst thing in the world. We'll just have to shake that loss off and look forward to more soccer while we have it. Before we dive into today's links, let's all wish a happy birthday to Orlando City B midfielder Imanol Almaguer!
Orlando City Clinch Playoff Spot Despite Loss
The Lions weren't able to put together a comeback in their 2-0 loss on the road to New York City FC. Playing at a narrow Citi Field, Orlando was not able to get much of anything going on offense and was shut out for the first time since July 8. The loss snapped Orlando's six-game unbeaten streak in MLS play as well. Although the Lions are headed back to Florida emptyhanded, they did qualify for the playoffs due to other results in the league. Orlando will look to right the ship when it hosts Inter Miami this Sunday at 7:30 p.m.
Eastern Conference Remains Tight After Midweek Matches
Orlando wasn't the only Eastern Conference team to clinch its spot in the playoffs after the latest midweek matches, with the Columbus Crew and Philadelphia Union both qualifying. Cucho Hernandez had a hat trick within the first 23 minutes of the Crew's 3-0 win at home against the Chicago Fire. A penalty kick in stoppage time by Daniel Gazdag salvaged a point for the Union in a 2-2 draw with Charlotte FC. FC Cincinnati also needed a late equalizer from the penalty spot in its 1-1 draw with CF Montreal. As for how Orlando's rivals fared, Atlanta United drew 1-1 with D.C. United and Miami beat Toronto FC, 4-0. Lionel Messi and Jordi Alba both exited in the first half and Miami Head Coach Tata Martino stated that neither will play against Orlando this weekend. Of course, that could just be misdirection. We'll know for certain come Sunday.
USWNT Plays South Africa Tonight
The United States Women's National Team will play its first match since the World Cup tonight when it faces South Africa tonight at 7:30 p.m. at TQL Stadium. Following Vlatko Andonovski's departure last month, Twila Kilgore will coach the team for these friendlies. It will also be Julie Ertz's final game after 10 years of playing for the USWNT. The 31-year-old announced her retirement last month and spoke more about her decision ahead of tonight's match. After tonight, the USWNT will play South Africa again on Sunday at Soldier Field.
Champions League Group Stage Rolls On
More clubs got their first taste of this year's Champions League action as the group stage kicked off this week. Arsenal's campaign got off on the right foot, with a 4-0 win over PSV Eindhoven that put the English club at the top of its group after a 1-1 draw between Sevilla and Lens. Manchester United had a rougher time, falling 4-3 on the road to Bayern Munich. Goalkeeper Andre Onana struggled and blamed himself for the loss. Real Madrid needed a goal from Jude Bellingham in stoppage time to win 1-0 over Union Berlin at home, while Lautaro Martinez scored a late equalizer in Inter Milan's 1-1 draw with Real Sociedad. Elsewhere, Napoli beat Braga 2-1, RB Leipzig won 2-0 against a Benfica side that was reduced to 10 men early on, and Galatasaray and Copenhagen split the points in a 2-2 result.
Free Kicks
---
That's all I have for you today. Be like a goldfish and enjoy your Thursday!
Orlando City vs. New York City FC: Final Score 2-0 as Lions' Unbeaten Run Ends with a Thud
The Lions struggled yet again on a baseball field in an awful-looking road loss to NYCFC but clinched a playoff spot anyway.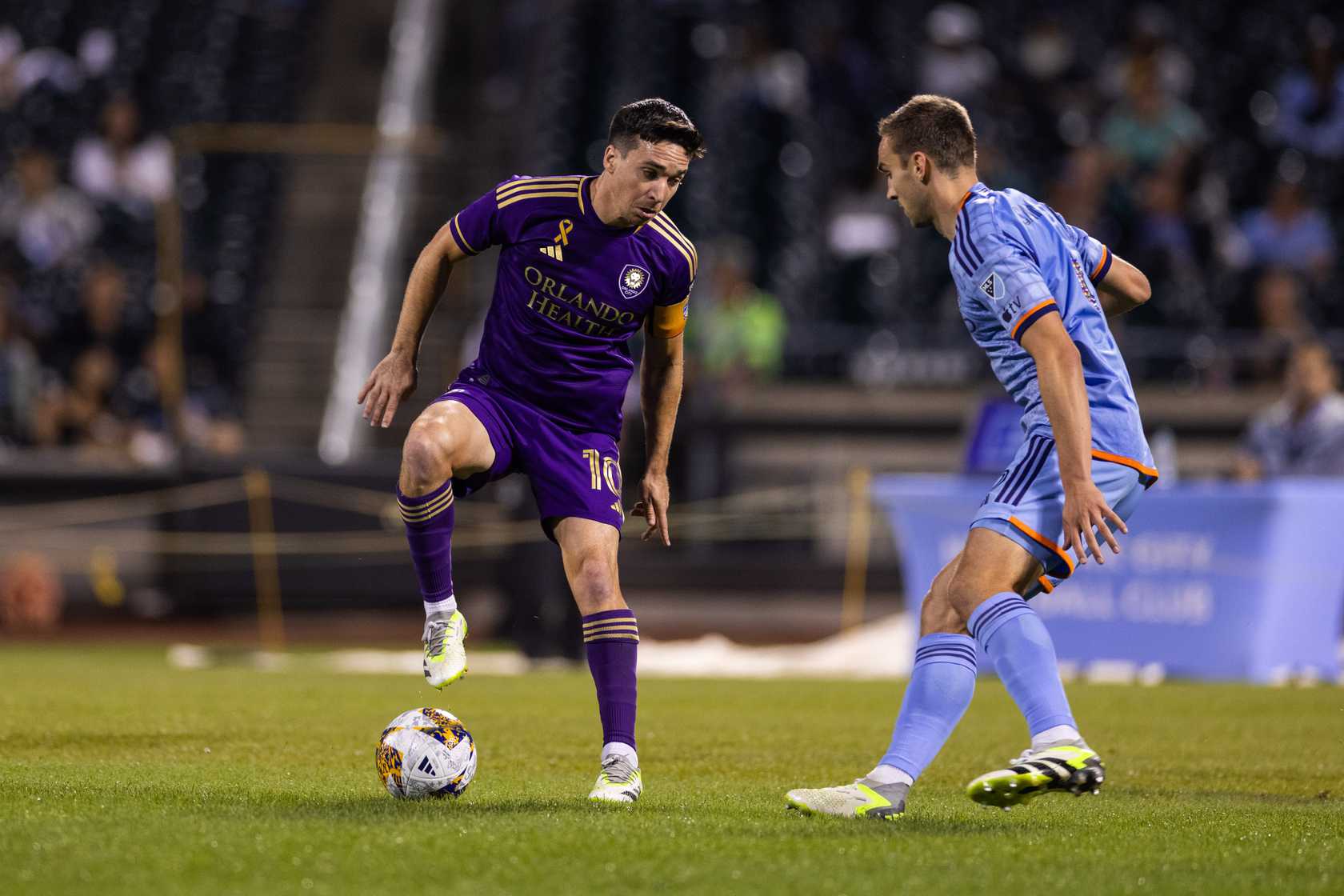 New York City is known as the city that never sleeps. It was the Lions who chose to sleep tonight, as the lads in purple turned in a performance as ugly as the pitch at Citi Field in a 2-0 loss to a New York City FC team that hasn't been able to buy a goal recently. Mounsef Bakrar and Talles Magno scored on either side of halftime to lead the hosts to the win.
Orlando City saw its six-match unbeaten run snapped and fell to 7-8-7 in the all-time series, missing an opportunity to gain points on FC Cincinnati and allowing Columbus to close within two points. However, D.C. United's draw against Atlanta United clinched the Lions a spot in the MLS Cup playoffs for the fourth straight season.
"We would have loved to celebrate (making the playoffs) with a victory today and a better result and a better performance but we couldn't. We have no excuses," Orlando City Head Coach Oscar Pareja said after the match. "We're responsible for the things we do good and the things that we don't do good. We played against a good team. I think they had the best chances. We had a few. We were not sharp in that end but we were not sharp in our defensive side either."
Pareja's starting lineup was nearly the same as in Saturday's win over Columbus. Pedro Gallese was in goal behind a back line of Rafael Santos, Robin Jansson, Rodrigo Schlegel, and Dagur Dan Thorhallsson. Wilder Cartagena returned to the lineup, replacing Felipe alongside Cesar Araujo in central midfield. Facundo Torres was also back in the starting lineup, replacing Martin Ojeda on the attacking midfield line with Ivan Angulo and Mauricio Pereyra, while Ramiro Enrique got his second straight start up top.
Despite the strong lineup, the Lions could hardly have had a worse performance or result with a heavily rotated side and now the starters will be tasked with playing their third match in eight days when Inter Miami visits this weekend. On a small pitch, where movement has to be quicker and more precise, the Lions were neither.
The first few minutes of the game consisted of the teams fouling each other in the midfield. The hosts then got the game's first big chance off of one of those fouls. New York City FC played a long-distance set piece short and worked it to the middle of the field before sending a chipped ball over the top. Orlando's deefending was awful and two NYCFC players got in behind. Former Lion Andres Perea took a pass from Richie Ledezma and fired a shot from point-blank range. However, Gallese made a huge stop on his former teammate in the fourth minute.
Moments later, Perea whiffed on his initial shot attempt near the top of the area, then sent a half-volley, follow-up shot well over the bar as Orlando City struggled to get into the attacking half, as has often been the case on these baseball fields up north.
Orlando did get forward for the first time in the seventh minute, winning a corner, but Torres left his cross too close to Freese, who knocked it away.
The Lions managed their best attack of the half in the 22nd minute, as the ball was sent from right to left, where it ended up with Torres. The Uruguayan found his countryman Pereyra near the top of the area, but the captain's first-time shot deflected off a defender and out for a corner. The ensuing set piece found Santos at the near post but his redirected shot hit the outside netting.
NYCFC's second excellent opportunity came two minutes later. Andres Jasson was well covered near the right sideline but somehow got in an accurate cross and Schlegel lost track of Bakrar, but the home team's forward headed it over the bar.
The breakthrough went the hosts' way after an Orlando turnover in the middle of the pitch. Enrique followed Santiago Rodriguez down the left sideline and when the opposing attacker cut into the box, Schlegel came over to close the play down. Before the defender got there, Rodriguez's foot made contact with Enrique's. The referee initially gave a goal kick but then took a brief look himself before awarding a penalty.
Gallese made a terrific diving save to stop the Rodriguez penalty, but Bakrar was first to the ball and headed it into the far corner to make it 1-0 in the 37th minute. Orlando players appealed for an encroachment call but the goal stood.
"I got the ball, played it into (Enrique's) feet and was going to go for a one-two," Thorhallsson said about the play that led to the penalty. He played it behind me and then he was tracking back and I was right behind him. I didn't see the penalty but it looked like a penalty. And then Pedro saves the penalty, and I would say me and Rodri made the mistake of not blocking the guy to get the ball. So, just a fiasco and something we need to look into — me and everybody. Me especially."
Neither team got a clear-cut look for the rest of the half but Torres earned a free kick in a dangerous spot in stoppage time. Pereyra went for goal but fired over the bar on the last chance of the opening period.
Orlando City finished with more first-half possession (56.4%-43.6%) but most of that was kicking it around the back line, looking for a way to break out on the narrow field. The Lions also somehow managed more shot attempts (6-5), although it didn't seem like it, as most of them were of the non-dangerous variety, won more corners (2-1), and had the edge in passing accuracy (84%-81.3%). However, again, that's largely due to passing it around the back line and back to Gallese. NYCFC fired more shots on target (3-1).
The Lions nearly equalized two minutes after the restart. A good cross from Santos found its way through traffic to Torres, but the ball was a bit behind him and he couldn't direct it on frame as it fizzed wide.
Gallese then made a good save in the 51st minute when a shot from outside the box by Bakrar was deflected by Jansson's foot. Perea got a free header on the ensuing corner but hit his shot right at his former teammate in goal.
Pareja sent fresh attackers on in the 59th minute, introducing Ojeda, Duncan McGuire, and Luca Petrasso for Cartagena, Enrique, and Santos. Seconds later, a ball fell kindly for Pereyra outside the box but he squibbed his shot badly off target.
Orlando appealed for a handball in the 62nd minute off a long throw by Araujo but there was no whistle. The Lions then had a prolonged spell of poor defense. It started with a free look for Magno in the box but he slipped while cutting inside for a better shot. He got his goal three minutes later as he found himself between an inattentive Schlegel and Thorhallsson, with neither player actually marking him.
The Lions learned nothing from the previous open looks by NYCFC and left Perea unmarked on a corner in the 77th minute. The former Lion sent his shot right at Gallese, however. Two minutes after that, Birk Risa was the man free for a header but sent it over the bar with Araujo not paying him closely enough.
Orlando got on the front foot down the stretch but couldn't create anything dangerous from its possession. Ojeda won a couple of corners. Schlegel sent one of those headed just wide of the right post. Petrasso had a shot blocked late and the game's last chance was a soft pop-up header by McGuire that went down as just the team's second shot on target of the night.
There were no late-match heroics on this night.
Orlando City held the final edge in possession (59.5%-40.5%) and passed more accurately (83.6%-78%), but NYCFC finished with more (16-11), way more shots on frame (7-2), and corners (6-5). The only two shots on frame by the Lions couldn't have been easier for Freese to handle.
"I don't think we had a spark today, but I think we were a little predictable," Pareja said. "I thought we had more problems today with dealing with the spaces and trying to put ourselves into the map of the field. We have to be able to do it, but we couldn't do it. New York neutralized those things. They condensed with many numbers in behind. We tried to do the same but we were not effective."
"It's a little bit hard to be happy," Thorhallsson said about clinching a playoff spot. "We can say sweet and sour emotion but of course it's a little more sour because we lost the game."
---
The Lions have another short turnaround, returning home for a Sunday night Tropic Thunder showdown against Inter Miami at 7:30 p.m.