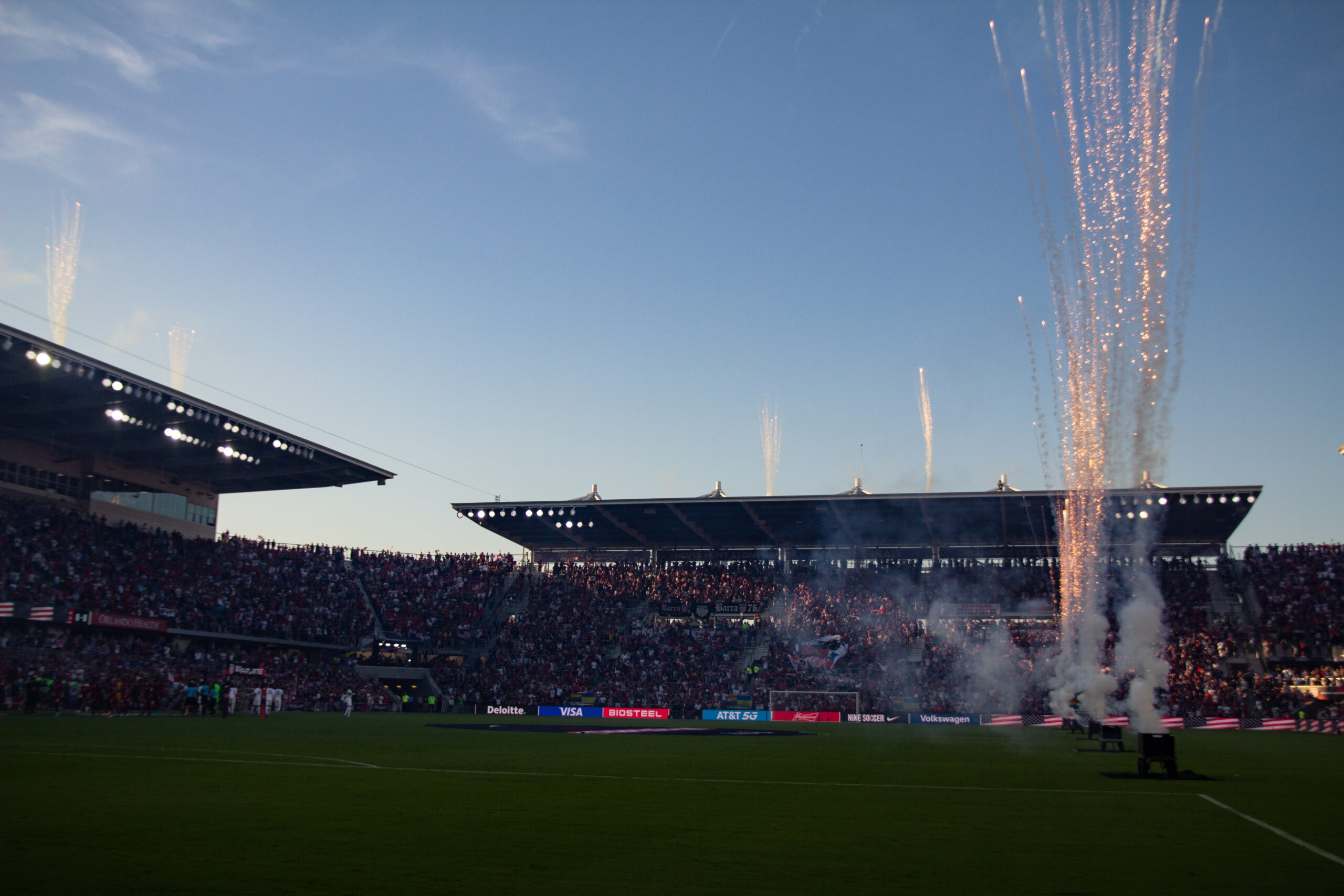 Good Sunday Morning Mane Landers and welcome to your daily fix of Lion Links. Normally I give a quick tip to avoid paying attention in church and secretly read Lion Links without getting caught, but I have some really awesome news to share. This past Wednesday, Aug. 3, my wife gave birth to our son, Jakson. It looks like Orlando City's fan base just increased by one this week.
Hey, I'm feelin' good! Let's get on with some Links, shall we?
Another Crazy Night in Melbourne
How would Orlando City B top last week's two-goal rally in stoppage time to beat Louisville City on the road? It probably can't be done. Still, the young Lions tried in last night's 2-1 win over Toronto FC II. After dominating play throughout, OCB led just 1-0 late, courtesy of a Lewis Neal goal. But in the 90th, the young Lions conceded, turning a win into an apparent draw. Nope. Not so fast. Just seconds after the restart from the TFCII goal, Michael Cox — who assisted Neal's goal — took a pass from Pierre Da Silva, spun, and put the ball into the net to restore OCB's lead. It was another dramatic game for the club, which saw first-teamers Tommy Redding and Cristian Higuita play significant roles. Be sure to check out Sean Rollins' recap in the link above.
FourFourTwo's Got You Covered: Game Preview
You've already probably read Austin Siegel's awesome match preview, but FourFourTwo's Paul Tenorio also wrote an in-depth game preview regarding today's showdown between Orlando City and the Seattle Sounders. In this game, featuring two teams that either went through or are still going through coaching changes, Mr. Tenorio gives us the players to watch (Kevin Molino, c'mon!) and a rundown of some of the moves recently made.
Even with the game at home and Seattle's road woes (just two wins this season away from CenturyLink), the prediction line stands at 2-2. I guess we will find out later, but my gut says we'll see a 3-2 kinda game, in favor of our guys, of course.
USWNT Beats France, 1-0
Well, it wasn't the first half anyone on the team would've wanted to see, but after 45 minutes of no goals, the Yanks scored the only goal off a beautiful play set up by Tobin Heath. Her shot was deflected and hit the post, but Carli Lloyd cleaned it up nicely. Some rock solid goalkeeping by Hope Solo finished off the second half and Team USA is now 2-0 in group play.
The final game in the group stage phase will take place on Tuesday as the USWNT returns to the pitch to face Colombia at 6 p.m. est.
For more game coverage here at The Mane Land, check out Daniel Byrd's game recap right here.
The Pride's Alex Morgan: "We are badass women."
Want some more from the USWNT? Well check out this interview that Hannah Storm had with Alex Morgan. In the interview, Morgan goes over everything from her thoughts on the Olympics to her role in getting more girls interested in the world's game.
Honestly, I don't know that we as Pride fans could ask for a better face of the team than Alex. Her honesty and bluntness was on point in this sit-down session and I hope we get to hear more from her as both the Olympics and the NWSL season continue on.
Community Shield Preview
Manchester United (with ZLATAN!!!) take on Leicester City today in the Community Shield friendly. Does the game count in the standings? Nope. But it is an interesting game nonetheless, as it will give us a bit of a reading on how the season might go.
Obviously both teams made moves this summer – Man United with that one guy… what's his name(?) and Leicester City working hard to keep Jamie Vardy around. Some prevailing questions that pundits across the world will try to answer after the game will be things like, "Was Leicester City a one and done?" and "Did Man United do enough to run away with the EPL?"
I wouldn't read too much into the outcome either way, but it should be a fun game to watch.
Free Kicks
Well, the Olympics are obviously in full swing and Team USA took the very first gold medal of the games. Virginia Thrasher won the medal in the 10m air rifle competition. Nice job, Ginny! And finally, the USA Men's Basketball Team put a whooping on China to open their competition, 119-62.
That's it for today. We'll see you guys back here later as we get closer to kickoff for the Sounders and our own Orlando City. Have a good one everyone!
Lion Links: 9/21/23
Orlando City clinches playoff berth despite loss, Eastern Conference standings remain close, USWNT plays South Africa tonight, and more.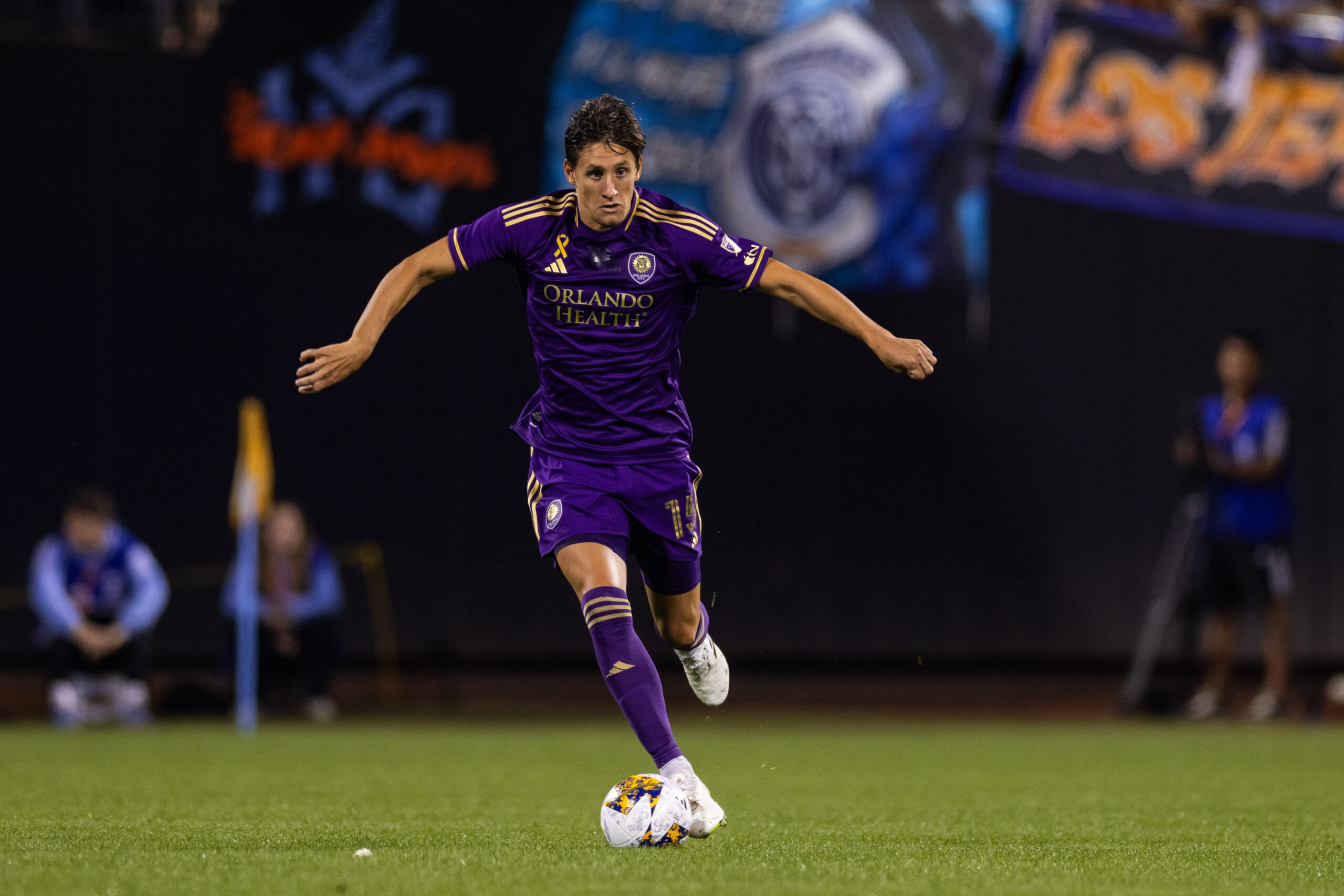 How's it going, Mane Landers? Last night's result wasn't the best outcome by any means, but losing on the road on short rest after a huge win isn't the worst thing in the world. We'll just have to shake that loss off and look forward to more soccer while we have it. Before we dive into today's links, let's all wish a happy birthday to Orlando City B midfielder Imanol Almaguer!
Orlando City Clinch Playoff Spot Despite Loss
The Lions weren't able to put together a comeback in their 2-0 loss on the road to New York City FC. Playing at a narrow Citi Field, Orlando was not able to get much of anything going on offense and was shut out for the first time since July 8. The loss snapped Orlando's six-game unbeaten streak in MLS play as well. Although the Lions are headed back to Florida emptyhanded, they did qualify for the playoffs due to other results in the league. Orlando will look to right the ship when it hosts Inter Miami this Sunday at 7:30 p.m.
Eastern Conference Remains Tight After Midweek Matches
Orlando wasn't the only Eastern Conference team to clinch its spot in the playoffs after the latest midweek matches, with the Columbus Crew and Philadelphia Union both qualifying. Cucho Hernandez had a hat trick within the first 23 minutes of the Crew's 3-0 win at home against the Chicago Fire. A penalty kick in stoppage time by Daniel Gazdag salvaged a point for the Union in a 2-2 draw with Charlotte FC. FC Cincinnati also needed a late equalizer from the penalty spot in its 1-1 draw with CF Montreal. As for how Orlando's rivals fared, Atlanta United drew 1-1 with D.C. United and Miami beat Toronto FC, 4-0. Lionel Messi and Jordi Alba both exited in the first half and Miami Head Coach Tata Martino stated that neither will play against Orlando this weekend. Of course, that could just be misdirection. We'll know for certain come Sunday.
USWNT Plays South Africa Tonight
The United States Women's National Team will play its first match since the World Cup tonight when it faces South Africa tonight at 7:30 p.m. at TQL Stadium. Following Vlatko Andonovski's departure last month, Twila Kilgore will coach the team for these friendlies. It will also be Julie Ertz's final game after 10 years of playing for the USWNT. The 31-year-old announced her retirement last month and spoke more about her decision ahead of tonight's match. After tonight, the USWNT will play South Africa again on Sunday at Soldier Field.
Champions League Group Stage Rolls On
More clubs got their first taste of this year's Champions League action as the group stage kicked off this week. Arsenal's campaign got off on the right foot, with a 4-0 win over PSV Eindhoven that put the English club at the top of its group after a 1-1 draw between Sevilla and Lens. Manchester United had a rougher time, falling 4-3 on the road to Bayern Munich. Goalkeeper Andre Onana struggled and blamed himself for the loss. Real Madrid needed a goal from Jude Bellingham in stoppage time to win 1-0 over Union Berlin at home, while Lautaro Martinez scored a late equalizer in Inter Milan's 1-1 draw with Real Sociedad. Elsewhere, Napoli beat Braga 2-1, RB Leipzig won 2-0 against a Benfica side that was reduced to 10 men early on, and Galatasaray and Copenhagen split the points in a 2-2 result.
Free Kicks
---
That's all I have for you today. Be like a goldfish and enjoy your Thursday!
Lion Links: 9/20/23
Orlando City takes on New York City FC tonight, USWNT prepares for friendlies with South Africa, Boston awarded NWSL expansion team, and more.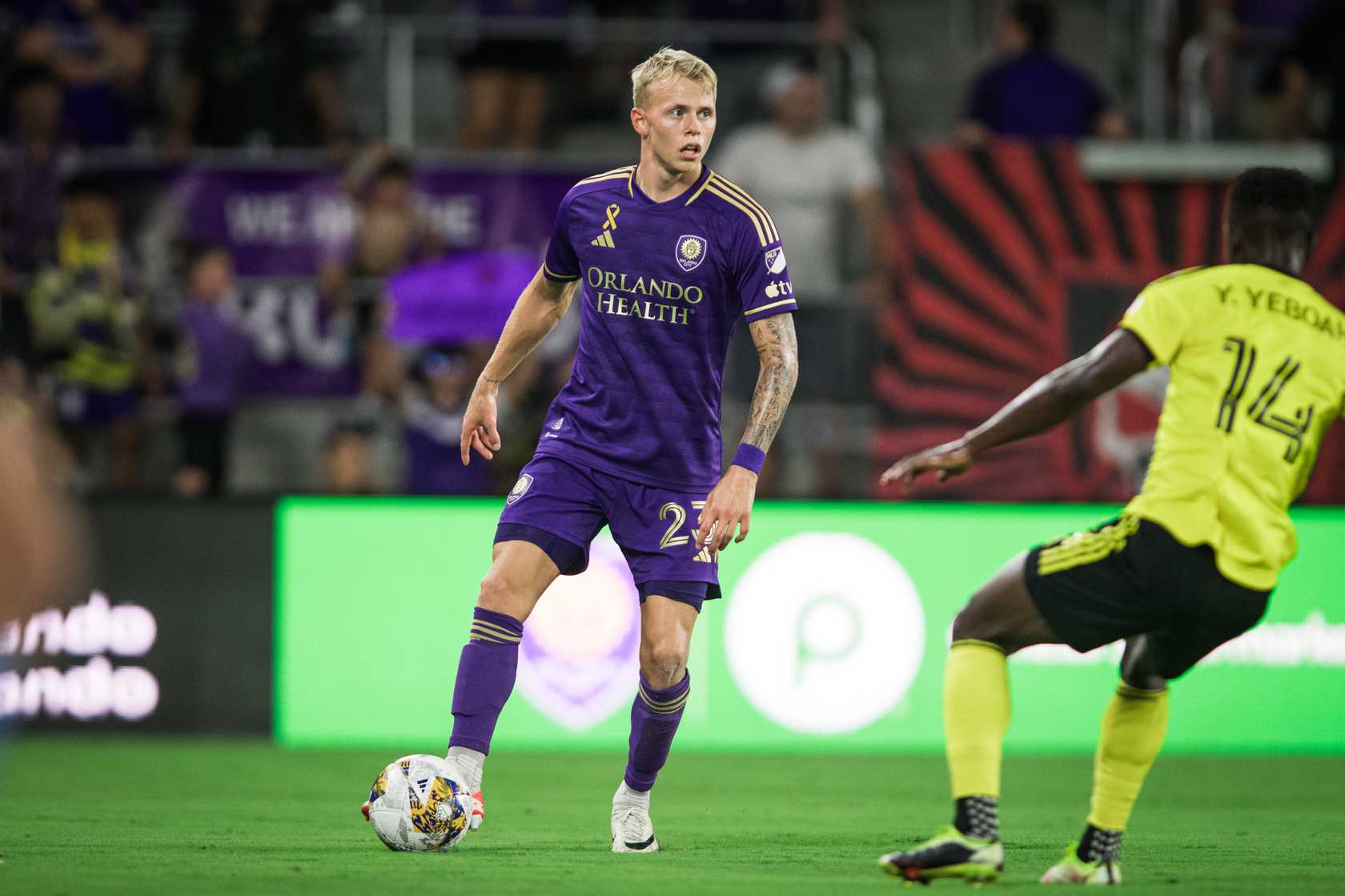 Hello, Mane Landers. I hope you all are excited for another midweek matchup for Orlando City tonight. I've been busy covering high school football, golf, and soccer this week and will be back working at Wrigley Field this weekend. There is plenty to cover today, so let's get to the links.
Orlando City Takes On New York City FC Tonight
Orlando City will be on the road tonight at Citi Field as it takes on New York City FC for a midweek matchup. The Lions won in thrilling fashion this past weekend, edging out the Columbus Crew, 4-3. That win was the Lions' second consecutive win and extended its unbeaten run at Exploria Stadium to 11 matches. The Lions are in second place in the Eastern Conference with 50 points, while NYCFC sits in 12th on 31 points. NYCFC comes into this match off a scoreless draw against the New York Red Bulls. The last time these two sides met was back on May 17 at Exploria Stadium in a 1-1 draw. We could also see former Lion Andres Perea suit up for NYCFC to face his former club tonight. After tonight, the Lions will play Inter Miami on Sunday at Exploria Stadium.
USWNT Prepares to Face South Africa in Friendlies
The United States Women's National Team will be back in action tomorrow for the first of two friendlies with South Africa. It will be the USWNT's first match since the 2023 Women's World Cup. South Africa achieved its best finish at a World Cup in the recent tournament, making it out of the group stage before losing 2-0 to the Netherlands in the round of 16. The roster for South Africa features 19 of the 22 players that participated in the Women's World Cup, including Racing Louisville's Thembi Kgatlana. The last time South Africa played the U.S. was back in 2019, losing 3-0 to the USWNT. South Africa is preparing for the 2024 CAF Women's Olympic Qualifying Tournament's second round next month.
NWSL Will Expand to Boston in 2026
The National Women's Soccer League officially announced that it will expand in 2026, with Boston becoming the league's 15th club. NWSL soccer returns to Boston for the first time in six years after its previous club, the Boston Breakers, folded prior to the 2018 season. The club's ownership group is Boston Unity Soccer Partners, with the core being all women with local ties, including Jennifer Epstein who owns a minority stake in the Boston Celtics. The expansion fee paid to the league was undisclosed, and the ownership group has 95% of its capital being invested by women and 40% from investors of color. The ownership group reportedly plans to invest significant resources into renovating George R. White Stadium in Boston. The ownership group plans to reveal the club's branding as it gets closer to play in 2026.
UEFA Champions League Roundup
The UEFA Champions League returned with the start of the group stages and plenty of notable matches. Christian Pulisic's AC Milan played Newcastle United to a scoreless draw at home. Paris Saint-Germain shut out Borussia Dortmund 2-0 in its opener. Manchester City was trailing 1-0 at halftime, but stormed back to beat Red Star Belgrade 3-1. Atletico Madrid was leading 1-0 late into stoppage time before Lazio goalkeeper Ivan Provedel scored the equalizer to help his side escape with a 1-1 draw. FC Barcelona, RB Leipzig, FC Porto, and Feyenoord all won their opening matchups as well. Today's notable games include Bayern Munich facing Manchester United, Arsenal taking on PSV Eindhoven, and Real Madrid hosting Union Berlin.
Free Kicks
The latest MLS Power rankings have been released. Orlando City moved up four spots to second after its comeback win against the Columbus Crew.
In case you missed it, check out the sights and sounds as the Lions got another win against a taem from Ohio.
Enjoy play-by-play commentator Sergio Ruiz's reaction when Ramiro Enrique scored the winner for the Lions against the Crew.
The Seattle Sounders have teased an announcement on social media about a possible change to their brand next week.
---
That will do it for me today, Mane Landers. Enjoy your Wednesday and I'll see you next time.
Lion Links: 9/19/23
Ramiro Enrique named Player of the Matchday, Tab Ramos reportedly joins the New England Revolution, MLS ends Matko Miljevic's contract, and more.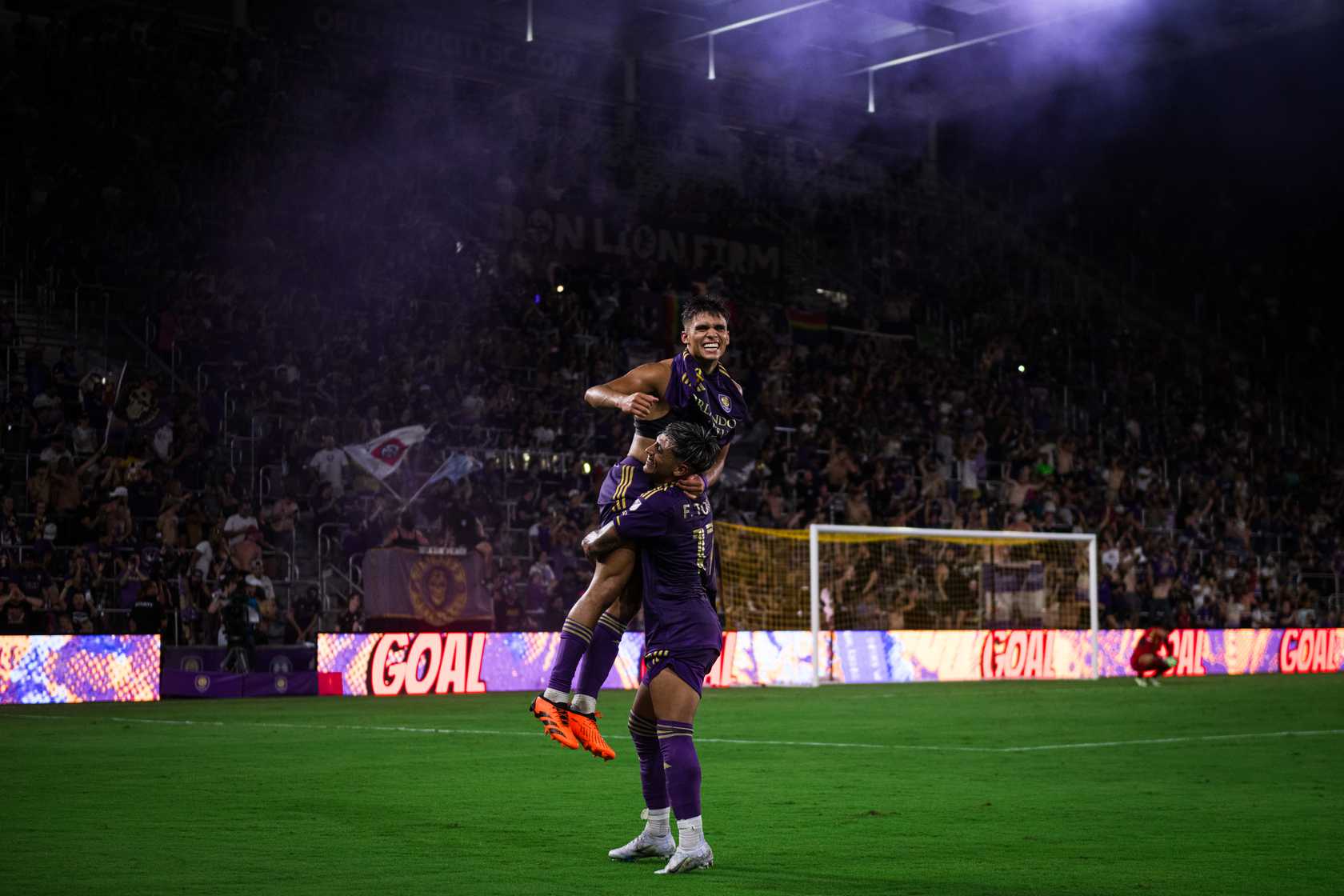 What. A. Weekend. Orlando's three teams went undefeated and ensured about as good a start to the week as you could possibly ask for. That means I started this week riding high and there are plenty of opportunities for it to get better as Orlando City plays tomorrow and Sunday, with Orlando City B taking on FC Cincinnati 2 on Sunday. All of that action means there's a lot to cover this morning, so let's get after it.
Lions Earn Recognition After Comeback Victory
Ramiro Enrique and Martin Ojeda were both included in the latest edition of the MLS Team of the Matchday for their roles in Orlando City's wild 4-3 comeback win against the Columbus Crew on Saturday. Ojeda had a goal and an assist, while Enrique had a brace and an assist and scored the winning goal with practically the last kick of the game. Enrique was also justifiably named the Player of the Matchday for his heroic effort. He joins Cyle Larin, Kaká, and Nani as just the fourth Lion to be named Player of the Matchday, so he's certainly treading on hallowed ground. Congratulations to both guys, and keep up the good work!
Tab Ramos Reportedly Joins Revs
Tab Ramos has reportedly joined the New England Revolution as an assistant coach. If true, Ramos will try to help interim manager Clint Peay contain the chaos that has enveloped the club in recent weeks. The Revs are still third in the Eastern Conference, but players reportedly refused to train last Tuesday due to a lack of transparency concerning the events around Bruce Arena's resignation. With all of that going on, it perhaps isn't surprising that the Revs lost to a woeful Colorado Rapids team on the road on Saturday, and fans will hope that Ramos, who managed the Houston Dynamo for two years, can help get things back on track.
MLS Cuts Matko Miljevic
CF Montreal's Matko Miljevic has had his contract terminated by the league following an absolutely wild story coming to light last week. Miljevic was reportedly playing in an amateur indoor soccer league using a fake name and subsequently received a lifetime ban from it after punching an opposing player in the face. Needless to say, a story like that doesn't stay quiet for long, and since playing in another league while under contract with Major League Soccer is a violation of the contract that every player signs when joining, the league was able to end his contract with fairly little fuss. Thus ends one of the more bizarre stories to come across my figurative desk this year.
Injury Bug Ravages Manchester United and Chelsea
Injuries are beginning to pile up at Manchester United as Aaron Wan-Bissaka will now reportedly miss anywhere from a few weeks to two months after sustaining an injury in Saturday's 3-1 loss to Brighton. Luke Shaw, Raphael Varane and Mason Mount are also out, but United's injury problems pale in comparison to Chelsea's, as the injury bug is chewing a path through the Blues' squad. In fact, the London club has enough injured players to field a full starting XI that would be worth more than £370 million and features names like Reece James, Moises Caicedo, and Christopher Nkunku. Despite a 0-0 draw against Brighton and Hove Albion on Sunday, Chelsea will likely simply be happy that no one went off injured during the game. United likely wouldn't complain if it can get a similar result away against Bayern Munich in the UEFA Champions League tomorrow.
Free Kicks
---
That does it for me this morning. Y'all stay safe out there.