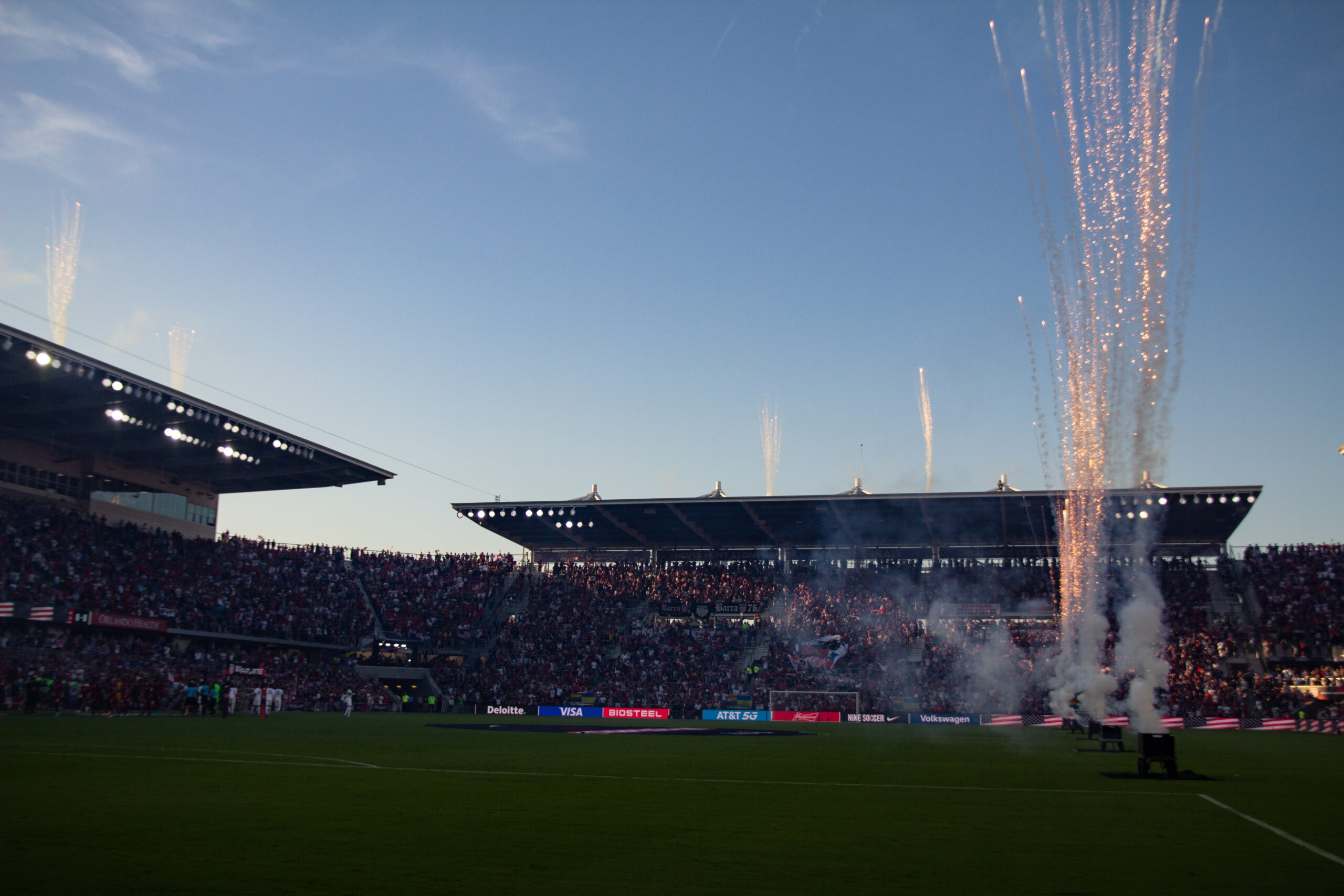 What's up, Mane Landers? It's Friday, and that's got to be some salve to the wound all Orlando City fans suffered yesterday with the big trade (more on that below). The Lions had a fairly quiet off-season going and then…BAM! The club has gone balls to the wall over the last week or so, adding pieces to Orlando City, the Pride, and OCB. It's been nuts, and also exciting.
Looks like John Adair picked the right week for vacation because it's been a busy one. I will try to fill his shoes today with a selection of Lion Links specifically chosen to optimize your Friday morning. Let's get to them.
Now His Watch Has Ended: The Original Departs
The huge news yesterday, of course, was Orlando City's trade of original Lion Kevin Molino to expansion upstart Minnesota United, where The Original will be reunited with Adrian Heath. Rumors surfaced on SuperDraft week that Heath and United coveted the Trinidad & Tobago international but City quickly squashed talk of an offer in the neighborhood of half a million bucks for the attacking whiz by stating that he wasn't for sale and was a big part of the club's plans. My, how things change. The deal tied a league record with $650,000 in allocation money ($450k in GAM and $200k in TAM) coming back to Orlando, along with a percentage of any future sale of Molino by Minnesota if he transfers to a club outside of Major League Soccer. While losing Molino hurts, I figure the team got top dollar for him. Whether City wins or loses the trade  will all depend on what the team does with the money. Goalkeeper Patrick McLain also heads to Minnesota. Patrick, we hardly knew ye.
The price tag for Molino definitely raised eyebrows around the soccer blogosphere. MLSSoccer.com writer Benjamin Baer explored whether the now ex-Lion is worth so many Garberbucks.
Kreis Says Spector Will Lead City's Defense
Sure, coaches always say good things about players their teams just acquired, but in this story on MLSSoccer.com, Jason Kreis told Simon Veness that he expects Jonathan Spector to bolster his side with his leadership and communications skills. Although Spector had been playing right back with Birmingham City, Kreis squashed any confusion over where the former U.S. international will play.
"We brought him here to play center back. We looked at what he has done over many years in England. He has played extensively at right back this season, but last season he was mainly a center back, and that's where I saw him playing for the national team, so that's where he will fit in for us."
The gaffer also told Simon about his pursuit of Spector and the thought behind bringing him back to the U.S.
"We went over there in December and spoke with him at length," Kreis explained. "One of my key questions was, do you know what's going on in MLS? And he does. He's been watching and he's actually done some broadcasting of MLS games in England, so he's been paying attention to it and keeping in touch with it. At the end of the day, he is also American; he was born and raised here and I don't think there's going to be much of a transition, if at all."
2018 MLS All-Star Game Heading to Chicago
Major League Soccer's summer All-Star extravaganza will take place at Chicago's Soldier Field in 2018. That's not the home of the Chicago Fire. The MLS side plays out in Bridgeview, IL, at Toyota Park. While Orlando City might be in line to get an MLS All-Star Game in the next few years, to showcase the club's brand new downtown soccer palace, Chicago will host the event next year in early August. Having it at Soldier Field will prevent Chicagoans from having to travel out to Bridgeview and will enable the event to host a bigger crowd. The official announcement from the league is expected next week.
Ancelotti Says MLS Needs Relegation
For some reason, Bayern Munich Manager Carlo Ancelotti was talking about promotion and relegation in Major League Soccer. I was shocked to learn Ancelotti knows what MLS is. The veteran coach has spent his entire career in Europe, where promotion and relegation is a common system. So it's not exactly shocking he doesn't get why MLS doesn't have it. He told ESPN FC:
"I think the fact that there is no relegation hurts, because it's demotivating," Ancelotti said. "It's inevitable.

"I'd watch Vancouver and they weren't doing well but, hey, what changes if they finish last? They don't get relegated, they still get paid… But that's the structure of U.S. sports and you have to respect it."
He may have a point about incentive, but I've never met a professional who was OK with losing.
Free Kicks
Jason Kreis visited with Extra Time Radio and talked about how his wife kept him from quitting coaching…Atletico Madrid star Antoine Griezmann as Superman in the Lego Batman Movie? Really?…Nashville's stock is rising in regard to MLS expansion, while Charlotte's is not…Among those born on this date are Mozart (1756), writer Lewis Carroll (1832), actress Donna Reed (1921), Bobby "Blue" Bland (1930), Troy Donahue (1936), character actor James Cromwell (1940), Pink Floyd drummer Nick Mason (1944), Mikhail Baryshnikov (1948), Thin Lizzy drummer Brian Downey (1951), Billy "White Shoes" Johnson (1952), Mimi Rogers (1956), Iron Maiden guitarist Janick Gers (1957), legendary comic book artist Frank Miller (1957), Cris Collinsworth (1959), Keith Olbermann (1959), Bridget Fonda (1964), Faith No More singer Mike Patton (1968), and Patton Oswalt (1969).
---
That's all the time I have for your Friday morning. In honor of Nick Mason's birthday, I'll leave you with an old favorite of mine.
Lion Links: 11/30/23
Orlando City faces big questions, Matt Miazga suspended, Emma Hayes meets USWNT for first time, and more.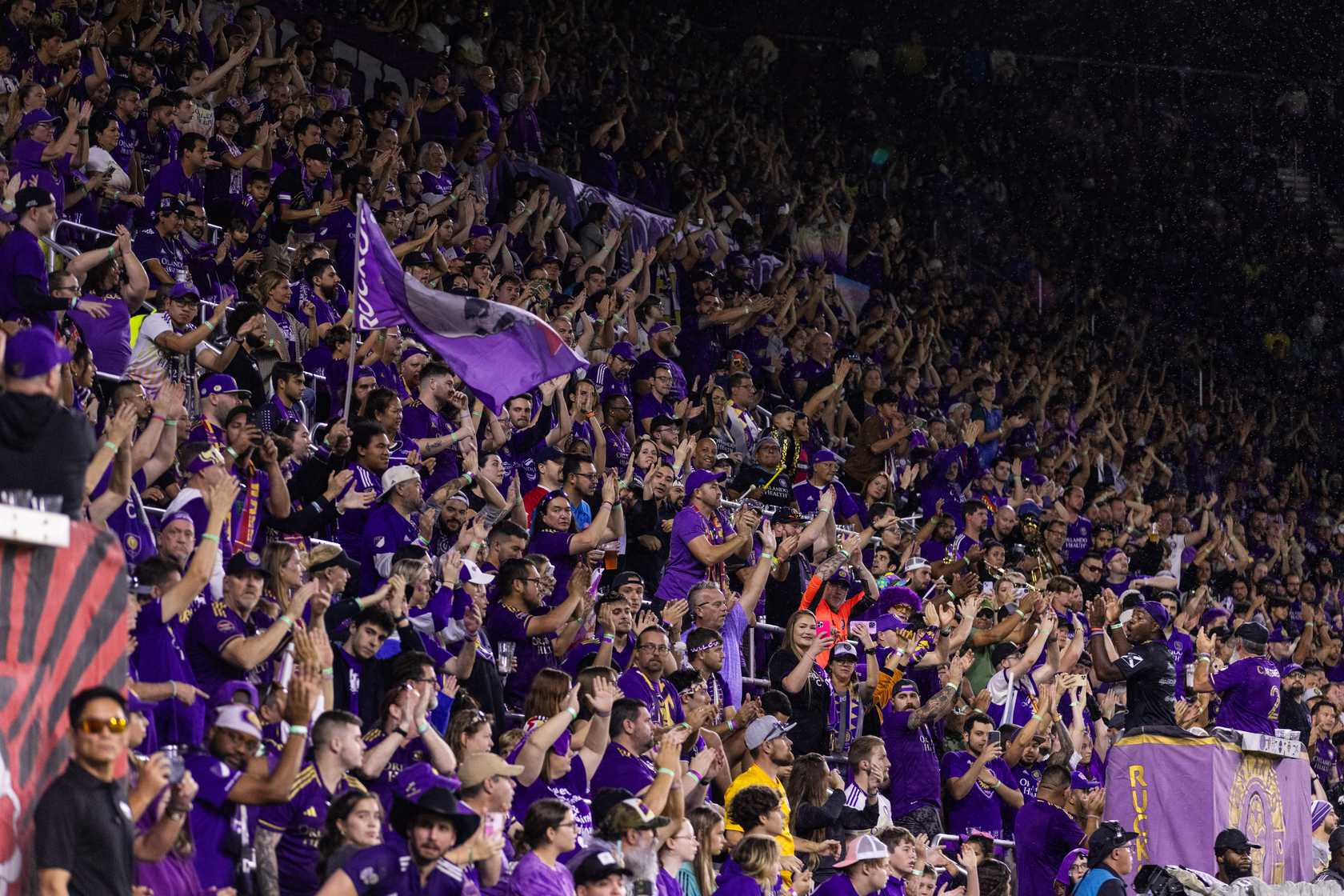 November is finally coming to a close. It's been a bit of a rollercoaster of a month for me, with highs, lows, and many things in between. All in all, I'm pretty glad it's nearly over, although I expect December to be similarly hectic. At least this weather is allowing me to break out some winter clothes and turn on the fireplace in this new apartment. I'm not sure why a fireplace was installed in a Floridian apartment, but I'm not complaining. Let's dive into today's links!
Big Decisions Await Orlando City
With Orlando City's season over, attention now turns to a critical off-season for the club. Head Coach Oscar Pareja is out of contract after leading the Lions to the playoffs for the past four years. The club will also need to decide if it will exercise the 2024 options on the contracts of both Executive Vice President of Soccer Operations and General Manager Luiz Muzzi and Technical Director and Assistant General Manager Ricardo Moreira. All three have orchestrated Orlando's transformation that's included winning its first trophy, having its best season this year, and qualifying for both the Concacaf Champions League and Champions Cup. Potentially transferring Facundo Torres to Europe, filling the empty Designated Player slot, and deciding which players to bring back for 2024 are also on the agenda. However, figuring out who will lead the Lions into this exciting next chapter is paramount. Personally, I think the club should do everything in its power to keep the people who brought Orlando to this point.
Matt Miazga Suspended for Three Games
FC Cincinnati will be without MLS Defender of the Year Matt Miazga for Saturday's Eastern Conference final, as he was suspended by MLS for three games due to his misconduct after the match with the New York Red Bulls on Nov. 4. Miazga was also fined an undisclosed amount and will undergo a behavioral assessment as part of the league's Substance Abuse and Behavioral Health Program. Following that aforementioned playoff match, reports surfaced that Miazga gained unauthorized access to an area reserved for the referees and acted aggressively. Any suspended games not served during Cincy's playoff run will carry over into the 2024 season, although Miazga can petition for a reduction based on compliance with recommended treatment plans.
Emma Hayes Meets With USWNT Players and Staff
Emma Hayes, who was hired as the next United States Women's National Team Head Coach earlier this month, made the trip to Florida to meet the team for the first time. Although she won't be coaching the team for its upcoming pair of friendlies against China, she collaborated with interim head coach Twila Kilgore on the latest training camp roster and will continue to work with her until taking over in May. There won't be much time between Hayes' official start date and the 2024 Summer Olympics, making these moments of face time between player and future coach all the more important. USWNT captain Lindsey Horan spoke on the team's goals after meeting Hayes for the first time.
"There's so much talent in this team, and I don't think the world has seen enough of it yet just because we need to go out and show it," Horan said. "We need to be able to mesh together and show everything that we have, and what we're all about, and how we can really collaborate and play together — be more of a team and be a powerhouse again.

"It's going to be exciting for us to have her and see what she can do with this team and how she can help us moving forward."
Ricardo Pepi Sends PSV Into Champions League Knockout Stage
PSV Eindhoven clinched its spot in the next round of the UEFA Champions League in dramatic fashion, with American forward Ricardo Pepi scoring the winner in a 3-2 comeback win over Sevilla in Spain. Trailing 2-0 in the second half, American left back Sergino Dest provided the assist on PSV's first goal and Pepi found the winner in stoppage time, with fellow American Malik Tillman also coming off the bench. From his little flick to send a teammate forward to his run and clinical header, it was a great goal by the 20-year-old.
Elsewhere in the Champions League, Arsenal beat Lens 6-0 to advance, Real Madrid won 4-2 against Napoli to win its group, and Real Sociedad played to a scoreless draw with RB Salzburg. Manchester United remains in last place of its group after a 3-3 draw with Galatasaray, with goalkeeper Andre Onana unable to stop Hakim Ziyech from scoring off of two free kicks. All's not lost for United though, as it can still qualify for the round of 16 by beating Bayern Munich at home so long as the other match ends in the group ends in a draw. It all makes for what should be an exciting final matchday in the group stage.
Free Kicks
---
That's all I have for you today. I hope you all have a wonderful Thursday and rest of your week!
Lion Links: 11/29/23
Orlando Pride players called up by Brazil, MLS announces 2023 Best XI, latest MLS roster moves, and more.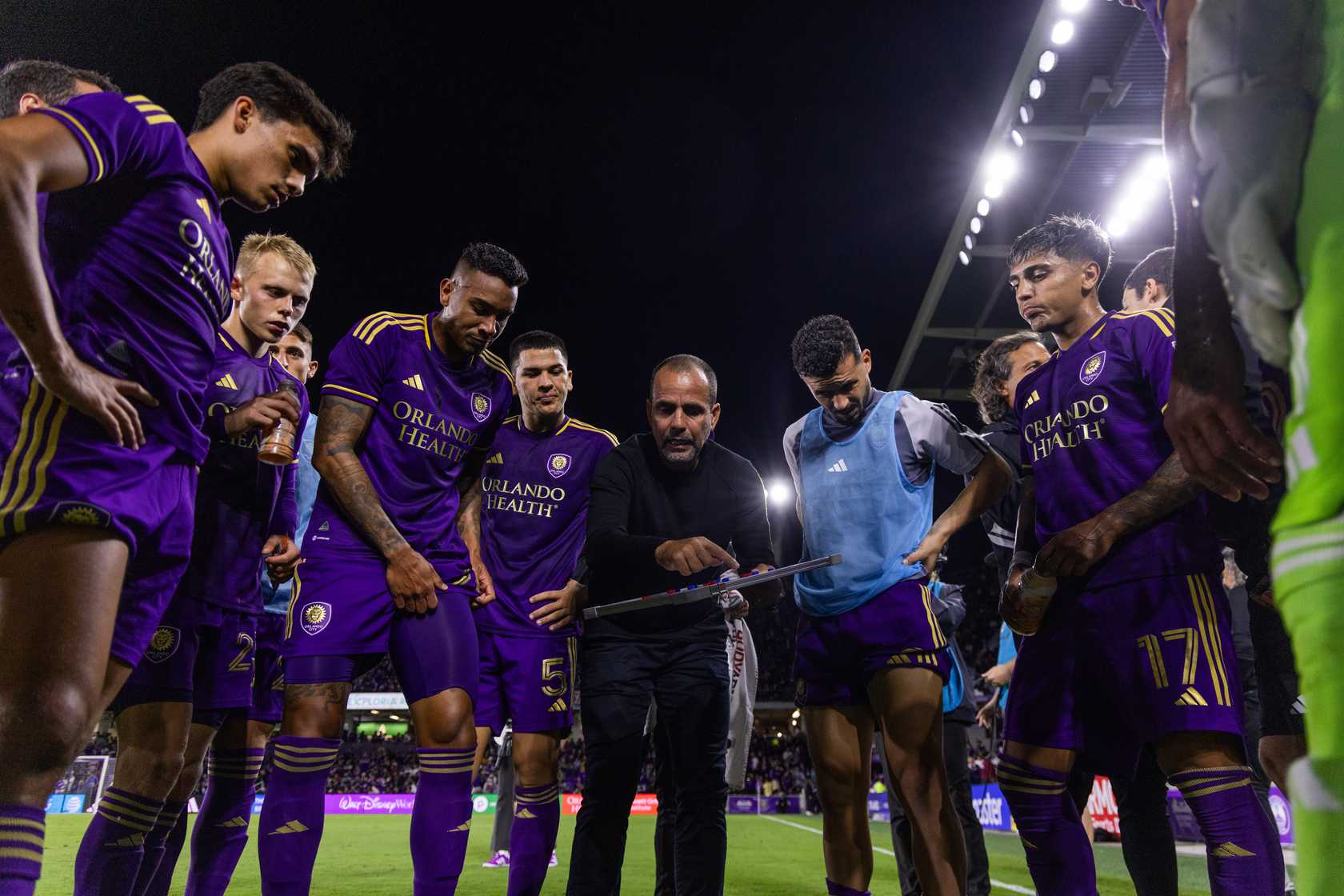 Hello, Mane Landers I hope all is well down in Florida. I've been very busy working throughout the holiday weekend at Under Armour. This week I'll be working at Wrigley Field for Winterland while getting ready to cover high school wrestling tomorrow night. There is plenty to cover today, so let's get to the links.
Pride Players Called Up By Brazil for Friendlies
Orlando Pride defender Rafaelle and forwards Marta and Adriana have been called up to the Brazil Women's National Team for its upcoming friendlies.
Brazil will play two matches against Japan on Nov. 30 and Dec. 3 in Sao Paulo before playing Nicaragua on Dec. 6 at Estadio Fonte Luminosa in Araraquara.
MLS Announces the 2023 Best XI
Major League Soccer announced its 2023 Best XI, recognizing the league's top players at each position. There were no Orlando City players selected for the team and eight players received the honor for the first time. Those players are St. Louis City's Roman Burki and Tim Parker, FC Cincinnati defender Matt Miazga, Atlanta United duo Thiago Almada and Giorgos Giakoumakis, Houston Dynamo midfielder Hector Herrera, LAFC's Denis Bouanga, and Columbus Crew forward Cucho Hernandez. Nashville SC's Hany Mukhtar made the Best XI for the third consecutive time, while teammate Walker Zimmerman was named to it for the fifth time. MLS MVP Luciano Acosta of FC Cincinnati rounds out the list.
Latest MLS Off-season Roster Moves
The Colorado Rapids announced their latest roster changes as they prepare for the the 2024 season under new Head Coach Chris Armas. The club exercised its options for defender Andrew Gutman, midfielder Ralph Priso, and forward Calvin Harris. The Rapids declined contract offers to seven players, with the most notable names being defender Steven Beitashour and goalkeeper William Yarbrough, although the Rapids are in discussions about re-signing Yarbrough. Elsewhere, the New England Revolution exercised the permanent transfer option on forward Tomas Chancalay, signing him to a Designated Player contract through 2026, with a club option for the 2027 season.
UEFA Champions League Roundup
Champions League action returned in Europe, as we get close to wrapping up the group stage in a couple of weeks. Manchester City overcame a two-goal deficit to beat RB Leipzig 3-2 and win Group G. Newcastle United had a chance to qualify for the round of 16 but gave up a late penalty to Paris Saint-Germain, which Kylian Mbappe converted to end the match in a 1-1 draw. Borussia Dortmund beat AC Milan 3-1 to book its spot in the knockout stage. PSG, Newcastle, and AC Milan are all still alive in Group F heading into the final matchday in December. Shakhtar Donetsk won 1-0 against Royal Antwerp and also still has a shot to advance on the final matchday. Lazio, Atletico Madrid, Barcelona, and Young Boys all won their respective matches as well. Today's matches include Manchester United on the road against Galatasaray, Real Madrid taking on Napoli, and Sevilla facing off with PSV Eindhoven.
Free Kicks
Concacaf has announced that BMO Stadium, Dignity Health Sports Park, Shell Energy Stadium, and Snapdragon Stadium will be the four venues that will host matches for the 2024 Concacaf W Gold Cup.
Barcelona midfielder Gavi will be sidelined for up to 10 months after undergoing knee surgery after suffering a torn ACL in his right knee.
The International Football Association Board approved a trial for sin bins, meaning players punished for dissent or specific tactical offense would be temporarily removed from the match for a set amount of minutes.
You have got to see this goal from Cwrt Rawlin FC in the Welsh seventh division.
---
That will do it for me today, Mane Landers. Enjoy your Wednesday and I'll see you next time.
Lion Links: 11/28/23
Luciano Acosta named MVP, Americans in action, scheduling news for U.S. national teams, and more.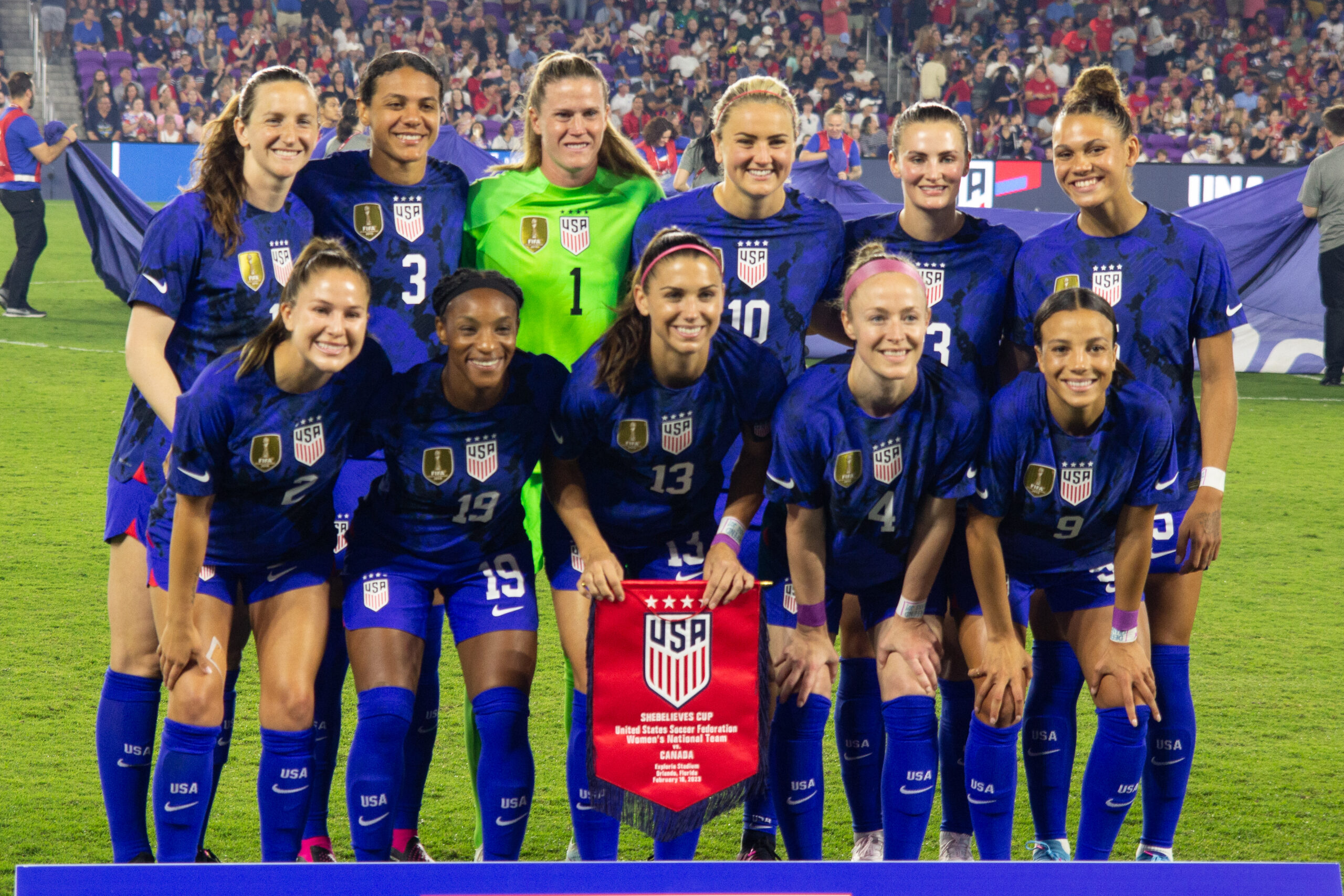 Happy Tuesday, everyone. I'm dragging a little today after having an extended period of time off for the Thanksgiving holiday, but there's no rest for the wicked and the only way out is through. With that being the case, let's get into today's news.
Luciano Acosta Wins MLS MVP
In a piece of news that plenty of people likely saw coming from several miles away, Luciano Acosta has been named Major League Soccer's Most Valuable Player. Acosta racked up 34 goal contributions during the regular season, finishing the 2023 campaign with 17 goals and 14 assists as the driving force behind his team's run to the Supporters' Shield. He was voted the best player in the league by quite some margin and won the award in a landslide, taking 60.37% of the votes to Denis Bouanga's 14.97% and Thiago Almada's 6.46%.
American Stars in Midweek Action
There are a number of United States Men's National Team players that will be in action this week, with several UEFA Champions League clashes highlighting the viewing slate. Christian Pulisic, Yunus Musah and AC Milan will face Giovanni Reyna's Borussia Dortmund today in a game with huge ramifications for both teams. Malik Tillman, Ricardo Pepi, and Sergino Dest may play in PSV Eindhoven's match with Sevilla tomorrow, and a win would likely go a long way to securing a place in the Round of 16. Additionally on Wednesday, Brenden Aaronson and Union Berlin have a chance to make a big move towards a place in the Europa League, as a win over Braga would leapfrog the German club into third place in Group C.
USMNT & USWNT Scheduling News
The USMNT will open its 2024 slate of games with a match against Slovenia on Jan. 20 in San Antonio. The match will fall outside of an international window, meaning that the January camp roster will largely be made up of domestic-based players. The USMNT has faced Slovenia twice before, with the most recent time being a 3-2 win in Ljubljana courtesy of a Jozy Altidore penalty kick.
While we already knew that the United States Women's National Team would play China PR on Dec. 5 in Frisco, we now know that one of the team's legends will be honored before the game. The U.S. Soccer Federation has announced that former Orlando Pride defender Ali Krieger, who stated in March that she will retire following the NWSL season, will be honored before the match. Krieger played 108 games for the USWNT and is a two-time World Cup winner with the team.
Notable Women's Players to Miss International Matches
A pair of high profile women's players will miss upcoming international games. First up, Sam Kerr will not feature in Australia's back-to-back friendlies against Canada due to a foot injury. Kerr has struggled with injuries this year and her availability was limited during this summer's World Cup.
Alexia Putellas will miss Spain's two Nations League matches against Sweden and Italy after picking up a left knee injury. Putellas had missed Euro 2022 due to an ACL tear, but was back to help her side win the World Cup several months ago. Fortunately for Spain, the team is well positioned atop its group and has enough players in the squad that it shouldn't feel her absence too keenly.
Free Kicks
A pair of Willian penalties and an early Alex Iwobi goal helped Fulham beat Wolverhampton, with American defenders Antonee Robinson and Tim Ream also starting.
New York Red Bulls forward Tom Barlow is reportedly headed to the Chicago Fire.
---
That's all I've got for you this morning. Y'all stay safe out there.