Orlando City vs. Colorado Rapids: Final Score 2-1 as Lions Come Back Again
After falling behind, Cristian Higuita and Yoshimar Yotún bring the Cardiac Cats back with second-half goals.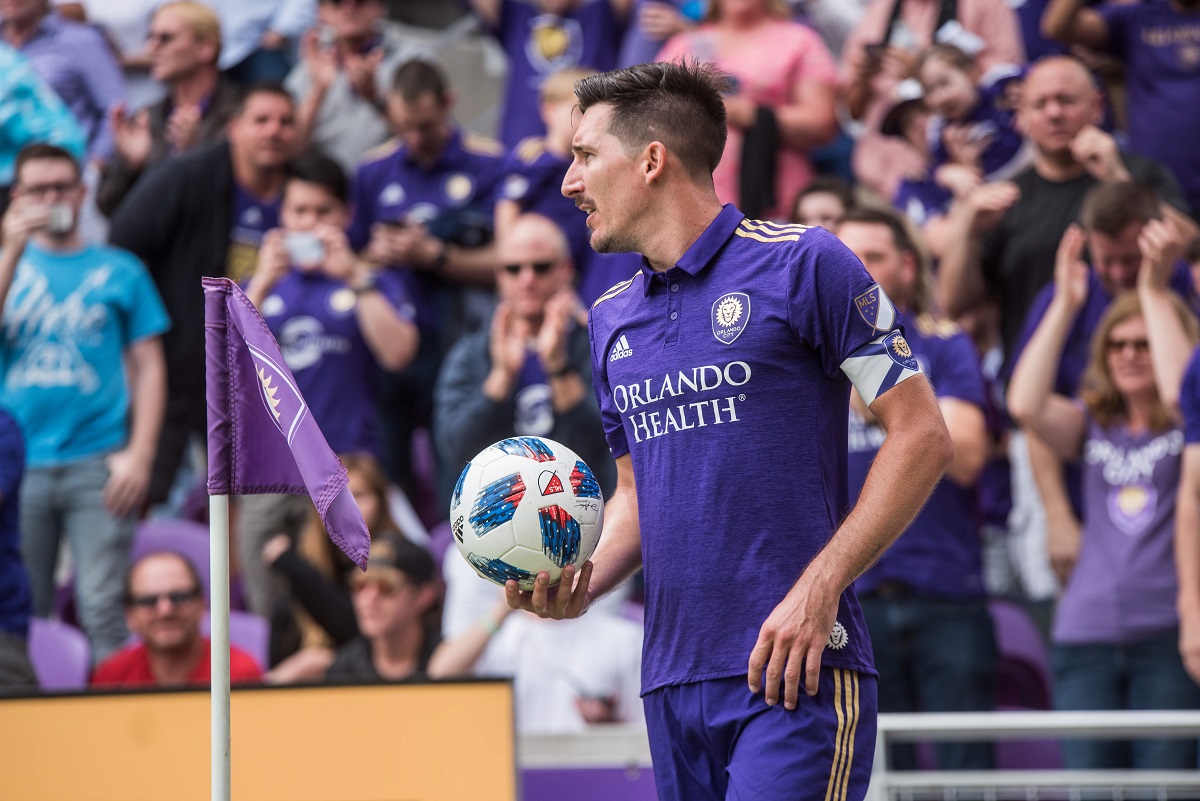 The large traveling contingent of Orlando City fans were treated to another Cardiac Cats performance with the Lions coming back to win 2-1 over the Colorado Rapids at Dick's Sporting Goods Park. The announced crowd of 15,702 saw the Rapids take a first-half lead on Dominique Badji's goal, but Cristian Higuita's rocket and Yoshimar Yotún's penalty-kick goal turned the game around and the Lions held on after some nervy late moments.
Orlando City (5-2-1, 16 points) has won its fifth straight game for just the second time in its MLS existence — the league's longest such streak this season. The Lions handed Colorado (2-3-2, 8 points) its first home loss and improved to 3-0-1 in the series, while winning consecutive road matches for the first time since September of 2015.
Jason Kreis made only one change from last weekend against San Jose, moving Justin Meram into the starting lineup for Stefano Pinho. On the bench, he swapped out former Rapids midfielder Dillon Powers for Richie Laryea.
The Lions started the match sluggishly, spending the first five minutes in their own end, as Colorado pressed high and Orlando failed to string accurate passes together. The Rapids worked for five corner kicks between the 16th and 25th minutes, and there were some nervy minutes as the Lions tried to clear the ball cleanly, but Colorado was unable to find the net with any of them, although Tommy Smith did head one off the post.
Enzo Martinez blasted one from 30 yards out that forced Joe Bendik to parry over the bar.
But the breakthrough started in Colorado's own end. Badji made a run off the two center backs and Martinez found him over the top as both Lamine Sané and Amro Tarek raised their hands to appeal for offside. The flag stayed down and Bendik got himself caught in between, as he didn't have enough time to come out but he tried to anyway. Meanwhile, Sané loafed back expecting the call that never came and Badji slotted the ball into the lower right corner. Badji's score was the first for the Rapids in four meetings with Orlando City.
Whether the play was offside or not, referee José Carlos Rivero never went over to the monitor to review it.
The goal seemed to wake Orlando up, however. After Sané made a good 1-v-1 stop in his own penalty area on Joe Mason at the 32-minute mark, the Lions started to see more and more of the possession.
Chris Mueller started seeing more of the ball and his run forward in the 35th minute broke down when his give-and-go pass attempt to Dom Dwyer was just a tad off line. Two minutes later, Dwyer had a 2-v-1 but his cross for Justin Meram was blocked and Mueller subsequently won a corner. The Lions took it short and got no scoring chance out of their first set piece opportunity of the game. Sigh. #BanShortCorners
In the 39th minute, Meram took a pass at the top of the box and blasted a shot that Jack Price blocked. Yotún followed with a try from at least 35 yards out, but it was well off target. A minute later, Meram centered the ball for Sacha Kljestan, who missed the Lions' best chance of the half, smashing the ball straight at goalkeeper Zac MacMath, when either side would have produced an equalizer.
Two minutes after that, Kljestan found Dwyer, but the ball wouldn't settle for him as he tried to cut inside the defender on to his left foot. The ball deflected to Kljestan while bouncing and he couldn't keep his half-volley attempt on frame. Orlando's final opportunity of the half came in the 45th minute, when Mueller made a superb turn and crossed in for Dwyer. The ball cleared MacMath, but Dwyer was undercut by Deklan Wynne and he couldn't get on top of the cross to head it on frame. No foul was given, but then no foul for handball was given on the other end when the ball inadvertently hit Sané's hand.
The teams went to the break with Colorado leading. Each team had six shots (4-1 on target for the Rapids), Orlando held 56% possession.
Orlando City was the more aggressive and comfortable side through most of the second half. Will Johnson came forward and blasted a shot on goal four minutes after the restart but MacMath was able to save it off the bounce without spilling it. Two minutes later, Meram destroyed a ball that MacMath fought off the goal post to keep the snakebitten City winger off the score sheet.
But just one minute after that, the Lions equalized. Kljestan intercepted a clearance in space at the top of the area and dished off for Higuita, who blasted one into the upper right corner to knot the game at 1-1 in the 52nd minute. Higuita's goal was Orlando's first in Colorado since joining MLS, albeit in only two trips there.
Orlando nearly found a break to take the lead in the 55th minute when Mueller unlocked the defense with a pass for Dwyer, but it had just a bit too much mustard on it and Dom couldn't run it down. Meram fired over the bar two minutes later, and Mueller's ball for Dwyer was too high off the ground to be controlled in the 61st minute. By the time Dom settled it, the defense had made a sliding tackle to dispossess him as the striker was winding up for the shot.
From that point on, Colorado made a series of fouls in what had already been a physical game, with several Rapids booked. In the midst of that, Sané nearly gifted the Rapids a goal when he ignored an open Johnson and instead made an awful back pass intended for Bendik that was intercepted by Yannick Boli, forcing Joe to make a point-blank save.
In the 76th minute, it was one foul too many for Colorado as Dillon Serna clipped Yotún as Meram played him in with a back heel pass to set up a possible 2-v-1 with Dwyer. Before Yoshi could reach the ball, Serna clipped his leg and sent him to the turf for a penalty.
Yotún took the spot kick himself and sent MacMath the wrong way, but it's doubtful the Rapids' keeper could have stopped it if he guessed correctly, as the Peruvian blasted it confidently into the inside netting just inside the right post. The 77th-minute strike pushed Orlando into the lead for the first time.
Yotún's goal served as a wake-up for Colorado, as the Rapids started threading in passes, finding heads with crosses, and just generally being extremely dangerous for the remainder of the match. Serna ripped a laser shot wide in the 80th minute and a minute later Bendik had to get off his line quickly to beat Boli to a ball over the top.
Mueller could have put the game out of reach in the 82nd, as Meram slipped him down the right side of the penalty area. The rookie's first touch took him a bit wider and then he fired wide of the near post on what could have been the insurance marker.
The Rapids got the ball in behind in the 87th minute but it was knocked wide for a goal kick, then Serna sent another rocket over the bar on a Tarek turnover in the 88th. In the 92nd minute, Serna thought he'd tied the game when he slipped through the defense but Mohamed El-Munir came out of nowhere to make a sliding block of the shot with Bendik well beaten.
Two more glancing headers went wide in the 93rd and 96th minutes, and the whistle finally blew on Orlando City's fifth consecutive victory.
The late flurry allowed the Rapids to out-shoot the Lions, 16-12 (and 6-5 on target). Orlando held 56% of the possession and completed 82% of its passes compared to Colorado's 79%. The concerning thing would be the 11-1 advantage the Rapids enjoyed on corner kicks.
Still, it's a road win in a difficult environment, and not a game previous Orlando City teams would have likely won. With tougher opponents on the horizon, any away win is a good one, and Orlando will need to continue to work on dead ball situations and fix a few things the Rapids were able to do before more talented teams start doing those things.
---
The Lions return to action next Sunday at home against Real Salt Lake at 5 p.m. ET.
Lion Links: 9/29/23
Orlando City prepares for CF Montreal, learning more about Duncan McGuire, Jack Lynn named to MLS NEXT Pro Best XI, and more.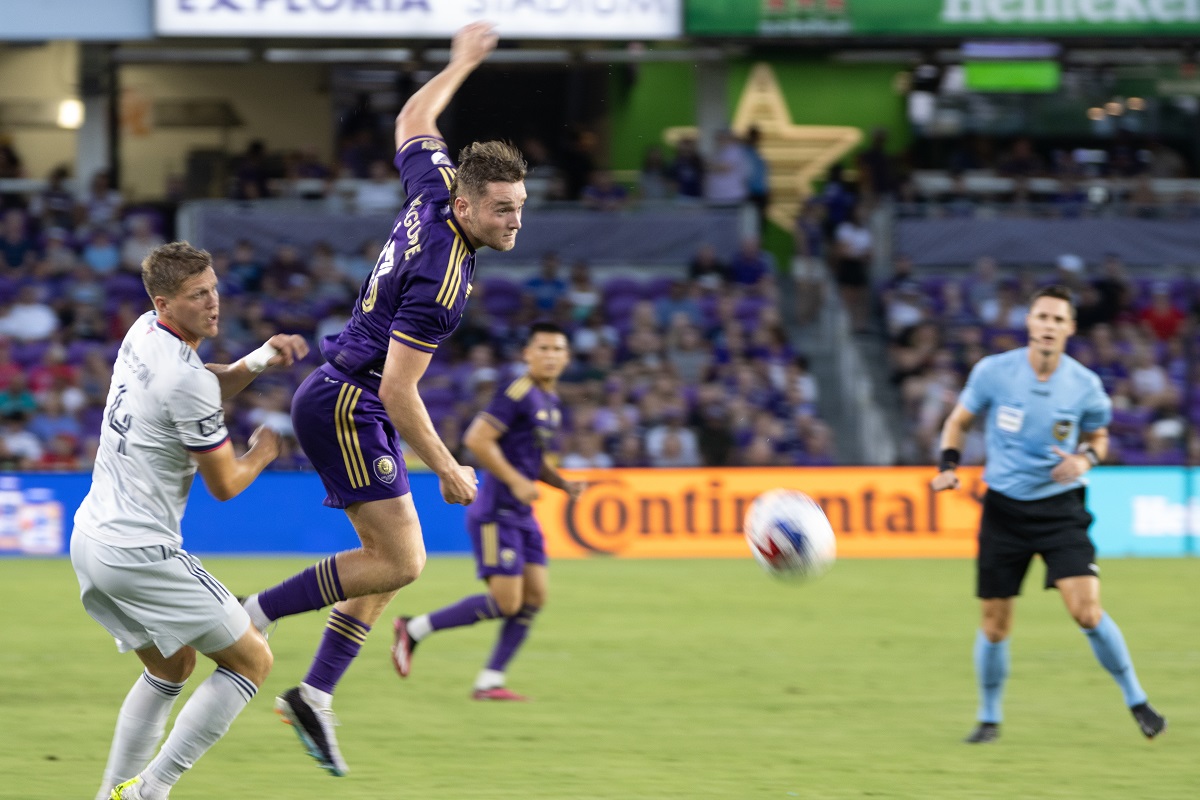 It's Friday, which means we're just one day away from a pretty busy weekend of Orlando soccer. It should be a pretty fun next few days, with Orlando City, the Orlando Pride, and Orlando City B all in action. I don't have many weekend plans beyond working and getting some writing and reading done. Let's get to the links!
Orlando City Prepares for CF Montreal
Orlando City hosts CF Montreal tomorrow night in a showdown between two Eastern Conference teams with just four games remaining this season. It's the second match between the two teams this year, with Montreal beating the Lions 2-0 in Canada on May 6. In the time since that game, the Lions have only lost three games this season and have not been defeated at home since April 22. Orlando's next win will be Head Coach Oscar Pareja's 60th with the Lions, and tomorrow's match could also break club records for most wins and points in a season. A win for the Lions would be massive to put some breathing room between them and the other top teams in the Eastern Conference.
Get to Know Duncan McGuire
Orlando forward Duncan McGuire was the latest to go under the microscope as part of the club's video series to learn more about the players. The rookie spoke on his upbringing as a middle child, as well as how he turned to soccer after struggling in other sports. McGuire also talked about his acrobatic goal celebrations and a clip is included of a time he didn't quite stick the landing after scoring for Creighton. It's a pretty fun interview, as he gave some details on how Mason Stajduhar is a quick learner when it comes to golf and how he wants to go out to dinner with Ana de Armas.
Jack Lynn Makes MLS NEXT Pro Best XI
Orlando City B forward Jack Lynn was named to the MLS NEXT Pro's Best XI for the second straight year. Lynn fueled OCB's offense this season, scoring 19 goals to help the Young Lions claim a spot in the playoffs. No MLS NEXT Pro player has scored more goals since the league's inaugural season last year than Lynn, who has 34 goals under his belt. The 23-year-old is joined on the front line of this year's Best XI with the two players he tied with for the Golden Boot, New York City FC II's Matt Myers and Colorado Rapids 2 forward Remi Cabral.
Orlando City B Takes On Columbus Crew 2 This Sunday
The Young Lions will play their first MLS NEXT Pro playoff game this Sunday when they face Columbus Crew 2 on the road at 5:30 p.m. It will be the third and final match between the two sides this year, with each claiming a big win over the other earlier in the season. No team that qualified for the playoffs has lost more road games than OCB this season, which may be why Columbus elected to face Orlando. However, Orlando's offense has been electric at times this year thanks to Lynn, Shak Mohammed, Wilfredo Rivera, and others. Sunday may be another wild game with the Young Lions involved and you can check it out on MLS Season Pass on Apple TV+.
Tahir Reid-Brown Called Up for Training Camp
United States U-17 Men's National Team Head Coach Gonzalo Segares called up 20 players for a training camp in Brazil to prepare for the U-17 World Cup in November. OCB defender Tahir Reid-Brown was the lone Orlando representative called up for this camp. The 17-year-old was called up to the U-17 team earlier this April for a training camp in Florida. He's had an impressive year, earning a spot in the MLS NEXT All-Star Game and making 10 appearances for OCB. The U.S. will take on Brazil on Oct. 4 and Oct. 6 in a pair of friendlies during this camp.
Free Kicks
Orlando City center back Rodrigo Schlegel unveiled the meaning behind his tattoos, including the ones for his parents and his biggest moments as a Lion.
---
That's all I have for you today. Hopefully the weather plays nice this weekend and you're able to do everything you have planned. Have a great Friday!
Orlando City vs. CF Montreal: Three Keys to Victory
What does Orlando City need to do to earn all three points against CF Montreal this Saturday in Exploria Stadium?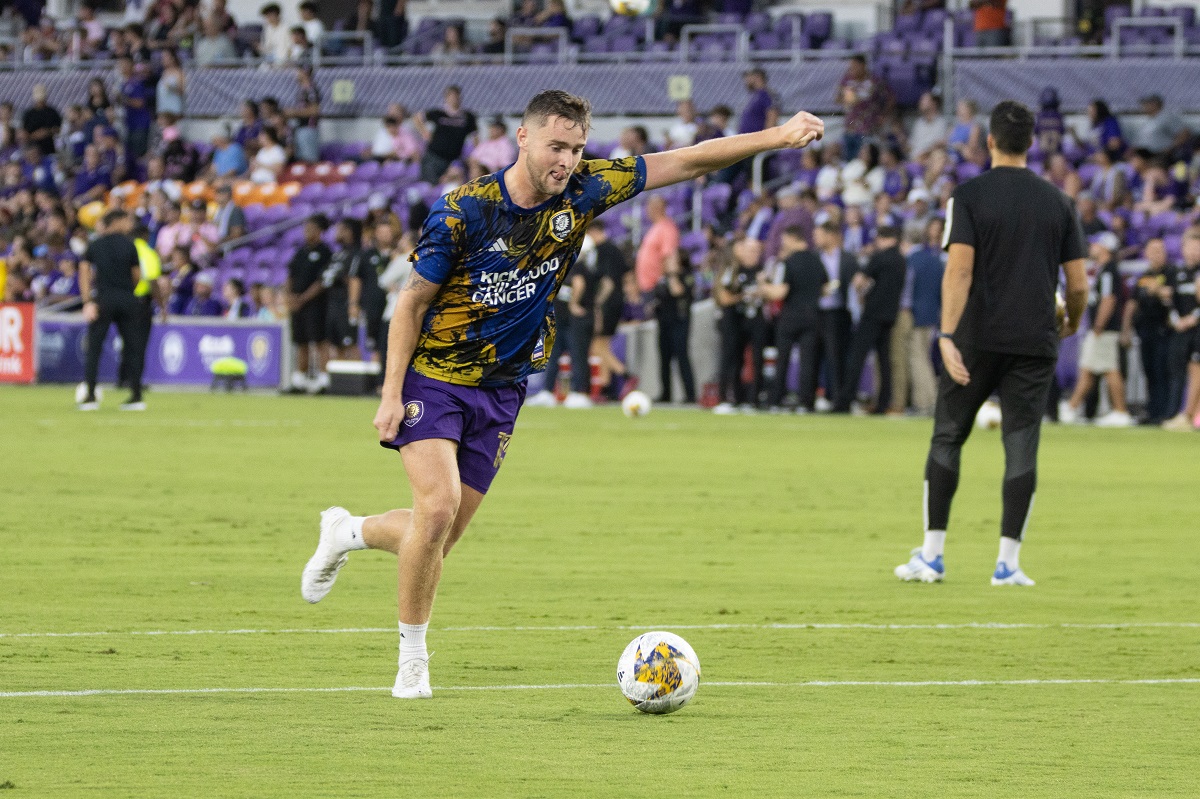 Orlando City hosts CF Montreal in the second-to-last home match of the 2023 MLS regular season at Exploria Stadium this Saturday night. The Lions have already secured a spot in the playoffs but are now fighting for home field advantage. Montreal is currently sitting in eighth place in the Eastern Conference and is fighting for a playoff spot.
What does Orlando City need to do to secure three important points against the Canadian Club Foots?
Time to Make the Donuts
It had been a minute since Duncan McGuire scored a goal for Orlando City — and by a minute I mean since July 29. McGuire had a few opportunities against Inter Miami and managed to get one to equalize for the Lions and ensure a point at home. I do think he might have scored on another of those chances if he was fully back in form after his injury time, but I'll take the goal.
My hope is that getting that goal will remind him that he can score goals when given the opportunity, and he will be better about finishing the chances he gets against Montreal. Sometimes it just takes getting that first goal to open up the muscle memory and to unlock the confidence needed in a striker. It's time for Duncan to score more goals, and the match against Montreal is the first and best opportunity to do so since Montreal starting center back Joel Waterman will be serving a red card suspension.
Switch up the Lineup
I propose a change to the starting lineup — something Oscar Pareja does not do very often. Due to injuries and other factors such a move wasn't possible earlier in the season, but I think it could work now. I have a ton of respect for Mauricio Pereyra, but he could probably use a rest to be fresh for the playoffs as the regular season winds down.
I suggest letting Martin Ojeda get the start in the 10 spot, moving Dagur Dan Thorhallsson up the wing, and having Michael Halliday take over at right back. Ojeda's play as of late has been much improved, and with Halliday healthy again, why not take advantage of Dagur Dan's versatility along the wing. I think this move provides energy, a surprise for opposing defenses, and allows Facundo Torres more freedom. 
Same Old Effective Defense
Orlando City's defense has only allowed 37 goals this season — which is good enough to tie for sixth place in the Eastern Conference. On the flip side, Montreal has only scored 30 goals so far — which is only better than Toronto at 24 goals. Montreal has a goal differential of -15.If the Lions play their normally solid defense in front of the outstanding goalkeeping of Pedro Gallese, Montreal should not get too many opportunities to score. There's no doubt that we will see Robin Jansson and Rodrigo Schlegel paired together with Rafael Santos on the left and either Dagur Dan — or Michael Halliday as I suggested — on the right. Cesar Araujo and Wilder Cartagena can stop most attacks before they get to the back line. If Orlando City plays defense as well as the club did against Miami, things should be fine.
---
That is what I will be looking for this Saturday as the Lions take on the boys from North of the border. Vamos Orlando!
Lion Links: 9/28/23
Ajax is reportedly scouting Facundo Torres, Orlando Pride focus on upcoming matches, Houston Dynamo win U.S. Open Cup, and more.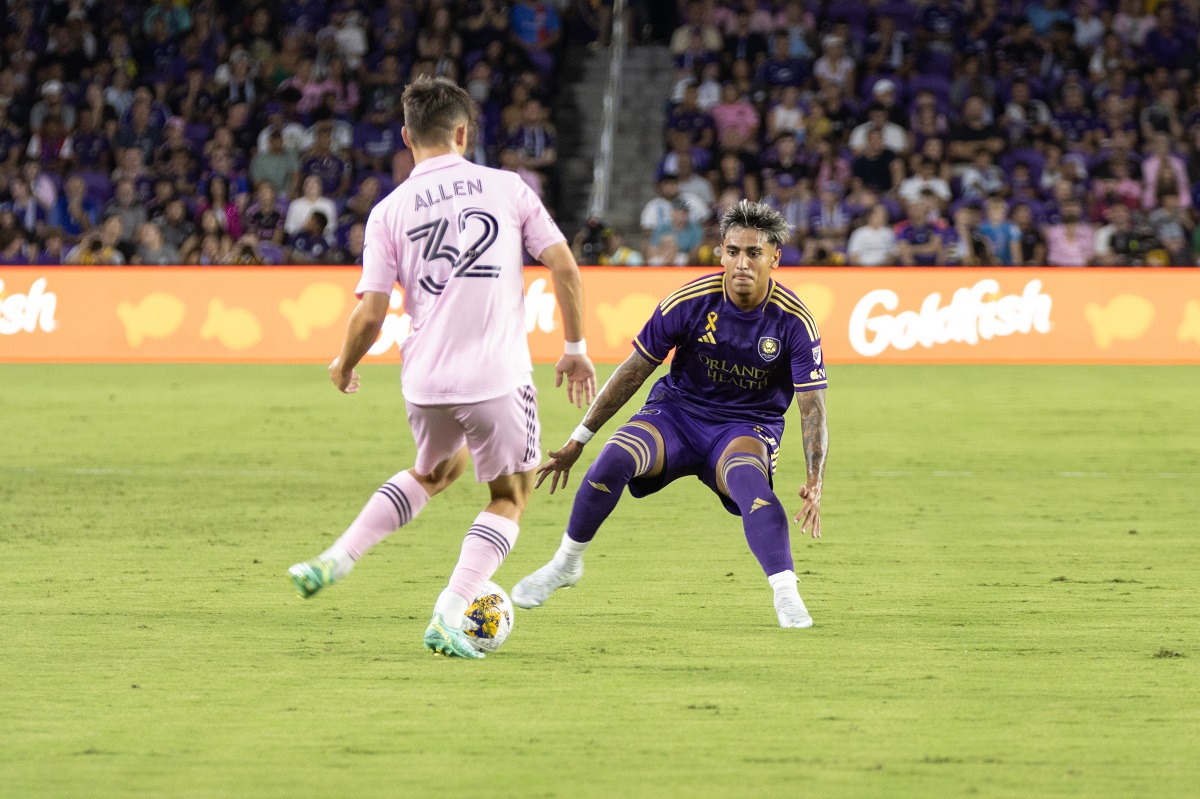 How's it going, Mane Landers? I hope this work week has gone smoothly for you as we get ready to bid farewell to September. It's been a hectic week for me, but I started and then promptly devoured all of Fourth Wing by Rebecca Yarros. It was a nice read, albeit a bit intense at times. I'm not sure what I'll read next as most of my reading list is packed up for a move, but if you have any recommendations then let me know in the comments below. Let's dive into today's links!
Ajax Reportedly Interested in Facundo Torres
Orlando City forward Facundo Torres has reportedly garnered the interest of Dutch club Ajax according to Fabrizio Romano.
It's not too surprising that Ajax, which currently sits in 14th in the Eredivisie with just seven goals from five games, has scouts keeping tabs on Torres. The 23-year-old has scored 12 goals this season, powering Orlando to second in the Eastern Conference. It wouldn't be the first time Torres has received attention from European clubs and likely won't be the last as he continues to impress with the Lions
Orlando Pride Focus During Playoff Push
The Orlando Pride are back in action on Monday for a crucial road match with Angel City FC. Both teams have 25 points this season, one point from the sixth and final playoff spot currently held by the Washington Spirit. It will be the first of three remaining games for the Pride this season, with matches against fellow playoff hopefuls Racing Louisville and the Houston Dash set for later in October. As a result, there's not much margin for error if the Pride wish to make the playoffs and Kylie Strom talked about how the team is focused for these games.
MLS NEXT Pro Playoffs Begin This Weekend
The first round of the MLS NEXT Pro playoffs kicks off this weekend with six matches that can all be watched on MLS Season Pass. Unlike last year, Orlando City B will be taking part and is set to face off with Columbus Crew 2 on Sunday at 5:30 p.m. Although the Young Lions have struggled on the road against Columbus, Jack Lynn and Shak Mohammed can make things difficult for the hosts. Hopefully we'll see OCB make Columbus regret its choice of opponent in the postseason. I like the wrinkle and mind games to the playoffs the new rule gave and am interested to see which of the lower seeds plays with a chip on their shoulder. The playoffs begin on Friday when Sporting Kansas City II hosts Austin FC II in a battle between the third and fourth seeds of the Western Conference.
Houston Dynamo Win U.S. Open Cup
The Houston Dynamo have lifted the U.S. Open Cup trophy after winning 2-1 on the road against Inter Miami. A pair of goals in the first half were enough for Houston to win its second U.S. Open Cup title after also winning in 2018. A goal in stoppage time from Josef Martinez made things interesting, but the Dynamo defense did well to secure the win and deny Miami its second tournament title this year. It was a strong end to a solid tournament campaign from the Dynamo, as they beat four MLS sides before taking down Miami in the final.
Albertin Montoya Hired as Bay FC Head Coach
Ahead of its inaugural NWSL season next year, Bay FC named Albertin Montoya as the club's first head coach. Montoya, who has lived in California for most of his life, served as the interim coach for the Washington Spirit in 2022 and also coached the U.S. U-17 women's national team in 2011. Bay FC General Manager Lucy Rushton spoke on how Montoya's name came up often while the club searched for a head coach, as well as how his skill at developing players will help build the club's foundation.
Free Kicks
Orlando City Head Coach Oscar Pareja called for the supporters to continue filling Exploria Stadium and pushing the Lions forward for the team's remaining home games this season.
St. Louis City midfielder Njabulo Blom won MLS Goal of the Week for his winner against Minnesota United. It was also the 23-year-old's first professional goal.
---
That's all I have for you today. Have a wonderful Thursday and rest of your week!