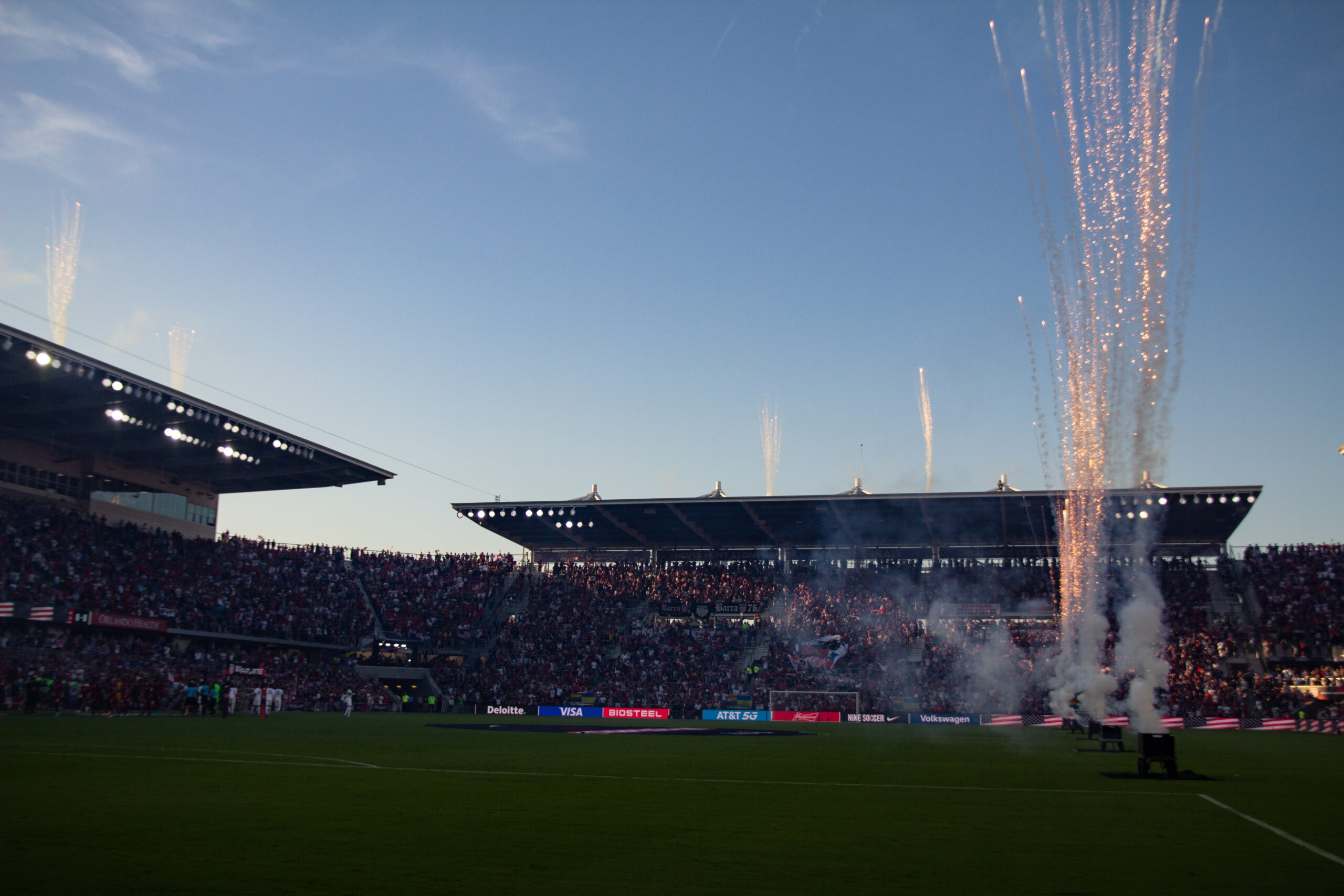 Happy Sunday, Mane Landers. I hope you're all enjoying this holiday weekend despite the Lions dropping all three points to the Zlatan-less Galaxy on Friday night. It was a tough pill to swallow, and although I remain optimistic, significant improvements are obviously necessary to push this team over a hump that they can't seem to overcome. Meanwhile, an extremely weakened Pride team will also be seeking to improve, as a decent sized list of players are missing to prepare for the upcoming World Cup. It's a rough time to be an Orlando supporter, but then again, we're resilient and used to it. Everyone keep your chins up. And hey, at least we all get to catch the USWNT in action today against Mexico!
Any who, now that my spiel is out of the way, let's get to these Links. Enjoy.
Orlando Pride Lose 2-0 at Rio Tinto Stadium
The Pride players who didn't earn a call-up to represent their country traveled to Utah where they took on the Royals last night. Let's just say this one didn't go well for the Pride, and a 2-0 loss was the final result. Amy Rodriguez (31') and Makenzy Doniak (89') scored for the Royals as the Pride failed to register a goal again. The Pride were outplayed in this match, losing in possession (60-40), passes completed (426 to 268), and pass accuracy (78% to 66%), and the missing players representing their countries were sorely missed. The Pride had 12 corners but failed to capitalize on such a large number of direct opportunities, and ultimately paid the price.
Flávio Augusto Da Silva to Sell OCSC in 2022?
The owner of the club recently declared that he may be open to selling the club when he becomes 50 years old, citing his desire to focus on philanthropy.
"I'm not making a sale announcement. The announcement is that I will dedicate myself to philanthropy," Da Silva said in an interview with Brazilian outlet Estadão. "But I believe that the apex of a successful entrepreneur is when the market becomes interested in what he has created to the point of wanting to pay for it and fortunately I'm constantly being sought out by investors."
It's just a thought for now, but who knows what could happen down the road. It's always a hectic roller coaster ride being a supporter of this club, but I wouldn't have it any other way.
Shelina Zadorsky Named to Canadian National Team
To nobody's surprise, the Pride's No. 4 was named to the Canadian Women's National Team for this summer's World Cup in France. The team's theme for the tournament, "Together We Rise," comes after the Canadians were knocked out of the 2015 World Cup in the quarterfinals. While they're not considered the favorite to win the tournament, Canada Head Coach Kenneth Heiner-Møller is confident in his team's ability to compete and win, but also acknowledges that the team has done a good job of taking it a step at a time: a trend that the coach will continue to preach.
"We are going there to win it, but we have been very good at taking things one step at a time," said Kenneth Heiner-Møller, Canada Soccer's Women's National Team Head Coach and Women's National EXCEL Director. "We didn't look beyond the Algarve Cup and we didn't look beyond matches against England or Spain; we only looked at what was right in front of us. Right now, there are three group matches in front of us and we are focused very clearly on Cameroon, New Zealand and Netherlands."
A Team We're All Proud Of
This summer's World Cup crown is important to the U.S. Women's National Team, but there's a message that this team, these women, also wish to send: equality for all.
"I think equality for all requires people who have more [power] right now to give up some, which I think is a good thing for everyone. But some people don't want to give that up, so they're doing everything they can to keep all of it," co-captain Megan Rapinoe said Friday morning during a pre-World Cup media day at Twitter's New York City headquarters. "I don't think it's surprising. Maybe they feel like it is that moment where it is kind of a tipping point, … where things are becoming more equal for everyone, and I guess people are uncomfortable with that."
In an increasingly divisive time for our country and the world we live in, this team refuses to sit quiet on issues of inequality; whether that be about their own compensation or defending the LGBTQ community. This team has honor, and are brave to speak out and use their platform to hopefully foster change in an unfair world.
"We do have such a big platform to be able to use our voices. And right now, all eyes are on us," said Morgan, who received criticism and praise a day earlier for a Time magazine interview in which she spoke out about politics, specifically policies separating migrant families and visiting the White House. "… There are also a lot of important issues that are bigger than soccer in the world today, and definitely the abortion laws being changed in some states are one of them. And that's definitely not one that I'm in agreement on."
Abby Wambach Named to National Soccer Hall of Fame
Being revealed by a fellow American legend Julie Foudy, Abby Wambach will be inducted into the National Soccer Hall of Fame in the class of 2019. Foudy did a great job with the video reveal, welcoming her and her 184 international goals to the prestigious class. Well deserved, Abby!
Brb we're crying 😭

CONGRATS, @AbbyWambach! 🎉pic.twitter.com/sCpRYSHcWx

— U.S. Soccer WNT (@USWNT) May 25, 2019
Free Kicks
This young soccer player came up with a creative way to lose his first tooth 😂

(via @SeanKilby1) pic.twitter.com/atKxlqTOs2

— ESPN (@espn) May 25, 2019
This is just unfortunate, and I don't really have much else to say about it.
Nog nooit meegemaakt dit pic.twitter.com/sGyixN0gFb

— Harkemase Boys (@HarkemaseBoys) May 25, 2019
Congratulations are most certainly in order to Celtic for winning the treble (the league, League Cup, and Scottish Cup) for a third consecutive time. It's been dubbed the "treble-treble," for obvious reasons.
Congratulations are also in order to Ocho Cinco, otherwise known as Chad Johnson (long NFL story), as he scored twice for Boca Raton to give the club a 2-0 lead against Breakers FC. Not too shabby for a former Bengals wide receiver. Here's his first, which actually looks to be a decent header.
Check out @ochocinco's header to give #BocaRatonFC the 1-0 lead!#UPSLGOTW | @DennisPope pic.twitter.com/KyYarGV7uk

— Boca Raton FC (@BocaRatonFC) May 25, 2019
One more congratulations: way to go Tallahassee SC, taking down Pensacola FC 5-1 for the club's first-ever historic win!
A 5-1 victory and three points to @TLHSoccerClub! #TLHvPFC #panhandlecup #tothegoal #oronero pic.twitter.com/NaAReyFyKY

— Mike Bonfanti (@bonfantimike) May 26, 2019
---
All right folks, that's all I have for you today. To all of the veterans reading along, thank you for your service to this beautiful country of ours. You are truly appreciated. Enjoy the remainder of this long weekend while you can, because Tuesday is right around the corner.
Lion Links: 9/25/23
Orlando City draws with Inter Miami, Viviana Villacorta out for the season, OCB wins last game of the regular season, and more.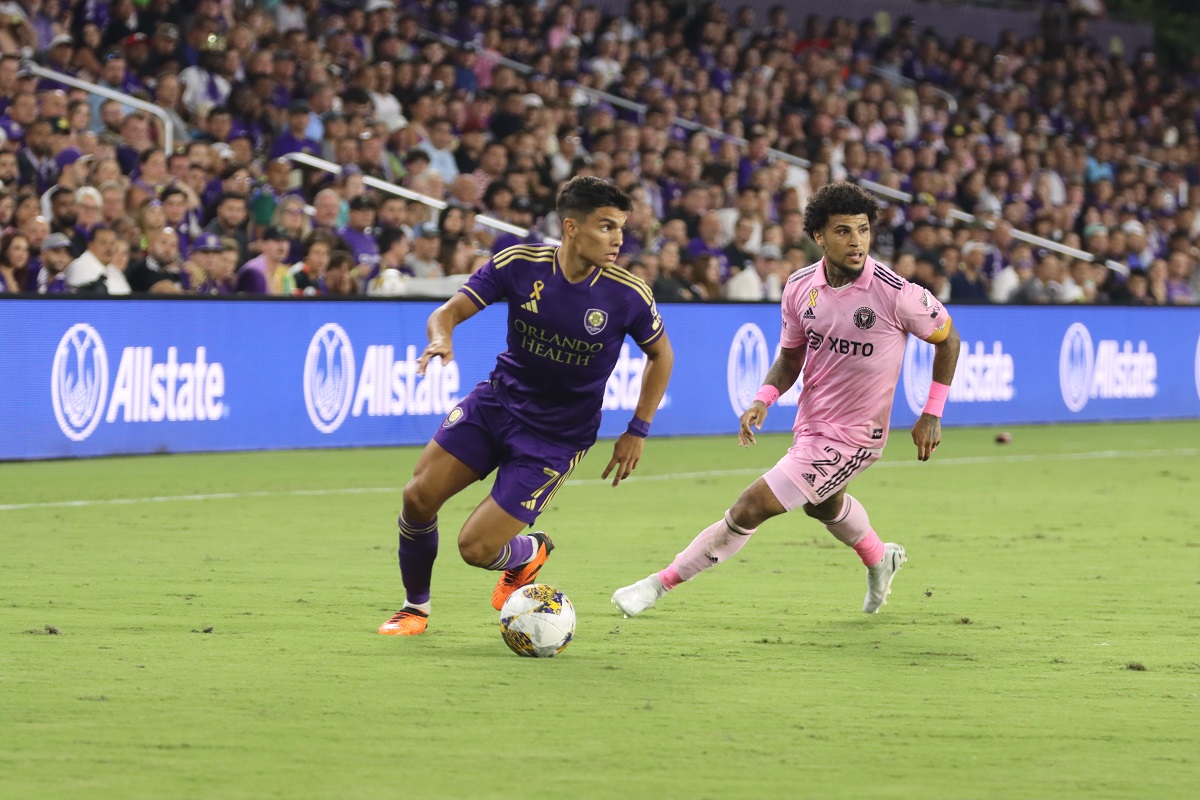 Last night's Orlando City match wasn't the best, but it wasn't the worst either. It's a pretty fitting feeling on a Monday, as we all get back into the swing of the work week after a nice weekend of soccer. There are plenty of ups and downs from a rollercoaster Sunday, so let's dive right into today's links!
Orlando City Draws With Inter Miami
In the latest edition of the Tropic Thunder rivalry, Orlando City and Inter Miami split the points at Exploria Stadium in a 1-1 result. Miami struck first, but the Lions did well to find an equalizer, even though they couldn't find a winner in the end. It wasn't Orlando's best game by any means, but it was a decent response to a 2-0 loss on the road to New York City FC. Orlando now has 51 points, tying its club record for the most points in a season, set in 2021. The Lions will have a chance to break that record on Saturday when they host CF Montreal.
Viviana Villacorta Out for the Season
Orlando Pride midfielder Viviana Villacorta will miss the remainder of the NWSL season after suffering an ACL tear in her left knee during training. The 24-year-old was selected with the ninth overall pick in the 2021 NWSL Draft, but was not able to make her debut until 2022 due to sustained an ACL tear in her right knee that kept her out for all of the 2021 season. This year, she has 21 appearances across all competitions for the Pride and notched the first assist of her career in a big road win against the San Diego Wave on April 29. This is a tough blow to the Pride's midfield with just three games remaining as she has ended her season early due to injury for the third straight year. The Pride are only a point out of a playoff spot and are back in action on Oct. 2 against Angel City FC.
Orlando City B Wins On Decision Day
On the final day of the MLS NEXT Pro regular season, Orlando City B won 2-1 at home over FC Cincinnati 2. The Young Lions had already clinched a spot in the postseason heading into this match, but the win secured their spot as the fifth seed. Jack Lynn briefly held the Golden Boot lead after scoring, but ended up tied at 19 goals with New York City FC II's Matt Myers and Colorado Rapids 2's Remi Cabral. The trio ended in a three-way tie for the league's Golden Boot honors. OCB will hit the road for its first MLS NEXT Pro playoff game, although the opponent is not yet known thanks to the new rule where higher seeds choose which team they want to face.
USWNT Wins in Megan Rapinoe's Final Match
The United States Women's National Team beat South Africa in a 2-0 win at Soldier Field. Trinity Rodman and Emily Sonnett scored and the defense did well to secure its second shutout against South Africa after a 3-0 win this past Thursday. This game also marked forward Megan Rapinoe's final game with the USWNT, with the 38-year-old subbed off for the last time in the 54th minute. These were solid wins from the USWNT following the World Cup and it will aim to keep the momentum rolling next month in a pair of friendlies against Colombia.
Free Kicks
Three Orlando City academy sides came up with shutout victories this weekend.
---
That's all I have for you today, Mane Landers. I hope you all have an easy Monday and rest of your week!
Lion Links: 9/23/22
Lions and Herons meet again, Carly Nelson is writing a book, NWSL free agency opens, and more.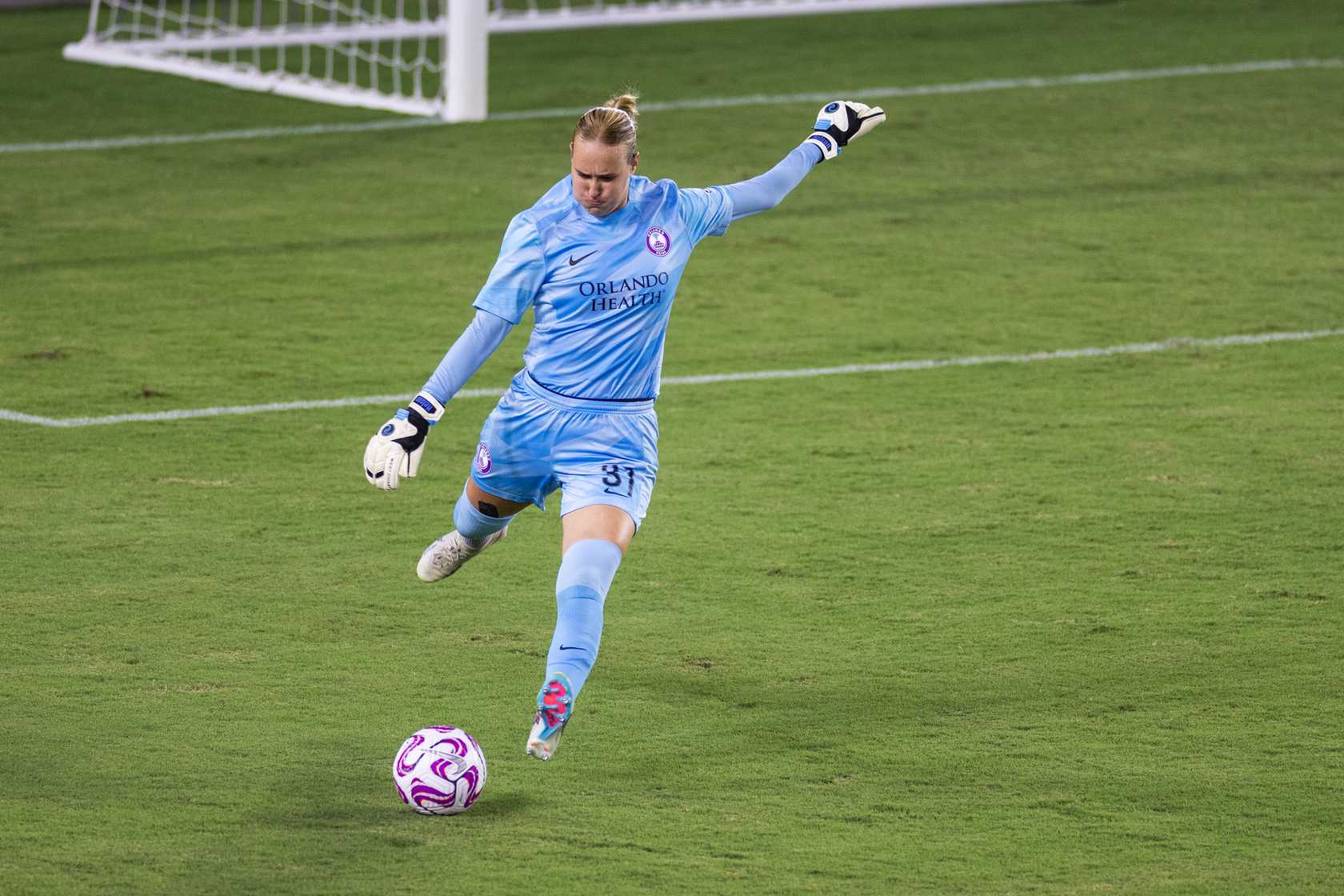 Happy Founder's Day, Mane Landers! It was on this day in 2014 that our fearless leader and Managing Editor Michael Citro started our first ever WordPress website. It's safe to say that I'm sure The Mane Land has impacted your life as much as it has mine over the years, whether that be through daily reading or weekly podcasts. Cheers to Michael and all those who have come before me.
In my own personal news, I have been grinding away on the new EA FC 24 (the franchise formerly known as EA's FIFA.) So far, the gameplay and updates have been great in my initial 15+ hours of play, and my online Ultimate Team is starting to really take its shape. I'm sure in a couple weeks that I'll transition to a traditional Career Mode and take the Lions all the way to an MLS Cup and beyond.
Before we dive into today's links, let's all wish a very happy birthday to everyone's favorite defensive midfielder, Wilder Cartagena!
Third Bout for Orlando City and Inter Miami
Orlando City and Inter Miami have already met twice this campaign. Sunday's match will look to break the deadlock between the two rivals as both clubs have a victory to their name in this year's series. In May, the Lions grabbed a 3-1 victory over the Fort Lauderdale-based club. The two sides met for a second time in the knockout round of Leagues Cup 2023 with Inter Miami taking the 3-1 result at DRV PNK Stadium. No matter the result this time around, Orlando City has already clinched a playoff spot, however, the Herons need every point they can get to attempt to do the same.
Carly Nelson, Goalkeeper and Author
It isn't unheard of to learn that an athlete might have tried another sport before finding soccer, Orlando Pride goalkeeper Carly Nelson came from a background of gymnastics, tennis, basketball, and baseball before her father started a club soccer team with her in mind. While Nelson might have idolized USWNT legend Hope Solo as a child, she started her playing days as a forward, winger, and midfielder. Outside of protecting the Pride's net, Nelson is spending time writing a book about her life growing up in Utah and the issues her family faced to hopefully help others that might find themselves in similar situations.
NWSL Opens 2024 Free Agency
The National Women's Soccer League has officially opened the league's unrestricted and restricted free agency periods. In accordance with the NWSL Players' Association's collective bargaining agreement, eligible free agents can begin negotiations for their 2024 Standard Player Agreements. Players eligible for unrestricted free agency include all who have at least five years of service within the NWSL and contracts expiring in 2023, while players eligible for restricted free agency include those who have at least three years of service. For the Orlando Pride, defender Kylie Strom is set to be an unrestricted free agent and midfielder Jordyn Listro is under restricted terms. Any club that currently holds the rights of a restricted free agent has a seven-day period to match an incoming offer from another club or else the player may sign with the new club under the terms of the offer.
USMNT's Tyler Adams Nearing Return
Tyler Adams will not make his Bournemouth debut this weekend, but he could return as early as next week. Bournemouth's manager, Andoni Iraola, provided a positive update on the U.S. Men's National Team captain as he finishes up rehabbing a long-term hamstring injury.
"He has started this week at least to train partially with the group, so probably we can have a chance of having him next week or two weeks, something like this. Tyler is really close because once you start training partially with the group, it's a matter of sensations, and if you are physically good enough. He has a very good physical base. So I think it will take not a long time to see Tyler with the team."
Adams has not played since March after having a hamstring surgery. Even with a known injury, the 24-year-old still completed a move from Leeds United to Bournemouth following Leeds' relegation to keep him in the top flight.
MLS Weekend Preview
Aside from the Florida derby, there are plenty of matches to be excited about around the league this weekend. Personally, I'm looking forward to catching a bit of the D.C. United and New York Red Bulls match. Manager Wayne Rooney's club is right on the bubble in a tight Eastern Conference race while the Red Bulls can do themselves a huge service and come back into the playoff picture with a win. Out in the Western Conference, there is a real buzz around a Portland Timbers squad after a manager sacking. It could be a huge win for the Timbers and likely push them above the play-in round should they find a result against the Colorado Rapids.
Free Kicks
---
That's all I have for you today, Mane Landers. I hope you all have a fantastic Saturday. Be safe on Sunday at the match. Stay hydrated and look out for those around you. Vamos Orlando!
Lion Links: 9/22/23
Orlando City prepares for Inter Miami, MLS NEXT Pro Decision Day is Sunday, USWNT wins against South Africa, and much more.
Happy Friday! It's been a pretty busy week of apartment hunting and work for me, so I'm looking forward to some rest and relaxation this weekend. I don't have many plans, but I did make sure to carve out a few hours to make a drink and get some reading done. My book club is fairly low maintenance, but I'll be behind if I don't finish Fourth Wing before the second book in the series comes out in November. Let's get into today's links!
Orlando City Takes On Inter Miami This Weekend
Following a 2-0 loss on the road to New York City FC earlier this week, Orlando City will aim to bounce back when it hosts rival Inter Miami this Sunday. Orlando has a chance to set club records for the most wins and points in a season since it joined MLS in 2015. It will be the third meeting between the two clubs this season, with Orlando beating Miami 3-1 in May before falling 3-1 in the Leagues Cup's knockout stage. Although Miami will be without Lionel Messi and Jordi Alba according to Head Coach Tata Martino, the Herons still have plenty of attacking talent in the form of Sergio Busquets, Leonardo Campana, and Josef Martinez.
Orlando City B Readies for MLS NEXT Pro Decision Day
Sunday will also be the final day of the MLS NEXT Pro regular season, with nearly every team in action. Here's everything you need to know about Decision Day across the league, with playoff spots still up for grabs. Orlando City B has already clinched its spot in the postseason, but can secure fifth in the Eastern Conference when it takes on FC Cincinnati 2. However, the difference between fifth and a lower seed won't matter too much due to a new rule this year where the second and third seed in each conference choose which lower seed it wants to host in the playoffs. The Golden Boot race is competitive as well, with OCB's Jack Lynn tied at the top with New York City FC II's Matt Myers. We'll see if Lynn takes part in Sunday's match after giving the first team needed depth last weekend.
USWNT Beats South Africa in Julie Ertz's Finale
The United States Women's National Team won 3-0 against South Africa in the first of two friendlies this month. All three of the USWNT's goals came in the first half, with Lynn Williams bagging a brace. In her final USWNT game, Julie Ertz started and earned plenty of applause from the crowd at TQL Stadium when she was subbed off in the 36h minute. M.A. Vignola made her USWNT debut in the match as well, coming on at halftime. The two nations will play again on Sunday in what will be forward Megan Rapinoe's last game with the USWNT.
Europa League Group Stage Kicks Off
The first round of Europa League group stage matches is over, with all 32 teams getting things started across Europe. Brighton & Hove Albion's first Europa League match was a rough one, as the English club fell 3-2 at home against AEK Athens. The Spanish clubs also struggled, with Villarreal getting shut out 2-0 by Panathinaikos and Real Betis losing 1-0 to Rangers. Elsewhere, AS Roma beat Sheriff Tiraspol 2-1 thanks to a winner from Romelu Lukaku, Liverpool won 3-1 over Austrian club LASK after trailing early on, and Marseille drew 3-3 with Ajax in a thriller. West Ham, Atalanta, Bayer Leverkusen, and SC Freiburg also won their group openers.
Free Kicks
Enjoy the sights and sounds from the Orlando City Foundation's annual celebrity golf and footgolf tournament.
---
That's all I have for you today, Mane Landers. I hope you all have a fantastic Friday and rest of your weekend!