Orlando City at D.C. United: Player Grades and Man of the Match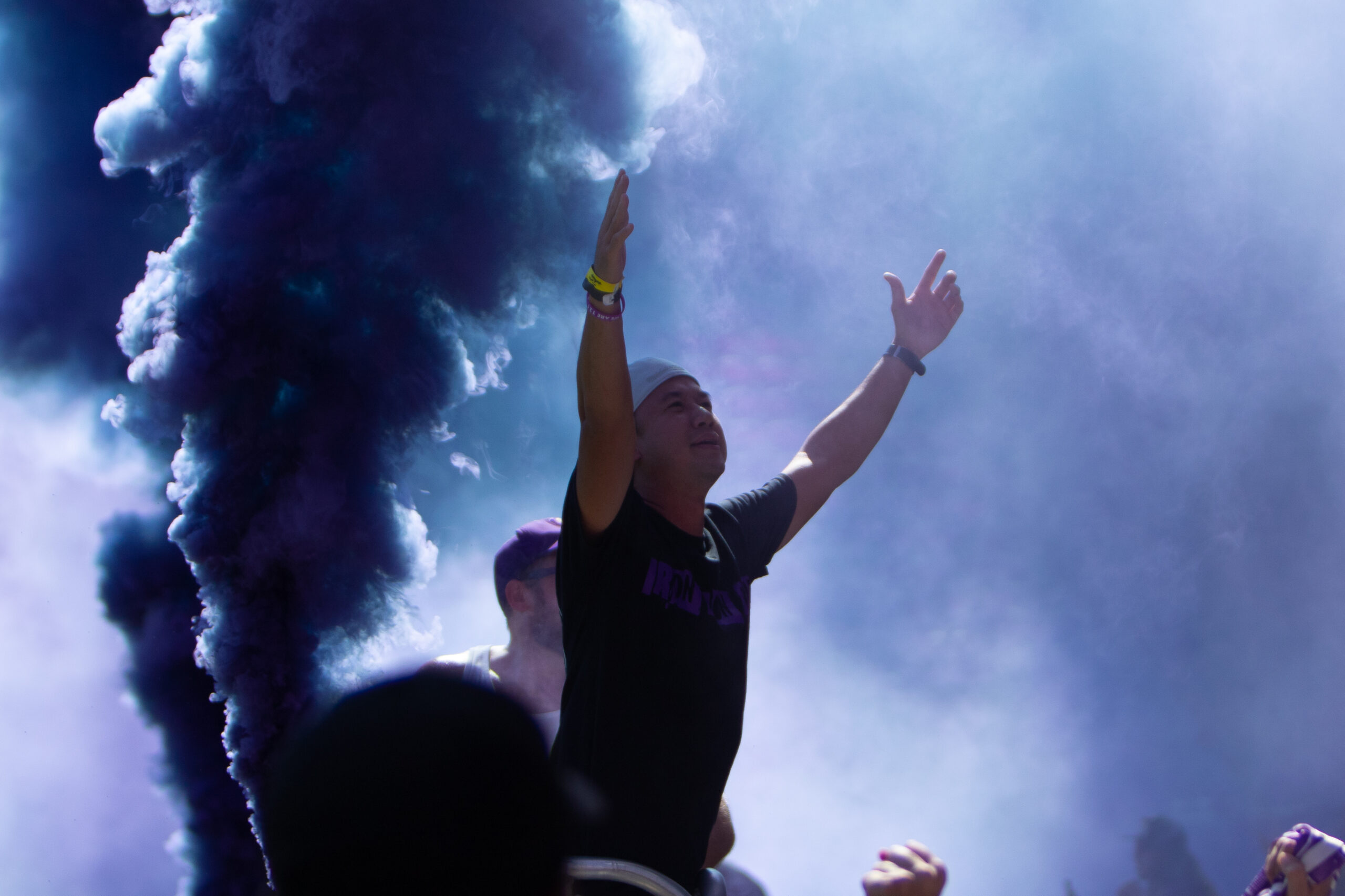 A goal in the seventh minute by Mauricio Pereyra secured three points away from home for Orlando City in a 1-0 win over D.C. United. It was a strong defensive effort as the team achieved its third clean sheet in the first five games of 2021.
Let's take a look at how each individual Lion did in the win.
Starters
GK, Pedro Gallese, 6 — It's hard to say anything bad about a goalkeeper in a clean sheet. Gallese had a solid game, though he didn't have that much work in this one. D.C. United only put one of its 13 shots on goal, forcing Gallese to make one save. When Gallese was called upon to make a decision to come off his line, he made the right one and put an end to the United attack.
D, Kyle Smith, 6 — The return of João Moutinho and the injury to Ruan last week allowed Kyle Smith to move back to his natural right back position. Just as he's been at left back, Smith was solid in this game. Defensively, the right back led the team with seven tackles and also had an interception and two clearances. Offensively, Smith completed 67% of his 42 passes and made one key pass. He was accurate on two of his three crosses and delivered a great long ball to Pereyra in the box for Orlando's goal.
D, Antonio Carlos, 7 — While Gallese will be credited with the clean sheet, much of the praise should go to the center backs. D.C. had 13 shots in this game but only one was on target and that was largely because opposing players didn't have great opportunities. Carlos ended the game with three interceptions and a team-leading 13 clearances. Offensively, the defender completed 79.3% of his 20 passes, including seven of his 11 long balls.
D, Rodrigo Schlegel, 6.5 — Similar to Carlos, it was a very solid game from the center back. The defender was strong on the back line, ending the game with two interceptions and seven clearances. Going forward, he completed 67% of his 24 passes.
D, João Moutinho, 6 — This game saw Moutinho return to the starting lineup for the first time since Aug. 29, 2020. His performance was what Orlando City fans were hoping to see from the healthy defender as he helped the back line achieve its third clean sheet of the season. While Oscar Pareja utilizes a system with the outside backs often going forward, Moutinho's biggest impact was when making a sliding block in the first half that kept a shot from reaching Gallese. Moutinho finished the game with one tackle, four interceptions, and two clearances to go along with the block. He completed 58% of his 45 passes, including one key pass, but he was most impactful when helping the team keep D.C. off the scoreboard.
MF, Sebas Mendez, 6.5 — Defending for 83 minutes is a difficult task and the defensive midfielders were key in the Lions' success. While both Mendez and Junior Urso were terrific, you can't find a negative in Mendez's performance. The midfielder completed 93% of his 43 passes, but his biggest impact was on defense. His seven interceptions were the most on the team and key in keeping D.C. from being sending numbers forward.
MF, Junior Urso, 6 — Urso was solid in this game. The seventh-minute goal meant Orlando City was going to need to defend well for most of the game and Urso made his presence felt. He finished the game with two tackles and two interceptions in the midfield. A link to the attack, Urso completed 77% of his 30 passes before being taken off in the 82nd minute for Joey DeZart.
MF, Benji Michel, 5 — Michel was pretty quiet in his 50 minutes in this game. He only had 14 passes, completed 64% of them, and didn't take any shots. He had an opportunity to make an impact in the final moments of the first half, but a heavy touch saw him lose a chance at a shot on goal. He was a part of a tactical substitution by Pareja in the 51st minute as Robin Jansson came on as a fifth defender.
MF, Mauricio Pereyra, 7 (MotM) — Mauricio Pereyra was the key player in this game that Orlando City fans have been used to. The midfielder scored his first goal of the 2021 season in the seventh minute, which ended up being the difference. After receiving the ball from Tesho Akindele, Pereyra did well to shield Drew Skundrich and put it past Jon Kempin with his only shot. Aside from the goal, Pereyra was solid in the midfield once again, completing 86% of his 21 passes, including one key pass. Unfortunately, his last action in this game was a booking, but it was a strong performance by the midfielder.
MF, Nani, 6 — Nani saw his three-game scoring streak end in this one but joined in the defensive effort after Pereyra's early goal, coming away with two tackles and three clearances. He completed 75% of his 40 passes and all four of his shots were off target. He did nearly score another wonderful goal in the first half, but the curling shot just missed the frame. The captain was successful on two of three attempted crosses.
F, Tesho Akindele, 6 — The role of Akindele for much of this game was keeping pressure on D.C. to help maintain the lead. The forward's only shot in 82 minutes of play was blocked and he completed 65% of his 17 passes. Most importantly, he assisted Pereyra in the seventh minute for the game's only goal.
Substitutes
D, Robin Jansson (51'), 6 — Jansson made his season debut as a second-half substitute. He replaced Michel to become the third center back when the Lions went to a five-man back line. Despite playing most of the second half, Jansson only completed two of four passes and made one clearance. However, he did help stop D.C. from scoring as the Lions held onto their third clean sheet of the season. Jansson had two clearances and completed nine of his 11 passes.
MF, Andres Perea (70'), N/A – Perea came on in the 70th minute for Pereyra, but didn't do much in this one. A defensive change, Perea didn't have any possession, shots, or defensive stats other than a tackle.
MF, Joey DeZart (82'), N/A – DeZart was a part of a double substitution with eight minutes remaining in the game, replacing Urso. While he didn't make a huge impact, he did block a cross in the dying moments. DeZart did well to keep his arms at his side, ensuring that a penalty wouldn't be called.
MF, Chris Mueller (82'), N/A – The biggest note about Chris Mueller's night was that it was his 100th competitive appearance for the club. The other half of the late substitutions, Mueller came on as fresh legs for Akindele. He was booked in stoppage time for time wasting, had one pass, no shots, and no defensive contributions.
---
That's how I saw the individual performances of Orlando City in this game. Let us know what you thought about the players and don't forget to vote for your Man of the Match.
Polling Closed
| | |
| --- | --- |
| Player | Votes |
| Mauricio Pereyra | 34 |
| Pedro Gallese | 2 |
| Antonio Carlos | 34 |
| Sebas Mendez | 2 |
| Other | 11 |
Orlando City vs. Inter Miami: Player Grades and Man of the Match
How did your favorite Lions perform in Orlando City's 1-1 home draw against the Herons?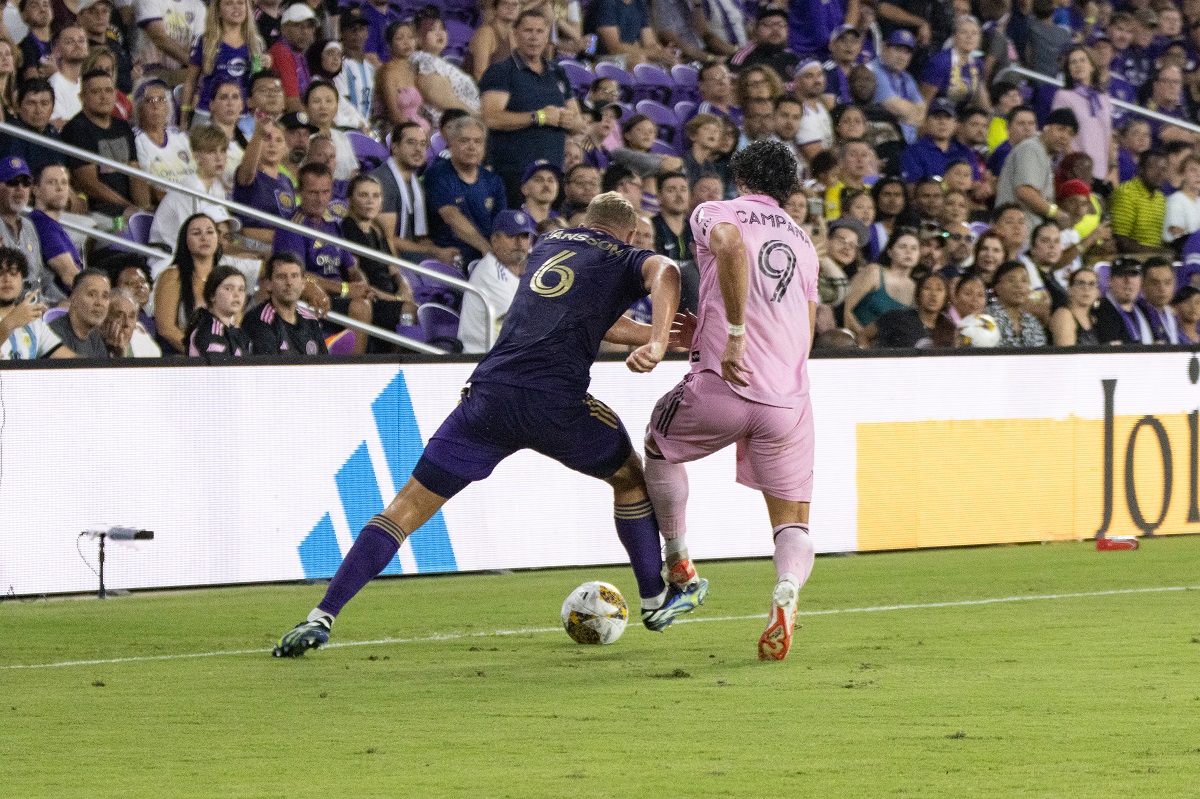 Draws are never satisfying but there's at least a much better feeling when your team scores the final goal that earns the point rather than conceding so the other team takes two away. Thus was Orlando City's 1-1 draw at home against Inter Miami on Sunday. It feels better to score the last goal, despite the fact that the same number of goals are scored either way. It's a grand illusion.
Duncan McGuire's blast through the legs of Drake Callender at least kept the Pepto-Bismol-colored team from winning at the purple palace and added another point to Orlando's fine 2023 total.
Here's how I saw the individual performances from a feisty affair at Exploria Stadium.
Starters
GK, Pedro Gallese, 7.5 — It was another standout game from the Peruvian shot stopper, who made four saves on the night, including a big one to stop a Leonardo Campana attempt from just a couple yards out. Gallese couldn't do much about the lone goal conceded, as it came off a rebound of a wicked Josef Martinez shot, offering Gallese little opportunity to control the rebound due to the angle and pace. El Pulpo also recorded a clearance and passed at an 81.8% rate, connecting on five of his nine long balls.
D, Rafael Santos, 6.5 — After a couple of somewhat underwhelming performances, the Brazilian had a solid night. He didn't have a shot attempt, but he managed two key passes despite completing only 71.4% of his passes. He connected on three of his eight long balls and one of his four crosses, but that latter number says more about his teammates not getting onto some good-looking balls into the area. Defensively, he provided two clearances and an interception, committing just one foul and completing a dribble. He even led the team in touches (60).
D, Robin Jansson, 7.5 (MotM) — In the first half, Jansson was the best player on the pitch and, in my opinion, it wasn't close. The Beefy Swede vaccuumed up almost everything sent forward by Miami that was intended for Campana and Martinez on his side of the field. He finished the night with two tackles and two interceptions but it seemed like more than that. His passing was magnificent, as he completed 89.4% of his 47 passes, including six of seven long balls and his only through ball attempt. He had a key pass as well. He didn't attempt a shot but he completed one dribble and drew a foul as he stymied the Miami attack. He did his best to cover Martinez's quick, incisive run to the opposite side but couldn't block the shot with his sliding effort. His biggest blemish was getting yet another yellow card for dissent — something he's mostly been able to avoid this season.
D, Rodrigo Schlegel, 5.5 —While I thought Schlegel had a much better night Sunday than he had in the previous two games, it was far from where he was just a week or two earlier. The quick transition gave him a tough choice of backing off Campana and allowing a dangerous shot or doing what he did — stepping out and allowing a through ball. His closeout wasn't tight enough. His marking on set pieces also left a lot to be desired at times. His passing was mostly accurate (91.5%), and he connected on two of three long balls, but there were a few dicey ones in his own end. He recorded two aerials won, one tackle, two interceptions, and a clearance. He committed three fouls and picked up a yellow card, conceding a dangerous free kick. His lone shot attempt was an off-target header.
D, Dagur Dan Thorhallsson, 6.5 — After a couple of tough games, the Icelandic midfielder-turned-fullback acquitted himself pretty well, considering Inter Miami attacked his side quite a bit. He passed well, connecting 82.5% of the time with one key pass and hitting the target once on two crosses, four times on six long balls, and sent a marvelous through ball that should have resulted in an Ivan Angulo goal, but the winger flubbed his lines. His lone shot attempt was a difficult one and did not threaten goal. He did not record a single defensive stat, although much of the time his opponent curled in toward the top of the area and was passed off to another defender.
MF, Cesar Araujo, 5.5 — The young Uruguayan had a quiet night, without recording any defensive statistics in his 45 minutes before being subbed out at the break for Martin Ojeda. He managed only 23 touches and his passing rate of 73.3% was much lower than his usual standard and he completed one of his two long balls. He also drew two fouls and completed a dribble. He simply wasn't able to impact the game to the extent we're used to seeing.
MF, Wilder Cartagena, 7 — It was a good night for the Peruvian midfielder, who was constantly getting under the opponents' skin. He drew yellow card fouls on Dixon Arroyo and Benjamin Cremaschi — the latter after a slick nutmeg move — and had a steal that was set to ignite the break called back for a foul that I don't agree was committed. Defensively, he recorded a tackle, a clearance, and an interception. He passed at a 91.1% success rate, created one scoring chance, and completed both of his long-ball attempts.
MF, Ivan Angulo, 5 — Whether it's a lack of confidence and/or composure or being intimidated by a good goalkeeper, the Ivan Angulo who shoots in warmups is not the same guy in front of goal once the game is underway. He completely flubbed his lines when Thorhallsson sent him in behind for a 1-v-1 chance against Callender. The number of times he gets into dangerous spots and either a bad pass, shot, or decision keeps Orlando City from generating a scoring chance from it is maddening. Angulo failed to get any of his three shot attempts on target. His passing rate was just 60%, he did not have a single key pass, and neither of his two crosses were on target, although his single long ball was. He also didn't record a single defensive statistic. There are many things Angulo does well, and his speed is tantalizing, but the final product is often lacking.
MF, Mauricio Pereyra, 6 — The captain had a mostly quiet match except when he was scissored down from behind by David Ruiz, somehow only producing a yellow card for the Miami midfielder. Pereyra produced only one key pass and no shot attempts, starting at central attacking midfielder before dropping into central midfield in the second half to pull the strings from a deeper position. He passed at an 80.5% success rate, completing one of three crosses and two of five long balls. He did not record any defensive stats and committed two fouls while drawing three.
MF, Facundo Torres, 6.5 — Torres led the Lions in shots (4), putting two on target, contributing one key pass and winning an aerial. He passed pretty well overall (81.5%), though he did not complete either of his two crosses or his lone long ball. He contributed an interception and a clearance defensively. Miami concentrated on double-teaming the Designated Player whenever possible. Torres still created some opportunities for himself and others, but it was a fairly quiet night overall.
F, Duncan McGuire, 7.5 — The rookie is still getting back to form after returning from injury, so he managed only 18 touches on the night but he did well with the touches he had. Both of McGuire's shots were on target and both were rockets. Unfortunately, both were right at goalkeeper Callender. Fortunately, the second of those went through the keeper's legs for the equalizing goal — his ninth of the MLS season. He also created a chance with a key pass, completed 83.3% of his pass attempts, and connected on his only long ball. He even contributed a defensive clearance. It was a good night for the rookie striker, although he wasn't able to get that many touches.
Substitutes
MF, Martin Ojeda (46′), 6.5 — The Argentine Designated Player came on at halftime for Araujo to give the Lions more attacking presence and an extra playmaker on the field. He continues to grow in recent games, as he put his only shot attempt on target, created a chance with a key pass, and completed two dribbles, although he did have four unstable touches and was dispossessed once. He completed 89.5% of his 19 passes and all three long balls, but missed on his only cross attempt. He helped with the ball back with two tackles, and added a clearance.
MF/F, Ramiro Enrique (74′), 5 — Enrique came on for Angulo, which I thought at the time was the exact sub that was needed, but the Argentine didn't offer much for the second straight game after winning Player of the Matchday. He did not attempt a shot or create a key pass and managed only seven touches on the night, passing at an 83.3% clip. He chipped in a clearance.
D, Michael Halliday (77′), 5 — The Homegrown defender spelled Thorhallsson but didn't offer much, despite completing all four of his passes on 13 total touches. He had two unstable touches and was dispossessed once, which is not what you want to see from your fullback in the final 15 minutes of the match. Defensively, he blocked a shot, but he also conceded an unnecessary late corner when he pulled up, thinking he'd won a foul that didn't end up getting called.
MF, Gaston Gonzalez (84′), N/A — As the MLS U22 Initiative attacker works his way back to fitness, he got a late runout, replacing McGuire, which pushed Enrique to the top of the formation. He conceded a free kick, but I honestly thought his challenge was clean and should have led to an Orlando counterattack. He put his only shot on frame, but it was a weak dribbler right at Callender. He did not complete his only pass attempt of the match.
MF, Junior Urso (84′), N/A — The Bear entered for Pereyra and was active, gettin 12 touches in late. His 90% passing rate on 10 attempts was solid, missing only on his only attempted long ball. He didn't record any defensive stats, but he also didn't make any mistakes in his brief spell.
---
That's how I saw the individual performances by Orlando City on Sunday night at the stadium. Let me know where I got things right or wrong in the comments below and be sure to vote for your Man of the Match in our poll below.
Lion Links: 9/26/23
Pedro Gallese honored, Orlando Pride and Lions celebrate Hispanic Heritage Month, Campeones Cup preview, and more.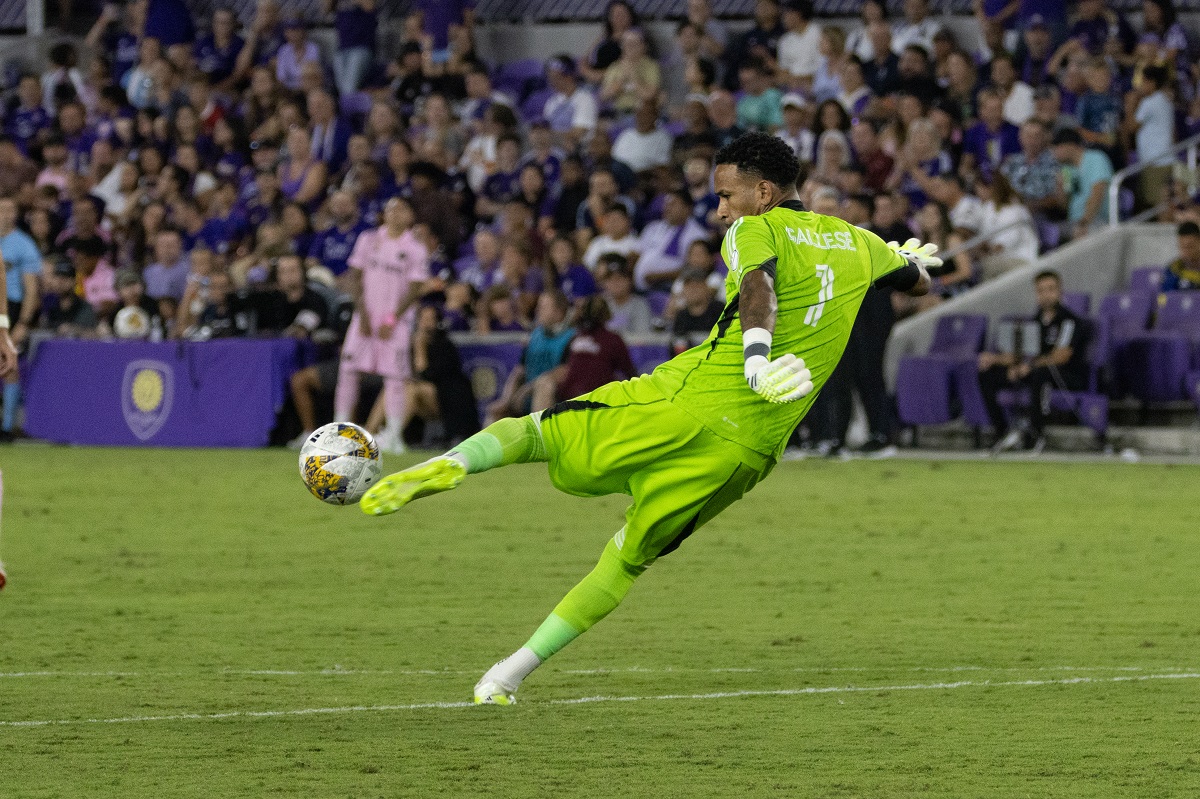 Happy Tuesday, everyone. I won't lie to you, I'm dragging a bit to start this week. I'm still recovering from being sick and frankly had to fight the urge to take Monday off. I'm soldiering on though, and there's plenty of soccer happening this week to help keep me entertained and in good spirits. Let's have a look at today's links.
Pedro Gallese Recognized
Pedro Gallese turned in another superb performance during Orlando City's 1-1 draw with Inter Miami on Sunday, and he's been rewarded with a place in the most recent edition of the MLS Team of the Matchday. El Pulpo made four saves on the night, including a fantastic stop on a header from close range, and helped the Lions stay in the game until they could find the equalizer. Congratulations to Pedro, and here's hoping he keeps up the good work!
Orlando Pride and Orlando City Celebrate Hispanic Heritage Month
In celebration of National Hispanic Heritage Month, Orlando Pride defender Celia fielded questions for fans to learn more about both her and Spain. Celia is from Alicante, a port city in southern Spain, and shared her favorite food, music, and activity while in her home country. She also spoke on a common misconception about spices used in Spain being spicy.
Orlando City's Facundo Torres also shared the meaning behind some of his tattoos, which include the Uruguayan flag and La Paz, the city he grew up in. Orlando City's match with CF Montreal on Saturday will also be Hispanic Heritage Night at Exploria Stadium.
Campeones Cup Preview
You can be forgiven if you forgot that the Campeones Cup is still a thing, because I know I did. Here's a little refresher on the annual match. It's being played tomorrow night at BMO Stadium between LAFC and Tigres, which are the reigning MLS and Liga MX champions, respectively. The MLS representative has won three out of the four contests, with Tigres beating Toronto FC 3-1 in the first iteration of the competition in 2018. This match will also be a rematch of the 2020 Concacaf Champions League final, which saw Tigres emerge victorious 2-1 at Exploria Stadium.
Americans in Midweek Action
A number of Americans will be taking part in games for their clubs this week. Tim Weah and Weston McKennie's Juventus will take on Lecce today in Serie A, while Chris Richards and Crystal Palace face Manchester United in the Carabao Cup. Christian Pulisic and Yunus Musah have a league match when AC Milan plays Cagliari tomorrow. PSV Eindhoven has a game against Go Ahead Eagles tomorrow as well, which means Ricardo Pepi, Sergino Dest and Malik Tillman could all be involved. Friday closes out the week with Hoffenheim taking on Borussia Dortmund, which could see John Brooks matched up against Gio Reyna depending on Reyna's fitness.
Spanish Players Will Testify Against Rubiales
Alexia Putellas, Irene Paredes and Misa Rodriguez have all been called to testify as witnesses in the case against Luis Rubiales. Jenni Hermoso's brother and a friend of the player both testified on Monday afternoon, as Rubiales is facing charges of sexual assault and coercion. Rubiales has already testified and maintains he did nothing wrong amid uproar that has led to a number of Spanish players refusing to return to the team until changes are made, and a general overshadowing of Spain's victory at the Women's World Cup. Putellas, Paredes and Rodriguez will testify next Monday.
Free Kicks
---
That's all I have for today. Y'all stay safe out there!
Orlando City vs. Inter Miami: Photo Gallery
An album of images from Orlando City's hard-fought draw at home against the Herons.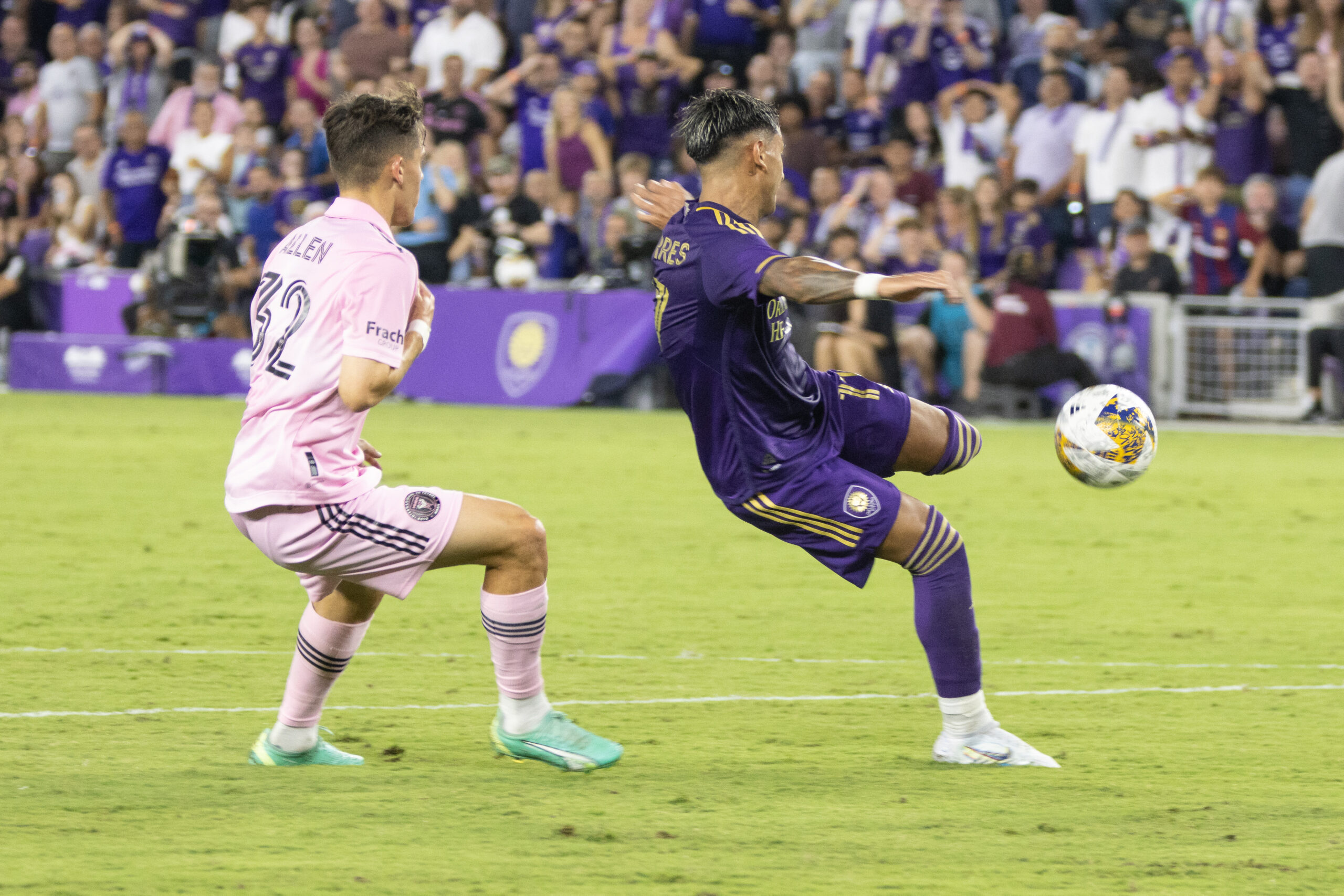 ---
The Lions brought much more roar on Sunday night to face their southern rivals but had trouble finding the net, allowing the Herons to nick a point even while short staffed. None of Miami's high-priced talent traveled for the match after facing Toronto midweek, and physicality ensued, firing up the sold-out crowd at Exploria Stadium.
Talking with some of the other photographers on the sideline who had flown in for this match, they rated the Orlando atmosphere top-notch; in their experience, other cities don't compare to the in-stadium fan enthusiasm.
The Lions were in "the net is lava" mode, with Duncan McGuire and Iván Angulo each missing prime one-on-one chances with Miami goalkeeper Drake Callender in each half, McGuire leaving it straight at Callendar, and Angulo badly missing the net after a missed first touch. So of course Miami struck first, with David Ruíz scoring early in the second half.
This fired the Lions up even more and Martín Ojeda pinballed McGuire in behind the Miami back line, allowing Duncan to do what Duncan does to draw the score level. The Lions generally looked the more dangerous team for most (but not all) of the night. However, it is scoring goals that actually counts, leaving both teams unchanged in their respective Eastern Conference standings. Orlando remains second at 14-7-9, while Miami stays in 14th at 9-15-5.
The Lions continue to control their own destiny in terms of getting a top-four finish as they look to lock up home field advantage for a best-of-three matchup in the MLS Cup playoffs.
With home dates left against Montreal and a sputtering-but-dangerous New England remaining, there's still plenty of time to be part of that world-class gameday atmosphere by going out to support the team as they push for a strong finish.
We hope that you enjoy these images from a hard-fought, come-from-behind draw against Inter Miami at Exploria Stadium.