Orlando City vs. D.C. United: Final Score 5-3 as Lions Embarrassed at Home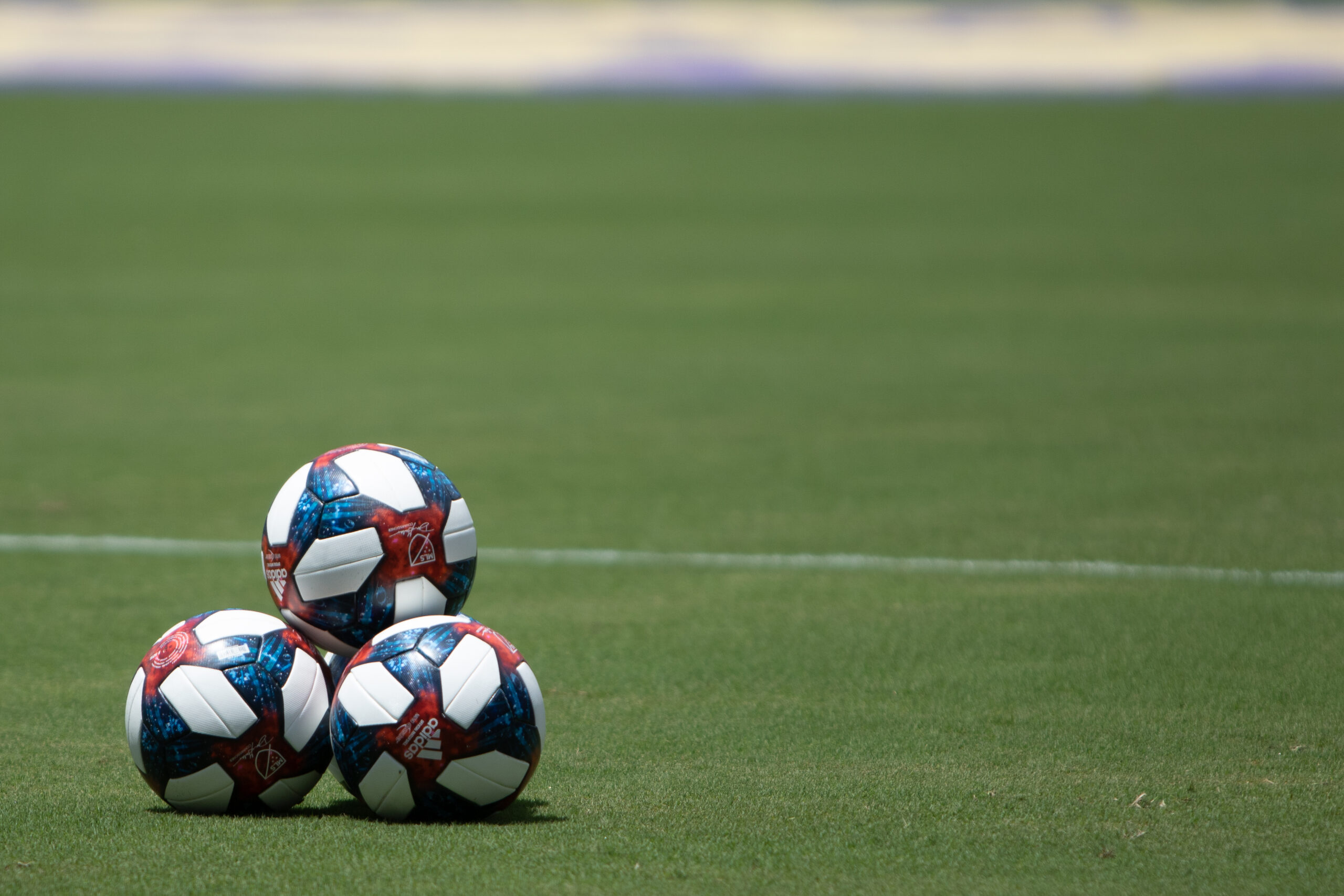 D.C. United came in as one of the league's most disappointing teams and was streaking the wrong way with no wins in six games, but that all changed in a 5-3 win over Orlando City at Exploria Stadium. United (5-9-2, 17 points) won for the first time since May 7, and got only its second road win of the season, while Orlando (7-7-4, 25 points) fell back below .500 at home (4-5-0) despite trying to stage a dramatic comeback from a 3-0 deficit.
Taxi Fountas scored a hat trick in the first 51 minutes of the game to put his team comfortably ahead and although the Lions rallied twice to get within a goal, continued mistakes in transition allowed D.C. to just keep scoring. Kimarni Smith and Nigel Robertha each scored their first goal of the season to offset the comeback attempt started by Facundo Torres, which also saw Ercan Kara and Alexandre Pato get on the scoresheet.
"Difficult result," Orlando City Head Coach Oscar Pareja said after the match. "Today in the first half we looked disconnected and I really gotta take that responsibility. Obviously we didn't like that 25 minutes. I think this is the moment where I have to take responsibility. I think today they showed the spirit that they have as a group, just trying to bounce back and I have to review it well. I have to help them."
Pareja's lineup included Pedro Gallese in goal behind a back line of Kyle Smith, Robin Jansson, Rodrigo Schlegel, and Ruan. Sebas Mendez joined Junior Urso in central midfield behind an attacking line of Jake Mulraney, Mauricio Pereyra, and Pato, with Kara up top.
The Lions played the first half like they thought the game started at 7:30 rather than 7 p.m., falling down two goals inside of the game's first eight minutes. Fountas scored both goals easily, taking crosses in from D.C.'s right flank as United players abused Smith, beating him repeatedly.
Ruan sent in an early cross that a defender got a piece of, which unfortunately sent it to goalkeeper Rafael Romo and kept it away from Kara, who was crashing the net in the second minute. Shortly after that, D.C. seized control.
Drew Skundrich discarded Smith and fed a pass to Chris Durkin on the right side of the box. Durkin picked out Fountas, who was unattended and he picked, and hit, his spot, to make it 1-0 in the fifth minute.
Taxi Fountas gives @dcunited the lead! 🚕

His 7th of the season makes it 1-0 early. pic.twitter.com/j2pi0bqobq

— Major League Soccer (@MLS) July 4, 2022
Three minutes later, a simple ball over the top found Michael Estrada, who received only token resistance from Smith on his way into the box. He picked out Fountas, who shrugged off Schlegel and tapped home to make it 2-0.
TAXIIIIII!! 🚕 🚕

2-0 #LetsFly. pic.twitter.com/rkMRneQjAy

— Major League Soccer (@MLS) July 4, 2022
The Lions didn't exactly respond but they did get a shot off in the 11th minute, as Urso fired an effort that was blocked. Three minutes later, Smith got forward into space and had a go from distance but he scuffed his shot badly and it dribbled in meekly on goal.
The best chance came in the 21st minute when Urso got an open look in the box but Romo made a good save. The Lions put the ball in the net in the 24th minute off a set piece but it was waved off on an obvious foul on Kara, who made contact with the keeper, preventing him from making the easy catch.
Orlando had a couple more chances before halftime. Pato found space just outside the area twice but both times he tried to really smash the ball and got under it, sending it into the stands. Mulraney had a great opportunity in first-half stoppage time but the ball was bouncing and he couldn't get on top of it, sending another chance into the seats.
The Lions dominated possession (73%-27%), but the early two goals dictated that, as United felt comfortable staying organized on defense and forcing Orlando to earn its way through, which didn't happen often. Orlando also had more shots (8-4), shots on target (3-2), corners (5-2), and passing accuracy (89.5%-62.7%). Despite the statistical advantages, the scoreboard showed much different story.
Orlando fashioned a scoring chance right after the restart. Pereyra fed Kara into the area on the left and the big Austrian evaded the goalkeeper, but he couldn't get his shot on frame from the tight angle.
Five minutes later, Fountas put the game away on a set piece. Schlegel fouled Durkin near the left corner of the box and Julian Gressel lined up over it, tapping it to his right at the whistle. Fountas smashed a shot though Orlando's disorganized wall and inside Gallese's near post to make it 3-1 in the 51st minute.
TAXI FOUNTAS GETS HIS HAT TRICK. 🎩🎩🎩@dcunited lead big in Orlando. 🚕🚕🚕 pic.twitter.com/1kGHH1l5Z8

— Major League Soccer (@MLS) July 5, 2022
It was only after going down three that the Lions started to make a game of it. Pato was sent down the right and had Kara breaking but he hit his cross too softly and Romo caught it. A minute later, Kara smacked a shot off the right post in the 55th minute.
Torres put the Lions on the board two minutes later. Taking a pass from Pereyra to his right, Torres moved to the middle and fired a shot that gave Romo no chance. Orlando had finally broken through in the 57th minute.
Facundo Torres with a great hit!

His finish from outside of the box brings one back for #OrlandoCity. pic.twitter.com/u6Mb5eEpuR

— Major League Soccer (@MLS) July 5, 2022
"I'm a player that likes to shoot from outside the box, especially when I've got a little space," Torres said through a club translator. "When I got it outside the box, there was space, and I didn't have any problem shooting."
Gallese made a huge save on Estrada in the 60th minute to keep Orlando in the match.
Jansson then sent a perfect ball to Torres in the 64th minute down the right and the Uruguayan did well to take it down and send Ruan down the right, but the speedy Brazilian made a mess of his cross. However, the Lions pulled another goal back two minutes later.
Ruan was fouled near the corner flag by Brad Smith and Torres took the set piece. He fizzed a dangerous cross in that Kara met in midair and headed home to make it 3-2 in the 66th minute. It was Kara's seventh goal of the season.
AIR-CAN 🆙 #VamosOrlando | #DaleMiAMor pic.twitter.com/jgghigKbe7

— Orlando City SC (@OrlandoCitySC) July 5, 2022
It seemed it was suddenly game on. Ruan won a corner when his cross attempt was cut out but the Lions could do nothing with it. Just after that, Pato and Benji Michel tried to work a passing sequence that didn't come off and D.C. recovered, leading to the winning goal. Skundrich sent the ball to Smith, breaking behind the Orlando defense and he slotted it past Gallese to increase the advantage to 4-2.
Kimarni Smith makes it 4!

His first MLS goal comes at a big time for @dcunited. ⚡️ pic.twitter.com/IrqUGmviSd

— Major League Soccer (@MLS) July 5, 2022
Tesho Akindele came on for Ruan to add more attacking players to the mix and in the 78th minute, a ball in found Michel on the right. He headed the ball toward goal and it hit the outstretched arm of Brendan Hines-Ike. Referee Allen Chapman immediately pointed to the spot and then went over to look at the replay. After a short review, he came back and confirmed the penalty would be taken. Pato stepped up to the spot and hit it high to the left to pull Orlando to within 4-3 in the 80th minute.
Alexandre Pato makes it a one-goal game from the penalty spot! #OrlandoCity pic.twitter.com/Ud4u7oXKRl

— Major League Soccer (@MLS) July 5, 2022
The Lions had a golden opportunity to equalize in the 84th minute just after a corner kick. Jansson ended up picking up a loose ball near the top of the box and firing a shot that Romo blocked. The ball was just sitting in front of goal and Jansson ran toward the rebound but he couldn't make contact with it and the chance evaporated. Seconds later, Akindele took a pass on the left side of the box. Romo came well off his line and blocked the shot to preserve D.C.'s lead.
Bad luck struck moments later when Pereyra pulled up after jumping up to catch a ball to take a throw-in quickly and he was subbed off for Jack Lynn. Pereyra will be evaluated Tuesday to determine the extent of the injury.
The Lions gave up a series of throw-ins in their own end as the seven minutes of stoppage time wound down and disaster struck on the last one. Cesar Araujo picked up a loose ball in the corner and tried to outlet to a teammate near the middle. Unfortunately, his pass went straight to Robertha, who sent the clinching goal past Gallese in the 96th minute.
🎥 Goal No. 🖐 for your viewing pleasure!

Nigel Robertha seals the W for the Black-and-Red 🔥 https://t.co/QRG5l76Xj7 pic.twitter.com/Z2J0HybC9j

— D.C. United (@dcunited) July 5, 2022
Orlando ended up with a huge advantage in possession (72.9%-27.1%), corners (9-2), passing accuracy (88.1%-62.1%), and shots (19-9), and a slim advantage in shots on target (8-6). Nevertheless, a leaky transition defense proved costly. United entered the match with 18 goals scored in 16 games but exploded for five on this night in Orlando. That was plenty to offset the Lions' biggest offensive output in a match this season — three goals.
"The second half was much better. We looked more like us," Pareja said. "But the first two goals they took us in bad spots and that's the price today."
"It's something that we need to fix," Torres said of the team's slow starts. "It's frustrating, knowing that that's been something that's been hurting us right now. And we're missing that consistency in our game. We've seen it. We need to continue tracking back defensively and make sure that we're helping out."
---
The Lions will try to bounce back this Saturday when Tropic Thunder rival Inter Miami visits Exploria Stadium.
My First Orlando City Road Match: New York Red Bulls
A trip to Red Bull Arena to see the Lions play created memories that will last a lifetime.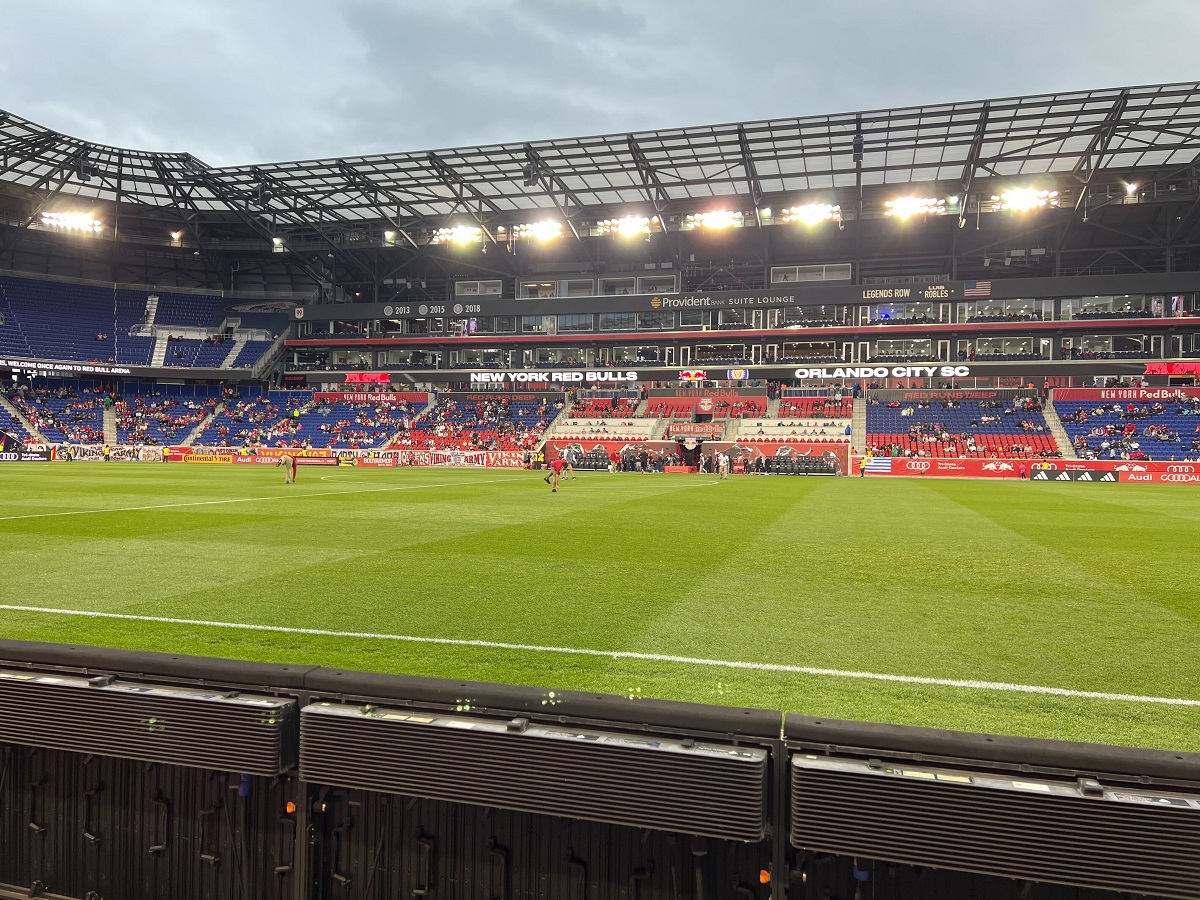 This past weekend I was fortunate enough to take in my first-ever Orlando City away match when the Lions traveled north to Harrison, NJ to take on the New York Red Bulls. The experience was one that I will not soon forget and I wanted to take some time to share a firsthand account of our travels and game day experience.
Early Friday morning prior to the match, I loaded the car up with my wife, 10-month-old son, and enough luggage to support a small army and made the trek from our home in Central Florida to the Orlando International Airport. I had been planning to take in an away game this year ever since the schedule came out, and as destinations go…Red Bull Arena certainly checked off a few must-haves from our family's travel list. Direct flights (because travel with a little one is just plain easier when you don't have to connect), a city we have not visited as a family before (what better way to make memories in a new city than to have them tied to an Orlando City victory?), extracurriculars (give us all the good food, drinks, and hot spots to visit). The latter is actually how I talked my wife into the trip. Who could say no to an Orlando City game and Broadway shows to boot?
After a shockingly low-stress travel day, we arrived in Time Square to meet up with my parents, who had journeyed from Michigan to spend the weekend with us (to provide some much appreciated babysitting) and have some fun in the city. After a day exploring downtown New York City, it was time to head to the stadium. If you ever have the chance to go, and I think every fan should if they are capable, just know that if you are staying in Manhattan, it can be quite a Herculean effort to physically make it to the stadium! After a 45-minute Uber ride, my father and I arrived on the doorstep of Red Bull Arena. The stadium was clean, easy to access, and had an outdoor tailgate area within the gates, where a live band provided pregame entertainment.
Being a once-in-a season type of experience, I splurged on two field-level seats for my father and I and could not have been happier with the choice. I don't think it would have been physically possible to have been closer or more immersed in the action, with the exception of streaking onto the pitch, and no matter our differences, the Red Bull faithful definitely did not deserve that type of show. Looking up at the fans seated around the stadium, small pockets of purple could easily be made out against the sea of red and blue seats and we were even lucky enough to meet an engaged couple who work and live not to far from us back in Orlando and came up to the game to celebrate a special birthday weekend.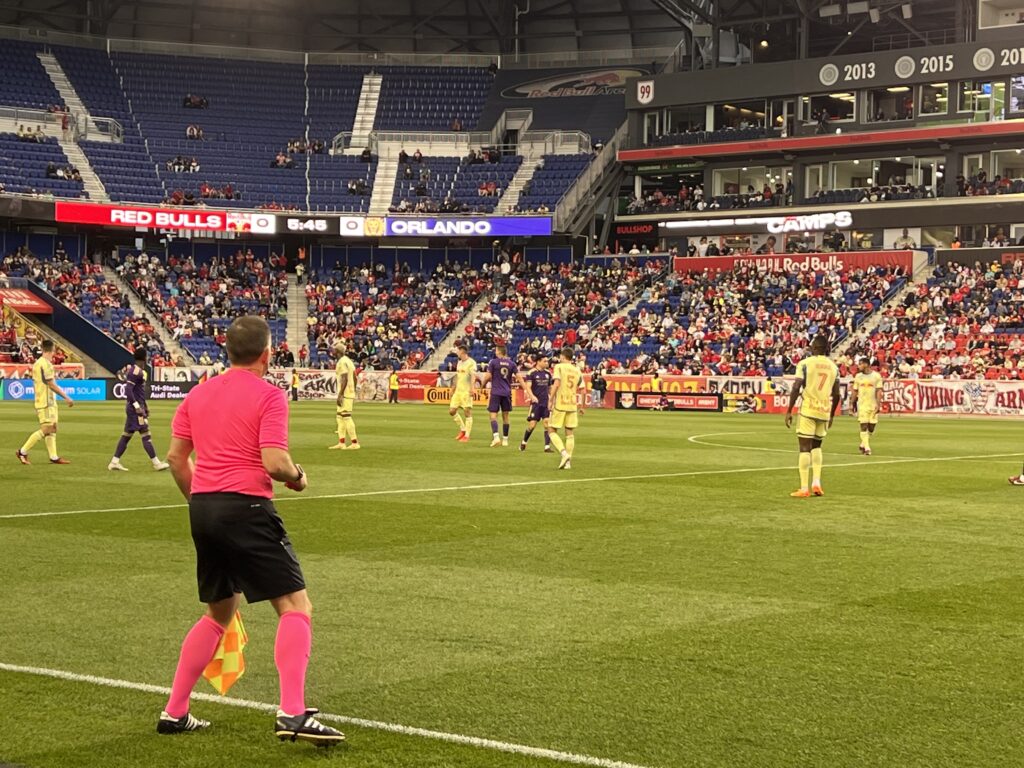 The game environment was spectacular and my excitement was only bolstered by our team's effort on the pitch. A clean sheet victory on the road, and a three-goal effort was enough to justify the whole trip, but the night of memories did not stop after the final whistle. Instead, as my father and I were walking from our seats on the sideline towards the exit tunnel, a joyful Facundo Torres came sprinting over to our corner of the field to celebrate with the Orlando City supporters. As someone who has covered his struggles to start the year, it was clear as day to me to see a sense of relief wash over him in the spirit of celebration, and, with fans cheering him on, he even took a moment to shake my old man's hand and pat him on the shoulder.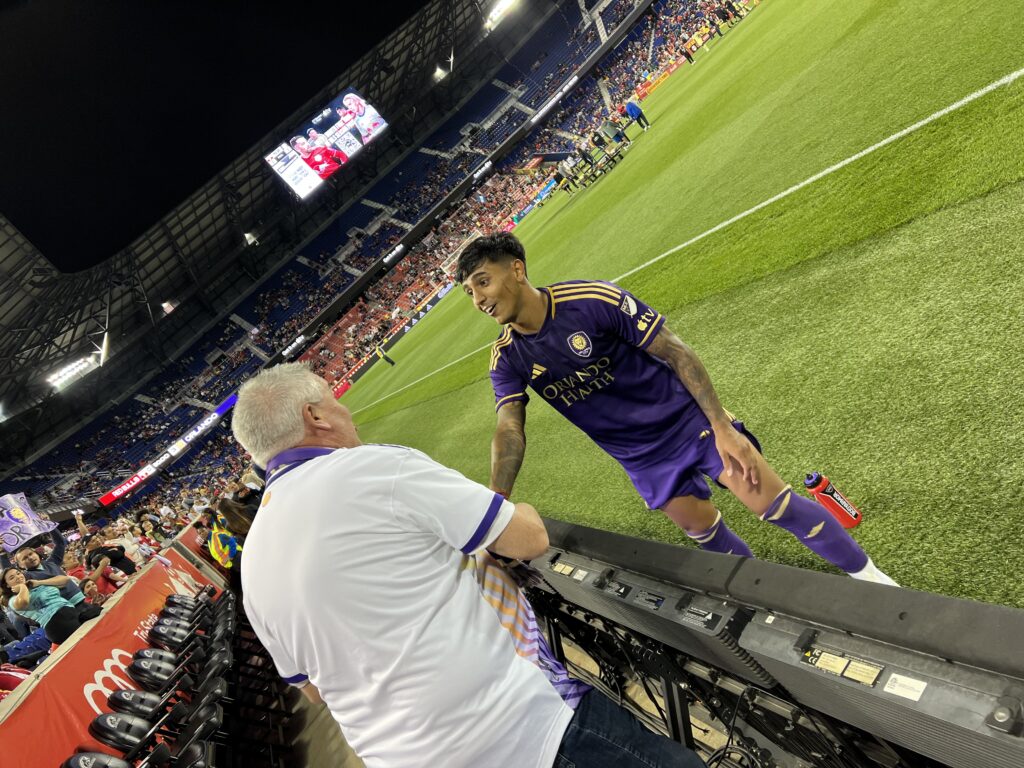 I have been a season ticket member in the City Beautiful for the past three years, and while I love heading to the games week in and week out, there was something different about taking in an away match. Whether we as fans are celebrating the highest highs or dreading the lowest of lows at home, when we leave the stadium, the stress of the real world is waiting just around the corner. The beauty I found of attending an away match was that by turning the experience into a weekend getaway, the joys of the victory were able to linger around for just a bit longer while we were still fully immersed in vacation mode.
---
Did you make the trip up to Jersey this weekend? Have you gone to any away matches this year or plan to before the end of the season? If so, let us know your favorite destinations and plans in the comments below.
Lion Links: 6/7/23
Orlando City moves up in MLS power rankings, Orlando Pride take on Gotham FC tonight, USMNT announces official Concacaf Nations League roster, and more.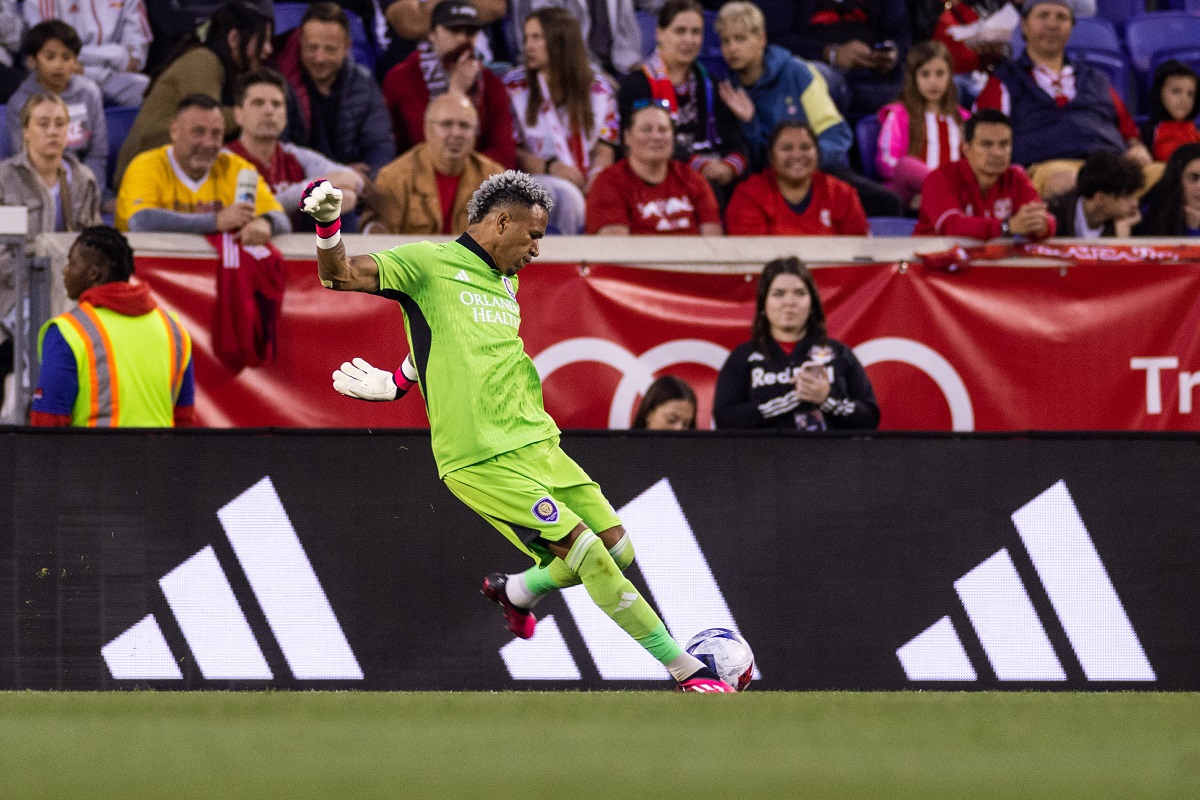 Hello, Mane Landers. How is everyone doing so far this week? I've been doing well and keeping myself busy lately. I'll be working the Dead & Company concert this weekend at Wrigley Field. There is plenty to get to today, so let's get to the links.
Orlando City Moves Up in MLS Power Rankings
Orlando City moved up five spots to 10th in the latest MLS power rankings. The Lions defeated the New York Red Bulls 3-0 on the road this past Saturday. Ivan Angulo put together a stellar performance and Facundo Torres scored twice in the match to help the Lions extend their unbeaten run to five matches. Around the league, the Columbus Crew also moved up five spots, climbing to sixth after a 4-2 win against Charlotte FC. Cincinnati edged out LAFC for the top spot in the power rankings following its 1-0 shutout win against the Chicago Fire.
Orlando Pride Take on NJ/NY Gotham FC Tonight
The Orlando Pride will play NJ/NY Gotham FC tonight in their third group stage match of the 2023 NWSL Challenge Cup. The match kicks off at 7:30 p.m. at Red Bull Arena and you can watch it on CBS Sports Network or stream it on Paramount+. The Pride are at the bottom of their group following a draw and a loss so far in the competition. Ally Watt scored in those first two matches for the Pride, with Summer Yates providing the assists on both of those goals. Gotham is unbeaten in the Challenge Cup and leads the group with four points. The Pride are unbeaten in their last six matches on the road in all competitions against Gotham, including a scoreless draw last month in league play.
USMNT Announces 23-Man Roster for Concacaf Nations League
The U.S. Soccer Federation officially announced the 23-man roster for the U.S. Men's National Team before the 2023 Concacaf Nations League.
Goalkeeper Josh Cohen, who plays for Maccabi Haifa in Israel, was the lone player dropped from the preliminary roster announced last week. The USMNT will play rival Mexico on June 15 in the Concacaf Nations League semifinals at Allegiant Stadium in Las Vegas. If the U.S. prevails in that match, it will face the winner of the match between Canada and Panama. The final is set to take place in Las Vegas on June 18.
U.S. Open Cup Quarterfinals Begin
The quarterfinals of the 2023 Lamar Hunt U.S. Open Cup kicked off last night with two matches. FC Cincinnati defeated the Pittsburgh Riverhounds out of the USL Championship, 3-1, with Brandon Vazquez, Alvaro Barreal, and Santiago Arias all scoring in the second half. The Houston Dynamo also booked their spot in the semifinals after winning 4-1 over the Fire. Nigerian winger Ibrahim Aliyu had a brace for Houston in the road win. Today, we have two more matches to determine who else will move on to the semifinals. Birmingham Legion FC of the USL Championship will take on Inter Miami, while Real Salt Lake will face the LA Galaxy.
Free Kicks
In case you missed it, check out the sights and sounds of Orlando's road victory at Red Bull Arena this past weekend.
---
That will do it for me today, Mane Landers. Enjoy your Wednesday and I'll see you next time.
Lion Links: 6/6/23
Lions earn weekly honors, OCSC headed in the right direction, Kylie Strom lands on NWSL Best XI of May, and more.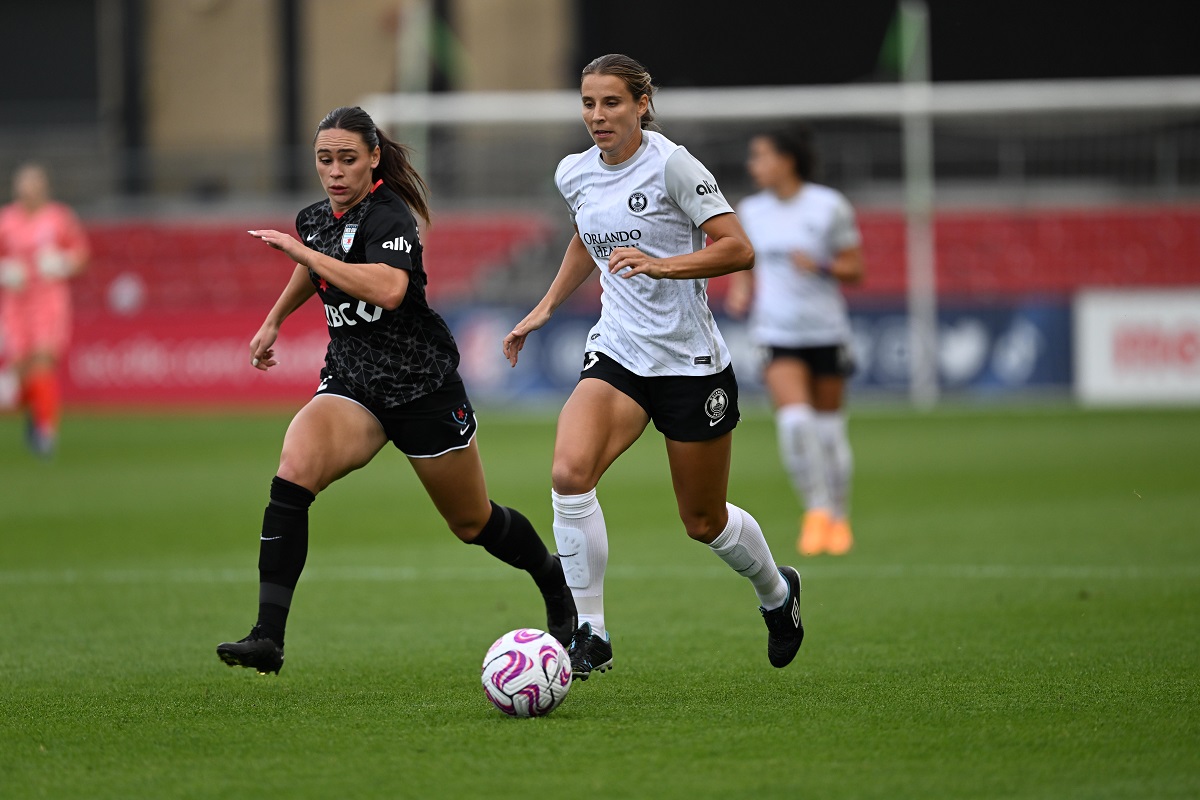 Happy Tuesday, everyone. I got absolutely clattered during my Sunday league game over the weekend, and I've been hobbling around ever since. Fortunately, my fingers still work just fine, because there are plenty of things to talk through this morning. Let's get after it.
Lions Earn Weekly Honors
Orlando was well represented on the MLS Team of the Matchday following a 3-0 victory over the New York Red Bulls Saturday night. Facundo Torres and Ivan Angulo were both named to the starting lineup, while Oscar Pareja was given the nod as head coach. Torres scored two goals and Angulo recorded a goal and an assist in the victory. Dave Rohe gave Torres a 7.5 and Angulo an 8, along with the Man of the Match award, in our player grades. It was nice to see other people take notice of the performances they put in. Keep up the good work, fellas!
OCSC Heading in the Right Direction
Orlando City got the complete performance that it's been looking for in recent weeks, and Oscar Pareja is very pleased with what he saw from his team. He went out of his way to highlight the fact that the Lions stayed vigilant and didn't relax and give up a goal as the game went on, something that's been a problem at times this year. While Pareja said that things aren't perfect yet, he and Torres were both of the opinion that the team is playing better lately, and Torres said that Saturday was OCSC's best performance of the season.
Kylie Strom Earns Monthly Plaudits
Orlando Pride defender Kylie Strom has been named to the NWSL Best XI for the month of May. Strom started in each of the Pride's four matches during May and went the full 90 minutes in all but one of them. She helped anchor a back line that only gave up two goals during those four games, but the highlight of her month came during the team's home game against the Washington Spirit. Strom scored the winning goal in the second half as the Pride handed the Spirit their first loss of the season. Here's hoping she continues the good form!
Fines and Bans Proposed for Vinicius' Abusers
The four men accused of hanging an effigy of Vinicius Jr. from a bridge are set to have hefty punishments levied against them. Spain's anti-violence commission has proposed fines of €60,001 and two-year stadium bans as a result of their actions. Additionally, the three men accused of racially abusing the Brazilian winger during a match against Valencia may be given fines and a one-year stadium ban as well. All seven were arrested and, although they've been released, could still face criminal charges, although that would be unprecedented. The Real Madrid player has suffered repeated instances of racial abuse since arriving in Spain. Hopefully the punishments will do something to deter the ugly incidents from occurring.
Free Kicks
Orlando City has picked up more points on the road than any other team in the Eastern Conference.
---
That's all for me today. Y'all stay safe out there.