PawedCast Episode 330: D.C. Rewind, Tigres Talk, Charlotte Preview, Orlando Pride News, and More
This week's show again started out with some personalized thank you shout-outs to some of the founding members of our new, independent website, which is under construction. We'll keep the GoFundMe open until April 1, so if you're still waiting for payday or on the fence about contributing, you've still got time to get yourself immortalized on the new site.
Now, on to why you're here…
Orlando City is getting you a tie for Father's Day. That's pretty obvious after the Lions drew for the third consecutive match, splitting the points in a 1-1 draw at D.C. United on Saturday. Getting a point against Wayne Rooney on the road almost (but not quite) feels like a win, especially when it was achieved with a heavily rotated side. That side included the first Orlando City starts for Rafael Santos and Duncan McGuire.
As fate would have it, McGuire turned out to be the player who finally ended Orlando City's long, national nightmare of going scoreless in the run of play. The rookie's first professional goal wasn't exactly a highlight-reel strike, but he won't care and neither do we. His back flip, however, was quite gorgeous. The setup by Kyle Smith and Dagur Dan Thorhallsson that led to the goal was also nice to watch.
Unfortunately, Chris Durkin spoiled things by scoring an unstoppable goal that even the stunning form of Pedro Gallese was powerless to prevent. Durkin might not ever score a goal that precise ever again, and it kind of sucks that it came against Orlando City, but a road point in the midst of heavy rotation due to fixture congestion isn't all bad.
After breaking down the match, we submit our picks for Man of the Match against United. It was not as unanimous as you might expect, despite Gallese's heroics in the first half. We also talked a little about tonight's showdown with Tigres, Orlando City's Leagues Cup bracket, and an honor for El Pulpo.
The Orlando Pride are quickly closing in on both their final preseason match — this Friday against the Washington Spirit — and their first game of the 2023 NWSL season. The team got a jump on its postseason to-do list, however, by signing midfielder Mikayla Cluff to a new three-year deal. Cluff was already under contract for 2023, but the new agreement extends her stay in Orlando through 2025.
We also discussed the announcement of OCB's 2023 schedule (finally) and some of the quirky new rules in MLS NEXT Pro this season. If nothing else, MLS NEXT Pro is going to get weird. We talk about some of those rule changes and compare them to stuff from another sport going through some twists and turns.
This week's mailbagbox was small, but mighty. If there's anything — and we do mean anything — you want us to address on the next show, just ask by tweeting it to us at @TheManeLand with the hashtag #AskTMLPC.
Finally, we looked ahead to Saturday night's home game against Charlotte FC, complete with our key match-ups and predictions.
Stay safe and enjoy the show!
---
Here's how No. 330 went down:
0:15 – The Lions kept not losing this week but also kept not winning. We talk about the trip to D.C.
46:29 – Pride and OCB news! The Pride locked down a midfielder and the Young Lions are going to have some strange new rules to play by in 2023.
1:07:09 – Our mailbagbox asks us to rate our excitement for the Tigres match and the return of Ted Lasso. Plus, prediction time!
PawedCast Episode 378: Inter Miami Rewind, OCB Wins on Decision Day, Jack Lynn's Golden Boot Chase, and More
The Lions draw the Herons at home hours after OCB's Jack Lynn secures a share of the MLS NEXT Pro Golden Boot.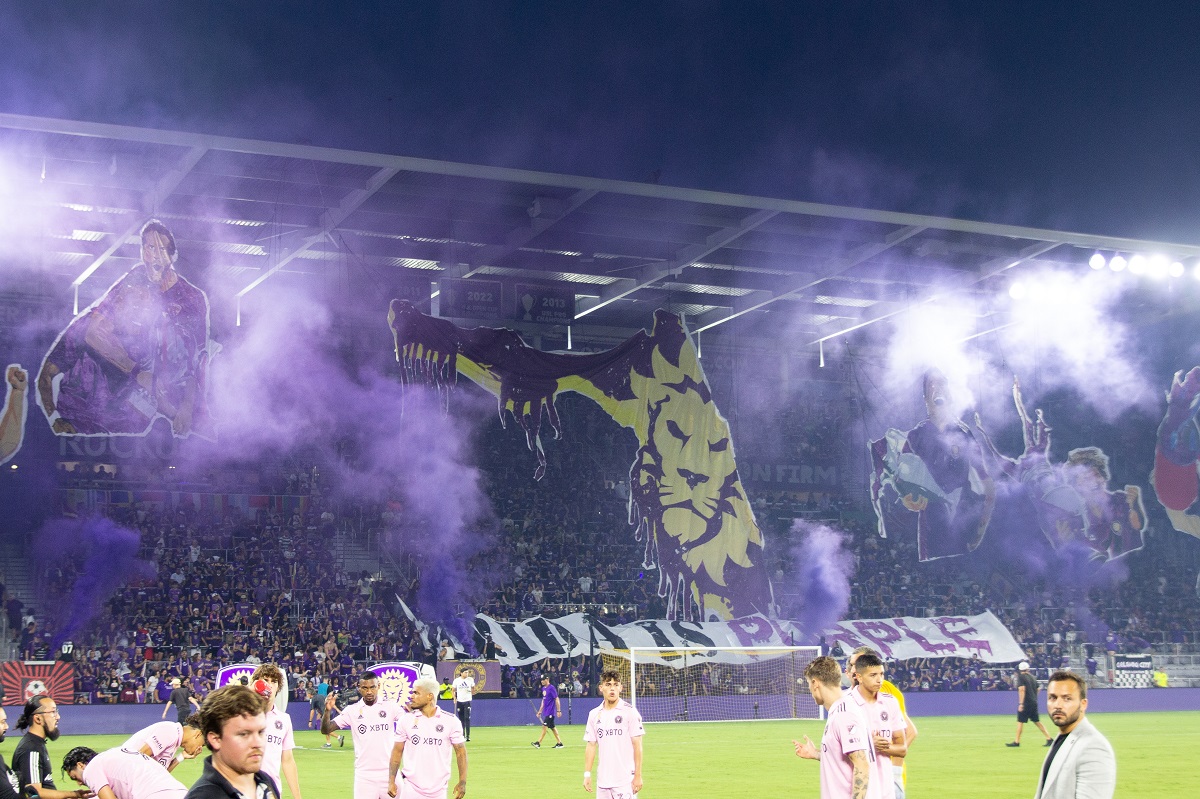 Orlando City didn't have to face Inter Miami's "big three" of Lionel Messi, Sergio Busquets, and Jordi Alba, but still fell behind and had to have a Duncan McGuire cannon shot to rescue a point at home. It wasn't that the Lions played poorly per se, it was just that they struggled to put chances away, which can happen during the season. Miami did the same a time or two, and ultimately both teams looked like tired groups that were playing on short rest again. (They were.)
On this episode, we break down Orlando City's 1-1 draw, with the curious and gutless officiating that once again helped the Herons keep 11 men on the pitch — something Tomas Aviles was determined to prevent in his 45 minutes of wearing the ugly, pink uniform on Sunday night. We also make our selections for Man of the Match (we were unanimous), and tell you which Lion made the MLS Team of the Matchday.
After our opening segment, we check our mailbagbox, only to find it surprisingly empty. Remember, if there's anything — and we do mean anything — you want us to address on the show, just ask us by tweeting it to us at @TheManeLand with the hashtag #AskTMLPC.
OCB closed its MLS NEXT Pro regular season with a 2-1 win at home over FC Cincinnati. We discuss the Young Lions' victory and dive into Jack Lynn's wild pursuit of the league's Golden Boot. He ended up getting it, but some odd things happened to keep him from having to share it with two other players.
---
Here's how No. 378 went down:
0:15 – Orlando City didn't win against Inter Miami, but the Lions also didn't lose.
20:47 – Our mailbagbox is empty, and we discuss OCB's win on Decision Day and Jack Lynn's pursuit of the Golden Boot.
PawedCast Episode 377: NYCFC Rewind, Inter Miami Preview, and More
A look back at a forgettable game and a look ahead at one the fans have been waiting for.
As special and memorable as Saturday's win over the Columbus Crew was, Wednesday's match at New York City FC was the polar opposite. The Lions played one of their most forgettable games of the season in a lethargic 2-0 loss on the road. The Pigeons played well, so give them credit, but that was not the Orlando City we're used to seeing. The Lions lacked ideas, urgency, energy, and — perhaps most of all — the ability/desire to track attacking players defensively.
The Lions simply were unworthy of bringing three points home from New York City during the midweek.
That said, the team's body of work on the season was rewarded with the Lions' fourth postseason berth in as many years. We break down a game we didn't want to talk much about, check back on our score predictions, and make our unanimous pick for Man of the Match.
After that chore, we checked our mailbagbox, where we were asked about Orlando City's biggest rival. Remember, if there's anything — and we do mean anything — you want us to address on the show, just ask us by tweeting it to us at @TheManeLand with the hashtag #AskTMLPC.
OCB will close the regular season with a home match, looking to secure fifth in the Eastern Conference when FC Cincinnati 2 visits Kissimmee on Sunday afternoon.
Finally, we previewed Orlando City vs. Inter Miami, discussing our key matchups and score predictions and voicing some concerns that the NYCFC loss doesn't turn into two.
---
Here's how No. 377 went down:
0:15 – Orlando City and Ramiro Enrique went from high to low in just three days.
20:47 – Our mailbagbox and Orlando City B's task in the regular-season finale.
34:29 – Our key matchups and score predictions for Inter Miami's visit on Sunday.
SkoPurp Soccer Episode 24: North Carolina Courage Rewind, Mailbagbox, and More
The Pride knock off the Courage and climb closer to that playoff line with just three matches left.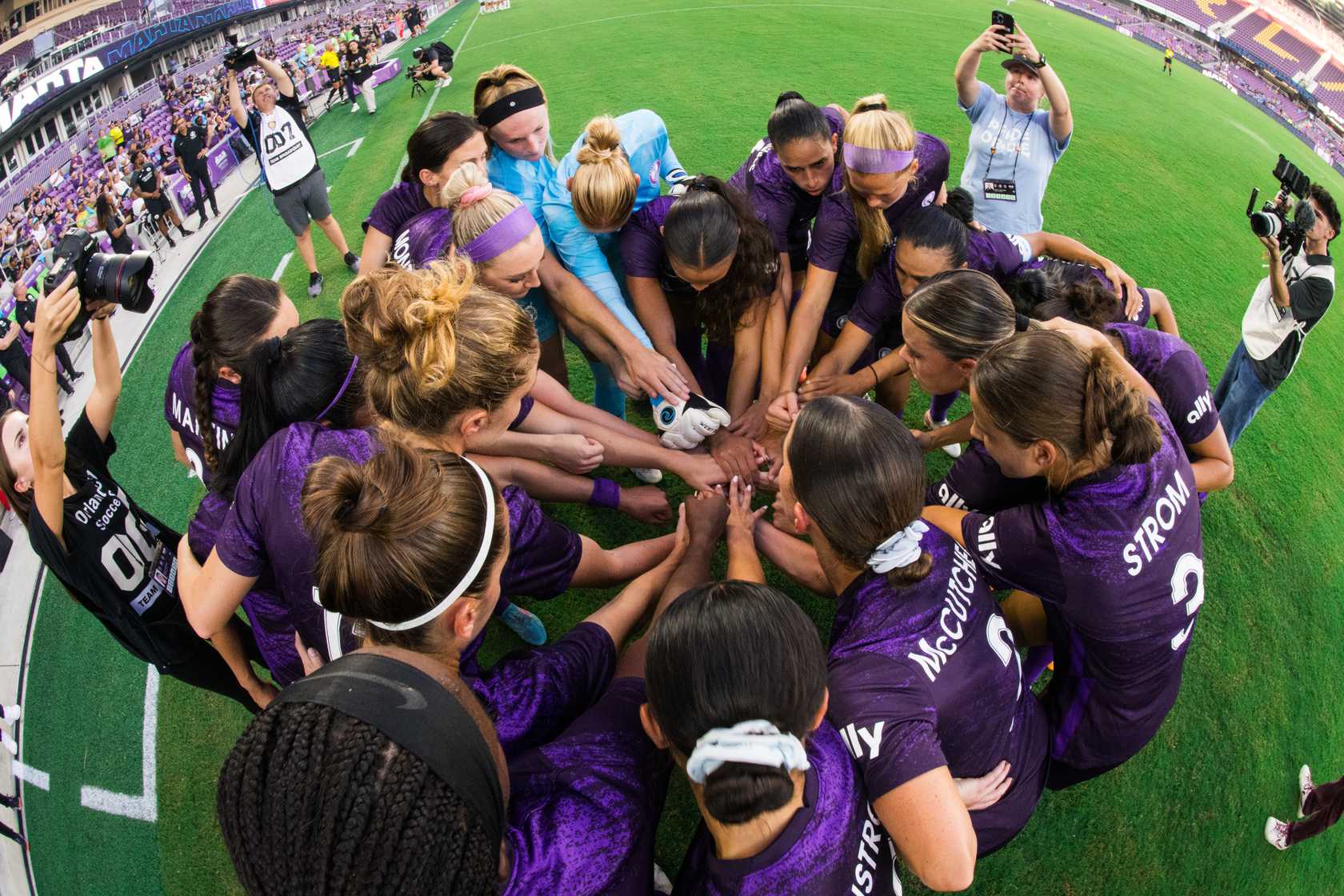 The Orlando Pride have little to no margin for error in the remainder of the schedule if the team is going to achieve its goal of making the playoffs in 2023. The Pride took a big step toward that goal with a 2-1 win over the North Carolina Courage on Sunday evening. The win included the fastest goal in Pride history, a red card — for the opponents this time — and another standout performance by Adriana.
We break down an exciting victory by the Pride that pushed the club from 10th in the standings to seventh and just one point out of a playoff spot with three matches left to play. We discussed the big moments, checked on our score predictions, and made our choices for Player of the Match.
We also talked about what is mathematically possible (albeit unlikely) in how the NWSL season can end in the most chaotic way possible — a six-way tie for first place that would see the Pride claim the Supporters' Shield! OK, we did say it was unlikely. The Pride could still finish anywhere from first to last in the league, and with three games left, that's absurd.
This week's mailbagbox asked us questions about handballs and the Pride's midfield. Remember, you can ask us anything by hitting us up on Twitter at either @TheManeLand or @SkoPurpSoccer and using the hashtag #AskSkoPurp. Or you can visit our show page, scroll down, and fill out the handy form.
Without a Pride match next week, we touched on the United States Women's National Team, which has a pair of friendlies coming up in the international window against a good South Africa side.
---
Here's how Episode 24 went down:
0:15 – A look back at a huge win for the Pride over the North Carolina Courage.
30:27 – We've got mail! We answer our listeners' questions and touch on the USWNT's upcoming matches against South Africa.