Orlando City vs. Houston Dynamo, Leagues Cup: Photo Gallery
An album of images from Orlando City's 1-1 draw and 5-4 shootout win against the Houston Dynamo.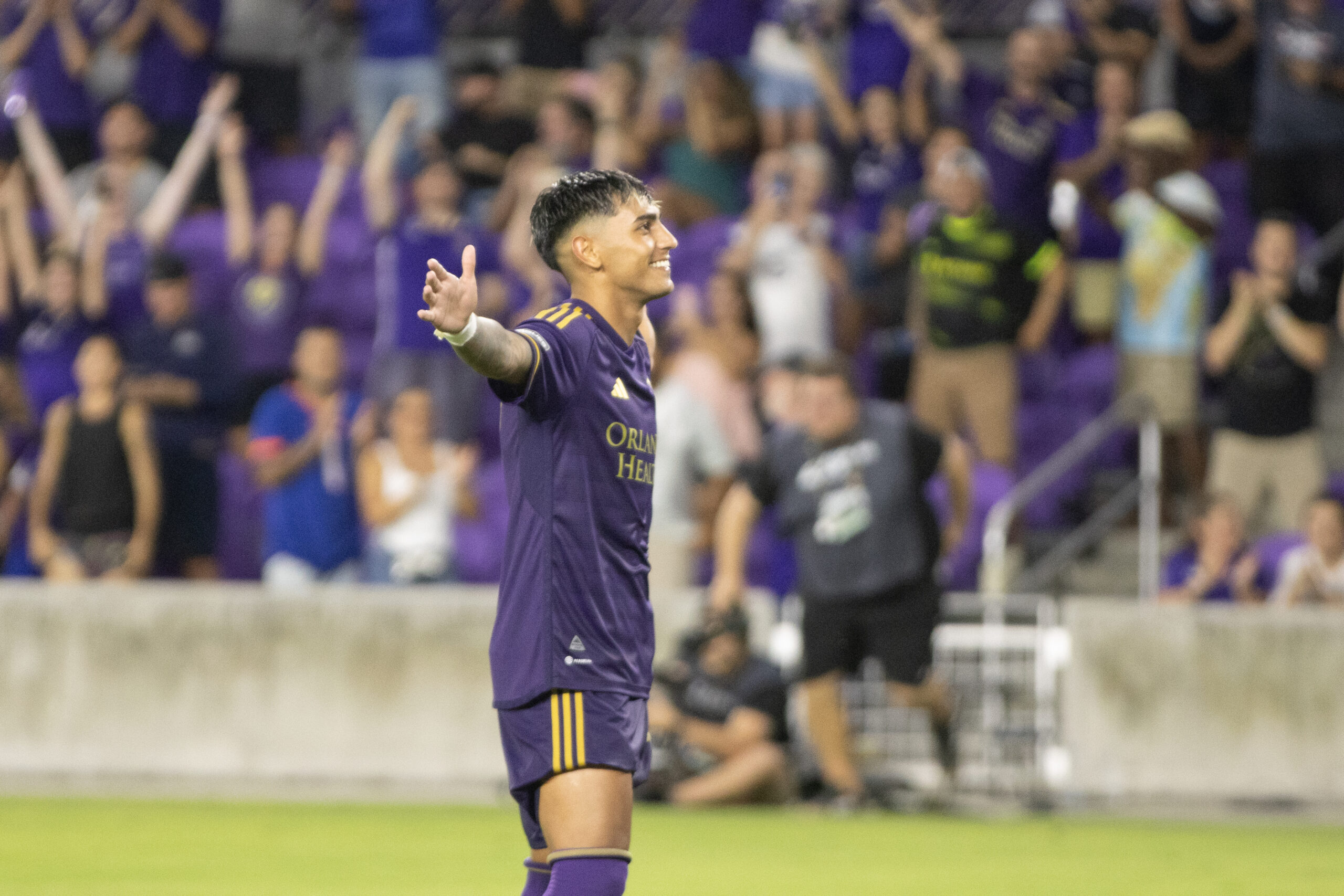 ---
Well, it wasn't the three points that the Lions were hoping for, but Orlando City bested the Houston Dynamo in penalty kicks, 5-4, after playing to a 1-1 draw to take two points in the quirky scoring system of Leagues Cup. Orlando (0-0-1, 2 points) and Houston (0-0-1, 1 point) largely kept each other at bay for most of the night, each scoring on a gift – Houston's in the form of a raspberry-award quality dive that was given as a penalty to close the first half, and Orlando's as a howler of a pass from Houston `keeper Andrew Tarbell to a hustling Duncan McGuire to start the second half.
The Lions appear to have found a new right back in Dagur Dan Thorhallsson, who was brought on at halftime for Kyle Smith and filled the role well. Orlando City Head Coach Oscar Pareja said in the press availability after the game that this was something Thorhallsson had been working on, so it will be interesting to see how many minutes the versatile Icelandic player gets there in the future. Juninho made a cameo at the end — one of the four OCB players on the bench — continuing the play-your-kids trends we've seen of late.
While spot kicks as a game resolution are not a great way to determine games, they are a lot of fun as a photographer. We hope you enjoy the photos of the first two-point game in Orlando City (and Leagues Cup) history.
Orlando City vs. Inter Miami: Photo Gallery
An album of images from Orlando City's hard-fought draw at home against the Herons.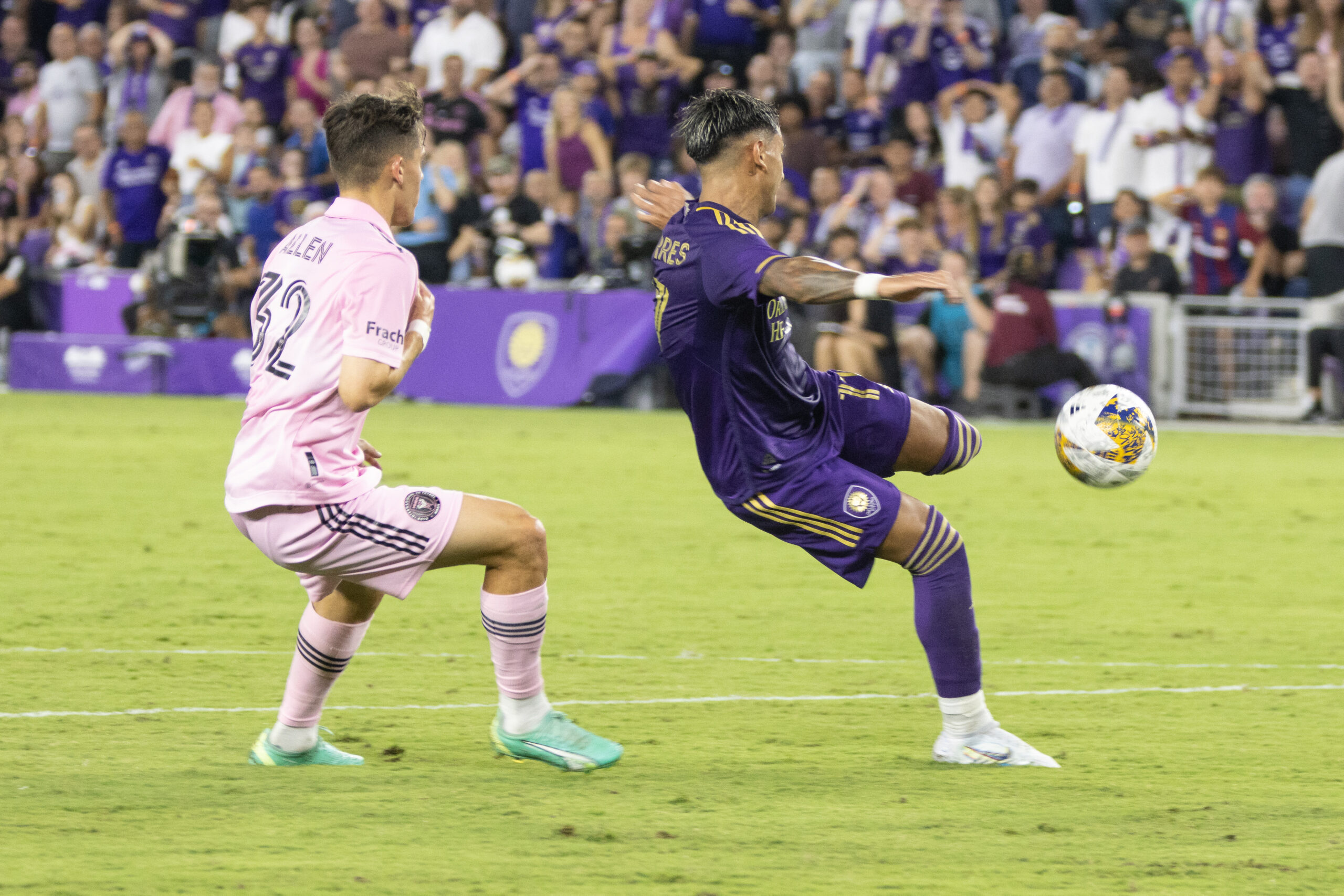 ---
The Lions brought much more roar on Sunday night to face their southern rivals but had trouble finding the net, allowing the Herons to nick a point even while short staffed. None of Miami's high-priced talent traveled for the match after facing Toronto midweek, and physicality ensued, firing up the sold-out crowd at Exploria Stadium.
Talking with some of the other photographers on the sideline who had flown in for this match, they rated the Orlando atmosphere top-notch; in their experience, other cities don't compare to the in-stadium fan enthusiasm.
The Lions were in "the net is lava" mode, with Duncan McGuire and Iván Angulo each missing prime one-on-one chances with Miami goalkeeper Drake Callender in each half, McGuire leaving it straight at Callendar, and Angulo badly missing the net after a missed first touch. So of course Miami struck first, with David Ruíz scoring early in the second half.
This fired the Lions up even more and Martín Ojeda pinballed McGuire in behind the Miami back line, allowing Duncan to do what Duncan does to draw the score level. The Lions generally looked the more dangerous team for most (but not all) of the night. However, it is scoring goals that actually counts, leaving both teams unchanged in their respective Eastern Conference standings. Orlando remains second at 14-7-9, while Miami stays in 14th at 9-15-5.
The Lions continue to control their own destiny in terms of getting a top-four finish as they look to lock up home field advantage for a best-of-three matchup in the MLS Cup playoffs.
With home dates left against Montreal and a sputtering-but-dangerous New England remaining, there's still plenty of time to be part of that world-class gameday atmosphere by going out to support the team as they push for a strong finish.
We hope that you enjoy these images from a hard-fought, come-from-behind draw against Inter Miami at Exploria Stadium.
Orlando City vs. St. Louis City SC: Photo Gallery
An album of images from Orlando City's late 2-1 win over St. Louis City SC at Exploria Stadium.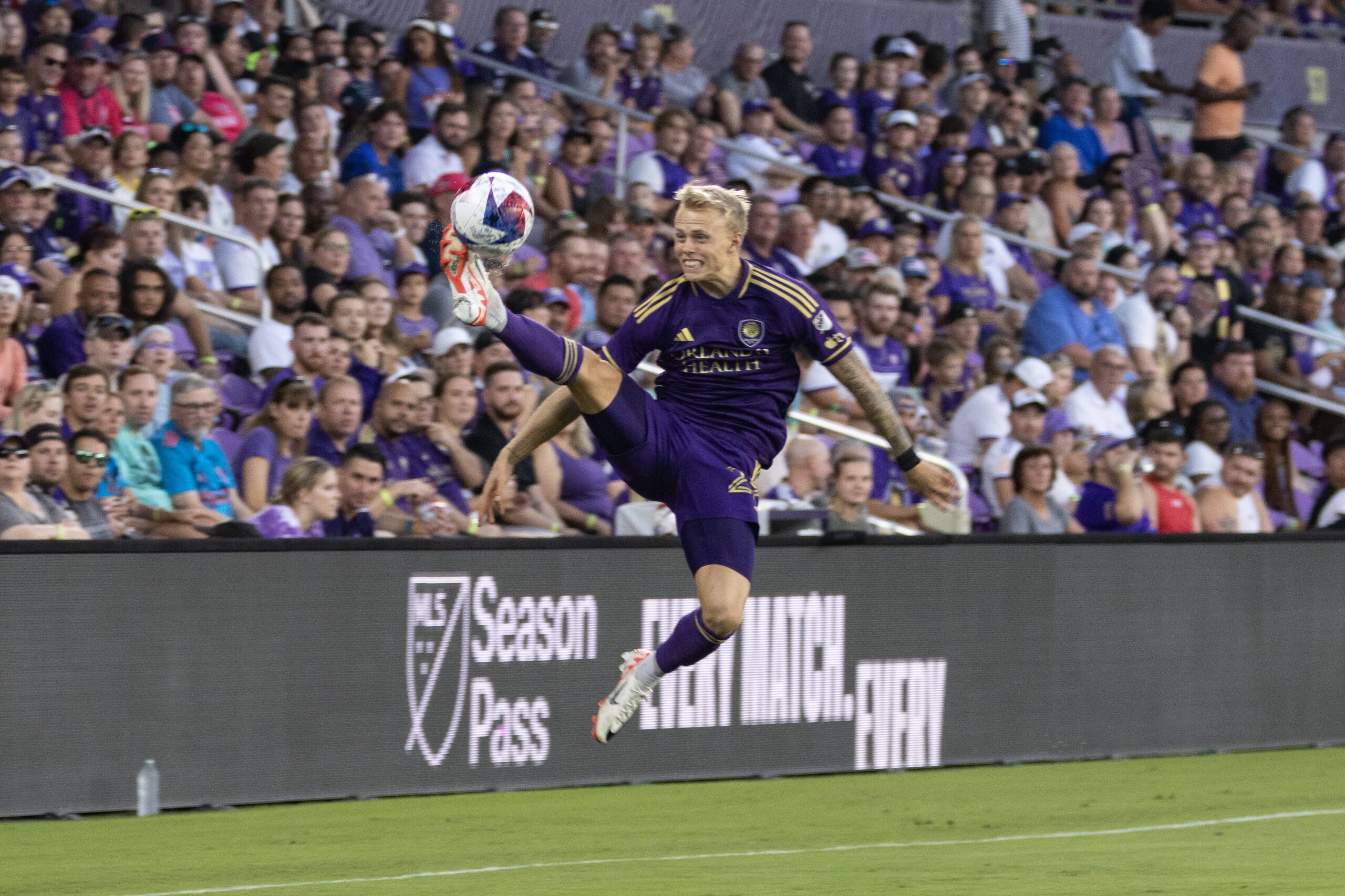 ---
Orlando City (12-6-7, 43 points) and St. Louis City (14-9-2, 44 points) met Saturday night in a clash of the "City SCs" and the game did not disappoint. The teams provided a high-tempo, physical affair without devolving into a chippy tit-for-tat, and that should have left every fan well entertained at the close of the evening. (Yes, even St. Louis fans, although they may need to let the sting of the 2-1 Lions victory settle for a little bit.)
The first half was not short of chances for either team, but both teams did well to limit the other's final opportunities, allowing only a handful of shots apiece in the first half with only Duncan McGuire's effort forcing a save by the opposing goalkeeper.
Dagur Dan Thorhallsson and Facundo Torres came out of the break firing immediately, changing up their run patterns to allow Thorhallsson to lead Torres into space. Torres then worked his finishing magic to lift the Lions into the lead. Orlando City continued limiting St. Louis to low-probability chances from distance until the 79th minute, when finally the Lions conceded on a controversial call that once again demonstrates that PRO does not understand the meanings of 'clear' and 'obvious,' but alas.
Orlando redoubled its efforts to press for the win in the remaining time and was rewarded with Ramiro Enrique forcing a yellow card by Jake Nerwinski and Rafael Santos forcing a penalty kick for handball with a canon of a shot off Anthony Markanich during the resulting restart. Torres converted the penalty to complete his brace in the 91st minute and put Orlando in the lead.
The game was far from over, however, as nine minutes of stoppage time were added. Mostly this consisted of St. Louis desperately stretching for an equalizer, but as the game approached the end of stoppage time, late sub Jack Lynn sprung Enrique in behind, forcing Nerwinski to take him down in a red-card, last-man challenge just outside the box. Martin Ojeda made a valiant effort to make it three on the restart with the last kick of the game, but the effort was right at Roman Burki and the final whistle sounded immediately after 101 minutes of soccer.
As you can imagine, a high-tempo game can lead to some high-action images, so we hope you enjoy these photos of the excitement of the first-ever meeting between the two clubs.
Orlando Pride vs. San Diego Wave FC: Photo Gallery
An album of images from the Pride's 2-1 loss at Exploria Stadium.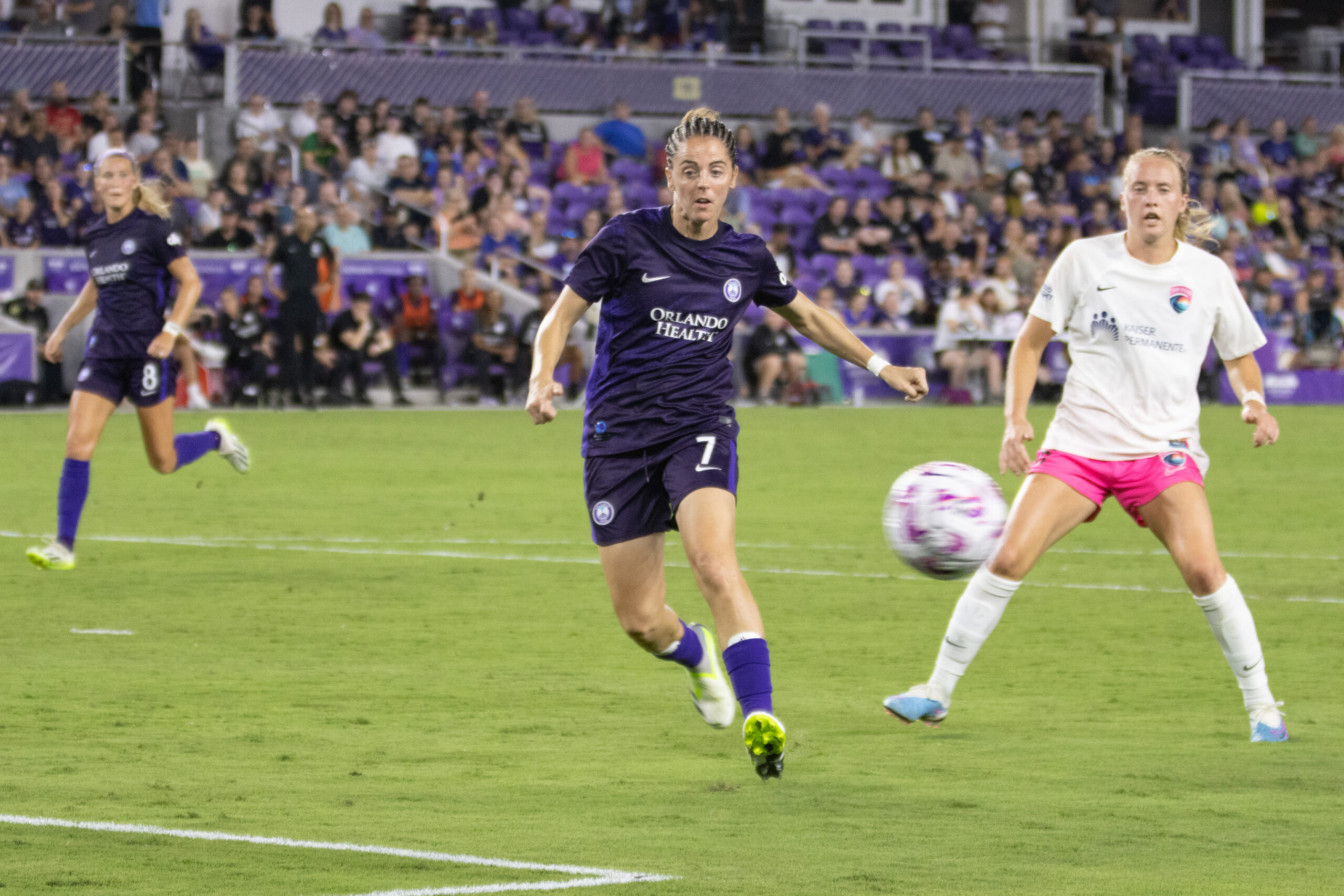 ---
Marta channeled Star Wars Night at Exploria Stadium with a blaster-bolt of a cross to Adriana to score the Pride's lone goal, but the Wave's Kyra Carusa mastered the Jedi mind trick ("I am not the runner you are looking for.") to nod home a winner, allowing the visitors to escape with all three points.
It was a beautiful night, and a strong crowd of 7,556 turned out. The Pride played well, dominating most of the stats, but a missed clearance and the aforementioned mental lapse on two corner kicks left them just short. Costumes, banners and tifos embraced the Star Wars theme, making for a very fun and festive atmosphere. (And the soccer was pretty good too!)
Despite the disappointing result, we hope you enjoy the photos of a fun night at Exploria Stadium.