Orlando City vs. New York Red Bulls: Final Score 1-0 as Lions Remain Perfect at Home
Substitute Servando Carrasco supplied the only goal of the game and the Lions had to defend much of the final 30 minutes to earn their third win of the year.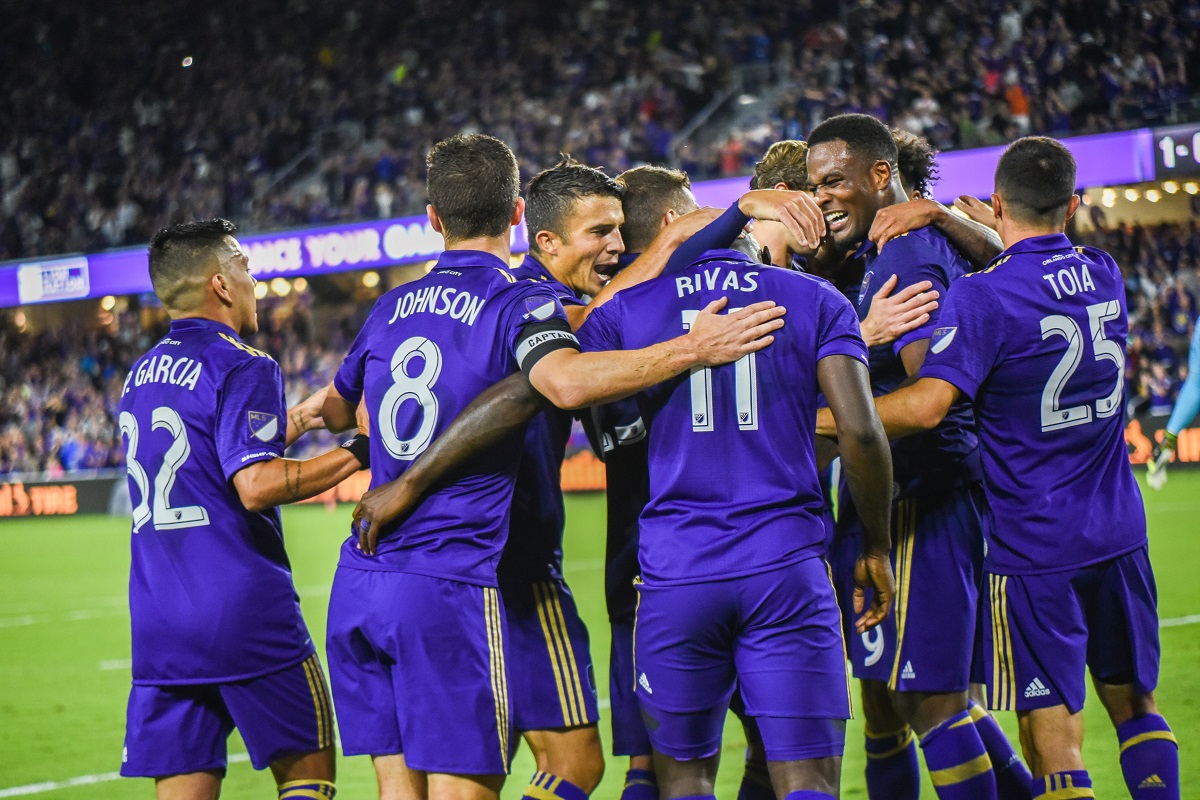 Servando Carrasco's goal in the 34th minute in relief of an injured Antonio Nocerino was all that separated Orlando City and the New York Red Bulls. With the 1-0 victory in front of a sellout crowd of 25,527, the Lions (3-1-0, 9 points) improved to a perfect 3-0-0 in Orlando City Stadium.
New York (2-3-1, 7 points) lined up what felt like a million set pieces in the game's last half hour but could not find a way to tickle the twine in the back of Joe Bendik's net. Bendik and the back four did their jobs well and the team escaped with another close win at its new purple palace.
"I think it was a hard-fought game for sure," Carrasco said. "It wasn't pretty at times but the guys showed tremendous fight. To come out of this game with three points was definitely the goal."
Orlando City came out in a surprise 4-4-2 diamond after going with a flat 4-4-2 for the team's first three matches. Scott Sutter got his first start at right back and Will Johnson played the right side of the diamond, opposite Cristian Higuita. Antonio Nocerino manned the bottom of the formation and Matias Perez Garcia played up top, beneath strikers Cyle Larin and Carlos Rivas.
The new formation was evident early as the Lions often struggled to find the next pass as it appeared players had to think rather than react naturally under pressure. This led to some turnover issues and broke up promising attacks.
"My experience is that playing in that way you tend to put yourself in spaces where you can find the ball a lot more and maintain the rhythm or set the rhythm of the game," Kreis said after the match. "But it also takes time. I think we suffered a little bit in the first half just because that was the first time we've done it. It's also that a coach wants to play a couple of different ways. I'd like to not walk into every match and have the opponent know exactly what you're going to be doing."
"The idea was to try and have an extra man in midfield to keep the ball a bit better," Spector said. "And we did make some good passing combinations during the game but not consistently enough. I think it can be a good formation for us going forward but perhaps we need a little bit more time to work on that."
However, in the fifth minute, the strength of the formation showed, as the pitch got congested on the left, allowing Sutter to sneak down the right side. Larin's pass picked him out but there wasn't enough weight on it and the defense closed, but Sutter still worked hard to earn the game's first corner. The set piece was poor, however, and New York broke on the counter, with Derrick Etienne racing down the field before being dispossessed by Johnson, just as Sutter was whistled for a foul. The long free kick found the head of Bradley Wright-Phillips but he had nothing on his attempt and it was off target.
After that, Rivas had a good spell in possession before having his shot at the top of the box blocked in the 11th minute. New York came back in the next minute with a perfectly lobbed long ball over the top for BWP. Bendik blocked his shot, but it deflected back toward goal and Jonathan Spector made a sliding save to clear it off the line.
Rivas nearly broke the scoreless deadlock in the 14th with a shot that took a slight deflection. Luis Robles made a diving save but spilled it. Unfortunately, it didn't travel far from him and he was able to pounce on it. A minute later, Robles showed good strength in a midair collision with Larin and got to a cross to win it from the Canadian.
In the 17th minute, Antonio Nocerino — celebrating his 32nd birthday — got the worst present ever. The Italian pulled up lame without contact and had to be subbed off due to injury. Carrasco replaced him. After the match, Kreis said Nocerino sustained a calf strain and will be evaluated further on Monday.
The chess match continued, with Kemar Lawrence sneaking down the left and getting a shot on target in the 21st minute, but it had little power and was easy for Bendik. A minute later, Sutter fired just over the bar from the top of the box. In the 24th minute, MPG took a Rivas pass that nutmegged a defender and fired a shot that fizzed just inches wide of the left post, as Orlando got closer and closer to a breakthrough.
That breakthrough came in the 34th minute. City earned a corner and Johnson delivered a good ball in to the near post. Multiple defenders ran with Larin but the ball flew over them to Carrasco, who nodded home for his first MLS goal since 2013 when he was with Seattle. Johnson got the assist. It was the Lions' first goal of the season that was scored by someone other than Larin, putting Orlando City up, 1-0.
"It means a lot because we won the game," Carrasco said. "The fact that I scored is secondary to me. The fact that I could contribute is the main thing. Will played a fantastic ball and I was just lucky to be at the right place."
New York battled hard after the goal and earned multiple set pieces but could not get much directed at Bendik's net. Orlando City's last good chance of the half came in the 43rd minute, with Sutter missing just wide of the post. BWP scored in first-half stoppage time but was correctly ruled offside and Ismail Elfath waved off the goal.
Orlando City out-shot New York in the first half, but the Red Bulls got three on frame to Orlando's two. The Red Bulls held 55% of the possession and were more accurate in passing the ball (75.5%-63.9%). 
The game opened up to start the second half, with both teams getting some chances in the early part of the second period.
Bendik came off his line to make a vital challenge to keep Etienne from reaching a pass in the box. Then, on the other end, Larin somehow missed off a gorgeous cross from Rivas in the 52nd minute. In the 56th minute, Higuita took a pass from MPG on the left side of the box and fired just over the net on a slight deflection.
In the 58th minute Higuita slotted in to Rivas in the box but he lost control trying to tee it up on his left foot. A minute later, MPG skied one into the upper deck of the south grandstand.
Former Lion Aurelien Collin's header off a free kick was on target in the 62nd but he didn't get all of it and it was right at Bendik on a hop. The set piece was set up by a foul on Higuita and the young Colombian compounded his error when he said something to Elfath and was booked. Collin again got a free header in the 64th on a corner kick but sent this one wide to the left of goal.
In the 67th minute, Larin was sent alone on Robles but was robbed by a diving save. Rivas played a quick ball to MPG, who released the Canadian. Larin then beat the defense but shot from the top of the box with a third defender cutting off his angle. Robles still made a hell of a save.
Kreis sacrificed Higuita — likely due to the yellow card — in the 69th minute, replacing him with Giles Barnes. The team took more of a flat 4-4-2 look after the switch.
The game got choppy after that, with Elfath giving foul after foul. The Red Bulls started racking up set pieces in good areas. The Lions started to do a better job of tracking Collin, however. One such set piece turned into an Orlando counter that saw Giles Barnes get taken down by Collin just above the box. Collin was booked and Rivas sent the ensuing free kick a few feet over the bar.
Luis Gil came on for a battered MPG in the 84th minute, making his Orlando City debut.
Collin again nearly brought his team level in the 85th, heading a free kick cross just wide of the right post after a Barnes foul, as the free kicks continued to mount. Gil went into Elfath's book in the 86th minute for a late challenge and the Lions nearly paid dearly for it. BWP shot from the left just after the restart and Bendik made a vital save.
"The negative is that we've got to be better with the ball," Kreis said. "We cannot force ourselves to defend for such long stretches in matches like these against opponents like these because in some moment you're going to break and you'll have lost all of the momentum that we should gain, especially when we're winning the game by a goal. It's game management issues I think we'll continue to work on and we'll continue to improve on."
BWP tried his luck from distance in the 88th despite harassment from Redding and his shot was well off the mark. That was about the last real volley fired in a 90+ minute war between the two Eastern Conference sides.
"I think in all three of the home matches I thought a lot of the same things after the match," Kreis said. "So many positive statements to make about effort level, intensity level, commitment of the players to defend — real, real signs of togetherness and just a fortitude that says we won't be broken at home. And so [I'm] really, really pleased with that."
New York finished with 61.2% possession and more shots on target (4-3) despite both teams having 12 total attempts. The Red Bulls attempted 403 total passes to Orlando's 268.
---
The Lions are back in action at home Saturday against the LA Galaxy at 3 p.m.
Lion Links: 10/2/23
Orlando City's trophy aspirations, the Orlando Pride playoff hunt, OCB falls to Columbus Crew 2, and more.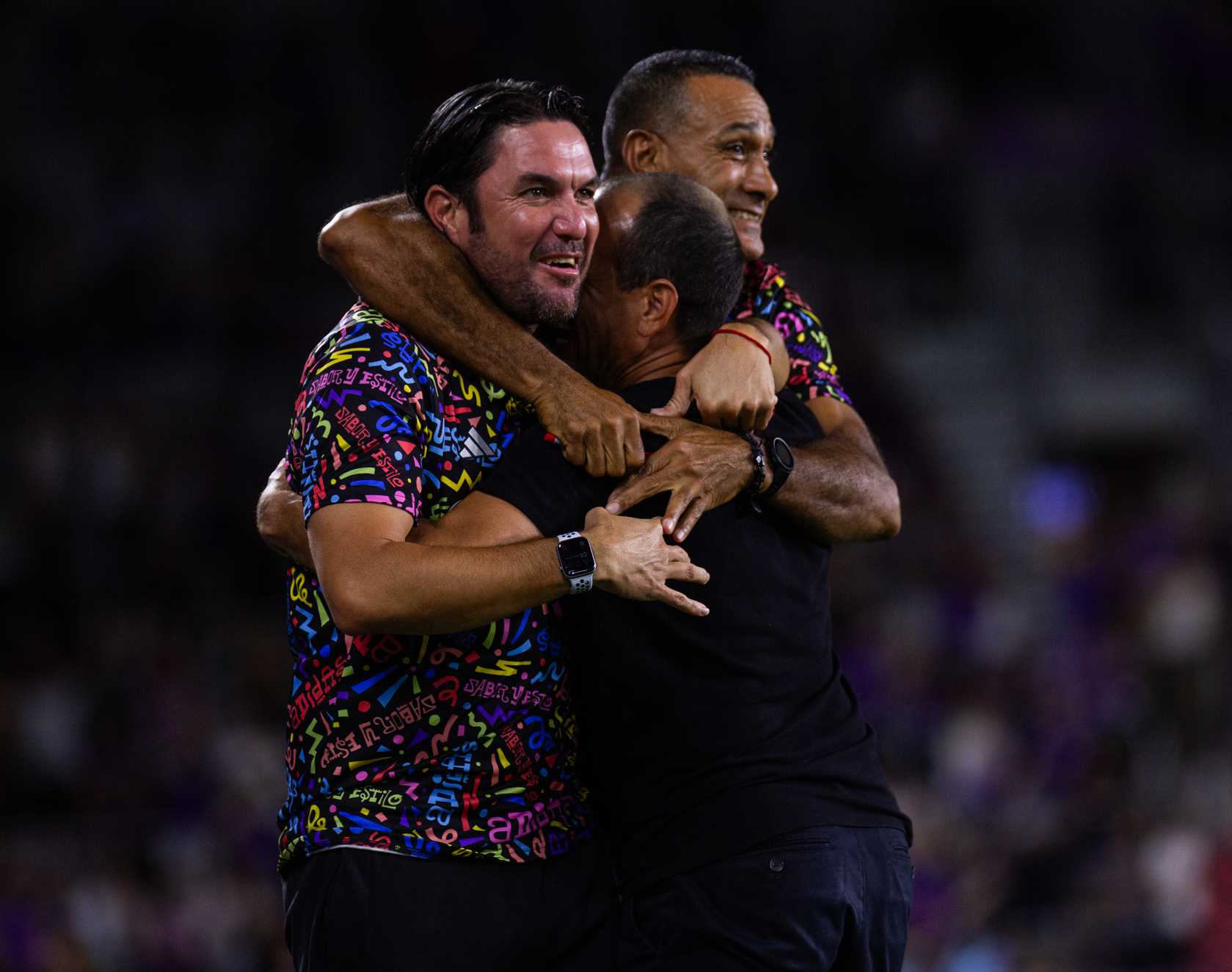 Merry Monday morning, Mane Landers! Though I'm still reveling in the huge win over CF Montreal, I'm also looking ahead to a big week for both Orlando City and the Orlando Pride. It's such a great time of the year with MLS and NWSL matches, plus the European leagues, and American football. So much to watch, so little sleep to be had. Let's get to the links.
Lions Looking for Hardware
Orlando City set a record for wins and points in a season with the win over CF Montreal on Saturday night. Hopefully it's a record that will be extended over the final three matches of the regular season. The coaches and the players certainly think that Orlando City has an opportunity to win the MLS Cup. Where the Lions finish in the standings will go a long way towards reaching the final and that all starts Wednesday night.
The Pride's Playoff Push
The Orlando Pride continue their push to make the NWSL playoffs for the first time since the 2017 season with a trip across the country to take on Angel City FC later tonight. It is the first of two away matches this week — the last road games of the regular season. The Pride sit just above Angel City in the standings with the clubs in seventh and eighth places, respectively. The game will be Marta's 100th match over all competitions. Securing three points over Angel City would make a big difference in the Pride's race to the playoffs. Keep an eye out for our preview later today.
OCB Penalized Out of the Playoffs
On The Mane Land PawedCast, we often describe Orlando City B matches as being "drunk." OCB's 2-1 playoff loss to Columbus Crew 2 will definitely be described as such. There were three red cards, two penalties, and Jack Lynn didn't score a goal for once. There were some questionable calls by both the refs and by OCB Head Coach Martin Perelman, but conceding only from the penalty spot while outscoring the hosts in the run of play won't (and shouldn't) sit well with the Young Lions. While the result is disappointing, one should remember that OCB is a development squad, and one that made the playoffs to boot.
USMNT Players in Action Abroad
USMNT players made some noise this weekend. Christian Pulisic played 82 minutes and scored AC Milan's winning goal in the club's 2-0 victory over Lazio. It was one of two shots on target for the American. Striker Folarin Balogun missed not one, but two penalty shots in Monaco's match against Marseille. Fortunately, Balogun scored an equalizer in the run of play and his teammate secured the 3-2 win. The win moves Monaco to the top of Ligue 1.
Over in the Eredivisie, Malik Tillman got his first start for PSV. Tillman provided an assist and scored the game winner late in second-half stoppage time to give PSV a 3-1 win over FC Volendam. It was a Man of the Match performance by the American. In less good news, Tyler Adams will miss more time with AFC Bournemouth as he has had a setback with his hamstring injury. How long he will be out is still to be determined.
Free Kicks
---
That will do it for today. It's a busy week coming up with Pride matches tonight and on Friday, and the Lions playing on Wednesday and Saturday. Check back for all of our coverage of your favorite teams. Vamos Orlando!
Orlando City vs. CF Montreal: Player Grades and Man of the Match
How did your favorite Lions perform in Orlando's 3-0 home win over CF Montreal?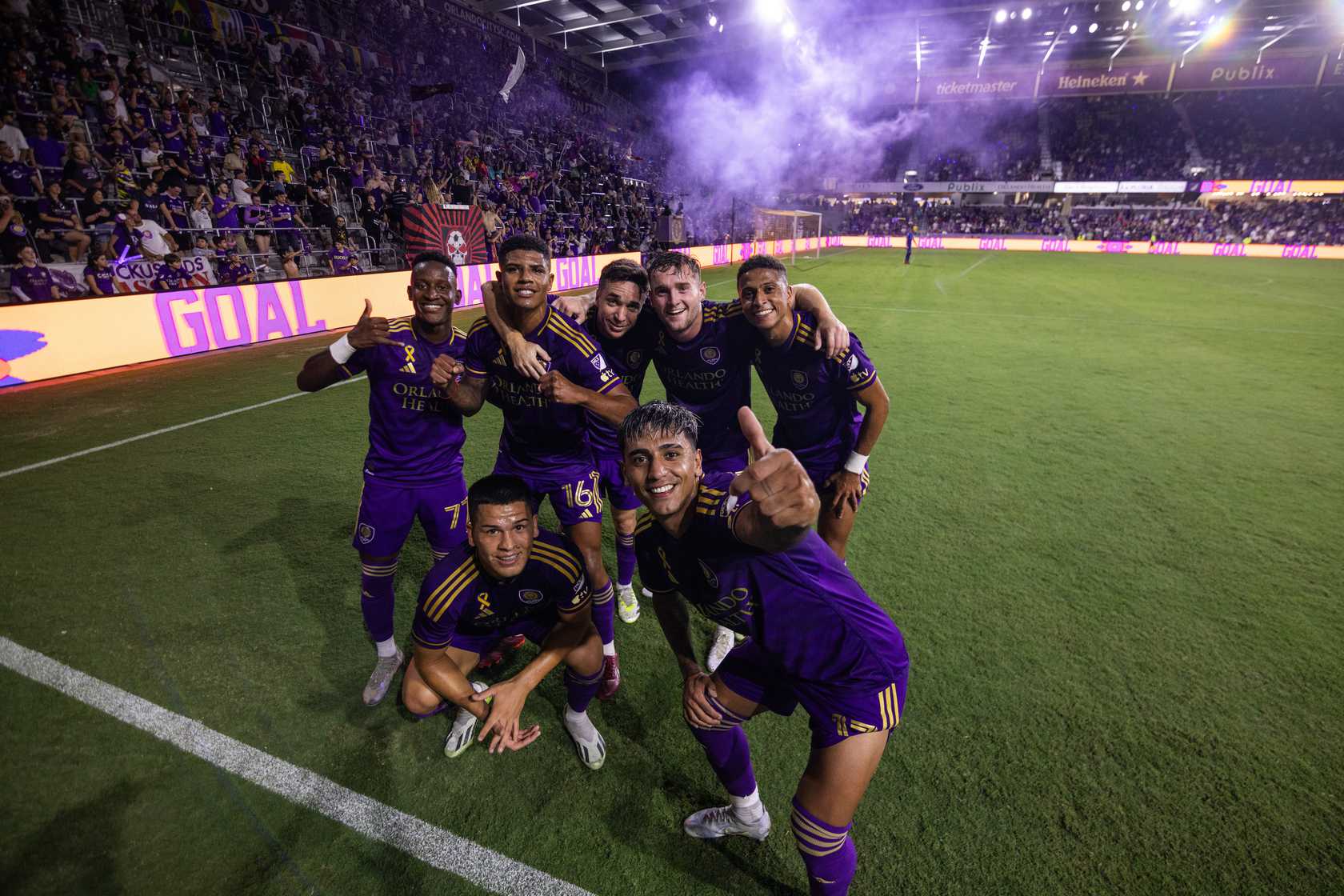 Orlando City returned to its winning ways with a convincing 3-0 victory at home against CF Montreal. An own goal by Montreal goalkeeper Jonathan Sirois got the scoring started in the first half. Facundo Torres and Dagur Dan Thorhallsson each scored nice team goals in the second half as the Lions cruised to victory against a Montreal side that hasn't won since Aug. 26. The win set club records for both most points (54) and most wins (15) in a season since the Lions joined MLS in 2015.
Here's how I saw each individual performance in Orlando's dominant win at Exploria Stadium.
Starters
GK, Pedro Gallese, 6.5 — The Peruvian had one of his quietest nights of the season and didn't have to make a save until the second half. That first save was a great one though, as he parried away a sudden shot from Mason Toye with little room to spare in the 76th minute. His only other save was an easy catch shortly after off of a Mathieu Choiniere from outside the area. Gallese completed 61.8% of his 34 passes and seven of his 20 long balls found their man. El Pulpo likely won't have many complaints about a slow night at the office as he earned his ninth clean sheet of the season, which ties his high in an MLS season, set last year.
D, Rafael Santos, 7.5 — The Brazilian left back was dangerous from start to finish in one of his best games as a Lion. He notched his third assist of the campaign with a low cross that zipped through traffic and found fellow fullback Thorhallsson's run. It was a chance he sparked himself by winning the ball in the midfield before booking it out wide. His cross on the first goal was just as good, as he was both patient and clinical to find Torres open in the box. Of his four crosses, two were successful and the misses had some venom on them as well. He also completed three of his five long balls and had 51 passes at an 82.4% success rate. Santos was defensively sound, leading the Lions with four tackles, making an interception as well, and winning two of his three aerial duels. Santos flourished once Orlando had its wingers switch sides, allowing him to work in tandem with Torres with overlapping runs and room to work.
D, Robin Jansson, 7 — The Beefy Swede was as strong as always in the center of Orlando's defense, although he didn't have to put out as many fires in this one thanks to his defensive midfielders. Jansson had a tackle, an interception, and a clearance as he broke up plays and kept Montreal's offense in check. His only miscue was a worrying turnover in the second half that he promptly rectified with a surgical sliding tackle in the box. A few charges forward and connecting on four of his nine long balls kept Montreal's defense on its toes as well. He completed 86% of his 50 passes and didn't commit a single foul in an efficient outing.
D, Rodrigo Schlegel, 7 — Schlegel bounced back from a few underwhelming recent performances with a solid game in this shutout. His four clearances were the most on the team and he won both of his aerial duels. The center back also had a tackle and blocked a shot to make sure Montreal couldn't get back in the match. His 62 passes were the second-most on the team and he completed 88.7% of them, while also succeeding on two of his four long balls. It was nice to see him calm, cool, and collected as he continues to fill in for Antonio Carlos.
D, Dagur Dan Thorhallsson, 7.5 — Thorhallsson got the start again at right back and spent plenty of time in Orlando's attack. That was more than evident shortly after halftime, when he made a superb run to bury a ball that skipped across the front of goal to double Orlando's lead. He was credited with one shot (on target) but what must have been ruled a cross from a tight angle also appeared to be an on-target shot. The versatile player is improving with each match played at right back and completed all but one of his 33 passes for an excellent 97% success rate. Although neither of his two crosses were accurate, his lone long ball found its mark and he had a key pass as well. Defensively, he had just one interception, which is in part because of how much time he spent in the thick of things on offense. It was a great game from Thorhallsson, who was subbed out in the 82nd minute for Michael Halliday.
MF, Cesar Araujo, 7.5 — Araujo was a Swiss army knife of sorts for Orlando, doing a little bit of everything to give the Lions an edge all over the field. The 22-year-old directed traffic while on the ball, covered for his defenders as needed, and won a team-high four fouls. His lone shot was a headed effort that went wide, but he got involved on offense by succeeding on four of his nine long balls, with two of those marked as key passes. Araujo's 76 touches were the most on the team and he was accurate on 88.1% of his 59 passes. He served the role of defensive midfielder well, helping out with two tackles, an interception, a clearance, and plenty of pressure to make life as difficult as possible for Montreal.
MF, Wilder Cartagena, 7.5 — Cartagena did well on both sides of the ball. The Peruvian was credited with an assist for springing Ivan Angulo forward on the third goal, and he had a key pass for setting Torres up for a chance on the volley soon after that with a quick ball out wide. He almost had a goal himself when a free kick found him open in the box, but his header went high for his only shot of the evening. Cartagena's 63 passes were the most on the team and he completed 93.7% of them while also connecting on four of his five long balls. Defensively, Cartagena didn't give Montreal's players much breathing room and blocked a shot.
MF, Ivan Angulo, 6 — The winger struggled when attacking for a majority of his time on the field before coming off in the 64th minute. A lack of vision and execution while on the ball, particularly in the first half, led to some squandered chances that Orlando didn't end up regretting in the end. Both of his shots were in quick succession, the first saved in a chance he should have done better with and the second fired wide from outside the box with better options available. He scored an easy header on a play from an obviously offside Torres that was correctly flagged after the ball went in. It was far from horrendous from the Colombian though, as he often put himself in good positions to jump on errant passes, provide an outlet for teammates, or demand attention from Montreal's defenders. His assist came in the second half after he made a nicely timed run and then unselfishly laid the ball off for Torres rather than going for goal himself. It salvaged a fairly forgettable performance that included 38 touches and 28 passes at a strong 89.3% success rate, and an inaccurate cross.
MF, Mauricio Pereyra, 6.5 — The captain was often swarmed when on the ball and had little room to make some of the backbreaking passes he's shown over the years. He completed four of his five long balls, one of his three crosses, and 83.7% of his 43 passes. Pereyra didn't have any shots himself, but had two key passes and did well as a facilitator in tight areas to keep Orlando in possession. His free kick that found Cartagena's head in the box was a good one and he was subbed off for fresher legs while leading.
MF, Facundo Torres, 8 (MotM) — Torres played like a man possessed, doing everything right and more in a dominant performance. Torres' first of a team-high four shots (two on target) ended up with the ball in the back of the net, as his strike hit the post and then bounced off Sirois and in for an own goal. On his goal, he did well to control Angulo's pass and slot it past Sirois for his 13th of the season. His movement in the buildup of Thorhallsson's goal was also commendable, as he made a good run, quickly circled back onside, then slowed the pace of the play down for Santos to make his overlapping run before feeding him. Between those attacking moments and chasing down opponents while up three goals, it was easy to see why European teams are keeping an eye on him. He completed 82.8% of his 29 passes and connected on two of his four crosses, while both of his long ball attempts were unsuccessful. It's hard to believe he only had 44 touches given the massive impact he had on the field.
F, Duncan McGuire, 7 — The rookie put in a strong performance up top and was credited with an assist for a subtle touch on Thorhallsson's goal. McGuire made a cutting run to peel Gabriele Corbo towards the end line and then flicked Santos's cross into the path of charging runs by Angulo and Thorhallsson. He also chested down a long ball from Gallese to Cartagena in transition to help set up Torres' goal. His only shot of the match was flicked wide, but he had two key passes and showed some prowess in making small passes in the box for his teammates to have open looks. He had 19 touches and 12 passes at a 58.3% success rate, doing well enough in terms of hold-up. McGuire made great runs to keep defenders on their toes, applied pressure to pin Montreal in its own half, and helped out defensively by blocking a shot and clearing the ball on a corner kick.
Substitutes
MF, Martin Ojeda (64′), 6.5 — Ojeda came off the bench with Orlando up three goals and did his part in keeping Montreal's defense honest, even if he didn't wind up on the scoresheet. He completed all 15 of his passes and was accurate on both of his long balls. His only shot of the game was an attempt to get the better of Sirois from a tight angle in the box, but the goalkeeper came up with the save. All in all, it was an efficient outing from the Designated Player off the bench.
F, Ramiro Enrique (64′), 6.5 — Enrique came on alongside Ojeda and brought plenty of energy with him to keep the Lions in the driver's seat. Both of Enrique's shots were from outside the box, with one blocked and the other saved by Sirois. He completed four of his seven passes and finished the game with 13 touches. Despite his size, he won two of his three aerial duels as well. Enrique received a curious yellow card after beating Nathan Saliba to a sliding challenge and winning the ball.
MF, Gaston Gonzalez (75′), 6 — The winger received some more minutes and did well enough while on the field. He had eight touches and completed all three of his passes. Although he didn't have any shots, crosses, or long balls, he did record a key pass for setting up a shot for Enrique. He didn't make many runs forward, likely due to Orlando's lead, but looked strong on the ball when he did and wasn't afraid to take defenders on.
D, Michael Halliday (82′), N/A — The right back replaced Thorhallsson and did well on both sides of the ball. Halliday made a few sprints upfield to give Orlando's attack another option, but was resolute on the defensive end, even though he didn't record any stats for his efforts there. He was accurate on three of his four passes and finished with seven touches.
MF, Junior Urso (83′), N/A — The Bear made another cameo off the bench for Orlando. He had six touches and was successful on four of his six passes. Urso wasn't on the field long enough to warrant a grade, but it was nice to see him get a run out at Explorias Stadium with just one home game remaining.
---
That's how I saw the individual performances by the Lions. Let me know where you agree and disagree in the comments below and make sure to vote for your Man of the Match in our poll below.
Orlando City vs. CF Montreal: Five Takeaways
Here's what we learned from Orlando City's 3-0 win at home against CF Montreal.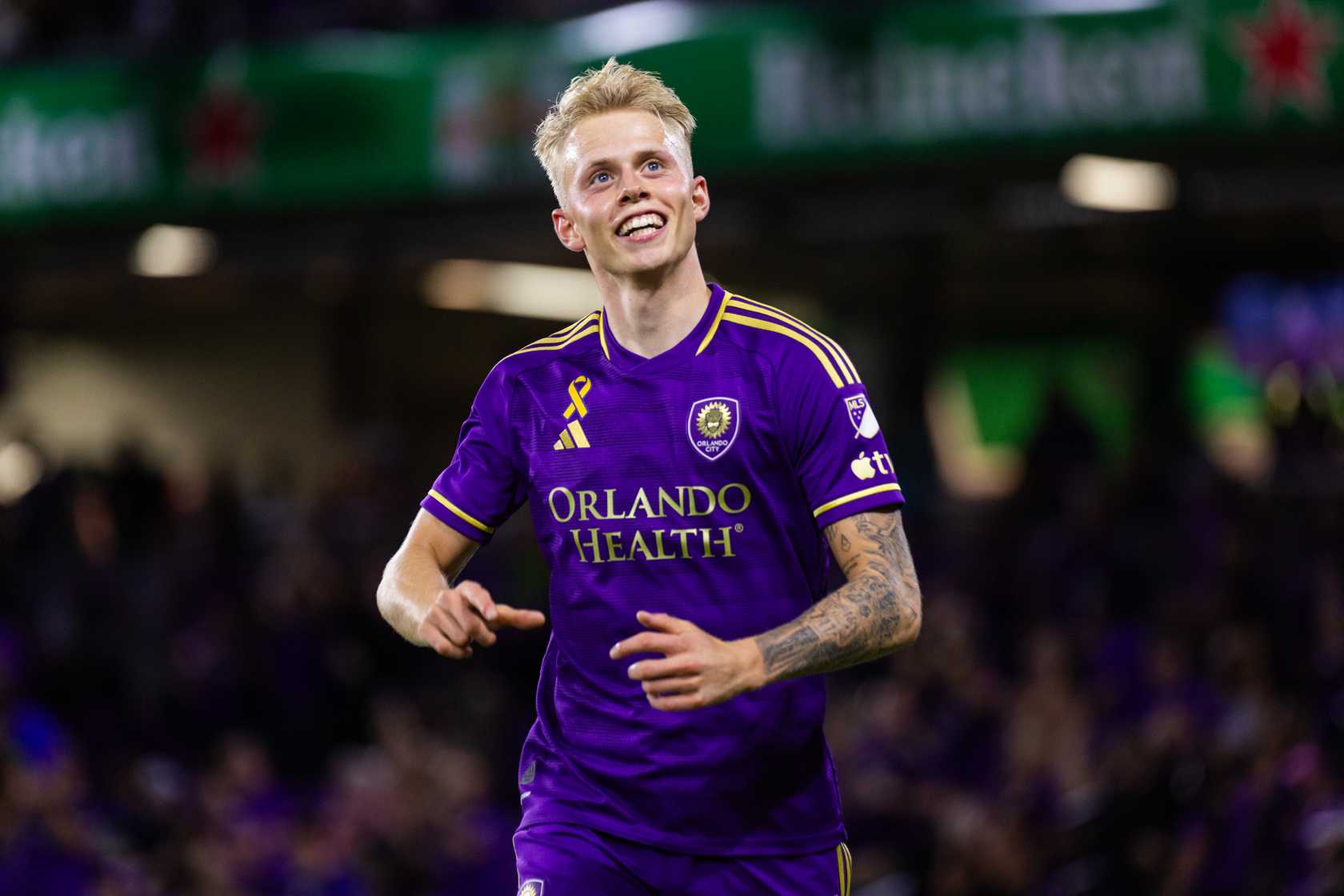 Orlando City defeated CF Montreal 3-0 on a beautiful night at Exploria Stadium. The win gave Orlando City the club record for wins and points scored with three matches still to be played. The Lions remain in second place in the Eastern Conference and are sitting on 15 wins with 54 points. Here are my five takeaways from the record setting win over the Club Foots.
A Rare Sighting
Orlando City did something that the club usually does not do. The Lions scored a goal in the first half. Orlando City controlled the match from the start with the lion's share of the possession. It finally paid off in the 19th minute when Cesar Araujo played Rafael Santos up the left side. Santos took one touch and then put a cross into the box for a well-positioned Facundo Torres, who put it past Jonathan Sirois. Unfortunately for Torres, the ball bounced off the post and then off of Sirois and into the net for an Orlando City lead. It was rightly given as an own goal, though it will be a Torres goal in my heart.
Missed Opportunities
Yes, Orlando City scored a first-half goal. However, there were so many more chances the club didn't finish in the first 45 minutes. The Lions officially had four shots in the first half, though Ivan Angulo's headed goal didn't count because of an offside call. The first touch of several players wasn't great, which stopped some nice build-up play from Orlando City. Fortunately, it didn't come back to haunt the Lions in the end.
I'm a Dagur Dan Man
Dagur Dan Thorhallsson has taken the starting right back position and is not giving it back. He did well on the defensive side, but it's his play up the wing that I think Oscar Pareja really likes. Thorhallsson is naturally a winger and he showed how effective he can be in the attack for Orlando City. He provided crosses, key passes, and of course the second Orlando City goal. Thorhallsson did what he was supposed to do on that goal. He was at the back post and just tapped it in when the ball found its way though everyone else.
Torres Makes Good
Torres may have not been credited with the first goal, but he made Orlando City's third goal look easy. To be fair, it was easy. Unlike too many opportunities earlier in the match, Angulo followed the advice of Ted Lasso and made the extra pass. In this case, it was a perfect cross to Torres, who was so alone he had time to settle the ball and then take his time to put it past Sirois into the bottom left corner. Torres is getting hot when Orlando City needs him to do so, and he proved it again against CF Montreal.
Subs, Subs, Subs
With another match this coming Wednesday at Nashville and another next Saturday against the New England Revolution, getting the starters some rest was important. Scoring three goals before the 60th minute allowed Pareja to utilize all his substitutes to get Mauricio Pereyra, Duncan McGuire, Torres, Thorhallson, and Angulo some rest. As Orlando City fights for home field advantage in the playoffs, those minutes will be key to the Lions' ability to have more performances like Saturday night.
---
That's what I took away from Orlando City's 3-0 win over CF Montreal. Let me know your thoughts on the match in the comments below.