Orlando Pride vs. Houston Dash: Final Score 2-0 as Last-Place Dash Send Pride to First Home Defeat
The Pride weren't sharp at all and squandered too many early chances before falling at home for the first time in 2017.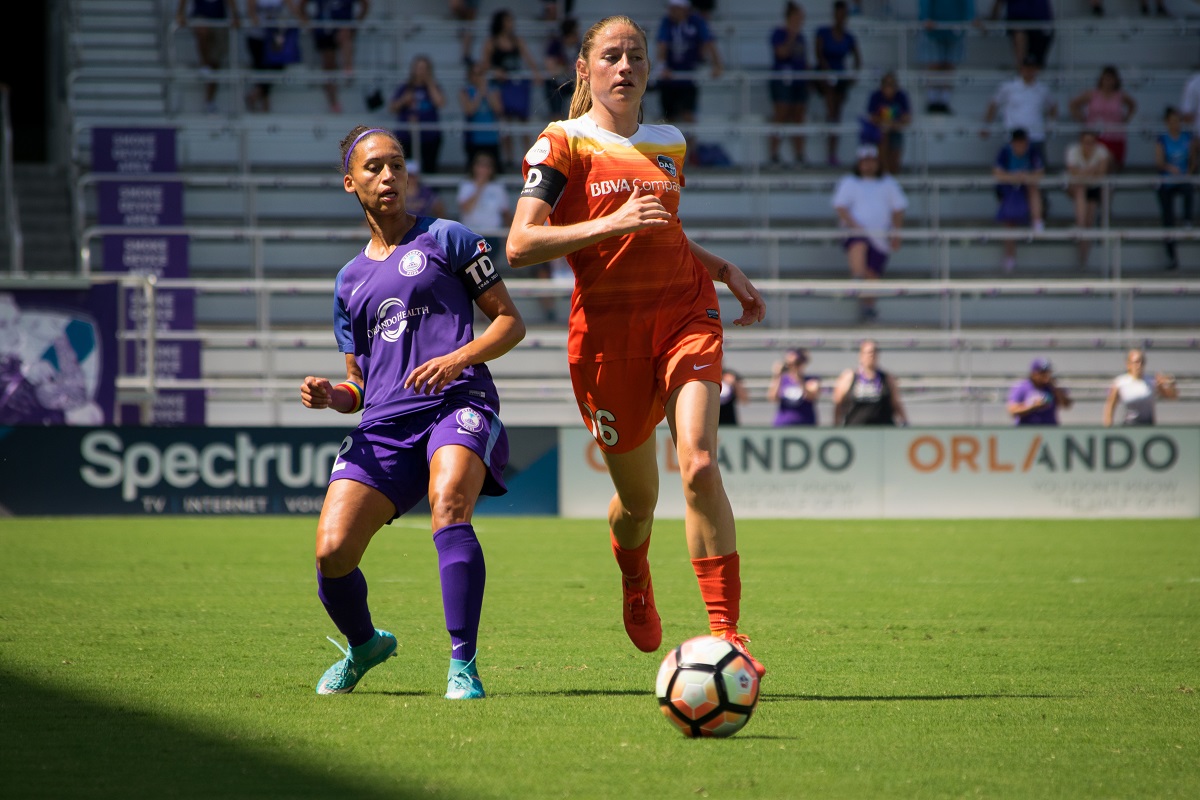 The Orlando Pride squandered good opportunities early and looked more like the visiting team than the hosts, falling 2-0 to the Houston Dash. It was the Pride's first loss at Orlando City Stadium and came against a team that entered with only two wins on the year.
A crowd of 5,497 braved the midday Central Florida heat but wasn't rewarded for its support, as Orlando (3-4-3, 16 points) simply didn't have it on this day. Houston (3-7-0, 9 points) got just its third win of the year behind goals by Carli Lloyd and Rachel Daly.
"Given how we've been playing of late, I think it was a disappointing performance," Head Coach Tom Sermanni said after the game.
The Pride were actually on the front foot through the game's first half hour but lacked the sharpness in the final third necessary to take the early lead. It started early, as Steph Catley's through ball for Rachel Hill was picked off four minutes in. A minute later, Jasmyne Spencer left a back-post cross for Hill too close to Dash goalkeeper Jane Campbell, who made a diving intervention.
In the ninth minute, Hill worked a nice give-and-go with Alanna Kennedy but the Pride midfielder couldn't get the ball out of her feet to take a shot. Ali Krieger pushed a header wide on a Marta corner kick at the 11-minute mark as the Pride continued to buzz but couldn't take advantage.
In the 21st minute, Camila made a sparkling turn and run to the top of the box but she got nothing on her shot and it was easy for Campbell to collect. Two minutes later, a ball fell perfectly for a wide-open Hill at the top of the box but she fired her shot right at Campbell.
The last good opportunity for Orlando in the opening period came in minute 27, when Catley placed a cross perfectly for Marta but Campbell got a touch on Marta's header and sent it off the bar. The Houston keeper was able to recover in time to beat two onrushing Pride players to the rebound.
The water break at the half-hour mark seemed to settle down the Dash, who came into the game in the final 15+ minutes of the opening half.
"To be honest, up until the first water break I thought we were quite comfortable," Sermanni said. "I thought we were playing OK, generally in control of the game. I felt if we had scored at that stage we would have probably gone on and won the game. But after that I thought we were very poor.
"The energy was poor. I thought our effort was poor. And I thought our execution was poor. We really never got at any stage of the game after that what I'd call on a roll to put Houston under any kind of pressure."
"Obviously those water breaks are needed but it takes away from the momentum of the game," Krieger said.
Toni Pressley gave up an unnecessary free kick shortly after the restart. Houston's cross was headed clear by Krieger but fell for Janine Beckie, who sent her volley shot over the net. Beckie fired high again in the 40th minute from outside the box when given too much room. That problem led to the opening goal minutes later.
Poliana got in behind the defense on a ball over the top in the 42nd minute and her chip shot beat Aubrey Bledsoe, but Catley cleared it off the line at the last second.
The warning bells didn't wake the defense, however.
In first-half stoppage, Poliana squared a ball to a wide-open Lloyd, who blasted her shot into the upper 90 to give Houston a 1-0 lead at the break.
Things didn't improve for Orlando after the half. The Pride continued to make unforced errors, pass the ball out of bounds, cross into the box to no one, and lose the ball repeatedly.
Just 17 minutes after the restart, the Dash doubled their lead. Lloyd's long diagonal ball found Poliana, who centered for Rachel Daly, who one-timed a shot past Bledsoe to double the visitors' lead.
Sermanni emptied his bench to try to find some offense, bringing on Maddy Evans, Jamia Fields, and Danica Evans for Monica, Hill, and Spencer, respectively. It didn't really work. Evans got one shot off on a give-and-go with Kennedy at the top of the box but missed wide. Fields had a shot off a corner that was blocked. Aside from that, there was little in the way of opportunities for the Pride after the second Dash goal.
"Credit to Houston — they were really good," Catley said. "They moved the ball well and worked really hard."
The Pride out-shot the Dash, 14-10, but only got three of their efforts on target. Orlando fell to 4-2-0 all-time against Houston after six meetings. The Dash snapped a six-game losing streak and denied Orlando a three-game winning streak in the process. Houston's last win was April 29.
---
Orlando won't have long to try to regroup. The Pride travel to Sky Blue for a Wednesday night match.
"We're going to move forward. We're going to iron out the details this week," said Krieger. "We understand that we can do a lot better and we can play a lot better."
2023 Orlando Pride Season in Review: Kylie Strom
The veteran defender was a consistent starter for the Pride in 2023.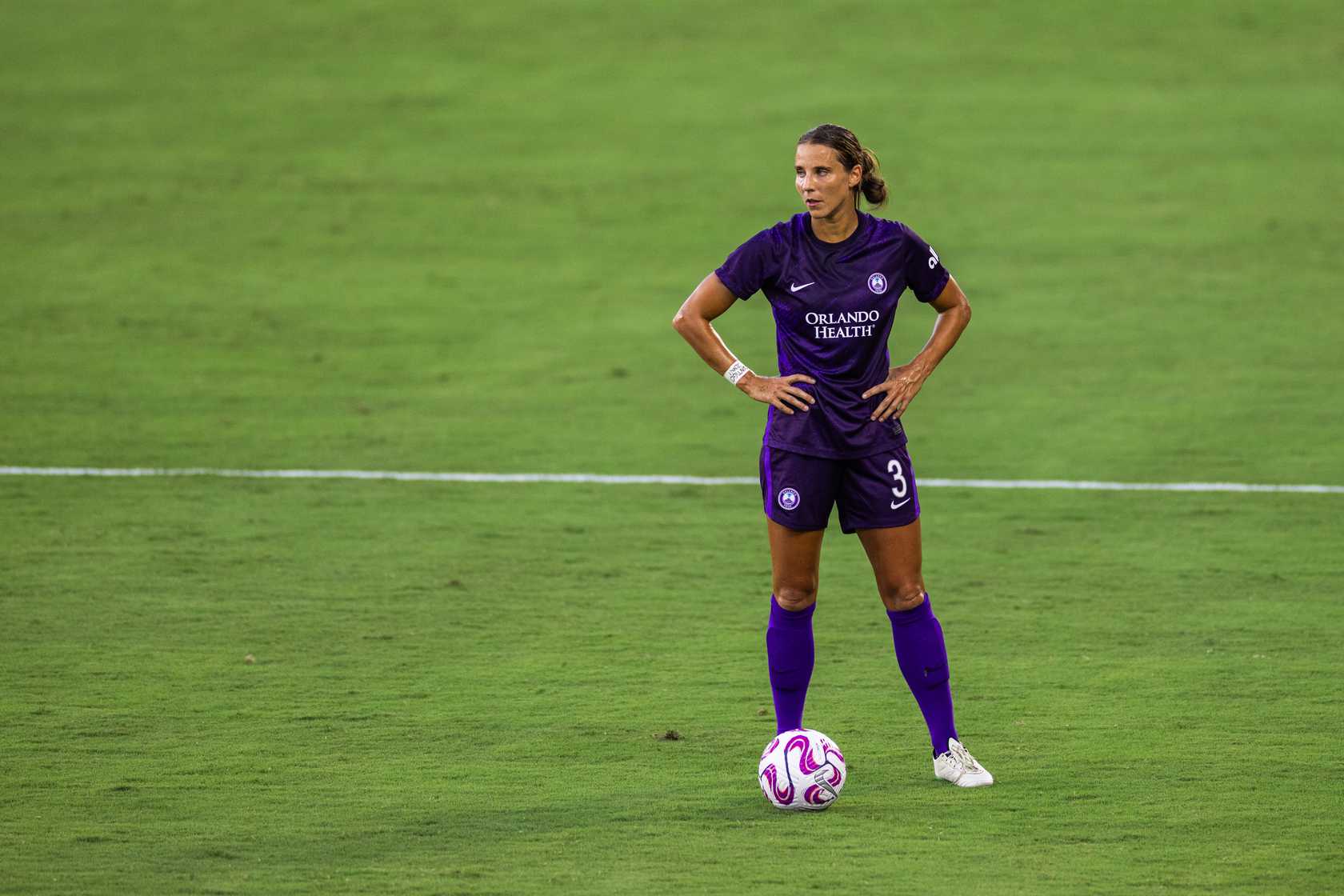 The Orlando Pride signed Kylie Strom from Atletico Madrid on July 5, 2021 to a two-year contract with an option for 2023. Previously, Strom spent time with the Boston Breakers, FFC Frankfurt II in Germany, and Sparta in the Czech Women's League. The Pride exercised her option prior to the 2023 season. Strom played a much bigger role for the Pride in 2023. 
Let's take a look at the defender's 2023 season with the Orlando Pride.
Statistical Breakdown
Strom appeared in 22 regular-season matches, starting all 22, for a total of 1,967 minutes. She scored one goal on six shots, putting one on target. She provided one assist and made 17 key passes. Strom completed 590 of her 880 total passes (67%). She was accurate on 58.7% of her passes in the opponent's half, and went 73.8% in her own half. She was 29 of 106 on her long passes (27.4%). She also completed seven of her 36 crosses. Defensively, she logged 34 interceptions and 10 blocks, won 43 of her 81 tackles (53.1%), won 181 of her 291 duels (62.2%), and won 39 of her 64 aerial duels (60.9%). She also committed 18 fouls, suffered 42 fouls, and was not booked.
The 31-year-old made four appearances in NWSL Challenge Cup play, starting four games and playing 314 total minutes. Strom did not score any goals but took two shots with one on target. She attempted three crosses (one successful), and registered no assists. Strom completed 93 of her 134 total passes (69.4%). She was accurate on 61.8% of her passes in the opponent's half, and 75.8% in her own half.  Strom was 11 of 19 on her long passes (57.9%), and made two key passes. Defensively, she made three blocks and eight interceptions, and won eight of her 10 tackles (80%), 29 of her 46 duels (63%), and eight of her 10 aerial duels (80%). She also committed five fouls, suffered five fouls, and was not booked.
Best Game
Strom's best match was the 2-1 win over the Washington Spirit on May 20. She scored her only goal of the season on a header at the back post in the 77th minute to give the Pride the win. It was the type of goal that you want from defenders and it came at just the right time.
Strom played the full 90 minutes and she was active in both the defensive and offensive aspects of the match. She nearly put Messiah Bright in on goal but it was knocked out for a corner. Her goal came on three shots with one on target. She also completed 15 of her 30 passes (50%) on 52 touches, committed no fouls, suffered three fouls, and was not booked.
2023 Final Grade
The Mane Land staff gave Strom a composite rating of 6 for the 2023 season. Strom received a grade of 4.5 in 2022 due to being a part of a defense that gave up 45 goals with a -23 goal differential. That is a big year-over-year improvement for the defender and part of that is the defense as a whole was better. Strom also did well individually though she had a bad habit of cheaply giving the ball away in her own half. She previously received an incomplete during what was a rough stretch run in 2021 after joining the club midseason.
2024 Outlook
Strom is out of contract and will be 32 years old prior to the 2024 season starting. She's also a free agent. Despite that, it's very possible she is back with the Pride next season unless additional defensive signings are made. It would mean a new contract, but given she started every regular season match in 2023 and finished second only to Emily Madril in minutes played, Seb Hines evidently has faith in her ability to contribute.
---
Previous Season in Review Articles (Date Posted)
2023 Orlando Pride Season in Review: Haley McCutcheon
The veteran fullback logged a lot of minutes for the Pride in 2023.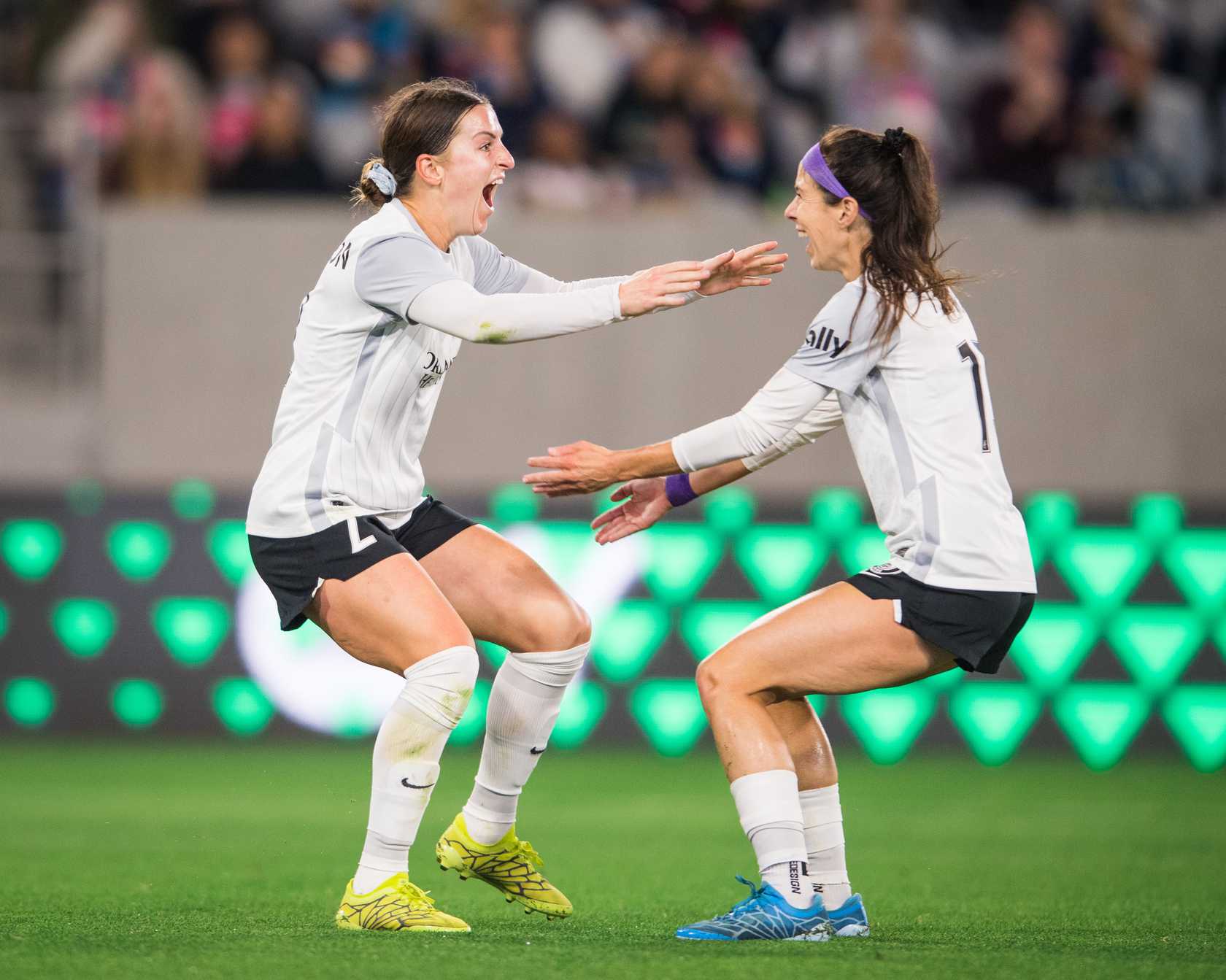 Haley McCutcheon was still known as Haley Hanson when she joined the Orlando Pride on Aug. 18, 2022 in a midseason trade with the Houston Dash. The Pride gave up $75,000 in Allocation Money and a second-round draft selection. She joined Orlando for the stretch run, making her debut with the Pride on Aug. 20 in a 2-1 win over Gotham FC. Following the 2022 season, the Nebraska product signed a new contract through 2024 on Oct. 26 of last year.
Let's look back at McCutcheon's second year with the Pride.
Statistical Breakdown
The 27-year-old appeared in every one of the Pride's 22 regular-season games, starting each of them, and was only subbed out twice all year. She logged 1,955 minutes this season, which was third most on the Pride behind only almost-an-iron-woman Emily Madril (1,977) and Kylie Strom (1,967). In other words, McCutcheon played 98.7% of all possible minutes for Orlando during the NWSL regular season. She scored one goal but did not assist on one, despite providing 15 key passes on the year. The defender attempted 17 shots, five of which were blocked and four were on target. She completed 504 of her 716 pass attempts (70.4%), but just 20.8% of her long passes, and nine of her 40 crosses were successful. In her own end, McCutcheon completed 77.6% of her passes but only 59.8% in the attacking half. Defensively, McCutcheon contributed 10 blocks and 18 interceptions while winning tackles at a 56.9% rate, duels at a 58.3% rate, and aerial duels at a 62.7% clip. Surprisingly, she did not tally a single clearance all season. McCutcheon conceded 18 fouls while winning only eight, and she was not booked.
In NWSL Challenge Cup play, McCutcheon appeared in four of the team's six matches, starting two, and logging 233 minutes. She did not score or assist on a goal, attempting two shots and getting one on frame. Her passing rate in the competition was just 67.6%, and she was successful on 40% of her long passes while logging three key passes and going 1-for-4 on cross attempts. She completed 70.4% of her pass attempts in the defensive half and 62.7% in the attacking half. On defense, McCutcheon contributed two blocks and two interceptions while winning her tackles at a 75% rate, 77.3% of her duels, and 75% of her aerial duels. She conceded two fouls while winning one and was not booked.
Best Game
McCutcheon's best match came back on April 29 in the Pride's 3-1 win over the San Diego Wave at Snapdragon Stadium. She tied season highs in shots (2) and shots on target (1), passed at a 90.5% rate, and made three tackles. Those are all good things, but it gets better. In this match, McCutcheon scored her first goal with the Pride and her only goal of the season, and it proved to be the game-winning strike. And what a strike it was! With the ball on the other side of the field, McCutcheon made a smart run on the back side. Midfielder Viviana Villacorta spotted the run and delivered an excellent, long, diagonal ball into the area for her. But McCutcheon still had a lot to do. She put her head on it and powered it over the goalkeeper and inside the far post to give the Pride their first lead of the season.
The Pride added another goal and went on to grab their first win of the 2023 season. That sparked a 3-0-1 run in league play and got Orlando going in a season that came down to Decision Day.
2023 Final Grade
The Mane Land staff gave McCutcheon a composite rating of 6 out of 10 for her 2023 season, which is a slight improvement over her score of 5 last season. She was a good facilitator down the right side of the pitch and could fill in at times in the midfield with her versatility. Where she continued to struggle at times was with her 1-v-1 defending down the Pride's right side and with her crossing accuracy at times.
2024 Outlook
As mentioned above, McCutcheon is on a deal through the 2024 season and since the Pride are safe from the NWSL Expansion Draft, the only way she wouldn't be back is via trade or transfer. I expect her back in purple next year as she's a versatile player who can fill in at multiple spots and she is obviously valued by the club, playing a lot of minutes and even wearing the captain's armband five times during the 2023 NWSL campaign and twice in the Challenge Cup.
Previous Season in Review Articles (Date Posted)
2023 Orlando Pride Season in Review: Erika Tymrak
The veteran midfielder completed her third season in Orlando purple.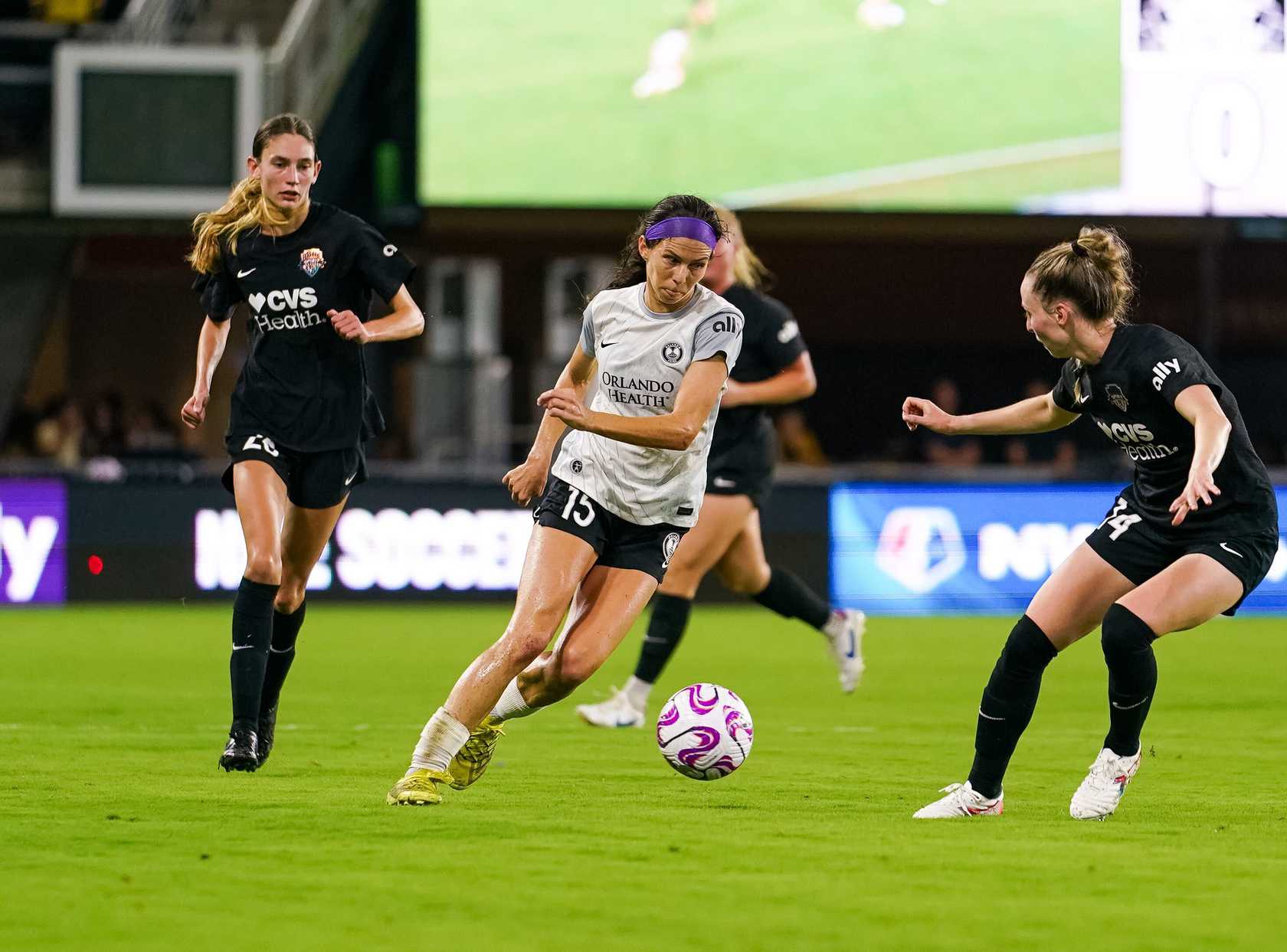 Veteran midfielder Erika Tymrak signed a two-year deal with the Pride on Dec. 9, 2022, in order to stay in Orlando through the 2024 season. The Pride originally acquired the rights to Tymrak from Kansas City, along with midfielder Gunny Jónsdóttir, on Jan. 30, 2021. In exchange, the Pride gave up the rights to Kristen Edmonds and a second-round draft pick. Tymrak had retired in January of 2020 but decided to return to her pro career, and the Pride signed her to a contract on Feb. 5, 2021, just days after acquiring her rights. The Pride picked up Tymrak's 2022 contract option following the 2021 season before re-signing her to her current contract.
Let's look back at Tymrak's third year with the Pride.
Statistical Breakdown
The 32-year-old appeared in 13 matches, starting 10 and playing 806 total minutes in the NWSL regular season. She was subbed off every time she started. Tymrak did not score a goal in 2023 but did contribute three assists on 21 key passes. Of her 11 shots on the season, she put just three of them on target while three others were blocked. She passed at a 73.4% rate, completing 174 of 237, connected six times on 12 long passes, and was successful twice on five total crosses. In her own half, her passing was better (85%) than in the attacking half (65.1%), as is typical of most players. Defensively, Tymrak won eight of 17 tackles (47.1%), 40 of 93 duels (43%), and just one of nine aerial duels (11.1%). She tallied three interceptions on the year. Tymrak won 14 fouls from the opposition while committing only four and was not booked on the season.
In the NWSL Challenge Cup, Tymrak appeared in all six of Orlando's games, starting four, and playing 337 minutes. Again, she was subbed off every time she started. She did not score a goal but contributed one assist on four key passes. Tymrak attempted two shots in the competition. Neither was on goal and one was blocked. During the tournament, Tymrak passed at just a 64.9% rate on 74 attempts, was accurate just 33.3% of the time on six long passes, and went 0-for-3 on crosses. She connected on 81.5% of her passes in the defensive half and 43.5% in the attacking half. The Detroit native and University of Florida product recorded five interceptions on the defensive end, won two of three tackle attempts (66.7%), and won 19 of 42 duels (45.2%). She did not win any of her four aerial duels (0%). Tymrak won 11 fouls from the opposition while committing just two and was not booked.
Best Game
There were some good ones to choose from, but I'll say Tymrak's best match came on July 1 against the Washington Spirit on the road — a dominant 3-0 Pride victory. Tymrak started and played a season-high 89 minutes (tied with her next outing on July 7 against OL Reign and the April 15 game against Gotham FC). Her big moment in the match was providing the pass that set up this beauty of a goal from Julie Doyle that allowed Orlando to take full control of the match:
Tymrak also drew two fouls on the Spirit in the match and helped her teammates control the game. With the win, the Pride swept the season series from the Spirit.
2023 Final Grade
The Mane Land staff gave Tymrak a composite rating of 5.5 out of 10. This is the same score she received from us for her 2022 season after securing a 6.5 in her first year with Orlando in 2021. Tymrak is a savvy veteran who can read the game well. She doesn't produce much in the way of offense but she's helpful with possession, facilitating between the defensive and offensive players around her on the pitch. She has a role on the team and is a useful player to have around to provide depth at this stage of her career.
2024 Outlook
Tymrak is signed through the 2024 season, so it's likely she'll occupy a similar role on the Pride next year — a reliable and versatile midfielder off the bench who can find teammates in the attack. Unless the Pride's shooters are more lethal in 2024, I wouldn't expect her assist numbers to go up, but perhaps she can find the net herself once or twice next season.
Previous Season in Review Articles (Date Posted)