Orlando City vs. Philadelphia Union: How to Watch, TV Info, Live Stream, Lineups, Match Thread, and More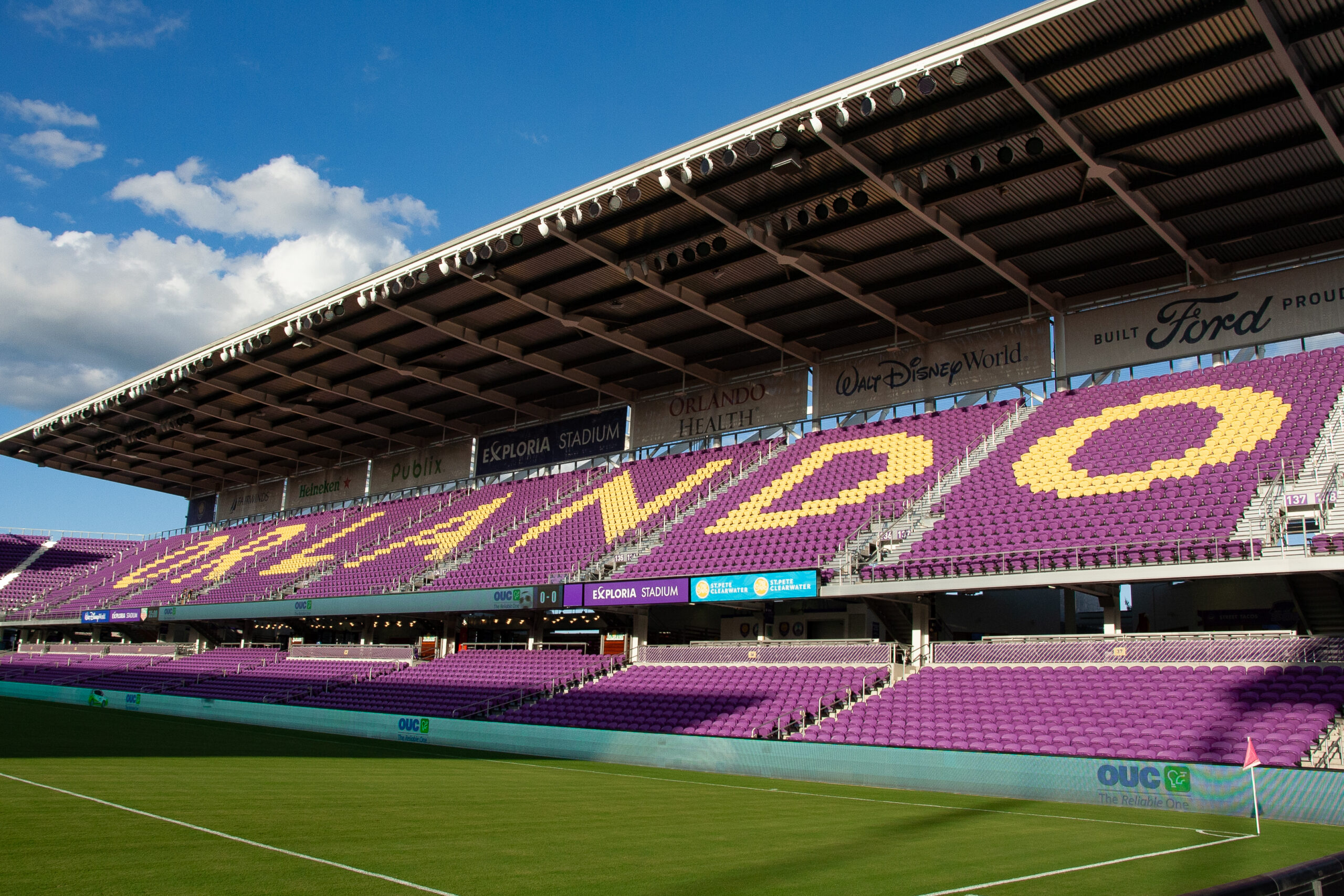 Welcome to your match thread for today's match-up between Orlando City SC (10-14-9, 39 points) and the Philadelphia Union (10-14-9, 39 points). This is the second of two meetings between the Eastern Conference rivals in 2017, as well as the final game of the year for both clubs as neither is in the postseason. It's the second time in three years the Lions will finish at Philadelphia.
Overview
Nothing is on the line today but MLS SuperDraft positioning. Orlando City is just 3-9-4 on the road in 2017 and 0-1-1 in its last two away contests. Philadelphia is 2-0-1 in its last three at Talen Energy Stadium and 9-4-3 at home overall.
Joe Bendik (concussion protocol), Cyle Larin (hip flexor), Will Johnson (yellow card suspension), Cristian Higuita (calf), Josh Saunders (neck surgery), and Kaká (doesn't want to play? I dunno. Reasons.), will miss the match for Orlando City. For Philadelphia, Ken Tribbett (Achilles), Fabian Herbers (sports hernia surgery), Josh Yaro (knee), Maurice Edu (leg), and Keegan Rosenberry (team suspension) are out, while Chris Pontius (lower abdominal strain) is questionable.
History
Orlando City won the first meeting of the season against the Union back in March, 2-1 at Orlando City Stadium. Larin, who won't play today due to a hip flexor issue, scored a brace to lead the Lions. C.J. Sapong scored for Philadelphia.
The Lions were 1-1-1 against Philadelphia in 2016 and are 2-2-2 in six meetings across their first three seasons in Major League Soccer (so far), including 1-2-0 on the road. That lone road victory came in the last match-up at Talen Energy Stadium on Oct. 16, 2016, as the Lions roared, 2-0. Carlos Rivas and Julio Baptista provided the offense.
Last year, the teams played to a 2-2 draw in Orlando, as Ken Tribbett made the Lions pay for Kaká's missed penalty in the first half by scoring an equalizing goal off a corner kick. Kevin Molino and Larin scored for Orlando City, but the Lions were poor on set pieces, allowing Tribbett's tally and another score off a free kick by Tranquillo Barnetta. Speaking of Barnetta, his free kick in the 89th minute gave Philly a 2-1 win in the first meeting of 2016, although PRO said later it should not have counted. Sapong also scored in that meeting last April, with Adrian Winter scoring for the Lions on the road.
Orlando drew 0-0 at home and lost on the road, 1-0 (on a penalty kick), against Philadelphia in 2015.
Here's your mandatory match content for tonight:
Official Lineups:
Orlando City (4-3-3),
Goalkeeper: Earl Edwards Jr.
Defenders: PC, Leo Pereira, Seb Hines, Scott Sutter.
Midfielders: Yoshimar Yotun, Dillon Powers, Richie Laryea.
Forwards: Giles Barnes,Dom Dwyer, Carlos Rivas.
Bench: Jake Fenlason, Donny Toia, Rafael Ramos, Tommy Redding, Hadji Barry, Servando Carrasco, Antonio Nocerino.
Philadelphia Union (4-2-3-1)
Goalkeeper: Andre Blake.
Defenders: Fabinho, Richie Marquez, Jack Elliott, Raymon Gaddis.
Defensive Midfielders: Haris Medunjanin, Alejandro Bedoya.
Attacking Midfielders: Fabrice-Jean Picault, Ilsinho, Marcus Epps.
Forward: C.J. Sapong.
Bench: John McCarthy, Oguchi Onyewu, Giliano Wijnaldum, Jay Simpson, Brian Carroll, Roland Alberg, Chris Pontius.
Referees
Ref: Joseph Dickerson.
AR1: Kermit Quisenberry.
AR2: Claudiu Badea.
4th: Jorge Gonzalez.
VAR: Mark Geiger.
How to Watch
Match Time: 4 p.m. (ET).
Venue: Talen Energy Stadium — Chester, PA.
TV: WRDQ TV27 (local only).
Radio: 104.1 FM Real Radio (English), La Nueva 990 (Spanish).
Streaming:  MLS Live.
Twitter: For rapid reaction and live updates, follow along at @TheManeLand, as well as Orlando City's official Twitter feed (@OrlandoCitySC).
Match Thread Rules
This is your live thread for posting comments on the match. So use our comments section below to talk about the game in real time with other supporters. If you're new, welcome to our happy home! While you're here, please observe a few basic rules:
Absolutely no links to illegal streams. They can get us in trouble, and no one wants that.
Try not to be "that guy" who spews nothing but venom and hate for the team. It's ok to be critical, and, let's face it, sometimes even the best teams can be frustrating to watch, but being overly negative relentlessly can sap the enjoyment for others.
Keep it somewhat clean and fair when criticizing players / officials. You never know who might be reading.
Do unto others in the match thread, the way you would have others do unto you. We are a fun community and want to keep it this way. We have a moderator, but we'd rather let him enjoy the game instead of having to play babysitter.
Enjoy the match!
Orlando City at New York Red Bulls: Player Grades and Man of the Match
How did your favorite Lions perform in Orlando City's 3-0 victory over the Red Bulls?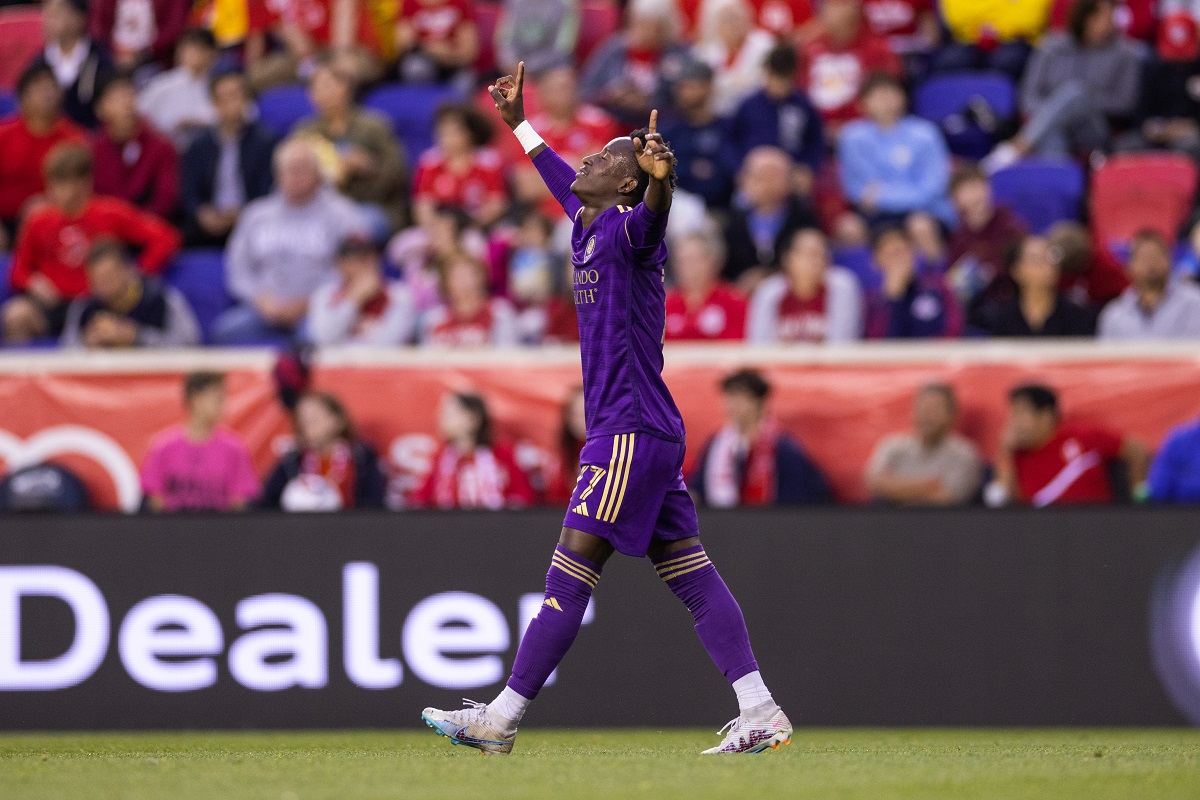 Orlando City went back on the road with a trip to Harrison, NJ, to take on the New York Red Bulls. The Lions were able to take advantage of their chances to secure all three points on the road with a 3-0 win over their Eastern Conference foes. Here is how each Lion performed as Orlando City swept the Red Bulls in the regular season.
Starters
GK, Pedro Gallese, 6.5  — Despite some sketchy moments, Gallese was able to keep his fourth clean sheet of the season, and his second against the Red Bulls. The scary moments started early, when Gallese came out for a 50/50 ball in the 12th minute but was beaten to it and caught out of goal. Fortunately, his defense was able to help him recover. He also nearly gave away the ball in the 85th minute, when he was slow to pass and was closed down by Elias Manoel. The New York forward blocked the pass, but it went out for a goal kick. Gallese took an awkward foul from Dylan Nealis in the 82nd minute, but was able to carry on. His distribution wasn't as good as usual, with a 68.8 % passing rate on 32 passes. He was accurate on seven of his 16 long balls. He also won one aerial and made one clearance. It wasn't a bad night for El Pulpo, but I hold him to a higher standard, despite the clean sheet.
D, Rafael Santos, 6 — With Halliday on international duty and Kyle Smith starting on the right, Santos got his third straight start of the season. I don't know that he's had enough time to properly settle in, but he didn't play poorly. Santos passed at a 59.5% on 42 passes, which isn't good enough, but it was his first real taste of the Red Bulls' pressure. He was only successful on two of his eight long balls. Defensively, he was a bit better, with three tackles, three interceptions, and two clearances. He committed two fouls, one of which earned him a yellow card.
D, Robin Jansson, 7  — Jansson was good if not perfect on defense. The bad was a foul on Luquinhas just inches outside of the box in the 32nd minute, resulting in a dangerous free kick. Fortunately, the resulting free kick went into the wall and was recycled until it went out for a goal kick. It was one of two fouls committed by the Beefy Swede, with the other being unnecessary contact with the goalkeeper on a set piece, for which he was booked. Defensively, he made one interception, two clearances, and blocked three shots, including one from Lewis Morgan that probably would have gone in without his intervention. He had an 80% passing rate on 50 passes, but only completed one of his seven long balls. Offensively, he had one dribble, and suffered three fouls, including one in which he was pulled down by Sean Nealis in the 49th minute, earning the penalty for Orlando City that Facundo Torres buried in the back of the net.
D, Antonio Carlos, 6.5 — Carlos seemed slightly off on the night, though it never came back to hurt Orlando City. He was beaten in the 14th minute trying to play out of the back, resulting in a corner for the Red Bulls. However, he cleared the ensuing corner kick. He made a bad pass in the 26th minute that simply went out of bounds rather than to a teammate, and he had a poorly taken free kick in the 37th minute to the opposition. However, defensively he had one interception, two clearances, and one blocked shot. Fortunately, he did not commit any fouls or receive a yellow card, because if he had, he would miss the next match due to accumulation. Offensively, he had one dribble, and suffered one foul. He passed at an 84.6% rate on 52 passes and was successful on six of 12 long balls.
D, Kyle Smith, 6 — Smith had a difficult assignment in dealing with John Tolkin on his side of the field. He managed one tackle, two clearances, and one blocked shot, while committing two fouls. Unlike last week, he wasn't able to score on a goal from the right despite being put in a good position by Facundo Torres in the 42nd minute. He should have done better with a shot that went wide left. He had an 84.2% passing rate on 38 passes and was successful on three of his four long balls before coming off for Dagur Dan Thorhallsson in the 83rd minute.
MF, Mauricio Pereyra, 5.5 — Like Carlos, Pereyra wasn't his usual sharp self, passing at just a 57.1% rate on 21 passes and completing no long balls. His pass to Kara in the box in the 16th minute could have sent the striker in on goal, but it was behind the Austrian. His free kick at the end of first-half stoppage time was too long and led to Jansson's yellow as the defender tripped the keeper. Offensively, the captain completed one dribble, suffered one foul, and was dispossessed once. He was subbed off in the 62nd minute for Martin Ojeda.
MF, Cesar Araujo, 6.5 — Araujo seemed to have gotten the message that he won't get the foul if he drops at the slightest touch. He did successfully earn one foul, but it was deserved. Defensively, he made one tackle, one clearance, and had one blocked shot. He passed at an 82.8% rate on 29 passes and completed five of his six long balls. Unfortunately he was subbed off in the 56th minute due to an injury for Felipe Martins.
MF, Wilder Cartagena, 7.5 — The Peruvian midfielder had himself a night, earning an assist on Ivan Angulo's goal to open the scoring for the Lions. His perfectly weighted through ball put Angulo in on goal in the 18th minute. He passed at an 84.1% rate on 44 passes, was successful on four of seven long balls, and had the key pass mentioned above. He committed three fouls, including one on Cory Burke in the 20th minute to give New York a free kick, but it didn't matter. He also made nine tackles and one clearance. Overall, a very good night from Cartagena, who does a lot of the unsung work to break up the opposition's attack.
MF, Ivan Angulo, 8 (MotM) — There have been times when Angulo tries to do too much when taking on an opposing player. That wasn't the case in the 18th minute, when he took the through ball from Cartagena, juked Dylan Nealis and sent the ball past Carlos Coronel to give Orlando City the early leave. That was one of his two shots — both of which were on target. The other shot was deflected for a corner in the 65th minute. It was his breakaway run up the left side of the pitch in the 73rd minute that gave him his assist on Facundo Torres' second goal. Out-running Frankie Amaya, the speedy Angulo drew defenders to him before passing the ball over to Torres for the third goal of the match. It was a good finish by Torres, but Angulo did most of the work to make it happen. He passed at an 85.7% rate on 21 passes with the obvious key pass and completed three successful dribbles. He also suffered two fouls, committed three fouls, made two tackles, and recorded one interception. With a goal and an assist, Angulo gets Man of the Match.
MF, Facundo Torres, 7.5 — Might this be the match that lights Torres up for the remainder of the season? I'm certain that is what was going through the minds of many as he stepped up to take the penalty kick in the 52nd minute. Torres converted the penalty kick with a perfectly placed shot into the upper right corner past Coronel, despite the keeper guessing correctly. He then made the run with Angulo in the 72nd minute and was perfectly positioned to get his second goal of the match, giving the Lions a certain victory. He wasn't done yet, as he had another chance in the 77th minute, but it was blocked out for a corner. Torres passed at an 84.6% rate on 26 passes. He had three crosses, one key pass, and was successful on his only long ball. One of his underrated contributions was a nice move to push the ball past Andres Reyes in first-half stoppage time. Torres would have been in position to start a dangerous counter but Reyes fouled him hard. The play was reviewed as a possible red card, and even though Victor Rivas did not change the initial ruling of a yellow card, the play contributed to Reyes being sent off just after halftime.
F, Ercan Kara, 5.5 — The Austrian wasn't able to have as much impact on this game as he has in recent weeks against one of the league's best defenses, but his positioning was good. His best scoring chance went wanting when Pereyra played the final pass behind him. His biggest contribution was when he showed a good combination of skill and strength to bring down an aerial ball and fend off Reyes, who committed a tactical foul for a second yellow card and was sent off. Reyes has been New York's biggest surprise this season with his aerial presence on both ends of the pitch and the Red Bulls missed him for the final 43 minutes, plus stoppage time. Kara didn't record a shot or a key pass, passing at a 64.3% rate. He led all Lions with three aerials won and drew two fouls. However, he was dispossessed once and had four unstable touches trying to hold up play against New York's swarming defense. On the defensive end, Kara contributed one clearance. He also committed one foul. He came off for Duncan McGuire in the 63rd minute.
Substitutes
MF, Felipe (57'), 6.5 — The Brazilian came on for the injured Araujo against his former team and proceeded to be his usual disruptive self, making one interception, blocking a shot, and committing one foul. He was impressive in the passing game, with a 95.7% rate on 23 passes, including a successful long ball. He committed one foul that earned him a yellow card.
MF, Martin Ojeda (62′), 6 — Ojeda came on for Pereyra to bring some more energy to the midfield. He did that. He attempted one shot, but hit it into the ground and it bounced high. To be fair, it was a difficult attempt as the ball was bouncing when he took the shot. He also put in two crosses (one successful) and passed at a 90.9% rate on his 11 passes, including one key pass, playing a ball into space for Angulo to run onto, leading to the third Orlando goal. As a result, he got a secondary assist on the play. Defensively, he contributed one tackle, one interception, and one clearance.
F, Duncan McGuire (63′), 6 — McGuire wasn't able to get a goal contribution, though it wasn't from lack of effort. The rookie took one shot, which was on target, had a key pass, and completed two dribbles, and his hold-up play was good. He did all of that while only touching the ball nine times. He passed at a 50% rate on four passes. It might not seem like much, but he helped Orlando see out the win.
D, Dagur Dan Thorhallsson (84′), N/A — Dagur Dan came on for Smith to play right back since he is the other Swiss Army Knife for Oscar Pareja. He wasn't in long enough for a grade, but did manage six touches, and won an aerial.
MF, Ramiro Enrique (84′), N/A — Enrique came on for Cartegena but only managed 12 touches, committed one foul, and suffered one foul. Like McGuire, Enrique wasn't in long enough to earn a grade.
---
That's how I saw each performance from the Lions in their 3-0 win over the New York Red Bulls. This match was an example of what can happen when the Lions take advantage of limited chances. Who was your Man of the Match? Make sure to vote in our poll and let us know what you think in the comments.
Orlando City vs. New York Red Bulls: Five Takeaways
Here's what we learned from a total team effort on the road in the Big Apple.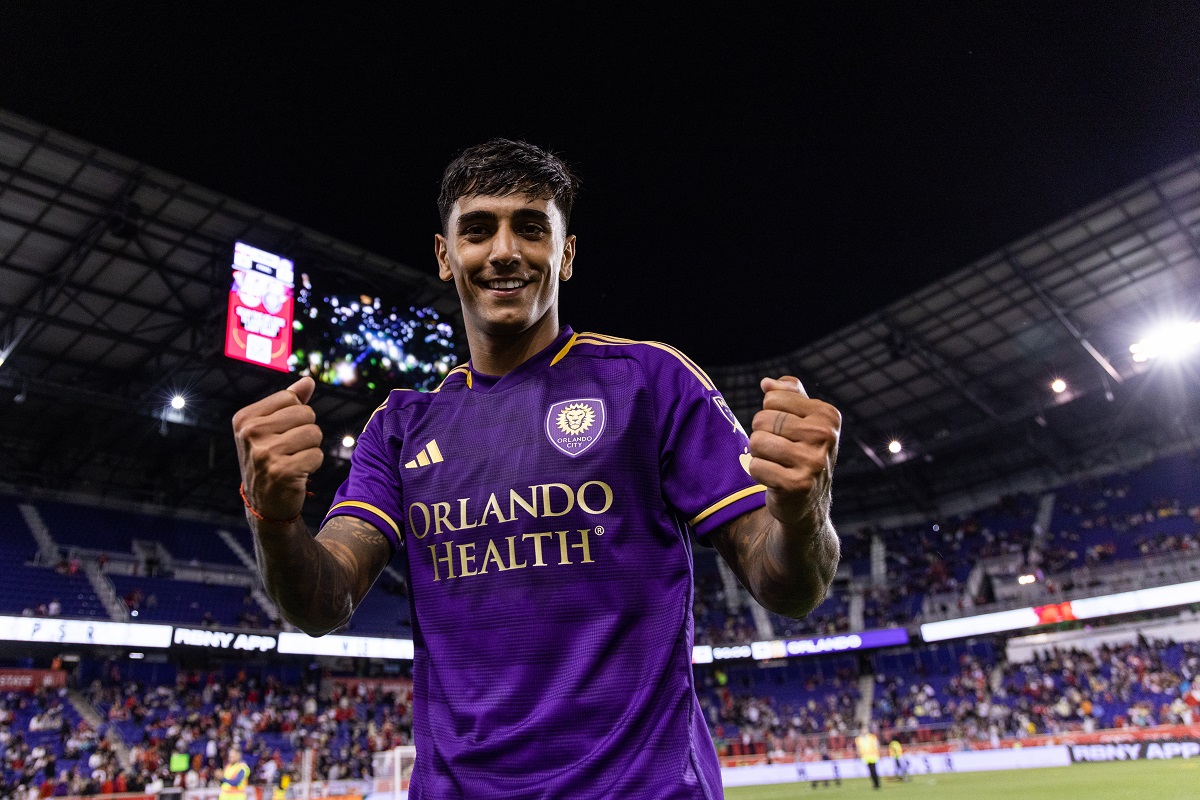 HARRISON, NJ — Orlando City was back on the road this weekend in the city that never sleeps (or at least in the general vicinity), taking on a familiar foe for the second time this season, and I was fortunate enough to be there in person. The Lions opened up the 2023 Major League Soccer season with a win against the Red Bulls and continued their great form on the road this season with a 3-0 win over New York on Saturday. Here are my five takeaways from a great away-from-home victory.
Familiar Faces
Head Coach Oscar Pareja utilized the same starting 11 for consecutive matches for the first time this season and the team chemistry that has been developing over the last few weeks was on full display. Orlando is still fighting through some injuries and players missing time for international duty, but it appears that Pareja has found a formation and combination of players that is starting to consistently produce the types of results most felt like the team would be capable of to start the season.
Angulo's Speed A Big Problem
Winger Ivan Angulo has never been shy about taking on opponents in the open field. Saturday evening his tool kit was on full display as he literally and figuratively ran circles around the opposition. In the 18th minute of the match, Angulo found himself on the end of an absolutely beautiful through ball from Wilder Cartagena, sprinted into the box, and made an outstanding cut back to dodge Dylan Nealis before snipping the ball into the back of the net for the first goal of the match and his third of the season. It was a wonderful effort in a game that saw Angulo win the club's Man of the Match award, but the goal wasn't his only contribution to the scoresheet. The speedy winger also contributed an assist in the 72nd minute, as Angulo did most of the heavy lifting for Facundo Torres' second goal. He used his pace to blast past Frankie Amaya in transition to get onto Martin Ojeda's transition ball, drew defenders toward him, and found Torres with a well-placed pass on Orlando's third goal.
Welcome Back, Facu!
It had been a sluggish start to the season for Young Designated Player Facundo Torres, coming off the heels of a first MLS campaign which saw the young star take the league by storm. Lofty expectations have been thrust onto the Uruguayan midfielder, and for most of this season Torres has fallen short of what many believed he was capable of. Against a team that Torres loves to score against, he doubled his season total for goals scored and at least for the night looked to be back playing at a pace and with a quality we have all grown to expect. Only time will tell if his brace against New York is the true turning point of the season, but at least for now it appears that Orlando's star is back shining.
A Series of Fortunate Events
The Lions started the second half with a one-goal lead, and thanks to a series of fortunate events to start the second half found themselves with some breathing room in the match. Orlando quickly went up a man just two minutes after the break, as Andres Reyes was sent off for picking up a second yellow card for a professional foul when Ercan Kara did well to control an aerial ball and got behind the defense on the left side. Reyes pulled Kara back to break up the counterattack, which is always going to draw a booking. Orlando City then got an opportunity to score an insurance goal when referee Victor Rivas was instructed by the VAR to take a second look at a play in the box and saw that Sean Nealis had dragged down Robin Jansson just as the ball was arriving. Rivas correctly awarded Orlando City a penalty kick, and Torres blasted the PK into the back of the net. Seemingly in the blink of an eye, two (correct) calls completed changed the trajectory of the match. The work of Kara and Jansson to get into those positions created those calls.
Road Lions Pounce Again
Orlando City has put together some excellent results on the road this season, and while some may still feel that a 2-1 away win earlier in the year against the Philadelphia Union to be the best road result of the year, I would strongly consider the thumping of the Red Bulls in northern New Jersey to usurp that as the best road result thus far. It was a total team effort at a point in the season where Orlando truly needed this type of result. The team has talked in recent weeks about how they feel they have the quality when they take the pitch but that the results have been lagging behind as the boys have had to settle for a few late draws. They would leave no question unanswered against a Red Bulls defense that had only allowed 10 goals on the season entering the match. It was a resounding road effort which the team will hopefully continue to build upon.
---
Those are my big takeaways from a great win on the road and a match that I will surely be rewatching multiple times this week. Let us know in the comments below what stood out to you the most!
Orlando City vs. New York Red Bulls: Final Score 3-0 as Lions Extend Unbeaten Run to Five Games
A Facundo Torres brace and two goal contributions from Ivan Angulo led the Lions past 10-man New York.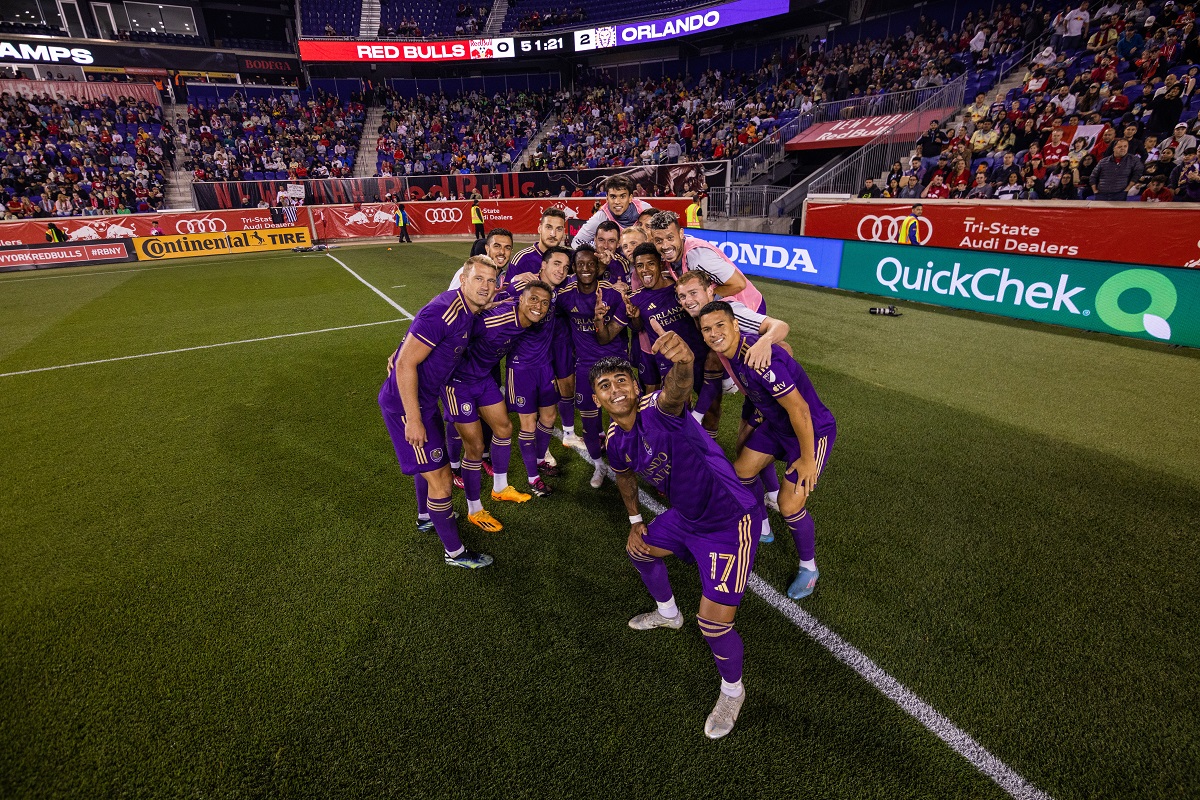 Facundo Torres scored a brace — getting one of his goals from the penalty spot — after Ivan Angulo opened the scoring, and the two wingers led Orlando City to a 3-0 win over the New York Red Bulls at Red Bull Arena in Harrison, NJ. The Lions (6-4-5, 23 points) extended their unbeaten streak to five games (2-0-3), improved to 4-1-2 on the road, and beat the Red Bulls (4-6-7, 19 points) for the fourth consecutive match in all competitions.
Angulo's first-half goal was the difference at halftime but just after the restart, the hosts had a player sent off, then conceded a penalty, and New York finished with nine men after using all five substitutions due to Lewis Morgan picking up an injury.
"It's a great victory for our team. We needed something like that at this stage of the season," Orlando City Head Coach Oscar Pareja said after the match. "We're still finding ways to get better, but when you look back and see how we have overcome moments…today was another good example of the character of the players. And under that discipline and cohesiveness with the players on the field, we found our ways to score in the right moments and beat a difficult rival that never gave up. So we're very happy with the victory."
It was Pareja's 50th win as Orlando City's coach in all competitions.
Pareja's lineup was the same as last weekend vs. Atlanta, featuring Pedro Gallese in goal behind a back line of Rafael Santos, Robin Jansson, Antonio Carlos, and Kyle Smith. Cesar Araujo and Wilder Cartagena continued their central midfield partnership behind an attacking line of Angulo, Mauricio Pereyra, and Torres, while Ercan Kara led the attack up top.
The first half was a complete rock fight, with neither side getting much done in the first 15 minutes. New York had the better of the play, however, with Gallese getting caught far from his net in the 12th minute, but the defense was able to clear the centering pass. Two minutes later, New York got forward when Carlos took a forearm in the back and went down. When no call came, Dru Yearwood raced forward and got to the ball at the end line, but Gallese blocked his tight-angle shot out for a corner.
The Lions opened the scoring in the 18th minute. Defender John Tolkin got caught high up the pitch and Orlando made the hosts pay. Cartagena unlocked the defense with a through ball for Angulo to run onto. The Colombian dribbled in, avoided a sliding challenge attempt from Dylan Nealis, and fired home with his left foot for his third goal of the season.
Much of the rest of the half consisted of Orlando surviving transition attacks and then turning the ball over shortly after taking a goal kick. The Red Bulls had a golden opportunity in transition in the 30th minute, but Luquinhas hit a soft shot right at Gallese after Pererya lost the ball just past the halfway line, igniting the Red Bulls' transition game.
Torres laid off a ball for Smith in the box in the 41st minute, and the defender should have done better from that position, but he sent his shot about six yards wide of the left post.
The Red Bulls presented a ton of difficulty in what was announced as a minimum of five minutes of stoppage time (for…reasons), which ended up becoming eight. Tom Barlow should have scored into an empty net in the seventh minute of injury time but he fired well over the bar from the top of the box with Gallese out of position from an initial shot attempt.
The Lions held more possession in the opening half (52.1%-47.9%). The Red Bulls had more shots (7-2) and shots on target (2-1), earning the only corner of the opening period. Neither team passed well, with Orlando City holding a slim 76.1%-74.9% advantage. But it's where the Lions made poor passes — the middle third of the field — that was concerning and led to most of the danger New York presented.
The game got weird just after the restart. Just two minutes after the break, a ball over the top found Kara, who powered past Andres Reyes. The big center back, who was on a yellow card for a high hit on Torres late in the first half — a play that was reviewed as a possible red but wasn't changed after review — pulled Kara back in transition and received a second yellow card, ending his night after 47 minutes.
The Red Bulls cleared the ensuing free kick, but moments later, when play stopped, referee Victor Rivas went to the monitor again to review the earlier set piece. Sean Nealis had pulled Jansson down from behind as the ball was arriving, and Rivas awarded a penalty after watching the replay. Torres stepped up to the spot and beat Coronel — who guessed correctly — putting it in the top right of the net with a great deal of power. Torres' second goal via penalty against New York this season made it 2-0 in the 52nd minute.
Torres said Coronel tried to psych him out before the penalty.
"I think everyone agrees that if a penalty is well taken, there's limited possibilities that the goalkeeper has to save it," Torres said through a club interpeter. "And so, I had that in my mind walking up, even though this goalkeeper knows me a little bit. And he was actually saying that to me when I was walking up to take the penalty and mentioning that he knows me and that he's faced me before. But like I said, when when you're taking a penalty, if it's well taken, the penalty taker has the more possibilities to put it in the back of the net. So that was kind of what I was thinking going in, is if I take this well, there's not much that he can do about it."
Torres took it well.
Things looked good for Orlando after the second goal, but then Araujo went down with an injury and had to be subbed off, with Felipe entering the battle in the 57th minute.
Even down two goals and a man, the Red Bulls continued to press high up the pitch. Even up a man, Orlando City continued to be careless with the ball, giving up possession repeatedly and flirting with New York's counterattack game. Tolkin saw his shot deflect out for a corner in the 58th minute. Orlando cleared and Torres raced down the field in transition but somehow managed to get dispossessed, allowing the hosts to come the other way. Yearwood fired wide on the other end to end the counter-counterattack.
Pareja sacrificed Kara and Pereyra for Duncan McGuire and Martin Ojeda after that, and things calmed down for a few moments. Angulo was sent down the left in the 65th minute and his shot from a tight angle was saved by Coronel.
Torres put the game away in the 72nd minute. The Lions cleared a set piece and Ojeda knocked the ball down the pitch on the recycle attempt. The ball ended up in acres of space and Angulo blazed past Frankie Amaya to reach it first and carry it down the left. He drew a second defender toward him, and then fed a perfect pass to his right for Torres to bury.
The hosts, to their credit, did not give up. Down a man and three goals, after playing in Miami three nights earlier, the Red Bulls just kept coming. Second-half sub Elias Manoel fired a shot that Jansson blocked in the 76th minute.
Torres had a chance to complete his hat trick a minute later, but he unselfishly tried to cross for Ojeda, and the defense knocked it out for a corner. A minute later, Torres sent a well-shaped cross from the left to Ojeda, but the Argentine smashed his volley effort into the ground and it bounced off target.
New York then won a series of late corners and Orlando had a scary moment in the 82nd minute when Dylan Nealis fell into Gallese's leg as the goalkeeper was landing after catching the ball. Gallese looked to be in a great deal of pain and distress, but after several minutes of treatment he was able to continue.
He didn't look steady moments later though, when he took too much time to make a pass and it was nearly blocked into the goal behind him by Manoel. It went just wide.
Jansson blocked a menacing shot from Morgan in the 91st minute, and the New York midfielder went down after the shot. Morgan was unable to continue. The Red Bulls were out of subs and had to finish the game with nine men. Nevertheless, they kept pressing and winning the ball from a careless Orlando side, but the Lions were able to see out the eight minutes of stoppage and claim all three points.
The Lions finished with more possession (51.2%-48.8%) and fired more shots on target (5-2). The hosts passed more accurately (79.2%-78%), attempted more shots (14-7), and won more corners (8-2).
Orlando City's three goals were the most conceded by New York's stingy defense this season, and the Lions matched their season high with three goals in the match, which they set in their last road game at Inter Miami.
Pareja said the counterattacking style of play was the game plan entering the match.
"New York is a team who like to press high all the time, and their intensity to create chaos and and confuse the teams, forcing them to make mistakes, is a style that we respect and we know. Every time we play against them it's that way. But that provides some spaces in behind and with them it's a key to be sharp in the moments that the game allows us to get in behind and be lethal in those moments, and that was exactly what happened tonight."
---
Orlando City returns home next Saturday to host the Colorado Rapids at 7:30 p.m.