2017 Orlando City Season in Review: Kaká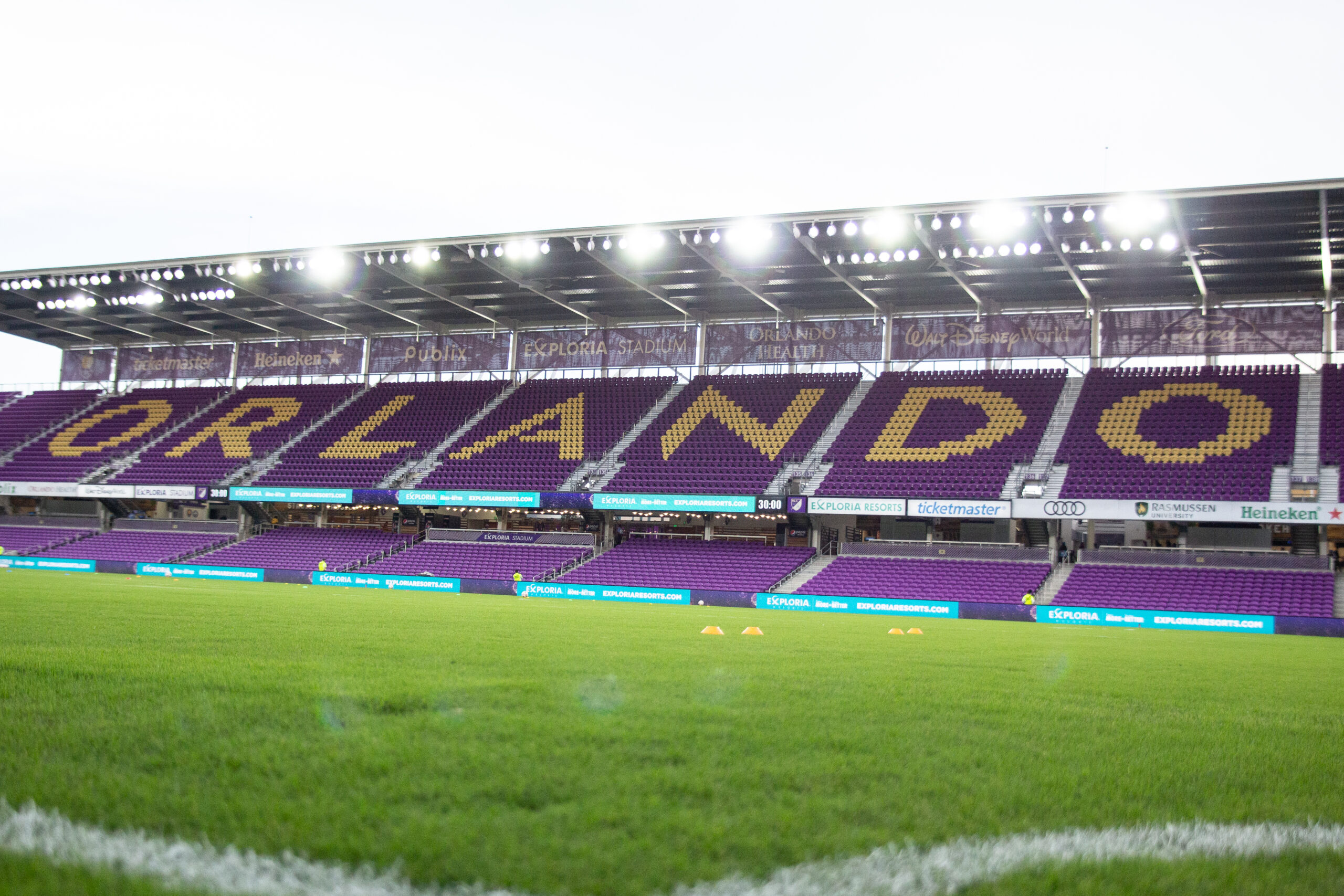 Kaká's final year with Orlando City was an unfortunate end to a great run in purple. At 35 years old, it became obvious that he had taken a step back from even his former form with the Lions. He couldn't see the pitch as much and when he did, the instances of genius were fewer and farther between. The offense could no longer revolve around the former Ballon d'Or winner like it had for the past two seasons as injuries and age finally caught up.
The Brazilian still managed to be a major piece, however, even in his fewest minutes played in the last three seasons. His five assists were tied for the team lead and he finished second in goals, with six.
Statistical Breakdown
Kaká had to watch from the stands as the Lions blew the roof off Orlando City Stadium to start the year after a hamstring injury sidelined him just 11 minutes into the season. His 18 starts out of 23 appearances and 1,564 minutes were all his lowest totals in Orlando.
The captain still managed to make the most of his time on the pitch, even if it was apparent that his consistency was waning. He bagged six goals without even attempting a penalty, the most he has scored from open play in a season for Orlando City.
Believe it or not, Kaká was actually more efficient offensively this season than he was in Orlando's inaugural MLS season per 90 minutes played. While there was a significant decline from 2016, when the skipper managed an incredible combined 0.87 goals/assists per 90, he still managed 0.63 this year (compared to 0.59 in 2015) without scoring from the spot, which accounted for nearly half of his totals in previous seasons. Kaká's 1.4 key passes per game were also an improvement over 2015, though his passing accuracy dipped from 82.3% to 79.2%.
His six goals on just 31 shots also represent his most effective conversion percentage. It helped that he bagged a few world-class strikes, notably a stunner in the club's first match in Atlanta and some tremendous skill against Sporting Kansas City.
In fact, because eight of the Brazilian's previous 18 league goals came thanks to opportunities from the spot (with another off a rebound from a saved penalty), his 0.35 goals per 90 minutes is easily the most effective Kaká has been scoring from open play in his time in Central Florida. He wasn't scoring in bunches to pad the stats, either, with just one multi-goal game this season — his longest stretch of appearances without a goal or assist topped out at three. The Lions went 2-1-2 when Kaká got on the score sheet with the only loss over the last two seasons being against Toronto FC in early May.
Offense isn't everything, though, and it was clear that his inability to run like he used to caused some trouble when it came to team defense. Head Coach Jason Kreis attempted to remedy this by pushing him up to striker toward the end of the year. Even with the positive stats, it was clear that the captain couldn't be leaned on every week anymore.
Best Game
It wasn't often when Kaká was on. But there were flashes of vintage Kaká at times, and especially when the Lions routed the New England Revolution to the tune of 6-1 back on Sept. 27. Check out the full highlights:
It was a comprehensive performance from the Brazilian superstar with two goals on four shots — including another stunner to add to his catalog for the year. It was the only match of 2017 in which Kaká had more than one combined assist and/or goal. He added two key passes as part of his 82.6% completion rate and equaled his season high in fouls suffered (two).
While there weren't many matches that Kaká was able to take over like in the past, he played a major role in one of the most lopsided wins in Orlando's history.
Final 2017 Grade
The Mane Land staff deliberated but decided on a final grade of 6.5 for Kaká. Even though he wasn't the centerpiece of the team anymore, he still contributed heavily to the attack and posted respectable numbers for the third straight season. He didn't live up to his league-high salary and ultimately couldn't propel the Lions to a playoff appearance. He was selected to his third MLS All-Star game in three years and was the face of the club, but unfortunately awareness and exposure don't win matches.
2018 Outlook
Kaká announced that he will not be returning to the club earlier this month after turning down an extension. Even with his declining presence on the pitch, it will be difficult to replace what the captain brought to Orlando City. His consistent ability to create something from nothing, score and assist, and his skill on the ball will all be missed. The recouped funds from his salary will hopefully help the club sign another big-name Designated Player, but it remains to be seen whether Kaká's successor will fill the hole that he has left behind.
Orlando City vs. Inter Miami: Photo Gallery
An album of images from Orlando City's hard-fought draw at home against the Herons.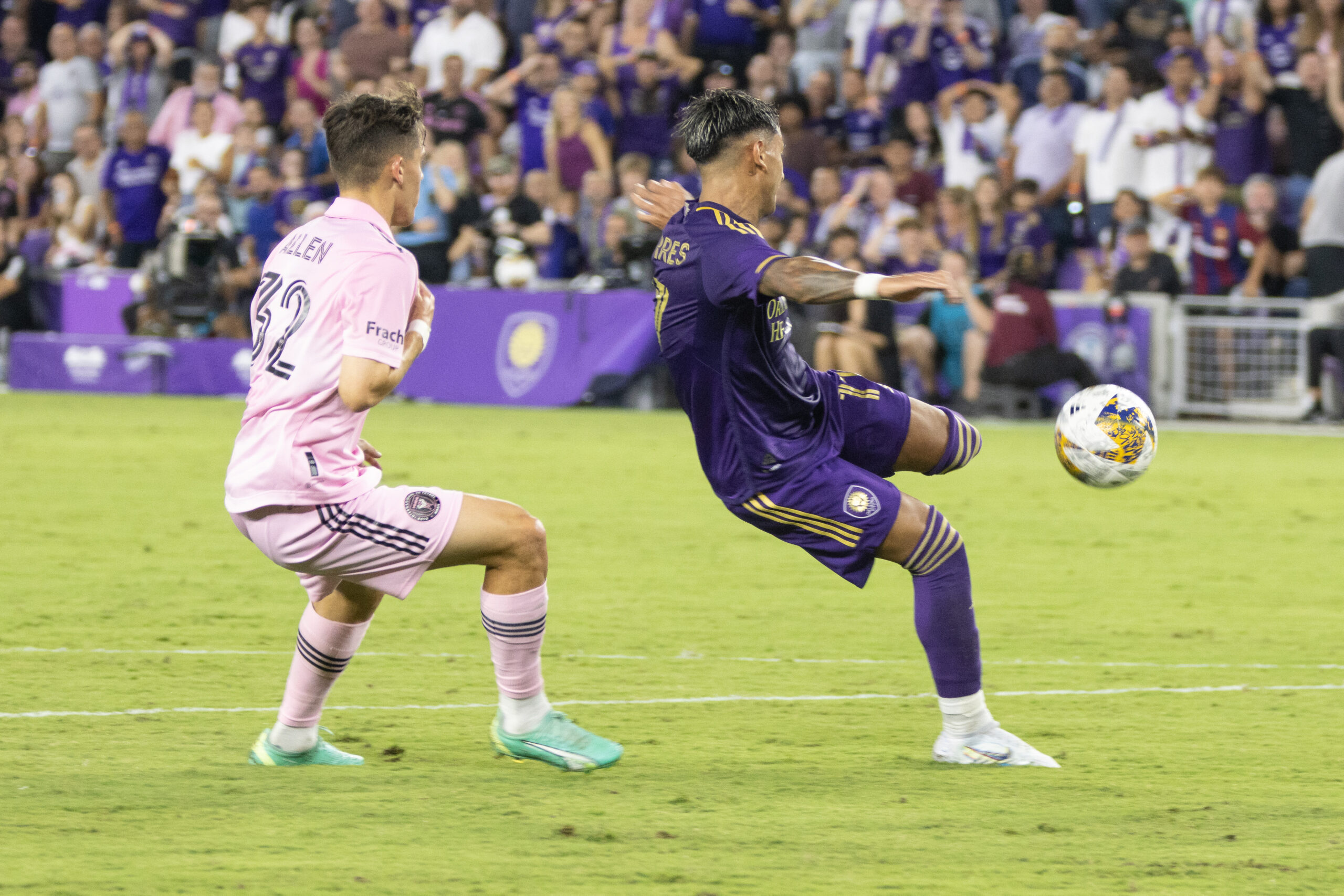 ---
The Lions brought much more roar on Sunday night to face their southern rivals but had trouble finding the net, allowing the Herons to nick a point even while short staffed. None of Miami's high-priced talent traveled for the match after facing Toronto midweek, and physicality ensued, firing up the sold-out crowd at Exploria Stadium.
Talking with some of the other photographers on the sideline who had flown in for this match, they rated the Orlando atmosphere top-notch; in their experience, other cities don't compare to the in-stadium fan enthusiasm.
The Lions were in "the net is lava" mode, with Duncan McGuire and Iván Angulo each missing prime one-on-one chances with Miami goalkeeper Drake Callender in each half, McGuire leaving it straight at Callendar, and Angulo badly missing the net after a missed first touch. So of course Miami struck first, with David Ruíz scoring early in the second half.
This fired the Lions up even more and Martín Ojeda pinballed McGuire in behind the Miami back line, allowing Duncan to do what Duncan does to draw the score level. The Lions generally looked the more dangerous team for most (but not all) of the night. However, it is scoring goals that actually counts, leaving both teams unchanged in their respective Eastern Conference standings. Orlando remains second at 14-7-9, while Miami stays in 14th at 9-15-5.
The Lions continue to control their own destiny in terms of getting a top-four finish as they look to lock up home field advantage for a best-of-three matchup in the MLS Cup playoffs.
With home dates left against Montreal and a sputtering-but-dangerous New England remaining, there's still plenty of time to be part of that world-class gameday atmosphere by going out to support the team as they push for a strong finish.
We hope that you enjoy these images from a hard-fought, come-from-behind draw against Inter Miami at Exploria Stadium.
Orlando City vs. Inter Miami: Five Takeaways
Here's what we learned from Orlando City's 1-1 draw at home against Inter Miami.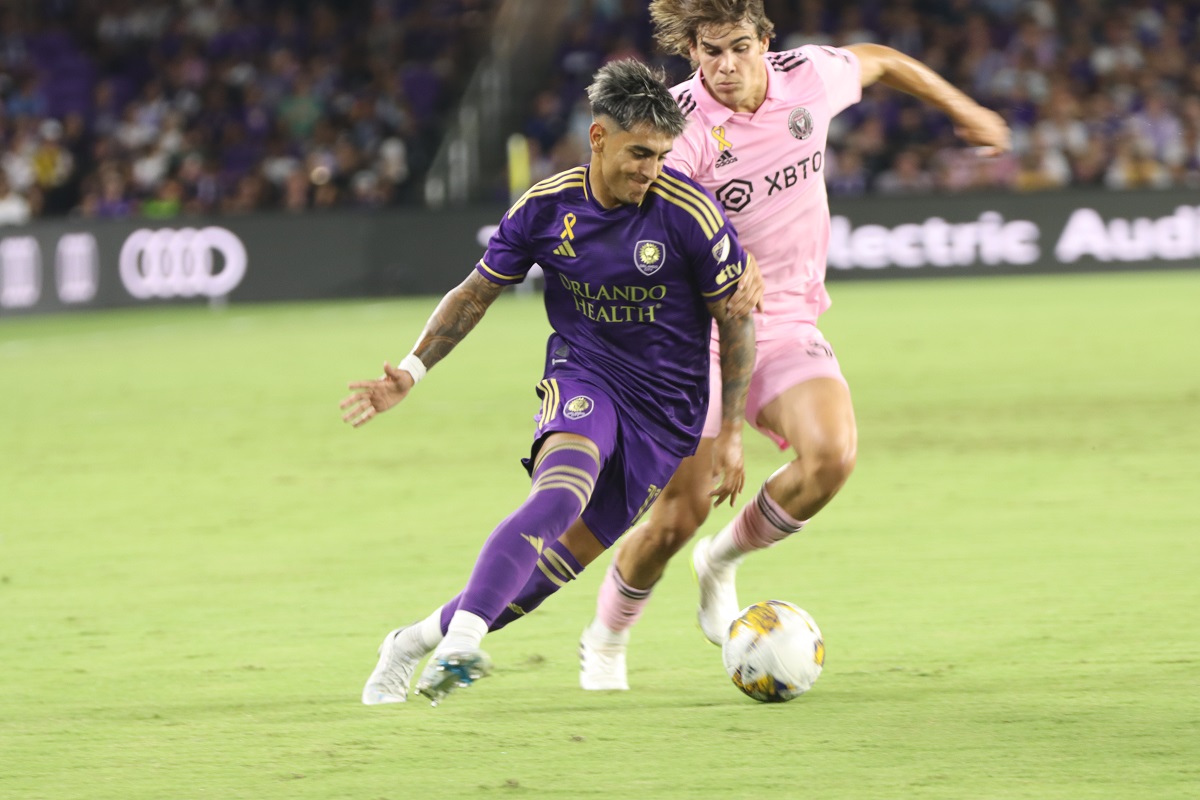 Orlando City returned to Exploria Stadium after a midweek loss to New York City FC and had to settle for a 1-1 draw with Inter Miami. The Lions did well to equalize after conceding first, but will likely feel that they left opportunity knocking as the Eastern Conference remains tight near the top. Here are my five takeaways from the third Tropic Thunder clash this year.
Lack of Execution Plagues the Lions
Orlando's offense struggled to put the ball in the back of the net in this match. That's not to say they didn't create quality chances, as the Lions served up good crosses and dangerous long balls throughout the match. Only three of Orlando's 16 crosses found their mark in the end. The execution just wasn't there when it came to finishing attacks, whether it be poor decision-making when the time came to play the final ball or just missing the target completely. Of Orlando's 13 shots, six were on target and only a couple of those gave Miami goalkeeper Drake Callender much difficulty. Ivan Angulo missing the goal entirely after Dagur Dan Thorhallsson picked out a perfect pass for him stands out. Expecting every promising attack to end with a goal is unfair, but weak finishing cost the Lions from claiming a big win at home.
Corner Kicks Gave the Lions Headaches
While the Lions didn't have any corner kicks in the match, Inter Miami had seven and created some of its best chances with them. In the 61st minute, a corner kick taken by Robert Taylor found Leonardo Campana all alone in the center of the box. The Ecuadorian forward's header mercifully went wide, but it was indicative of how Orlando had its hands full on set pieces. Pedro Gallese had to come up with a remarkable save in the first half as well after Campana barreled through Cartagena to head the ball at goal. Even though the Lions didn't concede from a set piece, I wouldn't be surprised if it's something focused on this week just to ensure the team is organized enough to overcome uncalled fouls without needing its star goalkeeper or some luck.
Plenty of Physicality in Rivalry Match
It was easy to tell these two teams didn't care much for each other, as they both fought hard on and off the ball. There were 27 fouls and seven yellow cards handed out by referee Armando Villarreal. Miami committed 16 of those fouls and received five of the yellow cards as they did whatever it took to slow down Orlando's progress. Facundo Torres suffered the brunt of it and was fouled four times so that he couldn't work his magic against Miami's defense. It was the kind of physical match that can be expected of two rivals and made for an intense match that will likely have players from both sides seeking an ice bath. The Lions did well to stay composed for a majority of a very chippy match.
Duncan McGuire Shakes Off the Rust
Forward Duncan McGuire got back to his scoring ways with a crucial equalizer for his ninth goal of the MLS season. It was an important goal for reasons beyond the scoreline as well, as McGuire had squandered a golden opportunity to score earlier in the match by not being able to get his shot past Callender. He was also kicking himself for not getting on the end of a few other chances as well. His 84 minutes on the field were the most from him in one game this season, and the Lions will need him more often now that Ercan Kara is in Turkey. It was the rookie's first goal since July and, although not perfect, the kind of performance to build upon moving forward.
Orlando Showcased Its Depth and Versatility
Head Coach Oscar Pareja switched things up at halftime, replacing Cesar Araujo with Martin Ojeda and having Mauricio Pereyra sit a bit deeper in the midfield to potentially create chances on the break a bit quicker using his service. Although Ojeda didn't get a goal or an assist, his presence was notable on both sides of the ball and he played a key role in Orlando's goal. Having a player of his caliber able to come off the bench has been a boon for Orlando this season, letting Pareja really kickstart the changes he wants to make to the team. Similar things could be said about Orlando's other substitutes: Junior Urso, Ramiro Enrique, Gaston Gonzalez, and Michael Halliday. Their energy and skill kept Orlando pushing for more and gave the sense that a winner would have come had the game lasted a bit longer.
---
That's what I took away from Orlando's 1-1 draw with Inter Miami. Let me know what you gathered from the match in the comments below
Lion Links: 9/25/23
Orlando City draws with Inter Miami, Viviana Villacorta out for the season, OCB wins last game of the regular season, and more.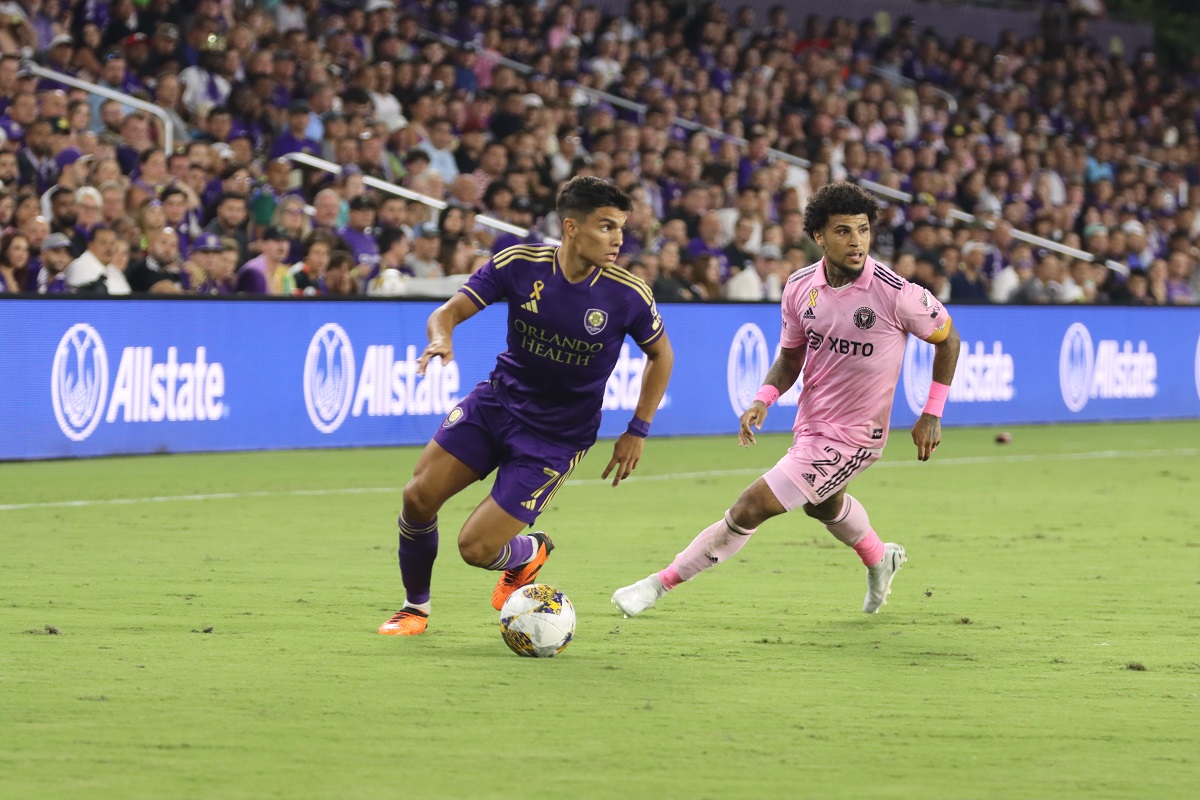 Last night's Orlando City match wasn't the best, but it wasn't the worst either. It's a pretty fitting feeling on a Monday, as we all get back into the swing of the work week after a nice weekend of soccer. There are plenty of ups and downs from a rollercoaster Sunday, so let's dive right into today's links!
Orlando City Draws With Inter Miami
In the latest edition of the Tropic Thunder rivalry, Orlando City and Inter Miami split the points at Exploria Stadium in a 1-1 result. Miami struck first, but the Lions did well to find an equalizer, even though they couldn't find a winner in the end. It wasn't Orlando's best game by any means, but it was a decent response to a 2-0 loss on the road to New York City FC. Orlando now has 51 points, tying its club record for the most points in a season, set in 2021. The Lions will have a chance to break that record on Saturday when they host CF Montreal.
Viviana Villacorta Out for the Season
Orlando Pride midfielder Viviana Villacorta will miss the remainder of the NWSL season after suffering an ACL tear in her left knee during training. The 24-year-old was selected with the ninth overall pick in the 2021 NWSL Draft, but was not able to make her debut until 2022 due to sustained an ACL tear in her right knee that kept her out for all of the 2021 season. This year, she has 21 appearances across all competitions for the Pride and notched the first assist of her career in a big road win against the San Diego Wave on April 29. This is a tough blow to the Pride's midfield with just three games remaining as she has ended her season early due to injury for the third straight year. The Pride are only a point out of a playoff spot and are back in action on Oct. 2 against Angel City FC.
Orlando City B Wins On Decision Day
On the final day of the MLS NEXT Pro regular season, Orlando City B won 2-1 at home over FC Cincinnati 2. The Young Lions had already clinched a spot in the postseason heading into this match, but the win secured their spot as the fifth seed. Jack Lynn briefly held the Golden Boot lead after scoring, but ended up tied at 19 goals with New York City FC II's Matt Myers and Colorado Rapids 2's Remi Cabral. The trio ended in a three-way tie for the league's Golden Boot honors. OCB will hit the road for its first MLS NEXT Pro playoff game, although the opponent is not yet known thanks to the new rule where higher seeds choose which team they want to face.
USWNT Wins in Megan Rapinoe's Final Match
The United States Women's National Team beat South Africa in a 2-0 win at Soldier Field. Trinity Rodman and Emily Sonnett scored and the defense did well to secure its second shutout against South Africa after a 3-0 win this past Thursday. This game also marked forward Megan Rapinoe's final game with the USWNT, with the 38-year-old subbed off for the last time in the 54th minute. These were solid wins from the USWNT following the World Cup and it will aim to keep the momentum rolling next month in a pair of friendlies against Colombia.
Free Kicks
Three Orlando City academy sides came up with shutout victories this weekend.
---
That's all I have for you today, Mane Landers. I hope you all have an easy Monday and rest of your week!