Intelligence Report: Orlando City vs. New York Red Bulls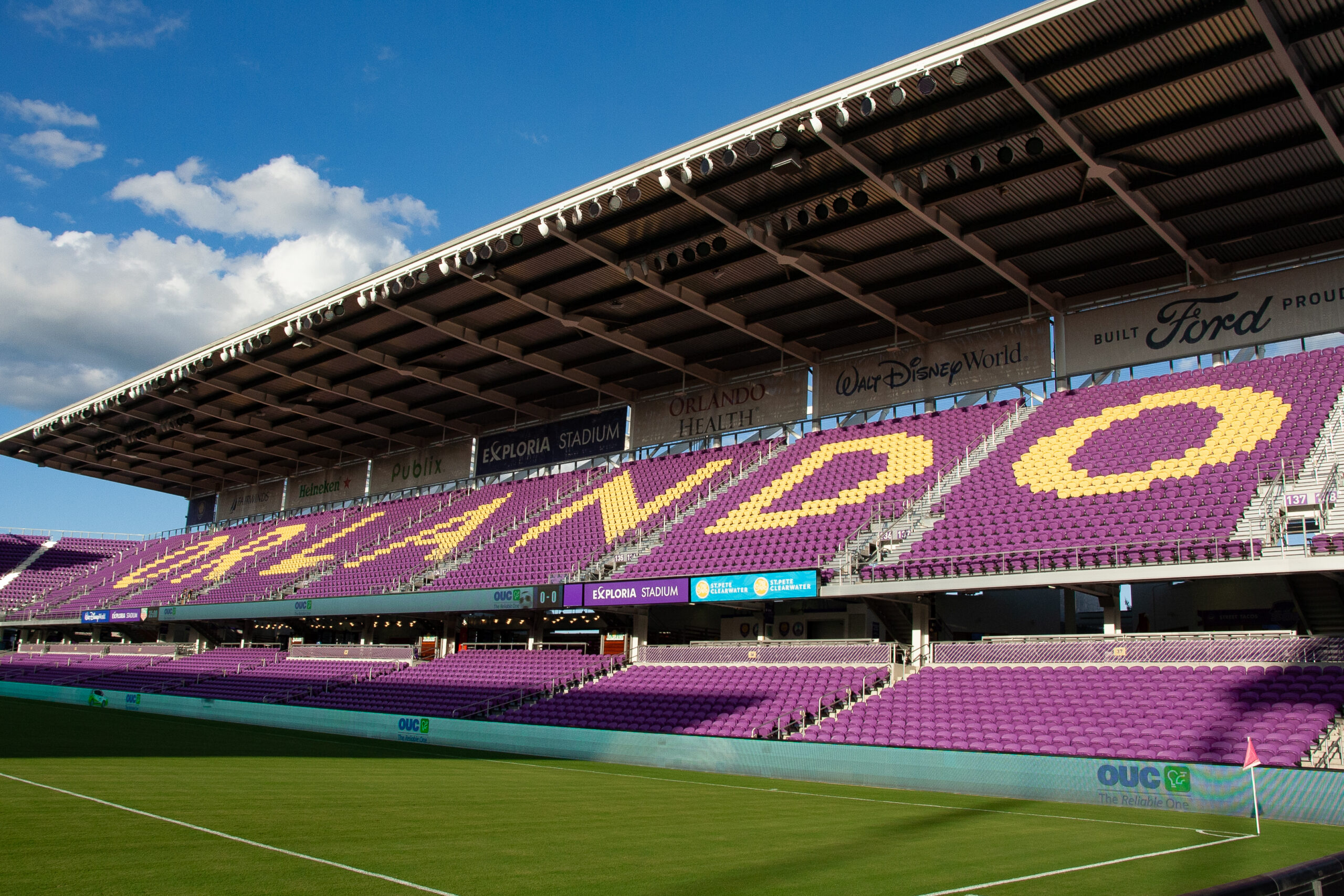 After taking a week off to get healthier, Orlando City takes the pitch again this weekend to square off against the New York Red Bulls. There are plenty of storylines going into Saturday's mid-day match, including Sacha Kljestan meeting up with his former team and Carlos Rivas' return to Orlando. The Lions are still looking for their first win of the 2018 season while New York is juggling the league and the semifinals of the CONCACAF Champions League. Dom Dwyer should make his long-awaited return to the field this weekend and perhaps we'll see what Josué Colmán can really do.
And while the Red Bulls continue to play the same brand of soccer, there are a few new key players wearing red and white to get to know. So we touched base with Austin Fido, managing editor of SB Nation's own Once a Metro to get the scoop on New York's red team. I also answered his questions and you can find those over at his place.
The Red Bulls' offense has been clicking even after the departure of Sacha Kljestan. What has been the key to New York's early success in 2018?
Austin Fido: I think the simple answer — and the one the team might itself endorse — is that RBNY has had a consistent tactical philosophy since 2015 and has single-mindedly focused on recruiting players that fit the desired system and style of play for the last three seasons. So the core of the team knows exactly what it is supposed to do, and the new arrivals and emerging talents know exactly what they need to do to rise up the depth chart. That, plus the fact a few players have started the year in excellent form — BWP and Luis Robles most notably, perhaps — adds up to a team that knows itself very well and has been able to get out to a quick start in 2018.
There's a little more to it than that, of course. In part, the team has been perhaps fortunate to be matched up against opponents in MLS and CONCACAF Champions League who aren't playing nearly as fluidly, for one reason or another. In part, RBNY should get credit for a well-planned preseason: it wasn't really reflected in the results of the squad's February friendlies, but clearly the plan — which was to have a squad capable of competing in both CCL and MLS from the get-go — has worked. This is particularly praise-worthy because the club scheduled a very similar preseason for itself last year, and didn't kick off the season nearly as well. The front office and technical staff clearly absorbed a number of lessons from that experience, and the team seems to be much the better for it.
It's also very helpful that several of the new arrivals — Tim Parker, Kyle Duncan and yes, even the oft-maligned Carlos Rivas — have settled in quickly and with near-immediate positive impact on the field. Again, credit the technical staff for their own development of their craft. The team signs new players every year, but they don't always work out as well, as quickly as the 2018 intake appears to have done.
The next challenge is to sustain the run of results as our opponents in MLS and CCL get progressively better. In the league, we'll soon start running into teams that have shaken off the early-season rust, or never had any in the first place. And in CCL, the challenge gets progressively more difficult, as tends to be the case in knockout competitions. But the first hurdle — the first month of the season — has been cleared with style and confidence.
Bradley Wright-Phillips has started this season hot, scoring three goals in three games even without Sacha. What has been the secret to his success even at this late stage in his career?
AF: For me, there's no secret: he's an extremely intelligent player, and that's been the basis of his success in MLS since he arrived at RBNY. He'll age out of the game at some point, but he hasn't been a player relying on exceptional physical gifts at any stage of his career with the Red Bulls; rather, he relies on exceptional movement and reading of the game around him.
Further evidence of his intelligence: he's adapted to a significant tactical shift at the club. He's won two Golden Boots playing for two very different teams — almost two oppositional teams. The side Mike Petke coached was built around Thierry Henry and controlling possession. Jesse Marsch coaches to the principles of RalfBall, which is more about controlling space. Through the turbulent transition between those distinct eras of RBNY soccer, BWP has remained the team's top-scorer — and an elite scorer by MLS standards (indeed, by most leagues' standards).
He's been able to do that, I would argue, because he's one of the smartest players at RBNY, and in MLS. His body will eventually let him down, but as long as he can keep up with the physical demands of a pro soccer career, I think he'll continue to be an elite player because it's his mind that makes him special, and that might be the one thing a pro athlete can reasonably expect to improve with age, rather than diminish.
Nonetheless, we're not used to seeing BWP scoring quite this freely this early in the year. He has tended to need a few games to get into form during his time at RBNY. Jesse Marsch has repeatedly mentioned BWP came into preseason prepared and focused (last year, he was juggling preseason with the arrival of a newborn child), and very obviously wants us to know that if Wright-Phillips appears to be in mid-season form in March, it's because it's exactly what he spent the winter working toward.
Will the trip to Guadalajara for the CONCACAF Champions League tie with Chivas a few days after the match affect how Jesse Marsch lines his team up this weekend?
AF: Jesse has been quite consistent so far this season: he plays whatever he thinks is his strongest team in CCL. In MLS, he uses whatever he thinks is the strongest team that won't weaken the CCL lineup. I expect him to stick to that approach for this game.
That doesn't necessarily mean Orlando will see a reserve team in RBNY shirts. For a start, the concept of "reserves" gets a little blurred when you have multiple players consistently starting and playing well. Kyle Duncan has started all three of RBNY's league games so far this season. He's played well — the team has won two out of three of those games. Is he really a reserve? We'll find out when Marsch is allowing himself to pick from his full squad, rather than effectively dividing the roster into MLS and CCL lineups. That won't be this weekend.
For now, Jesse is trying to keep legs fresh for CCL and we're basically watching two near-separate RBNY squads. My impression is he decides on the team he wants to play in CCL and then works backwards to what that means for MLS games. The formation — RBNY flips pretty comfortably between a three-at-the-back formation supplemented by wing backs, and a more conventional four-man back line — will depend on whichever players are picked for the match, with perhaps some slight concession to the opponent.
Having said that, few things are more consistent about RBNY these days than the capacity of its head coach to surprise fans with his team selections. Very often, when we think we've figured out where Jesse's head is at with respect to the roster, he changes something. So expect a Red Bull "reserve" team, and don't be shocked if that isn't the case.
Also note that the second-string squad currently includes senior players like Aurelien Collin and newly-signed DP Kaku (still finding his way into the team's system), and club captain Luis Robles hasn't missed a game yet this season.
What injuries/suspensions will keep players out this weekend and what is your predicted lineup and final score?
AF: Fidel Escobar is returning from international duty with an injury. Kaku missed RBNY's last outing with a previously undisclosed knock, though not one thought to be particularly serious. Amir Murillo, Tyler Adams, and Kemar Lawrence will also be recently returned from national team outings and they are considered likely starters for CCL, so consider it a mild surprise if any of them even appear on the bench.
Predicted lineup: Luis Robles; Connor Lade, Aurelien Collin, Aaron Long, Kyle Duncan; Marc Rzatkowski, Florian Valot; Derrick Etienne, Kaku, Ben Mines; Carlos Rivas.
Score: On the road with more or less a second-string lineup against a team due a win, I think we'll do well to get a draw. I also think we won't get a draw — Orlando to win, 2-1
---
Thanks again to Austin for taking the time to answer our questions and giving us some insight on the Red Bulls.

Lion Links: 9/27/23
Orlando City falls in power rankings, OCB will take on Columbus Crew 2 in MLS NEXT Pro playoffs, U.S. Open Cup final preview, and more.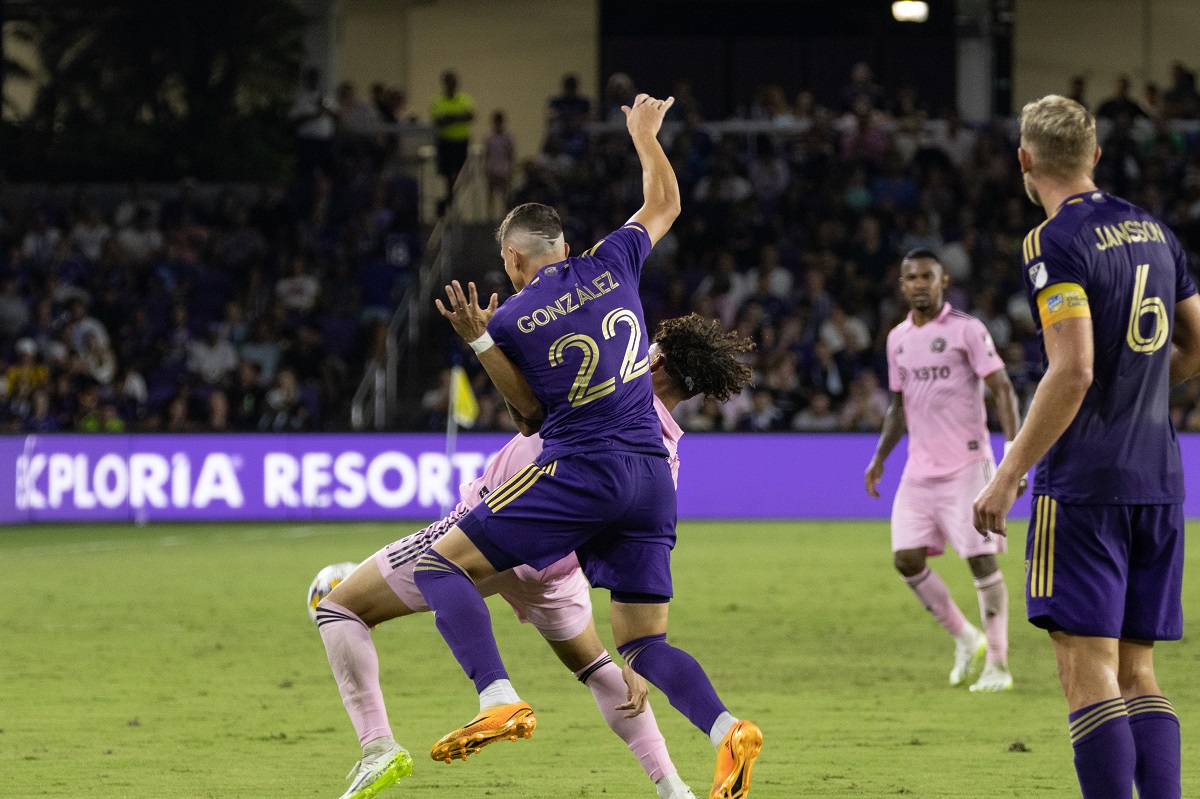 Hello, Mane Landers. I hope all is well with you down in Florida. There's not much new with me, I'm just staying busy at work lately and hoping to catch some soccer this weekend. There is plenty to cover today, so let's get to the links.
Orlando City Drops Two Spots in Power Rankings
The latest MLS power rankings have been released and Orlando City fell two spots to fourth. The Lions lost their midweek matchup 2-0 on the road against New York City FC last Wednesday and closed out the weekend with a 1-1 draw against rival Inter Miami at Exploria Stadium. It wasn't all bad this past week for the Lions, as Duncan McGuire scored his 11th goal of the year across all competitions. Despite losing to NYCFC a week ago the Lions remain in second place in the Eastern Conference and are two points ahead of the Columbus Crew, Philadelphia Union, Atlanta United, and the New England Revolution.
OCB Will Take On Columbus Crew 2 in MLS NEXT Pro Playoffs
Orlando City B's opponent for the first round of the MLS NEXT Pro playoffs was announced on Tuesday, as it will go on the road to take on defending champion Columbus Crew 2 on Oct. 1 at Historic Crew Stadium. As part of the new playoff format that lets higher seeds choose their opponents, Columbus chose to host OCB in the quarterfinals. The Young Lions closed out their regular season this past weekend with a 2-1 win against FC Cincinnati and finished fifth in the Eastern Conference. The Columbus Crew 2 finished its regular season with a 3-2 win against Atlanta United 2 to place third. The clubs split the regular season series, with OCB winning 4-1 on Aug. 27 and Columbus winning 4-0 on May 14. The conference semifinals will be on the following weekend, and the MLS NEXT Pro Cup final is set for Oct. 22.
U.S. Open Cup Final Preview
The 2023 Lamar Hunt U.S. Open Cup will conclude tonight with the final at DRV PNK Stadium as Inter Miami takes on the Houston Dynamo. The match will kick off at 8:30 p.m. and you can watch the match on Paramount+ or CBS Sports Network. Inter Miami's journey included edging out Nashville SC 2-1 in the Round of 16 and needing to go all the way to penalties to knock out FC Cincinnati after a thrilling 3-3 draw in the semifinals. The Houston Dynamo began its run with a pair of 1-0 wins against the Tampa Bay Rowdies and Sporting Kansas City. Since the Round of 16, the Dynamo cruised past Minnesota United, the Chicago Fire, and Real Salt Lake to get to the final. Houston was on a seven-match unbeaten run before losing to Sporting Kansas City this past weekend. The Dynamo will look to add another U.S. Open Cup title after winning it back in 2018. Lionel Messi will reportedly be a game-time decision for tonight's final after he didn't play in Miami's draw with Orlando.
Spain Wins First Home Match Since World Cup Victory
Spain's women's national team won its first match since lifting the World Cup trophy last month, cruising to a 5-0 win against Switzerland in a UEFA Nations League matchup. After dealing with the fallout of former Spanish FA president Luis Rubiales and players boycotting call-ups to the national team before a deal was reached last week, the team wore wristbands that read "Se Acabo," meaning "this is over," and players from both teams held a banner with the same phrase before the match. Spain celebrated its win in front of a record-breaking crowd of 14,194 fans that came out to support the team at Nuevo Arcangel Stadium.
Free Kicks
Carrie Lawrence and the Orlando Pride were hard at work preparing for the match on Monday against Angel City FC.
Angel City exercised its club option to extend former Pride forward Sydney Leroux's contract through the end of the 2024 NWSL season.
The Canadian Women's National Team defeated Jamaica 4-1 on aggregate to book a spot in next summer's Olympics.
The Seattle Sounders have unveiled their new crest for next year.
---
That will do it for me today, Mane Landers. Enjoy your Wednesday and I'll see you next time.
Orlando City vs. Inter Miami: Player Grades and Man of the Match
How did your favorite Lions perform in Orlando City's 1-1 home draw against the Herons?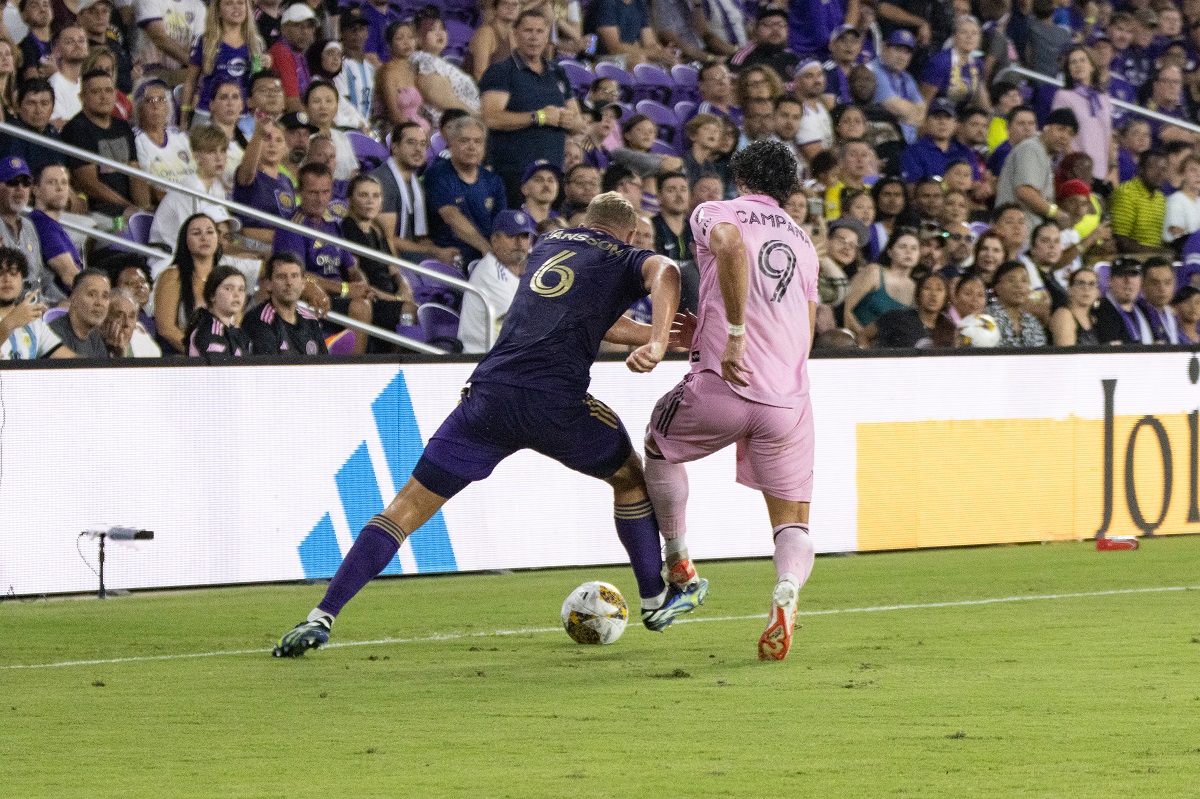 Draws are never satisfying but there's at least a much better feeling when your team scores the final goal that earns the point rather than conceding so the other team takes two away. Thus was Orlando City's 1-1 draw at home against Inter Miami on Sunday. It feels better to score the last goal, despite the fact that the same number of goals are scored either way. It's a grand illusion.
Duncan McGuire's blast through the legs of Drake Callender at least kept the Pepto-Bismol-colored team from winning at the purple palace and added another point to Orlando's fine 2023 total.
Here's how I saw the individual performances from a feisty affair at Exploria Stadium.
Starters
GK, Pedro Gallese, 7.5 — It was another standout game from the Peruvian shot stopper, who made four saves on the night, including a big one to stop a Leonardo Campana attempt from just a couple yards out. Gallese couldn't do much about the lone goal conceded, as it came off a rebound of a wicked Josef Martinez shot, offering Gallese little opportunity to control the rebound due to the angle and pace. El Pulpo also recorded a clearance and passed at an 81.8% rate, connecting on five of his nine long balls.
D, Rafael Santos, 6.5 — After a couple of somewhat underwhelming performances, the Brazilian had a solid night. He didn't have a shot attempt, but he managed two key passes despite completing only 71.4% of his passes. He connected on three of his eight long balls and one of his four crosses, but that latter number says more about his teammates not getting onto some good-looking balls into the area. Defensively, he provided two clearances and an interception, committing just one foul and completing a dribble. He even led the team in touches (60).
D, Robin Jansson, 7.5 (MotM) — In the first half, Jansson was the best player on the pitch and, in my opinion, it wasn't close. The Beefy Swede vaccuumed up almost everything sent forward by Miami that was intended for Campana and Martinez on his side of the field. He finished the night with two tackles and two interceptions but it seemed like more than that. His passing was magnificent, as he completed 89.4% of his 47 passes, including six of seven long balls and his only through ball attempt. He had a key pass as well. He didn't attempt a shot but he completed one dribble and drew a foul as he stymied the Miami attack. He did his best to cover Martinez's quick, incisive run to the opposite side but couldn't block the shot with his sliding effort. His biggest blemish was getting yet another yellow card for dissent — something he's mostly been able to avoid this season.
D, Rodrigo Schlegel, 5.5 —While I thought Schlegel had a much better night Sunday than he had in the previous two games, it was far from where he was just a week or two earlier. The quick transition gave him a tough choice of backing off Campana and allowing a dangerous shot or doing what he did — stepping out and allowing a through ball. His closeout wasn't tight enough. His marking on set pieces also left a lot to be desired at times. His passing was mostly accurate (91.5%), and he connected on two of three long balls, but there were a few dicey ones in his own end. He recorded two aerials won, one tackle, two interceptions, and a clearance. He committed three fouls and picked up a yellow card, conceding a dangerous free kick. His lone shot attempt was an off-target header.
D, Dagur Dan Thorhallsson, 6.5 — After a couple of tough games, the Icelandic midfielder-turned-fullback acquitted himself pretty well, considering Inter Miami attacked his side quite a bit. He passed well, connecting 82.5% of the time with one key pass and hitting the target once on two crosses, four times on six long balls, and sent a marvelous through ball that should have resulted in an Ivan Angulo goal, but the winger flubbed his lines. His lone shot attempt was a difficult one and did not threaten goal. He did not record a single defensive stat, although much of the time his opponent curled in toward the top of the area and was passed off to another defender.
MF, Cesar Araujo, 5.5 — The young Uruguayan had a quiet night, without recording any defensive statistics in his 45 minutes before being subbed out at the break for Martin Ojeda. He managed only 23 touches and his passing rate of 73.3% was much lower than his usual standard and he completed one of his two long balls. He also drew two fouls and completed a dribble. He simply wasn't able to impact the game to the extent we're used to seeing.
MF, Wilder Cartagena, 7 — It was a good night for the Peruvian midfielder, who was constantly getting under the opponents' skin. He drew yellow card fouls on Dixon Arroyo and Benjamin Cremaschi — the latter after a slick nutmeg move — and had a steal that was set to ignite the break called back for a foul that I don't agree was committed. Defensively, he recorded a tackle, a clearance, and an interception. He passed at a 91.1% success rate, created one scoring chance, and completed both of his long-ball attempts.
MF, Ivan Angulo, 5 — Whether it's a lack of confidence and/or composure or being intimidated by a good goalkeeper, the Ivan Angulo who shoots in warmups is not the same guy in front of goal once the game is underway. He completely flubbed his lines when Thorhallsson sent him in behind for a 1-v-1 chance against Callender. The number of times he gets into dangerous spots and either a bad pass, shot, or decision keeps Orlando City from generating a scoring chance from it is maddening. Angulo failed to get any of his three shot attempts on target. His passing rate was just 60%, he did not have a single key pass, and neither of his two crosses were on target, although his single long ball was. He also didn't record a single defensive statistic. There are many things Angulo does well, and his speed is tantalizing, but the final product is often lacking.
MF, Mauricio Pereyra, 6 — The captain had a mostly quiet match except when he was scissored down from behind by David Ruiz, somehow only producing a yellow card for the Miami midfielder. Pereyra produced only one key pass and no shot attempts, starting at central attacking midfielder before dropping into central midfield in the second half to pull the strings from a deeper position. He passed at an 80.5% success rate, completing one of three crosses and two of five long balls. He did not record any defensive stats and committed two fouls while drawing three.
MF, Facundo Torres, 6.5 — Torres led the Lions in shots (4), putting two on target, contributing one key pass and winning an aerial. He passed pretty well overall (81.5%), though he did not complete either of his two crosses or his lone long ball. He contributed an interception and a clearance defensively. Miami concentrated on double-teaming the Designated Player whenever possible. Torres still created some opportunities for himself and others, but it was a fairly quiet night overall.
F, Duncan McGuire, 7.5 — The rookie is still getting back to form after returning from injury, so he managed only 18 touches on the night but he did well with the touches he had. Both of McGuire's shots were on target and both were rockets. Unfortunately, both were right at goalkeeper Callender. Fortunately, the second of those went through the keeper's legs for the equalizing goal — his ninth of the MLS season. He also created a chance with a key pass, completed 83.3% of his pass attempts, and connected on his only long ball. He even contributed a defensive clearance. It was a good night for the rookie striker, although he wasn't able to get that many touches.
Substitutes
MF, Martin Ojeda (46′), 6.5 — The Argentine Designated Player came on at halftime for Araujo to give the Lions more attacking presence and an extra playmaker on the field. He continues to grow in recent games, as he put his only shot attempt on target, created a chance with a key pass, and completed two dribbles, although he did have four unstable touches and was dispossessed once. He completed 89.5% of his 19 passes and all three long balls, but missed on his only cross attempt. He helped with the ball back with two tackles, and added a clearance.
MF/F, Ramiro Enrique (74′), 5 — Enrique came on for Angulo, which I thought at the time was the exact sub that was needed, but the Argentine didn't offer much for the second straight game after winning Player of the Matchday. He did not attempt a shot or create a key pass and managed only seven touches on the night, passing at an 83.3% clip. He chipped in a clearance.
D, Michael Halliday (77′), 5 — The Homegrown defender spelled Thorhallsson but didn't offer much, despite completing all four of his passes on 13 total touches. He had two unstable touches and was dispossessed once, which is not what you want to see from your fullback in the final 15 minutes of the match. Defensively, he blocked a shot, but he also conceded an unnecessary late corner when he pulled up, thinking he'd won a foul that didn't end up getting called.
MF, Gaston Gonzalez (84′), N/A — As the MLS U22 Initiative attacker works his way back to fitness, he got a late runout, replacing McGuire, which pushed Enrique to the top of the formation. He conceded a free kick, but I honestly thought his challenge was clean and should have led to an Orlando counterattack. He put his only shot on frame, but it was a weak dribbler right at Callender. He did not complete his only pass attempt of the match.
MF, Junior Urso (84′), N/A — The Bear entered for Pereyra and was active, gettin 12 touches in late. His 90% passing rate on 10 attempts was solid, missing only on his only attempted long ball. He didn't record any defensive stats, but he also didn't make any mistakes in his brief spell.
---
That's how I saw the individual performances by Orlando City on Sunday night at the stadium. Let me know where I got things right or wrong in the comments below and be sure to vote for your Man of the Match in our poll below.
Lion Links: 9/26/23
Pedro Gallese honored, Orlando Pride and Lions celebrate Hispanic Heritage Month, Campeones Cup preview, and more.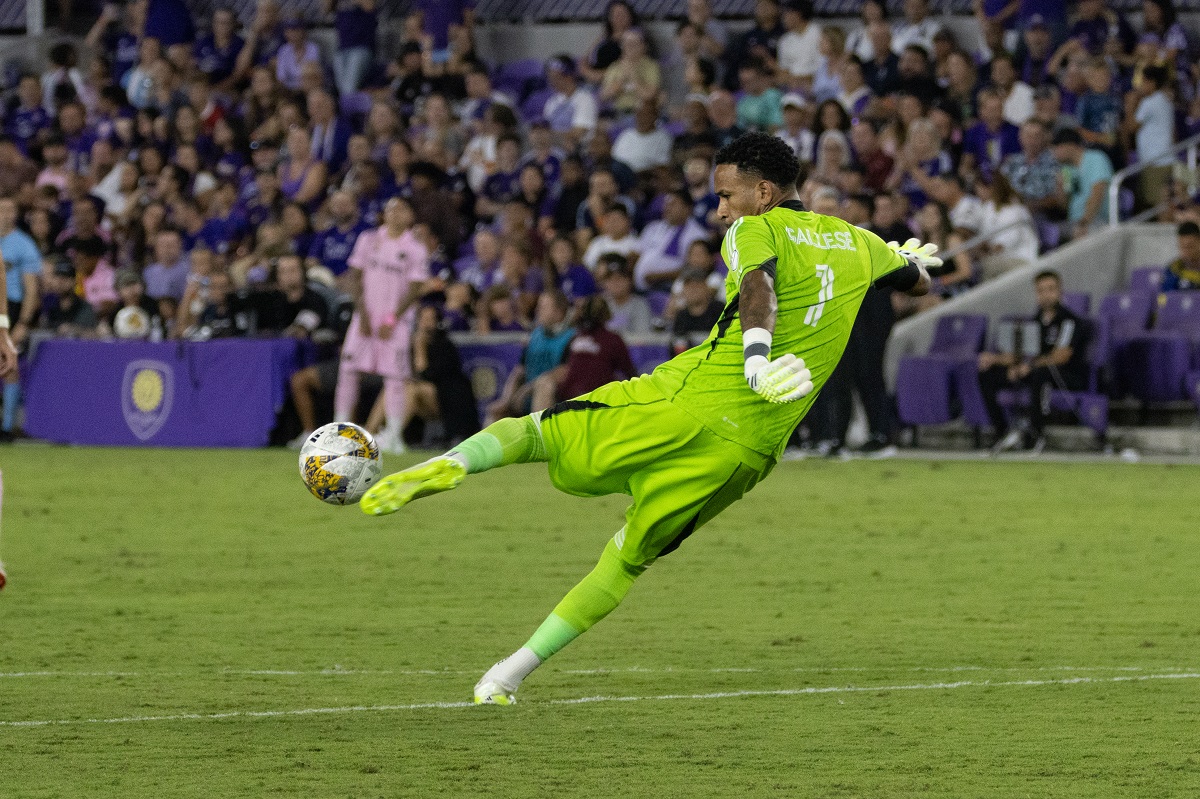 Happy Tuesday, everyone. I won't lie to you, I'm dragging a bit to start this week. I'm still recovering from being sick and frankly had to fight the urge to take Monday off. I'm soldiering on though, and there's plenty of soccer happening this week to help keep me entertained and in good spirits. Let's have a look at today's links.
Pedro Gallese Recognized
Pedro Gallese turned in another superb performance during Orlando City's 1-1 draw with Inter Miami on Sunday, and he's been rewarded with a place in the most recent edition of the MLS Team of the Matchday. El Pulpo made four saves on the night, including a fantastic stop on a header from close range, and helped the Lions stay in the game until they could find the equalizer. Congratulations to Pedro, and here's hoping he keeps up the good work!
Orlando Pride and Orlando City Celebrate Hispanic Heritage Month
In celebration of National Hispanic Heritage Month, Orlando Pride defender Celia fielded questions for fans to learn more about both her and Spain. Celia is from Alicante, a port city in southern Spain, and shared her favorite food, music, and activity while in her home country. She also spoke on a common misconception about spices used in Spain being spicy.
Orlando City's Facundo Torres also shared the meaning behind some of his tattoos, which include the Uruguayan flag and La Paz, the city he grew up in. Orlando City's match with CF Montreal on Saturday will also be Hispanic Heritage Night at Exploria Stadium.
Campeones Cup Preview
You can be forgiven if you forgot that the Campeones Cup is still a thing, because I know I did. Here's a little refresher on the annual match. It's being played tomorrow night at BMO Stadium between LAFC and Tigres, which are the reigning MLS and Liga MX champions, respectively. The MLS representative has won three out of the four contests, with Tigres beating Toronto FC 3-1 in the first iteration of the competition in 2018. This match will also be a rematch of the 2020 Concacaf Champions League final, which saw Tigres emerge victorious 2-1 at Exploria Stadium.
Americans in Midweek Action
A number of Americans will be taking part in games for their clubs this week. Tim Weah and Weston McKennie's Juventus will take on Lecce today in Serie A, while Chris Richards and Crystal Palace face Manchester United in the Carabao Cup. Christian Pulisic and Yunus Musah have a league match when AC Milan plays Cagliari tomorrow. PSV Eindhoven has a game against Go Ahead Eagles tomorrow as well, which means Ricardo Pepi, Sergino Dest and Malik Tillman could all be involved. Friday closes out the week with Hoffenheim taking on Borussia Dortmund, which could see John Brooks matched up against Gio Reyna depending on Reyna's fitness.
Spanish Players Will Testify Against Rubiales
Alexia Putellas, Irene Paredes and Misa Rodriguez have all been called to testify as witnesses in the case against Luis Rubiales. Jenni Hermoso's brother and a friend of the player both testified on Monday afternoon, as Rubiales is facing charges of sexual assault and coercion. Rubiales has already testified and maintains he did nothing wrong amid uproar that has led to a number of Spanish players refusing to return to the team until changes are made, and a general overshadowing of Spain's victory at the Women's World Cup. Putellas, Paredes and Rodriguez will testify next Monday.
Free Kicks
---
That's all I have for today. Y'all stay safe out there!