Orlando City vs. Atlanta United FC: Final Score 2-1 as Lions' Win Streak is Snapped at Six
Lions fall behind again and this time the rally falls short.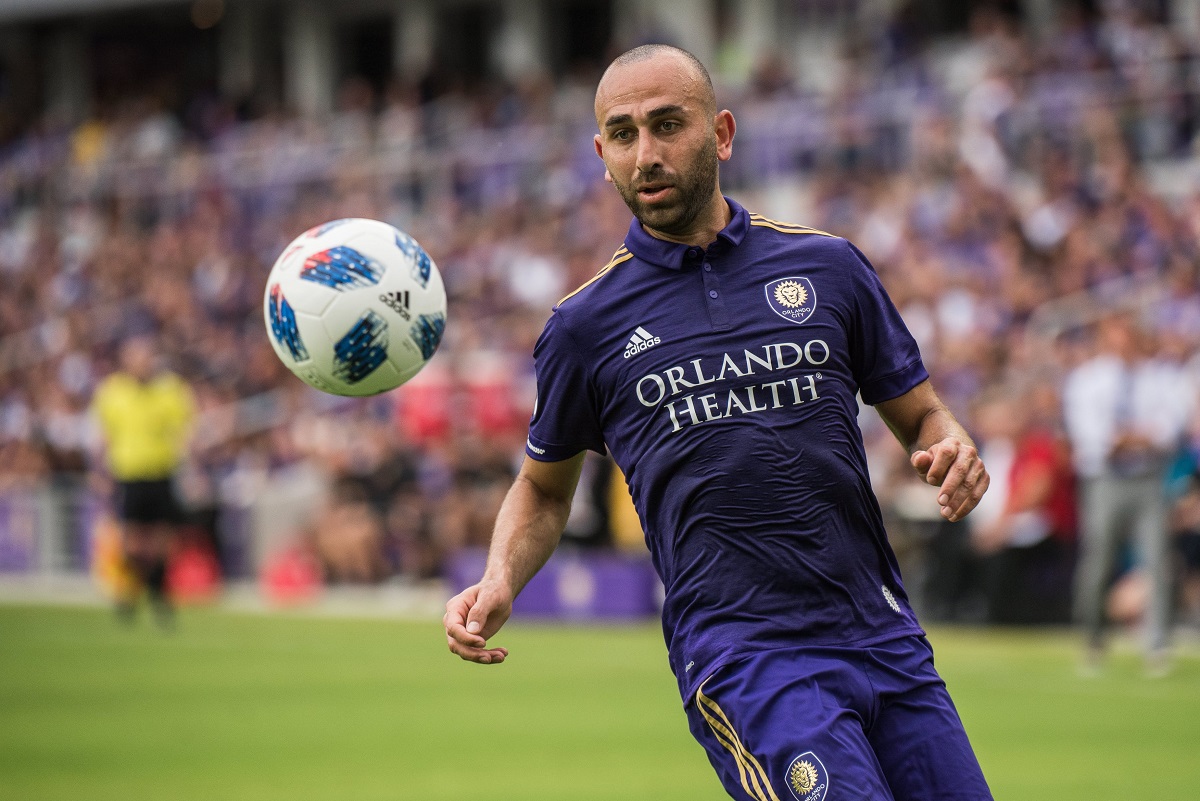 Orlando City fell behind again but this time the Lions couldn't climb the mountain. A soft, first-half penalty against Cristian Higuita allowed Josef Martinez to give Atlanta United an early lead and the visitors doubled through Ezequiel Barco in the first half en route to a 2-1 win in front of 24,232 rain-soaked fans at Orlando City Stadium.
On the plus side, Orlando (6-3-1, 19 points) looked like it belonged on the pitch with Supporters' Shield-leading Atlanta (8-2-1, 25 points) and Justin Meram opened his account with his first goal in purple.
And, sadly, the Lions lost at least 90 seconds worth of time to find an equalizer due to a shower of debris from fans frustrated by the inconsistency of referee Alan Kelly, who had a poor game but was absolutely right in not whistling a late foul when Will Johnson went down in the final third, out wide of the penalty box. Kelly allowed no extra time for the delay and didn't even wait for the cleanup before ordering Atlanta goalkeeper Alec Kann to restart play, blowing the whistle seconds later.
The club's six-match winning streak came to an end, as well as the team's string of six multi-goal games — both Orlando City MLS bests.
"Obviously an emotional, emotional affair tonight — passionate affair from the crowd to the staff, to the players. I think everybody put everything they had into this game," Head Coach Jason Kreis said after the match. "It's unfortunate, because the way we played the second half I think on a lot of different nights we walk out of here with a draw. But some things went against us, for sure. Some decisions went against us, and some of our thoughts in the first half surely went against us."
Kreis went with the same lineup from the win last weekend over Real Salt Lake except Chris Schuler was replaced by Amro Tarek. Schuler was in the 18 and Donny Toia was left off the team sheet.
The game was only nine minutes old when an officiating decision gave the visitors a leg up. Greg Garza went down after contact with Higuita and Kelly deemed it a foul in the penalty area. Higuita did get his hands up on Garza, who went down far too easily. Martinez stepped up and took a cheeky spot kick that put Atlanta up, 1-0.
"I saw Cristian, and he did raise his hands," Kreis said. "And I don't know whether there was physical contact or not — let's hope that there was some contact — but the player went down extremely softly and for me that kind of penalty kick should never be called in a game like this."
Orlando responded with a long-range attempt by Yoshimar Yotún that went wide, a Mohamed El-Munir effort that was deflected by the defense to Kann, and won a couple of corners. The second of those saw the Lions shouting for handball, and it did look like Atlanta's attempted clearance came off a defender's hand during an attempted clearance. No call was given and it was not reviewed.
Atlanta then started making Orlando pay for a few sloppy moments. Jeff Larentowicz sent a training ground set piece wide in the 23rd minute. Eight minutes later, Atlanta doubled its lead after a midfield giveaway. Miguel Almiron sent a ball through to ignite a counter that Higuita failed to deal with and Barco sent it wide to Garza. The Atlanta fullback sent it back to the top of the box, and Barco finished the play off by knocking one in off the crossbar to make it 2-0 at the 31-minute mark.
The Lions got forward a few more times in the late stages of the first half. Dom Dwyer earned a free kick just outside the penalty area, but Kljestan sent the set piece off the wall and out for a corner. The best Orlando City chance came in the 44th minute off a nice buildup that saw Chris Mueller cross for Higuita, who headed the ball right at Kann at point-blank range.
The teams each had five shots, with Orlando getting two on frame to Atlanta's three. The Lions held 51% of the possession and both teams completed 82% of their passes in what was an evenly played first 45 minutes, but Atlanta's lightning-fast counter made the visitors the more dangerous side.
If Atlanta was more dangerous in the first half, it was Orlando's turn after the break. Uri Rosell replaced Higuita to start the second half and it seemed to help calm things down for the Lions.
Dwyer earned a corner in the first minute of the second half, blasting a shot that deflected out. In the 52nd minute, Meram fired toward the near post, forcing a good diving save from Kann to keep it out. But five minutes later, Meram got his goal.
A long shot by Johnson knuckled in on frame and Kann could only fight it off with his fists. Meram beat Miles Robinson to the rebound, stepped around the Atlanta defender, and slotted it past Kann to pull the Lions back into the game in the 57th minute.
"It felt good to silence the haters," Meram said of the goal. "Obviously I want to score and help the team but I want to win and that's the main focus on this group. Maybe I should have scored two tonight and helped out. I think I had another chance as well."
After Orlando's goal, Atlanta had a brief spell where it tried to put the game away. Martinez nearly did so with a header that he sent wide in the 60th minute.
The Lions regrouped, with Josué Colmán coming on for Mueller in the 66th minute. Two minutes later, Orlando nearly found an equalizer. Dwyer fizzed a cross in for Meram but the defense did just enough to keep Orlando's goal scorer from making good contact.
Colmán brought something extra to Orlando's attack, getting down the right wing to send crosses into the box, playing quick passes with Rosell and Kljestan in the middle of the pitch, and earning a few corner kicks.
Meram was feeling his oats with a sneaky half-cross/half-shot that fooled Kann but missed the target in the 72nd minute. But the left wing was getting tired, and his turnover two minutes later allowed Almiron a good scoring chance. Atlanta's No. 10 shot wide, however. Noted Lion killer Hector Villalba — a second-half sub for Barco — forced a good save from Bendik moments later.
Lamine Sané nearly got onto a corner kick cross in the 81st minute, arriving at the ball at the same time Kann did. Seconds later, Dom scorched a cross through the area that was just a smidge behind substitute Stefano Pinho, who had come on for Meram.
The emotions of the match began to boil over while Darlington Nagbe was down on the pitch and both Villalba and Yotún were booked. Yoshi will miss the Lions' next match for yellow card accumulation. The emotions weren't restricted to team vs. team, either. Kljestan and El-Munir barked at each other shortly thereafter and came together momentarily.
Perhaps the most egregious missed call of the evening took place in the 90th minute when Pinho was completely wrapped up and pulled down at the edge of the penalty area. It would have only been a free kick, but it was a definite foul and Kelly opted not to call anything.
Dwyer got his head on a corner in stoppage time but couldn't get any power behind it and Kann collected it easily. That turned out to be the last opportunity for the Lions, who continued to throw bodies forward, but when Johnson went down to the right of the box and no call was made, the bottles and cups rained down onto the pitch and Kelly opted to call the match complete.
"We can't be that. We can't do that," Kreis said. "We certainly want to be a very, very difficult place to play but we need to show the right amount of restraint at that moment to not be throwing things on the field. We just can't do that."
The Lions ended up with 55% of the possession and an 11-8 shots advantage (6-4 on target). Both teams passed well, with Orlando City completing 83% and Atlanta 80%. The fouls were pretty even, with Orlando called for 12 and Atlanta 10, but the disparity in what was called was evident, as Higuita's obstruction of Garza affected the game just 10 minutes in and several such instances on the other end — not even in the area — went uncalled.
The club released a statement after the match regarding the fan behavior in stoppage time, stating: "Orlando City SC does not support or condone the actions taken by fans at Orlando City Stadium during Sunday's match against Atlanta United. Fans are strictly prohibited from throwing debris or objects onto the field. The club is using available resources to identify offenders, who will be penalized for their behavior in accordance with Major League Soccer and Orlando City Stadium regulations.
Orlando City SC takes great pride in the passion of its supporters and how they make Orlando City Stadium the most difficult venue to play at in MLS, but the safety of fans, players, officials and staff members is our top priority."
---
The Lions will try to bounce back Friday when they visit BMO Field to take on Toronto FC at 8 p.m.
Lion Links: 9/29/23
Orlando City prepares for CF Montreal, learning more about Duncan McGuire, Jack Lynn named to MLS NEXT Pro Best XI, and more.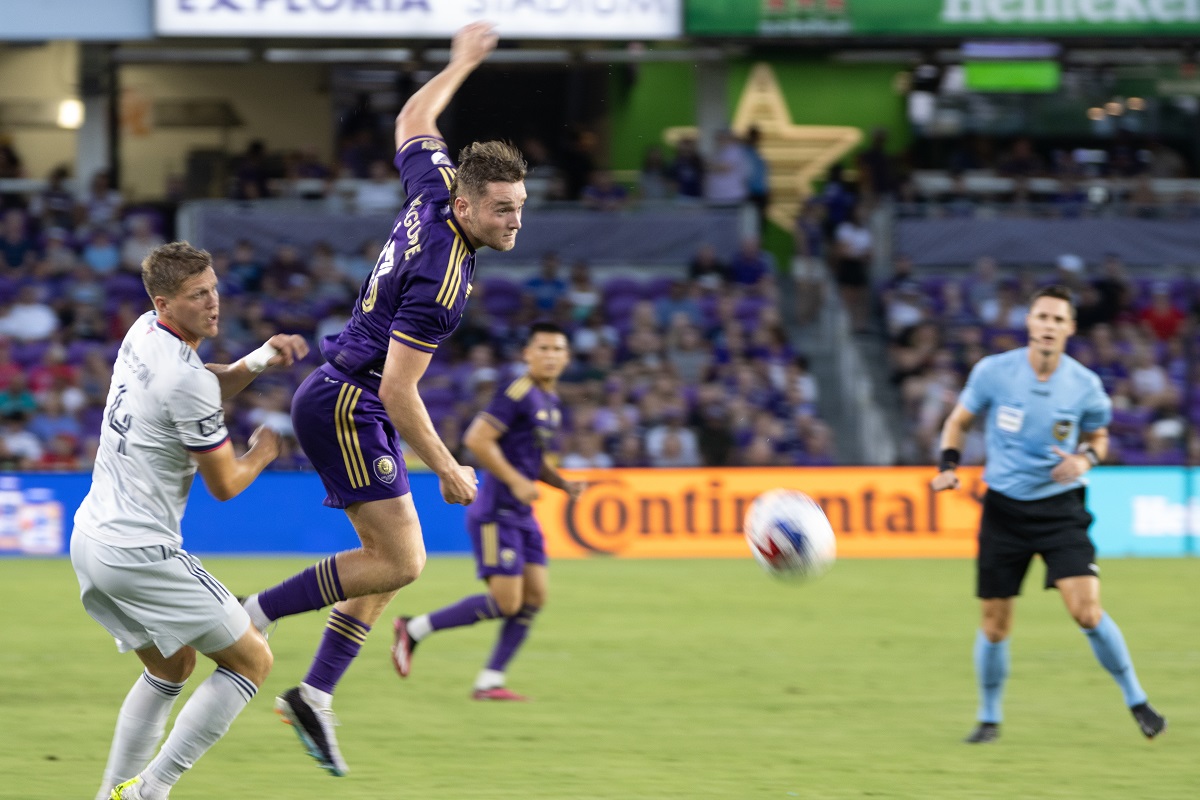 It's Friday, which means we're just one day away from a pretty busy weekend of Orlando soccer. It should be a pretty fun next few days, with Orlando City, the Orlando Pride, and Orlando City B all in action. I don't have many weekend plans beyond working and getting some writing and reading done. Let's get to the links!
Orlando City Prepares for CF Montreal
Orlando City hosts CF Montreal tomorrow night in a showdown between two Eastern Conference teams with just four games remaining this season. It's the second match between the two teams this year, with Montreal beating the Lions 2-0 in Canada on May 6. In the time since that game, the Lions have only lost three games this season and have not been defeated at home since April 22. Orlando's next win will be Head Coach Oscar Pareja's 60th with the Lions, and tomorrow's match could also break club records for most wins and points in a season. A win for the Lions would be massive to put some breathing room between them and the other top teams in the Eastern Conference.
Get to Know Duncan McGuire
Orlando forward Duncan McGuire was the latest to go under the microscope as part of the club's video series to learn more about the players. The rookie spoke on his upbringing as a middle child, as well as how he turned to soccer after struggling in other sports. McGuire also talked about his acrobatic goal celebrations and a clip is included of a time he didn't quite stick the landing after scoring for Creighton. It's a pretty fun interview, as he gave some details on how Mason Stajduhar is a quick learner when it comes to golf and how he wants to go out to dinner with Ana de Armas.
Jack Lynn Makes MLS NEXT Pro Best XI
Orlando City B forward Jack Lynn was named to the MLS NEXT Pro's Best XI for the second straight year. Lynn fueled OCB's offense this season, scoring 19 goals to help the Young Lions claim a spot in the playoffs. No MLS NEXT Pro player has scored more goals since the league's inaugural season last year than Lynn, who has 34 goals under his belt. The 23-year-old is joined on the front line of this year's Best XI with the two players he tied with for the Golden Boot, New York City FC II's Matt Myers and Colorado Rapids 2 forward Remi Cabral.
Orlando City B Takes On Columbus Crew 2 This Sunday
The Young Lions will play their first MLS NEXT Pro playoff game this Sunday when they face Columbus Crew 2 on the road at 5:30 p.m. It will be the third and final match between the two sides this year, with each claiming a big win over the other earlier in the season. No team that qualified for the playoffs has lost more road games than OCB this season, which may be why Columbus elected to face Orlando. However, Orlando's offense has been electric at times this year thanks to Lynn, Shak Mohammed, Wilfredo Rivera, and others. Sunday may be another wild game with the Young Lions involved and you can check it out on MLS Season Pass on Apple TV+.
Tahir Reid-Brown Called Up for Training Camp
United States U-17 Men's National Team Head Coach Gonzalo Segares called up 20 players for a training camp in Brazil to prepare for the U-17 World Cup in November. OCB defender Tahir Reid-Brown was the lone Orlando representative called up for this camp. The 17-year-old was called up to the U-17 team earlier this April for a training camp in Florida. He's had an impressive year, earning a spot in the MLS NEXT All-Star Game and making 10 appearances for OCB. The U.S. will take on Brazil on Oct. 4 and Oct. 6 in a pair of friendlies during this camp.
Free Kicks
Orlando City center back Rodrigo Schlegel unveiled the meaning behind his tattoos, including the ones for his parents and his biggest moments as a Lion.
---
That's all I have for you today. Hopefully the weather plays nice this weekend and you're able to do everything you have planned. Have a great Friday!
Orlando City vs. CF Montreal: Three Keys to Victory
What does Orlando City need to do to earn all three points against CF Montreal this Saturday in Exploria Stadium?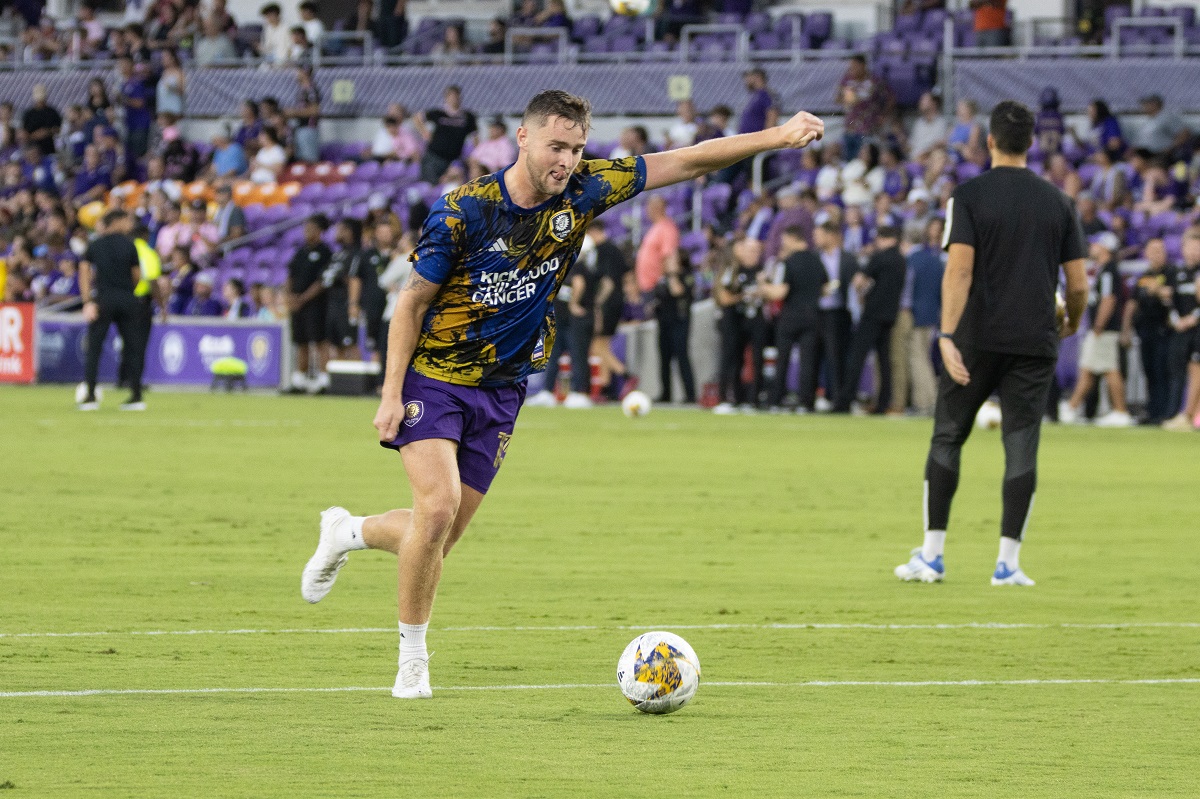 Orlando City hosts CF Montreal in the second-to-last home match of the 2023 MLS regular season at Exploria Stadium this Saturday night. The Lions have already secured a spot in the playoffs but are now fighting for home field advantage. Montreal is currently sitting in eighth place in the Eastern Conference and is fighting for a playoff spot.
What does Orlando City need to do to secure three important points against the Canadian Club Foots?
Time to Make the Donuts
It had been a minute since Duncan McGuire scored a goal for Orlando City — and by a minute I mean since July 29. McGuire had a few opportunities against Inter Miami and managed to get one to equalize for the Lions and ensure a point at home. I do think he might have scored on another of those chances if he was fully back in form after his injury time, but I'll take the goal.
My hope is that getting that goal will remind him that he can score goals when given the opportunity, and he will be better about finishing the chances he gets against Montreal. Sometimes it just takes getting that first goal to open up the muscle memory and to unlock the confidence needed in a striker. It's time for Duncan to score more goals, and the match against Montreal is the first and best opportunity to do so since Montreal starting center back Joel Waterman will be serving a red card suspension.
Switch up the Lineup
I propose a change to the starting lineup — something Oscar Pareja does not do very often. Due to injuries and other factors such a move wasn't possible earlier in the season, but I think it could work now. I have a ton of respect for Mauricio Pereyra, but he could probably use a rest to be fresh for the playoffs as the regular season winds down.
I suggest letting Martin Ojeda get the start in the 10 spot, moving Dagur Dan Thorhallsson up the wing, and having Michael Halliday take over at right back. Ojeda's play as of late has been much improved, and with Halliday healthy again, why not take advantage of Dagur Dan's versatility along the wing. I think this move provides energy, a surprise for opposing defenses, and allows Facundo Torres more freedom. 
Same Old Effective Defense
Orlando City's defense has only allowed 37 goals this season — which is good enough to tie for sixth place in the Eastern Conference. On the flip side, Montreal has only scored 30 goals so far — which is only better than Toronto at 24 goals. Montreal has a goal differential of -15.If the Lions play their normally solid defense in front of the outstanding goalkeeping of Pedro Gallese, Montreal should not get too many opportunities to score. There's no doubt that we will see Robin Jansson and Rodrigo Schlegel paired together with Rafael Santos on the left and either Dagur Dan — or Michael Halliday as I suggested — on the right. Cesar Araujo and Wilder Cartagena can stop most attacks before they get to the back line. If Orlando City plays defense as well as the club did against Miami, things should be fine.
---
That is what I will be looking for this Saturday as the Lions take on the boys from North of the border. Vamos Orlando!
Lion Links: 9/28/23
Ajax is reportedly scouting Facundo Torres, Orlando Pride focus on upcoming matches, Houston Dynamo win U.S. Open Cup, and more.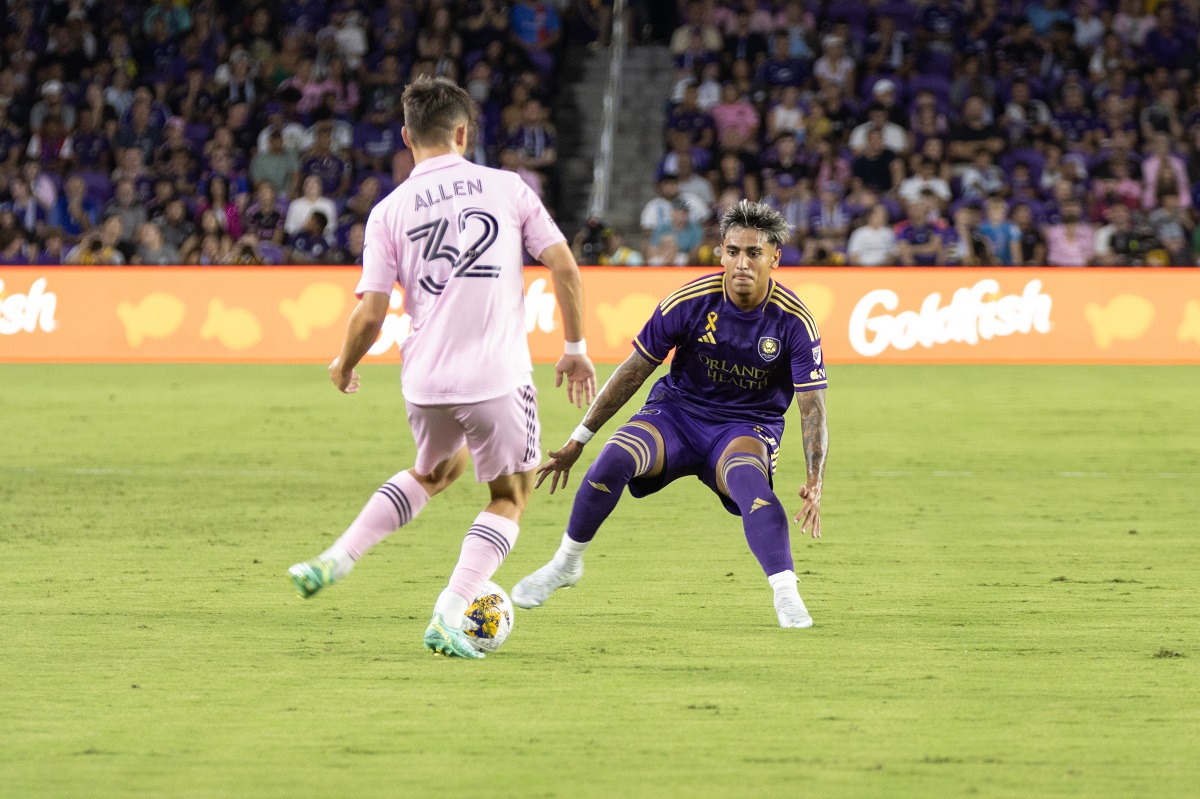 How's it going, Mane Landers? I hope this work week has gone smoothly for you as we get ready to bid farewell to September. It's been a hectic week for me, but I started and then promptly devoured all of Fourth Wing by Rebecca Yarros. It was a nice read, albeit a bit intense at times. I'm not sure what I'll read next as most of my reading list is packed up for a move, but if you have any recommendations then let me know in the comments below. Let's dive into today's links!
Ajax Reportedly Interested in Facundo Torres
Orlando City forward Facundo Torres has reportedly garnered the interest of Dutch club Ajax according to Fabrizio Romano.
It's not too surprising that Ajax, which currently sits in 14th in the Eredivisie with just seven goals from five games, has scouts keeping tabs on Torres. The 23-year-old has scored 12 goals this season, powering Orlando to second in the Eastern Conference. It wouldn't be the first time Torres has received attention from European clubs and likely won't be the last as he continues to impress with the Lions
Orlando Pride Focus During Playoff Push
The Orlando Pride are back in action on Monday for a crucial road match with Angel City FC. Both teams have 25 points this season, one point from the sixth and final playoff spot currently held by the Washington Spirit. It will be the first of three remaining games for the Pride this season, with matches against fellow playoff hopefuls Racing Louisville and the Houston Dash set for later in October. As a result, there's not much margin for error if the Pride wish to make the playoffs and Kylie Strom talked about how the team is focused for these games.
MLS NEXT Pro Playoffs Begin This Weekend
The first round of the MLS NEXT Pro playoffs kicks off this weekend with six matches that can all be watched on MLS Season Pass. Unlike last year, Orlando City B will be taking part and is set to face off with Columbus Crew 2 on Sunday at 5:30 p.m. Although the Young Lions have struggled on the road against Columbus, Jack Lynn and Shak Mohammed can make things difficult for the hosts. Hopefully we'll see OCB make Columbus regret its choice of opponent in the postseason. I like the wrinkle and mind games to the playoffs the new rule gave and am interested to see which of the lower seeds plays with a chip on their shoulder. The playoffs begin on Friday when Sporting Kansas City II hosts Austin FC II in a battle between the third and fourth seeds of the Western Conference.
Houston Dynamo Win U.S. Open Cup
The Houston Dynamo have lifted the U.S. Open Cup trophy after winning 2-1 on the road against Inter Miami. A pair of goals in the first half were enough for Houston to win its second U.S. Open Cup title after also winning in 2018. A goal in stoppage time from Josef Martinez made things interesting, but the Dynamo defense did well to secure the win and deny Miami its second tournament title this year. It was a strong end to a solid tournament campaign from the Dynamo, as they beat four MLS sides before taking down Miami in the final.
Albertin Montoya Hired as Bay FC Head Coach
Ahead of its inaugural NWSL season next year, Bay FC named Albertin Montoya as the club's first head coach. Montoya, who has lived in California for most of his life, served as the interim coach for the Washington Spirit in 2022 and also coached the U.S. U-17 women's national team in 2011. Bay FC General Manager Lucy Rushton spoke on how Montoya's name came up often while the club searched for a head coach, as well as how his skill at developing players will help build the club's foundation.
Free Kicks
Orlando City Head Coach Oscar Pareja called for the supporters to continue filling Exploria Stadium and pushing the Lions forward for the team's remaining home games this season.
St. Louis City midfielder Njabulo Blom won MLS Goal of the Week for his winner against Minnesota United. It was also the 23-year-old's first professional goal.
---
That's all I have for you today. Have a wonderful Thursday and rest of your week!