2018 Orlando City Season in Review: Stéfano Pinho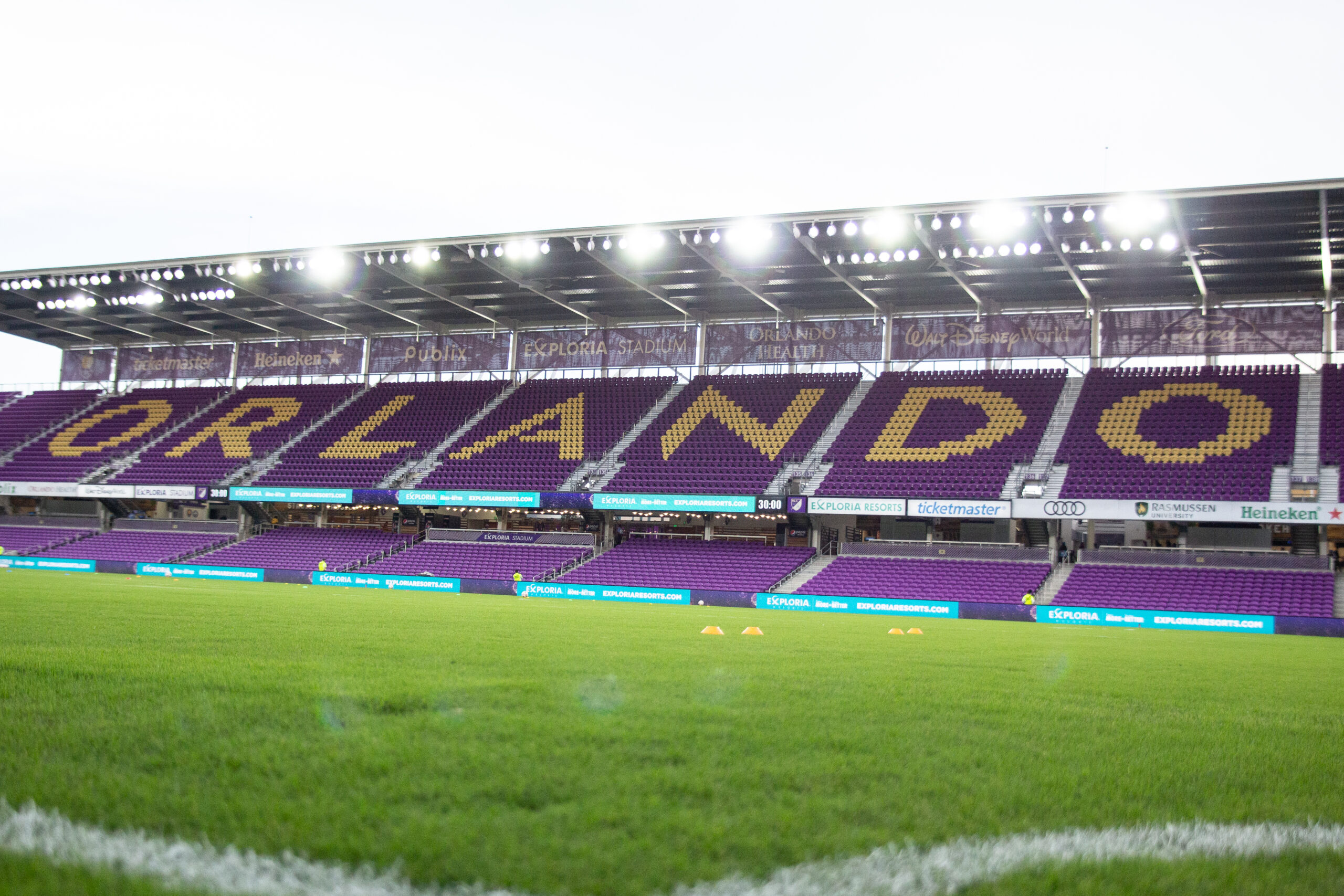 Over the past two seasons, Orlando City has created a trend of signing lower-league players that knocked the team out of the U.S. Open Cup — if two instances make a trend. Following the 2016 season, the team signed Brazilian defender PC, who scored the extra time winner for the Fort Lauderdale Strikers. Last off-season, it signed Stéfano Pinho, who had netted a hat trick against the Lions for the NASL's Miami FC.
Despite being a rookie in the country's first division, Pinho was always going to play a key role in 2018. The club drafted Chris Mueller with its first pick of the MLS SuperDraft, but it was soon obvious that he was a better fit in the midfield. That left just Dom Dwyer and Pinho as the team's two strikers.
The best word to describe Pinho's 2018 season is inconsistent. The striker started the season well, with his first MLS goal being a last-second equalizer in the first game of the season against D.C. United. However, as the season reached its midpoint, Pinho began to struggle. He did have some nice performances off the bench near the end of the year, but it would be considered a disappointing season overall.
Statistical Breakdown
Pinho took part in 23 games during the 2018 MLS season, starting five, and playing 595 minutes. Usually coming in as a sub inside the final half hour, the striker only played 90 minutes in one game. Only six of his 18 shots were on target and while he scored only two goals on the year, they were crucial ones. In the first game of the season, Pinho came on for the final 32 minutes and netted an equalizer three minutes into injury time. His second goal came in July when the Lions controversially fell to the Columbus Crew. While it wasn't a winning goal, it did give the Lions the lead in the game.
He passed at a 76.4% rate, creating only a couple of chances for his teammates. Defensively, he averaged 0.2 tackles, 0.2 interceptions, and 0.2 clearances per game, committing eight fouls while drawing five. He received no yellow or red cards on the season.
In the U.S. Open Cup, Pinho took part in all three games, starting two, and playing 193 total minutes. His best performance in the Open Cup came when the Lions traveled south to face Miami United. Playing all 90 minutes, Pinho took four shots with two on goal and scored in the team's 3-0 win.
Best Game
Pinho's best game of 2018 came on July 21 when the Lions faced the Columbus Crew in Ohio — ultimately a 3-2 loss assisted by an incorrect referee decision. In the only league game in which he played all 90 minutes, the striker played an important role in what should've been a key play in the game. The Lions took the early lead when Sacha Kljestan scored in the 16th minute, only to see Gyasi Zardes equalize in the 51st. In the 58th minute, the Lions forced a turnover deep in their own third and quickly countered.
Cristian Higuita found Yoshimar Yotún, who played it forward to Kljestan, who was making a diagonal run. The midfielder quickly played it across to Pinho and the 27-year-old one-timed it into the back of the net, giving the Lions the lead.
Unfortunately, the game turned on a poor decision in the 88th when Silviu Petrescu awarded the hosts a penalty, allowing the Crew to equalize and go on to win the game in injury time.
In addition to being the only MLS game where he played all 90 minutes and one of two in which he scored, it was also his most accurate performance. Both of Pinho's shots taken in this game were on target and one ended up in the back of the net. It was the only game of the season where the striker had more than one shot on target. He passed at only a 67% rate, but won three aerials and added a clearance on the defensive end. He received a 6.5 in our player grades piece that night.
2018 Final Grade
Pinho had stretches of the 2018 season where he was good and provided energy off the bench. He played well at the beginning of the season and again at the end of it, but struggled for many games in between. In the end, he scored just two goals in MLS play this year and had no assists. That's a difficult statistic to look past when you're one of the team's two primary strikers on the roster. For that reason, The Mane Staff gave Pinho a collective grade of 3.5 for the 2018 MLS season. We should know later this month whether the Lions are bringing him back.
2019 Outlook
As with many players, it's difficult to say whether Pinho will be back in 2019. There will likely be many changes coming as James O'Connor attempts to build the team he wants to work with. Considering the way he played in 2018 and his guaranteed compensation of $183,333 this season, it's difficult to see the 27-year-old returning for a second season in purple.
---
Previous Orlando City Season in Review Posts (Date Posted)
Orlando City vs. Inter Miami: Three Keys to Victory
Here are three things the Lions need to do in order to set themselves up for a win over Inter Miami.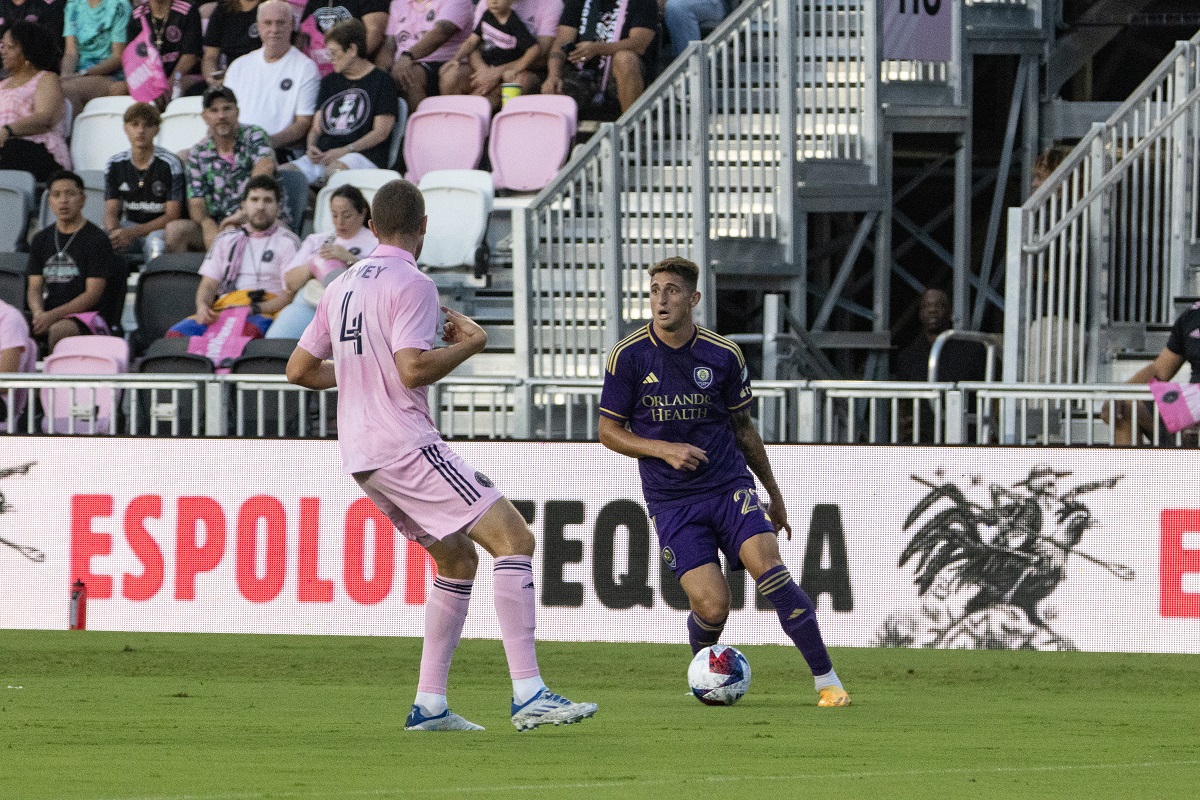 Wednesday's match didn't go the way anyone hoped it would, but now it's time to turn our attention to a Sunday matchup with Inter Miami back in the comfortable confines of Exploria Stadium. What follows are three things that I believe will go a long way toward helping the Lions emerge victorious from the Tropic Thunder derby and keeping Florida purple.
Close Down Sergio Busquets
As many headlines as Lionel Messi has rightfully been getting since joining Major League Soccer, I think Busquets is just as important to Miami's success. He remains an excellent midfielder and his ability to transition the team from defense into attack and link the two lines together is crucial. He has two assists and eight key passes in six MLS appearances and is passing with 92% accuracy —if you give him time, he will make you pay. Even if Cesar Araujo and Wilder Cartagena mark him tightly, he'll still manage to find space at times and affect the game because he's that good of a player. But the Lions cannot afford to repeatedly give him time and space to get on the ball, pick up his head, and play a pass or he'll cut OCSC to ribbons. Getting tight to him and making his life difficult won't stop him every time, but it'll make life a hell of a lot easier. As soon as Orlando loses the ball in Miami's half, someone needs to find no. 5 and close him down.
Play With an Edge, but Don't Go Over It
This is likely going to be an extremely, fast, physical and heated game. These two teams don't have any love lost for each other, and if last game is any indication, then Orlando is going to try to use its physicality to disrupt Miami from playing its brand of soccer. That's not a bad strategy, and it's one that was largely working during the aforementioned Leagues Cup match until the penalty kick call in the second half. If the Lions are going to try to repeat the tactic, then they need to play with physicality and intensity while toeing the line of what's acceptable to do during a soccer game. Going down a man isn't going to do OCSC any favors, so the boys in purple are going to have to flirt with the edge of the cliff without falling headfirst over it.
Stay Organized Defensively
We've seen some shaky defending during Orlando's last two matches. Runners in behind were a particular problem during the match against the Columbus Crew, while Wednesday's loss to NYCFC saw Talles Magno largely unmarked between two Orlando defenders to score the header that sealed the Lions' fate. OCSC will likely still be without Antonio Carlos, but the Lions are capable of much better defending than they've done during the last week and they need to show it. Even if Lionel Messi doesn't play, Miami has a whole host of guys who can hurt you in Josef Martinez, Leonardo Campana, Benjamin Cremaschi, Robert Taylor and Facundo Farias. The Lions need to be much more keyed in on defense than they have been the last two games, otherwise one or more of those guys is going to make them pay. Orlando has the firepower to put the ball in the back of the net, but it won't matter if the team is giving up multiple preventable goals at the other end of the field.
---
If the Lions execute those three things then they've got as good a chance as any of getting a result on Sunday. Vamos Orlando!
Lion Links: 9/22/23
Orlando City prepares for Inter Miami, MLS NEXT Pro Decision Day is Sunday, USWNT wins against South Africa, and much more.
Happy Friday! It's been a pretty busy week of apartment hunting and work for me, so I'm looking forward to some rest and relaxation this weekend. I don't have many plans, but I did make sure to carve out a few hours to make a drink and get some reading done. My book club is fairly low maintenance, but I'll be behind if I don't finish Fourth Wing before the second book in the series comes out in November. Let's get into today's links!
Orlando City Takes On Inter Miami This Weekend
Following a 2-0 loss on the road to New York City FC earlier this week, Orlando City will aim to bounce back when it hosts rival Inter Miami this Sunday. Orlando has a chance to set club records for the most wins and points in a season since it joined MLS in 2015. It will be the third meeting between the two clubs this season, with Orlando beating Miami 3-1 in May before falling 3-1 in the Leagues Cup's knockout stage. Although Miami will be without Lionel Messi and Jordi Alba according to Head Coach Tata Martino, the Herons still have plenty of attacking talent in the form of Sergio Busquets, Leonardo Campana, and Josef Martinez.
Orlando City B Readies for MLS NEXT Pro Decision Day
Sunday will also be the final day of the MLS NEXT Pro regular season, with nearly every team in action. Here's everything you need to know about Decision Day across the league, with playoff spots still up for grabs. Orlando City B has already clinched its spot in the postseason, but can secure fifth in the Eastern Conference when it takes on FC Cincinnati 2. However, the difference between fifth and a lower seed won't matter too much due to a new rule this year where the second and third seed in each conference choose which lower seed it wants to host in the playoffs. The Golden Boot race is competitive as well, with OCB's Jack Lynn tied at the top with New York City FC II's Matt Myers. We'll see if Lynn takes part in Sunday's match after giving the first team needed depth last weekend.
USWNT Beats South Africa in Julie Ertz's Finale
The United States Women's National Team won 3-0 against South Africa in the first of two friendlies this month. All three of the USWNT's goals came in the first half, with Lynn Williams bagging a brace. In her final USWNT game, Julie Ertz started and earned plenty of applause from the crowd at TQL Stadium when she was subbed off in the 36h minute. M.A. Vignola made her USWNT debut in the match as well, coming on at halftime. The two nations will play again on Sunday in what will be forward Megan Rapinoe's last game with the USWNT.
Europa League Group Stage Kicks Off
The first round of Europa League group stage matches is over, with all 32 teams getting things started across Europe. Brighton & Hove Albion's first Europa League match was a rough one, as the English club fell 3-2 at home against AEK Athens. The Spanish clubs also struggled, with Villarreal getting shut out 2-0 by Panathinaikos and Real Betis losing 1-0 to Rangers. Elsewhere, AS Roma beat Sheriff Tiraspol 2-1 thanks to a winner from Romelu Lukaku, Liverpool won 3-1 over Austrian club LASK after trailing early on, and Marseille drew 3-3 with Ajax in a thriller. West Ham, Atalanta, Bayer Leverkusen, and SC Freiburg also won their group openers.
Free Kicks
Enjoy the sights and sounds from the Orlando City Foundation's annual celebrity golf and footgolf tournament.
---
That's all I have for you today, Mane Landers. I hope you all have a fantastic Friday and rest of your weekend!
Orlando City vs. New York City FC: Player Grades and Man of the Match
How did your favorite Lions rate in Orlando City's 2-0 loss against NYCFC?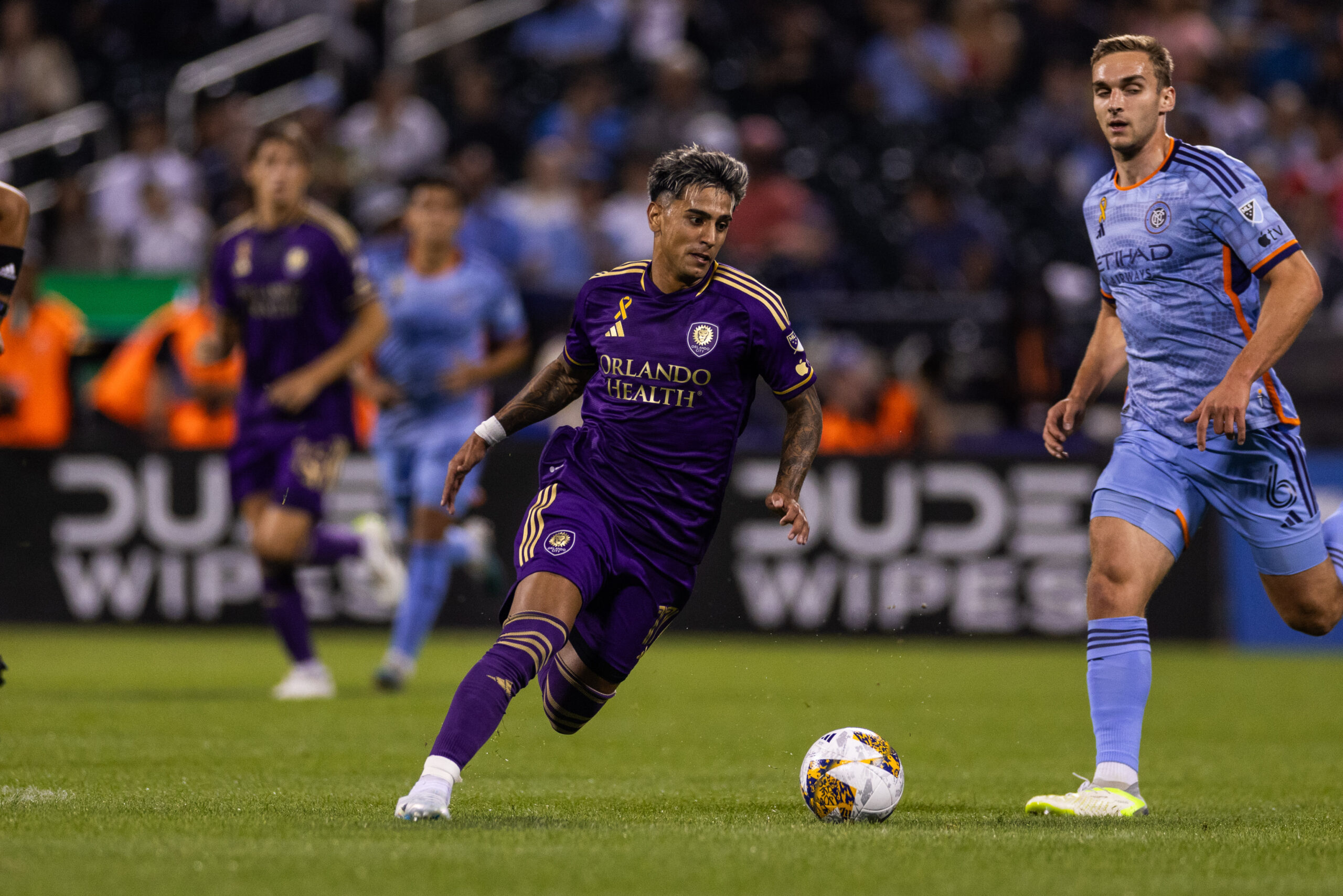 Despite Orlando City being the best road team in MLS, the club fell 2-0 to New York City FC. The Lions still officially punched their ticket into the playoffs thanks to D.C. United drawing Atlanta United elsewhere in the Eastern Conference. The Lions battled throughout the night on the baseball diamond of Citi Field but were unable to find the soccer goal. It will be a quick turnaround now as the team needs to regroup before Sunday's home match against rival Inter Miami.
Let's take a look at how Orlando City's players rated individually in the defeat.
Starters
GK, Pedro Gallese, 7.5 (MotM) — The foul in the box by by Ramiro Enrique led to Gallese needing to make a big play against Santiago Rodriguez's spot kick. Unfortunately, Gallese couldn't control the rebound on his diving save, leading to a tap-in header that he really could do nothing about. El Pulpo's services were called upon four minutes in against former teammate Andres Perea from point-blank range, and then again in the 51st and 52nd minutes when the Octopus was able to make strong-handed saves. However, in the 68th minute, a perfectly placed Talles Magno header was placed where the Peruvian couldn't make the stop. I don't think either of the goals were his fault, nor would your favorite worldbeater goalkeeper abroad have stopped them. For that, Gallese is my Man of the Match for having made five saves in total and passing at an 81.1% rate while completing six of his 11 long balls.
D, Rafael Santos, 5.5 — The left back spent much of the first 20 minutes of the match getting faked and dribbled around down the channel. He continually jumped at a feinted cross or turned his back only for his man to dribble into an even more dangerous location inside the box. For a player who has been solid over the last few matches, Santos sure did look shaky and mentally unready for his matchup. His lone shot attempt was off target. He was 2-for-2 on crossing accuracy but just one of his four long balls found their target, while his overall passing rate was a lowly 65.4%, including one key pass. Defensively, he contributed two tackles, two clearances, and a foul while being fouled once himself.
D, Robin Jansson, 6 — It isn't often that I look back on a match and can't personally think of any Jansson highlights. He was definitely out there on the pitch, but he never stepped up above and beyond the call of duty like he is known to do. He likely escaped a garbage time yellow card while berating referee Ismail Elfath, but thankfully James Sands stepped in to push the Beefy Swede away to safety. Jansson had one tackle, a clearance, and a blocked shot. He passed at 84.6%, but only two of his 11 long balls were accurate. No wonder Facundo Torres was disappointed every time a deep ball came his way, as chance after chance was uncharacteristically wasted by Jansson.
D, Rodrigo Schlegel, 4.5 — It is never a great sign in a losing match when a center back doesn't log a single tackle. It usually means they are whiffing, getting out-dribbled, or caught out of position. At times, it seems like each of those could have been the case for Schlegel in this match. Orlando might not get Antonio Carlos back this season, but if that is the case, then Schlegel has to do better, especially as he led the team with 92 touches. He was completely unaware of Magno on the second NYCFC goal and was part of a defense that fell asleep often on set pieces. He did offer one key pass, but his only shot missed the frame. He passed at an 84.5% rate, but like his counterpart, also struggled to connect on long balls. Rodri landed only three of 10 attempts. His two interceptions and two clearances might be the only things that help him save face on the night.
D/MF, Dagur Dan Thorhallsson, 6 — Dagur Dan's first dangerous look of the night came in the 22nd minute as a ball deflected out to him just outside box. The hybrid wingback whipped a curling ball just inside the six-yard box that Enrique barely missed connecting on, which would have opened the scoring on the night. From that point forward, it was much of what we have been seeing from the Icelandic midfielder. He drifts wide to defend and then slides a bit more interior on the attack. I don't hate it, but I also didn't love it on a pitch where the small size already clogs the center of the park. He only offered one clearance in his defensive statistics. Offensively, he had a key pass, a through ball, and completed two dribbles. He also passed at an 88.6% rate on 44 attempts and was one-for-two on his crosses.
MF, Cesar Araujo, 6 — At times it seems the Uruguayan goes down softly despite being a bruiser in the defensive midfield on his own. I don't necessarily hate it, as he does a great job slowing down the game at times when he rolls over, but there were a couple moments in this match where I wish he would have stood his ground and knocked the ball on forward to his teammates for a quick counter opportunity. Either way, Araujo drew a team-high four fouls yet again on the opposition. His passing was a respectable 86.8% on 53 attempts, and two of five long balls found their mark. His failure to properly mark Birk Risa on a set piece late in the game nearly cost Orlando City a third goal conceded. He made one clean tackle but also gave two fouls up. He took one shot on the night and would have done better to lay it off to a couple other Lions in the area.
MF, Wilder Cartagena, 5.5 — The Brazilian almost incited a riot on the pitch by running through a Pigeon after the whistle, but to be fair, it was a bang-bang play and he was coming in at full speed already. It didn't take long after for Cartagena to earn his yellow card. He was fouled twice but gave three total himself. He also stepped up twice to clear the ball out of danger. With his 30 touches, he passed 20 times at 85% success but neither of his two crosses found a teammate.
MF, Ivan Angulo, 6.5 — I feel bad for players with attributes like Angulo when they have to play on the baseball fields. While he has the pace and could likely steal home, it doesn't translate when you're playing soccer in a compact outfield. His biggest strength is a push-and-go into space but that just isn't available in Citi Field. Angulo did put his only shot on target when he was able to get involved in the attack. He also had one key pass in his 18 passing attempts (88.9%). Defensively, he made a pair of tackles and an interception. Angulo drew one foul.
MF, Mauricio Pereyra, 6 — The midfield maestro popped in and out of the half spaces throughout the night to distribute from one side of the pitch to the other. He led the team with three shots but not one of them was on target. With 53 touches on the ball, he was able to complete 80% of his 35 passes and one of two long balls, but he was sloppy in terms of staying on the ball too long at times, having two unstable touches and getting dispossessed twice. While it will go down in the match notes as a yellow card for persistent infringement, the referee was likely just trying to slow down a match that was beginning to get a little too chippy for his liking. The attacking midfielder put up a team-high four tackles in addition to his clearance and three fouls. Sometimes your skipper has to do the dirty work, and I'm ok with that.
MF, Facundo Torres, 6.5 — The Designated Player had a mixed bag in the first half, as his teammates seemed to miss him with their long passes. But down 1-0 at the start of the second half, Torres found a low driven cross slightly behind him just outside the six-yard box that he wasn't able to put on frame. When he was on the ball though, he completed two dribbles and made three key passes to go with his two-for-three crossing and one-for-one long ball percentages. In total, 91.4% of his 35 passes completed which isn't bad at all for only 46 total touches.
F, Ramiro Enrique, 4.5 — It wasn't just the tackle in the box that caused Enrique to give up a penalty, but it was his errant pass that he attempted to lay off to Dagur Dan first. Ultimately, both errors equated to what was NYCFC's first goal. I would like to say the poor play stopped there for him, but he blew what could have been a couple golden chances by dribbling too long and failing to see the open man to pass to. It truly is sad to see how a Player of the Matchday fell from his pedestal just days later. He was taken off after 58 minutes with just 16 touches to his name. Despite winning three aerial duels and making a clearance, his lowly 70% passing rating, missed cross, missed shot, and critical foul conceded really put a damper on his stats. If there was such an award that equates to opposite of MotM, I unfortunately have to cast it upon the MLS U22 Initiative forward.
Substitutes
MF, Martin Ojeda (59′), 6.5 — Ojeda replaced Cartagena as Orlando City had fallen behind by a goal and the Lions needed to create more offensive chances. While he did create one key pass, the Designated Player only found himself on the ball 22 times in his late minutes. He completed 66.7% of his 12 passes and completed his only long ball attempt, but was one-for-six with his crossing and didn't attempt a shot. Defensively, Ojeda had one tackle and an interception.
D, Luca Petrasso (59′), 5.5 — The Canadian came on and just under 10 minutes later lost a 50-50 aerial battle in the channel which became a crossed ball to Magno that was headed in for the Pigeons second goal of the match. Petrasso took one shot that was blocked, but he had Torres standing right next to him, who would have been the better option. While he lost the only aerial that really mattered, he did win one of his own though, to go along with two tackles and a clearance. He missed his long ball and cross attempts but landed 88.9% of his 18 passes.
F, Duncan McGuire (59′), 5 — Big Dunc is back, but the Big Dunc Energy was not. With only six touches and no shots across more than half an hour, the striker should be disappointed with his impact. His only stats contributed were a successful long ball and an 83.3% success rate on just six passing attempts.
D, Michael Halliday (80′), N/A — The Homegrown right back came on to provide some late fresh legs while the Lions attempted to come from behind. It was a little too late for Halliday to make a real impact on his own. In his time, he managed 15 touches, won an aerial, passed at a 75% rate, and recorded a clearance.
MF, Gastón González (80′), N/A — The Argentinian winger made his return to the pitch after a lengthy injury period to garner a few minutes and get his legs back under him. His only shot was on target, which is hopefully a great sign for the future. He had seven total touches, completing both of his passes, but missed his only cross. He also gave up one foul.
---
That's how I saw the individual performances on Wednesday night as Orlando City fell to expansion rival NYCFC. What did I get right/wrong in your view? Be sure to vote for your Man of the Match in our poll below and provide your thoughts in the comments section.