Orlando City vs. D.C. United: Final Score 2-1 as Lions Remain Winless at Home
Set piece defending did the Lions in against the league leaders.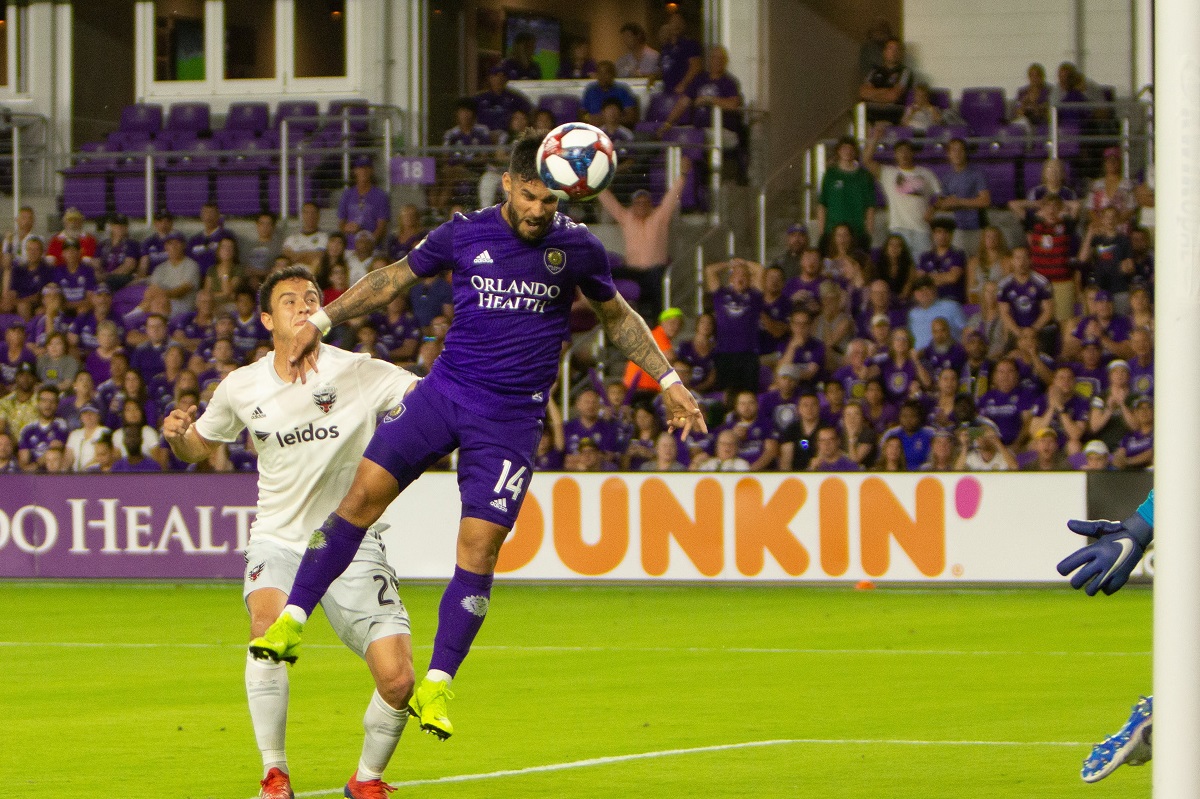 Orlando City couldn't rally from a 2-0 hole and eventually saw its comeback attempt fall short in a 2-1 home loss to league-leading D.C. United. The Lions conceded twice on set pieces in the first half and simply couldn't convert enough chances to come from behind in front of 22,481 fans at Orlando City Stadium.
D.C. United (3-0-1, 10 points) won on the road at Orlando (1-2-2, 5 points) for the first time since 2015, snapping the Lions' 3-0-1 home streak against the Black and Red. Dom Dwyer pulled a goal back in the second half and City had plenty of good scoring chances to equalize but just couldn't put a second past Bill Hamid.
The game hinged on two set pieces and each had its share of controversy, although the second was by far the more questionable and it left Head Coach James O'Connor livid in his post-game press conference. Normally someone who downplays questions about officiating, O'Connor was visibly upset about the second goal in particular and it was clear that several of the controversial calls from last year are still on the coach's mind.
"Since I've been here we've had it in game after game — Columbus away last year, D.C. had an incident, New York at the start of this year," he said pounding the table in his postgame press conference. "How many more times? The players go out and give an incredible second-half performance — absolutely incredible — and yet we come off and we lose the game again through no fault of our own. How many more times?
"So for me, when I look at it, it's like yeah we've got VAR, but why bother? They don't even look. And you look at it and the whole stadium can see. It's mind boggling stuff."
O'Connor made only two changes from the starting lineup that won at New York last Saturday, inserting Lamine Sané in for the injured Alex De John and Dwyer for rookie Santiago Patino.
Before some fans had found their seats, the visitors were up 1-0. Robin Jansson was called for a handball out near the sideline on a wicked hard cross attempt that caught his arm on the way in. You know Orlando's history with handball calls, so you can guess what happened next. D.C. scored on the ensuing free kick as Ruan was overmatched trying to defend Steve Birnbaum, who headed in the Wayne Rooney cross from point-blank range in the sixth minute.
"When you look at the first set piece, we've fallen asleep on the set piece," O'Connor said.
Orlando City should have equalized almost immediately. Dwyer's cross found a wide-open Nani in the eighth minute but the Portuguese star sent his thunderous header over the bar from less than 10 yards out, squandering an excellent scoring opportunity.
Nani got another header chance in the 17th minute off a corner kick but he sent the attempt straight at goalkeeper Bill Hamid.
D.C. doubled the lead in the 30th minute after a challenge in the corner gave United a free kick. Dwyer had gone out to hound Rooney and swiped at the ball with his right foot. Despite not making contact, Rooney immediately appealed to referee Armando Villarreal and was awarded a free kick.
After the match, Villarreal answered the pool reporter's written questions about the foul and stated that he viewed Dwyer's action as an attempt to kick Rooney — not the ball — and awarded the free kick. Although contact isn't strictly required for a foul to be given, Villarreal avoided the question of whether he saw any contact by petulantly replying "see above answer."
Rooney himself said Dwyer didn't make contact with him on the play that led to the goal but he agreed with the referee's decision of intent.
"I seen him coming and I got out the way because if I didn't it could've been a serious injury and again, as the referee said, it's intent," Rooney said. "I'm not stupid enough to stand in there and let him take my knee off. I got out the way. By the way he come into the tackle he's forced me to lose control of the ball, which is a free kick."
Rooney set the ball several yards from where the foul was committed — near the corner at the sideline — and actually started his run-up from where the foul occurred, giving himself a little more leverage and a better angle on his delivery, then sent his free kick sailing directly into the net at the back post while Frederic Brillant bowled over Brian Rowe. Rowe would likely not have reached that ball regardless, but you still aren't allowed to smash into the goalkeeper. Villarreal appeared to discuss the play with the VAR, but the play did not get reviewed.
"I think when you look at the second set piece, it's embarrassing, really at this stage. I'm at a stage now when players need to be protected because when you look at the foul on Brian Rowe is so obvious. It goes to VAR. Everybody can see it. And for some reason we don't…what's the point of having VAR? He didn't even go and look at it. Yet everyone can see that it's a foul."
"It's unbelievable to be honest," Dwyer said about the foul call that led to the goal. "After all the hard work we put in tonight, it's sad we have to look back and that's one of the turning points. I thought maybe having VAR would help the referees but it seems to be doing the opposite."
The Lions had the last decent scoring chance of the half when Nani stepped into a shot in first-half stoppage time, but he sent his bullet right at Hamid, and the teams went to the break with the visitors holding a 2-0 lead.
Orlando out-shot D.C. 7-2 in the first half (3-2 on target) and held more of the possession (55%-45%). The visitors were slightly more accurate passers (82%-81%) in the opening half.
The Lions came out more aggressive in the second half, pushing more numbers up the field and just accepting that the occasional counter was the price to pay for trying to claw back into the game. D.C. got the first good opportunity of the second half. Luciano Acosta blasted a shot from above the box that Rowe tipped over the bar in the 49th minute.
From that point on, the game was almost all one-way traffic the other direction. Two minutes after Acosta's chance, Dwyer sent a ball past Hamid that rolled agonizingly close to the back post but missed just wide. Joao Moutinho — who had a fantastic game at left wingback for City — was too far away to get there before it bounced out for a goal kick. A minute later, Moutinho fizzed a wicked cross through the area that was only an inch or two out of Dwyer's reach. Moutinho's attacks continued in the 54th minute with a cross/shot that floated over Hamid and just missed the upper 90 on the right side of goal.
D.C. should have put the game away in the 57th minute off a turnover but Junior Moreno hit the right post on a shot from just inside the top of the box. The ball deflected harmlessly out for a goal kick.
Two minutes later, O'Connor sent Chris Mueller and Sebas Mendez into the game and withdrew Sacha Kljestan and Uri Rosell, and it gave the Lions a big lift. Four minutes after the switch, Mueller took a pass from Nani and drove to the end line to the right of goal, then sent an inch-perfect pass across the six-yard box for Dwyer to head past Hamid, making it 2-1 in the 63rd minute. It was the first goal conceded by D.C. United this season.
"It was fantastic," Dwyer said of the buildup to the goal. "I think Nani was great all game. Chris brought a tremendous amount of energy when he came on the field. He's grown every single game. It was a fantastic ball in from him and I've just got to put it away and it was pretty simple."
Orlando pushed hard for the equalizer, with Ruan getting his cross knocked out for a corner just a minute after Dwyer's goal. The cloud of purple smoke had not yet cleared when Dwyer got a chance in the 65th minute, but he missed the net and all he could do was grab his head in dismay.
From there it was just more near misses the rest of the way. Mueller sent a shot wide in the 75th minute, cutting in from the right. Hamid fought off a Dwyer long-range shot in the 83rd. Jansson shot just wide off a corner kick that somehow landed in the box at his feet. Mueller capped it off with a stoppage-time shot off the left post and a shot just wide in the 93rd minute.
Orlando players collapsed after the final whistle, having done all they could to fight back and take something from the game, but in the end they just weren't clinical enough in front of goal and they didn't defend those first-half set pieces well enough.
The Lions out-shot D.C. 16-4 (5-3 on target) and out-possessed the visitors (54%-46%), also holding the edge in passing accuracy (78%-77%). But United leave with three huge points and Orlando is still looking for a home win in 2019 (0-1-2).
"I thought we had a fantastic performance. It's a shame that the referees keep making a difference," Dwyer said. "We're upbeat. The group sees a lot of positives from tonight. We played very well. I think we had a lot of chances and we concede off two set pieces. That's just how it goes. We've got to defend them a little bit better but there's a lot of positives to take tonight."
Lost in the shuffle was rookie Benji Michel making his debut, coming on for Nani, who appeared to come off complaining about his leg. He didn't make much impact though, managing only six touches in his 12+ minutes.
---
Orlando City will again go for its first home win of 2019 on Saturday night when the Colorado Rapids come to town.
Lion Links: 6/6/23
Lions earn weekly honors, OCSC headed in the right direction, Kylie Strom lands on NWSL Best XI of May, and more.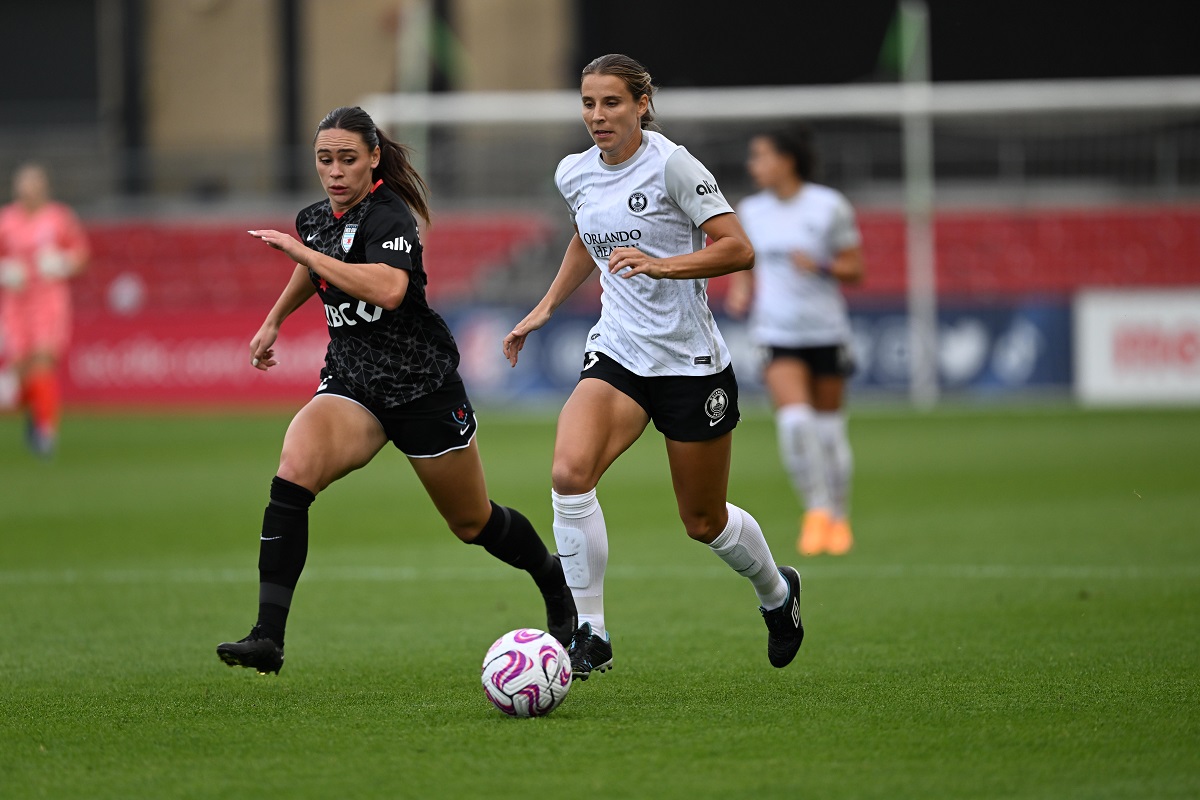 Happy Tuesday, everyone. I got absolutely clattered during my Sunday league game over the weekend, and I've been hobbling around ever since. Fortunately, my fingers still work just fine, because there are plenty of things to talk through this morning. Let's get after it.
Lions Earn Weekly Honors
Orlando was well represented on the MLS Team of the Matchday following a 3-0 victory over the New York Red Bulls Saturday night. Facundo Torres and Ivan Angulo were both named to the starting lineup, while Oscar Pareja was given the nod as head coach. Torres scored two goals and Angulo recorded a goal and an assist in the victory. Dave Rohe gave Torres a 7.5 and Angulo an 8, along with the Man of the Match award, in our player grades. It was nice to see other people take notice of the performances they put in. Keep up the good work, fellas!
OCSC Heading in the Right Direction
Orlando City got the complete performance that it's been looking for in recent weeks, and Oscar Pareja is very pleased with what he saw from his team. He went out of his way to highlight the fact that the Lions stayed vigilant and didn't relax and give up a goal as the game went on, something that's been a problem at times this year. While Pareja said that things aren't perfect yet, he and Torres were both of the opinion that the team is playing better lately, and Torres said that Saturday was OCSC's best performance of the season.
Kylie Strom Earns Monthly Plaudits
Orlando Pride defender Kylie Strom has been named to the NWSL Best XI for the month of May. Strom started in each of the Pride's four matches during May and went the full 90 minutes in all but one of them. She helped anchor a back line that only gave up two goals during those four games, but the highlight of her month came during the team's home game against the Washington Spirit. Strom scored the winning goal in the second half as the Pride handed the Spirit their first loss of the season. Here's hoping she continues the good form!
Fines and Bans Proposed for Vinicius' Abusers
The four men accused of hanging an effigy of Vinicius Jr. from a bridge are set to have hefty punishments levied against them. Spain's anti-violence commission has proposed fines of €60,001 and two-year stadium bans as a result of their actions. Additionally, the three men accused of racially abusing the Brazilian winger during a match against Valencia may be given fines and a one-year stadium ban as well. All seven were arrested and, although they've been released, could still face criminal charges, although that would be unprecedented. The Real Madrid player has suffered repeated instances of racial abuse since arriving in Spain. Hopefully the punishments will do something to deter the ugly incidents from occurring.
Free Kicks
Orlando City has picked up more points on the road than any other team in the Eastern Conference.
---
That's all for me today. Y'all stay safe out there.
Lion Links: 6/5/23
Torres could be turning the corner, lights go out on OCB, U-20 USMNT knocked out of World Cup, and more.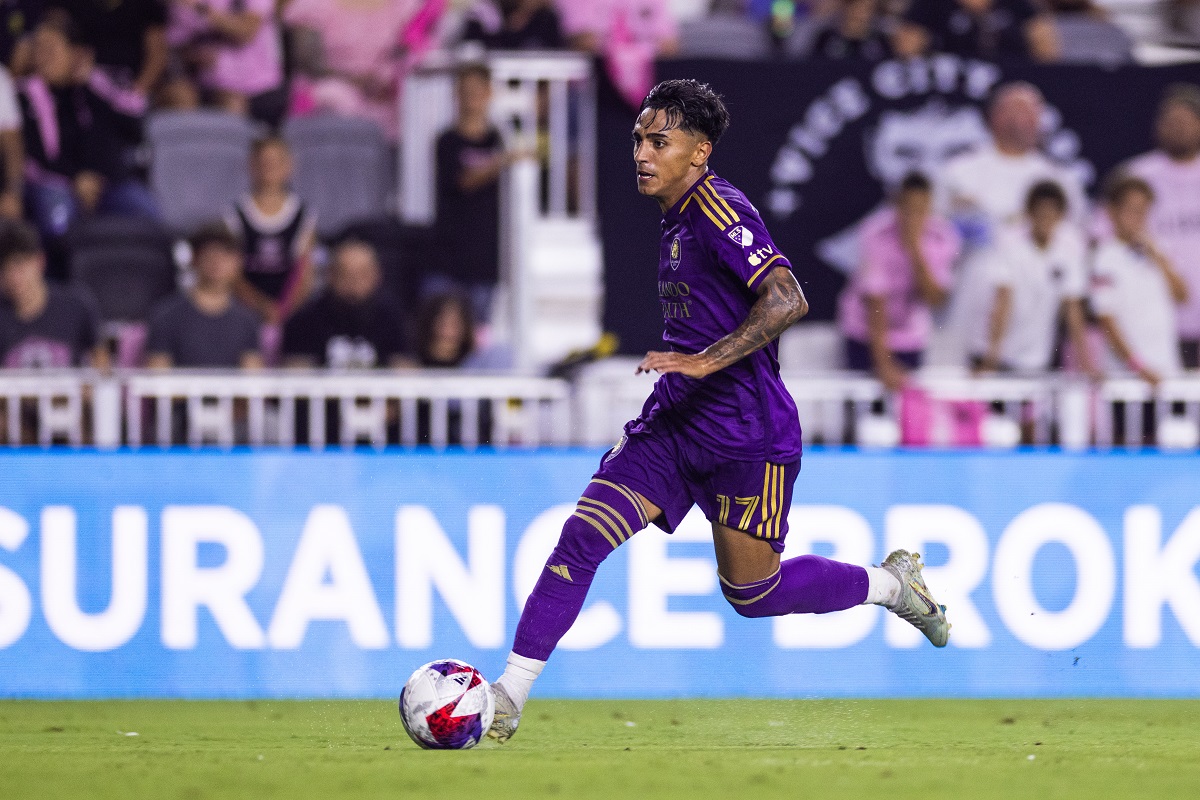 Merry Monday morning, Mane Landers. It was quite the packed weekend of soccer, so I won't blame you if you're a little tired starting out your week. Orlando City's victory over the New York Red Bulls was certainly the highlight, and I hope the Lions' form continues next weekend when I come down to Exploria Stadium for the match against the Colorado Rapids. Let's get to the links.
Torres Could Be Turning a Corner
Facundo Torres scored a brace in the match against the New York City Red Bulls on Saturday night, and perhaps it is the type of performance that will kick his season into gear. We saw the same thing last season, as Torres started slowly but came on in the second half of the season. Hopefully, Saturday's match serves as notice he is about to do the same in 2023.
Torres' two goals doubled his production on the season, with three of the four goals coming against the Red Bulls, and two of them on penalty kicks. Orlando City has desperately needed Torres to find his form. His performance earned him a nomination for MLS Player of the Matchday, so vote early and vote often.
Toronto FC II Turns Lights Out on OCB
OCB traveled to the Great White North to take on Toronto FC II at York Lions Stadium in Toronto, Ontario. It was a difficult night for the Young Lions as Toronto took an early lead and then doubled it before the end of the half. Mason Stajduhar made the start for OCB since Javier Otero was on international duty with Venezuela, but he was unable to help OCB, as the team in front of him played poorly.
After Toronto scored the third goal of the match to go up 3-0, the lights in the stadium went out, much like the hopes of any chance at a comeback for the Young Lions. It was supposed to be a short delay, but that was not the case. Ultimately, lights or no lights it was a night to forget for OCB. The lights never came back on and the match was abandoned and ruled a 3-0 final due to a local curfew. Sean Rollins has your partial match recap.
U-20 USMNT Crashes Out of the U-20 World Cup
The U-20 USMNT team lost 2-0 to Uruguay in the quarterfinal match of the FIFA U-20 World Cup, continuing a trend of the U.S. bowing out in the same round. Heading into the match, the U.S. hadn't given up a goal in the competition. That all changed in the 21st minute, when Uruguay's Anderson Duarte scored to put his side up early. The U.S. didn't help their cause in the second half thanks to an own goal by Joshua Wynder. Even when the U.S. started to get chances on goal, they would be blocked by their own teammates or take a bounce the wrong way. It was as if all the good luck and quality the team played with to get to the quarterfinal was turned against them. It was fun while it lasted.
U-20 USWNT Falls to Mexico in Concacaf Final
Two days after qualifying for the U-20 Women's World Cup, thanks to a 2-1 win over Costa Rica, the U-20 USWNT lost to Mexico in the Concacaf U-20 Women's Championship match by the same 2-1 score. Both teams left it late, with Mailin Orozco starting the scoring for Mexico and Onyeka Gamero equalizing for the U.S. A bit of poor defending allowed Mexico to get the game winning goal from Fatima Servin in the 87th minute.
Free Kicks
The U-16 Men's Youth National Team closed out the 2023 International Dream Cup with a 2-1 win over the U-16 Nigeria Youth National Team. Orlando City academy goalkeeper Zackory Campagnolo got the start for the U.S.
Former Lion Cyle Larin's Real Valladolid were relegated to La Liga 2 thanks to a final day 0-0 draw with Getafe. Larin Lead Real Valladolid with seven goals on the season in only 13 appearances.
LAFC took on Leon in the second leg of the Concacaf Champions League final Sunday night. Leon came into the match up 2-1 on aggregate and won the 2023 Concacaf Champions League.
During the Concacaf Champions League match, Aaron Long attempted a header for LAFC and had to be subbed off due to concussion protocols. It's a good example of why the protocols are in place.
Israel shocked Brazil, defeating the favorites 3-2 in the quarterfinal of the U-20 World Cup. This is Israel's first appearance at the competition and the team will now face Uruguay in the semifinals.
There were much bigger names in the $1 million, 7v7 The Soccer Tournament, but in the end it was Newtown Pride that captured the prize, outlasting teams like Wrexham AFC and a team made up of former USWNT players (which lost to Wrexham, 12-0). The club, which beat SLC FC in the final, will donate a portion of their winnings to Sandy Hook Elementary School charities.
Folarin Balogun scored in his final match for Reims in Ligue 1 and is now looking forward to a call-up to the USMNT at the Nations League competition.
---
That will do it for today. If you make it either the Orlando City or Orlando Pride match this weekend, I hope to see you. Please say hello.
Orlando City at New York Red Bulls: Player Grades and Man of the Match
How did your favorite Lions perform in Orlando City's 3-0 victory over the Red Bulls?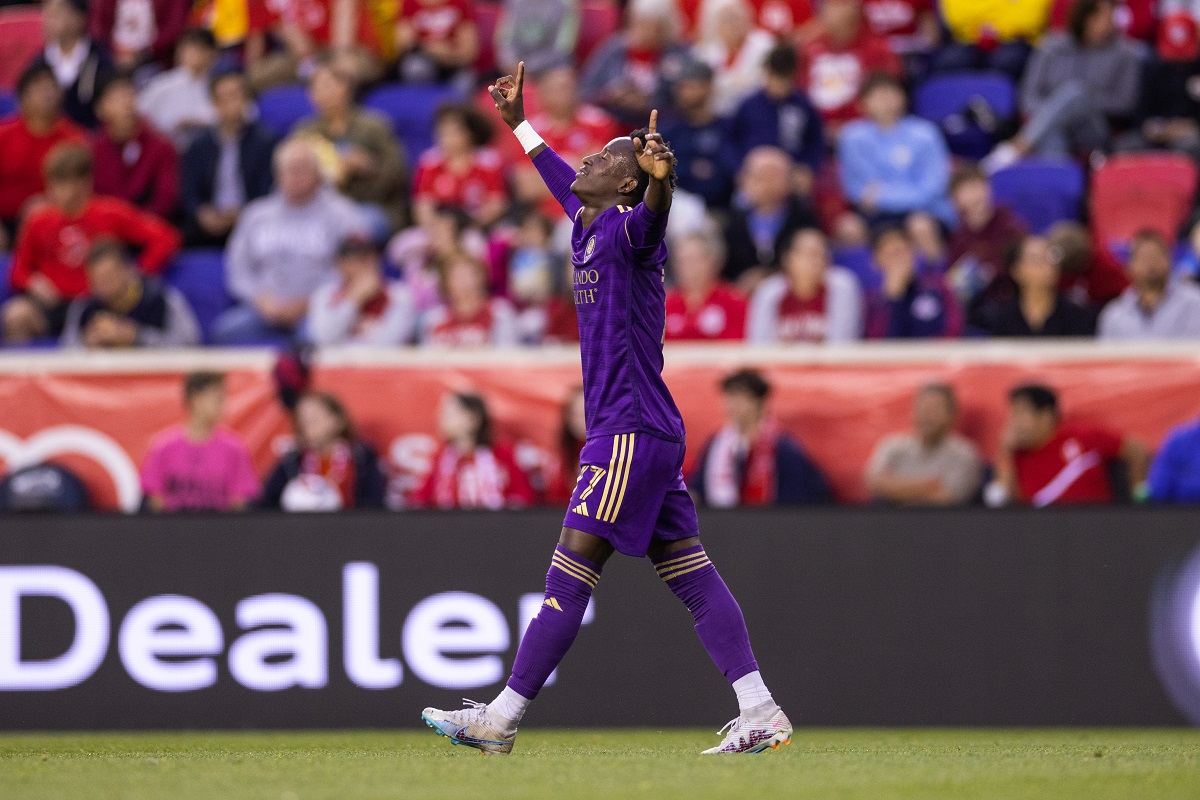 Orlando City went back on the road with a trip to Harrison, NJ, to take on the New York Red Bulls. The Lions were able to take advantage of their chances to secure all three points on the road with a 3-0 win over their Eastern Conference foes. Here is how each Lion performed as Orlando City swept the Red Bulls in the regular season.
Starters
GK, Pedro Gallese, 6.5  — Despite some sketchy moments, Gallese was able to keep his fourth clean sheet of the season, and his second against the Red Bulls. The scary moments started early, when Gallese came out for a 50/50 ball in the 12th minute but was beaten to it and caught out of goal. Fortunately, his defense was able to help him recover. He also nearly gave away the ball in the 85th minute, when he was slow to pass and was closed down by Elias Manoel. The New York forward blocked the pass, but it went out for a goal kick. Gallese took an awkward foul from Dylan Nealis in the 82nd minute, but was able to carry on. His distribution wasn't as good as usual, with a 68.8 % passing rate on 32 passes. He was accurate on seven of his 16 long balls. He also won one aerial and made one clearance. It wasn't a bad night for El Pulpo, but I hold him to a higher standard, despite the clean sheet.
D, Rafael Santos, 6 — With Halliday on international duty and Kyle Smith starting on the right, Santos got his third straight start of the season. I don't know that he's had enough time to properly settle in, but he didn't play poorly. Santos passed at a 59.5% on 42 passes, which isn't good enough, but it was his first real taste of the Red Bulls' pressure. He was only successful on two of his eight long balls. Defensively, he was a bit better, with three tackles, three interceptions, and two clearances. He committed two fouls, one of which earned him a yellow card.
D, Robin Jansson, 7  — Jansson was good if not perfect on defense. The bad was a foul on Luquinhas just inches outside of the box in the 32nd minute, resulting in a dangerous free kick. Fortunately, the resulting free kick went into the wall and was recycled until it went out for a goal kick. It was one of two fouls committed by the Beefy Swede, with the other being unnecessary contact with the goalkeeper on a set piece, for which he was booked. Defensively, he made one interception, two clearances, and blocked three shots, including one from Lewis Morgan that probably would have gone in without his intervention. He had an 80% passing rate on 50 passes, but only completed one of his seven long balls. Offensively, he had one dribble, and suffered three fouls, including one in which he was pulled down by Sean Nealis in the 49th minute, earning the penalty for Orlando City that Facundo Torres buried in the back of the net.
D, Antonio Carlos, 6.5 — Carlos seemed slightly off on the night, though it never came back to hurt Orlando City. He was beaten in the 14th minute trying to play out of the back, resulting in a corner for the Red Bulls. However, he cleared the ensuing corner kick. He made a bad pass in the 26th minute that simply went out of bounds rather than to a teammate, and he had a poorly taken free kick in the 37th minute to the opposition. However, defensively he had one interception, two clearances, and one blocked shot. Fortunately, he did not commit any fouls or receive a yellow card, because if he had, he would miss the next match due to accumulation. Offensively, he had one dribble, and suffered one foul. He passed at an 84.6% rate on 52 passes and was successful on six of 12 long balls.
D, Kyle Smith, 6 — Smith had a difficult assignment in dealing with John Tolkin on his side of the field. He managed one tackle, two clearances, and one blocked shot, while committing two fouls. Unlike last week, he wasn't able to score on a goal from the right despite being put in a good position by Facundo Torres in the 42nd minute. He should have done better with a shot that went wide left. He had an 84.2% passing rate on 38 passes and was successful on three of his four long balls before coming off for Dagur Dan Thorhallsson in the 83rd minute.
MF, Mauricio Pereyra, 5.5 — Like Carlos, Pereyra wasn't his usual sharp self, passing at just a 57.1% rate on 21 passes and completing no long balls. His pass to Kara in the box in the 16th minute could have sent the striker in on goal, but it was behind the Austrian. His free kick at the end of first-half stoppage time was too long and led to Jansson's yellow as the defender tripped the keeper. Offensively, the captain completed one dribble, suffered one foul, and was dispossessed once. He was subbed off in the 62nd minute for Martin Ojeda.
MF, Cesar Araujo, 6.5 — Araujo seemed to have gotten the message that he won't get the foul if he drops at the slightest touch. He did successfully earn one foul, but it was deserved. Defensively, he made one tackle, one clearance, and had one blocked shot. He passed at an 82.8% rate on 29 passes and completed five of his six long balls. Unfortunately he was subbed off in the 56th minute due to an injury for Felipe Martins.
MF, Wilder Cartagena, 7.5 — The Peruvian midfielder had himself a night, earning an assist on Ivan Angulo's goal to open the scoring for the Lions. His perfectly weighted through ball put Angulo in on goal in the 18th minute. He passed at an 84.1% rate on 44 passes, was successful on four of seven long balls, and had the key pass mentioned above. He committed three fouls, including one on Cory Burke in the 20th minute to give New York a free kick, but it didn't matter. He also made nine tackles and one clearance. Overall, a very good night from Cartagena, who does a lot of the unsung work to break up the opposition's attack.
MF, Ivan Angulo, 8 (MotM) — There have been times when Angulo tries to do too much when taking on an opposing player. That wasn't the case in the 18th minute, when he took the through ball from Cartagena, juked Dylan Nealis and sent the ball past Carlos Coronel to give Orlando City the early leave. That was one of his two shots — both of which were on target. The other shot was deflected for a corner in the 65th minute. It was his breakaway run up the left side of the pitch in the 73rd minute that gave him his assist on Facundo Torres' second goal. Out-running Frankie Amaya, the speedy Angulo drew defenders to him before passing the ball over to Torres for the third goal of the match. It was a good finish by Torres, but Angulo did most of the work to make it happen. He passed at an 85.7% rate on 21 passes with the obvious key pass and completed three successful dribbles. He also suffered two fouls, committed three fouls, made two tackles, and recorded one interception. With a goal and an assist, Angulo gets Man of the Match.
MF, Facundo Torres, 7.5 — Might this be the match that lights Torres up for the remainder of the season? I'm certain that is what was going through the minds of many as he stepped up to take the penalty kick in the 52nd minute. Torres converted the penalty kick with a perfectly placed shot into the upper right corner past Coronel, despite the keeper guessing correctly. He then made the run with Angulo in the 72nd minute and was perfectly positioned to get his second goal of the match, giving the Lions a certain victory. He wasn't done yet, as he had another chance in the 77th minute, but it was blocked out for a corner. Torres passed at an 84.6% rate on 26 passes. He had three crosses, one key pass, and was successful on his only long ball. One of his underrated contributions was a nice move to push the ball past Andres Reyes in first-half stoppage time. Torres would have been in position to start a dangerous counter but Reyes fouled him hard. The play was reviewed as a possible red card, and even though Victor Rivas did not change the initial ruling of a yellow card, the play contributed to Reyes being sent off just after halftime.
F, Ercan Kara, 5.5 — The Austrian wasn't able to have as much impact on this game as he has in recent weeks against one of the league's best defenses, but his positioning was good. His best scoring chance went wanting when Pereyra played the final pass behind him. His biggest contribution was when he showed a good combination of skill and strength to bring down an aerial ball and fend off Reyes, who committed a tactical foul for a second yellow card and was sent off. Reyes has been New York's biggest surprise this season with his aerial presence on both ends of the pitch and the Red Bulls missed him for the final 43 minutes, plus stoppage time. Kara didn't record a shot or a key pass, passing at a 64.3% rate. He led all Lions with three aerials won and drew two fouls. However, he was dispossessed once and had four unstable touches trying to hold up play against New York's swarming defense. On the defensive end, Kara contributed one clearance. He also committed one foul. He came off for Duncan McGuire in the 63rd minute.
Substitutes
MF, Felipe (57'), 6.5 — The Brazilian came on for the injured Araujo against his former team and proceeded to be his usual disruptive self, making one interception, blocking a shot, and committing one foul. He was impressive in the passing game, with a 95.7% rate on 23 passes, including a successful long ball. He committed one foul that earned him a yellow card.
MF, Martin Ojeda (62′), 6 — Ojeda came on for Pereyra to bring some more energy to the midfield. He did that. He attempted one shot, but hit it into the ground and it bounced high. To be fair, it was a difficult attempt as the ball was bouncing when he took the shot. He also put in two crosses (one successful) and passed at a 90.9% rate on his 11 passes, including one key pass, playing a ball into space for Angulo to run onto, leading to the third Orlando goal. As a result, he got a secondary assist on the play. Defensively, he contributed one tackle, one interception, and one clearance.
F, Duncan McGuire (63′), 6 — McGuire wasn't able to get a goal contribution, though it wasn't from lack of effort. The rookie took one shot, which was on target, had a key pass, and completed two dribbles, and his hold-up play was good. He did all of that while only touching the ball nine times. He passed at a 50% rate on four passes. It might not seem like much, but he helped Orlando see out the win.
D, Dagur Dan Thorhallsson (84′), N/A — Dagur Dan came on for Smith to play right back since he is the other Swiss Army Knife for Oscar Pareja. He wasn't in long enough for a grade, but did manage six touches, and won an aerial.
MF, Ramiro Enrique (84′), N/A — Enrique came on for Cartegena but only managed 12 touches, committed one foul, and suffered one foul. Like McGuire, Enrique wasn't in long enough to earn a grade.
---
That's how I saw each performance from the Lions in their 3-0 win over the New York Red Bulls. This match was an example of what can happen when the Lions take advantage of limited chances. Who was your Man of the Match? Make sure to vote in our poll and let us know what you think in the comments.