Orlando City vs. Toronto FC: Player Grades and Man of the Match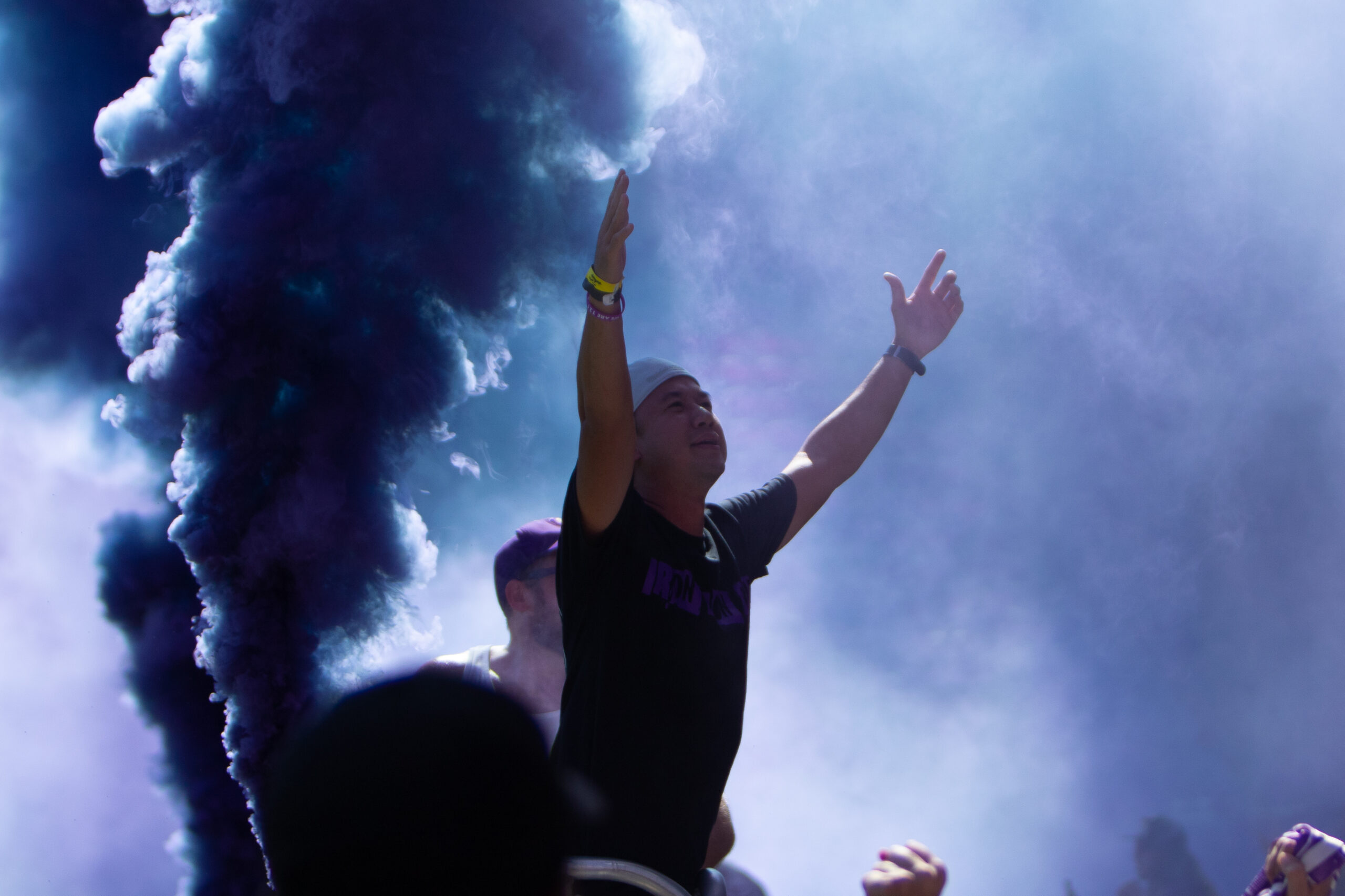 Grading the guys after a 2-0 loss isn't quite as exciting as when they win or draw. I know my whole thing is "silver linings" and all, but this is going to be tough. What is the black cloud that hangs over us? I mean, other than the literal black clouds during warm-ups that almost led me to believe we'd see some lightning delays. I don't like this; I don't like this at all. Here's how they performed in my eyes:
Starters
GK, Brian Rowe, 6.5 — The keeper had his work cut out for him this match and did well to defend the fortress again and again. Rowe kept the score at 0-0 beyond halftime and extended himself to make some pretty amazing saves. Right as the words, "He might be my Man of the Match" came out of my mouth, Toronto scored. So there's that.  I don't think he's entirely to blame though. Everyone seemed to fall to pieces in the second half. He might have done better on the second goal but there wasn't much he could do on the first.
D, João Moutinho, 5 — Otherwise known as the corner shot creator. No? That's not his nickname? It could be. Moutinho's defending looked much better this week and we saw a tackle and two clearances from him. His pass rate was at 78% and once Chris Mueller came on his hustle seemed to have been reignited and we saw the pair work together nicely. Not a fabulous match from him but not terrible, though he was culpable on a couple balls over the top.
D, Robin Jansson, 6 — How exciting would it have been if Jansson's shot in the 36th minute went in? Of course, it didn't because, OCSC. The man is non-stop though. He gave his team three clearances, an interception, and a 91% passing average over 43 passes. He proves time and again that he is here to try and make the difference for Orlando City's back line. 
D, Lamine Sané, 5 — Sané saw one tackle and two clearances, a shot and a key pass (on Jansson's shot attempt that was headed off the crossbar by Chris Mavinga). In his 47 passes, he led the team with the most accurate passing rate, connecting 92% of the time. But it was in the 65th minute when Jonathan Osorio beat everyone — including Sané — in a series of unfortunate events, to score. 
D, Ruan, 4.5 — Off to an exciting match, we saw Ruan earn a corner after some fancy footwork, almost taunting the Toronto defenders. It was his unfortunate attempt to win the ball in the air before Toronto's goal in the 65th minute when he pulled up short and allowed the Reds the space they needed that really stung. He kept his passing accuracy at 82% and had a tackle and an interception. He went down in the second half with an apparent leg injury but soon rejoined the team. The man is nothing if not a fan favorite, but he may need a bit of a rest. 
MF, Will Johnson, 6.5 (MotM)— Will Johnson had another great match. He didn't slow down for even a second, even if he made a few mistakes, he had the shot on goal in the 30th minute when Tesho Akindele sent him a pass and Quentin Westberg was in perfect position to make the save to keep Orlando City off the board. His passing accuracy was at 88% and we saw a tackle and an interception from the midfielder. 
MF, Uri Rosell, 5 — With a volley off a corner in the 28th minute of the match, Rosell's shot was deflected, earning another corner. Nani sent the corner right to Rosell who shot the ball way over the net. Our previous Man of the Match didn't have quite the amazing game he did last week, but his pass accuracy at 84% helped keep the midfield in check, somewhat. 
MF, Sebas Méndez, 4 — Méndez saw an 83% passing average, a tackle, and two interceptions. Other than that, he really didn't seem to make an impact on the match at all, which was surprising to me. He's usually so exciting to watch. 
F, Nani, 4 — A wildly disappointing match from Nani. He had three shots, zero of which were on target. Watching the game in person, it really felt like his passing average was much lower than 74%. He tended to slow the pace of play to toy with defenders and then lost the ball repeatedly. I'm sure the man's exhausted, and I realize that one man does not make a team, but he usually makes the difference for the Lions. Today, not so much. Leading the team in touches (76), he really did nothing to make those touches worth it. 
F, Tesho Akindele, 4 — I almost forgot he played. The forward was out there with a 65% passing accuracy and that's really about it. And as Forrest Gump would say, "That's all I have to say about that."
F, Dom Dwyer, 4.5 —  I mean, bicycle kicks are always fun to witness, and he definitely seemed a bit more confident out there than he has most of this season. If "Dom 'Effin Dwyer" scores when he wants, I'm really going to need him to want to soon. Only one of his five shots were on target, he was dispossessed three times, and his 12 passes saw only 75% accuracy. I'm certainly of the belief that Dwyer's mojo will return and he'll be doing backflips again — as it nearly did in the 89th minute if not for a great save by Westberg. I just hope it's soon. 
Substitutes
Sacha Kljestan (73'), 4.5 — Everyone definitely sat up in their seats when Sacha took a shot in the 80th minute, only for it to go wide. In his 17 minutes on the pitch he saw the aforementioned shot, a tackle, and 69% pass accuracy over 16 passes. He came on for Johnson, but I'm left wondering a bit, why?
F, Chris Mueller (71'), 4.5 — Ask and you shall receive. Almost as soon as the crowd started the "We want Mueller" chant, the kid was suiting up. He took a shot and connected on eight of his 10 passes. As previously mentioned, he and Moutinho really seem to bring out the highest levels of energy in each other. Hopefully we get to see that connect to make something happen. Soon. 
Josue Colman (78'), 5 — He did it, he got out there, outpaced everyone, and looked up to complete a key pass. Nothing came of it obviously, but it was the finish on one of his plays that had me so excited. Not a lot of playing time to report on, but he did end up with an 83% passing accuracy over his 12 passes. It was also exciting to see all three DPs on at once. Is that my silver lining in this?
---
That was hard. I'm headed to Atlanta next week to support the Lions. Anyone else? Who was your Man of the Match? Vote in the poll below:
Polling Closed
| | |
| --- | --- |
| Player | Votes |
| Will Johnson | 18 |
| Brian Rowe | 27 |
| Robin Jansson | 24 |
| Lamine Sané | 2 |
| Other: Name your MotM in the comments | 2 |
Orlando City vs. Inter Miami: Five Takeaways
Here's what we learned from Orlando City's 1-1 draw at home against Inter Miami.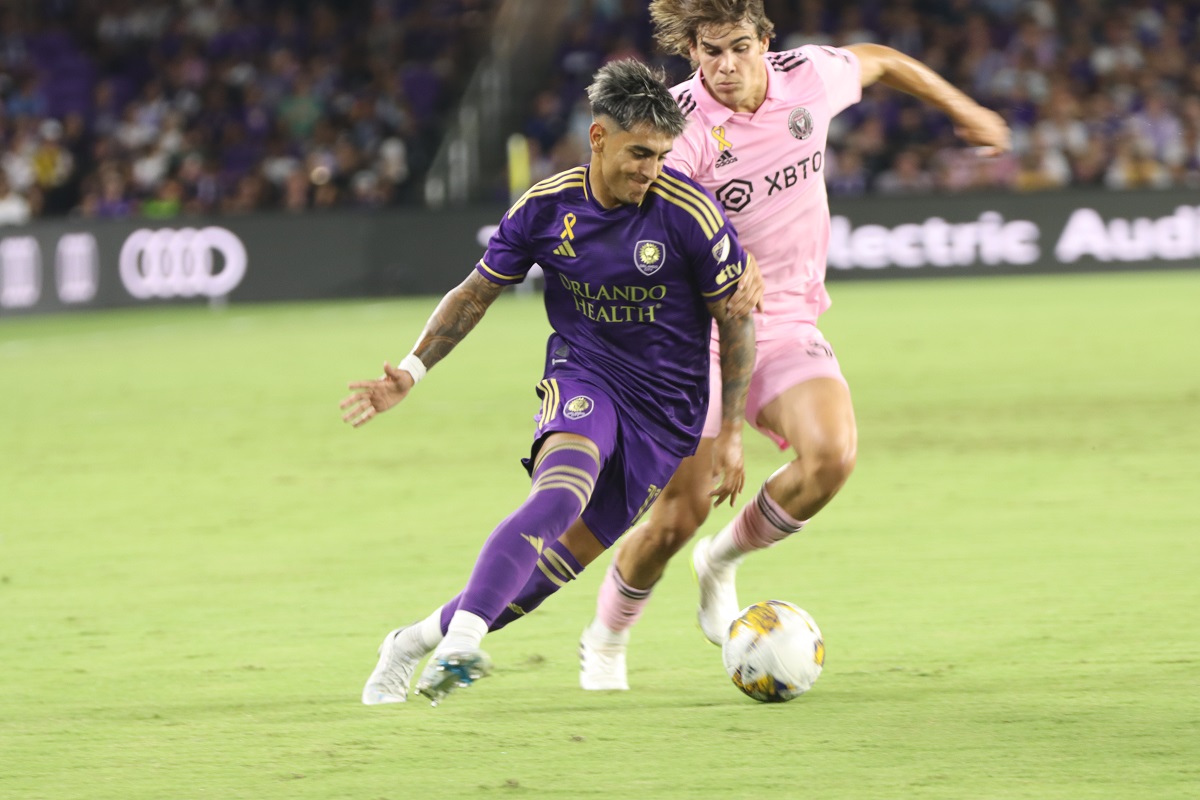 Orlando City returned to Exploria Stadium after a midweek loss to New York City FC and had to settle for a 1-1 draw with Inter Miami. The Lions did well to equalize after conceding first, but will likely feel that they left opportunity knocking as the Eastern Conference remains tight near the top. Here are my five takeaways from the third Tropic Thunder clash this year.
Lack of Execution Plagues the Lions
Orlando's offense struggled to put the ball in the back of the net in this match. That's not to say they didn't create quality chances, as the Lions served up good crosses and dangerous long balls throughout the match. Only three of Orlando's 16 crosses found their mark in the end. The execution just wasn't there when it came to finishing attacks, whether it be poor decision-making when the time came to play the final ball or just missing the target completely. Of Orlando's 13 shots, six were on target and only a couple of those gave Miami goalkeeper Drake Callender much difficulty. Ivan Angulo missing the goal entirely after Dagur Dan Thorhallsson picked out a perfect pass for him stands out. Expecting every promising attack to end with a goal is unfair, but weak finishing cost the Lions from claiming a big win at home.
Corner Kicks Gave the Lions Headaches
While the Lions didn't have any corner kicks in the match, Inter Miami had seven and created some of its best chances with them. In the 61st minute, a corner kick taken by Robert Taylor found Leonardo Campana all alone in the center of the box. The Ecuadorian forward's header mercifully went wide, but it was indicative of how Orlando had its hands full on set pieces. Pedro Gallese had to come up with a remarkable save in the first half as well after Campana barreled through Cartagena to head the ball at goal. Even though the Lions didn't concede from a set piece, I wouldn't be surprised if it's something focused on this week just to ensure the team is organized enough to overcome uncalled fouls without needing its star goalkeeper or some luck.
Plenty of Physicality in Rivalry Match
It was easy to tell these two teams didn't care much for each other, as they both fought hard on and off the ball. There were 27 fouls and seven yellow cards handed out by referee Armando Villarreal. Miami committed 16 of those fouls and received five of the yellow cards as they did whatever it took to slow down Orlando's progress. Facundo Torres suffered the brunt of it and was fouled four times so that he couldn't work his magic against Miami's defense. It was the kind of physical match that can be expected of two rivals and made for an intense match that will likely have players from both sides seeking an ice bath. The Lions did well to stay composed for a majority of a very chippy match.
Duncan McGuire Shakes Off the Rust
Forward Duncan McGuire got back to his scoring ways with a crucial equalizer for his ninth goal of the MLS season. It was an important goal for reasons beyond the scoreline as well, as McGuire had squandered a golden opportunity to score earlier in the match by not being able to get his shot past Callender. He was also kicking himself for not getting on the end of a few other chances as well. His 84 minutes on the field were the most from him in one game this season, and the Lions will need him more often now that Ercan Kara is in Turkey. It was the rookie's first goal since July and, although not perfect, the kind of performance to build upon moving forward.
Orlando Showcased Its Depth and Versatility
Head Coach Oscar Pareja switched things up at halftime, replacing Cesar Araujo with Martin Ojeda and having Mauricio Pereyra sit a bit deeper in the midfield to potentially create chances on the break a bit quicker using his service. Although Ojeda didn't get a goal or an assist, his presence was notable on both sides of the ball and he played a key role in Orlando's goal. Having a player of his caliber able to come off the bench has been a boon for Orlando this season, letting Pareja really kickstart the changes he wants to make to the team. Similar things could be said about Orlando's other substitutes: Junior Urso, Ramiro Enrique, Gaston Gonzalez, and Michael Halliday. Their energy and skill kept Orlando pushing for more and gave the sense that a winner would have come had the game lasted a bit longer.
---
That's what I took away from Orlando's 1-1 draw with Inter Miami. Let me know what you gathered from the match in the comments below
Lion Links: 9/25/23
Orlando City draws with Inter Miami, Viviana Villacorta out for the season, OCB wins last game of the regular season, and more.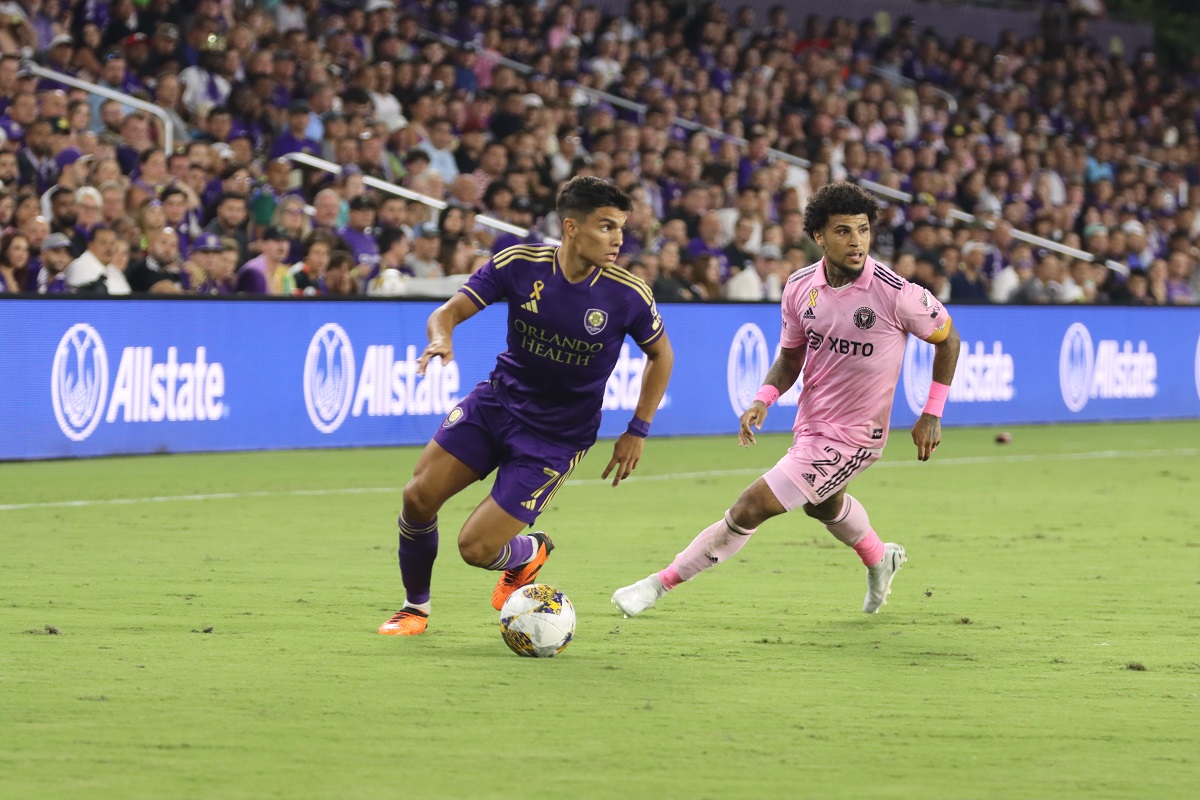 Last night's Orlando City match wasn't the best, but it wasn't the worst either. It's a pretty fitting feeling on a Monday, as we all get back into the swing of the work week after a nice weekend of soccer. There are plenty of ups and downs from a rollercoaster Sunday, so let's dive right into today's links!
Orlando City Draws With Inter Miami
In the latest edition of the Tropic Thunder rivalry, Orlando City and Inter Miami split the points at Exploria Stadium in a 1-1 result. Miami struck first, but the Lions did well to find an equalizer, even though they couldn't find a winner in the end. It wasn't Orlando's best game by any means, but it was a decent response to a 2-0 loss on the road to New York City FC. Orlando now has 51 points, tying its club record for the most points in a season, set in 2021. The Lions will have a chance to break that record on Saturday when they host CF Montreal.
Viviana Villacorta Out for the Season
Orlando Pride midfielder Viviana Villacorta will miss the remainder of the NWSL season after suffering an ACL tear in her left knee during training. The 24-year-old was selected with the ninth overall pick in the 2021 NWSL Draft, but was not able to make her debut until 2022 due to sustained an ACL tear in her right knee that kept her out for all of the 2021 season. This year, she has 21 appearances across all competitions for the Pride and notched the first assist of her career in a big road win against the San Diego Wave on April 29. This is a tough blow to the Pride's midfield with just three games remaining as she has ended her season early due to injury for the third straight year. The Pride are only a point out of a playoff spot and are back in action on Oct. 2 against Angel City FC.
Orlando City B Wins On Decision Day
On the final day of the MLS NEXT Pro regular season, Orlando City B won 2-1 at home over FC Cincinnati 2. The Young Lions had already clinched a spot in the postseason heading into this match, but the win secured their spot as the fifth seed. Jack Lynn briefly held the Golden Boot lead after scoring, but ended up tied at 19 goals with New York City FC II's Matt Myers and Colorado Rapids 2's Remi Cabral. The trio ended in a three-way tie for the league's Golden Boot honors. OCB will hit the road for its first MLS NEXT Pro playoff game, although the opponent is not yet known thanks to the new rule where higher seeds choose which team they want to face.
USWNT Wins in Megan Rapinoe's Final Match
The United States Women's National Team beat South Africa in a 2-0 win at Soldier Field. Trinity Rodman and Emily Sonnett scored and the defense did well to secure its second shutout against South Africa after a 3-0 win this past Thursday. This game also marked forward Megan Rapinoe's final game with the USWNT, with the 38-year-old subbed off for the last time in the 54th minute. These were solid wins from the USWNT following the World Cup and it will aim to keep the momentum rolling next month in a pair of friendlies against Colombia.
Free Kicks
Three Orlando City academy sides came up with shutout victories this weekend.
---
That's all I have for you today, Mane Landers. I hope you all have an easy Monday and rest of your week!
Orlando City vs. Inter Miami: Final Score 1-1 as McGuire's Goal Lifts Lions to Home Point
Miami's new stars didn't play and the Lions will feel they should have beaten the rest of the Herons instead of having to come back to earn a point.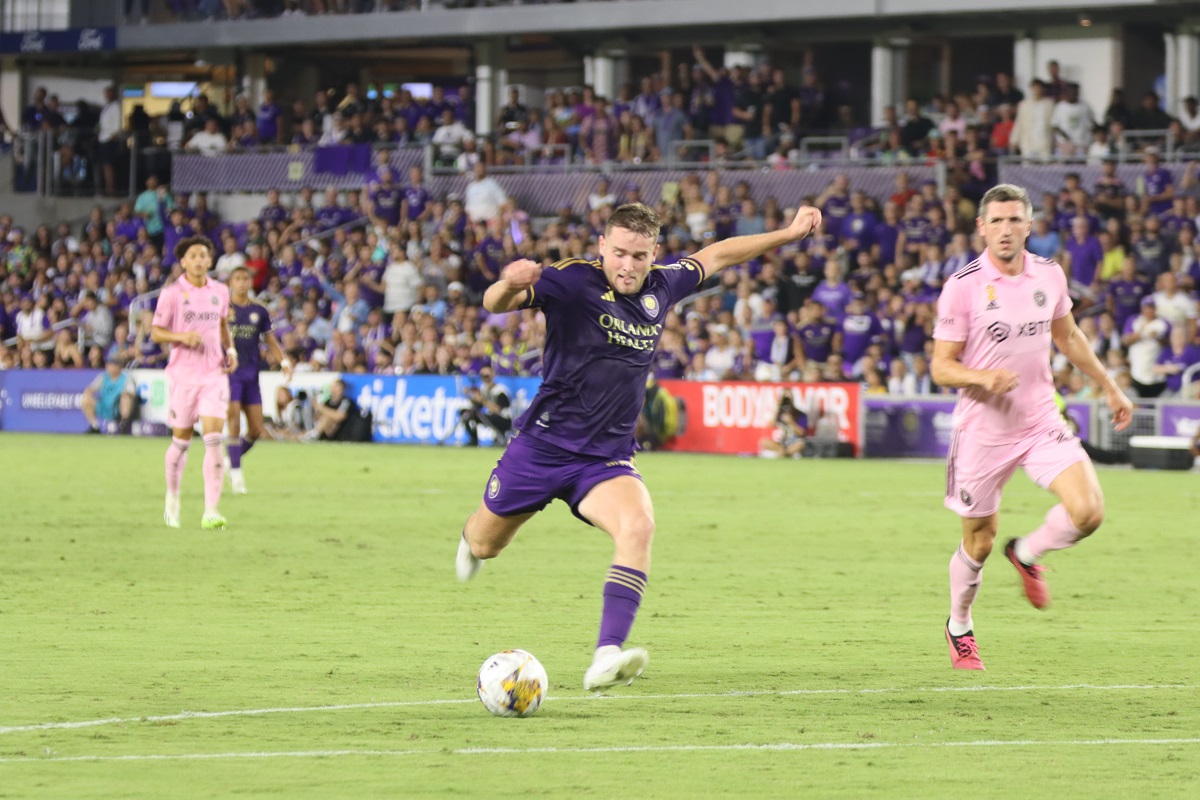 Inter Miami sat its three new big stars but still managed to steal a point from Orlando City in a 1-1 draw in front of a sellout crowd of 25,527 at Exploria Stadium. David Ruiz gave Miami (9-15-5, 32 points) the lead early in the second half, but rookie Duncan McGuire equalized 14 minutes later for Orlando City (14-7-9, 51 points). Neither side could break the stalemate, and the Lions missed a big opportunity to add to their point total.
Orlando City went 1-0-1 in the season series and 1-1-1 in all competitions against the Herons. The Lions remain second in the Eastern Conference with four matches remaining.
"A very competitive match," Orlando City Head Coach Oscar Pareja said after the game. "Many times the game became very rocky, and we could have more clarity in the two boxes when we were attacking and being clean to make a decision and not having to suffer that much to score a goal."
Pareja's lineup featured Pedro Gallese in goal behind a back line of Rafael Santos, Robin Jansson, Rodrigo Schlegel, and Dagur Dan Thorhallsson. Cesar Araujo and Wilder Cartagena manned the central midfield behind an attacking line of Ivan Angulo, Mauricio Pereyra, and Facundo Torres, with Duncan McGuire returning to the starting lineup up top.
The opening 12 minutes were mostly played between the penalty areas, with the Lions probing for an opening and pressing high when they didn't have the ball. Miami was able to create very little and was content to foul whenever there was a danger of someone getting behind. The Herons looked to hit over the top or with long diagonal balls and came close to connecting on a couple. Jansson had a strong first half, winning a number of balls forward that were intended for Miami's forwards.
A chaotic sequence led to Orlando's first attempt on goal in the 16th minute, as Angulo ran onto ball from McGuire in the middle of the penalty area, but his shot was blocked. A minute later, Cartagena dispossessed Ruiz and dribbled toward goal but referee Armando Villarreal pulled it back for a foul on the Peruvian, though there didn't appear to be anything in it.
Miami defender Tomas Aviles picked up four fouls in the first half and three of them were of worthy of yellow cards — the first coming in the opening minutes. He got a talking to from Villarreal on what surely would be a yellow card in most games and then did pick up a yellow in the 23rd minute on his next such tactical foul. He did it again later in the half but Villarreal lacked the courage to send him off and instead merely gave him a second lecture.
Gallese made a comfortable save on a shot from distance by Leonardo Campana in the 26th minute.
Orlando City won several set pieces from the wings throughout the half but couldn't produce anything from them. Schlegel got onto a cross in the 29th minute but headed well over the bar. Seconds later, the Lions got their best chance of the half when Jansson sent a gorgeous through ball past the defense and found McGuire. The rooke smashed a shot from the top of the area but Drake Callender made the save. Torres picked up the rebound but his follow shot was blocked.
Benjamin Cremaschi went into the book moments later when Cartagena nutmegged him and rounded him. The young midfielder reached out and grabbed his counterpart to earn the yellow card.
In the 38th minute, Thorhallsson tried to hit a shot on the half volley after the defense cleared a long throw from Araujo. The shot bounced harmlessly wide as the Icelandic fullback didn't hit it cleanly.
Gallese made a terrific save to keep the game scoreless in the 42nd minute. Campana bowled over Cartagena to free himself for a header on a corner kick and nodded on target but Gallese denied him with a clutch save.
Josef Martinez sent a shot sailing into the stands late on the last chance of the half, and the teams went to the break scoreless.
The visitors held more first-half possession (53.7%-46.3%), put more shots on target (2-1), won more corners (3-0), passed more accurately (82.7%-78.9%). The Lions attempted more shots (7-4).
"We knew that they were going to crowd the middle with this defense of five and the three midfielders," Pareja said of attacking Miami's system. "Normally, when you have these eight players in front of you, there's not much space there."
Pareja subbed Martin Ojeda on for Araujo at halftime, dropping Pereyra to central midfield. Miami made two defensive subs, removing Aviles and Sergii Kryvstov, who was injured late in the half, and brought on Kamal Miller and Ryan Sailor.
The Herons opened the scoring in the 52nd minute off of what appeared to be a foul on Torres, but no call was made and Miami broke in transition. Martinez ended up with the ball on the left and sent a shot on goal that Gallese stopped but Ruiz swooped in to tap in the rebound, making it 1-0.
A couple of minutes after the goal, Ruiz picked up a yellow card that was perhaps fortunate on an ugly looking foul from behind on Pereyra. Pareja referred to the foul as "insane" after the match. DeAndre Yedlin then picked up a yellow during the same stoppage in play for time wasting as Jansson tried to retrieve the ball from him for the restart.
Ojeda sent a good shot through traffic in the 59th minute, but Callender saw it and was able to get over to make the save. A minute later, Schlegel was booked after an aerial challenge as the chippiness of the game continued. The teams combined for 27 fouls, with the visitors picking up 16 of them.
Angulo should have equalized in the 63rd minute. The Lions sprung a good transition and Thorhallsson sent a marvelous through ball that sent the speedy left winger in behind. He tried to fool Callender and sent it toward goal but got it wrong and sent it wide of the target.
Two minutes later, Thorhallsson sent in a wicked cross just in front of goal but McGuire couldn't get his foot on it and Callender caught it before it could cause any more mischief.
McGuire tied the match moments later. Cartagena sent Ojeda up the right side and the midfielder tried to cut back to his left for a shot but it was poked away. The ball fell kindly for McGuire to run onto and he smashed it through Callender's legs to tie the match at 1-1 in the 66th minute. It was the rookie's ninth league goal of the season.
"I saw the guys making a lot of good runs forward, opening up spaces, and I was left one-on-one with the defender," McGuire said. "Luckily the ball bounced into my path and I saw my chance and took it."
Robert Taylor cut inside on his right foot and fired a shot in the 70th minute but hit it right at Gallese.
Pareja sacrificed Angulo to send on Ramiro Enrique in the 73rd minute as the Lions looked for a winner.
Santos ended up on the right side after a long-range free kick attempt for Orlando and it nearly paid off. With his weaker right foot, the Brazilian sent in a good cross to Torres, who headed it on frame but the Uruguayan couldn't get much power on it and that made for an easy save.
Pareja emptied his bench over the next few minutes and sent on Michael Halliday, Gaston Gonzalez, and Junior Urso for a visibly tiring Thorhallsson, McGuire, and Pereyra.
Neither side could find a good look at goal for a potential winner in the final minutes of normal time plus a seemingly short amount of stoppage — just four minutes. The two Tropic Thunder rivals had to settle for splitting the points.
Orlando City's desire to win the game was reflected in the final statistics. The Lions finished with more possession (51.2%-48.8%), shots (13-9), shots on target (6-5), and passing accuracy (83%-82.6%). The Herons ended up with more corners (7-0), as the Lions failed to earn a single one. The Lions had way more touches inside the opponent's penalty area (21-10), but failed to produce much in the way of final quality aside from McGuire's strong finish.
"At the end, I think we pushed. We played well," Pareja said. "I don't like to say (we) deserved more because that in soccer is not a good phrase. What I want to say is we have to be clearer in this type of game where there's not many options, the gaps are closed, and we had our moments to finish it out. But we'll take the point."
"We're definitely not satisfied yet," McGuire said. "We still want to get more points. We want to keep pushing. And definitely we want to make a deep run in the playoffs and win the entire thing."
---
After three matches in nine days, Orlando City has more of a normal week of work before welcoming CF Montreal to Exploria Stadium on Saturday at 7:30 p.m.