Orlando City vs. FC Cincinnati: Final Score 5-1 as Nani, Tesho Akindele Lead Lions' Romp
The Lions fell behind in their first ever match against Cincinnati, but roared back for an easy win.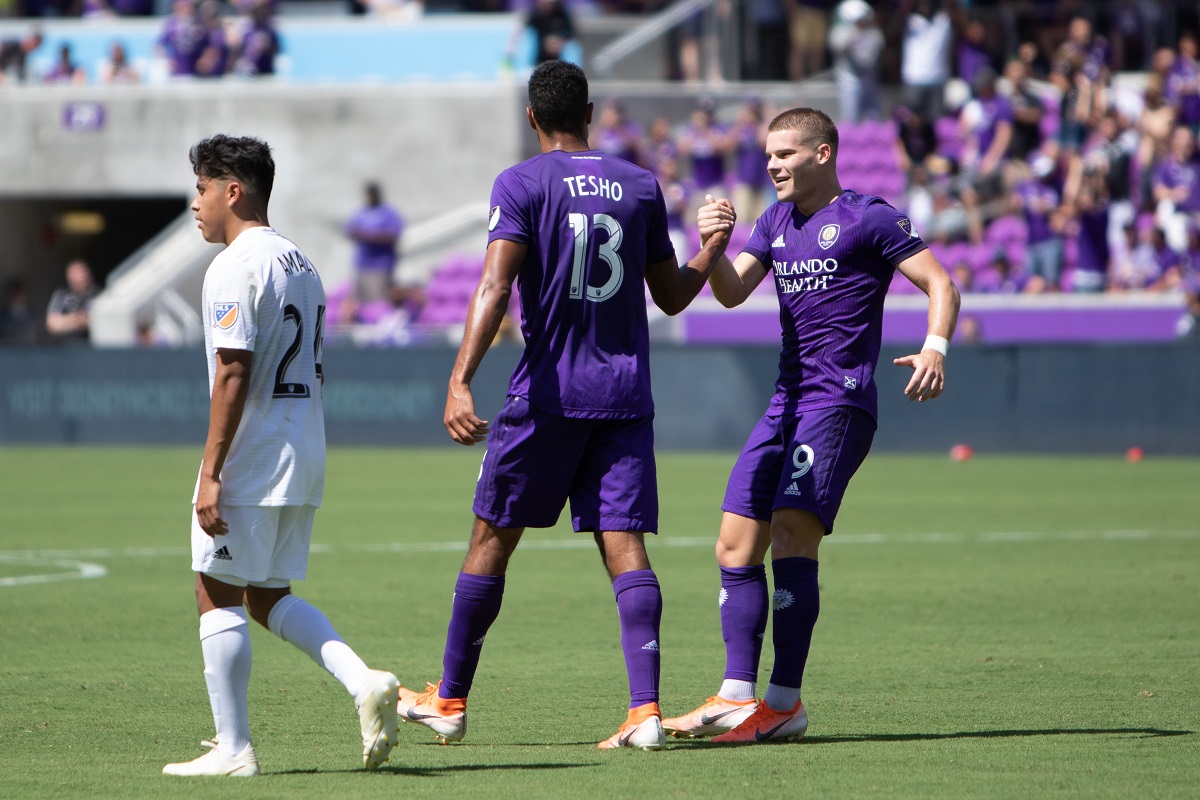 Orlando City fell behind in the first half but broke its losing streak in convincing fashion with a 5-1 destruction of FC Cincinnati (3-8-2, 11 points) in front of an announced crowd of 22,341 on a hot day at Orlando City Stadium. The Lions got braces from Nani and Tesho Akindele and a header from Dom Dwyer to run the MLS newcomers out of the City Beautiful.
It was only the third time all season that Orlando (4-6-3, 15 points) had scored more than one goal in a game and it was the team's first victory by more than one goal in 2019. The win broke a three-game losing streak and a four-match winless skid. The 5-1 win was Orlando's second-biggest MLS win only to a 6-1 home win over New England on Sept. 27, 2017 — a game in which the Revs were a man down for much of the night.
James O'Connor praised his team's mentality after the match for coming back after conceding the first goal in the team's third game in eight days.
"Obviously very pleased — not just with the result," O'Connor said after the game. "I thought overall the mentality of the players was excellent. To play at three o'clock in Florida is a mental test."
O'Connor rotated 10 of the 11 spots from Wednesday's game, leaving only Lamine Sané in the starting XI from the midweek match in Seattle.
The game was mostly a plodding affair before Cincinnati opened the scoring in the 24th minute. Up to that point, neither team seemed particularly adept at getting into the opposing team's penalty area, instead passing the ball around the perimeter and either turning it over or sending in a hopeful cross.
The only real chance of the game had come from a shot by Emmanuel Ledesma in the 21st minute that rattled off the crossbar.
That warning shot failed to wake up Orlando, which had started to concede more of the possession after dominating the ball early, and it proved costly moments later.
Darren Mattocks' opener came out of nowhere. The Lions were in excellent shape defensively, but seemed mesmerized by the Cincinnati attacker, who faked one way, went the other and fired his shot into the back of the net with the two center backs right in front of him and several other players in the neighborhood just watching the play happen.
The goal was exactly what the game needed as the match sprung to life after Mattocks' strike. Will Johnson nearly pulled back the goal after taking a pass from Chris Mueller in the 30th minute, but he saw his effort blocked. Cristian Higuita followed with a narrow miss two minutes later from the top of the area.
Akindele tied things up in the 37th minute. Johnson took a pass from Joao Moutinho and played in Akindele with a nice through ball, and the Canadian fired home to make it 1-1.
"I saw Will making a run though," Akindele said. "They fired the ball into him. I kind of was asking for the flick and he played a really good pass kind of around the corner. I took a good first touch, I thought, and then just tried to put it on target…I think the play was really well done by our team."
The game remained open the rest of the half. Nani's cross in for Johnson in the 41st minute provided a good opportunity, but the ball was deflected out for a corner. Mueller fizzed a ball in for Akindele in the first minute of stoppage time that was just inches too far in front for a deflection. Johnson had a go from distance moments later, but he didn't hit it with much power and it was right at Spencer Richey for an easy save.
The last good opportunity for Cincinnati came off a set piece that was headed across goal, where Mathieu Deplagne got a head on it and forced a last-second save from Brian Rowe.
Orlando then finished with a set piece from the left that Cincinnati deflected off the outside netting and the teams went to the break tied at 1-1.
Orlando City led in shots, 7-3 (2-2 on target), possession (61.9%-38.1%), and passing accuracy (90.1%-81.1%).
The Lions came out of the break like a different team. Mueller and Nani each forced diving saves from Richey in the first two minutes of the second half. Shortly after the latter, Sebas Mendez was called for a foul, and during that stoppage, referee Nima Saghafi indicated he was going to video review. Replays showed that Kendall Waston had grabbed Sané from underneath both arms and took him down in a wrestling move during an Orlando corner kick. Saghafi didn't review the play long and returned to the field, indicating a penalty to Orlando for Waston's WWE move.
Nani took the spot kick but didn't hit it well. Richey saved it, but the rebound fell right back at the feet of the Portuguese star, who calmly slotted home to make it 2-1 in the 50th minute.
Nine minutes later, Nani extended the lead to 3-1. Ruan worked a quick give-and-go with Akindele and made a lightning-quick dash down the right channel and cut in toward goal before crossing. Nani was there to stab home the cross in the 59th minute, scoring the 200th goal in Orlando City's MLS history.
Orlando continued to press forward in the attack. Mueller won a free kick to the left of the area but sailed his set piece delivery over the bar in the 62nd minute. Two minutes later, the Lions struck again. Orlando won a corner kick and Mueller served in a corner kick cross that fell in the box and bounced off Sané. Akindele took it out of the air with the first touch and slotted it into the net to make it 4-1. With four goals on the season, it is the Canadian's highest goal total since he scored four in 2017 across 29 appearances. It was also his first brace since July 4 of last year, when he got both of his goals on the season in a 3-2 win over Atlanta United while playing with FC Dallas.
"I think we got a little bit unlucky in the past on some of the chances we missed and I think maybe we got a little bit lucky today on some of the ones we scored," Akindele said. "It kind of balances out in the long run as long as you're creating chances, which we've been doing all year."
City got a bit sloppy after that and failed to track second-half sub Fanendo Adi on a set piece. He brought the ball down in the area but couldn't make good contact, sending a weak dribbler toward Rowe.
Dwyer came on for Nani and started to get things moving back in the other direction. He fired high from distance in the 73rd minute, but his injection into the middle of the attack began causing issues for the Cincinnati defense as the visitors tried pushing numbers forward to get back into the match.
After Ruan won a corner in the 81st minute, Dwyer broke his scoreless streak with a well-placed header off Josué Colmán's corner kick cross. It must have come as a relief to the veteran striker and it was touching the way his teammates celebrated after the goal.
As time wound down, the Lions got a bit more lackadaisical in their own half and that nearly resulted in a cosmetic goal for Cincinnati. Ledesma fired just inches wide of goal in the 91st minute in what would have been a bit of a letdown for the team as well as the crowd. Instead, the Lions saw out the four minutes of stoppage and got a much-deserved victory.
Orlando City finished with a 17-5 advantage in shots (9-3 on target), a 61.1%-38.9% edge in possession, more corners (11-4), and a better passing accuracy (88.9%-83.5%).
"There were a couple of things I thought we just needed to be a little bit sharper on and areas we that needed to try to play in," O'Connor said of his halftime adjustments. "The quality of the players started to come through. Again, I think the players deserve enormous credit for the mentality and the way they went on performed second half. I thought they were excellent."
Akindele underscored the importance of the victory after the match.
"It was really important, especially to do it at home. The fans…they deserved that," Akindele said. "They come out all the time. They support us. They're making noise. And I'm so glad we could give them that win and they could experience that with us."
---
Orlando City is back in action Friday night when the LA Galaxy come to town for a 7 p.m. kickoff.
Lion Links: 9/29/23
Orlando City prepares for CF Montreal, learning more about Duncan McGuire, Jack Lynn named to MLS NEXT Pro Best XI, and more.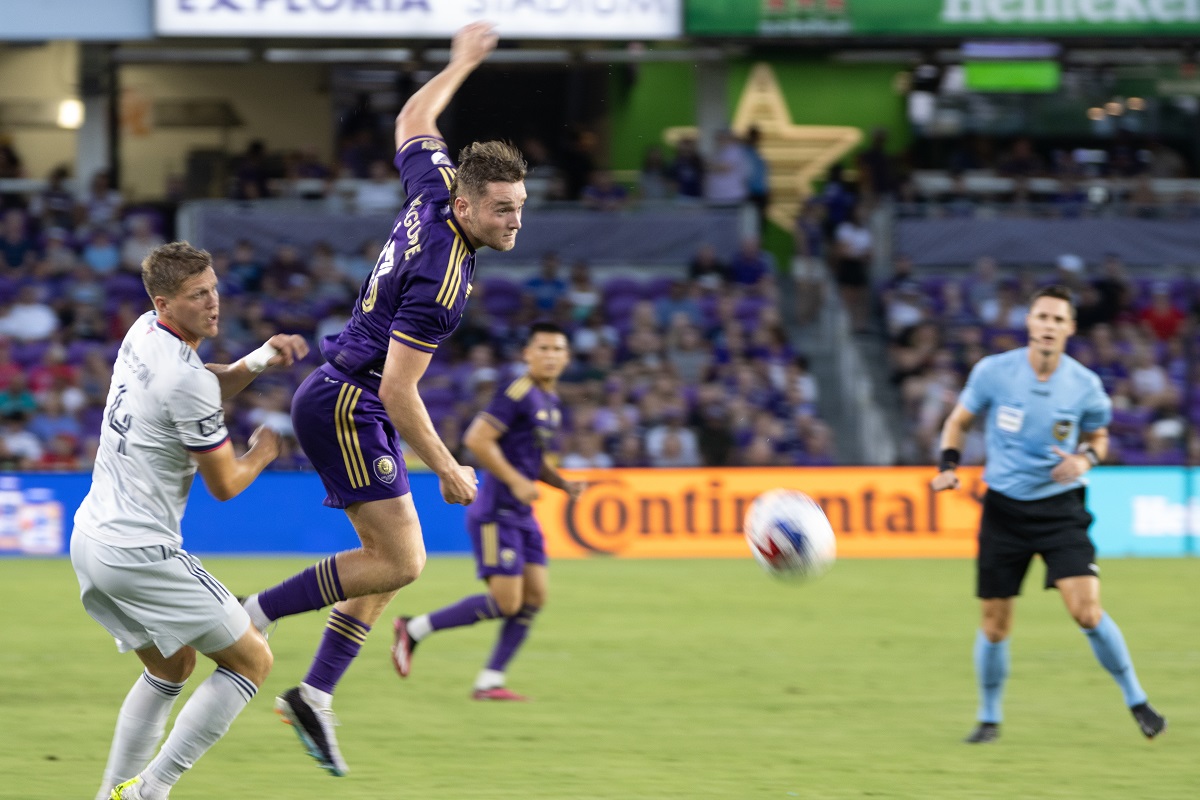 It's Friday, which means we're just one day away from a pretty busy weekend of Orlando soccer. It should be a pretty fun next few days, with Orlando City, the Orlando Pride, and Orlando City B all in action. I don't have many weekend plans beyond working and getting some writing and reading done. Let's get to the links!
Orlando City Prepares for CF Montreal
Orlando City hosts CF Montreal tomorrow night in a showdown between two Eastern Conference teams with just four games remaining this season. It's the second match between the two teams this year, with Montreal beating the Lions 2-0 in Canada on May 6. In the time since that game, the Lions have only lost three games this season and have not been defeated at home since April 22. Orlando's next win will be Head Coach Oscar Pareja's 60th with the Lions, and tomorrow's match could also break club records for most wins and points in a season. A win for the Lions would be massive to put some breathing room between them and the other top teams in the Eastern Conference.
Get to Know Duncan McGuire
Orlando forward Duncan McGuire was the latest to go under the microscope as part of the club's video series to learn more about the players. The rookie spoke on his upbringing as a middle child, as well as how he turned to soccer after struggling in other sports. McGuire also talked about his acrobatic goal celebrations and a clip is included of a time he didn't quite stick the landing after scoring for Creighton. It's a pretty fun interview, as he gave some details on how Mason Stajduhar is a quick learner when it comes to golf and how he wants to go out to dinner with Ana de Armas.
Jack Lynn Makes MLS NEXT Pro Best XI
Orlando City B forward Jack Lynn was named to the MLS NEXT Pro's Best XI for the second straight year. Lynn fueled OCB's offense this season, scoring 19 goals to help the Young Lions claim a spot in the playoffs. No MLS NEXT Pro player has scored more goals since the league's inaugural season last year than Lynn, who has 34 goals under his belt. The 23-year-old is joined on the front line of this year's Best XI with the two players he tied with for the Golden Boot, New York City FC II's Matt Myers and Colorado Rapids 2 forward Remi Cabral.
Orlando City B Takes On Columbus Crew 2 This Sunday
The Young Lions will play their first MLS NEXT Pro playoff game this Sunday when they face Columbus Crew 2 on the road at 5:30 p.m. It will be the third and final match between the two sides this year, with each claiming a big win over the other earlier in the season. No team that qualified for the playoffs has lost more road games than OCB this season, which may be why Columbus elected to face Orlando. However, Orlando's offense has been electric at times this year thanks to Lynn, Shak Mohammed, Wilfredo Rivera, and others. Sunday may be another wild game with the Young Lions involved and you can check it out on MLS Season Pass on Apple TV+.
Tahir Reid-Brown Called Up for Training Camp
United States U-17 Men's National Team Head Coach Gonzalo Segares called up 20 players for a training camp in Brazil to prepare for the U-17 World Cup in November. OCB defender Tahir Reid-Brown was the lone Orlando representative called up for this camp. The 17-year-old was called up to the U-17 team earlier this April for a training camp in Florida. He's had an impressive year, earning a spot in the MLS NEXT All-Star Game and making 10 appearances for OCB. The U.S. will take on Brazil on Oct. 4 and Oct. 6 in a pair of friendlies during this camp.
Free Kicks
Orlando City center back Rodrigo Schlegel unveiled the meaning behind his tattoos, including the ones for his parents and his biggest moments as a Lion.
---
That's all I have for you today. Hopefully the weather plays nice this weekend and you're able to do everything you have planned. Have a great Friday!
Orlando City vs. CF Montreal: Three Keys to Victory
What does Orlando City need to do to earn all three points against CF Montreal this Saturday in Exploria Stadium?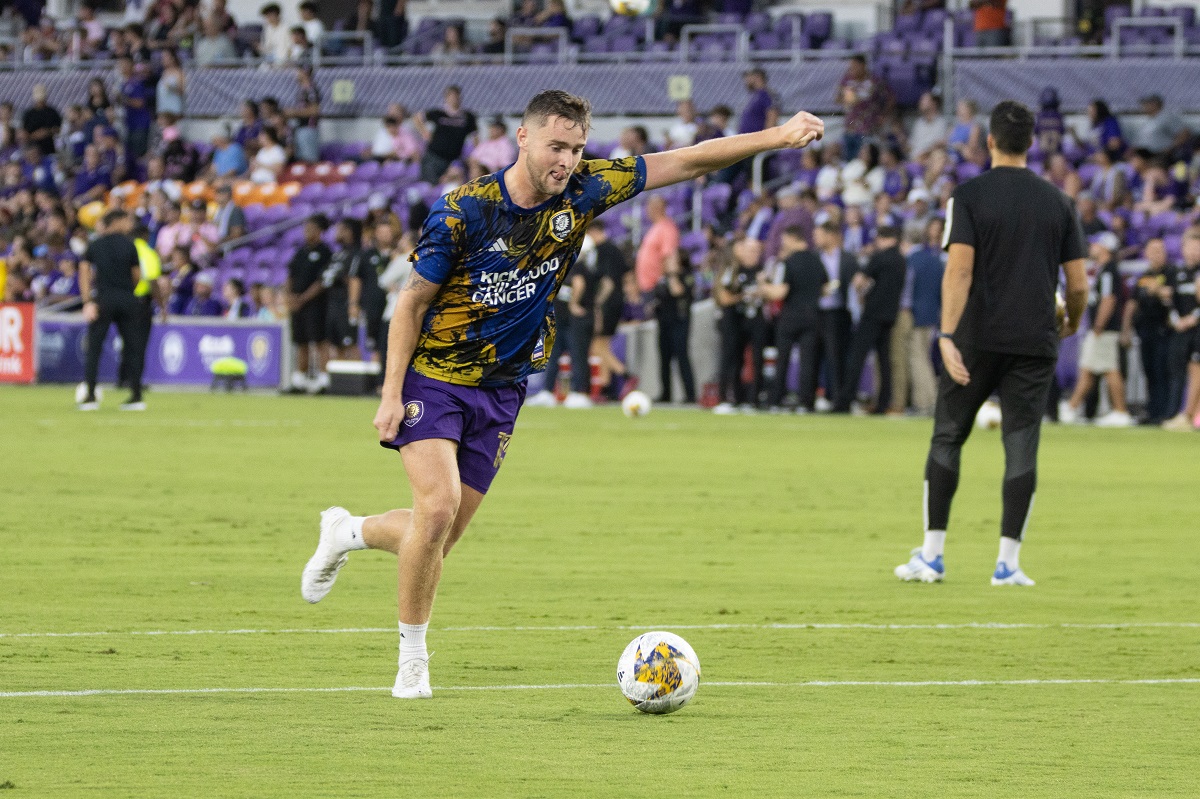 Orlando City hosts CF Montreal in the second-to-last home match of the 2023 MLS regular season at Exploria Stadium this Saturday night. The Lions have already secured a spot in the playoffs but are now fighting for home field advantage. Montreal is currently sitting in eighth place in the Eastern Conference and is fighting for a playoff spot.
What does Orlando City need to do to secure three important points against the Canadian Club Foots?
Time to Make the Donuts
It had been a minute since Duncan McGuire scored a goal for Orlando City — and by a minute I mean since July 29. McGuire had a few opportunities against Inter Miami and managed to get one to equalize for the Lions and ensure a point at home. I do think he might have scored on another of those chances if he was fully back in form after his injury time, but I'll take the goal.
My hope is that getting that goal will remind him that he can score goals when given the opportunity, and he will be better about finishing the chances he gets against Montreal. Sometimes it just takes getting that first goal to open up the muscle memory and to unlock the confidence needed in a striker. It's time for Duncan to score more goals, and the match against Montreal is the first and best opportunity to do so since Montreal starting center back Joel Waterman will be serving a red card suspension.
Switch up the Lineup
I propose a change to the starting lineup — something Oscar Pareja does not do very often. Due to injuries and other factors such a move wasn't possible earlier in the season, but I think it could work now. I have a ton of respect for Mauricio Pereyra, but he could probably use a rest to be fresh for the playoffs as the regular season winds down.
I suggest letting Martin Ojeda get the start in the 10 spot, moving Dagur Dan Thorhallsson up the wing, and having Michael Halliday take over at right back. Ojeda's play as of late has been much improved, and with Halliday healthy again, why not take advantage of Dagur Dan's versatility along the wing. I think this move provides energy, a surprise for opposing defenses, and allows Facundo Torres more freedom. 
Same Old Effective Defense
Orlando City's defense has only allowed 37 goals this season — which is good enough to tie for sixth place in the Eastern Conference. On the flip side, Montreal has only scored 30 goals so far — which is only better than Toronto at 24 goals. Montreal has a goal differential of -15.If the Lions play their normally solid defense in front of the outstanding goalkeeping of Pedro Gallese, Montreal should not get too many opportunities to score. There's no doubt that we will see Robin Jansson and Rodrigo Schlegel paired together with Rafael Santos on the left and either Dagur Dan — or Michael Halliday as I suggested — on the right. Cesar Araujo and Wilder Cartagena can stop most attacks before they get to the back line. If Orlando City plays defense as well as the club did against Miami, things should be fine.
---
That is what I will be looking for this Saturday as the Lions take on the boys from North of the border. Vamos Orlando!
Lion Links: 9/28/23
Ajax is reportedly scouting Facundo Torres, Orlando Pride focus on upcoming matches, Houston Dynamo win U.S. Open Cup, and more.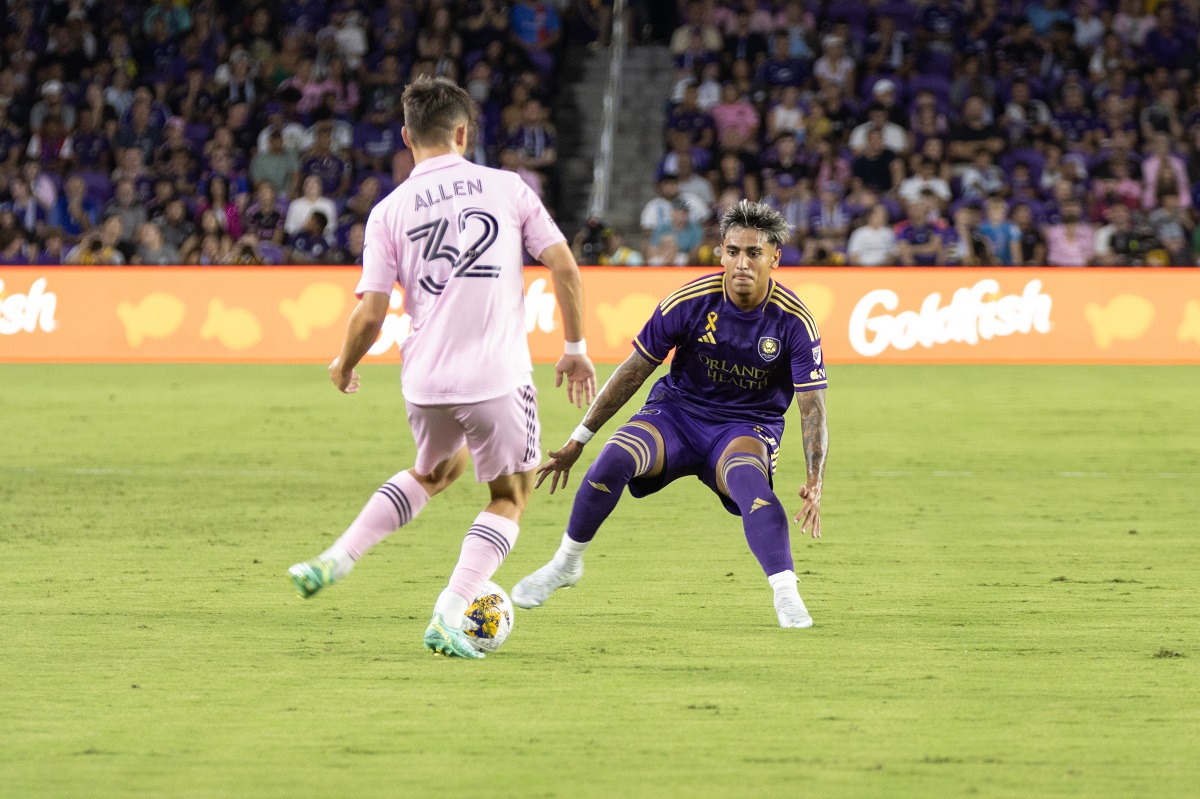 How's it going, Mane Landers? I hope this work week has gone smoothly for you as we get ready to bid farewell to September. It's been a hectic week for me, but I started and then promptly devoured all of Fourth Wing by Rebecca Yarros. It was a nice read, albeit a bit intense at times. I'm not sure what I'll read next as most of my reading list is packed up for a move, but if you have any recommendations then let me know in the comments below. Let's dive into today's links!
Ajax Reportedly Interested in Facundo Torres
Orlando City forward Facundo Torres has reportedly garnered the interest of Dutch club Ajax according to Fabrizio Romano.
It's not too surprising that Ajax, which currently sits in 14th in the Eredivisie with just seven goals from five games, has scouts keeping tabs on Torres. The 23-year-old has scored 12 goals this season, powering Orlando to second in the Eastern Conference. It wouldn't be the first time Torres has received attention from European clubs and likely won't be the last as he continues to impress with the Lions
Orlando Pride Focus During Playoff Push
The Orlando Pride are back in action on Monday for a crucial road match with Angel City FC. Both teams have 25 points this season, one point from the sixth and final playoff spot currently held by the Washington Spirit. It will be the first of three remaining games for the Pride this season, with matches against fellow playoff hopefuls Racing Louisville and the Houston Dash set for later in October. As a result, there's not much margin for error if the Pride wish to make the playoffs and Kylie Strom talked about how the team is focused for these games.
MLS NEXT Pro Playoffs Begin This Weekend
The first round of the MLS NEXT Pro playoffs kicks off this weekend with six matches that can all be watched on MLS Season Pass. Unlike last year, Orlando City B will be taking part and is set to face off with Columbus Crew 2 on Sunday at 5:30 p.m. Although the Young Lions have struggled on the road against Columbus, Jack Lynn and Shak Mohammed can make things difficult for the hosts. Hopefully we'll see OCB make Columbus regret its choice of opponent in the postseason. I like the wrinkle and mind games to the playoffs the new rule gave and am interested to see which of the lower seeds plays with a chip on their shoulder. The playoffs begin on Friday when Sporting Kansas City II hosts Austin FC II in a battle between the third and fourth seeds of the Western Conference.
Houston Dynamo Win U.S. Open Cup
The Houston Dynamo have lifted the U.S. Open Cup trophy after winning 2-1 on the road against Inter Miami. A pair of goals in the first half were enough for Houston to win its second U.S. Open Cup title after also winning in 2018. A goal in stoppage time from Josef Martinez made things interesting, but the Dynamo defense did well to secure the win and deny Miami its second tournament title this year. It was a strong end to a solid tournament campaign from the Dynamo, as they beat four MLS sides before taking down Miami in the final.
Albertin Montoya Hired as Bay FC Head Coach
Ahead of its inaugural NWSL season next year, Bay FC named Albertin Montoya as the club's first head coach. Montoya, who has lived in California for most of his life, served as the interim coach for the Washington Spirit in 2022 and also coached the U.S. U-17 women's national team in 2011. Bay FC General Manager Lucy Rushton spoke on how Montoya's name came up often while the club searched for a head coach, as well as how his skill at developing players will help build the club's foundation.
Free Kicks
Orlando City Head Coach Oscar Pareja called for the supporters to continue filling Exploria Stadium and pushing the Lions forward for the team's remaining home games this season.
St. Louis City midfielder Njabulo Blom won MLS Goal of the Week for his winner against Minnesota United. It was also the 23-year-old's first professional goal.
---
That's all I have for you today. Have a wonderful Thursday and rest of your week!