2019 Orlando City Season in Review: Cristian Higuita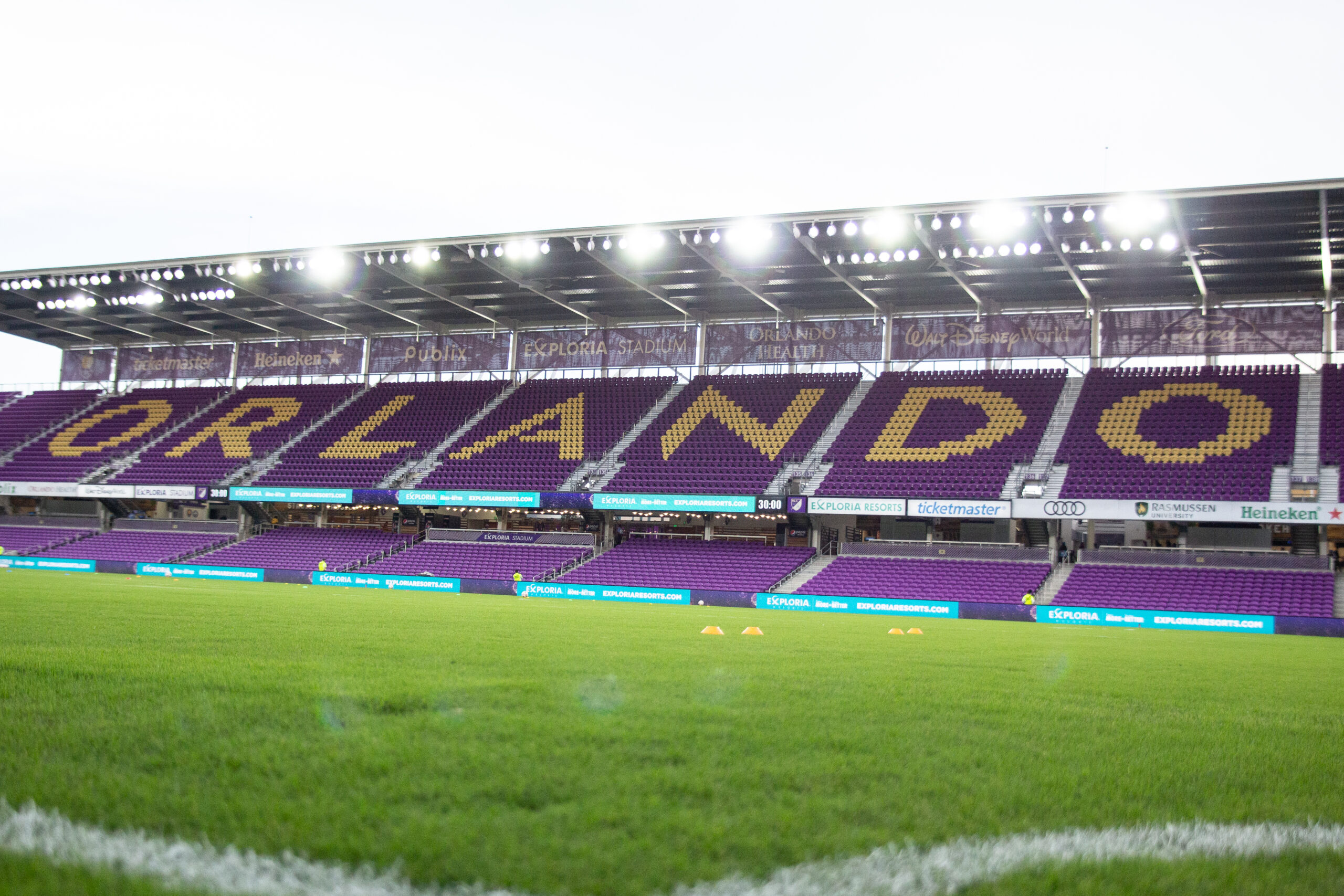 Cristian Higuita was one of Orlando City's original MLS Lions, arriving in January of 2015 along with fellow Colombian Carlos Rivas. Just 20 years old at the time, Higuita has grown up in front of us in Orlando over the last five seasons and was just starting to seriously play to his potential in 2019 when injuries started to keep him out of the lineup more often than not.
Let's take a look at the season that was for Higuita.
Statistical Breakdown
Higuita played in a career-low nine matches in 2019, making just seven starts. Adductor and hamstring issues limited him to just 648 MLS minutes. He did not score a goal — just one year removed from netting a career-high four — but did add two assists. He got only one of his six shot attempts on frame this season.
With an 85.9% passing accuracy, Higuita finished fifth on the team, but he was third among midfielders, finishing below Sebas Mendez (90.1%) and Will Johnson (86.8%). Higuita took a more defensive role in 2019 than he was charged with last year, which resulted in an average of just 0.3 key passes per game to go along with his lack of goals and low shot total.
As usual, Higuita was a defensive beast, leading the team in tackles per game (2.7). He also averaged an interception, 0.8 clearances, and 0.2 blocks per match. Fouls are still a problem with the Colombian, as he racked up five yellow cards in his nine games, just one fewer than he received last year across 21 appearances. He committed 14 fouls and drew 15 on the competition.
Higuita also appeared in two of Orlando City's four U.S. Open Cup matches this past season, starting both and playing 121 minutes. He notched an assist on Sacha Kljestan's 55th-minute goal against Memphis 901 and attempted six shots (one on target) in the competition, with five of those (none on target) coming at Memphis.
Best Game
For me, Higuita was a beast in the 2-2 draw against LAFC on Sept. 7. The Colombian was involved in both Orlando City goals and the space in the midfield that he had been bossing was noticeably more open for the visitors after he left the match.
If not for a slight deflection off a defender, Higuita would have had a primary assist on Nani's goal, which tied the game at 1-1 at the time. The defensive-minded Higuita showed uncanny vision against the Supporters' Shield winners and this was the earliest sign of it.
Then, later in the match he got a secondary assist on Benji Michel's goal. Watch the way he sends Ruan into space in the buildup:
He also set up Uri Rosell for a goal that was disallowed, won an aerial, made three tackles, and had two interceptions. I was on player grades duty that night and gave him a solid eight for his performance despite a lower-than-expected passing rate of 56%. The reader poll was neck and neck, with Ruan barely edging him out, mirroring my own view of the match.
2019 Final Grade
The fifth-year Lion received a composite score of 6 out of 10 from The Mane Land staff. Higuita started the season a bit slowly but really came on strong as it progressed. He played some of his most consistent minutes yet in MLS over the course of 2019. While it's unfortunate that his offensive numbers were down and indeed he rarely seemed even remotely interested to have a go, despite scoring a few from the top of the box last year, his defense was strong. It was the injuries that truly derailed his 2019 season.
2020 Outlook
Higuita had a long-term deal with Orlando when he arrived in 2015 and that has expired. The Colombian will need to be re-signed to return in 2020 and with a crowded and expensive defensive midfield, and no new coach yet hired, it's uncertain whether that will happen. If Higuita has played his final game with Orlando, that's sad, as he's the last remaining original from the inaugural season. Although Higuita has shown signs of being a true MLS midfield stopper, he didn't quite live up to his guaranteed compensation of more than $611,000 even when fully fit. He was good — much more consistent than in the past — but for that kind of money one would expect more. (He made more than Cristian Roldan this year.) I think Orlando wouldn't mind bringing him back for a bit less money but I expect the Lions to want to get faster and more dynamic in 2020. I believe multiple midfielders making more than $400,000 will leave this off-season but whether Higuita will be one of them remains to be seen.
---
Previous Season in Review Articles (Date Posted)
Lion Links: 9/23/22
Lions and Herons meet again, Carly Nelson is writing a book, NWSL free agency opens, and more.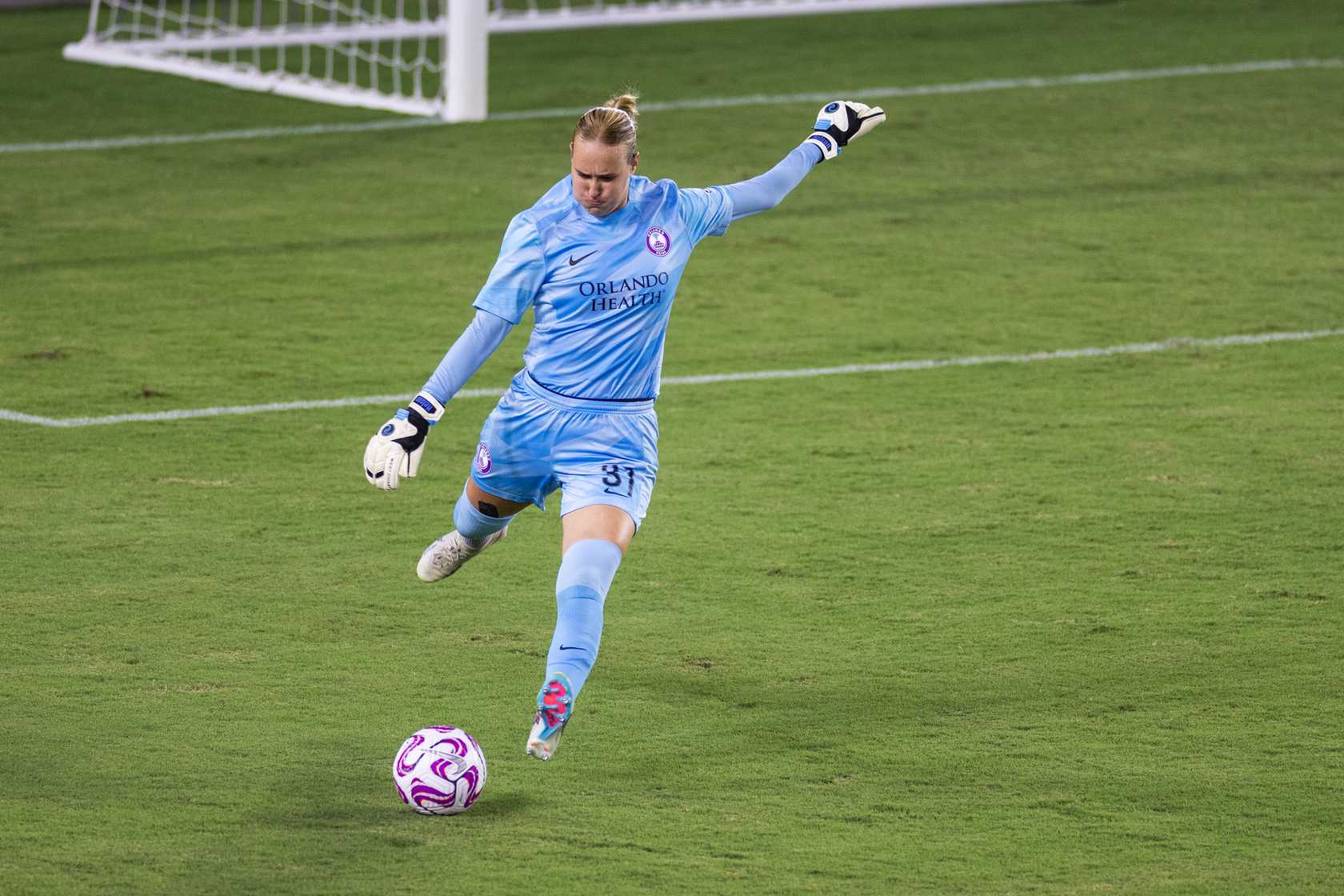 Happy Founder's Day, Mane Landers! It was on this day in 2014 that our fearless leader and Managing Editor Michael Citro started our first ever WordPress website. It's safe to say that I'm sure The Mane Land has impacted your life as much as it has mine over the years, whether that be through daily reading or weekly podcasts. Cheers to Michael and all those who have come before me.
In my own personal news, I have been grinding away on the new EA FC 24 (the franchise formerly known as EA's FIFA.) So far, the gameplay and updates have been great in my initial 15+ hours of play, and my online Ultimate Team is starting to really take its shape. I'm sure in a couple weeks that I'll transition to a traditional Career Mode and take the Lions all the way to an MLS Cup and beyond.
Before we dive into today's links, let's all wish a very happy birthday to everyone's favorite defensive midfielder, Wilder Cartagena!
Third Bout for Orlando City and Inter Miami
Orlando City and Inter Miami have already met twice this campaign. Sunday's match will look to break the deadlock between the two rivals as both clubs have a victory to their name in this year's series. In May, the Lions grabbed a 3-1 victory over the Fort Lauderdale-based club. The two sides met for a second time in the knockout round of Leagues Cup 2023 with Inter Miami taking the 3-1 result at DRV PNK Stadium. No matter the result this time around, Orlando City has already clinched a playoff spot, however, the Herons need every point they can get to attempt to do the same.
Carly Nelson, Goalkeeper and Author
It isn't unheard of to learn that an athlete might have tried another sport before finding soccer, Orlando Pride goalkeeper Carly Nelson came from a background of gymnastics, tennis, basketball, and baseball before her father started a club soccer team with her in mind. While Nelson might have idolized USWNT legend Hope Solo as a child, she started her playing days as a forward, winger, and midfielder. Outside of protecting the Pride's net, Nelson is spending time writing a book about her life growing up in Utah and the issues her family faced to hopefully help others that might find themselves in similar situations.
NWSL Opens 2024 Free Agency
The National Women's Soccer League has officially opened the league's unrestricted and restricted free agency periods. In accordance with the NWSL Players' Association's collective bargaining agreement, eligible free agents can begin negotiations for their 2024 Standard Player Agreements. Players eligible for unrestricted free agency include all who have at least five years of service within the NWSL and contracts expiring in 2023, while players eligible for restricted free agency include those who have at least three years of service. For the Orlando Pride, defender Kylie Strom is set to be an unrestricted free agent and midfielder Jordyn Listro is under restricted terms. Any club that currently holds the rights of a restricted free agent has a seven-day period to match an incoming offer from another club or else the player may sign with the new club under the terms of the offer.
USMNT's Tyler Adams Nearing Return
Tyler Adams will not make his Bournemouth debut this weekend, but he could return as early as next week. Bournemouth's manager, Andoni Iraola, provided a positive update on the U.S. Men's National Team captain as he finishes up rehabbing a long-term hamstring injury.
"He has started this week at least to train partially with the group, so probably we can have a chance of having him next week or two weeks, something like this. Tyler is really close because once you start training partially with the group, it's a matter of sensations, and if you are physically good enough. He has a very good physical base. So I think it will take not a long time to see Tyler with the team."
Adams has not played since March after having a hamstring surgery. Even with a known injury, the 24-year-old still completed a move from Leeds United to Bournemouth following Leeds' relegation to keep him in the top flight.
MLS Weekend Preview
Aside from the Florida derby, there are plenty of matches to be excited about around the league this weekend. Personally, I'm looking forward to catching a bit of the D.C. United and New York Red Bulls match. Manager Wayne Rooney's club is right on the bubble in a tight Eastern Conference race while the Red Bulls can do themselves a huge service and come back into the playoff picture with a win. Out in the Western Conference, there is a real buzz around a Portland Timbers squad after a manager sacking. It could be a huge win for the Timbers and likely push them above the play-in round should they find a result against the Colorado Rapids.
Free Kicks
---
That's all I have for you today, Mane Landers. I hope you all have a fantastic Saturday. Be safe on Sunday at the match. Stay hydrated and look out for those around you. Vamos Orlando!
Orlando City vs. Inter Miami: Three Keys to Victory
Here are three things the Lions need to do in order to set themselves up for a win over Inter Miami.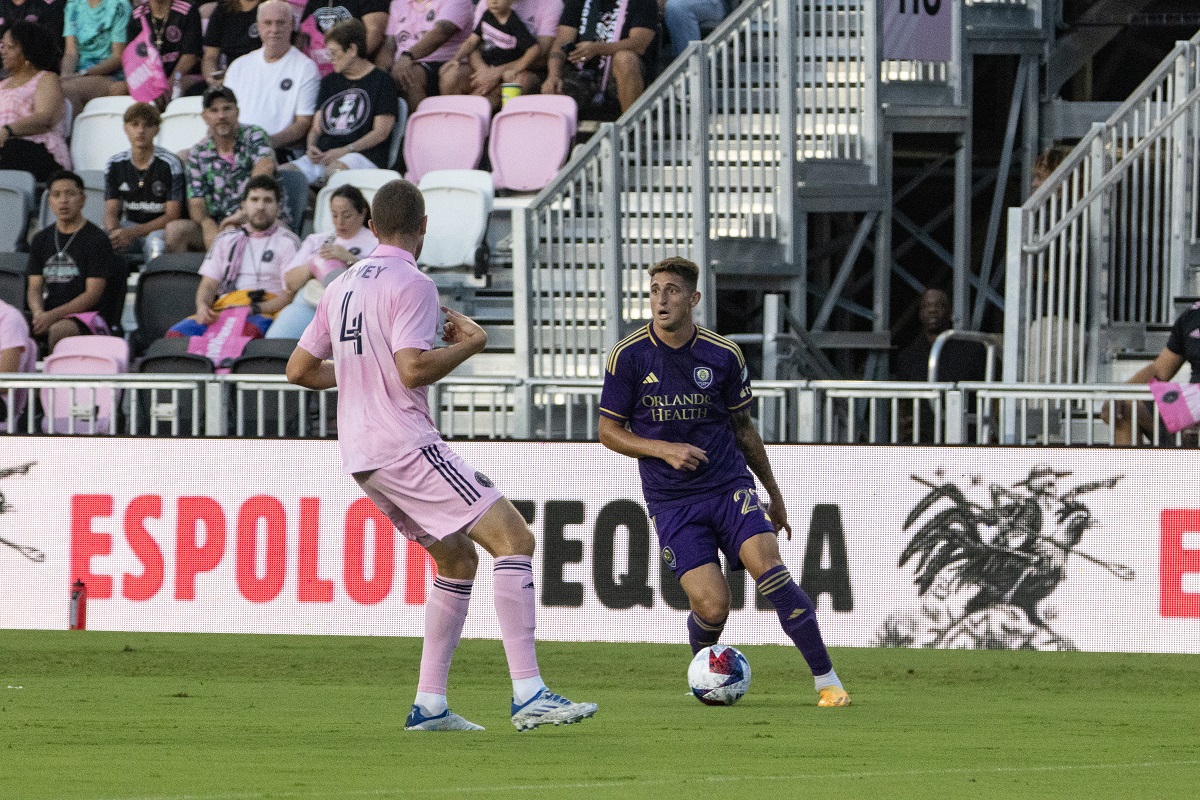 Wednesday's match didn't go the way anyone hoped it would, but now it's time to turn our attention to a Sunday matchup with Inter Miami back in the comfortable confines of Exploria Stadium. What follows are three things that I believe will go a long way toward helping the Lions emerge victorious from the Tropic Thunder derby and keeping Florida purple.
Close Down Sergio Busquets
As many headlines as Lionel Messi has rightfully been getting since joining Major League Soccer, I think Busquets is just as important to Miami's success. He remains an excellent midfielder and his ability to transition the team from defense into attack and link the two lines together is crucial. He has two assists and eight key passes in six MLS appearances and is passing with 92% accuracy —if you give him time, he will make you pay. Even if Cesar Araujo and Wilder Cartagena mark him tightly, he'll still manage to find space at times and affect the game because he's that good of a player. But the Lions cannot afford to repeatedly give him time and space to get on the ball, pick up his head, and play a pass or he'll cut OCSC to ribbons. Getting tight to him and making his life difficult won't stop him every time, but it'll make life a hell of a lot easier. As soon as Orlando loses the ball in Miami's half, someone needs to find no. 5 and close him down.
Play With an Edge, but Don't Go Over It
This is likely going to be an extremely, fast, physical and heated game. These two teams don't have any love lost for each other, and if last game is any indication, then Orlando is going to try to use its physicality to disrupt Miami from playing its brand of soccer. That's not a bad strategy, and it's one that was largely working during the aforementioned Leagues Cup match until the penalty kick call in the second half. If the Lions are going to try to repeat the tactic, then they need to play with physicality and intensity while toeing the line of what's acceptable to do during a soccer game. Going down a man isn't going to do OCSC any favors, so the boys in purple are going to have to flirt with the edge of the cliff without falling headfirst over it.
Stay Organized Defensively
We've seen some shaky defending during Orlando's last two matches. Runners in behind were a particular problem during the match against the Columbus Crew, while Wednesday's loss to NYCFC saw Talles Magno largely unmarked between two Orlando defenders to score the header that sealed the Lions' fate. OCSC will likely still be without Antonio Carlos, but the Lions are capable of much better defending than they've done during the last week and they need to show it. Even if Lionel Messi doesn't play, Miami has a whole host of guys who can hurt you in Josef Martinez, Leonardo Campana, Benjamin Cremaschi, Robert Taylor and Facundo Farias. The Lions need to be much more keyed in on defense than they have been the last two games, otherwise one or more of those guys is going to make them pay. Orlando has the firepower to put the ball in the back of the net, but it won't matter if the team is giving up multiple preventable goals at the other end of the field.
---
If the Lions execute those three things then they've got as good a chance as any of getting a result on Sunday. Vamos Orlando!
Lion Links: 9/22/23
Orlando City prepares for Inter Miami, MLS NEXT Pro Decision Day is Sunday, USWNT wins against South Africa, and much more.
Happy Friday! It's been a pretty busy week of apartment hunting and work for me, so I'm looking forward to some rest and relaxation this weekend. I don't have many plans, but I did make sure to carve out a few hours to make a drink and get some reading done. My book club is fairly low maintenance, but I'll be behind if I don't finish Fourth Wing before the second book in the series comes out in November. Let's get into today's links!
Orlando City Takes On Inter Miami This Weekend
Following a 2-0 loss on the road to New York City FC earlier this week, Orlando City will aim to bounce back when it hosts rival Inter Miami this Sunday. Orlando has a chance to set club records for the most wins and points in a season since it joined MLS in 2015. It will be the third meeting between the two clubs this season, with Orlando beating Miami 3-1 in May before falling 3-1 in the Leagues Cup's knockout stage. Although Miami will be without Lionel Messi and Jordi Alba according to Head Coach Tata Martino, the Herons still have plenty of attacking talent in the form of Sergio Busquets, Leonardo Campana, and Josef Martinez.
Orlando City B Readies for MLS NEXT Pro Decision Day
Sunday will also be the final day of the MLS NEXT Pro regular season, with nearly every team in action. Here's everything you need to know about Decision Day across the league, with playoff spots still up for grabs. Orlando City B has already clinched its spot in the postseason, but can secure fifth in the Eastern Conference when it takes on FC Cincinnati 2. However, the difference between fifth and a lower seed won't matter too much due to a new rule this year where the second and third seed in each conference choose which lower seed it wants to host in the playoffs. The Golden Boot race is competitive as well, with OCB's Jack Lynn tied at the top with New York City FC II's Matt Myers. We'll see if Lynn takes part in Sunday's match after giving the first team needed depth last weekend.
USWNT Beats South Africa in Julie Ertz's Finale
The United States Women's National Team won 3-0 against South Africa in the first of two friendlies this month. All three of the USWNT's goals came in the first half, with Lynn Williams bagging a brace. In her final USWNT game, Julie Ertz started and earned plenty of applause from the crowd at TQL Stadium when she was subbed off in the 36h minute. M.A. Vignola made her USWNT debut in the match as well, coming on at halftime. The two nations will play again on Sunday in what will be forward Megan Rapinoe's last game with the USWNT.
Europa League Group Stage Kicks Off
The first round of Europa League group stage matches is over, with all 32 teams getting things started across Europe. Brighton & Hove Albion's first Europa League match was a rough one, as the English club fell 3-2 at home against AEK Athens. The Spanish clubs also struggled, with Villarreal getting shut out 2-0 by Panathinaikos and Real Betis losing 1-0 to Rangers. Elsewhere, AS Roma beat Sheriff Tiraspol 2-1 thanks to a winner from Romelu Lukaku, Liverpool won 3-1 over Austrian club LASK after trailing early on, and Marseille drew 3-3 with Ajax in a thriller. West Ham, Atalanta, Bayer Leverkusen, and SC Freiburg also won their group openers.
Free Kicks
Enjoy the sights and sounds from the Orlando City Foundation's annual celebrity golf and footgolf tournament.
---
That's all I have for you today, Mane Landers. I hope you all have a fantastic Friday and rest of your weekend!