Orlando City vs. Toronto FC: Player Grades and Man of the Match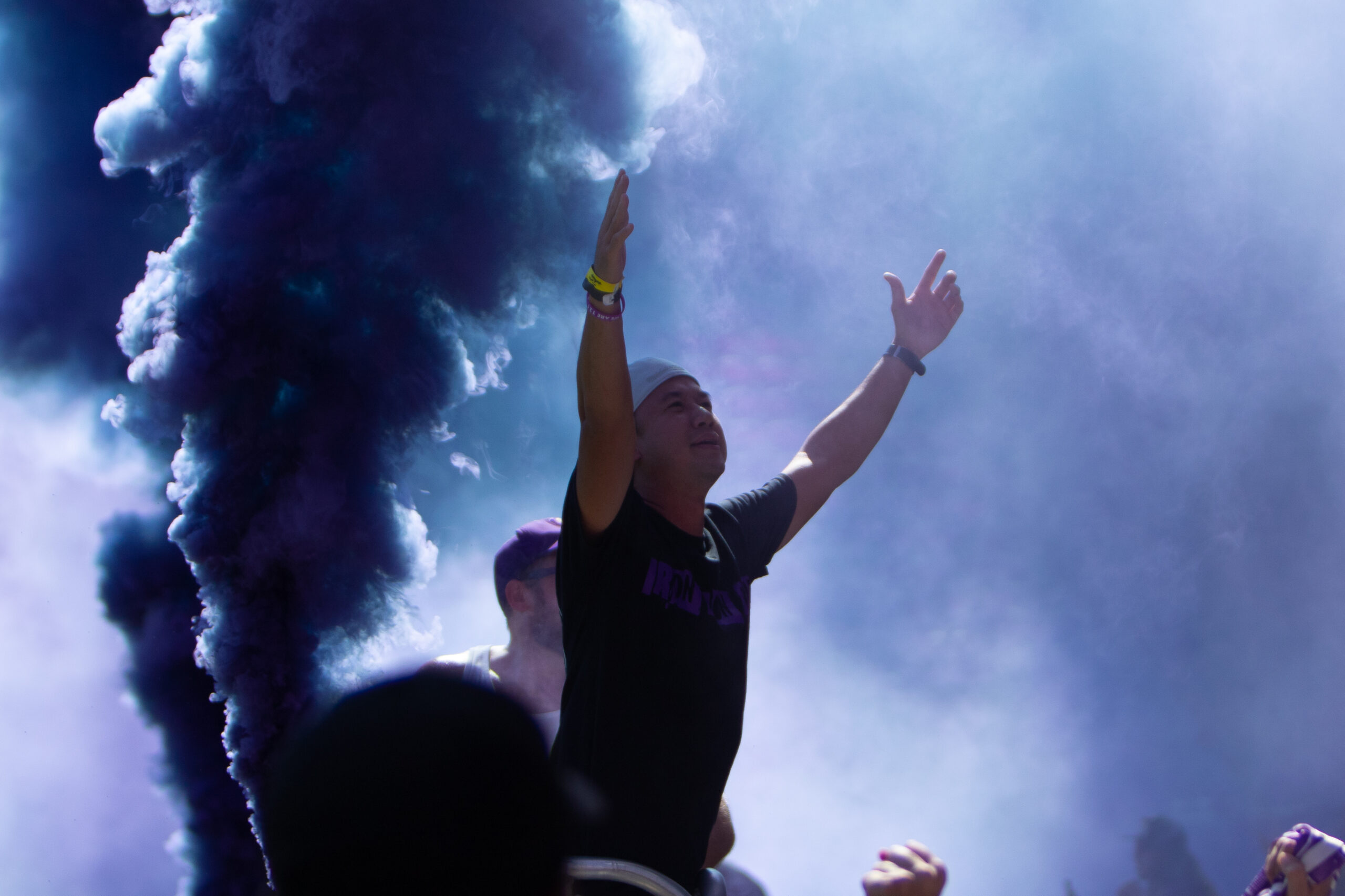 Orlando City defeated Toronto FC 4-0 at Exploria Stadium on Saturday night. It was a dominating performance from the Lions heading into the international break. Earning all three points at home was a big help as Orlando City is looking to make the playoffs for a third season in a row. It was also the most goals scored by the Lions during the 2022 regular season.
Let's look at how the Lions performed individually in the win.
Starters
GK, Pedro Gallese, 6.5 — El Pulpo didn't have a lot to do on the night since Toronto only took 11 shots, and only three of those were on target. His toughest challenge of the night came on a reaction save in the 88th minute. This was Gallese's ninth clean sheet in the regular season, and his first since the 1-0 over New York Red Bulls on Aug. 13.
D, Joao Moutinho, 6 — It was another solid outing from Moutinho. On defense, he made two tackles, three clearances, and committed two fouls. He stood up former Lion Richie Laryea in the 61st minute, taking the ball right off his foot. He did receive a yellow card in the 38th minute for a hand to the face as he tried to create some separation. Moutinho sent in six crosses on the night with the one in the 48th minute resulting in an own goal by Lukas MacNaughton.
D, Rodrigo Schlegel, 6.5 — Schlegel showed why he's the best backup center back in MLS. He had two tackles, seven clearances, and one blocked shot. He passed the ball at an impressive 91.7% rate and completed five of eight long balls on the night. Long balls like those are something that Orlando City has missed with Robin Jansson out due to injury, so it was nice for Schlegel to provide that for the Lions.
D, Antonio Carlos, 6.5 — Carlos was determined to get into the attack against Toronto. He took two shots — one on target — and provided the nifty back heel pass to Facundo Torres that led to the first goal. He was his typical efficient self on defense with two tackles, six interceptions, and two clearances. He passed at an 84.4% rate and was successful on one of four long balls.
D, Ruan, 6 — Ruan was his typical self. He played pretty well in defense with one tackle, one interception, and one blocked shot in the 73rd minute that saved a goal. He attempted two crosses, one of which actually made it into the 6-yard box, though Kara wasn't able to do anything with it. He subbed off for Kyle Smith in the 80th minute.
MF, Wilder Cartagena, 6.5 — Cartagena did exactly what he was brought in to do — be an effective backup for César Araújo. He made three tackles and two interceptions on defense. He also got involved in the offense, taking one shot and making two key passes. He passed at an 88.9% rate and completed five of seven long balls. This was a very solid performance from the Peruvian.
MF, Mauricio Pereyra, 6.5 — The captain once again played a little deeper in the midfield providing more defense while still directing the offense. Defensively he made one tackle and had two interceptions. Offensively, he did not take any shots but did have two key passes, including a perfect through ball to Kara for Orlando City's second goal. He completed 84.4% of his passes, including five of five long balls. He was subbed off for Andres Perea in the 71st minute.
MF, Ivan Angulo, 8 (MotM) — From the start, Iván Angulo was all over the pitch on both offense and defense. Angulo led the team with five shots — two on target — and contributed two key passes. He had a team-high 92.6% passing rate on 27 passes, with one cross. He completed his only long ball, and his only through ball provided the assist on Tesho Akindele's goal. On defense, he made two interceptions, and on clearance. Most importantly, his work rate was outstanding. He was everywhere along the left side, and seemed to be completely in tune with Torres. He figured in three of the four goals, getting a primary assist on Akindele's, a secondary assist on Torres' opener, and his pass sent Moutinho to the end line on the play that resulted in the own goal. This was Angulo's best match so far as a Lion and as such it was deserving of our pick for Man of the Match.
MF, Junior Urso, 6.5 — The Bear put in his normal efficient shift. He sniffed out trouble in Toronto's half before it could develop. He had three dribbles and worked well with Pereyra and Torres in attack. His only shot was on target, but it was saved. He passed at an impressive 91.2% rate, with two key passes, and connected on three of his four long balls.
MF, Facundo Torres, 7.5 — Torres continued his run of good form scoring the first goal of the match in the 9th minute. After receiving the back heel pass from Carlos, he moved from the right side, along the top of the box, and finally smashed the ball inside the near post with his left foot. It was such a perfect shot that he froze Toronto keeper Quentin Westberg. As I mentioned, he and Angulo were seemingly reading each other's minds. He almost scored a brace on a pass from Angulo, but he hit the left post. To be especially fair, the angle on that shot wasn't great. He finished with three shots — one on target — and one key pass. He drew four fouls, and made one interception. He wasn't perfect, as he passed at an 81.2% rate, and had a giveaway in the 60th minute that was the result of poor communication with Urso. Regardless, this was another excellent performance from the Young Designated Player.
F, Ercan Kara, 6.5 — Kara showed what he can do when given proper service. His run on Pereyra's assist in the 22nd minute was perfectly timed and his finish was clinical. He almost added an assist when he chested the ball in the box to Angulo for shot that resulted in a corner kick rather than a goal. Kara's second shot was not on target and seems to have been an homage to Carlos Rivas, as it hit the Heineken sign. Kara actually assisted on the defensive end as well, making one interception. He was subbed off in the 71st minute for Benji Michel.
Substitutes
F, Benji Michel (71'), 5 — Michel only had six touches after coming on for Kara, and two of those were aerials he won. The other four touches were passes, but he only completed one of them. He probably should have won a free kick and a red card on Shane O'Neill for denial of a goal-scoring opportunity on a late potential breakaway but the foul wasn't given. The important thing is he didn't do any harm and helped the team see out the victory.
MF, Andrés Perea (71'), 6 — Perea was pretty active after he came on for Pereyra. He took two shots, including a header that went wide in the 95th minute. He passed at an 83.3% rate, with one key pass, and he completed one of two long balls. Defensively, he made four tackles, one interception, and committed two fouls. A very solid night for the young man.
D, Kyle Smith (80'), 5.5 — The Accountant didn't have any last-minute heroics in this match, and that is fine. The match was well in hand before he entered the match, and he helped see it out. Defensively, he made one tackle, one interception, and one clearance. Smith made one key pass — a good ball to Perea that was headed wide — and one cross.
F, Tesho Akindele (80'), 6.5 — Akindele scored his third goal of the season in the 84th minute to really emphasize how over the match was at that point. He made a nifty little move to run onto the pass from Angulo, and one-timed the ball inside the far post. Akindele also contributed a key pass.
MF, Nicholas Gioacchini (85'), N/A — Gioacchini came on late for Cartagena. He only had three touches, and passed at a 33.3% rate.
---
That's how I saw the individual performances for Orlando City in this Eastern Conference bout. Let us know how you saw the game in the comments and don't forget to vote on your Man of the Match.
Polling Closed
| | |
| --- | --- |
| Player | Votes |
| Facundo Torres | 17 |
| Ercan Kara | 0 |
| Ivan Angulo | 29 |
| Mauricio Pereyra | 0 |
| Other (Tell us in the comments below) | 0 |
My First Orlando City Road Match: New York Red Bulls
A trip to Red Bull Arena to see the Lions play created memories that will last a lifetime.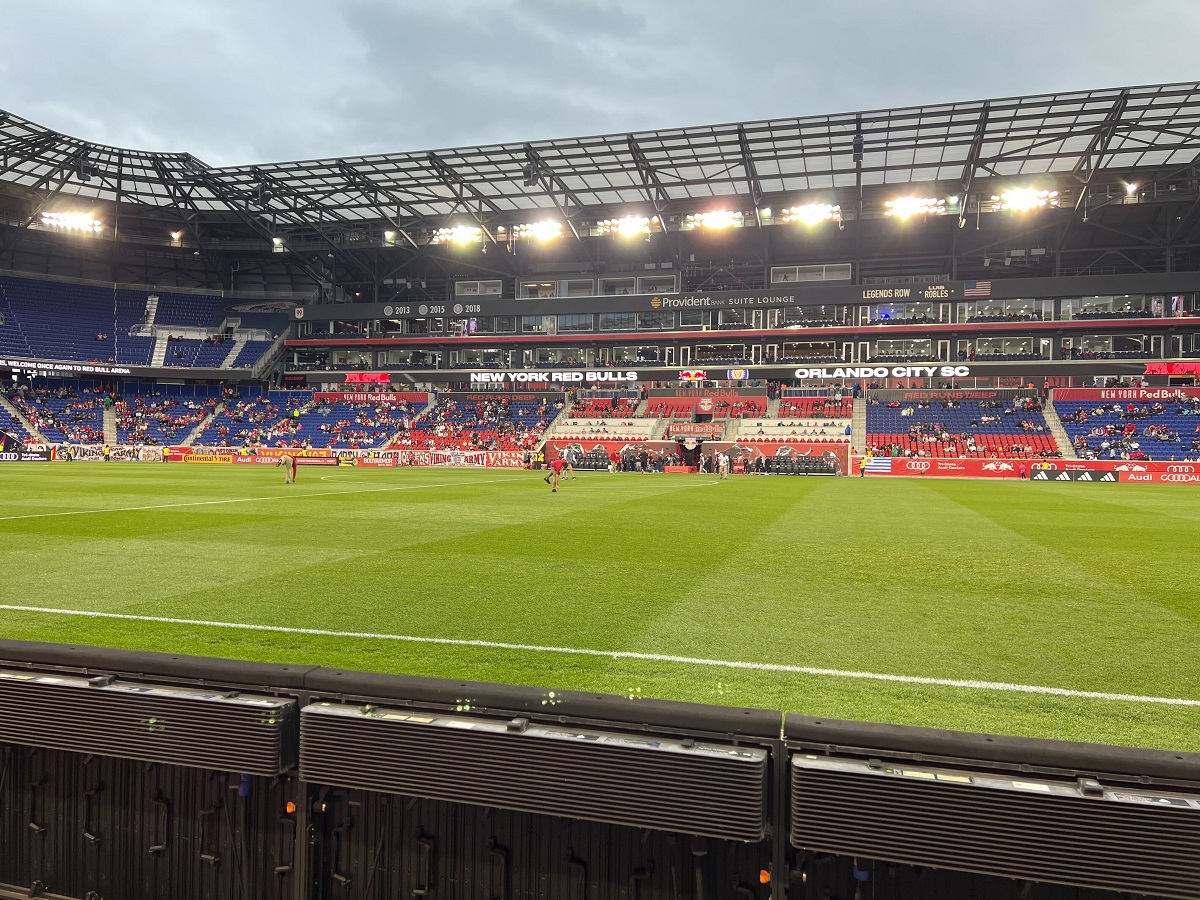 This past weekend I was fortunate enough to take in my first-ever Orlando City away match when the Lions traveled north to Harrison, NJ to take on the New York Red Bulls. The experience was one that I will not soon forget and I wanted to take some time to share a firsthand account of our travels and game day experience.
Early Friday morning prior to the match, I loaded the car up with my wife, 10-month-old son, and enough luggage to support a small army and made the trek from our home in Central Florida to the Orlando International Airport. I had been planning to take in an away game this year ever since the schedule came out, and as destinations go…Red Bull Arena certainly checked off a few must-haves from our family's travel list. Direct flights (because travel with a little one is just plain easier when you don't have to connect), a city we have not visited as a family before (what better way to make memories in a new city than to have them tied to an Orlando City victory?), extracurriculars (give us all the good food, drinks, and hot spots to visit). The latter is actually how I talked my wife into the trip. Who could say no to an Orlando City game and Broadway shows to boot?
After a shockingly low-stress travel day, we arrived in Time Square to meet up with my parents, who had journeyed from Michigan to spend the weekend with us (to provide some much appreciated babysitting) and have some fun in the city. After a day exploring downtown New York City, it was time to head to the stadium. If you ever have the chance to go, and I think every fan should if they are capable, just know that if you are staying in Manhattan, it can be quite a Herculean effort to physically make it to the stadium! After a 45-minute Uber ride, my father and I arrived on the doorstep of Red Bull Arena. The stadium was clean, easy to access, and had an outdoor tailgate area within the gates, where a live band provided pregame entertainment.
Being a once-in-a season type of experience, I splurged on two field-level seats for my father and I and could not have been happier with the choice. I don't think it would have been physically possible to have been closer or more immersed in the action, with the exception of streaking onto the pitch, and no matter our differences, the Red Bull faithful definitely did not deserve that type of show. Looking up at the fans seated around the stadium, small pockets of purple could easily be made out against the sea of red and blue seats and we were even lucky enough to meet an engaged couple who work and live not to far from us back in Orlando and came up to the game to celebrate a special birthday weekend.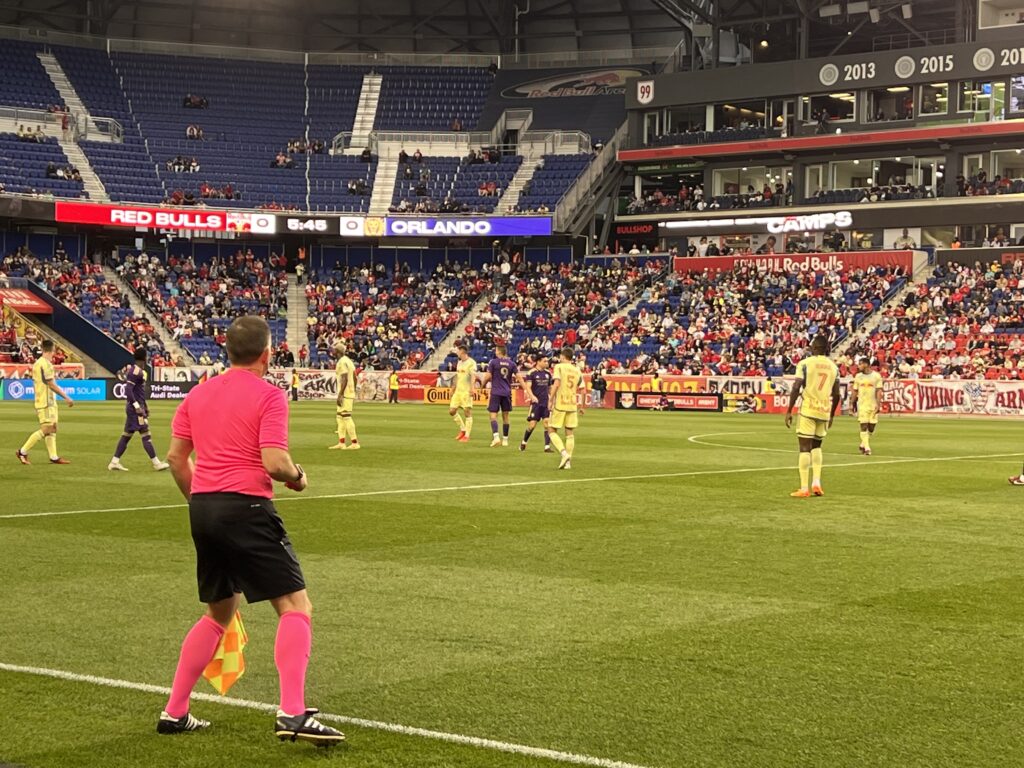 The game environment was spectacular and my excitement was only bolstered by our team's effort on the pitch. A clean sheet victory on the road, and a three-goal effort was enough to justify the whole trip, but the night of memories did not stop after the final whistle. Instead, as my father and I were walking from our seats on the sideline towards the exit tunnel, a joyful Facundo Torres came sprinting over to our corner of the field to celebrate with the Orlando City supporters. As someone who has covered his struggles to start the year, it was clear as day to me to see a sense of relief wash over him in the spirit of celebration, and, with fans cheering him on, he even took a moment to shake my old man's hand and pat him on the shoulder.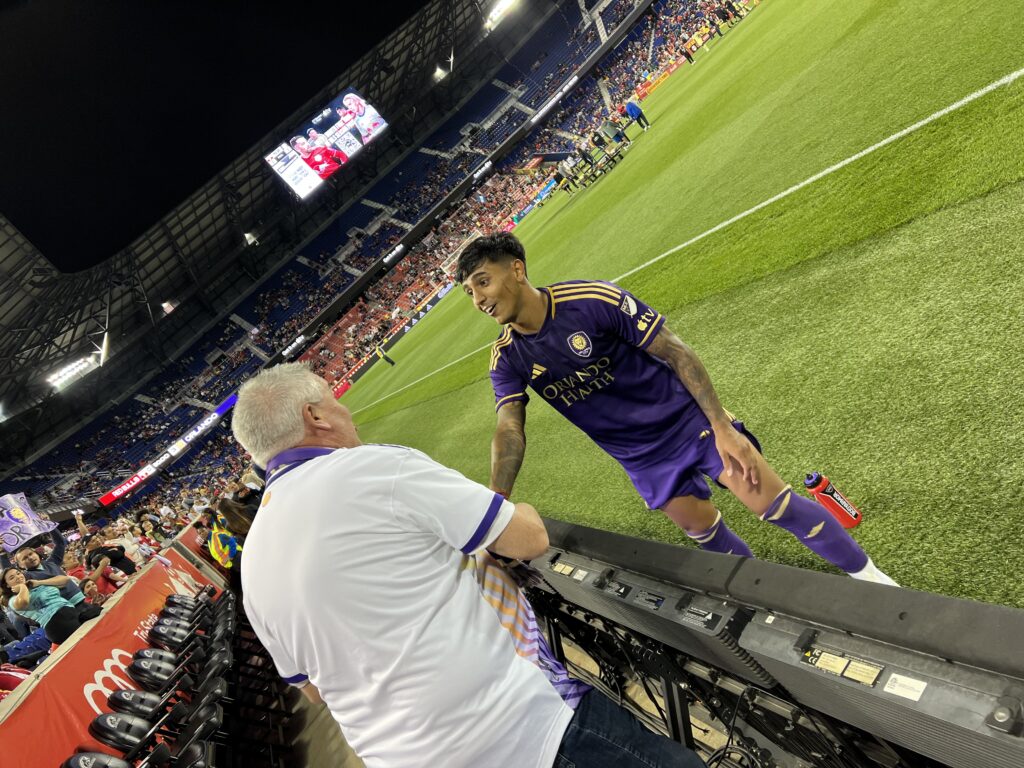 I have been a season ticket member in the City Beautiful for the past three years, and while I love heading to the games week in and week out, there was something different about taking in an away match. Whether we as fans are celebrating the highest highs or dreading the lowest of lows at home, when we leave the stadium, the stress of the real world is waiting just around the corner. The beauty I found of attending an away match was that by turning the experience into a weekend getaway, the joys of the victory were able to linger around for just a bit longer while we were still fully immersed in vacation mode.
---
Did you make the trip up to Jersey this weekend? Have you gone to any away matches this year or plan to before the end of the season? If so, let us know your favorite destinations and plans in the comments below.
Lion Links: 6/7/23
Orlando City moves up in MLS power rankings, Orlando Pride take on Gotham FC tonight, USMNT announces official Concacaf Nations League roster, and more.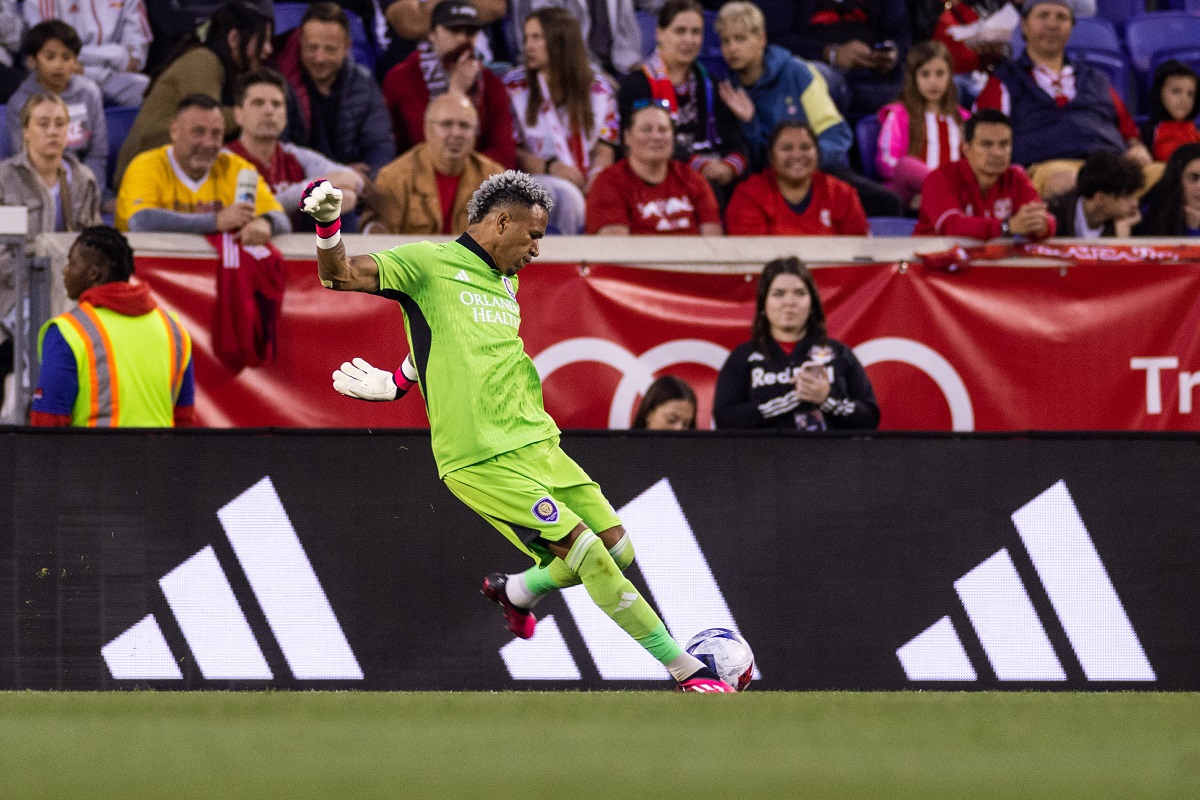 Hello, Mane Landers. How is everyone doing so far this week? I've been doing well and keeping myself busy lately. I'll be working the Dead & Company concert this weekend at Wrigley Field. There is plenty to get to today, so let's get to the links.
Orlando City Moves Up in MLS Power Rankings
Orlando City moved up five spots to 10th in the latest MLS power rankings. The Lions defeated the New York Red Bulls 3-0 on the road this past Saturday. Ivan Angulo put together a stellar performance and Facundo Torres scored twice in the match to help the Lions extend their unbeaten run to five matches. Around the league, the Columbus Crew also moved up five spots, climbing to sixth after a 4-2 win against Charlotte FC. Cincinnati edged out LAFC for the top spot in the power rankings following its 1-0 shutout win against the Chicago Fire.
Orlando Pride Take on NJ/NY Gotham FC Tonight
The Orlando Pride will play NJ/NY Gotham FC tonight in their third group stage match of the 2023 NWSL Challenge Cup. The match kicks off at 7:30 p.m. at Red Bull Arena and you can watch it on CBS Sports Network or stream it on Paramount+. The Pride are at the bottom of their group following a draw and a loss so far in the competition. Ally Watt scored in those first two matches for the Pride, with Summer Yates providing the assists on both of those goals. Gotham is unbeaten in the Challenge Cup and leads the group with four points. The Pride are unbeaten in their last six matches on the road in all competitions against Gotham, including a scoreless draw last month in league play.
USMNT Announces 23-Man Roster for Concacaf Nations League
The U.S. Soccer Federation officially announced the 23-man roster for the U.S. Men's National Team before the 2023 Concacaf Nations League.
Goalkeeper Josh Cohen, who plays for Maccabi Haifa in Israel, was the lone player dropped from the preliminary roster announced last week. The USMNT will play rival Mexico on June 15 in the Concacaf Nations League semifinals at Allegiant Stadium in Las Vegas. If the U.S. prevails in that match, it will face the winner of the match between Canada and Panama. The final is set to take place in Las Vegas on June 18.
U.S. Open Cup Quarterfinals Begin
The quarterfinals of the 2023 Lamar Hunt U.S. Open Cup kicked off last night with two matches. FC Cincinnati defeated the Pittsburgh Riverhounds out of the USL Championship, 3-1, with Brandon Vazquez, Alvaro Barreal, and Santiago Arias all scoring in the second half. The Houston Dynamo also booked their spot in the semifinals after winning 4-1 over the Fire. Nigerian winger Ibrahim Aliyu had a brace for Houston in the road win. Today, we have two more matches to determine who else will move on to the semifinals. Birmingham Legion FC of the USL Championship will take on Inter Miami, while Real Salt Lake will face the LA Galaxy.
Free Kicks
In case you missed it, check out the sights and sounds of Orlando's road victory at Red Bull Arena this past weekend.
---
That will do it for me today, Mane Landers. Enjoy your Wednesday and I'll see you next time.
Lion Links: 6/6/23
Lions earn weekly honors, OCSC headed in the right direction, Kylie Strom lands on NWSL Best XI of May, and more.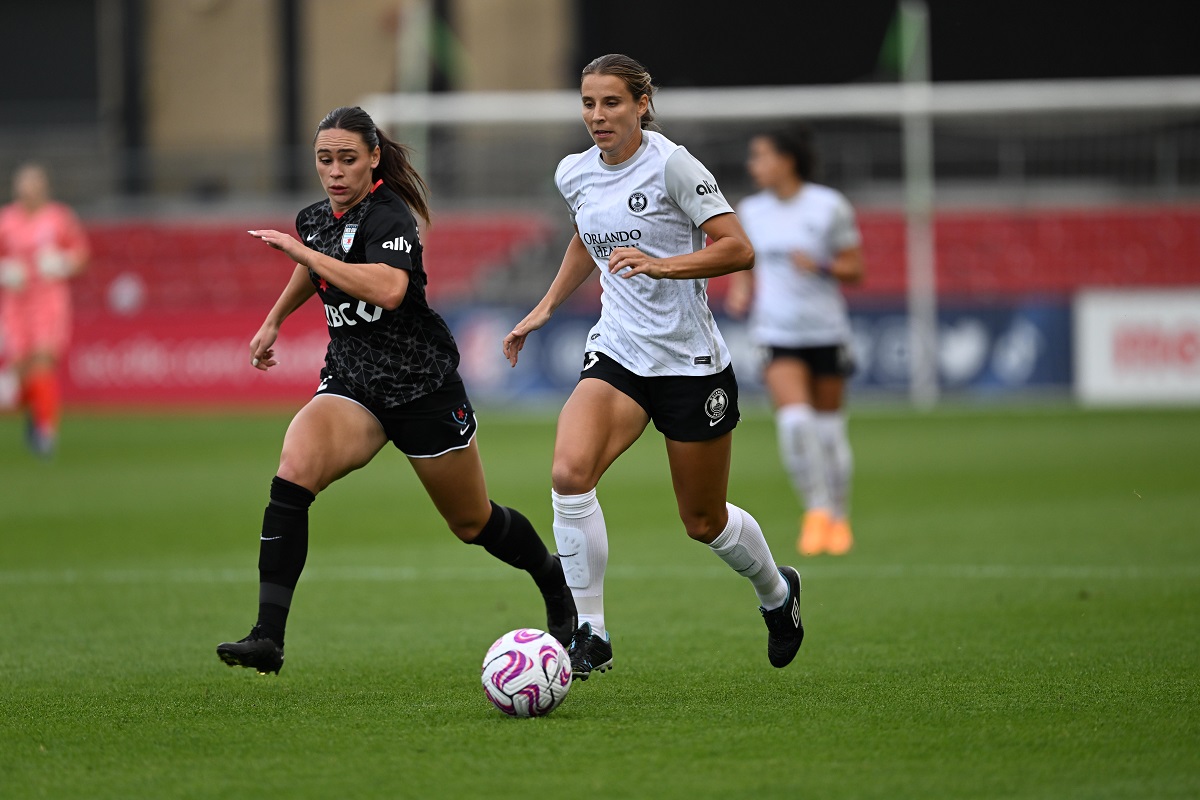 Happy Tuesday, everyone. I got absolutely clattered during my Sunday league game over the weekend, and I've been hobbling around ever since. Fortunately, my fingers still work just fine, because there are plenty of things to talk through this morning. Let's get after it.
Lions Earn Weekly Honors
Orlando was well represented on the MLS Team of the Matchday following a 3-0 victory over the New York Red Bulls Saturday night. Facundo Torres and Ivan Angulo were both named to the starting lineup, while Oscar Pareja was given the nod as head coach. Torres scored two goals and Angulo recorded a goal and an assist in the victory. Dave Rohe gave Torres a 7.5 and Angulo an 8, along with the Man of the Match award, in our player grades. It was nice to see other people take notice of the performances they put in. Keep up the good work, fellas!
OCSC Heading in the Right Direction
Orlando City got the complete performance that it's been looking for in recent weeks, and Oscar Pareja is very pleased with what he saw from his team. He went out of his way to highlight the fact that the Lions stayed vigilant and didn't relax and give up a goal as the game went on, something that's been a problem at times this year. While Pareja said that things aren't perfect yet, he and Torres were both of the opinion that the team is playing better lately, and Torres said that Saturday was OCSC's best performance of the season.
Kylie Strom Earns Monthly Plaudits
Orlando Pride defender Kylie Strom has been named to the NWSL Best XI for the month of May. Strom started in each of the Pride's four matches during May and went the full 90 minutes in all but one of them. She helped anchor a back line that only gave up two goals during those four games, but the highlight of her month came during the team's home game against the Washington Spirit. Strom scored the winning goal in the second half as the Pride handed the Spirit their first loss of the season. Here's hoping she continues the good form!
Fines and Bans Proposed for Vinicius' Abusers
The four men accused of hanging an effigy of Vinicius Jr. from a bridge are set to have hefty punishments levied against them. Spain's anti-violence commission has proposed fines of €60,001 and two-year stadium bans as a result of their actions. Additionally, the three men accused of racially abusing the Brazilian winger during a match against Valencia may be given fines and a one-year stadium ban as well. All seven were arrested and, although they've been released, could still face criminal charges, although that would be unprecedented. The Real Madrid player has suffered repeated instances of racial abuse since arriving in Spain. Hopefully the punishments will do something to deter the ugly incidents from occurring.
Free Kicks
Orlando City has picked up more points on the road than any other team in the Eastern Conference.
---
That's all for me today. Y'all stay safe out there.