Orlando City vs. Inter Miami CF: Final Score 3-1 as Lions Maul Herons in Fort Lauderdale
The Lions win the first 2023 installment of the Tropic Thunder rivalry convincingly on the road.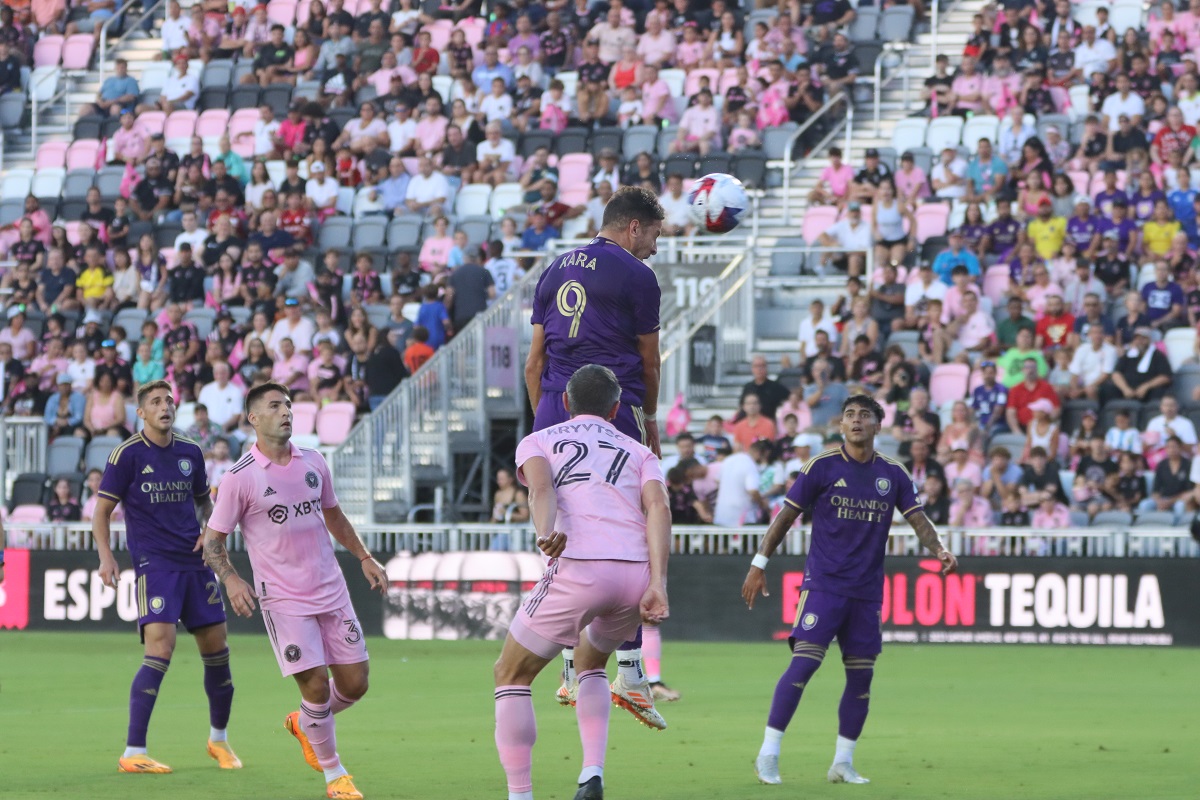 Ercan Kara scored another goal and assisted on the winner as Orlando City got back in the win column with a 3-1 victory over Inter Miami at DRV PNK Stadium in Fort Lauderdale. The Lions (5-4-4, 19 points) conceded a second-half equalizer to Leonardo Campana, but Martin Ojeda and Rafael Santos added goals to lead Orlando past its intrastate rival, Miami (5-8-0, 15 points).
The win turned a four-match winless skid (0-2-2) in all competitions into a modest three-game unbeaten run (1-0-2). The Lions improved to 5-3-2 in the all-time, regular-season series, 5-3-3 in all competitions against Miami, and 2-3-0 at DRV PNK Stadium.
"We're very happy to just have such a performance here on this field against a main rival, so we're very proud," Orlando City Head Coach Oscar Pareja said after the match. "Also I want to congratulate the players with the way they played tonight. I think it was until minute 60 until there was a first shot against. So, we had a very solid structure and the character for them, the initiative to play the game and be protagonists in an away game, it was super."
Pareja's lineup offered a few surprises. Without Michael Halliday (international duty), the prevailing thought was that the Lions would return to a back line with three center backs, as has been used primarily in road games this year. Instead, Pedro Gallese started in goal behind a four-man back line of Santos, Robin Jansson, Antonio Carlos, and Kyle Smith — starting just one yellow card short of suspension for accumulation. Cesar Araujo and Wilder Cartagena continued to log miles in central midfield during a busy May schedule behind an attacking line of Gaston Gonzalez, Facundo Torres, and Ivan Angulo, with Kara up top.
Orlando City dominated the first half in terms of chances and creating threatening situations. That started just five minutes in when Gonzalez got down the left channel on a nice pass from Torres, but the Argentine's cross was too close to goalkeeper Drake Callender, who caught it. Two minutes later, it was Torres spoiling a nice buildup with a heavy touch in traffic. He caught back up to the ball but then sent too heavy a through ball forward for Gonzalez, and it went out of play.
At the 10-minute mark, Kara rattled the goal frame when Angulo's cross found him in transition, and the big Austrian escaped from the marking of former Lion Kamal Miller and headed off the left post. Kara was sent in behind in the 12th minute but the flag came up and Callender made a fantastic reaction save against him anyway.
In the 13th minute, it was Angulo getting to the end line and having his cross deflect high. It may have gone in, but Callender leaped up and tipped it to himself to keep it out.
Orlando finally cashed in at minute 19. The Lions won a throw-in on their right side and Araujo went over to take it. The Uruguayan's long throw found Kara at the near post. The striker was able to fend off a great deal of grabbing and tugging and nodded the ball behind himself. Callender couldn't react in time and the ball went in to make it 1-0. It was Kara's third consecutive game with a goal and his fourth in five league games.
Referee Ramy Touchan then started to give out some weird cards. Antonio Carlos was booked for his first foul, which was a rather mundane-looking one against Campana. Angulo got one later for kicking the ball back to the spot of an innocuous-looking foul on Kara.
But the bigger issue for Orlando was a lack of killing off the half. Torres and Angulo fired wide of goal in the 28th and 30th minutes, respectively, despite having plenty of space at the top of the area. A minute after Angulo's miss, Gonzalez did well to get around his defender inside the left side of the box, but then he sent his cross into the middle of several Miami players instead of anywhere near a teammate.
Inter Miami made a sub at minute 33, sacrificing Sergii Kryvstov for Nicolas Stefanelli, and changed to a four-man back line look. That helped the hosts win more possession — Orlando had most of the ball to that point — but they didn't create much with it, although they started keeping the ball for much longer spells and snuffing out Orlando counters more successfully.
Angulo got caught between two minds at the top of the area in the 45th minute and fired a shot about 15 or 20 yards wide right of goal.
The Lions saw out an unexpected six minutes of stoppage time and took their 1-0 lead into the break.
The Herons had more possession in the opening half (58.9%-41.1%), due in large part to holding most of the ball after their shape change, and they passed more accurately (83.7%-75.9%). The Lions fired more shots (5-0) and more shots on target (1-0), and won the lone corner of the opening period. However, a lack of precision continued to plague the team and kept the lead from growing.
Holding the hosts without a shot showed how the first half went, despite the teams only being separated by one goal at the break.
"In the first half, I thought we all had a great game," Araujo said. "And being able to maintain that zero (shots against) in the first half was very important to set up ourselves in the second half. I think we hit all together in a great moment, and we were able to take home three points."
"I think we played one of our best 35 minutes in the first half," Pareja said. "We dominated the game. We had personality to dominate the possession and create chances. And then Miami changed their model. They took one of the center backs off the field and they brought one of their midfielders who started getting in behind our two midfielders. That made us drop 10-15 yards that we didn't want (to do). The problem was that we lost possession of the ball because we started giving the ball away again."
Not much changed to start the second half. Miami kept the ball more and worked it around, but after halftime the Herons were able to start finding enough space to attempt shots.
Chances at the other end were few to start the second period, but Kara did get to a corner cross that was a bit behind him and headed it over the bar in the 50th minute. Two minutes later, the Lions stole the ball in the attacking third and broke in transition, but Angulo took too many touches at the top of the box trying to figure out what to do with it and ultimately lost control of it.
The Herons made Orlando pay for not extending the lead — and for a bad turnover — in the 57th minute. A poor — and very much telegraphed — outlet pass from Santos to Torres was easily won by DeAndre Yedlin in the attacking third, and the ball was quickly given to Josef Martinez. Araujo came to close him down and then ran with the former Atlanta striker when he dropped it off for Campana. The Miami Designated Player made a move to cut back against an aggressive close-out by Cartagena, and then had time and space to blast a shot high past Gallese to tie the match. Cartagena nearly recovered to block it but couldn't make contact and the game was level.
Gallese kept things from getting worse in the 63rd minute when Dixon Arroyo had time outside the area and drove a hard shot on frame. El Pulpo got down to make the save on a difficult ball that bounced right in front of him.
Seconds later, Gonzalez pulled up and went down in apparent pain. He was subbed off along with Smith. Rodrigo Schlegel and Ojeda came on and Orlando went to a three-center-back system. That helped the team regain some control of the match, as the Lions were again able to get into transition opportunities and find outlets that they couldn't in the middle third of the game.
Pareja said he wanted to see if his team could re-establish itself to start the second half, but that not only didn't happen but the hosts also equalized.
"The goal came and made me decide to change the model," he said. "We knew Miami was going to give us spaces in behind and at some point we were going to bring fresh players and we thought of exploiting those spaces. And that happened. That was a very good job from the players who made us look much better."
It only took a few minutes for the changes to pay off. Schlegel sent a long ball forward in the 68th minute that Kara deftly flicked on, sending Ojeda in behind the defense. The Argentine calmly slotted his shot past Callender to restore Orlando City's lead.
Five minutes later, the Lions had an opportunity to put the game away as Torres was sent into the left side of the box. Before the Young Designated Player could square himself to shoot or pass, he slipped and the ball trickled out of play for a goal kick.
Pareja sent Duncan McGuire and Mauricio Pereyra on moments later, providing fresh legs for the attack, and again it paid off.
Just seconds after entering, Pereyra got the ball and threaded it between two defenders to McGuire in the box. The rookie tried to turn and shoot but the ball was deflected away. In the 79th minute, Santos ran onto a ball that was knocked out of the Miami area and hit a shot just wide of the right post. That served as a warning shot for later and Inter Miami did not heed the warning.
Orlando got forward more often and Miami's buildups started to look less threatening as the extra OCSC defenders had the desired effect. On one foray up the field, Araujo had a go from distance. He struck the shot well but put it right in Callender's breadbasket in the 84th minute.
Two minutes later, the Lions put the game to bed. Araujo and late substitute Dagur Dan Thorhallsson played the ball back and forth in the Orlando end, before Araujo came forward and picked out Pereyra with a pass. The captain's first touch sent Ojeda down the right flank. Ojeda crossed the ball in for McGuire's run, and when the defense arrived to shut down the rookie, he laid it off for Santos. This time, the left back didn't miss, sending a shot through a defender's legs and inside the right post for the insurance goal in the 86th minute.
It was Santos' first MLS goal and it provided Orlando a third goal in a match for the first time all season. The Lions hadn't scored more than two goals in a match since last season, when they beat Toronto FC, 4-0, on Sept. 17.
Miami's frustrations spilled over a bit after that and there were some ugly fouls and some jawing between the teams, but not much came of it. McGuire bore the brunt of those fouls. Orlando saw out the rest of the game with only one major scare, but Jansson did well to make a vital slide tackle to not only prevent Martinez from getting a scoring chance, but also winning a goal kick in the process.
Inter Miami ended up with a lopsided advantage in possession (61.1%-38.9%), but failed to threaten much with it, although constantly working the ball left to right, backwards and then back the other way also enabled the Herons to finish with a higher passing accuracy (86.4%-77%) and more corners (3-2). The Lions had more shots (11-6) and more shots on target (4-2).
"It was a great game, and thankfully, we were able to take all three points, which is something that we try to do whether we're playing at home or we're playing on the road," Araujo said. "I thought we played well today."
"Just thrilled for our fans. Obviously it's a derby. It was very emotional for us to see that corner dressed in purple," Pareja said. "Many trusting the team, supporting us. They deserve this and I promise that we won't stop working to see if we can get this better and better."
---
The Lions will get an honest-to-goodness normal work week ahead of next Saturday's match against Atlanta United at Exploria Stadium.
Lion Links: 6/10/23
Lions want consistency, Alejandro Granados earns short-term contract, Pride welcome Thorns, and more.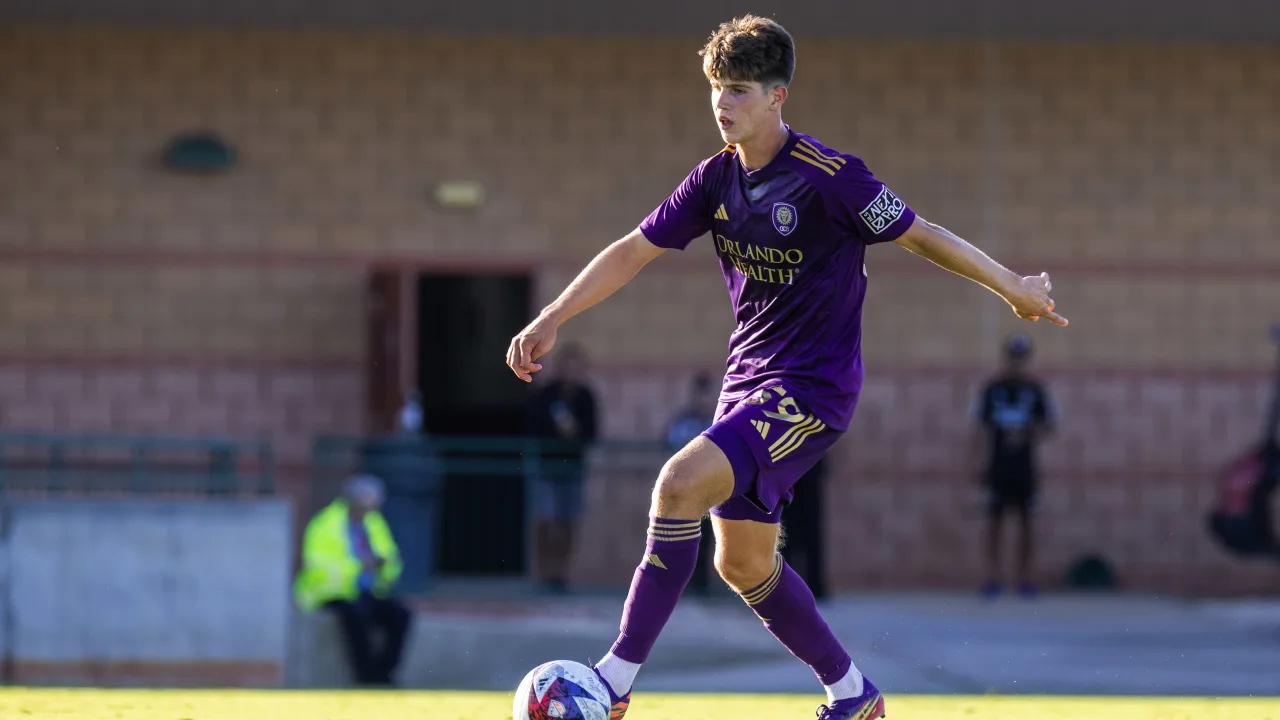 Welcome to the weekend, Mane Landers. It's a great Saturday to wake up because the Lions are back home tonight at 7:30 p.m. Personally, I am looking forward to seeing the team continue to build attacking momentum as the pieces have started to gel together. The pace of Ivan Angulo has been electric, and I'm hopeful Facundo Torres has finally turned the page he needed to this season. Aside from Orlando City today, we also have soccer in town on Sunday, with OCB taking on Cincinnati 2 and the Orlando Pride hosting the Portland Thorns. So, let's dig right into it all in the links!
Orlando City's Momentum and Consistency
Orlando City returns home tonight to take on the Colorado Rapids after a decisive 3-0 victory at Red Bull Arena. With the latest victory, the Lions are now unbeaten in their previous five league matches. Orlando City aims to keep up the consistency in its performances as the Lions gear up for the 13th-ranked team in the Western Conference, and the Rapids are desperate for points. 
"They're gonna come in to try and leave the position that they're in right now," Lions goalkeeper Pedro Gallese said. "They're going to try and come in and take points from us in our home. We know that they're going to come in strong, but we have to do the same and we've got to continue the form that we've had during this run that we're on right now."
Alejandro Granados Earns First-Team Deal
Orlando City has called up the services of midfielder Alejandro Granados from Orlando City B on a short-term agreement and will be available for selection today as the Lions take on the Colorado Rapids. The 17-year-old has six appearances for Orlando City B this season in MLS NEXT Pro. On the global stage, Granados recently featured for Spain at the U-17 European Championship. He appeared five times in the tournament as La Roja reached the semifinals. He even scored a goal in the quarterfinal round against Ireland that also qualified the side for the U-17 World Cup later this year.
Orlando Pride Host Portland Thorns
The Pride are back in town following a midweek Challenge Cup postponement against NJ/NY Gotham FC due to measures taken to prioritize player health and safety in the face of terrible air quality as a result of the Canadian wildfires. Sunday's match is set to begin at 7 p.m. against the Portland Thorns. It will be the Pride's first home match in 22 days, however, the team won the last two matches played at Exploria Stadium. One thing to watch for in the match will be set pieces. Four of Orlando's last six goals in regular season play have been scored from a set piece, with three being corners. For the Pride, it will be a chance to begin to shift the history between the two clubs, as the Thorns have won 13 of their 17 all-time meetings with Orlando, including the last three in a row by a combined score of 12-0.
Orlando City Academy Boasts Nine D-1 Athletes
The Young Lions of the Orlando City Development Academy have wrapped up their studies for the year and are on their way to penning the next chapter in their lives. Nine graduates have committed to Division 1 programs across the United States. Five of the graduates were products of the 2021 U-17 MLS NEXT Cup champion team. Another notable mention is Orlando City B forward Chase Vazquez, who came off the bench in this year's preseason matchup against Stetson University to score a hat trick.
Free Kicks
---
That's all I have for you today. Have a safe two days at Exploria Stadium. Remember to hydrate and look out for your friends. It is starting to feel a lot like summer out here. Vamos Orlando!
Intelligence Report: Orlando City vs. Colorado Rapids
Familiarize yourself with the Colorado Rapids, courtesy of someone who knows them best.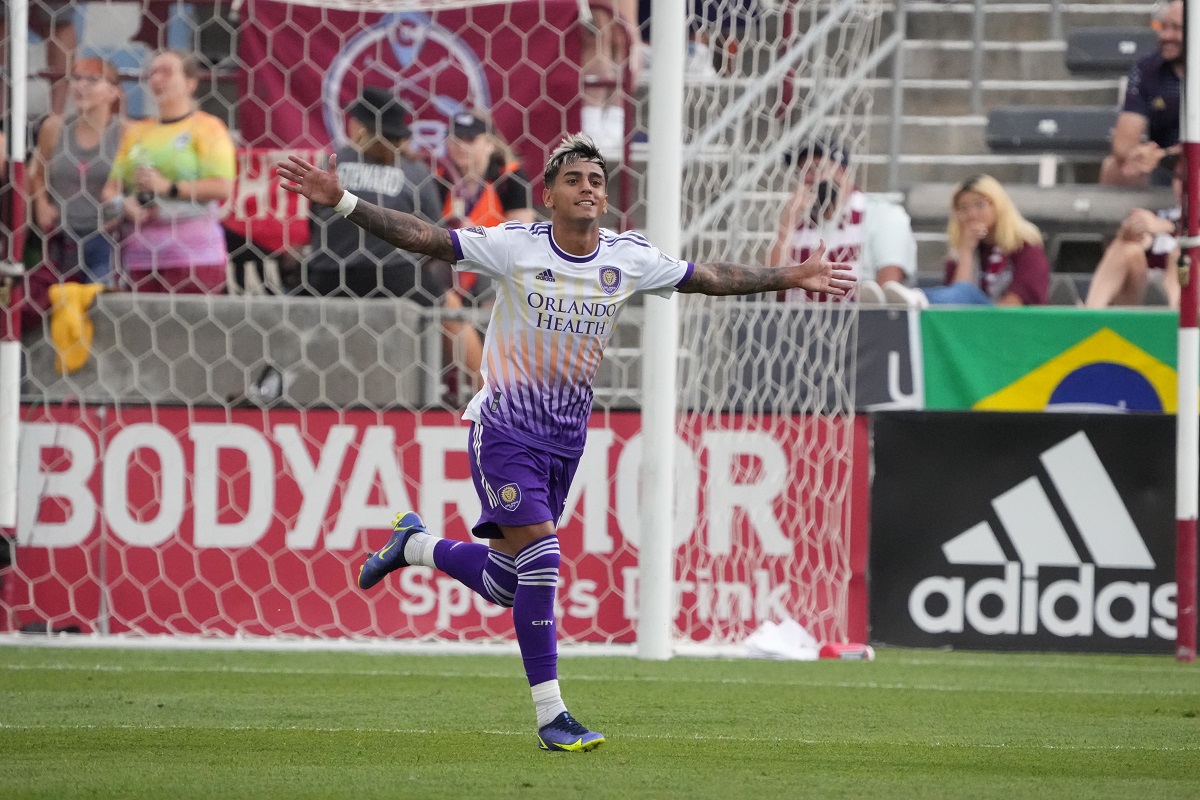 Another Orlando City game is almost upon us, as the Lions look to both extend their five-match unbeaten run and pick up two wins in a row. This week sees the Colorado Rapids come to town for the first home game of June.
A match with the Rapids means I spoke to Matt Pollard, of Burgundy Wave. That's another site that has gone independent and the folks over there are continuing to provide great coverage of the Rapids, so make sure to check them out!
What were some of the big incoming and outgoing transfers for the Rapids ahead of this season?
Matt Pollard: The three biggest incoming players in terms of expectations were Kévin Cabral, Connor Ronan, and Andreas Maxsø.
Cabral is probably the highest-risk, highest-reward signing when it comes to the Rapids going after distressed assets. So far, it hasn't panned out. He presses well, but that's about it. The same issues he had at LA Galaxy (getting called offside, not finishing) are present here in Colorado. The difference is, he's the focal point instead of the third player opposing defenses worry about.
Ronan and Maxsø have been great. Ronan was brought in to play alongside Jack Price. When Price went down for the season, Ronan stepped into the No. 6 role and adjusted well. He's tidy at the back, works hard off the ball, and is one of the better assist providers on the team. Maxsø has been good defensively in the air and good at emergency defending. The Rapids typically give up goals by making a series of small errors. Rarely is the Great Dane one of those players who makes a mistake on a goal.
It's hard to say if there were any significant departures from last year's team. Most fans weren't surprised or bummed out when Gyasi Zardes signed for Austin FC. The left back position has been an issue, so maybe Lucas Esteves. But he had some attitude issues and was hot headed. Robin Fraser's such a culture guy, he wasn't worth the headache.
It's been a difficult start to the season for Colorado, what has been the biggest reason for the team's struggles?
MP: Injuries. Injuries. Injuries. Price went down for the season in his second appearance. Diego Rubio has had three separate injuries. Maxsø was under concussion protocol for two games. I've lost count of how many players have had hamstring issues. As I've written about previously for Burgundy Wave, the infrastructure at Dick's (Sporting Goods Park) is showing its age. The team had a really bad stretch in March and April with practice fields and winter sticking around. They've missed key players. They've had limited depth. All while playing eight games in May. Hopefully a full week of training has them healthy and refocused for Saturday.
With plenty of games left to play and only sitting six points out of the play-in spots, the Rapids are far from dead and buried. What needs to happen for Colorado to turn the season around?
MP: Get healthy and get going offensively. Rubio is still their only reliable chance creator. All their goal scorers have been streaky. If Rubio comes back healthy and can give the Rapids the production he had last year (a club-record 16 goals and seven assists), that would be fantastic. Add in Cabral, Jonathan Lewis, and Braian Galván having a good finishing streak, and they could be ok. Orlando fans should be wary of Michael Barrios coming off the bench tomorrow. All 12 of his goals for the Rapids have come in the second half.
Are there any players who will be unavailable for selection due to call-ups, injuries, suspensions, etc? What is your projected starting lineup and score prediction?
MP: The injury report just came out and there are only four players on it. That's tied for the lowest of the season! Rubio is questionable, and Fraser's been really cautious with his key players coming back from injury. I can't see him getting more than 20 minutes Saturday. Moïse Bombito is suspended for a harsh second yellow against San Jose, so expect Lalas Abubakar to start at center back. Price is out, as mentioned previously. Max Alves is still removed from team activities as he's under investigation for participation in a sports gambling scheme in his native Brazil.
Marko Ilic; Danny Wilson, Andreas Maxsø, Lalas Abubakar; Sam Nicholson, Keegan Rosenberry; Connor Ronan, Bryan Acosta, Cole Bassett; Jonathan Lewis, Darren Yapi.
I think Orlando wins a tight, ugly game. Oscar Pareja knows how to poop-house the Rapids. 1-0, Facundo Torres scores. I do think we'll see one of the better performances from the Rapids of this winless stretch for what that's worth. 
---
Thank you to Matt for the excellent info and helping get us up to speed on the Rapids. Vamos Orlando!

Lion Links: 6/9/23
Orlando City gets ready for the Colorado Rapids, OCB faces FC Cincinnati 2 on Sunday, U-20 World Cup final is set, and more.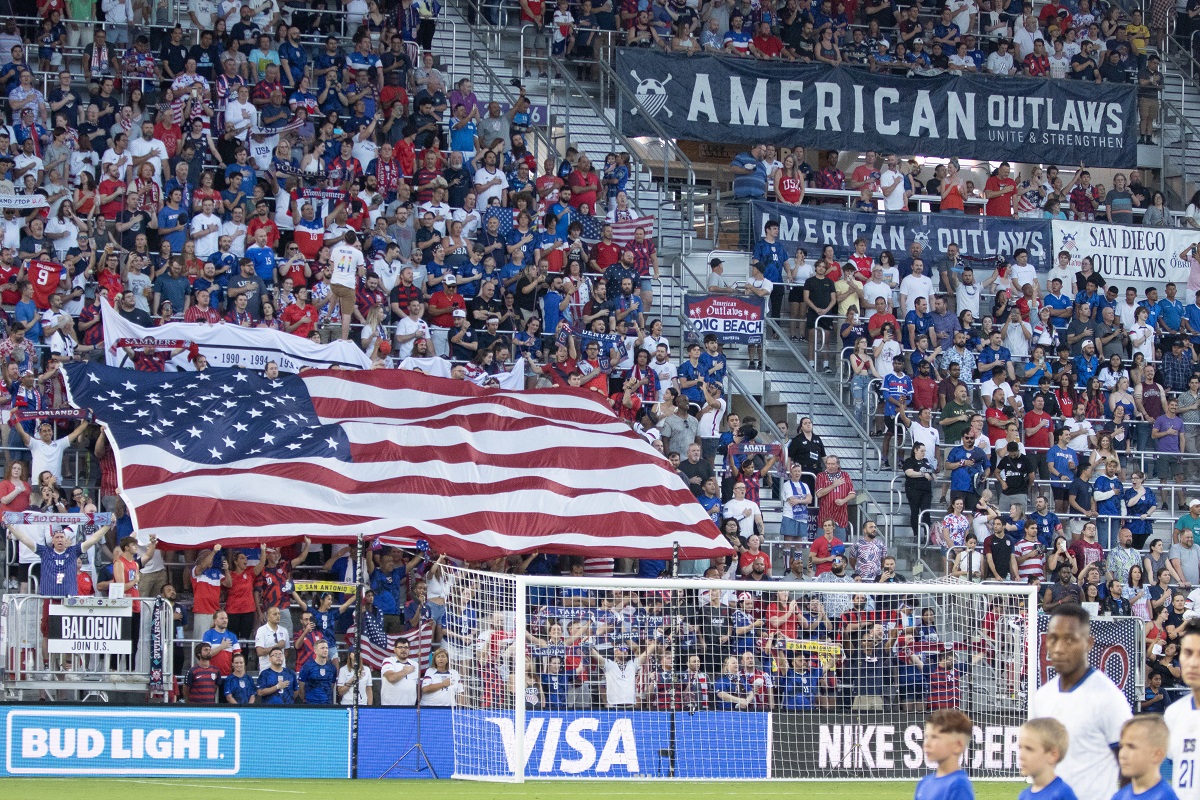 How's it going, Mane Landers? I hope this Friday finds you well as we gear up for a weekend filled to the brim with Orlando soccer. My friends are taking me out for teppanyaki and scorpion bowls tonight, so it should be a pretty nice day on my end. Hopefully your Friday goes smoothly as well. Now, let's dive into today's links from around the soccer world.
Orlando City Prepares for the Colorado Rapids
The Lions are on a five-game unbeaten run as they get ready for a home match tomorrow night against the Colorado Rapids. Facundo Torres scored twice in the team's 3-0 win over the New York Red Bulls last weekend. Hopefully he can keep the momentum rolling against a Colorado team that's allowed 25 goals this season and sits last in the league in points per game, with just two wins in 17 matches. Pedro Gallese also recorded his 26th clean sheet for Orlando in last week's win, and could make his 100th appearance as a Lion tomorrow night. The Lions will have to keep an eye on Irish midfielder Connor Ronan, who has six assists in his first season with the Rapids.
Orlando City B Aims to Bounce Back at Home
After a 3-0 defeat to Toronto FC II in Canada this past weekend, Orlando City B will look to right the ship on Sunday at home against FC Cincinnati 2. The Young Lions are unbeaten at home this season, winning four of their six games at Osceola Heritage Park. The last time these two teams played was in August of last year, with Cincy winning in the penalty shootout following a 2-2 draw. Although he didn't score in that match, OCB forward Jack Lynn scored three goals against Cincinnati last year and currently leads OCB with six goals this season. Sunday's match should be a good opportunity for OCB's offense to bounce back against a leaky Cincy defense.
USMNT Players Focused Despite Coaching Search
With European seasons over, American players who have been plying their trade abroad are back in the U.S. to prepare for the Concacaf Nations League and Gold Cup this month. The team will be coached by B.J. Callaghan in an interim capacity while the search for a head coach continues. Although not having a permanent head coach for these tournaments isn't ideal, Nashville SC center back Walker Zimmerman spoke on how the team still knows how to get the job done.
"We're a team that has a very strong team chemistry, strong culture within our group. And we know that for us, not much has changed right now," said Zimmerman. "We know the same principles, style of play, expectations, accountability – all those things are the same. So I think that's player-driven, to hold each other accountable to the standards that we've set over the past four years. BJ, he's on top of it. He's knowledgeable about what we want to do, how we're going to go about these games."
The roster includes many of the players who featured in the World Cup last year, but the striker position is one to watch due to the new faces involved. Folarin Balogun is with the team for the first time and it will be interesting to see how he measures up against Ricardo Pepi, Alex Zendejas, and Jesus Ferreira. We will get to see who spearheads the USMNT's attack next Thursday, when the Yanks take on Mexico in Las Vegas.
Italy and Uruguay Reach U-20 World Cup Final
Only two teams remain in the U-20 World Cup after Italy and Uruguay each won their semifinals. Uruguay, which beat the U.S. in the quarterfinals, beat Israel 1-0, thanks to a goal in the second half from Anderson Duarte. In Italy's semifinal against South Korea, Cesare Casadei's terrific tournament continued as he gave Italy the lead in the 14th minute. South Korea equalized soon after with a penalty kick, but 17-year-old forward Simone Pafundi scored a nice free kick to send Italy into the final.
The final will take place on Sunday at 5 p.m., with the third-place match set for 1:30 p.m. It will be Italy's first time playing in a U-20 World Cup final, while it will be Uruguay's third time after losing in 1997 and 2013.
Free Kicks
---
That's all I have for you today. Have a fantastic Friday and rest of your weekend!