Orlando City vs. Santos Laguna, Leagues Cup: Final Score 3-2 as Wilder Cartagena Wins it Late for Lions
Wilder Cartagena's stoppage-time goal snapped a 2-2 deadlock and lifted the Lions into the Round of 32.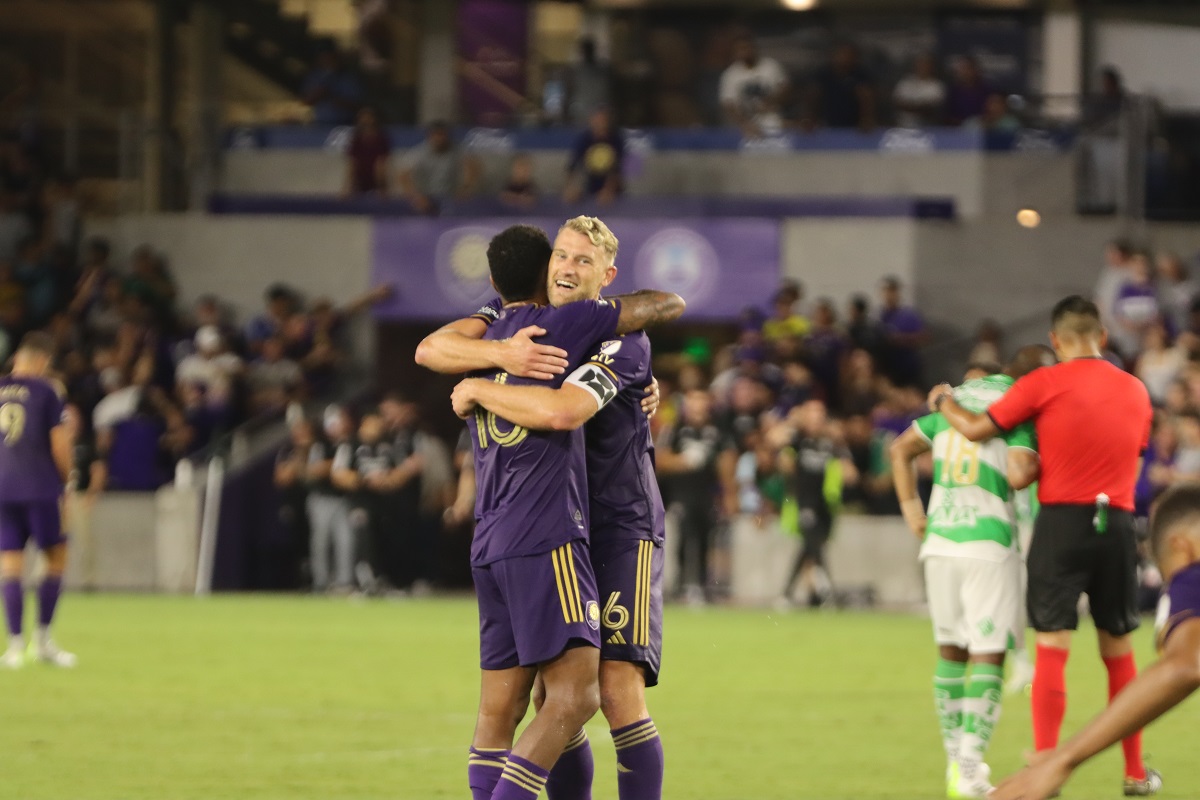 Wilder Cartagena's late goal broke a 2-2 deadlock and lifted Orlando City to a 3-2 win over Santos Laguna of Liga MX tonight at Exploria Stadium in front of an announced crowd of 16,313. The Lions (1-0-1, 5 points) won the South 2 group in Leagues Cup and now advance to face rival Inter Miami in the Round of 32 on Wednesday. It was City's first win ever against Liga MX competition.
The Lions fell behind in the first half on Raul Lopez's goal before Duncan McGuire equalized. Mauricio Pereyra put Orlando City ahead just seconds after the restart, only to see Santos Laguna's Harold Preciado pull it back 12 minutes later. Cartagena's heroics came in the second minute of stoppage time to push the Lions to the top of the group and eliminate the Liga MX side from the competition. The Houston Dynamo (0-0-2, 3 points) finished second in the group and will advance to face Pachuca. Santos Laguna exits after a 0-1-1 record in group play.
"First, I want to congratulate our players for such an effort and a great victory over a great team," Orlando City Head Coach Oscar Pareja said after the match. "I think we gave a good step today towards our objectives and obviously keep walking forward in Leagues Cup and also showed many other things that are going to help us for the end of the season. I think it was a very complete performance."
Pareja's lineup was the one he's become accustomed to starting in recent weeks, with Pedro Gallese in goal behind a back line of Rafael Santos, Robin Jansson, Antonio Carlos, and Kyle Smith. Cesar Araujo paired with Cartagena in central midfield, behind an attacking line of Ivan Angulo, Pereyra, and Facundo Torres, with McGuire up top.
Santos Laguna was more than happy to sit back and look to counter in the first half and got a chance in just the second minute with a shot from a severe angle by Duvan Vergara that Gallese was able to stop.
Orlando City should have scored from a set piece two minutes later. A training ground free kick from distance was sent into the left side of the box for Jansson, who sent it back for McGuire. The rookie's shot hit the post, ending the danger, and the play may have been offside anyway had it gone in and then been reviewed. A minute later, McGuire fired a shot right at goalkeeper Gibran Lajud, but the flag did come up this time.
Carlos did well to knock away a dangerous cross in the 20th minute and it went out for the game's first corner. Santos Laguna couldn't make the set piece pay off.
Angulo was active in the first half but his final touch — whether a pass or a shot — was an adventure and not usually a good one. He took a layoff from Torres in space near the top of the area in the 24th minute but his shot was nowhere near the goal frame.
Santos Laguna opened the scoring off a terrible mistake by Orlando. Angulo got under an attempted switch but his touch was heavy and he gave it away immediately to Raul Lopez. The Santos Laguna right back used Jansson as a screen and fired a hard, low shot that curled and skipped up off the turf and past Gallese to make it 1-0 in the 41st minute.
The Lions responded quickly, working the ball to Santos on the left. The Brazilian sent in an inch-perfect cross to find McGuire, who powered his header inside the left post, tying the game at 1-1 in the 44th minute. It was the rookie's 10th goal across all competitions this season.
"Just a good team buildup," McGuire said. "You know, we've been talking about it all week — don't put our heads down if we go down one, so it's good to see a good response from the guys and get a quick goal back. It pays to practice that a lot. Rafa and I've got a good connection. We've always talked about how we want that ball delivered, how he's going cross it to me, so just a good connection we've had. It was good to see it work out in the game."
The final few minutes of the first half were uneventful and the teams went into the break deadlocked. Orlando City held the statistical advantage at the break in possession (53.6%-46.4%), shots (5-3), shots on target (3-2), corners (3-1), and passing accuracy (84.3%-79.4%).
Orlando City jumped out in front in the first minute of the second half. Pereyra cut from left to right outside the area and seeing no options, blasted a shot into the upper right corner to make it 2-1.
"I had the opportunity to shoot, and I didn't used to do it but the guys are telling me that I need to do (it) more," Pereyra said. "Of course I'm happy for that."
The Lions looked primed to add an insurance goal in the 52nd minute when Torres found himself in space but he blasted his shot just wide.
Five minutes later, Juan Brunetta fired just inches wide in transition the other way. But a minute later, the Liga MX side scored anyway. The Lions cleared a set piece and Santos Laguna recycled, sending in a cross. Preciado headed it in to tie the match in the 58th minute. The Lions appealed for a foul on the play but after review the goal stood.
"We knew that there were going to be moments where Santos was going to hurt us," Pareja said. "You don't want it, but this is a natural thing. But we resisted to it and not just resist to it but we found ways to hurt them, and scoring three goals against them is not an easy task."
Orlando City kept fighting to get back on top. A good buildup in the 66th minute gave Santos a wide-open look on the left from just outside the area but the fullback smashed his shot wide of the near post.
As the game progressed into the final 20 minutes, transition opportunities looked dangerous both ways. Pareja sent on attacking players Ramiro Enrique, Martin Ojeda, and Ercan Kara for the stretch run.
Orlando lost the ball in the attacking third in the 73rd minute and it led to a chance at the other end, but Preciado fired wide of goal. A minute later, a dangerous attacking move down the left ended up in front for Omar Campos to direct on goal, but Santos was there to block the shot to preserve the tie.
Gallese did well to stop Preciado's shot in the 80th minute but to be fair the Santos Laguna striker was in 1-v-1 and left his shot too close to the goalkeeper.
The winning play looked like it was going to go Santos Laguna's way before it turned in Orlando City's favor. The Lions lost the ball in the attack and the Liga MX side broke on a 5-v-3 transition opportunity. As the play entered the Lions' attacking third, Araujo made a fantastic open-field play to take the ball away and start the break the other way. After a few touches in the attack, it ended up back on Araujo's foot on the right side. The defensive midfielder slipped the ball in for Cartagena, who redirected it through Lajud, opening his Orlando City account on the winning goal in the 92nd minute.
"I'm very happy for the goal," Cartagena said. "As a kid, you always dream of scoring goals like these and I was very happy that I was able to help the team. The play started with Cesar and then Facu, then to me, then to Kara, then to Cesar. I lifted my hand and Cesar saw me and he gave me a spectacular assist. My brother Cesar, that's what he does."
The winning goal never would have come without Araujo's assist but it never even would have gotten that far without his timely tackle in transition.
"I saw them arriving. I saw them arriving with a lot of people," Araujo said. "I tried to get as close as possible, and by luck I was able to win the ball and we were able to score on the other side."
Orlando City finished with the advantage in possession (54.2%-45.8%) and passing accuracy (82.4%-80.3%). Santos Laguna finished with more shots (16-11) but each team got five on target. Both sides won three corners in the match.
"It was a tough game," Cartagena said. "In the first 30 minutes we were very much on top of them and then they grew into the match. It was a very evenly disputed game, but we were able to get the better of them. I think that it was a great match for everyone to enjoy and we ultimately got the result."
"Our preparation was based on being fine in the final thirds — theirs and ours," Pareja said. "We knew that transitions in the middle were going to be wild, since you have players who can take that ball from defending third to the final third, and there is not too much time to think other than be good defending your area and then do the same in the other part. But again, we're playing against one of the best teams in Mexico. This is a good response from our players and and for our fans as well."
---
Orlando City has a short turnaround before playing at Inter Miami on Wednesday night in a Round of 32 Tropic Thunder matchup.
Orlando City Enjoyed the Best Summer Stretch in Team History
Orlando City climbed the table in the club's best summer since joining MLS.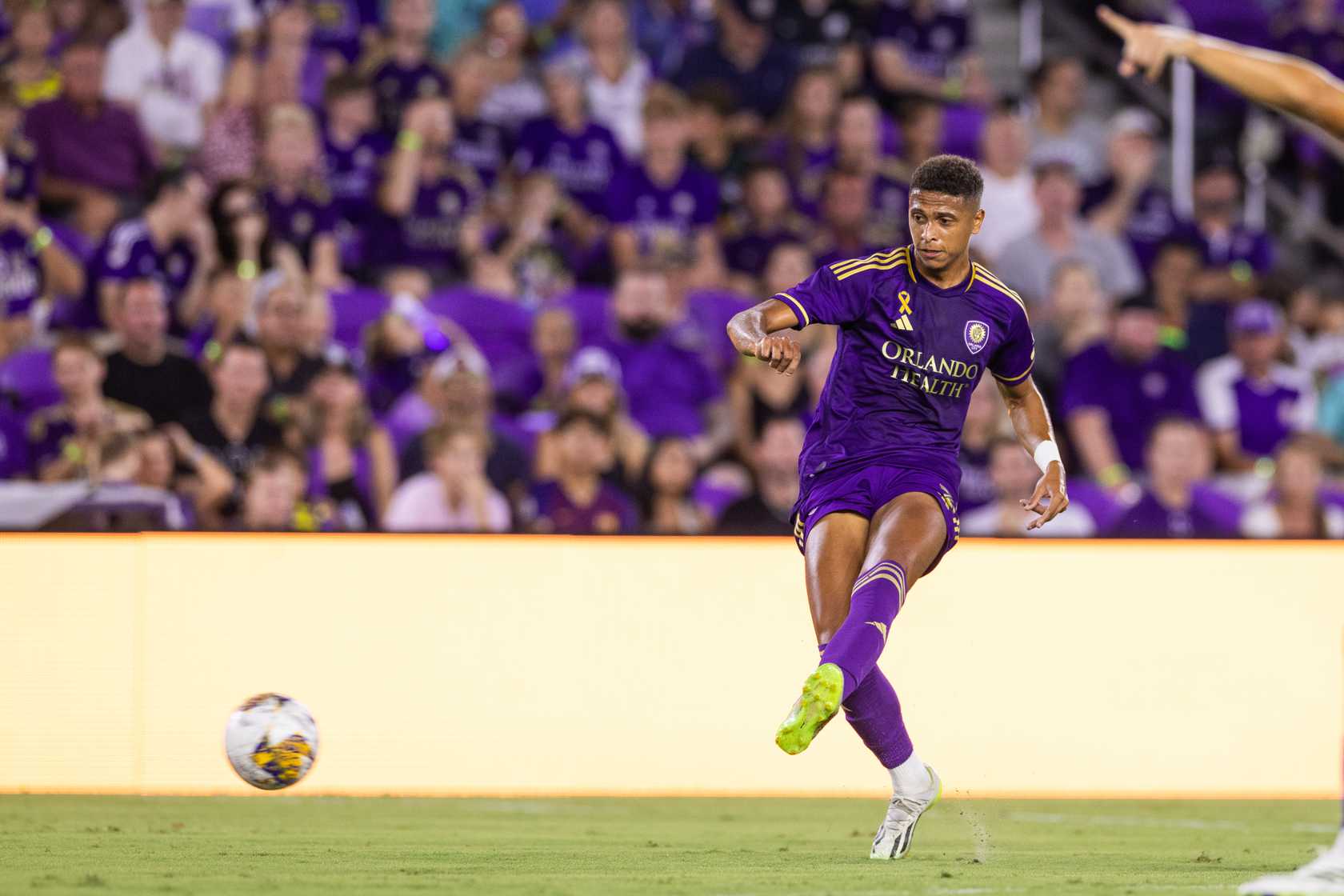 June, July, August (plus, most of September), and the dog days of summer are officially in the rearview mirror and Orlando City is set to put a cherry on top of what was the best summer stretch in team history when they face Inter Miami tomorrow night at Exploria Stadium. As the season starts to wind down, I felt it was only necessary to take some time to examine the what we all just witnessed…the best summer in team history.
A quick Google search says that the season of summer in the U.S. traditionally starts June 21 on the summer solstice, which we will use as the starting point. I looked historically at the team's performance from that point in time through the end of summer each season, a.k.a. today, Sept. 23. As a new expansion team in Major League Soccer, Orlando City dealt with the summer heat fairly well and earned 15 and 17 points in 2015 and 2016, respectively. The next two seasons, on the other hand, were much darker times to be a city fan, as Orlando City racked up seven and 10 losses in 2017 and 2018, respectively, during those two seasons. It does not take Sherlock Holmes-level detection skills to know that those summer stretches did not lead to postseason playoff berths. In 2019, the team amassed a decent 18 points during the summer, but only tallied 37 on the season overall.
It should not come as a surprise to any OCSC fan that the team's best years of success have all come while Oscar Pareja has been at the helm. Prior to this season, the best summer stretch that the team had enjoyed was back in 2021 — also under Pareja's reign — when the boys put up 23 points, setting a summer team record with six wins. Despite their great summer success, the 2021 Lions were unfortunately not able to keep their strong summer momentum going as they dropped four straight matches after Labor Day that year. Enter 2022, or as I like to call it "the summer of the trophy." Technically speaking, in the MLS regular season, it was the team's second best summer, with 20 points to their name. Orlando also happened to lift the U.S. Open Cup during that span last year, so there is an argument to be made that without the additional fixtures, the Lions may have been able to commit more resources to the regular season and would have wound up with more points. I will take the hardware!
This summer it has seemed as though Papi has pulled all the right strings at the right times. Orlando currently not only sits in second place in the Eastern Conference, but second overall in the Supporters' Shield race and has only dropped two matches from June 21 to Sept. 23 while sporting a +6 goal differential. The Lions amassed 24 points during the summer this year.
Orlando City finding the back of the net more often than conceding makes for quite fun matches to enjoy. The two losses OCSC has picked up throughout the summer this season both have come on the road (at Real Salt Lake and at NYCFC), despite Orlando City earning an MLS-best 25 points away from Central Florida this year.
Orlando City did a great job getting through the hottest part of the calendar while locking up results left and right. Orlando has already secured a spot in the playoffs for the fourth consecutive year in no small part due to the amazing summer the team just enjoyed. As fall comes barreling at us and the MLS playoff home-field advantage race begins to heat up, the performance of the squad this summer should not be taken for granted as championships might not be won in June, July, or August, but poor performances can certainly ensure that they are lost.
---
Did you have a favorite moment or match from this summer? My favorite moment was what I am calling the Hail Ojeda Mary goal in Charlotte, and my favorite match was the electrifying 4-3 come-from-behind victory against the Columbus Crew. Let us know in the comments below your favorites, and as always, vamos Orlando.
Lion Links: 9/23/22
Lions and Herons meet again, Carly Nelson is writing a book, NWSL free agency opens, and more.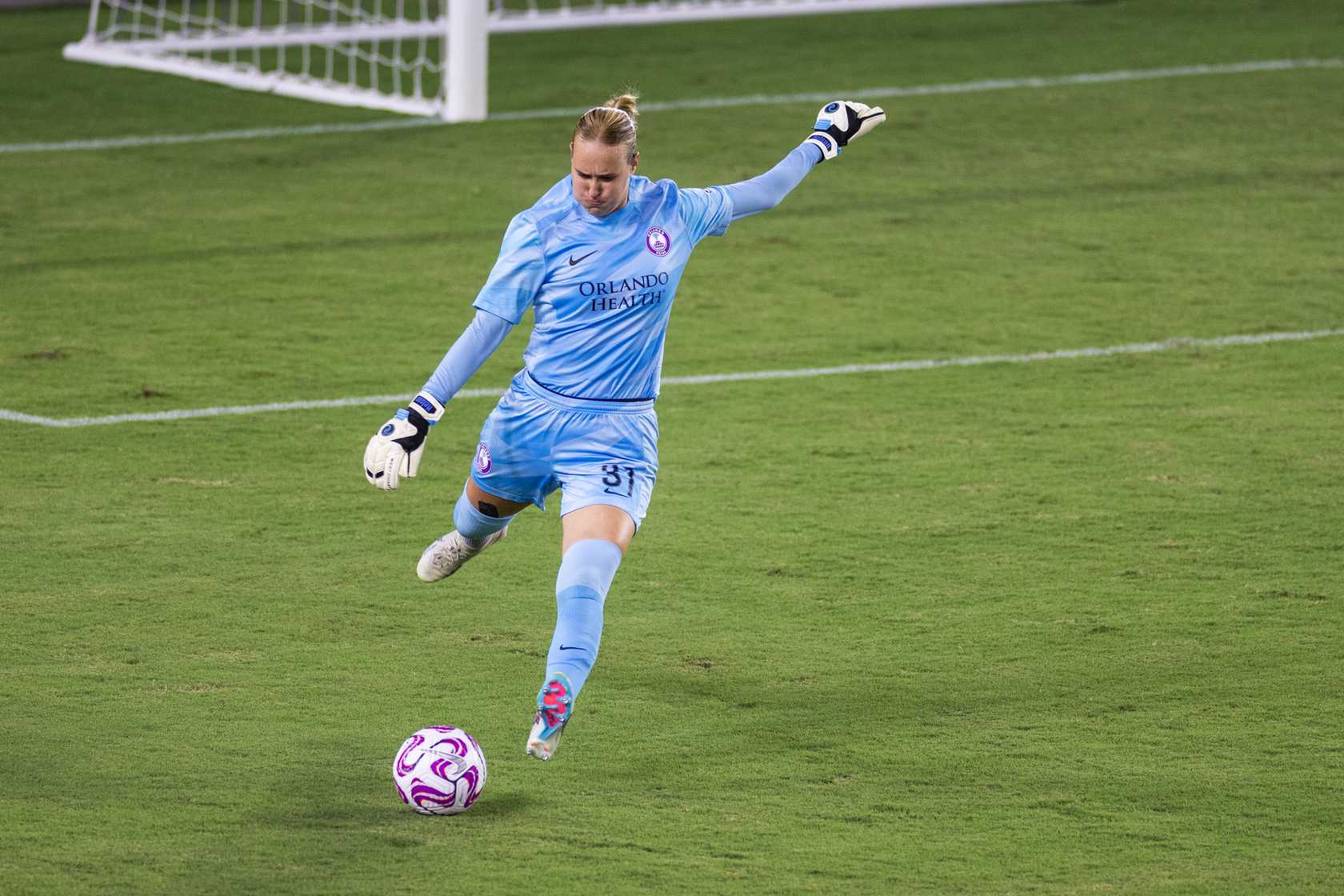 Happy Founder's Day, Mane Landers! It was on this day in 2014 that our fearless leader and Managing Editor Michael Citro started our first ever WordPress website. It's safe to say that I'm sure The Mane Land has impacted your life as much as it has mine over the years, whether that be through daily reading or weekly podcasts. Cheers to Michael and all those who have come before me.
In my own personal news, I have been grinding away on the new EA FC 24 (the franchise formerly known as EA's FIFA.) So far, the gameplay and updates have been great in my initial 15+ hours of play, and my online Ultimate Team is starting to really take its shape. I'm sure in a couple weeks that I'll transition to a traditional Career Mode and take the Lions all the way to an MLS Cup and beyond.
Before we dive into today's links, let's all wish a very happy birthday to everyone's favorite defensive midfielder, Wilder Cartagena!
Third Bout for Orlando City and Inter Miami
Orlando City and Inter Miami have already met twice this campaign. Sunday's match will look to break the deadlock between the two rivals as both clubs have a victory to their name in this year's series. In May, the Lions grabbed a 3-1 victory over the Fort Lauderdale-based club. The two sides met for a second time in the knockout round of Leagues Cup 2023 with Inter Miami taking the 3-1 result at DRV PNK Stadium. No matter the result this time around, Orlando City has already clinched a playoff spot, however, the Herons need every point they can get to attempt to do the same.
Carly Nelson, Goalkeeper and Author
It isn't unheard of to learn that an athlete might have tried another sport before finding soccer, Orlando Pride goalkeeper Carly Nelson came from a background of gymnastics, tennis, basketball, and baseball before her father started a club soccer team with her in mind. While Nelson might have idolized USWNT legend Hope Solo as a child, she started her playing days as a forward, winger, and midfielder. Outside of protecting the Pride's net, Nelson is spending time writing a book about her life growing up in Utah and the issues her family faced to hopefully help others that might find themselves in similar situations.
NWSL Opens 2024 Free Agency
The National Women's Soccer League has officially opened the league's unrestricted and restricted free agency periods. In accordance with the NWSL Players' Association's collective bargaining agreement, eligible free agents can begin negotiations for their 2024 Standard Player Agreements. Players eligible for unrestricted free agency include all who have at least five years of service within the NWSL and contracts expiring in 2023, while players eligible for restricted free agency include those who have at least three years of service. For the Orlando Pride, defender Kylie Strom is set to be an unrestricted free agent and midfielder Jordyn Listro is under restricted terms. Any club that currently holds the rights of a restricted free agent has a seven-day period to match an incoming offer from another club or else the player may sign with the new club under the terms of the offer.
USMNT's Tyler Adams Nearing Return
Tyler Adams will not make his Bournemouth debut this weekend, but he could return as early as next week. Bournemouth's manager, Andoni Iraola, provided a positive update on the U.S. Men's National Team captain as he finishes up rehabbing a long-term hamstring injury.
"He has started this week at least to train partially with the group, so probably we can have a chance of having him next week or two weeks, something like this. Tyler is really close because once you start training partially with the group, it's a matter of sensations, and if you are physically good enough. He has a very good physical base. So I think it will take not a long time to see Tyler with the team."
Adams has not played since March after having a hamstring surgery. Even with a known injury, the 24-year-old still completed a move from Leeds United to Bournemouth following Leeds' relegation to keep him in the top flight.
MLS Weekend Preview
Aside from the Florida derby, there are plenty of matches to be excited about around the league this weekend. Personally, I'm looking forward to catching a bit of the D.C. United and New York Red Bulls match. Manager Wayne Rooney's club is right on the bubble in a tight Eastern Conference race while the Red Bulls can do themselves a huge service and come back into the playoff picture with a win. Out in the Western Conference, there is a real buzz around a Portland Timbers squad after a manager sacking. It could be a huge win for the Timbers and likely push them above the play-in round should they find a result against the Colorado Rapids.
Free Kicks
---
That's all I have for you today, Mane Landers. I hope you all have a fantastic Saturday. Be safe on Sunday at the match. Stay hydrated and look out for those around you. Vamos Orlando!
Orlando City vs. Inter Miami: Three Keys to Victory
Here are three things the Lions need to do in order to set themselves up for a win over Inter Miami.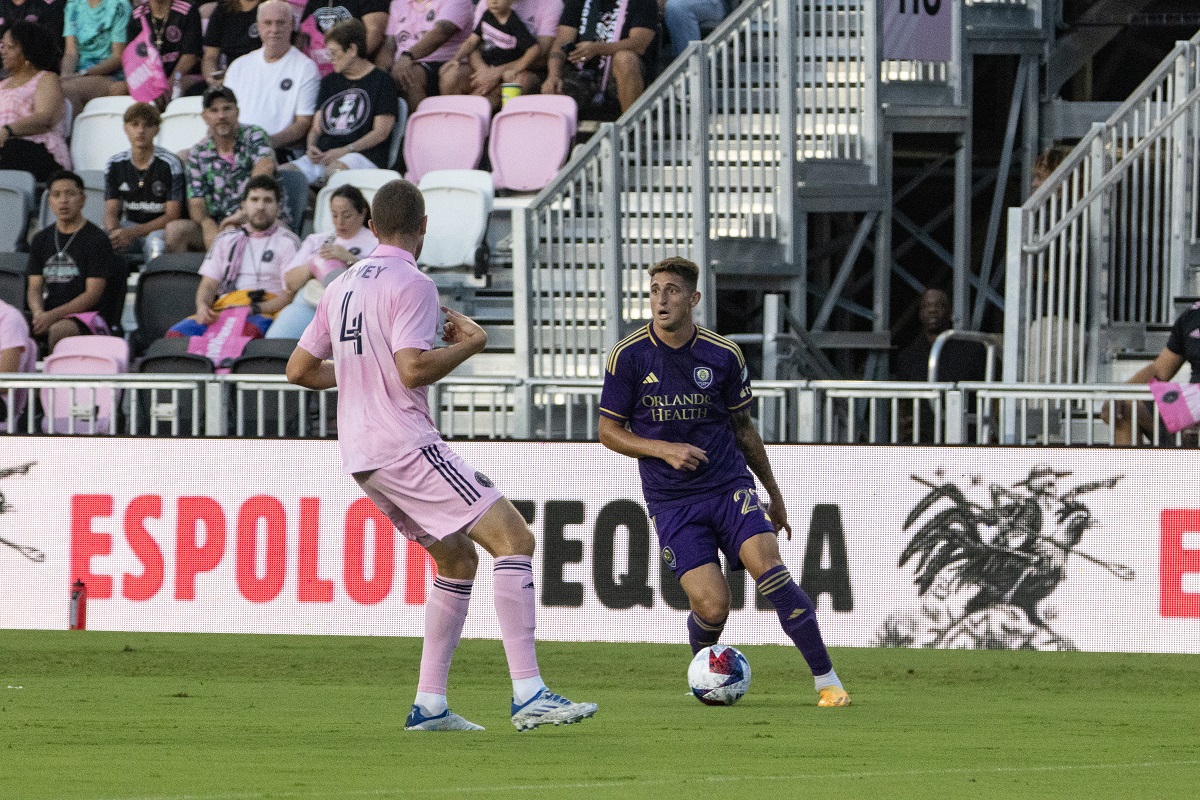 Wednesday's match didn't go the way anyone hoped it would, but now it's time to turn our attention to a Sunday matchup with Inter Miami back in the comfortable confines of Exploria Stadium. What follows are three things that I believe will go a long way toward helping the Lions emerge victorious from the Tropic Thunder derby and keeping Florida purple.
Close Down Sergio Busquets
As many headlines as Lionel Messi has rightfully been getting since joining Major League Soccer, I think Busquets is just as important to Miami's success. He remains an excellent midfielder and his ability to transition the team from defense into attack and link the two lines together is crucial. He has two assists and eight key passes in six MLS appearances and is passing with 92% accuracy —if you give him time, he will make you pay. Even if Cesar Araujo and Wilder Cartagena mark him tightly, he'll still manage to find space at times and affect the game because he's that good of a player. But the Lions cannot afford to repeatedly give him time and space to get on the ball, pick up his head, and play a pass or he'll cut OCSC to ribbons. Getting tight to him and making his life difficult won't stop him every time, but it'll make life a hell of a lot easier. As soon as Orlando loses the ball in Miami's half, someone needs to find no. 5 and close him down.
Play With an Edge, but Don't Go Over It
This is likely going to be an extremely, fast, physical and heated game. These two teams don't have any love lost for each other, and if last game is any indication, then Orlando is going to try to use its physicality to disrupt Miami from playing its brand of soccer. That's not a bad strategy, and it's one that was largely working during the aforementioned Leagues Cup match until the penalty kick call in the second half. If the Lions are going to try to repeat the tactic, then they need to play with physicality and intensity while toeing the line of what's acceptable to do during a soccer game. Going down a man isn't going to do OCSC any favors, so the boys in purple are going to have to flirt with the edge of the cliff without falling headfirst over it.
Stay Organized Defensively
We've seen some shaky defending during Orlando's last two matches. Runners in behind were a particular problem during the match against the Columbus Crew, while Wednesday's loss to NYCFC saw Talles Magno largely unmarked between two Orlando defenders to score the header that sealed the Lions' fate. OCSC will likely still be without Antonio Carlos, but the Lions are capable of much better defending than they've done during the last week and they need to show it. Even if Lionel Messi doesn't play, Miami has a whole host of guys who can hurt you in Josef Martinez, Leonardo Campana, Benjamin Cremaschi, Robert Taylor and Facundo Farias. The Lions need to be much more keyed in on defense than they have been the last two games, otherwise one or more of those guys is going to make them pay. Orlando has the firepower to put the ball in the back of the net, but it won't matter if the team is giving up multiple preventable goals at the other end of the field.
---
If the Lions execute those three things then they've got as good a chance as any of getting a result on Sunday. Vamos Orlando!