2020 NWSL Challenge Cup Predictions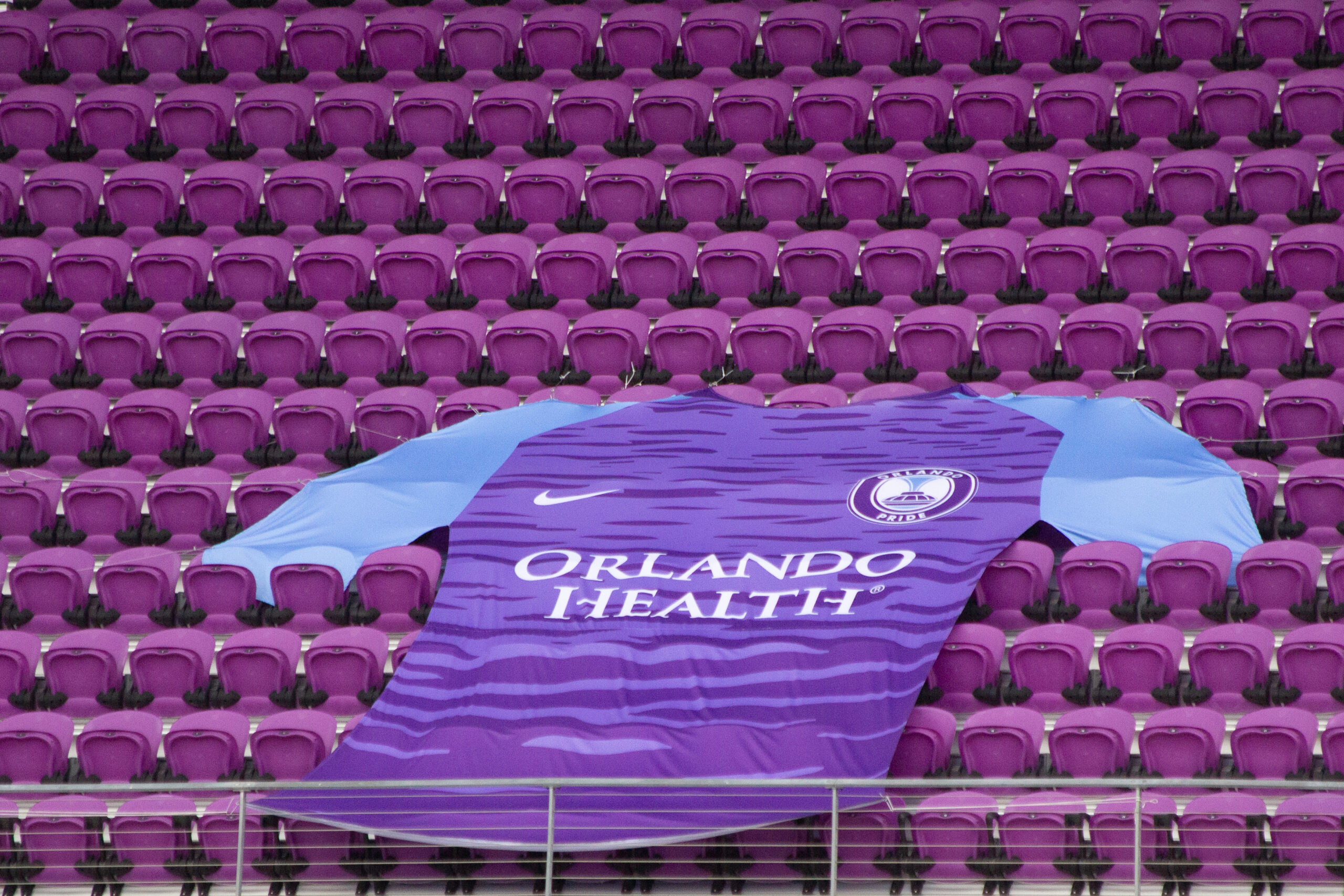 We are now just a few weeks away from the 2020 NWSL Challenge Cup. Teams are slowly getting up to speed and hopefully all the players will be match fit by June 27.
There are still plenty of unknowns about the competition. We don't know if more United States Women's National Team players will sit out, including anyone from the Pride. But the international-style tournament will go on with the Orlando Pride facing off against the Chicago Red Stars on Saturday, June 27.
Below is a prediction of what might happen. Obviously, depending on the status of players, some of this will change. I went through and predicted the scores for each game on paper.
Golden Boot (Top Scorer)
It's going to be weird not having Sam Kerr play. The forward has been the top goal scorer every year since 2017. In this tournament-style format, the top scorer will likely be someone whose team is in the final four. Lynn Williams has been the runner-up the past two years, and I think she finally gets the Golden Boot in this event.
Golden Glove (Best Goalkeeper)
There are so many talented goalkeepers in this league. However, to be the best goalkeeper in this tournament, your team will likely have to go to the semifinals. I predict that Adrianna Franch will finish the Challenge Cup with the most clean sheets and will be the top goalkeeper of the tournament.
Golden Ball (MVP)
In addition to, or maybe because of winning the Golden Boot, Williams will be the Challenge Cup MVP. She will be the main player on the Courage, and she will lead them unbeaten to the finals. She is going to average a goal per game, provide a few assists, and have the most shots and shots on goal in the tournament.
Championship Match
North Carolina 1, Portland 2
I think the top four will be the North Carolina Courage, Chicago Red Stars, Portland Thorns, and OL Reign, in that order. The Courage will beat Chicago, and Portland will beat the Reign. Portland will finally finish on top after getting so close for the past few years and dethrone the Courage. North Carolina will win in the preliminary stage, but the Thorns will win the match that matters most. Williams is going to score the opener, but then Rocky Rodriguez will get a brace and help Portland to an NWSL Championship. 
Orlando's Finish
The Pride will go 0-3-1 in the preliminary stage, with the one point coming against Sky Blue. Washington will also finish with one point, but the Pride will win the tiebreaker on goals scored and finish in eighth place. While that is good enough to make the knockout stage, Orlando will not progress any further and will fall to the Courage.
2023 Orlando Pride Season in Review: Rafaelle
Rafaelle joined the Pride on July 3 and immediately was a key part of the team.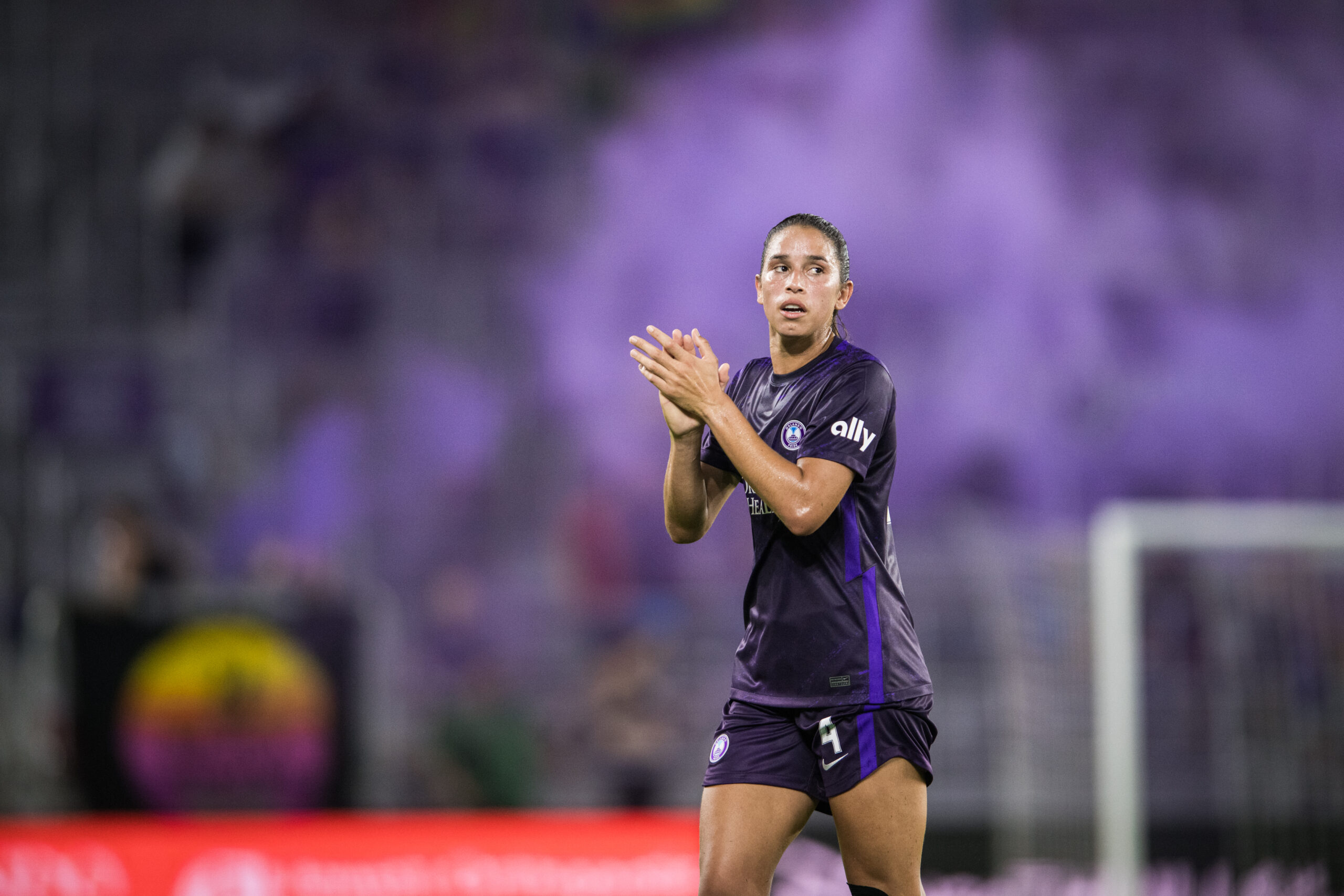 The Orlando Pride signed Rafaelle on July 3 to a contract running through the 2025 NWSL season. The Brazilian international took part in the 2023 FIFA Women's World Cup, joining the Pride after the tournament. She immediately partnered Emily Madril at center back, becoming a key member of the starting lineup as the Pride made a run towards the NWSL playoffs.
Let's take a look at how Rafaelle played after joining the team this season.
Statistical Breakdown
Rafaelle joined the Pride after the end of the 2023 Challenge Cup, so all of her appearances came in the regular season. She made seven appearances, all starts, and played 610 minutes. She played all 90 minutes in six of those games, being substituted for Megan Montefusco on Aug. 20 against the Chicago Red Stars, her first game with the club. The center back finished the season with 31 clearances, seven blocks, and 11 interceptions. She won nine of her 11 tackles (81.8%), 32 of her 50 duels (64%), and 17 of her 23 aerial duels (73.9%).
Going forward, Rafaelle completed 243 of her 305 passes (79,7%) and 30 of her 64 long balls (46.9%). As expected, most of her passes were forward (37.4%) and she played the ball more to her right (30.5%) than to her left (25.2%). She did not register an assist, a key pass, or a cross on the season. She took seven shots, putting four on target, and scored her lone goal in her Pride debut. Additionally, she won one foul and conceded six, but no penalties and she was not booked.
Best Game
Rafelle's best game of the season came in her first appearance for the club, a 5-0 win over the Chicago Red Stars on Aug. 20. The Brazilian was strong defensively, winning all three of her tackles and recording one block, three interceptions, and six recoveries. She completed 28 of her 34 pass attempts (82.4%), with 25 of those passes coming from her own half.
It's arguable whether this was her best defensive game, but it definitely featured the most memorable moment of her first season in purple. In the 14th minute, Penelope Hocking cleared the ball out for a Pride corner. Adriana's set piece sailed beyond several players, but Rafaelle was on the back side of the box to head it towards goal. Chicago goalkeeper Alyssa Naeher got her hand to the ball, but couldn't keep it out, giving the Pride an early 1-0 lead.
The Pride were up 5-0 in the 70th minute when Seb Hines decided to replace the center back with Montefusco, giving the 32-year-old defender a rest before an intense end to the season.
2023 Final Grade
The Mane Land staff gave Rafaelle a composite grade of 6.5 for the 2023 season. She was better defensively than Montefusco and slid in nicely alongside Madril. Joining the team late in the season, she had a smaller sample size than she'll likely have next season, but impressed. Having some competitive games and a full preseason, she might even receive a higher grade next year.
2024 Outlook
Rafaelle joined the Pride late in the season as they made a push for the playoffs. Going into next season, she'll have experience playing alongside her center back partner, Madril, which should provide more comfort. Her current contract is through the 2025 season, so that pairing will likely remain on the starting back line at least through the next two years.
Previous Season in Review Articles (Date Posted)
2023 Orlando Pride Season in Review: Kerry Abello
The midfielder was consistent on defense but was unable to find more goals in the attack.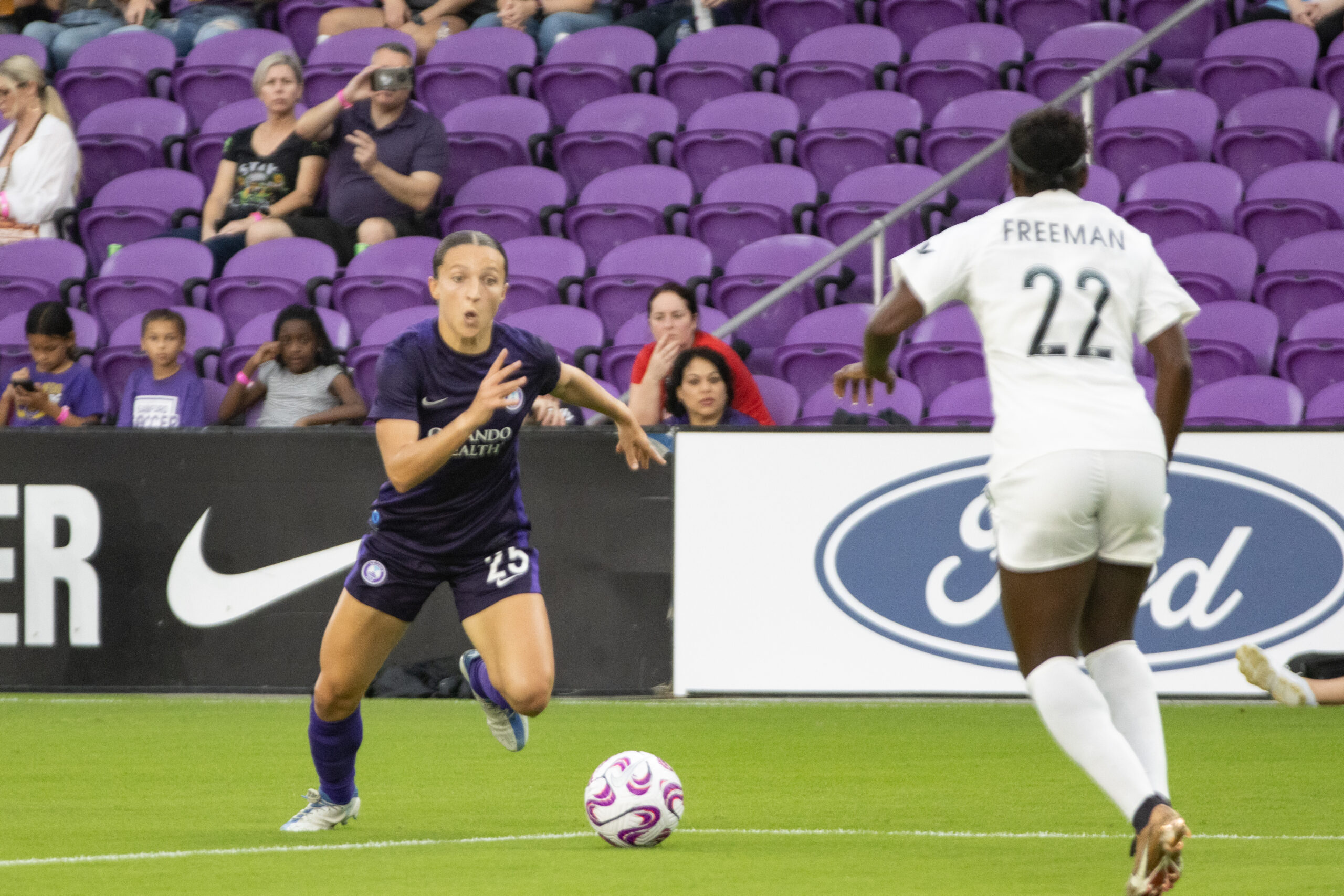 The Orlando Pride selected Kerry Abello 24th overall in the 2021 NWSL Draft but didn't sign her until Jan 28, 2022 to a two-year contract since Abello decided to return to Penn State for a fifth season. On Feb. 23, 2023, the Pride re-signed Abello to a new two-year contract through 2024 with an option for 2025. Since Seb Hines took over as head coach, Abello has become a regular contributor to the Pride midfield.
Let's take a look at the midfielder's 2023 season with the Orlando Pride.
Statistical Breakdown
Abello appeared in 20 regular-season matches, starting 14, for a total of 1,256 minutes. She scored one goal on 22 shots with 12 on target. She provided no assists this season, but made 17 key passes. Abello completed 322 of her 413 total passes (78%). She was accurate on 68.8% of her passes in the opponent's half, and 82.2% in her own half. She was 14 of 38 on her long passes (36.8%). She also completed four of her 23 crosses. Defensively, she made seven interceptions, two blocks, and won 25 of her 39 tackles (64.1%), 83 of her 175 duels (47.4%), and 11 of her 19 aerial duels (59.7%). She also committed 20 fouls, suffered 10 fouls, and was not booked.
The 24-year-old made five appearances in NWSL Challenge Cup play, starting four matches and playing 386 total minutes. Abello did not score any goals but took two shots with one on target. She attempted 10 crosses with one successful, and registered one assist. Abello completed 72 of her 106 total passes (67.9%). She was accurate on 48.9% of her passes in the opponent's half, and 90.9% in her own half.  Abello was three of 13 on her long passes (23.1%), and made four key passes. Defensively, she made one block and one interception, won four of her nine tackles (44.4%), won 18 of her 41 duels (43.9%), and won one of her five aerial duels (20%). She also committed seven fouls, suffered one foul, and was not booked.
Best Game
Abello's best match was the 3-2 loss to Racing Louisville on Oct. 6. Abello scored her only goal of the season on a run from just past midfield and into the left side of the box, where she deftly put her left-footed shot over the keeper and under the crossbar to double the early Pride lead.
Abello's goal was the only goal from the run of play as Marta's goal came on a penalty kick.
Abello played the full 90 minutes and she was very active throughout. Her goal came on five shots, with two on target, and she had one key pass. She also completed 20 of her 24 passes (83.3%) on 51 touches, committed two fouls, suffered two fouls, and was not booked. She earned Player of the Match from Michael Citro on The Mane Land PawedCast.  
2023 Final Grade
The Mane Land staff gave Abello a composite rating of 5.5 for the 2023 season. Abello received a grade of 5 in 2022, mostly due to her lack of finishing. Unfortunately, that continued this season as she had plenty of chances, but not enough goals. Abello was effective in the midfield press that Hines likes to employ, and was good on defense. It's her attacking game that needs some work.
2024 Outlook
Abello is signed through 2024 with an option for 2025, meaning I fully expect her to be with the Pride next season. Since Viviana Villacorta is dealing with an injury, the midfield is an area in which the Pride lack depth. While Abello needs to improve aspects of her game there's no reason for the Pride not to continue to utilize her energy in the midfield. Hopefully, she can improve in 2024 to justify the Pride exercising her option in 2025.
---
Previous Season in Review Articles (Date Posted)
Orlando Pride Announce Roster Decisions Following 2023 NWSL Season
The Orlando Pride have announced the team's roster statuses following the 2023 NWSL season.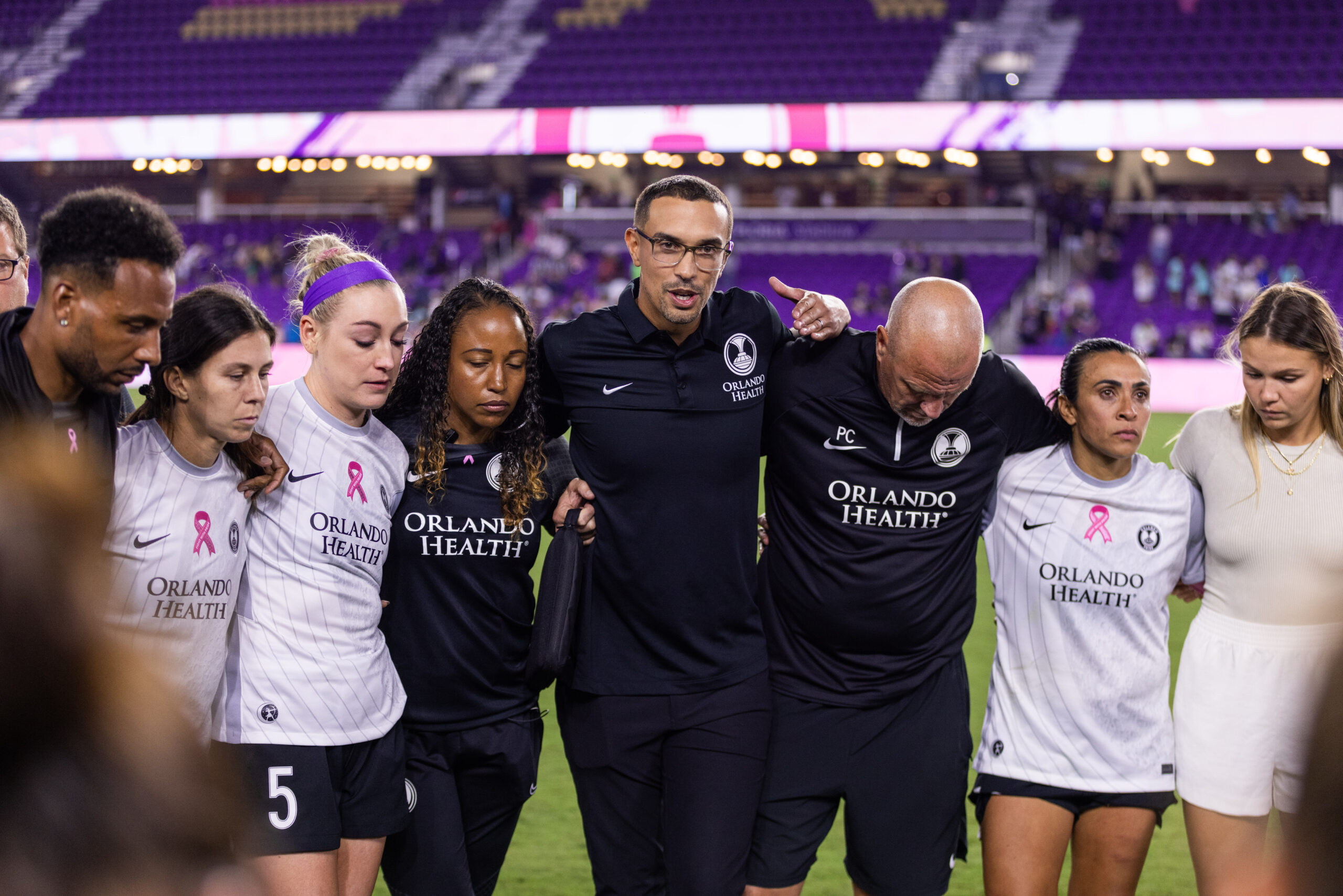 The Orlando Pride updated the team's roster statuses this afternoon following the 2023 NWSL season and announced a few off-season decisions. There are currently 22 players under contract for the club's 2024 season, but the Pride say they're in discussions with "select players" to return next year.
The players currently under contract for 2024 include forwards Amanda Allen, Adriana, Messiah Bright, Julie Doyle, Mariana Larroquette, Marta, and Ally Watt; midfielders Kerry Abello, Erika Tymrak, Viviana Villacorta, and Summer Yates; defenders Tori Hansen, Celia, Carrie Lawrence, Emily Madril, Haley McCutcheon, Megan Montefusco, and Rafaelle; and goalkeepers Kaylie Collins, Anna Moorhosue, and Carly Nelson.
Additionally, the club has exercised its option on defender Brianna Martinez, keeping her in purple for another year. After signing Hansen and Collins to new deals prior to the end of the season, they sent the pair on loan to Australian A-Leauge Women sides Melbourne Victory and Western Sydney Wanderers, respectively, for more playing time.
Goalkeeper McKinley Crone and defender Caitlin Cosme are both out of contract and the club seemed to indicate on social media that the pair will not be offered new contracts, posting graphics thanking them for their service. They also declined the option to bring Thais Reiss back for a third season.
Defender Kylie Strom is an unrestricted free agent and midfielder Jordyn Listro is restricted free agent. Presumably, these could be the "select players" with whom the club is in negotiations. The Pride announced they are also speaking with free agents across the league about joining the team next season.
Last week, the club traded midfielder Mikayla Cluff and a draft pick to expansion side Utah Royals in exchange for Allocation Money and protection in the NWSL Expansion Draft. That deal followed a trade with Bay FC, ensuring the Pride will not have any players selected in that particular upcoming player allocation mechanism.
What It Means for Orlando
It was already known that the 22 players currently under contract would be returning next season, barring trades or some mutual agreement with the players. Probably the biggest surprise is the club not extending the contract of Cosme. The center back was a former first-round draft pick who started the first four regular-season games this year before being replaced by Megan Montefusco in the starting lineup (and Montefusco herself was later replaced by Rafaelle). However, Lawrence will be returning next year after sitting out the season with an injury suffered during preseason, and the club re-signed Hansen before the end of the season.
With a 26-player roster, the club was always going to hold three goalkeepers, and Crone had been the fourth goalkeeper all year. It's also not a surprise that Reiss' option wasn't picked up as she only made three Challenge Cup appearances this year and didn't appear in the regular season.
The next step for the club is to come to an agreement with Strom and Listro. There may be much more competition for Strom's services, as she started at left back in all 22 regular-season games and four of the team's six Challenge Cup matches this season. Pride Head Coach Seb Hines spoke well of the defender last season and this season, undoubtedly wanting her back in the starting lineup next year. Listro, who has been let go by two NWSL teams (including the Pride) in the last couple of seasons, came off the bench for much of the year, but the defensive midfielder became the regular starter when Villacorta tore her ACL. With Cluff being traded to Utah, the club will likely want Listro or a replacement for her in the starting lineup when the 2024 season begins.
Post-2023 Orlando Pride Player Contract Statuses
(Current club players in italics)
Kerry Abello – Under Contract
Amanda Allen – Under Contract
Adriana – Under Contract
Messiah Bright – Under Contract
Kaylie Collins – Under Contract
Caitlin Cosme – Out of Contract 
McKinley Crone – Out of Contract 
Julie Doyle – Under Contract
Tori Hansen – Under Contract
Celia – Under Contract
Mariana Larroquette – Under Contract
Carrie Lawrence – Under Contract
Jordyn Listro – Restricted Free Agent 
Emily Madril – Under Contract
Marta – Under Contract
Brianna Martinez – Option Exercised 
Haley McCutcheon – Under Contract
Megan Montefusco – Under Contract
Anna Moorhouse – Under Contract
Carly Nelson – Under Contract
Rafaelle – Under Contract
Thais Reiss – Option Not Exercised 
Kylie Strom – Unrestricted Free Agent 
Erika Tymrak – Under Contract 
Viviana Villacorta – Under Contract
Ally Watt – Under Contract
Summer Yates – Under Contract