Orlando City vs. Columbus Crew: Final Score 3-2 as Urso's Goal Lifts Lions to Seventh Straight Result
The Lions blew a 2-0 lead but Junior Urso called game and Adam Grinwis won his first MLS game since 2018.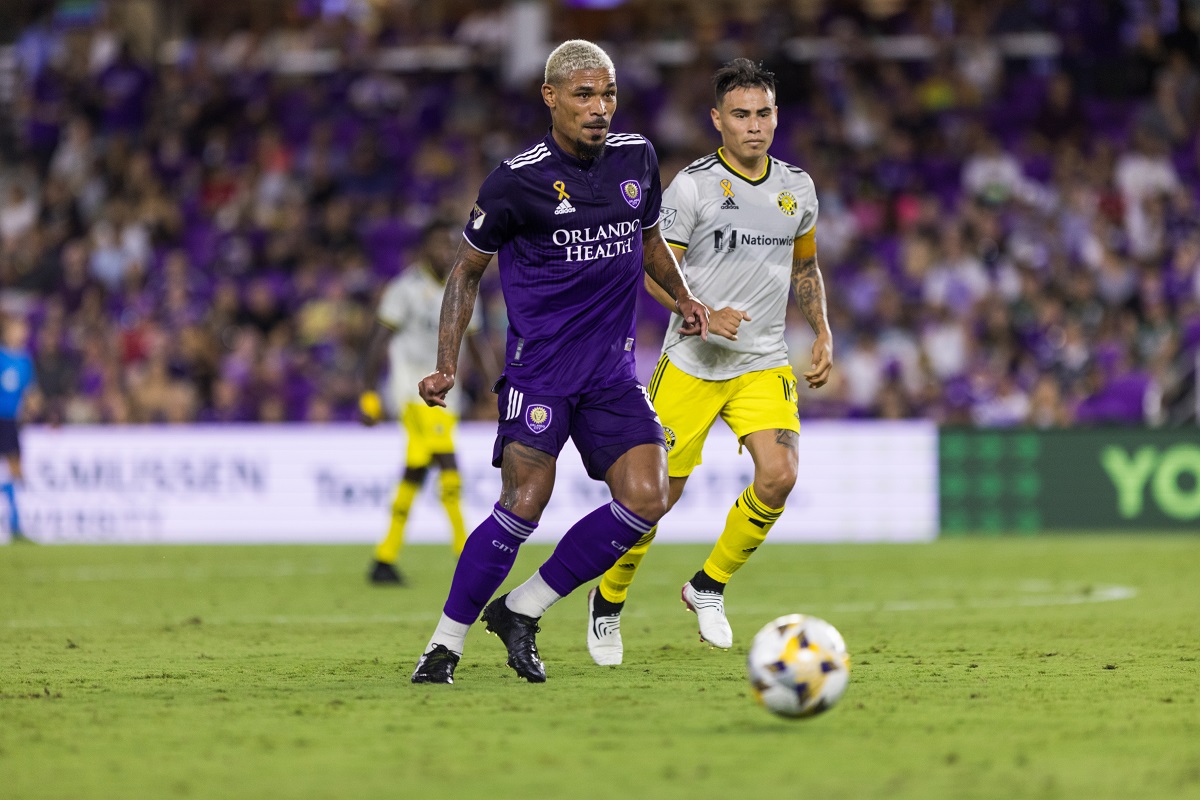 Orlando City looked like it would cruise to an easy win over the Columbus Crew at Exploria Stadium after getting goals from Daryl Dike and Silvester van der Water to go up 2-0. But Antonio Carlos scored a bizarre own goal early in the second half, and the Crew tied it up moments later before Junior Urso's goal lifted the Lions (10-4-8, 38 points) to a 3-2 win over Columbus (7-10-6, 27 points).
The win lifted the Lions to their longest unbeaten streak of the year at seven matches (3-0-4) and it was Orlando City's fifth consecutive win over Columbus. Orlando jumped back into second place in the Eastern Conference with the wins tiebreaker over Nashville.
"It was a great effort by the players," Orlando City Head Coach Oscar Pareja said after the match. "Once again they took us over many hurdles today. The game was like a rollercoaster of emotions for us — dominating not just the score but dominating the game in the first half. Then we conceded two goals that came from nowhere. That put us in a difficult situation emotionally."
Pareja became the club's winningest coach in the MLS era, surpassing Jason Kreis' 65 wins.
With Pedro Gallese on international duty and Mason Stajduhar unavailable due to injury, Pareja started Adam Grinwis in goal for the first time since he was re-signed. Grinwis lined up behind a back line of Joao Moutinho, Robin Jansson, Carlos, and Ruan. Joey DeZart and Urso started in central midfield, with Chris Mueller and van der Water on the outside and Nani and Dike up top in the attack.
Nani got the game's first shot attempt with a long free kick that he got on frame but from that distance Eloy Room was able to get over and make the save in the 10th minute.
Six minutes later, Ruan got down the right side and cut a pass back for Dike who directed it toward goal. The ball hit a defender and came back off Dike and caromed toward the net but Room made the save.
Columbus was dangerous on the counter and from the wings, and Derrick Etienne's cross just needed a touch in the 21st minute but none of his Crew teammates were close enough to provide it.
Mueller cut inside and had an excellent scoring chance in the 24th minute, but he made a mess of his right-footed effort and hit it into the sky. Nevertheless, the Lions opened the scoring moments later.
Nani won the ball and sent it forward over the top from his own defensive half. Dike out-muscled Aboubacar Keita and broke in on goal down the right. He faked a couple of times and then smashed a shot into the roof of the net to make it 1-0 in the 26th minute. There was a delay for the video assistant referee to take a look to see if Nani had fouled Pedro Santos, but the goal was awarded. It was Dike's third of the year and first since June 22 vs. San Jose.
"It was a good win from Nani and then, you know, battling with my UVA teammate Abouba (Keita)," Dike said. "Once I got the ball I just saw the grass in front of me and the goal in front of me. I think that's when the instincts kind of kick in and that's when you do anything you can to get the ball in the back of the net, and that's where it ended up."
The Lions struck again three minutes later. Ruan cut a ball back from the right corner to van der Water, who sent what appeared to be a cross in for Mueller but he couldn't get a touch on it and it bounced into the net to double Orlando's lead in the 29th minute. It was the Dutchman's first goal since July 30 against Atlanta and his third of the year.
Columbus spent much of the rest of the half winning the ball in the middle of the field and trying to score in transition. Harrison Afful sent a cross/shot just wide of the far post in the 32nd minute. Grinwis then made a spectacular save to deny Lucas Zelarayan from outside the box in the 36th minute. Zelarayan had a couple of dangerous free kick opportunities but hit them off the wall of defenders as the half wound down.
The best chance for Orlando down the stretch fell for Mueller but he fired his shot on target only for Dike to stray into its path and block it. The Lions took a 2-0 lead into the half but the Crew had built some momentum in the final minutes of the opening 45.
Columbus held the advantage in shots (8-7) but Orlando got more on target (4-1). The Crew held the advantage in possession (51.7%-48.3%), passing accuracy (81%-79%), and corners (5-1).
The Lions roared out of the locker room looking to put the match away and nearly did so in the 46th minute. Urso stole the ball from Santos, took it to the top of the box and tried to finesse it around Room, just inside the left post. However, the Crew keeper did well to make a diving, one-handed save.
The Crew got back into the match on a strange play. The ball was knocked high in the air with two Lions and one Columbus player about 10 yards in front of Grinwis' goal. Carlos went high to head it away but ended up nodding it just inside the right post and into his own net to put the Crew on the board in the 52nd minute.
"It was a fluky moment," said Grinwis, who won in his first MLS start since 2018. "It took a little deflection. The ball went sky high and I kind of assessed the situation. I saw Antonio Carlos going up to battle at six yards away. I would take him 10 (times) out of 10 in this league to win that header and he did, and it was just an unfortunate bounce where it kind of comes back towards school, as opposed to going away from it."
That goal seemed to unsettle the Orlando defense, as the Lions conceded the equalizer just two minutes later. A good passing sequence by the Crew, combined with Carlos stepping up and leaving room behind him, sent Miguel Berry in behind and he beat Grinwis to tie things up at 2-2. VAR Jorge Gonzalez took a long look at the play to see if Etienne was offside in the buildup to the goal. The play was close but it wasn't judged to be a clear and obvious error and the goal stood up.
"It was a tough moment for us and that's when the character, the togetherness, and the glue that this team has came out again and took us over that hurdle," Pareja said.
While waiting for the video review, Dike was in the center circle, visibly urging the crowd to make noise.
"I looked around and everyone was kind of obviously in shock, because going up from two-nil up to being 2-2, I think it's a big shock," Dike said. "In moments like that I truly believe in the 12th-man effect. With the crowd pushing us, you can instantly see the players, including myself, having a little lift, having a little extra burst of energy and extra belief. I think having that kind of support around you, especially in a situation like that, is important."
Pareja sent on Mauricio Pereyra — a player who he said he didn't want to use for more than a few minutes due to his ongoing recovery from a knock — and Benji Michel just after the goal to settle the team down and it worked.
"The game was asking for somebody to settle the pace of the team and just try to be more creative in that zone," Pareja said. "Just being able to bring the boys from the bench now and have people who can change the direction of the game, it will make us a very strong team."
Just eight minutes after the subs were introduced, the Lions took the lead. Dike played a ball back to Urso just outside the area and the Bear picked out a spot and fired through traffic just inside the left post to restore Orlando's lead at 3-2. Room didn't see the shot come through the crowd until it was too late to do anything about it and the eventual game-winner found its way home in the 69th minute. Like Dike and van der Water, Urso scored his third of the year.
"It was a great third goal," Pareja said.
With the Crew needing a goal, Caleb Porter sent on some offensive subs in the form of Erik Hurtado and Bradley Wright-Phillips. Orlando continued to stay organized and looked for insurance, which Mueller nearly found in the 77th minute when he sent a ball toward the net that sliced just wide to the right.
Columbus sent in crosses, looking for someone to get onto one, but most of those found the heads of Carlos, Jansson and Moutinho. Pereyra sent a ridiculous ball behind Vito Wormgoor in the 84th minute that should have provided an insurance goal by substitute Tesho Akindele. Akindele beat Room from the left side, only to see his shot skip an inch or two wide of the right post.
Pareja sent on Rodrigo Schlegel for Mueller and went five at the back for the final minutes, and the Lions were able to prevent any good chances and spent some time taking the ball to the attacking corners to bleed clock. The ref blew the full time whistle just after Moutinho blasted a shot just wide of the left post from the top of the area.
Orlando City held a slim edge in shots (13-12) and had more on target (6-2), while Columbus won more corners (5-2), and held slight advantages in possession (51.9%-48.1%) and passing accuracy (82.6%-81.7%).
"There are things that we need to be better, of course," Pareja said. "We would like to keep being solid defensively. But scoring three goals today by the players is great."
While it was far from a perfect win, it was an emotional one for Grinwis, who battled back from a torn ACL while playing at the USL Championship level. To get back to winning an MLS game was a great moment for him.
"It's just an honor to play in front of such a great committed fan base. Feels good to be home," Grinwis said after getting his first MLS win since 2018. "Tough to put into words. I think these are the kinds of situations I was dreaming about and was telling myself, 'No, I believe it can happen,' although I've not seen anybody go through an injury in the second division and then find their way back into MLS and then play.
"But this game is crazy, and through a lot of prayer and a lot of hard work, I found myself in this position. And I want to hold on tight because it feels amazing to be back out there."
---
The Lions will travel north to face Atlanta United on the road next Friday night in their next match.
Orlando City vs. CF Montreal: Three Keys to Victory
What does Orlando City need to do to earn all three points against CF Montreal this Saturday in Exploria Stadium?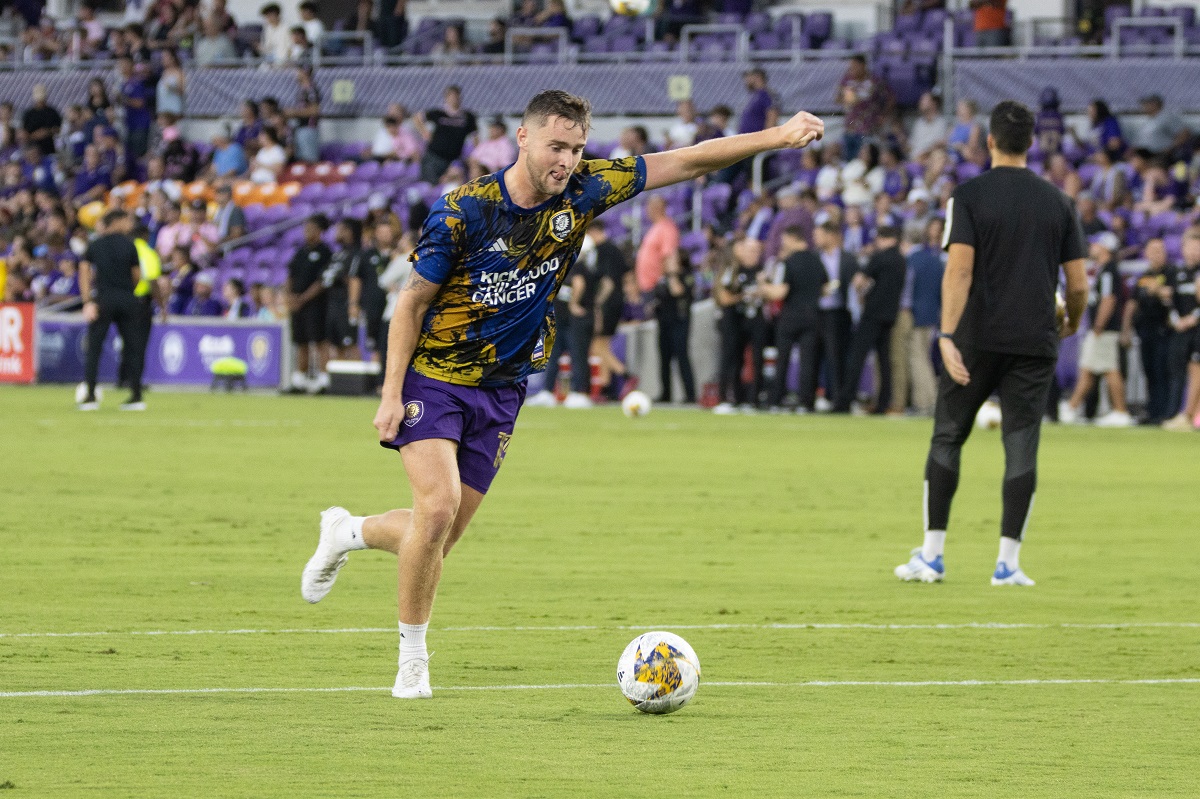 Orlando City hosts CF Montreal in the second-to-last home match of the 2023 MLS regular season at Exploria Stadium this Saturday night. The Lions have already secured a spot in the playoffs but are now fighting for home field advantage. Montreal is currently sitting in eighth place in the Eastern Conference and is fighting for a playoff spot.
What does Orlando City need to do to secure three important points against the Canadian Club Foots?
Time to Make the Donuts
It had been a minute since Duncan McGuire scored a goal for Orlando City — and by a minute I mean since July 29. McGuire had a few opportunities against Inter Miami and managed to get one to equalize for the Lions and ensure a point at home. I do think he might have scored on another of those chances if he was fully back in form after his injury time, but I'll take the goal.
My hope is that getting that goal will remind him that he can score goals when given the opportunity, and he will be better about finishing the chances he gets against Montreal. Sometimes it just takes getting that first goal to open up the muscle memory and to unlock the confidence needed in a striker. It's time for Duncan to score more goals, and the match against Montreal is the first and best opportunity to do so since Montreal starting center back Joel Waterman will be serving a red card suspension.
Switch up the Lineup
I propose a change to the starting lineup — something Oscar Pareja does not do very often. Due to injuries and other factors such a move wasn't possible earlier in the season, but I think it could work now. I have a ton of respect for Mauricio Pereyra, but he could probably use a rest to be fresh for the playoffs as the regular season winds down.
I suggest letting Martin Ojeda get the start in the 10 spot, moving Dagur Dan Thorhallsson up the wing, and having Michael Halliday take over at right back. Ojeda's play as of late has been much improved, and with Halliday healthy again, why not take advantage of Dagur Dan's versatility along the wing. I think this move provides energy, a surprise for opposing defenses, and allows Facundo Torres more freedom. 
Same Old Effective Defense
Orlando City's defense has only allowed 37 goals this season — which is good enough to tie for sixth place in the Eastern Conference. On the flip side, Montreal has only scored 30 goals so far — which is only better than Toronto at 24 goals. Montreal has a goal differential of -15.If the Lions play their normally solid defense in front of the outstanding goalkeeping of Pedro Gallese, Montreal should not get too many opportunities to score. There's no doubt that we will see Robin Jansson and Rodrigo Schlegel paired together with Rafael Santos on the left and either Dagur Dan — or Michael Halliday as I suggested — on the right. Cesar Araujo and Wilder Cartagena can stop most attacks before they get to the back line. If Orlando City plays defense as well as the club did against Miami, things should be fine.
---
That is what I will be looking for this Saturday as the Lions take on the boys from North of the border. Vamos Orlando!
Lion Links: 9/28/23
Ajax is reportedly scouting Facundo Torres, Orlando Pride focus on upcoming matches, Houston Dynamo win U.S. Open Cup, and more.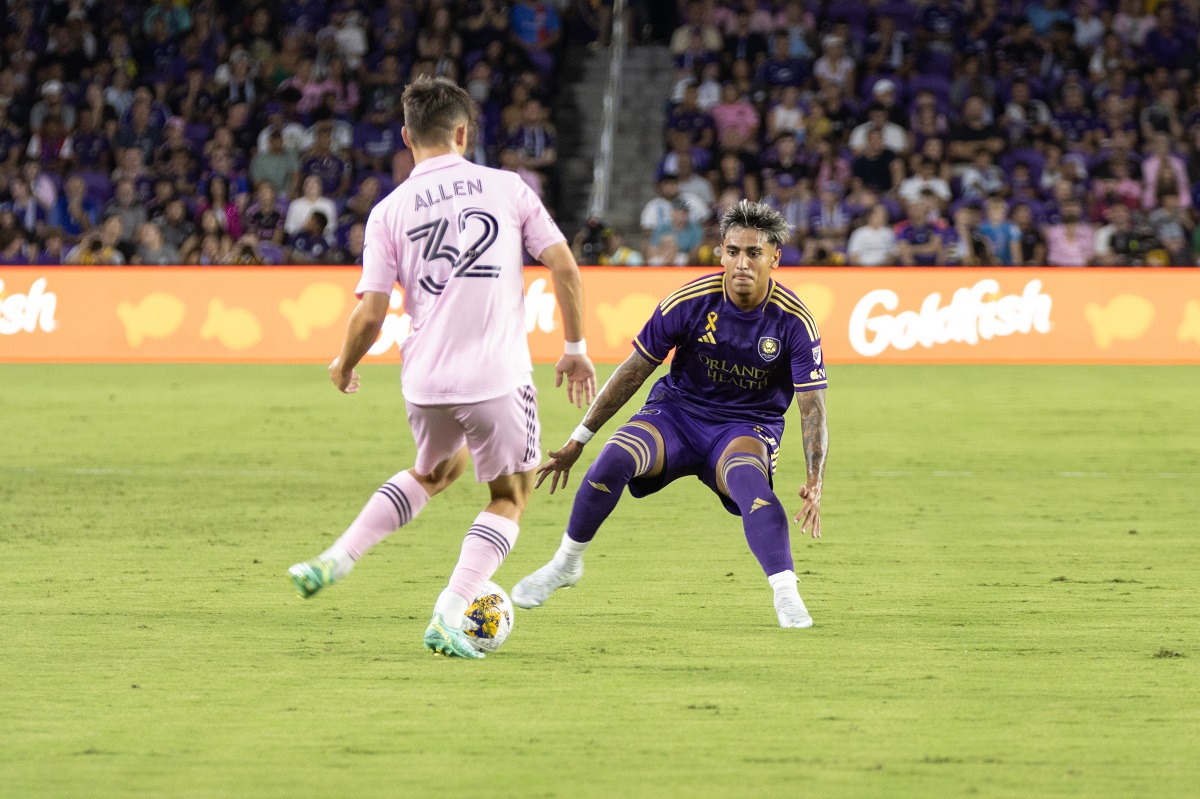 How's it going, Mane Landers? I hope this work week has gone smoothly for you as we get ready to bid farewell to September. It's been a hectic week for me, but I started and then promptly devoured all of Fourth Wing by Rebecca Yarros. It was a nice read, albeit a bit intense at times. I'm not sure what I'll read next as most of my reading list is packed up for a move, but if you have any recommendations then let me know in the comments below. Let's dive into today's links!
Ajax Reportedly Interested in Facundo Torres
Orlando City forward Facundo Torres has reportedly garnered the interest of Dutch club Ajax according to Fabrizio Romano.
It's not too surprising that Ajax, which currently sits in 14th in the Eredivisie with just seven goals from five games, has scouts keeping tabs on Torres. The 23-year-old has scored 12 goals this season, powering Orlando to second in the Eastern Conference. It wouldn't be the first time Torres has received attention from European clubs and likely won't be the last as he continues to impress with the Lions
Orlando Pride Focus During Playoff Push
The Orlando Pride are back in action on Monday for a crucial road match with Angel City FC. Both teams have 25 points this season, one point from the sixth and final playoff spot currently held by the Washington Spirit. It will be the first of three remaining games for the Pride this season, with matches against fellow playoff hopefuls Racing Louisville and the Houston Dash set for later in October. As a result, there's not much margin for error if the Pride wish to make the playoffs and Kylie Strom talked about how the team is focused for these games.
MLS NEXT Pro Playoffs Begin This Weekend
The first round of the MLS NEXT Pro playoffs kicks off this weekend with six matches that can all be watched on MLS Season Pass. Unlike last year, Orlando City B will be taking part and is set to face off with Columbus Crew 2 on Sunday at 5:30 p.m. Although the Young Lions have struggled on the road against Columbus, Jack Lynn and Shak Mohammed can make things difficult for the hosts. Hopefully we'll see OCB make Columbus regret its choice of opponent in the postseason. I like the wrinkle and mind games to the playoffs the new rule gave and am interested to see which of the lower seeds plays with a chip on their shoulder. The playoffs begin on Friday when Sporting Kansas City II hosts Austin FC II in a battle between the third and fourth seeds of the Western Conference.
Houston Dynamo Win U.S. Open Cup
The Houston Dynamo have lifted the U.S. Open Cup trophy after winning 2-1 on the road against Inter Miami. A pair of goals in the first half were enough for Houston to win its second U.S. Open Cup title after also winning in 2018. A goal in stoppage time from Josef Martinez made things interesting, but the Dynamo defense did well to secure the win and deny Miami its second tournament title this year. It was a strong end to a solid tournament campaign from the Dynamo, as they beat four MLS sides before taking down Miami in the final.
Albertin Montoya Hired as Bay FC Head Coach
Ahead of its inaugural NWSL season next year, Bay FC named Albertin Montoya as the club's first head coach. Montoya, who has lived in California for most of his life, served as the interim coach for the Washington Spirit in 2022 and also coached the U.S. U-17 women's national team in 2011. Bay FC General Manager Lucy Rushton spoke on how Montoya's name came up often while the club searched for a head coach, as well as how his skill at developing players will help build the club's foundation.
Free Kicks
Orlando City Head Coach Oscar Pareja called for the supporters to continue filling Exploria Stadium and pushing the Lions forward for the team's remaining home games this season.
St. Louis City midfielder Njabulo Blom won MLS Goal of the Week for his winner against Minnesota United. It was also the 23-year-old's first professional goal.
---
That's all I have for you today. Have a wonderful Thursday and rest of your week!
Lion Links: 9/27/23
Orlando City falls in power rankings, OCB will take on Columbus Crew 2 in MLS NEXT Pro playoffs, U.S. Open Cup final preview, and more.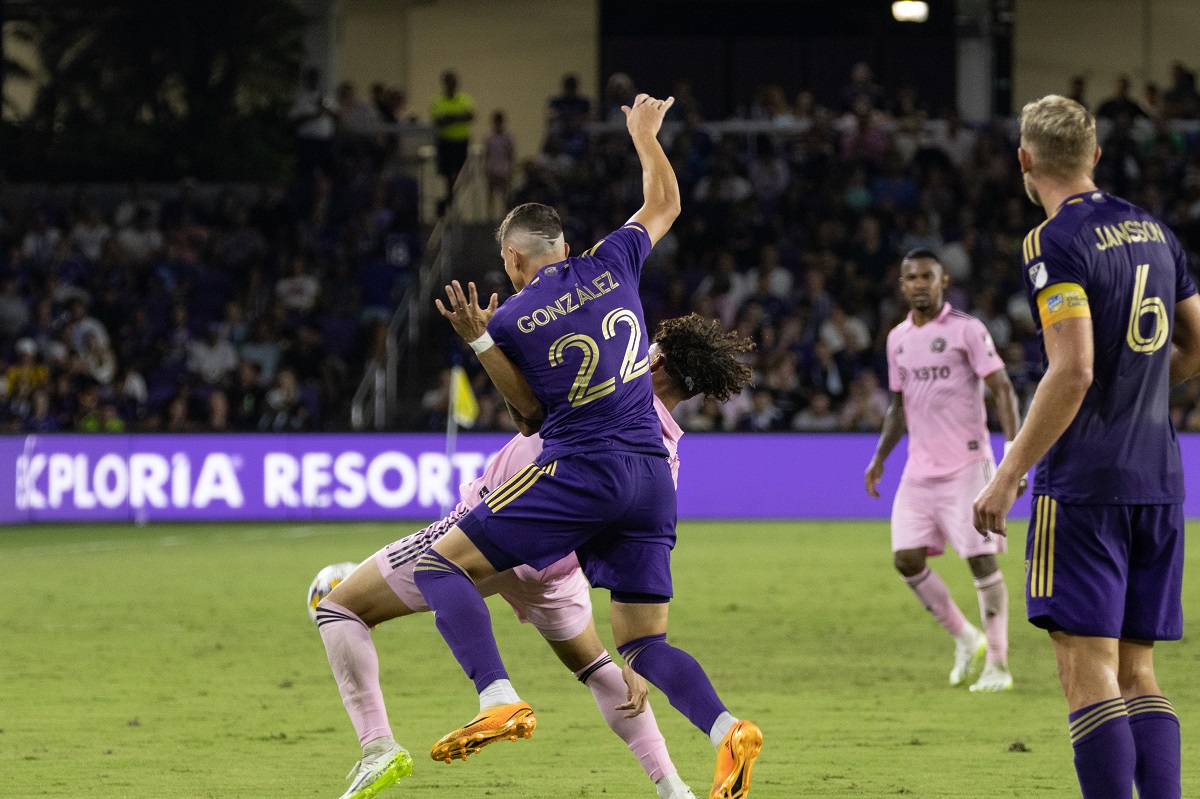 Hello, Mane Landers. I hope all is well with you down in Florida. There's not much new with me, I'm just staying busy at work lately and hoping to catch some soccer this weekend. There is plenty to cover today, so let's get to the links.
Orlando City Drops Two Spots in Power Rankings
The latest MLS power rankings have been released and Orlando City fell two spots to fourth. The Lions lost their midweek matchup 2-0 on the road against New York City FC last Wednesday and closed out the weekend with a 1-1 draw against rival Inter Miami at Exploria Stadium. It wasn't all bad this past week for the Lions, as Duncan McGuire scored his 11th goal of the year across all competitions. Despite losing to NYCFC a week ago, the Lions remain in second place in the Eastern Conference and are two points ahead of the Columbus Crew, Philadelphia Union, Atlanta United, and the New England Revolution.
OCB Will Take On Columbus Crew 2 in MLS NEXT Pro Playoffs
Orlando City B's opponent for the first round of the MLS NEXT Pro playoffs was announced on Tuesday, as it will go on the road to take on defending champion Columbus Crew 2 on Oct. 1 at Historic Crew Stadium. As part of the new playoff format that lets higher seeds choose their opponents, Columbus chose to host OCB in the quarterfinals. The Young Lions closed out their regular season this past weekend with a 2-1 win against FC Cincinnati and finished fifth in the Eastern Conference. The Columbus Crew 2 finished its regular season with a 3-2 win against Atlanta United 2 to place third. The clubs split the regular season series, with OCB winning 4-1 on Aug. 27 and Columbus winning 4-0 on May 14. The conference semifinals will be on the following weekend, and the MLS NEXT Pro Cup final is set for Oct. 22.
U.S. Open Cup Final Preview
The 2023 Lamar Hunt U.S. Open Cup will conclude tonight with the final at DRV PNK Stadium as Inter Miami takes on the Houston Dynamo. The match will kick off at 8:30 p.m. and you can watch the match on Paramount+ or CBS Sports Network. Inter Miami's journey included edging out Nashville SC 2-1 in the Round of 16 and needing to go all the way to penalties to knock out FC Cincinnati after a thrilling 3-3 draw in the semifinals. The Houston Dynamo began their run with a pair of 1-0 wins against the Tampa Bay Rowdies and Sporting Kansas City. Since the Round of 16, the Dynamo cruised past Minnesota United, the Chicago Fire, and Real Salt Lake to get to the final. Houston was on a seven-match unbeaten run before losing to Sporting Kansas City this past weekend. The Dynamo will look to add another U.S. Open Cup title after winning it back in 2018. Lionel Messi will reportedly be a game-time decision for tonight's final after he didn't play in Miami's draw with Orlando.
Spain Wins First Home Match Since World Cup Victory
Spain's women's national team won its first match since lifting the World Cup trophy last month, cruising to a 5-0 win against Switzerland in a UEFA Nations League matchup. After dealing with the fallout of former Spanish FA president Luis Rubiales and players boycotting call-ups to the national team before a deal was reached last week, the team wore wristbands that read "Se Acabo," meaning "this is over," and players from both teams held a banner with the same phrase before the match. Spain celebrated its win in front of a record-breaking crowd of 14,194 fans that came out to support the team at Nuevo Arcangel Stadium.
Free Kicks
Carrie Lawrence and the Orlando Pride were hard at work preparing for the match on Monday against Angel City FC.
Angel City exercised its club option to extend former Pride forward Sydney Leroux's contract through the end of the 2024 NWSL season.
The Canadian Women's National Team defeated Jamaica 4-1 on aggregate to book a spot in next summer's Olympics.
The Seattle Sounders have unveiled their new crest for next year.
---
That will do it for me today, Mane Landers. Enjoy your Wednesday and I'll see you next time.