Orlando Pride vs. San Diego Wave FC: Final Score 1-0 as Pride Extend Unbeaten Run to Six Games with Road Victory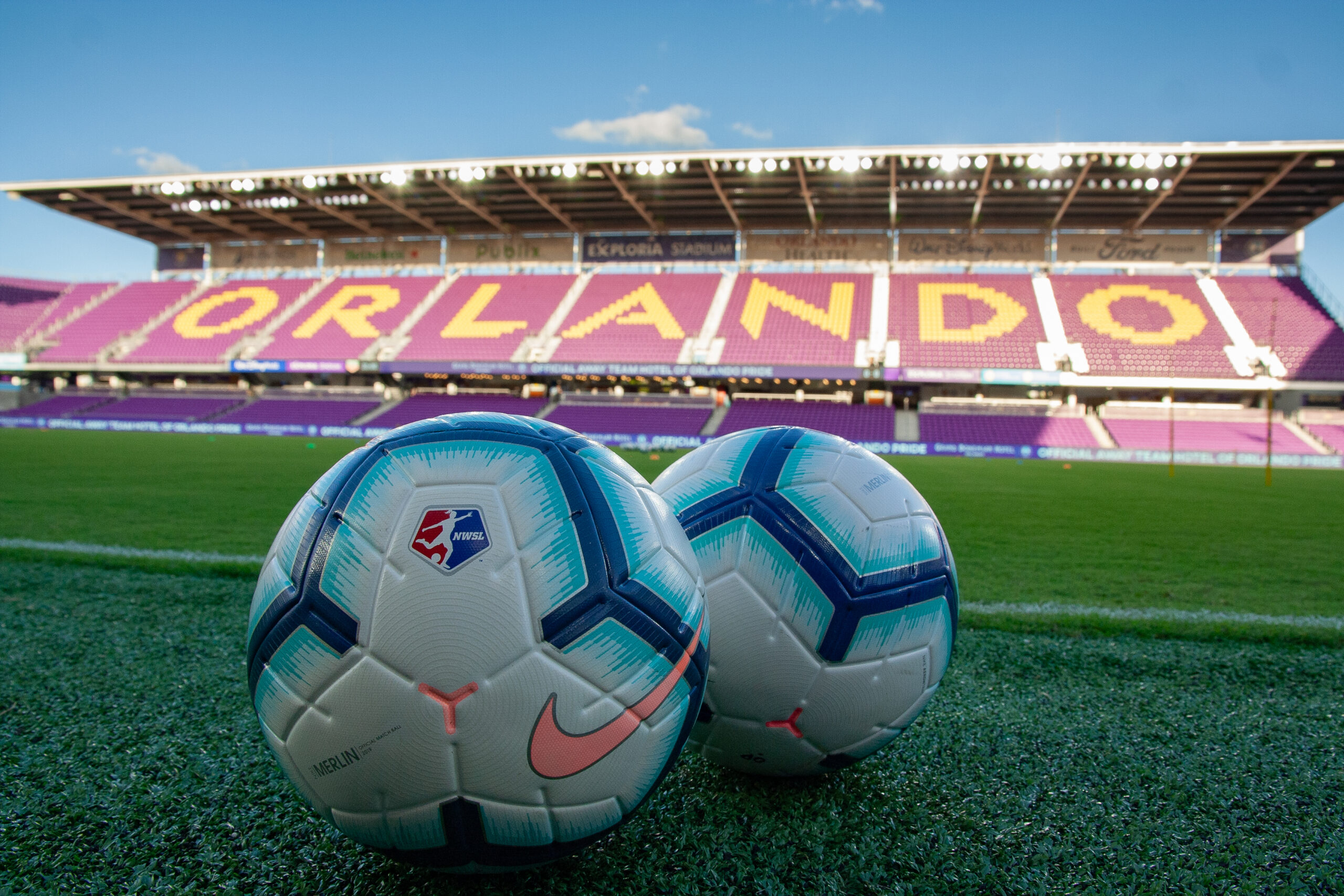 The Orlando Pride (4-5-6, 18 points) held onto a one-goal lead for 67 minutes to beat San Diego Wave FC (7-5-4, 25 points), 1-0 at Torero Stadium in the first meeting ever between the two clubs. The hosts hit the woodwork three times, but the lone goal was a Meggie Dougherty Howard penalty conversion in the 23rd minute. 
Pride Interim Head Coach Seb Hines made two changes to the starting lineup that drew Angel City FC 2-2 last weekend. Carrie Lawrence was out due to concussion protocol and was replaced by Megan Montefusco, who returned from a one-game suspension for yellow card accumulation. Additionally, Julie Doyle re-entered the lineup in place of Darian Jenkins.
As a result, the Pride lined up with a back line of Celia, Montefusco, Toni Pressley, and Kylie Strom in front of Erin McLeod. Dougherty Howard, Jordyn Listro, and Viviana Villacorta were in the midfield behind an attacking line of Kerry Abello, Doyle, and Erika Tymrak.
Your hella gnarly Starting XI 🤙@orlandohealth | #SDvORL | #PrideOfOrlando pic.twitter.com/3ymFYxsW5T

— Orlando Pride (@ORLPride) August 14, 2022
The game got off to a frantic start with the hosts having multiple early chances. Inside the first 30 seconds, Amirah Ali found herself with the ball right in front of goal when Strom's wayward header fell at her feet. However, McLeod did well to get down and make a huge stop with her right leg. In the third minute, Ali sent a cross into the box looking for Kelsey Turnbow, but the ball was a bit too high for the forward. 
"Before the game started, we talked about how they were going to come out and stretch and, especially the first 10 minutes, it was going to be difficult to play," Dougherty Howard said about the opening minutes. "But we needed to stay committed to our game plan and not get frustrated when the ball would bobble up or we'd have difficulty playing out and just stick with what we wanted to do. And I think things did settle down after that first initial period."
The Pride got their first chance of the game in the fifth minute when Turnbow fouled Villacorta just outside of the San Diego box. Pressley and Villacorta stood over the ball but it was Dougherty Howard who took it. The Pride midfielder got the ball over the wall but it was just wide of the post. Even if it had been on target, it appeared as though Kailen Sheridan had it covered.
The Wave quickly pushed the other way and had their closest chance of the first half. Former Pride forward Taylor Kornieck sent a long ball for Alex Morgan, who was running alongside Montefusco. Morgan did well to shield the center back, creating a chance on goal. The former Pride star beat McLeod but the shot was off the post, allowing the Pride to escape the danger.
The Wave had another great chance in the ninth minute when the hosts had a three-on-two break. Morgan led the attack and had two teammates across from her, but decided to take the shot herself. It was probably an ill-advised decision as the shot skipped wide of the near post and out of play.
In the 22nd minute, Doyle attempted to cross the ball into the box from the left. Kaleigh Riehl attempted to block the cross, but it hit her outstretched arm. Referee Adorae Monroy didn't hesitate to point to the spot as Riehl's arm was clearly extended away from her body
It was only the second penalty this season for the Pride. The first was taken by Pressley after no other Pride players stepped up — something that resulted in Marta chastising her team after that game. This time, Dougherty Howard immediately grabbed the ball and walked to the spot. After a slight hesitation, Sheridan dove the right way, but it was an excellent penalty by Dougherty Howard, on the ground and just inside the post.
A Pride PK to start the scoring!@ORLPride | #PrideOfOrlando pic.twitter.com/C4nq2tlixh

— National Women's Soccer League (@NWSL) August 14, 2022
"I have kind of been preparing for that," Dougherty Howard said about taking the penalty. "The last few weeks, if we have a penalty, that I was planning on taking it, so I've been training on them. Take some deep breaths, stay calm, and just know if you get it in a good spot, it's going to be really hard to save. So I'm just trying to find a corner, stay calm, and thankfully it went in."
It was Dougherty Howard's second goal in her NWSL career and her first as a member of the Pride.
"If they're on the field, if they're feeling it," Hines said about who would take the penalty. "Meggie was feeling it. She was practicing them yesterday. She stepped up and slotted it home. Can't ask for more than that really."
Following the goal, the game settled down and was mostly played in midfield. Both teams had excellent chances up to that point but few opportunities were created throughout the remainder of the first half.
In the 39th minute, Morgan cut back in the box to lose her defender. She should've been able to take the shot herself, but lost control for a brief moment and was forced to dump it back to Turnbow. It was a good opportunity for the forward but her shot was over the goal.
The Pride had a dangerous moment two minutes into injury time when a San Diego free kick sailed into the Pride box. Montefusco attempted to head it out but it glanced off the top and went right to Celia. The right back attempted to clear it but sent it towards her own goal. Morgan was on the chase but couldn't get to it before the ball went out of play for a corner kick.
In the opening minutes, it looked like San Diego would dominate the game. However, the first half ended quite even. San Diego had more possession (53.3%-46.7%), shots (5-4), corner kicks (2-0), and crosses (10-3), but the teams had the same number of shots on goal (2-2). More importantly, the Pride had an attempt from the spot and took a one-goal advantage into the break.
San Diego players felt that they should've had a penalty five minutes into the second half. After Tymrak beat Turnbow, the Wave forward quickly won it back and sent the ball in for Morgan. Both Morgan and Montefusco went for the ball and it appeared as though Montefusco kicked the back of the striker. However, Monroy determined that there wasn't enough contact for a foul.
The Pride nearly made a costly mistake in the 53rd minute when Katie Johnson sent the ball into the box. McLeod was too close to the near post, creating an open goal. Johnson was aiming for McNabb but Celia did well to cover the open space and clear it away.
In the 57th minute, a Kornieck shot created a little more chaos in the Pride box. Pressley tried to clear the ball, but her attempted clearance rolled back across the six-yard box. Fortunately, McLeod was in the right position this time and was able to jump on the ball.
In the 59th minute, Listro fouled Morgan as she was entering the box. It was close to being a penalty, but the contact was made just outside of the area. The ensuing free kick setup consisted of Turnbow and Emily van Egmond standing next to the ball as Morgan was just behind. Turnbow and van Egmond tapped it, allowing Morgan to run up and fire towards goal.
The ball slammed on the far post — the second time in the game that Morgan hit the woodwork — and went right to Kornieck in front of goal. The forward tried to put the rebound in, but Montefusco was there to block it out of play. The following corner found the head of Kornieck but her shot was wide and the Pride were able to clear.
Alex Morgan hits the post! Her free kick comes thiiiiisss close 🤏, but the Pride still lead!#SDvORL | 0-1 pic.twitter.com/dPbtsuHSAC

— The Equalizer (@EqualizerSoccer) August 14, 2022
In the 66th minute, Turnbow sent a cross into the box looking for Kornieck at the far post. Kornieck tried to lift her foot high enough to redirect it in. Had she knocked it down or directly ahead, it would've been an equalizer. However, the ball went straight up and over the crossbar.
Kornieck had a pair of chances in the 70th and 73rd minutes from Westphal corner kicks. The first one was right into the arms of McLeod and the second was just wide of the near post.
As time wound down, San Diego had the majority of the chances. In the 84th minute, a van Egmond cross found Morgan but her header wasn't very strong, allowing the Pride to clear. In the 88th minute, Sofia Jakobsson stormed into the box. After fighting off Celia, she had contact with Jenkins. Both players went down and Jakobsson thought she earned a penalty, but a goal kick was awarded.
In the 89th minute, a van Egmond ball into the box was flicked on by Kornieck for Kristen McNabb. The defender headed it toward goal but couldn't get it down enough as it bounced off the top of the crossbar. It was the third time in the game that San Diego had hit the woodwork.
"The post was one of our best players as well," Hines said after the game. "But there's been other games where we've not won games and we've dominated, so we probably deserved that luck today."
Four minutes into injury time, McLeod was called upon for one more big save. A nice run by substitute Marleen Schimmer created a shot just outside the box. It was a hard, low shot on target but McLeod did well to get down and make the stop without allowing a rebound.
San Diego led most statistical categories, with more possession (55.8%-44.2%), shots (19-8), shots on target (6-2), corners (5-1), and crosses (22-8). However, the Wave hit the post twice and the crossbar once, allowing the Pride to hold on to win.
"This one was, I mean, it was massive," Hines said about the win. "We're running out of games as we're coming towards the end of the season. You know, I've said from the start, we are reaching to get to playoffs and it's really important that we start picking up wins and three points and what better way to do it with a 1-0 win away from home. So I'll keep saying that we have to keep this momentum going. We have to look at the next game. Obviously enjoy the moment right now. But again, we're looking forward, you know, to Gotham and then trying to get three points away from home again."
"This team has been through a lot this year," Montefusco added. "And to come out here and win like we did tonight. We played football, and we played great soccer tonight. And I'm just so proud of this team. It's emotional honestly."
The win extends the Pride's unbeaten run to six games (2-0-4) dating back to the team's 2-2 draw with Racing Louisville FC on July 3. Three of the team's four wins have now come away from home.
"Honestly, I think it's just we changed our mentality," Montefusco said about winning the second game in this unbeaten run. "We know we're the underdog but now we know we have it in us that we can do it. And we train so hard every single day. We train with that underdog mentality. And we put in so much work and, like I said, we've been through a lot, so I think we've had to have these hard conversations with each other which has brought us extremely close."
---
The Pride are now even on points with Angel City FC for seventh in the NWSL. The Los Angeles-based club has two games in hand, but the Pride are only three points behind OL Reign for the final playoff spot, with both teams having played 15 games. Orlando will visit Gotham next Saturday.
2023 Orlando Pride Season in Review: Anna Moorhouse
The 2023 NWSL season was Anna Moorhouse's first as the Orlando Pride's starting goalkeeper.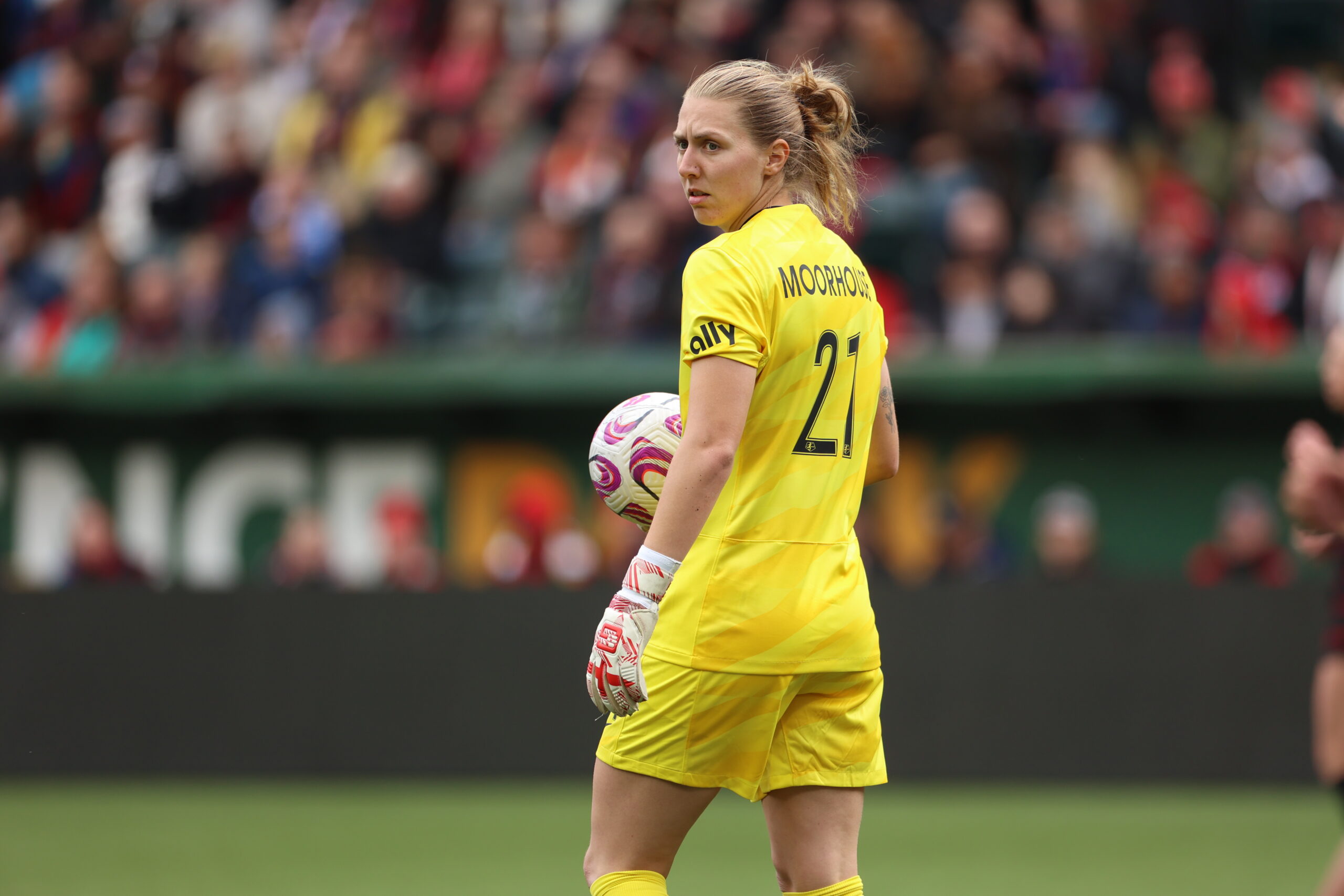 The 2023 NWSL season was Anna Moorhouse's second with the Orlando Pride and her first as the team's starting goalkeeper. She was originally signed prior to the 2022 season, backing up veteran Erin McLeod that year. However, the Canadian international left the team, resulting in Moorhouse taking over the starting role.
Let's take a look at Moorhouse's first season starting for the Pride.
Statistical Breakdown
Moorhouse started 19 of the team's 22 regular-season games, playing 1,623 minutes. The team's record in those games was 9-9-1, as she conceded 22 goals, saving 72 of her 94 shots faced (76.6%). She ended the year with seven clean sheets, 19 catches, six punches, and four drops. The Pride's number one completed 387 of her 573 passes (67.5%) out of the back and 115 of her 292 long balls. The passing accuracy in her own half was 79.1% and 32.4% in the opposing half. She conceded one foul and won two, getting sent off in the third minute of the team's 1-0 loss to OL Reign on Sept. 3.
The English shot stopper also played in four Challenge Cup games, recording 360 minutes. She conceded 10 goals in the competition with no clean sheets and saved 13 of her 23 shots faced (56.5%). Moorhouse had three catches, one punch, and no drops in the secondary competition. She successfully completed 69 of her 111 passes (62.2%) and 29 of her 68 long passes (42.6%). Similar to the regular season, her pass completion percentage was far higher in her own half (76.4%) than in the opposing half (35.9%). Additionally, she won a foul and didn't concede any.
Best Game
Moorhouse's most active game was the season opener against the Portland Thorns, where she faced 27 shots and made 12 saves. However she conceded four goals and one was her fault. Her best game of the year came on Oct. 2 in Los Angeles and it was a critical one. Adriana scored in the 22nd minute against Angel City FC to give the Pride a 1-0 lead and the visitors held on for dear life to claim three points that put them in the running for a playoff spot.
One of Moorhouse's seven clean sheets, the goalkeeper made seven saves on the night, her second-most of the season. Most of Angel City's shots were right at the goalkeeper, but she was sure-handed, something that plagued her earlier in the year. In the 57th minute, Claire Emslie beat Haley McCutcheon to the ball inside the six-yard box, but Moorhouse was decisive in coming out, forcing the forward to send her shot into the side netting. Her biggest moment of the game came in the 86th minute, when substitute Sydney Leroux got her head on the ball and put it on target. Moorhouse tipped the attempt over the crossbar, maintaining the Pride's narrow 1-0 lead.
2023 Final Grade
The Mane Land staff gave Moorhouse a composite grade of 6 out of 10 for the 2023 NWSL season. Shot stopping was her strength, but she struggled at other aspects, especially holding onto the ball. On multiple occasions this season, her inability to hold onto a catch resulted in second chances and goals for the opposition. She struggled in the team's penultimate game against Racing Louisville, effectively ending the Pride's season, and her third-minute red card against OL Reign was likely a determining factor in a crucial 1-0 loss. However, she had seven clean sheets on the season and was the team's best goalkeeper.
2024 Outlook
Moorhouse's initial contract was a two-year deal, running through the 2023 season. While there were questions about her dependability in goal this season, Seb Hines and Haley Carter were pleased with her performances, awarding her with a new contract on Oct. 5, keeping the goalkeeper in purple through at least the 2025 season. The Pride now have four goalkeepers under contract for next year, and Moorhouse will be challenged for her role as the starter by new signing Sofia Manner.
---
Previous Season in Review Articles (Date Posted)
Orlando Pride Sign Finnish Goalkeeper Sofia Manner
The Pride have added a fourth goalkeeper and the second one from abroad ahead of the 2024 NWSL season.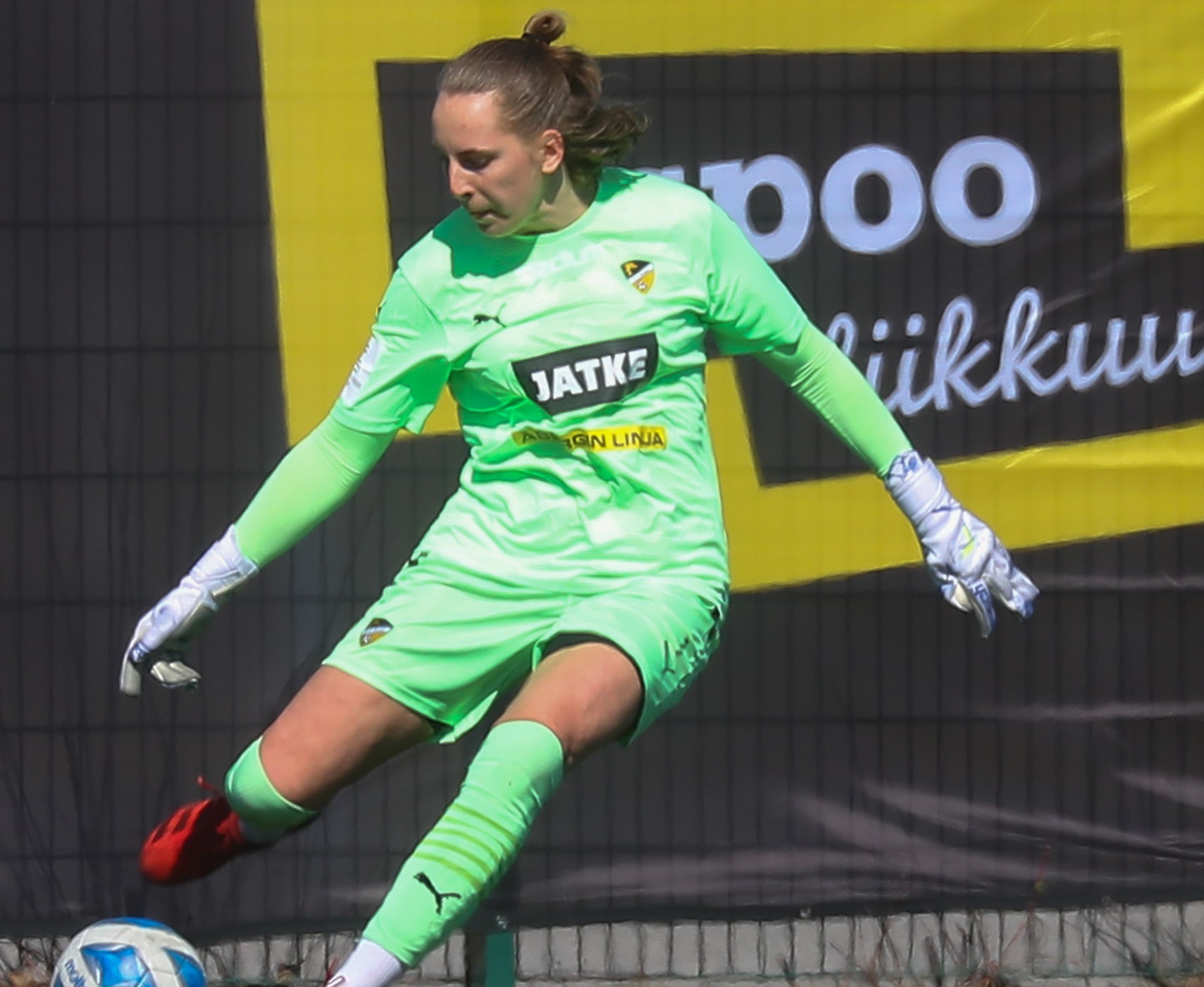 The Orlando Pride announced today the signing of goalkeeper Sofia Manner, who was acquired for an undisclosed transfer fee from FC Honka of Finland's top flight, the Kansallinen Liiga. Manner has signed a two-year contract through the 2025 season with a club option for 2026. The signing is a bit curious as it comes less than two months after the Pride extended English goalkeeper Anna Moorhouse through the 2025 season, giving Orlando two international goalkeepers and four total netminders under contract.
"I am immensely grateful for this opportunity to join Orlando Pride, a team I have admired since my youth," Manner said in a club press release. "It has been a lifelong dream of mine to contribute to such a renowned organization in women's soccer. The prospect of starting this journey fills me with great enthusiasm, and I am eagerly looking forward to bringing my passion and dedication to the team. I'm ready to put in hard work and help write a new chapter for the Orlando Pride." 
Manner, who turned 26 on Nov. 9, conceded the fewest goals in the Kansallinen Liiga this season and is a nominee for the league's Best Player and Goalkeeper of the Year awards. She appeared in 23 matches and earned 10 clean sheets across all competitions, was twice named the league's Goalkeeper of the Month this season, and was Player of the Month in April.
"Sofia is a tremendous addition to our goalkeeping corps and one we expect to challenge for the starting position," Orlando Pride Vice President of Soccer Operations and General Manager Haley Carter said. "She brings an underdog mentality and gritty work ethic and fits every aspect of the profile we have built for our goalkeepers. Her size, aerial ability, shot-stopping prowess, and distribution are world class. She brings international experience and has led the Kansallinen Liiga in nearly every goalkeeping metric. Her nominations for Goalkeeper of the Year and Best Player are indicative of her winning mentality and drive to be the best. We are excited to bring her to Orlando and to give her an opportunity to prove herself in our environment and in the NWSL." 
The shot stopper has experience playing in the United States, having played collegiately with Stony Brook University. She compiled a 1.14 career goals-against average across three seasons, which is fourth-best in Seawolves' history. Her 20 shutouts ranks third in program history, and she compiled a .796 save percentage, which is ninth best all time.
While at Stony Brook, Manner was named America East Freshman of the Year in 2017, was a first-team all-conference selection in 2019, and was the conference's Goalkeeper of the Year in 2018 and 2019. She started in every match in her final two seasons at Stony Brook, backstopping the Seawolves to an America East conference championship in 2019 and a regular-season title in 2018.
What It Means for Orlando
The Pride currently have four goalkeepers under contract: 2023 starter Anna Moorhouse (through 2025), backup Carly Nelson (through 2024), third keeper Kaylie Collins (through 2024), and now Manner (through 2025). Collins is on loan with Western Sydney Wanderers FC of the A-League Women in Australia. Four goalkeepers will provide spirited competition in preseason camp, to be sure, but it's likely that one of these players will be on the move at some point.
If Manner wins the starting goalkeeper spot from Moorhouse, it may be for reasons other than stopping shots. Moorhouse did a good enough job of that, but often struggled with balls in from the wings, which was illustrated in the Pride's penultimate game of the year — a must-win match at Racing Louisville — when a routine-looking corner kick cross appeared to be easily catchable, but Moorhouse went for a punch instead and knocked the winning goal for Louisville into her own net. That dropped point in the standings put Orlando in jeopardy on Decision Day and indeed the Pride beat Houston but missed the postseason on goal differential. It was a crucial point dropped.
That wasn't Moorhouse's only major error on the season, as she set an NWSL record with the earliest sending off in league history with her third-minute red card at OL Reign on Sept. 3 — a match the Pride lost 1-0 while playing one player short for 87 minutes plus stoppage. She has also frequently spilled crosses and shots from distance.
Orlando needed to upgrade the position. Whether Manner is an upgrade remains to be seen, but as Carter said, she is expected to compete for the starting spot. If nothing else, the competition should be good for the Pride. If Manner does take the starting position, it seems logical that the club will look to move either Moorhouse or Nelson.
The goalkeeper position will provide one of the Pride's most intriging camp battles.
2023 Orlando Pride Season in Review: Kylie Strom
The veteran defender was a consistent starter for the Pride in 2023.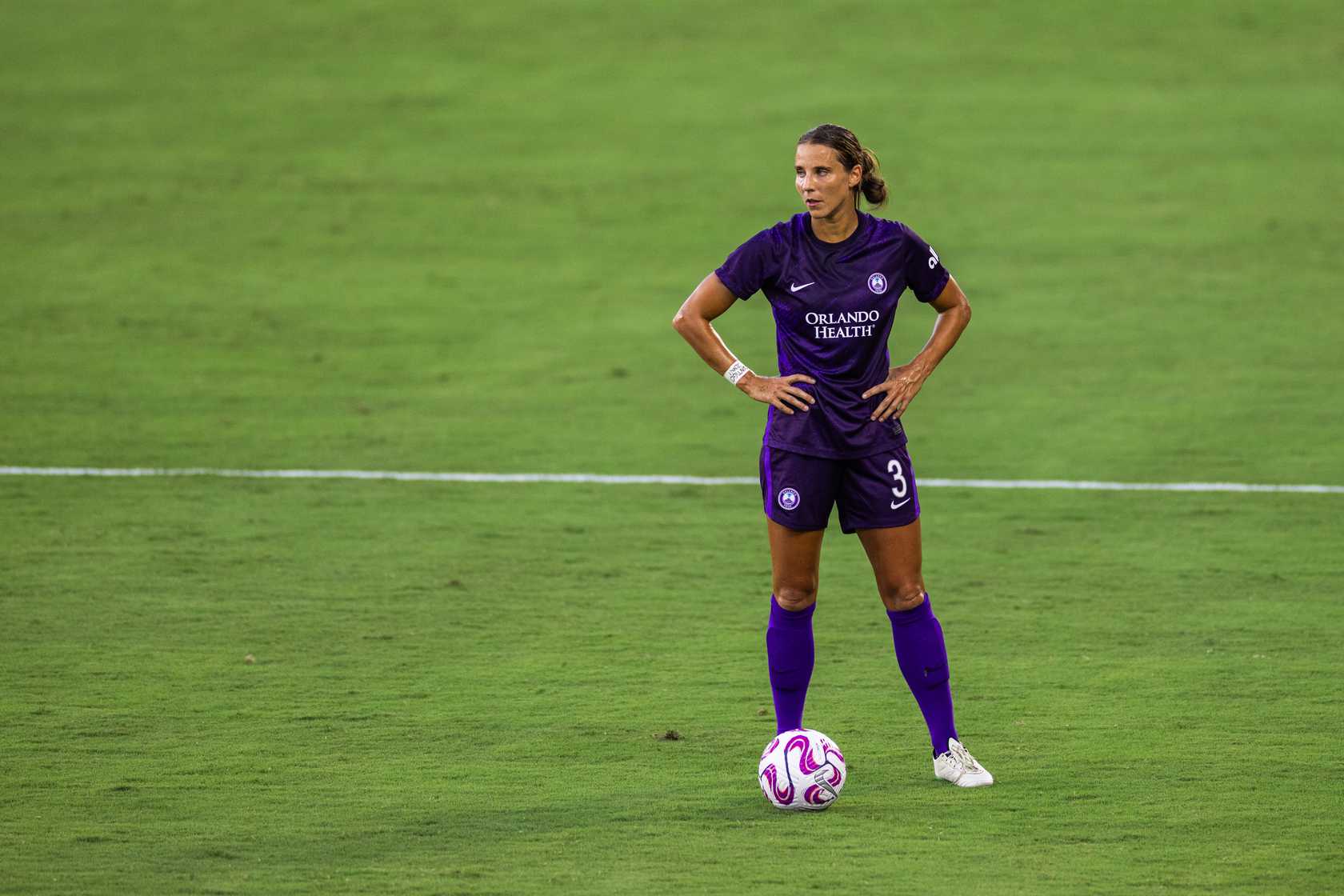 The Orlando Pride signed Kylie Strom from Atletico Madrid on July 5, 2021 to a two-year contract with an option for 2023. Previously, Strom spent time with the Boston Breakers, FFC Frankfurt II in Germany, and Sparta in the Czech Women's League. The Pride exercised her option prior to the 2023 season. Strom played a much bigger role for the Pride in 2023. 
Let's take a look at the defender's 2023 season with the Orlando Pride.
Statistical Breakdown
Strom appeared in 22 regular-season matches, starting all 22, for a total of 1,967 minutes. She scored one goal on six shots, putting one on target. She provided one assist and made 17 key passes. Strom completed 590 of her 880 total passes (67%). She was accurate on 58.7% of her passes in the opponent's half, and went 73.8% in her own half. She was 29 of 106 on her long passes (27.4%). She also completed seven of her 36 crosses. Defensively, she logged 34 interceptions and 10 blocks, won 43 of her 81 tackles (53.1%), won 181 of her 291 duels (62.2%), and won 39 of her 64 aerial duels (60.9%). She also committed 18 fouls, suffered 42 fouls, and was not booked.
The 31-year-old made four appearances in NWSL Challenge Cup play, starting four games and playing 314 total minutes. Strom did not score any goals but took two shots with one on target. She attempted three crosses (one successful), and registered no assists. Strom completed 93 of her 134 total passes (69.4%). She was accurate on 61.8% of her passes in the opponent's half, and 75.8% in her own half.  Strom was 11 of 19 on her long passes (57.9%), and made two key passes. Defensively, she made three blocks and eight interceptions, and won eight of her 10 tackles (80%), 29 of her 46 duels (63%), and eight of her 10 aerial duels (80%). She also committed five fouls, suffered five fouls, and was not booked.
Best Game
Strom's best match was the 2-1 win over the Washington Spirit on May 20. She scored her only goal of the season on a header at the back post in the 77th minute to give the Pride the win. It was the type of goal that you want from defenders and it came at just the right time.
Strom played the full 90 minutes and she was active in both the defensive and offensive aspects of the match. She nearly put Messiah Bright in on goal but it was knocked out for a corner. Her goal came on three shots with one on target. She also completed 15 of her 30 passes (50%) on 52 touches, committed no fouls, suffered three fouls, and was not booked.
2023 Final Grade
The Mane Land staff gave Strom a composite rating of 6 for the 2023 season. Strom received a grade of 4.5 in 2022 due to being a part of a defense that gave up 45 goals with a -23 goal differential. That is a big year-over-year improvement for the defender and part of that is the defense as a whole was better. Strom also did well individually though she had a bad habit of cheaply giving the ball away in her own half. She previously received an incomplete during what was a rough stretch run in 2021 after joining the club midseason.
2024 Outlook
Strom is out of contract and will be 32 years old prior to the 2024 season starting. She's also a free agent. Despite that, it's very possible she is back with the Pride next season unless additional defensive signings are made. It would mean a new contract, but given she started every regular season match in 2023 and finished second only to Emily Madril in minutes played, Seb Hines evidently has faith in her ability to contribute.
---
Previous Season in Review Articles (Date Posted)