Orlando City vs. LA Galaxy: Player Grades and Man of the Match
How did your favorite Lions perform in a 2-0 win over the LA Galaxy at home?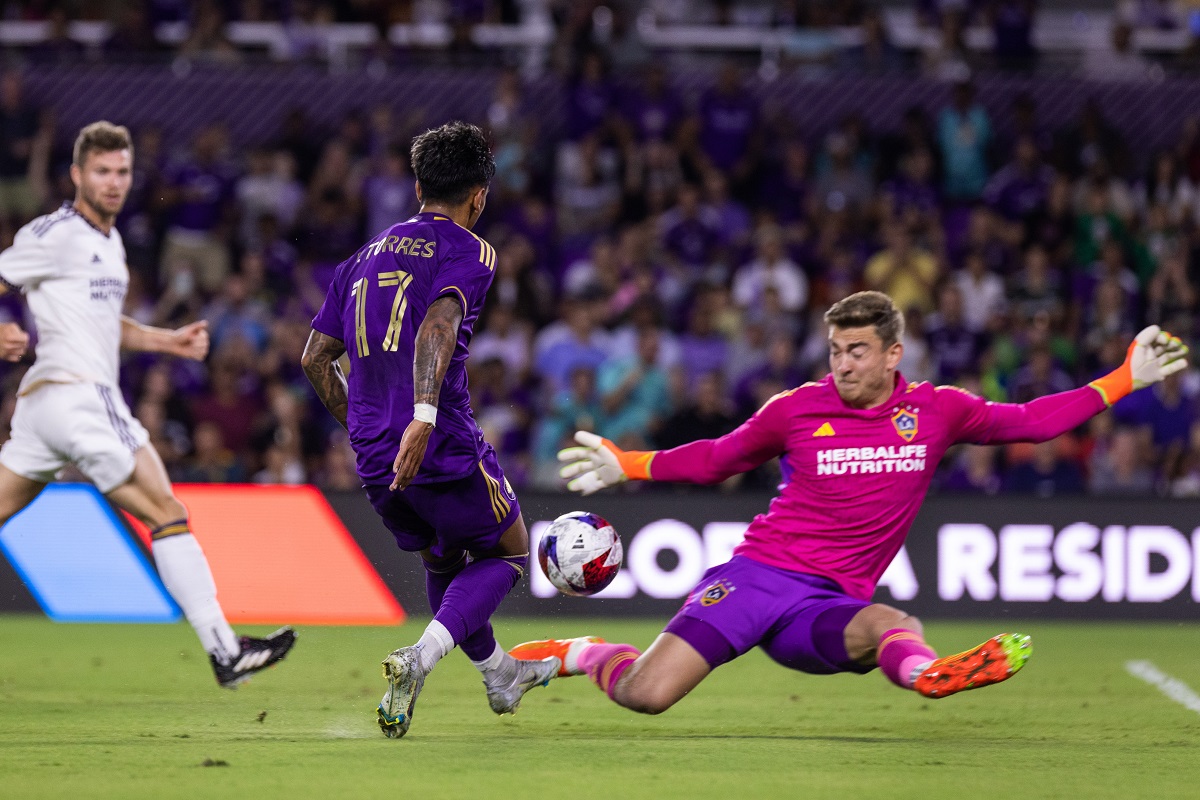 Orlando City was able to give its supporters plenty to cheer about in a 2-0 win against the LA Galaxy at Exploria Stadium Saturday night. Ercan Kara scored his first goal of the regular season and Facundo Torres scored another in a match that showcased how Orlando's trio of Designated Players can work alongside one another. Of course, there is more to this team than its stars and many players put in strong performances. Let's dive into how each individual Lion did their part in the shutout victory.
Starters
GK, Pedro Gallese, 6 — The Peruvian goalkeeper didn't see much action throughout the match, but came up with a fantastic save to deny Javier "Chicharito" Hernandez late in the match and preserve his clean sheet. His only other save of the match was in the 24th minute, when he swallowed up a driven shot from Tyler Boyd in the heavy rain. Gallese finished the game with 28 passes at a 78.6% success rate and was accurate on five of his 11 long balls. There were a few nervy moments late while trying to play out of the back, but Orlando put out the potential fires and secured the shutout.
D, Kyle Smith, 6 — Smith returned to the starting lineup, playing at left back along Orlando's back line while Luca Petrasso recovers from injury. He quietly led the Lions with 82 touches and a whopping 75 passes at a solid 85.3% completion rate. While there were a few giveaways, Smith did well to collect the ball out wide and either find Ivan Angulo on the left wing or calmly get it into the center of the field. He wasn't exactly a stalwart in defense, only recording one tackle, but he did enough to strengthen Orlando's back line so it wasn't burned by counter attacks. He was definitely the more conservative fullback, not getting involved on offense beyond lurking outside the box for possible shots. His lone cross was inaccurate and he was successful on three of his long balls. One of those was a first-half beauty to unleash Michael Halliday down the right flank. It should have led to a scoring chance with Kara beating the defense in the middle but a heavy touch by Halliday spoiled the opportunity. It was a solid outing for Smith, considering he hasn't seen many minutes recently and he's more natural at right back, although his versatility has been proven enough at this point in his career.
D, Robin Jansson, 7 — Jansson was a brick wall in the heart of Orlando's defense, living up to the design of the team's kit this year. The Beefy Swede's four blocked shots were the most on the team and he had two clearances as well. If there was a loose ball in the box, Jansson was there to at least get a piece of it. The clearest example came in the second half, when he recovered well after a good touch from Chicharito in the box seemed to have beaten him only for him to stretch and deflect the shot out for a corner. There were many moments like that, as Jansson also cut off a clever pass in the rain at the center circle before it could reach Chicharito in transition and took care of business while defending a dangerous two-on-one. Jansson was great with the ball at his feet as well, completing 93.1% of his 58 passes and finding his mark on four of six long balls. The 31-year-old was a large reason why Gallese didn't have to make too many saves.
D, Antonio Carlos, 7 — Carlos was just as impressive at center back as Jansson, leading the team with five clearances and blocking a shot as well. He won both of his aerial duels and made sure to make life difficult for Galaxy players who wanted to gain possession in Orlando's final third. The Brazilian also made an impact on offense, completing nine of his 12 long balls. The best came on Orlando's first goal, as he sent a weighted ball forward for Michael Halliday to get onto before it reached the end line for an assist. Carlos completed 85.4% of his 48 passes and looked right at home playing with four at the back alongside Jansson.
D, Michael Halliday, 6.5 — Halliday returned from injury and the Galaxy gave him plenty of space to run on the right wing — mainly in the first half — and he did a great job working his way into dangerous areas with speed and positioning. Heavy touches and subpar crossing led to a shaky start, but he settled in as the match went on. The 20-year-old notched his first MLS assist in the 38th minute by chasing down a long ball from Carlos and zipping a pass towards Kara at the near post. Defensively, he had two tackles, an interception, a clearance, and a blocked shot. The Galaxy took advantage of his time up the field on occasion, but he was resolute enough in the second half to keep Orlando in front. Although neither of his two crosses ended up being successful and he only completed 75.9% of his 29 passes, Halliday showed that he can make the types of runs to cause problems on offense. Orlando's fullbacks have struggled with consistency so far this season, but this was a promising performance from the Homegrown Player if he can execute better going forward.
MF, Wilder Cartagena, 6.5 — With Mauricio Pereyra injured, Cartagena got the start in Orlando's midfield. There was some rust to shake off early on, but he found his rhythm and had 48 passes at a 93.8% success rate. Cartagena was also accurate on all four of his long balls and did well switching the angle of the attack or finding those tight areas to slip passes through a crowded midfield. He could've afforded to get forward a bit more to take shots when plays broke down, but he understandably played it safe and left most of the attacking to the Designated Players in the center of the field. His only shot was deflected and he had a key pass as well.
MF, Cesar Araujo, 7 — Araujo also did well in Orlando's midfield, completing 88.5% of his 61 passes and connecting on eight of his 11 long balls. He helped pull LA's defense apart like dough and had a key pass by setting up a shot for Martin Ojeda outside the box. He also gave Orlando some bite in the midfield with a team-high three tackles and a clearance. What looked to be his first goal of the season was disallowed due to a handball from Torres in the build-up. While it didn't count, it was a nice bit of finishing from the defensive midfielder. The five fouls he won are not to be overlooked either.
MF, Ivan Angulo, 7 — Angulo provided a needed spark on offense along the left wing, particularly in transition. On Orlando's second goal, he quickly found space to receive a pass forward and then slipped the ball into the center of the field before sprinting towards goal to give the attack another runner if needed. There was a similar moment in the first half when he shook a defender and used his speed to surge forward and create a chance for Ojeda. His execution could've been better in that moment to lead Ojeda forward with his pass, but his decision making was great overall. Angulo was accurate on all four of his long balls, one of his two crosses, and all but one of his 36 passes for an excellent 97.2% success rate. His only shot was blocked and he had three dribbles. Angulo also flitted around the field to help out on defense and apply pressure, recording two tackles, a clearance, and a blocked shot in 78 minutes of action. If he can make performances like these each week with consistency, it will go a long way towards Orlando's attack.
MF, Facundo Torres, 7 — Torres scored his second goal of the season by capping off some interplay between Orlando's Designated Players. His shot could have had more bite to it and Jonathan Klinsmann got a touch to it, but there was enough behind it to reach the far corner and go in. He looked most lethal when on the right wing and grew into the position as the match wore on, while Halliday hung back to solidify the defense after LA changed shape. His preference for his left foot and some hesitation with the ball at his feet due to LA's pressure in the center of the field made for a few awkward chances, and he had four unstable touches. His goal was also his only shot of the match. However, he led the Lions with three key passes and showed some better chemistry with his teammates in this one. The 23-year-old was successful on 80% of his 40 passes, while connecting on three of his four long balls and one of his two crosses. It was a strong performance from Torres and hopefully a sign of more to come in the future.
MF, Martin Ojeda, 7 — Ojeda had an assist for the second straight match after delivering a nice pass between defenders to Torres in transition. He also led the Lions with six shots, putting two of them on target and having another blocked. His best chance was in the first half on a counter with plenty of time to pick out his shot. The shot was well taken, but Klinsmann made a great save to push it inches wide and out for a corner. He had a nearly identical opportunity in the second half, sending the curler inches wide of the far post. Ojeda had two key passes and both of his crosses found their target. None of his three long balls were successful and he completed 71.8% of his passes, but he still looked fairly in tune with his teammates.
F, Ercan Kara, 7.5 (MotM) — The Austrian striker started up top for Orlando and scored his first goal of the season. Kara made a nice cut in the box to dart towards the near post just in time to poke a low cross from Halliday into the goal from a tight angle. It was one of many great runs from Kara during the match, as he tested the Galaxy's defenders and opened up some space for teammates. Kara put three of his four shots on target, with the exception being an ambitious and acrobatic attempt to bury a cross that was a tad behind him. It could be argued he should've chested it down for Angulo, but he was ultimately brought to Orlando to put the ball in the net. He was also given an assist for his part in Orlando's second goal, redirecting the ball into Ojeda's path with a smooth backheel so he could take it in stride. In terms of his hold-up play, Kara won three of his five aerials duels, completed 57.1% of his 14 passes, and won a foul from a great position late in the match. The Galaxy's defense was built around clogging up the passing lanes in the center of the field and allowing space out wide. It was a scheme designed to stop center forwards like Kara from running rampant. It didn't.
Substitutes
MF, Dagur Dan Thorhallsson (78′), 6 — The Icelandic midfielder was decent coming off the bench. He completed all seven of his passes and was patient with the ball during a potential counter, waiting for Galaxy defenders to make their commitments before getting the ball out wide to Torres. He did commit a foul on Raheem Edwards that gave the Galaxy an opportunity, but the Lions took care of it.
F, Gaston Gonzalez (78′), 5.5 — The winger didn't have much to do on Orlando's left side as the Lions focused on holding on for the win. He had just two touches, both of his passes were successful, and his single long ball found its mark.
F, Ramiro Enrique (85′), N/A — Enrique had just just two touches in the match and completed his only attempted pass. He didn't have any defensive stats, but helped see the game out with fresh legs to keep Galaxy defenders honest.
MF, Felipe (85′), N/A — The veteran midfielder had one touch, which was an unsuccessful cross into the box. There weren't enough minutes from Felipe to properly grade him, but he didn't commit any needless fouls or make any other kind of mistakes.
D, Alex Freeman (92′) N/A – The Homegrown Player made his MLS debut by coming on in stoppage time. Freeman didn't see any of the ball, but it was still nice to see the 18-year-old defender coming off the bench.
---
That's how I saw each performance from the Lions in their 2-0 win at home against the LA Galaxy. It was certainly a team effort, and a needed one, as Orlando gets ready for six matches next month. Who was your Man of the Match? Make sure to vote in our poll and let us know what you think in the comments!
Lion Links: 12/4/23
Crew to host MLS Cup final, LAFC returns to MLS Cup, Tim Howard to be inducted into National Soccer Hall of Fame, and more.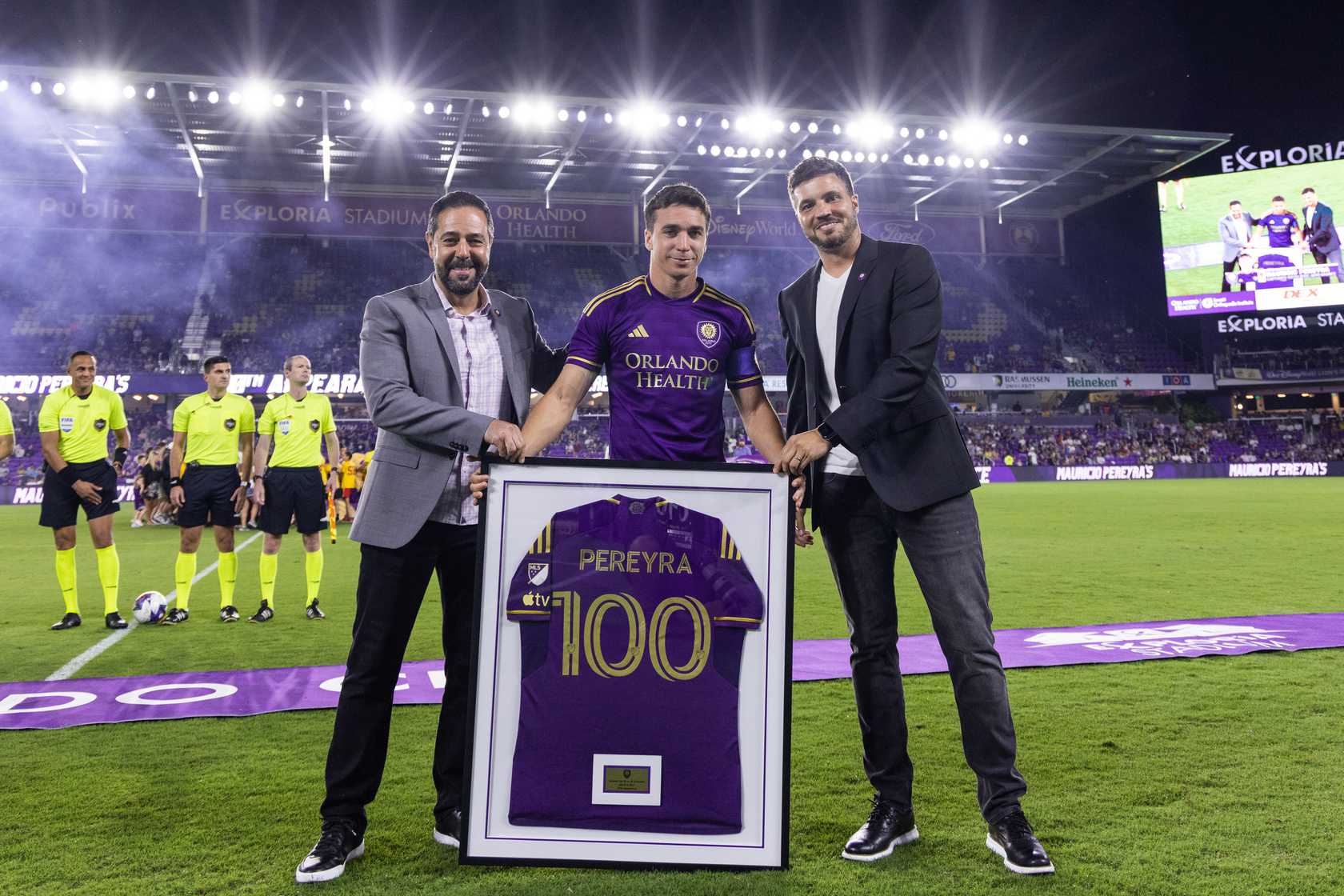 Good Monday morning, Mane Landers. The weekend brought us some drama-filled conference final action, and we now know who will play for the MLS Cup. But before I dive into that, I just want to take a quick minute to say with mixed emotions that this will be my final Lion Links here, but don't be sad, because the rest of the boys will still be bringing your daily content needs and coverage. I'll be stepping away as my wife and I are soon to be first-time parents, and I'm looking forward to all that entails. I appreciate each and every one of you readers for taking the time to scroll through my articles each week. If you're interested in writing for TML, we could definitely use the help so please reach out. Now, let's get into the links!
Columbus Crew Claim Hell Is Real Comeback
After a rocky start, the Columbus Crew became the first team to overcome a two-goal deficit on the road and advance in a single-leg round in the history of the MLS Cup playoffs. FC Cincinnati got off to a great start behind USMNT striker Brandon Vasquez, who opened the scoring, but it was captain Luciano Acosta's sublime free kick finish that stole the show in the first half.
It took trusting the process and the tactics of their first-year manager Wilfried Nancy, but the Columbus Crew fought back with late match heroics to seal the victory. Forward Christian Ramirez bagged the game-winning goal in extra time in the 115th minute.
"You can only fight for someone like that," said Ramirez. "So many times you can feel that you're getting the bad end of the stick at certain moments, but I haven't felt that. I think numerous guys understand how he sees the game now, and we respect that. We talk about writing our story in the Columbus Crew history; this chapter wasn't done. We got one more week, one more game."
LAFC Returns to MLS Cup
The league's defending champion, LAFC, will once again be playing in the final match of the postseason. After frustrating the Houston Dynamo throughout the Western Conference final, LAFC won 2-0. Houston might have dominated the stat sheet in possession, passes, and passing accuracy, but really it was just playing into the gameplan of LAFC.
"We knew that's what they wanted. They wanted the ball," said LAFC right back Ryan Hollingshead. "They like to play this little tiki-taka in the middle of the field, these little movements, little one-twos, three of their guys just kind of pass the ball, but they're going nowhere. And so we just said, do whatever you got, have the ball as long as you want. They created zero dangerous chances. They had a half-chance in the first half on a cross to Baird and that was it. And so a lot of these teams, it's like, yeah, they've got possession, they may be moving the ball. But if they're not creating dangerous chances, who cares?"
MLS Cup Final Preview
The Eastern Conference champion Columbus Crew will host Western Conference champion LAFC at Lower.com Field on Dec. 9 at 4 p.m for the MLS Cup. The match will be No. 53 across all competitions this campaign for LAFC, and a victory would make the club the first repeat winners since the 2011-2012 LA Galaxy. The storylines leading to the match will likely center around the possibility of it being Carlos Vela's final game for LAFC, but for the Crew, the bench players will be the ones to watch. In the 65th minute of the Eastern Conference final, Head Coach Wilfried Nancy brought in Julian Gressel and Christian Ramirez, who both played a pivotal role in two of the three Columbus goals in the comeback victory.  The Crew last lifted the MLS Cup in 2020, defeating Seattle Sounders 3-0 at Historic Crew Stadium.
2024 National Soccer Hall of Fame
On May 4, the National Soccer Hall of Fame will induct its 2024 class. Most notable will be long-time USMNT goalkeeper Tim Howard, who played 121 matches for the United States and had a successful career in the English Premier League. Other inductees will be USWNT World Cup winner Tisha Venturini-Hoch, 1996 Paralympic captain Josh McKinney, and USL founder Francisco Marcos.
Orlando Reportedly Set to Host USMNT-Brazil Friendly
The United States Men's National Team is reportedly far along in negotiations to face Brazil in Orlando for a friendly leading to next year's Copa America. The Yanks and Brazil last met in September 2018 in a friendly match in East Rutherford, NJ. The United States will host the Copa America from June 19 to July 14 as one of six invited teams to the South American competition. Brazil enter as the defending champion and should prove a worthy test for the Stars & Stripes to tune up for the Southern American title.
Free Kicks
Check your pockets and secure your valuables when USMNT left back Antonee Robinson is on the field.
---
That's a wrap for my personal writing here for a while. It has been a pleasure to bring some coverage to you all for the past couple seasons. It's not goodbye. It's see you later. Vamos Orlando!
Lion Links: 12/2/23
The Pride sign a new keeper, the MLS playoffs continue, the USWNT is in action, and more.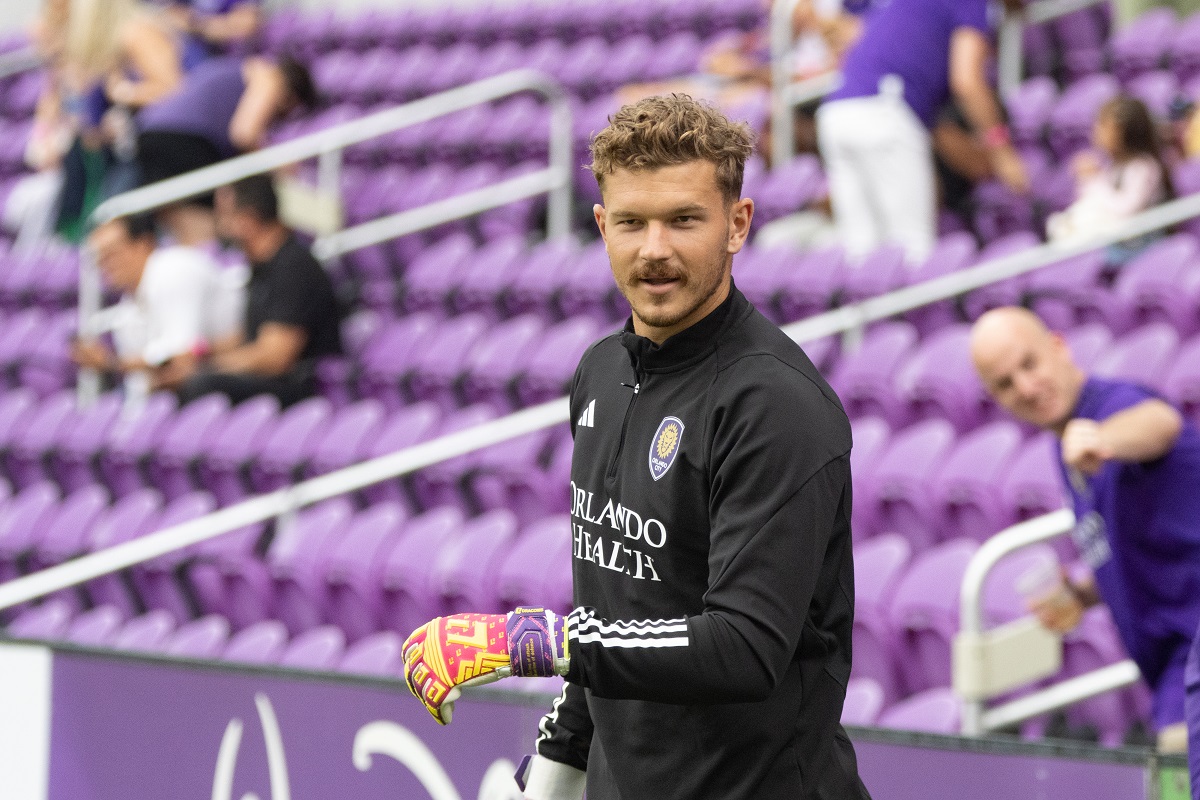 Salutations on this satisfactory Saturday, Mane Landers. We're heading for the home stretch of 2023, and what a year it has been. Make sure that you are catching all of our Season in Review articles for both the Orlando City and Orlando Pride players. Things tend to happen personnel-wise in December, so be prepared. Until then, let's check out today's links. But first, let's wish a happy 26th birthday to Orlando City goalkeeper Mason Stajduhar.
Pride Sign a New Keeper
The Orlando Pride signed Finnish goalkeeper Sofia Manner from FC Honka of Finland's top flight, the Kansallinen Liiga. With the addition of Manner, the Pride have four keepers on the roster heading into 2024. Manner is expected to compete for the starting job, though the same could be said of both Anna Moorhouse and Carly Nelson. It is unlikely all four netminders will be on the Pride once the season starts. Manner has international experience and was the best keeper in the Kansallinen Liiga.
MLS Conference Finals Tonight
I wouldn't blame you if you decided not to watch the remainder of the MLS playoffs after last weekend's disappointing result. However, if you are going see how it all sorts out, you might want to study up on the matches. We're all too aware that the Columbus Crew will be facing FC Cincinnati to see which club wins the Eastern Conference. Over on the other side, LAFC will take on the Houston Dynamo to determine the Western Conference champion.
MLS Player Moves
As the playoffs come to a close, the signings and transfers around the league are ramping up, but who will stay and who will go? New York Red Bulls midfielder Dru Yearwood is heading to Nashville SC as reported by The Athletic (paywalled) since Dax McCarthy is out of contract there and won't be returning.
The Philadelphia Union have signed midfielder Jesus Bueno to a new three-year contract through 2026 with an option for 2027. Meanwhile, Gustavo Bou won't be returning to the New England Revolution. So, um…maybe he'd like to come south and score goals for Orlando City rather than against the Lions? Before anyone gets too crazy, it should be on a non-DP deal.
USWNT Hosts China
The USWNT is back in friendly action against China this afternoon in Ft. Lauderdale at 3 p.m. and then on Tuesday, Dec. 5 at 8 p.m. in Frisco TX. Interim head coach Twila Kilgore will be in charge since newly-named Head Coach Emma Hayes doesn't start until the 2023-2024 Women's Super League season in England is over. Hayes is the current head coach of Chelsea FC Women's. This is the first match between the two teams since 2018, and a lot has changed. The USWNT has been very solid on defense in 2023, allowing only two goals back in the SheBelieves Cup.
Free Kicks
If you haven't heard of a "sin bin," think of it like a penalty box in hockey. The idea has been getting a runout in lower league matches in English football by the International Football Association Board (IFAB) with some good results. It's not yet confirmed, but MLS may institute the change in 2024. The idea is to reduce dissension by having a player sit for 10 minutes during a match. Tottenham manager Ange Postecoglou has spoken out against the idea. What do you think of the concept?
Real Salt Lake has promoted Kurt Schmid to sporting director and interim chief soccer officer.
Cristiano Ronaldo will have to deal with a $1 billion class-action lawsuit for his role in promoting NFTs for Binance. Maybe that's why he signed for Al-Nassr in the Saudi Pro League?
Speaking of the Saudi Pro League, it looks like Mohamed Salah may not be leaving EPL side Liverpool anytime soon. The prolific striker is looking for a new contract to stay at Anfield.
I'll take things Pedro Gallese would not do for $400, Alex.
---
That will do it for today. Please go forth and enjoy your weekend!
2023 Orlando City Season in Review: Kyle Smith
Let's look back at The Accountant's fifth MLS season.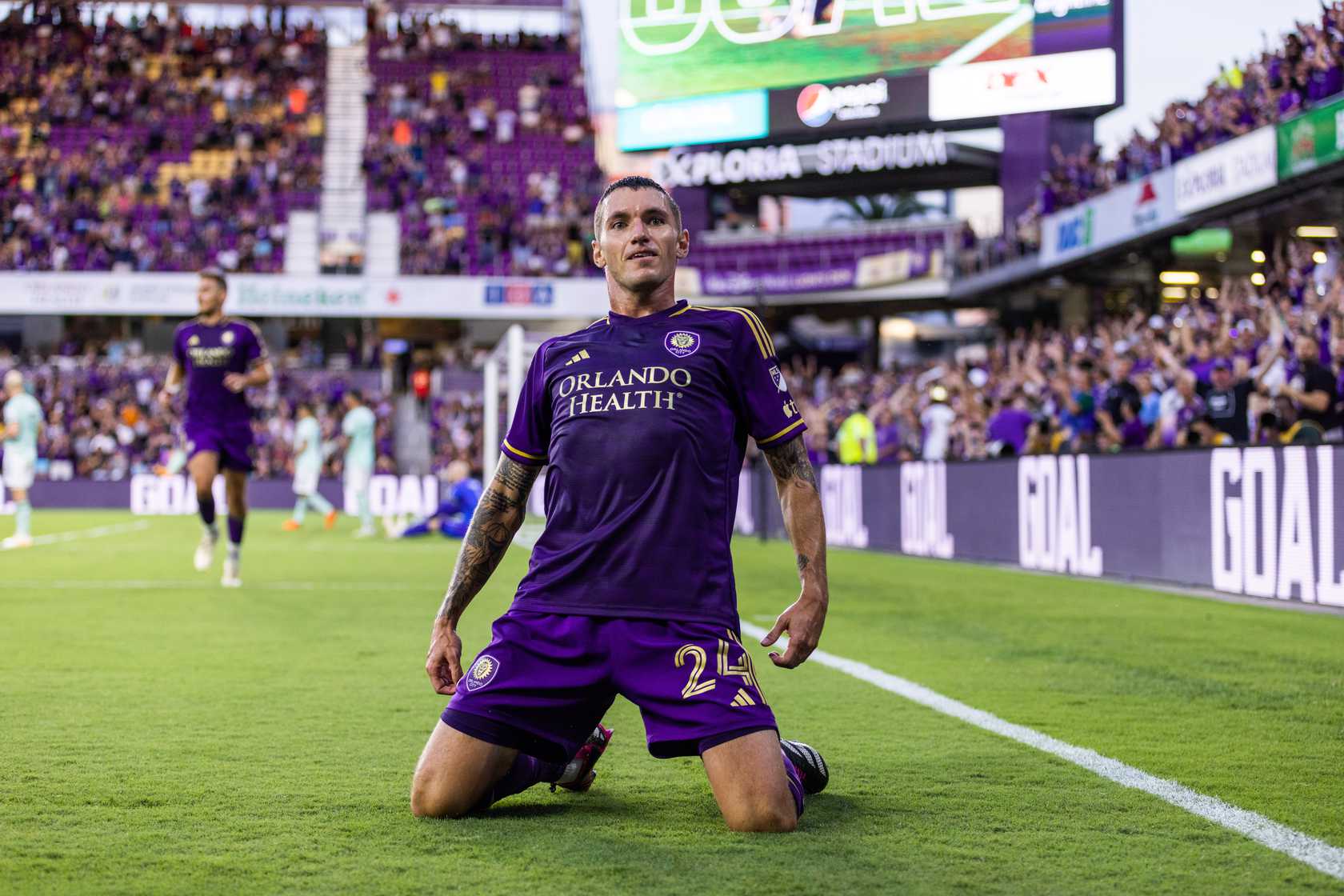 Fullback Kyle Smith was originally signed on Dec. 21, 2018 when James O'Connor was Orlando City's head coach. He proved to be a valuable Swiss Army knife-type player and earned a new contract on March 29, 2021 through the 2022 season with a 2023 club option. Orlando City picked up his 2023 option at the end of the 2022 season but then signed Smith to a new one-year contract for 2023 just weeks later with an option for 2024.
Let's have a look back at The Accountant's fifth MLS season.
Statistical Breakdown
Smith appeared in 25 matches during the 2023 regular season, starting 17 times and logging 1,501 minutes. It was his third-most appearances but his second-most minutes since making the jump from Louisville City to MLS ahead of the 2019 season. He scored one goal and assisted on three others, setting a new career high in the latter category. Smith attempted seven shots, putting two on target. He passed at a 78.7% clip, including nine key passes, five successful crosses, and 36 successful long passes. Defensively, Smith recorded 35 tackles, 16 interceptions, 40 clearances, and two blocked shots. He drew eight fouls while committing 20 and was booked five times on the year.
The 31-year-old appeared in all three of Orlando City's three playoff matches — both off the bench — and logged 65 minutes. He did not score a goal or assist on one, attempting one shot, which he put on frame. He passed at an 82.5% rate in the postseason. He posted two tackles and a clearance defensively. He did not commit a foul or draw one and he wasn't booked.
In the 2023 Concacaf Champions League, Smith came off the bench in the first leg at Tigres, playing minutes, passing at just a 25% rate (small sample size), did not attempt a shot, did not draw or concede a foul, and was not booked.
During Leagues Cup play, Smith appeared in all three of Orlando's matches (all starts), logging 150 minutes. He did not contribute to a goal or attempt a shot in the tournament, committing four fouls and earning two yellow cards. Smith did not play in Orlando City's lone U.S. Open Cup match.
Best Game
Smith's best match of 2023 came in Orlando City's 1-1 home draw against Atlanta United on May 27, and not only because that's when he scored his lone goal of the season, although that doesn't hurt. El Soldado started and went the full 90 minutes. He fired two shots on the night, putting one on target (and in the net), and passed at an exceptional 90.3% rate on 31 attempts, which was his third-best passing night of the season. He completed two successful long balls on two attempts, chipping in four clearances (second only to Antonio Carlos), a tackle, and an interception on the night. His big moment came in the 30th minute, when a well-worked attack up the left kicked out to him on the right side. Smith was perfectly positioned and made no mistake in putting the Lions ahead 1-0.
Although the match was spoiled by a late equalizer, Smith turned in one of his best performances since joining Orlando City and if not for his goal, the outcome might have been a lot more somber than a 1-1 draw.
2023 Final Grade
Smith received a composite score of 6 out of 10 for his 2023 performance from The Mane Land staff. This is an improvement over the 5.5 he earned last year but slightly below the 6.5 he earned for the 2021 season. Previously, Smith was given a 5.5 in 2020 and he got the same score after the 2019 season. The staff awarded Smith for his effort, versatility, and willingness to do whatever it takes to win. He is the quintessential team player. But beyond all of the above, he simply played well most of his minutes on the pitch. At his age, he's going to struggle to contain the league's speediest wing players, particularly when playing on his weaker left side, but his ability to adapt is unquestioned. The perfect example of that was when he was tucking inside from his fullback spot earlier in the season to add an additional player to the midfield and freeing Facundo Torres up to have more space in which to operate on the right side.
2024 Outlook
Smith's return may ultimately rest with whether or not Oscar Pareja stays on with the Lions, although a decision might need to be made earlier than that, as the club must make a decision on his option. Pareja has valued Smith's versatility and work ethic over the last few years, and with more competitions and matches than ever before, it's always good to have a depth player who can plug and play in multiple positions. He played his second-most MLS minutes in 2023, so he's still seeing the field plenty.
If I had to guess, and this section is for exactly that, I'd say the club will either exercise his option or sign him to a new one-year deal with an option year for 2025. However, what complicates matters is that Smith is over age 24 and has played five MLS seasons, which means he's eligible for free agency. If he's back in 2024, I would expect him to again be a key backup at both fullback positions, getting some spot starts in U.S. Open Cup or when fixture congestion is heavy.
---
Previous Season in Review Articles (Date Posted)