Orlando Pride vs. North Carolina Courage: Preview, How to Watch, TV Info, Live Stream, Lineups, Match Thread, and More
The Pride look to keep their Challenge Cup alive as they face the division-leading North Carolina Courage.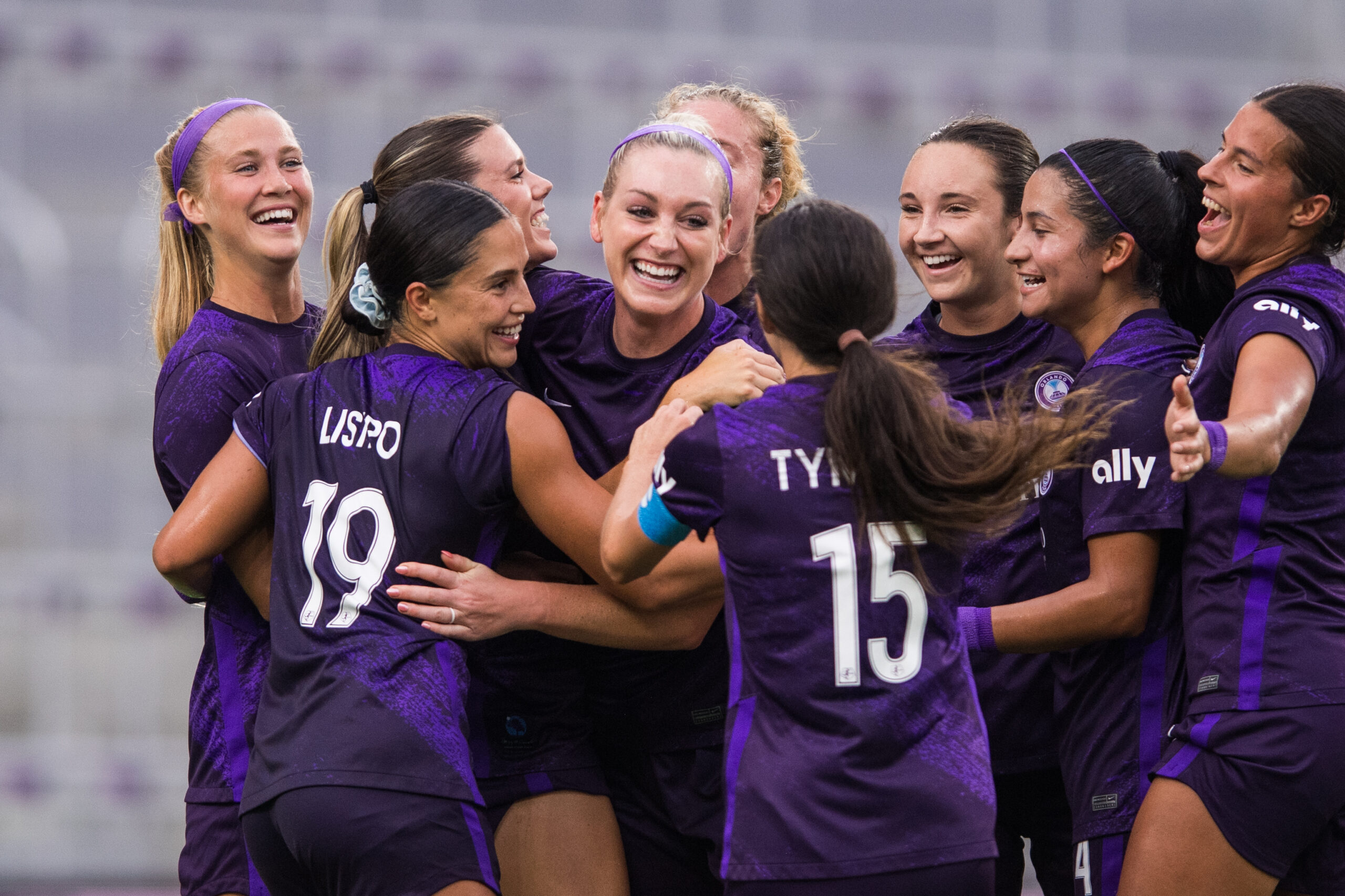 Welcome to your match thread as the Orlando Pride (0-2-1, 1 point) face the North Carolina Courage (2-0-2, 4 points) at WakeMed Soccer Park in the 2023 NWSL Challenge Cup. This is the second and last time these two teams will face off in the Challenge Cup.
Here's everything you need to know about tonight's game.
History
The Pride and Courage have played 21 times since the Western New York Flash moved to North Carolina and became the Courage. The Pride are 4-12-5 in those games (4-10-1 in the NWSL regular season, 0-0-2 in the Fall Series, and 0-2-2 in the NWSL Challenge Cup).
The most recent meeting between the two teams came on June 17 in North Carolina and it was all Courage. Kerolin and Meredith Speck gave the hosts a 2-0 lead before a Haley McCutcheon own goal made it 3-0 to North Carolina.
The game prior to that was a Challenge Cup clash on April 19 at Exploria Stadium. The Pride took the lead after halftime when Summer Yates set up Ally Watt for the opening goal. But Denise O'Sullivan equalized in the ninth minute of second-half injury time, resulting in a 1-1 draw.
Prior to that game, they last played on Sept. 21, 2022 at Exploria Stadium. The Courage got off to a great start when Debinha scored in the second minute. The Brazilian then assisted Tess Boade in first-half injury time to double the lead, and later added another, dooming the Pride to a 3-0 defeat.
The previous 2022 meeting came on May 18 in North Carolina. The Pride got off to a great start in that game, with Sydney Leroux scoring early. Mikayla Cluff doubled the lead with her first professional goal. A late goal by Brianna Pinto got the Courage back within one, but it wasn't enough as the Pride took the 2-1 win.
The Pride and Courage were placed in the same division for the 2022 NWSL Challenge Cup, so the teams played twice before the regular season started. The first game was on March 26 in North Carolina. Merritt Mathias converted a penalty after Gunny Jonsdottir was called for a handball in the box, lifting the hosts to a 1-0 win. The return match in the tournament took place on April 16 in Orlando. The Courage got off to a fast start in this one, scoring three goals in the first nine minutes. Darian Jenkins netted a brace to make it 3-2, but a late Debinha goal put the game away and North Carolina won 4-2.
The teams played three times during the 2021 NWSL season. On May 22 in North Carolina, goals by Leroux and Alex Morgan gave the Pride a 2-0 lead late into the game. Jessica McDonald scored late to pull one back but the Pride held on for a 2-1 win. On July 4 in Orlando, Debinha and Havana Solaun goals helped the Courage take home a 2-0 win. The final game came on July 31 in North Carolina. Leroux opened the scoring but Brittany Ratcliffe equalized moments later and the teams drew 1-1.
The two teams were also matched up in the 2021 NWSL Challenge Cup but they only played once in that tournament. Neither team was able to find the back of the net in that game in a scoreless draw.
Similar to the Challenge Cup, the teams were in the same group of the 2020 Fall Series, meeting twice. The first was on Sept. 19 in North Carolina and ended in a scoreless draw. The second was on Oct. 17 at Exploria Stadium. Led by a Debinha brace, the Courage went up 3-0. But the Pride came back with goals by Marisa Viggiano, Kristen Edmonds, and Ally Haran for an exciting 3-3 draw.
The Pride and Courage played three times during the 2019 season. The first game was on April 17 in North Carolina. The Courage took a 1-0 lead into halftime but scored four times in the second half to win 5-0. They played a second time on June 1 in Orlando. Again, it was a dominant performance by the Courage as the Pride fell 3-0. The final meeting that year was another thrashing by North Carolina. The Pride got a goal in that one but still fell 6-1.
The teams also met three times in 2018 but the results were much closer. On May 23 in Orlando, goals by Alanna Kennedy and Rachel Hill saw the Pride come back from a 3-1 deficit. But McDonald scored a winner in the 90th minute and the Courage won 4-3. The Pride went down by three goals in the final two games that season, but were unable to come back and fell 3-0 in both contests.
The 2017 season saw the teams meet for the first time. The Courage took the first game 3-1 on Apr. 29 in North Carolina. They played a second time two weeks later in Orlando when the Pride took the 3-1 win. The final meeting in 2017 came in the final game of the season on Sept. 30. The Pride took a 2-0 lead but the Courage came back to even it at 2-2. It looked headed for a draw until Kennedy netted a late winner, leading the Pride to a 3-2 win.
Overview
The NWSL is currently on hiatus during the 2023 FIFA Women's World Cup. Most teams are playing two Challenge Cup games during the month-long break, but the Pride and Gotham are playing four times after their two previous Challenge Cup games were postponed due to Canadian wildfires and travel issues.
The Pride came into this period with just one point in the competition, claimed against this Courage team in the opening game. They had an opportunity to gain some ground last weekend when they hosted Gotham and took an early 1-0 lead from a set piece, but Gotham came storming back. A penalty before halftime and two goals in three minutes early in the second half saw the Pride fall, 3-1.
While the Pride could technically qualify for the Challenge Cup semifinals by winning their final three games, that's highly unlikely, and they would need help. Meanwhile, tonight's opponent is in a great position to get out of the group. North Carolina currently has eight points from four games, one point ahead of Gotham.
The Courage are missing six players to the World Cup, but it didn't affect them in their last game, a 6-0 thumping of the Washington Spirit. The impressive performance last weekend included six goals from six different players. The team's depth was on display in that game and will be again tonight.
The Pride have more of their regular starters than the Courage, with only two players who were with the team prior to the World Cup away on international duty. But that didn't seem to help them Sunday night when they fell to a Gotham team with a longer availability list.
While the Pride were outplayed the last time these teams met, the main trouble came from Kerolin, who's away with Brazil. As shown last weekend, the Courage are replacing her by committee, a plan that succeeded. Defensively, the Courage are missing starting goalkeeper Casey Murphy and right back Emily Fox, both of whom are with the U.S. Women's National Team, but have the rest of their starting back line.
"In the last game (against North Carolina), I think we gave them too much respect," Pride Head Coach Seb Hines said about tonight's opponent. "We're going to need to be fully committed to blocking shots. In their last game, they scored a lot of goals outside the box and that's a scenario that we need to improve on in this game. They possess the ball well and they look to combine and use everyone and put defenders in difficult spots. We need to be fully committed to the press, but we need to stick to our identity and also be good in possession. It should be an exciting game. It's two teams that want to play and want to possess the ball with an objective to score."
After having multiple players out injured against Gotham, the Pride are healthy this week, only missing Carrie Lawrence (knee) due to injury. They'll also play without Marta (Brazil), Adriana (Brazil), Rafaelle (Brazil), and Mariana Larroquette (Argentina), who are on international duty at the 2023 FIFA Women's World Cup.
The Courage are without four injured players tonight, including Emily Gray (knee), Estelle Johnson (lower leg), Clara Robbins (lower leg), and Meredith Speck (right knee). Emily Fox (USA), Mille Gejl (Denmark), Rikke Madsen (Denmark), Casey Murphy (USA), Kerolin (Brazil), and Denise O'Sullivan (Ireland) are participating in the World Cup.
---
Official Lineups
Orlando Pride (4-2-3-1)
Goalkeeper: Anna Moorhouse.
Defenders: Kylie Strom, Emily Madril, Megan Montefusco, Haley McCutcheon.
Defensive Midfielders: Jordyn Listro, Viviana Villacorta.
Midfielders: Kerry Abello, Erika Tymrak, Julie Doyle.
Forwards: Messiah Bright.
Bench: Carly Nelson, Caitlin Cosme, Amanda Allen, Ally Watt, Thais Reiss, Tori Hansen, Mikayla Cluff, Summer Yates, Celia.
North Carolina Courage (4-2-3-1)
Goalkeeper: Katelyn Rowland.
Defenders: Kiki Pickett, Malia Berkely, Kaleigh Kurtz, Ryan Williams.
Defensive Midfielders: Brianna Pinto, Narumi Miura.
Midfielders: Brittany Ratcliffe, Frankie Tagliaferri, Tyler Lussi.
Forwards: Tess Boade.
Bench: Marisa Bova, Sydney Collins, Sarah Clark, Nikia Smith, Haleigh Stackpole, Victoria Pickett, Olivia Wingate, Haley Hopkins, Estelle Johnson.
Referees
REF: Greg Dopka.
AR1: Jeffrey Skinker.
AR2: Zeno Cho.
4TH: John Rush.
VAR: Laura Rodriguez.
AVAR: Joel McKell.
---
How to Watch
Match Time: 7 p.m.
Venue: WakeMed Soccer Park — Cary, NC.
TV: None.
Streaming: Paramount+(U.S.), NWSLsoccer.com (International).
Twitter: For rapid reaction and live updates, follow @SkoPurpSoccer and the Orlando Pride's official Twitter feed (@ORLPride).
---
Enjoy the match. Go Pride!
2023 Orlando Pride Season in Review: Haley McCutcheon
The veteran fullback logged a lot of minutes for the Pride in 2023.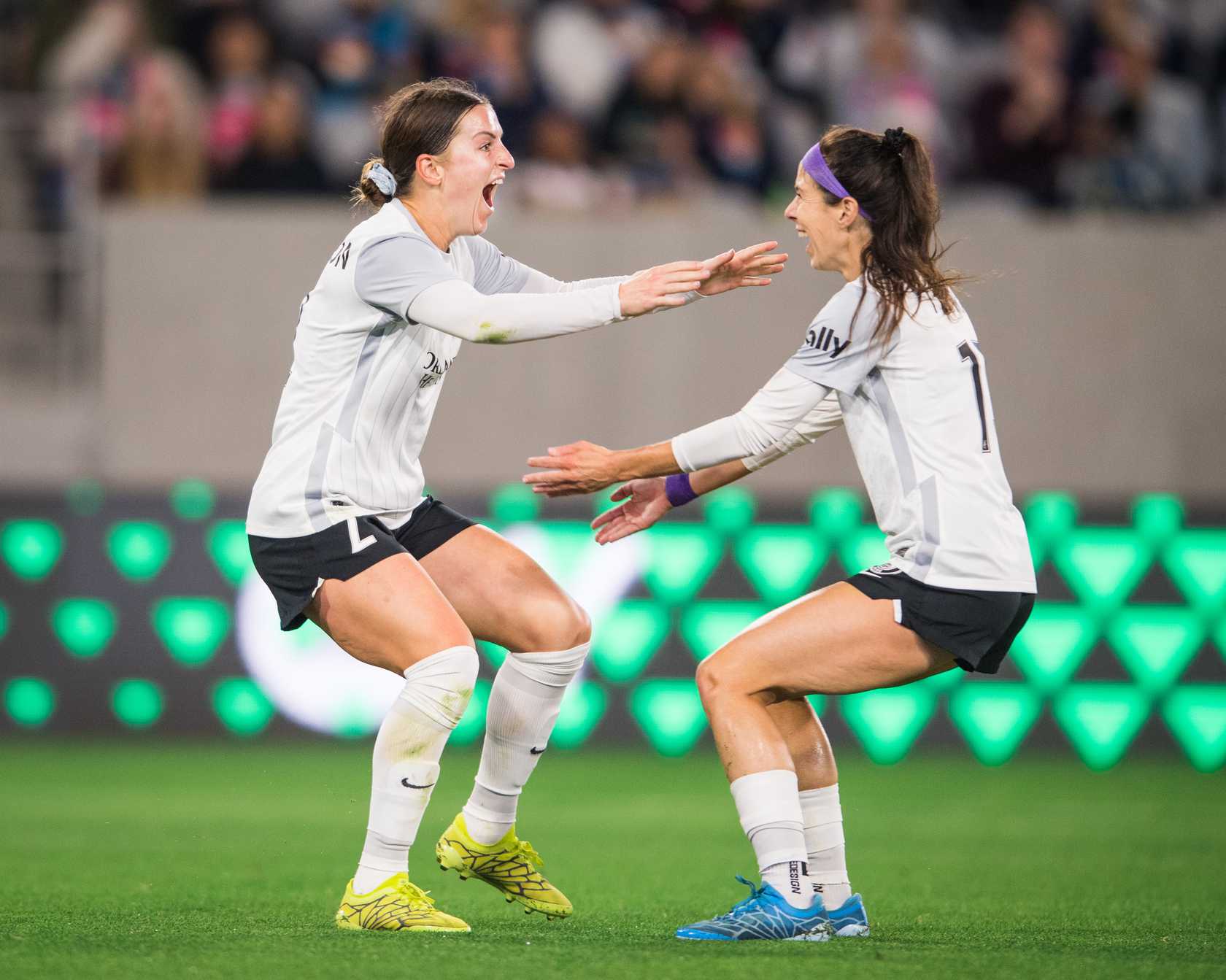 Haley McCutcheon was still known as Haley Hanson when she joined the Orlando Pride on Aug. 18, 2022 in a midseason trade with the Houston Dash. The Pride gave up $75,000 in Allocation Money and a second-round draft selection. She joined Orlando for the stretch run, making her debut with the Pride on Aug. 20 in a 2-1 win over Gotham FC. Following the 2022 season, the Nebraska product signed a new contract through 2024 on Oct. 26 of last year.
Let's look back at McCutcheon's second year with the Pride.
Statistical Breakdown
The 27-year-old appeared in every one of the Pride's 22 regular-season games, starting each of them, and was only subbed out twice all year. She logged 1,955 minutes this season, which was third most on the Pride behind only almost-an-iron-woman Emily Madril (1,977) and Kylie Strom (1,967). In other words, McCutcheon played 98.7% of all possible minutes for Orlando during the NWSL regular season. She scored one goal but did not assist on one, despite providing 15 key passes on the year. The defender attempted 17 shots, five of which were blocked and four were on target. She completed 504 of her 716 pass attempts (70.4%), but just 20.8% of her long passes, and nine of her 40 crosses were successful. In her own end, McCutcheon completed 77.6% of her passes but only 59.8% in the attacking half. Defensively, McCutcheon contributed 10 blocks and 18 interceptions while winning tackles at a 56.9% rate, duels at a 58.3% rate, and aerial duels at a 62.7% clip. Surprisingly, she did not tally a single clearance all season. McCutcheon conceded 18 fouls while winning only eight, and she was not booked.
In NWSL Challenge Cup play, McCutcheon appeared in four of the team's six matches, starting two, and logging 233 minutes. She did not score or assist on a goal, attempting two shots and getting one on frame. Her passing rate in the competition was just 67.6%, and she was successful on 40% of her long passes while logging three key passes and going 1-for-4 on cross attempts. She completed 70.4% of her pass attempts in the defensive half and 62.7% in the attacking half. On defense, McCutcheon contributed two blocks and two interceptions while winning her tackles at a 75% rate, 77.3% of her duels, and 75% of her aerial duels. She conceded two fouls while winning one and was not booked.
Best Game
McCutcheon's best match came back on April 29 in the Pride's 3-1 win over the San Diego Wave at Snapdragon Stadium. She tied season highs in shots (2) and shots on target (1), passed at a 90.5% rate, and made three tackles. Those are all good things, but it gets better. In this match, McCutcheon scored her first goal with the Pride and her only goal of the season, and it proved to be the game-winning strike. And what a strike it was! With the ball on the other side of the field, McCutcheon made a smart run on the back side. Midfielder Viviana Villacorta spotted the run and delivered an excellent, long, diagonal ball into the area for her. But McCutcheon still had a lot to do. She put her head on it and powered it over the goalkeeper and inside the far post to give the Pride their first lead of the season.
The Pride added another goal and went on to grab their first win of the 2023 season. That sparked a 3-0-1 run in league play and got Orlando going in a season that came down to Decision Day.
2023 Final Grade
The Mane Land staff gave McCutcheon a composite rating of 6 out of 10 for her 2023 season, which is a slight improvement over her score of 5 last season. She was a good facilitator down the right side of the pitch and could fill in at times in the midfield with her versatility. Where she continued to struggle at times was with her 1-v-1 defending down the Pride's right side and with her crossing accuracy at times.
2024 Outlook
As mentioned above, McCutcheon is on a deal through the 2024 season and since the Pride are safe from the NWSL Expansion Draft, the only way she wouldn't be back is via trade or transfer. I expect her back in purple next year as she's a versatile player who can fill in at multiple spots and she is obviously valued by the club, playing a lot of minutes and even wearing the captain's armband five times during the 2023 NWSL campaign and twice in the Challenge Cup.
Previous Season in Review Articles (Date Posted)
2023 Orlando Pride Season in Review: Erika Tymrak
The veteran midfielder completed her third season in Orlando purple.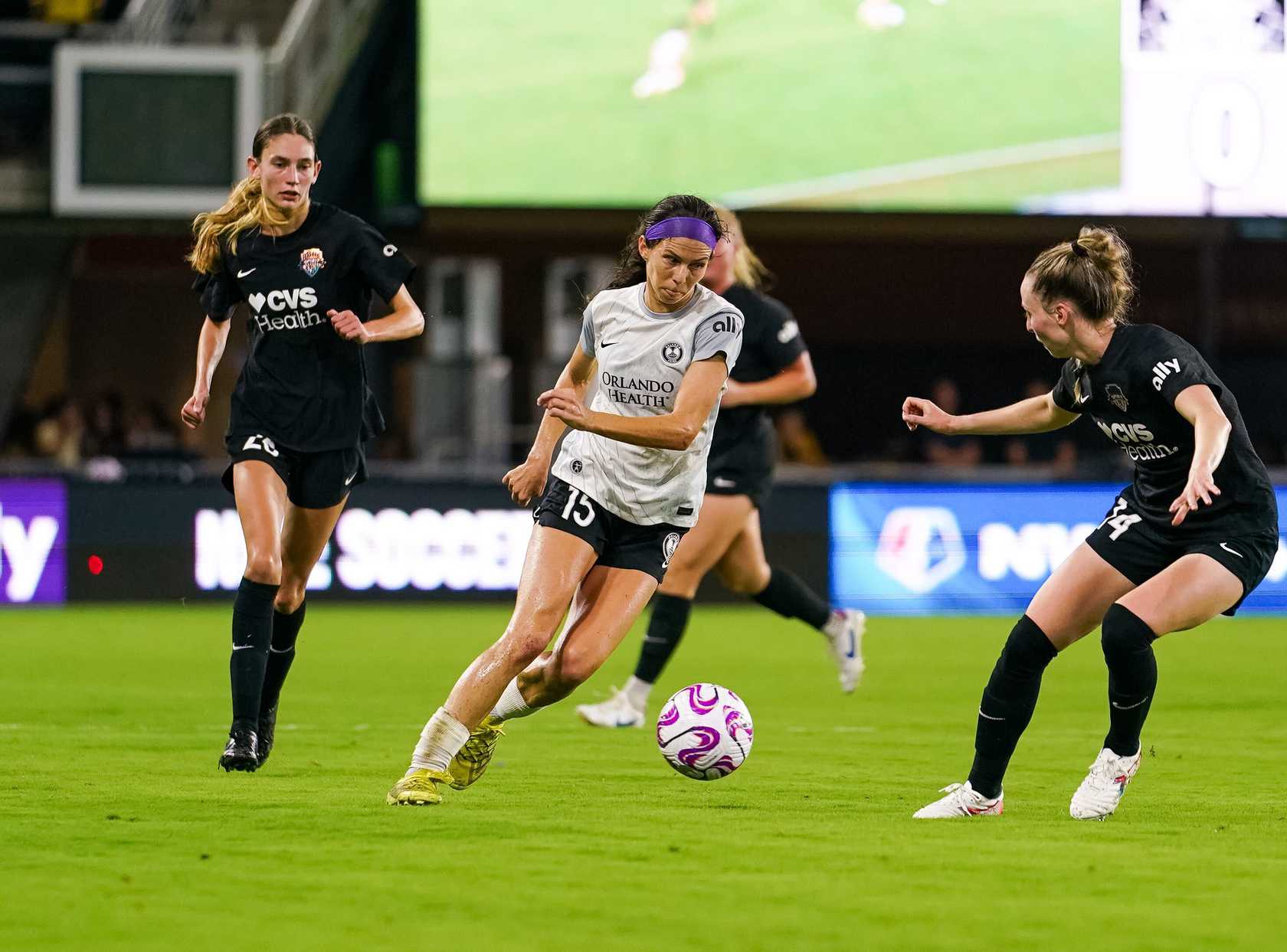 Veteran midfielder Erika Tymrak signed a two-year deal with the Pride on Dec. 9, 2022, in order to stay in Orlando through the 2024 season. The Pride originally acquired the rights to Tymrak from Kansas City, along with midfielder Gunny Jónsdóttir, on Jan. 30, 2021. In exchange, the Pride gave up the rights to Kristen Edmonds and a second-round draft pick. Tymrak had retired in January of 2020 but decided to return to her pro career, and the Pride signed her to a contract on Feb. 5, 2021, just days after acquiring her rights. The Pride picked up Tymrak's 2022 contract option following the 2021 season before re-signing her to her current contract.
Let's look back at Tymrak's third year with the Pride.
Statistical Breakdown
The 32-year-old appeared in 13 matches, starting 10 and playing 806 total minutes in the NWSL regular season. She was subbed off every time she started. Tymrak did not score a goal in 2023 but did contribute three assists on 21 key passes. Of her 11 shots on the season, she put just three of them on target while three others were blocked. She passed at a 73.4% rate, completing 174 of 237, connected six times on 12 long passes, and was successful twice on five total crosses. In her own half, her passing was better (85%) than in the attacking half (65.1%), as is typical of most players. Defensively, Tymrak won eight of 17 tackles (47.1%), 40 of 93 duels (43%), and just one of nine aerial duels (11.1%). She tallied three interceptions on the year. Tymrak won 14 fouls from the opposition while committing only four and was not booked on the season.
In the NWSL Challenge Cup, Tymrak appeared in all six of Orlando's games, starting four, and playing 337 minutes. Again, she was subbed off every time she started. She did not score a goal but contributed one assist on four key passes. Tymrak attempted two shots in the competition. Neither was on goal and one was blocked. During the tournament, Tymrak passed at just a 64.9% rate on 74 attempts, was accurate just 33.3% of the time on six long passes, and went 0-for-3 on crosses. She connected on 81.5% of her passes in the defensive half and 43.5% in the attacking half. The Detroit native and University of Florida product recorded five interceptions on the defensive end, won two of three tackle attempts (66.7%), and won 19 of 42 duels (45.2%). She did not win any of her four aerial duels (0%). Tymrak won 11 fouls from the opposition while committing just two and was not booked.
Best Game
There were some good ones to choose from, but I'll say Tymrak's best match came on July 1 against the Washington Spirit on the road — a dominant 3-0 Pride victory. Tymrak started and played a season-high 89 minutes (tied with her next outing on July 7 against OL Reign and the April 15 game against Gotham FC). Her big moment in the match was providing the pass that set up this beauty of a goal from Julie Doyle that allowed Orlando to take full control of the match:
Tymrak also drew two fouls on the Spirit in the match and helped her teammates control the game. With the win, the Pride swept the season series from the Spirit.
2023 Final Grade
The Mane Land staff gave Tymrak a composite rating of 5.5 out of 10. This is the same score she received from us for her 2022 season after securing a 6.5 in her first year with Orlando in 2021. Tymrak is a savvy veteran who can read the game well. She doesn't produce much in the way of offense but she's helpful with possession, facilitating between the defensive and offensive players around her on the pitch. She has a role on the team and is a useful player to have around to provide depth at this stage of her career.
2024 Outlook
Tymrak is signed through the 2024 season, so it's likely she'll occupy a similar role on the Pride next year — a reliable and versatile midfielder off the bench who can find teammates in the attack. Unless the Pride's shooters are more lethal in 2024, I wouldn't expect her assist numbers to go up, but perhaps she can find the net herself once or twice next season.
Previous Season in Review Articles (Date Posted)
2023 Orlando Pride Season in Review: Rafaelle
Rafaelle joined the Pride on July 3 and immediately was a key part of the team.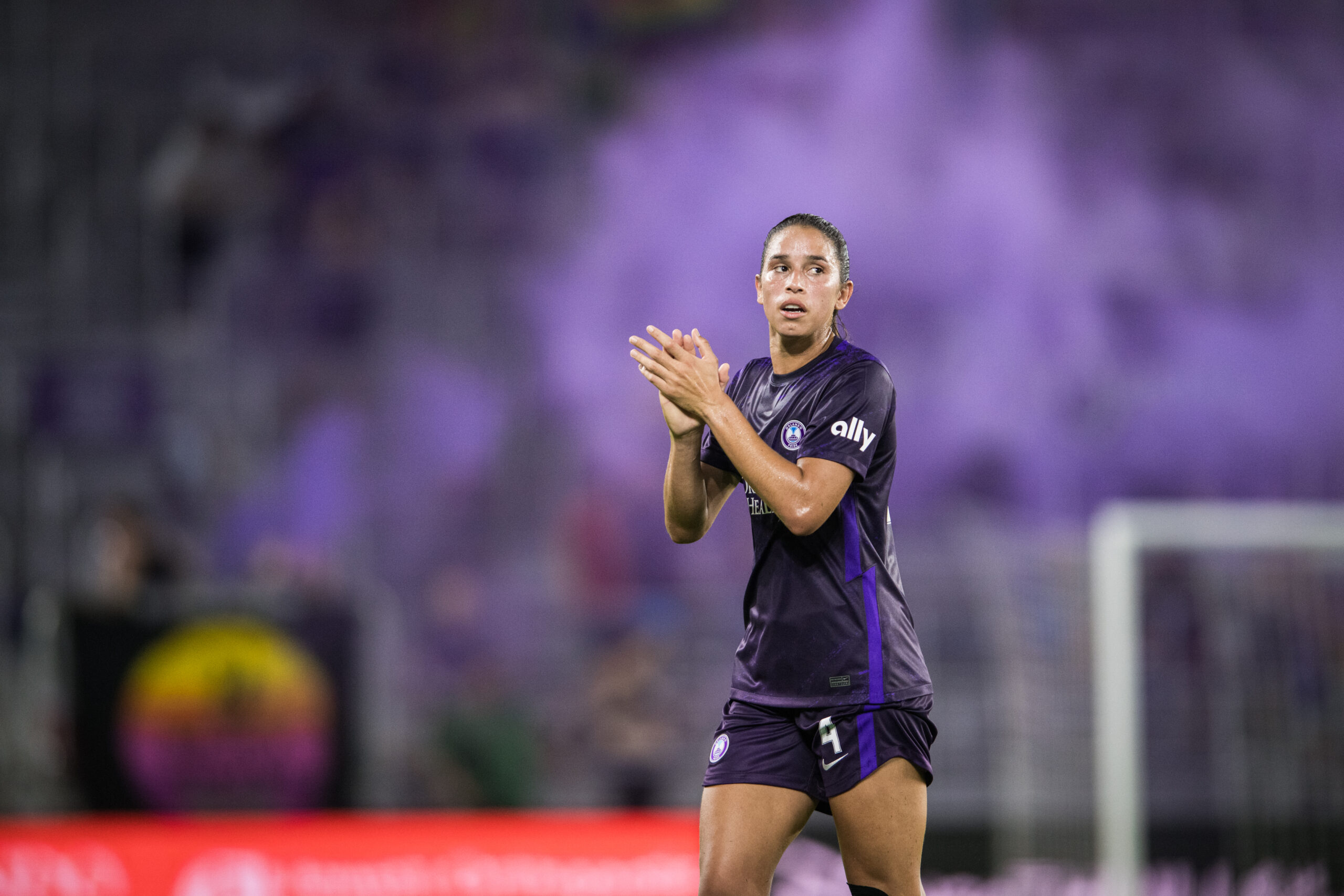 The Orlando Pride signed Rafaelle on July 3 to a contract running through the 2025 NWSL season. The Brazilian international took part in the 2023 FIFA Women's World Cup, joining the Pride after the tournament. She immediately partnered Emily Madril at center back, becoming a key member of the starting lineup as the Pride made a run towards the NWSL playoffs.
Let's take a look at how Rafaelle played after joining the team this season.
Statistical Breakdown
Rafaelle joined the Pride after the end of the 2023 Challenge Cup, so all of her appearances came in the regular season. She made seven appearances, all starts, and played 610 minutes. She played all 90 minutes in six of those games, being substituted for Megan Montefusco on Aug. 20 against the Chicago Red Stars, her first game with the club. The center back finished the season with 31 clearances, seven blocks, and 11 interceptions. She won nine of her 11 tackles (81.8%), 32 of her 50 duels (64%), and 17 of her 23 aerial duels (73.9%).
Going forward, Rafaelle completed 243 of her 305 passes (79,7%) and 30 of her 64 long balls (46.9%). As expected, most of her passes were forward (37.4%) and she played the ball more to her right (30.5%) than to her left (25.2%). She did not register an assist, a key pass, or a cross on the season. She took seven shots, putting four on target, and scored her lone goal in her Pride debut. Additionally, she won one foul and conceded six, but no penalties and she was not booked.
Best Game
Rafelle's best game of the season came in her first appearance for the club, a 5-0 win over the Chicago Red Stars on Aug. 20. The Brazilian was strong defensively, winning all three of her tackles and recording one block, three interceptions, and six recoveries. She completed 28 of her 34 pass attempts (82.4%), with 25 of those passes coming from her own half.
It's arguable whether this was her best defensive game, but it definitely featured the most memorable moment of her first season in purple. In the 14th minute, Penelope Hocking cleared the ball out for a Pride corner. Adriana's set piece sailed beyond several players, but Rafaelle was on the back side of the box to head it towards goal. Chicago goalkeeper Alyssa Naeher got her hand to the ball, but couldn't keep it out, giving the Pride an early 1-0 lead.
The Pride were up 5-0 in the 70th minute when Seb Hines decided to replace the center back with Montefusco, giving the 32-year-old defender a rest before an intense end to the season.
2023 Final Grade
The Mane Land staff gave Rafaelle a composite grade of 6.5 for the 2023 season. She was better defensively than Montefusco and slid in nicely alongside Madril. Joining the team late in the season, she had a smaller sample size than she'll likely have next season, but impressed. Having some competitive games and a full preseason, she might even receive a higher grade next year.
2024 Outlook
Rafaelle joined the Pride late in the season as they made a push for the playoffs. Going into next season, she'll have experience playing alongside her center back partner, Madril, which should provide more comfort. Her current contract is through the 2025 season, so that pairing will likely remain on the starting back line at least through the next two years.
Previous Season in Review Articles (Date Posted)