Orlando Pride vs. NJ/NY Gotham FC: Preview, How to Watch, TV Info, Live Stream, Lineups, Match Thread, and More
The Pride wrap up their 2023 Challenge Cup campaign with a trip to New Jersey to take on NJ/NY Gotham FC.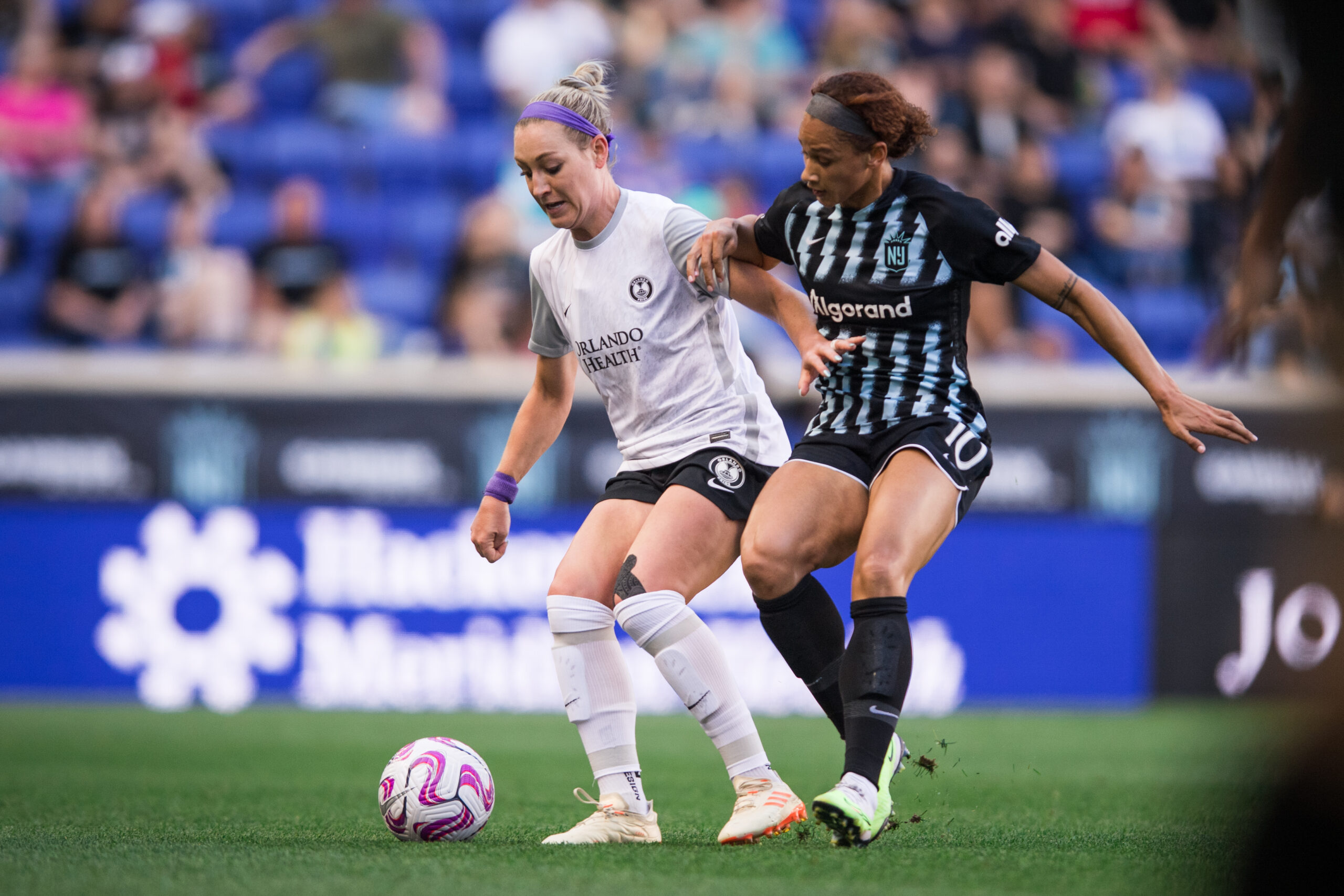 Welcome to your match thread as the Orlando Pride (0-4-1, 1 point) finish their 2023 Challenge Cup schedule with a trip to Red Bull Arena where they'll take on NJ/NY Gotham FC (3-1-1, 10 points). This is the second time the two teams will meet during this Challenge Cup and during the NWSL's regular-season break for the 2023 FIFA Women's World Cup.
Here's everything you need to know about tonight's game.
History
The Pride have faced Gotham 22 times since joining the NWSL in 2016. They're 7-9-6 in all competitions and 4-2-4 in New Jersey. In Challenge Cup games, the Pride are 0-3-1 in three games against Gotham and 0-0-1 away from home.
This is the fourth time the two teams have met this year. The most recent meeting came on July 23 at Exploria Stadium in Challenge Cup play. A Megan Montefusco header in the ninth minute gave the Pride an early lead, but they were unable to hold on. Jenna Nighswonger converted a penalty in the 36th minute and Gotham took over the second half with goals by McCall Zerboni and Yazmeen Ryan, beating the Pride 3-1. Prior to that loss, they played on May 14 in regular-season play. The Pride were the better team and created more chances, but couldn't find the back of the net and the game ended in a scoreless draw.
The Pride and Gotham met for the first time this season on April 15 at Exploria Stadium. The game looked to be headed for a draw, but Gotham struck twice in second-half stoppage time. Midge Purce converted a penalty 10 minutes into stoppage time and then assisted on Lynn Williams's goal seven minutes later, setting a record for the latest goal in NWSL history as the Pride fell 2-0. The Professional Referee Organization stated publicly that the penalty given for a handball on Caitlin Cosme did not meet its standards for being clear and obvious enough for a review, but that won't change the standings.
The two teams met four times last season, twice in the NWSL regular season and twice in the Challenge Cup. The first game was a Challenge Cup meeting on March 30 at Exploria Stadium. It looked to be heading for a 0-0 draw before Purce scored a late winner. The next meeting was April 23 at Red Bull Arena in New Jersey. Gunny Jonsdottir gave the Pride the lead, but Toni Pressley got tangled up with Ifeoma Onumonu, resulting in a penalty. Anna Moorhouse guessed the right way, but Kristie Mewis put it into the bottom corner, evening the game just before the half. Neither team could find a winner and it ended 1-1.
The teams opened the 2022 NWSL regular season against each other on May 1 in Orlando. After two close matchups in the preseason, this one was all Gotham as goals by Zerboni, Purce, and Mewis lifted the visitors to a 3-0 win. On Aug. 20, they played for the final time in 2022 at Subaru Park in Chester, PA. Celia and Ally Watt built the Pride a 2-0 lead. Mewis got one back for the hosts, but the Pride held on for a 2-1 win.
The Pride and Gotham also met four times in 2021, with the first coming in the Pride's inaugural Challenge Cup campaign. On April 14, Paige Monaghan's goal lifted Gotham to a 1-0 win. The first regular-season game that year came on June 20 in Orlando. The visitors took the lead through Caprice Dydasco, but Courtney Petersen equalized, and the game ended in a 1-1 draw.
On Aug. 29, the teams played at Red Bull Arena. Erika Tymrak's long-range goal lifted the Pride to a 2-1 win. The teams played one final, high-scoring game on Oct. 9. It was a bad start for the Pride as Gaetane Thiney scored a brace and Purce made it 3-0 late. But the Pride came storming back with goals by Tymrak and Marta, falling just short in a 3-2 final.
The Pride and Gotham were in different groups for the 2020 Fall Series, so the last time they met prior to 2021 was in 2019, when the New Jersey-based club was still called Sky Blue FC. They first met that year on June 22 at Yurcak Field in Piscataway, NJ. Chioma Ubogagu gave the Pride the lead from the penalty spot and Sarah Killion equalized. The difference was a Gina Lewandowski own goal as the Pride won 2-1. On July 20 they met at Exploria Stadium. Marisa Viggiano's goal won it for the Pride, 1-0. The final game occurred on Sept. 29 in New Jersey. Shelina Zadorsky gave the Pride the lead, but Carli Lloyd equalized in a 1-1 draw.
The teams met three times in 2018, starting on June 16 in Orlando, when a Sydney Leroux brace led the Pride to a 3-2 win. They met again in Orlando on Aug. 5, with the Pride giving up a 1-0 lead after Marta's opening goal. But Dani Weatherholt equalized in a 2-2 draw. The final meeting in 2018 came on Sept. 8 in New Jersey — the final game of the season. There was only one goal in this one as Lloyd won it for Sky Blue FC.
The 2017 season saw the Pride and Sky Blue meet three times. The first was May 27 in New Jersey, where the Pride lost 2-1. They met again in New Jersey on June 28 and the Pride won, 3-2. The final meeting was on Aug. 12 in Orlando and the Pride won by its largest margin in team history, beating Sky Blue, 5-0.
The 2016 season was the first time the two teams met, with the inaugural game coming on Sept. 7 in New Jersey. Alex Morgan and Sam Kerr swapped goals in a 1-1 draw. They met again three days later in Orlando, with Sky Blue winning, 2-1.
Overview
The Pride's Challenge Cup has largely been a story of blown points. They had a 1-0 lead in their first game against the North Carolina Courage, but Denise O'Sullivan's goal nine minutes into second-half stoppage time stole two points. They dominated the Washington Spirit on Friday night and should've had a multi-goal lead late, but couldn't convert. Mariana Speckmaier scored a long-distance strike eight minutes into second-half stoppage time, taking another point away from the Pride.
The result of these blown chances means that the Pride are out of contention to advance to the Challenge Cup semifinals. But that doesn't mean there's nothing to play for. The Pride are in the hunt for a playoff spot in the regular season, sitting just two points behind the final playoff spot. Pride Head Coach Seb Hines has gone back and forth using his starters and reserves, but might use some starters tonight in an attempt to gain some momentum heading back into regular season play on Aug. 20.
The fact that the Pride are even playing tonight is unexpected, as this is a makeup game. The teams were originally supposed to meet on June 7, but the air quality in the New York area was deemed to be unsafe by public officials because of smoke from the eastern Canada wildfires. That match and the subsequent meeting in Orlando on June 28 were postponed until the World Cup break.
Both teams had multiple players compete in the World Cup this summer, but all have been knocked out. Gotham had Kristie Mewis, Kelley O'Hara, and Lynn Williams with the U.S. National Team as well as Ifeoma Onumonu with Nigeria and Sinead Farrelly with Ireland. The Pride had Marta, Adriana, and new signing Rafaelle with Brazil, along with another new signing in Argentina's Mariana Larroquette with Argentina. None of these players are likely to play this weekend after competing in New Zealand and Australia, resulting in a long trip back to the United States.
While Gotham will likely be without multiple starters, they'll have solid replacements in their place. Midge Purce was left off the U.S. World Cup team and former captain McCall Zerboni has seen more playing time during the break. Both players caused problems in the most recent meeting and could be trouble in the attack tonight.
Three points tonight would see Gotham jump the Courage to win the East Division and qualify for the semifinals. This opportunity means that Gotham will likely start three of the usual back line of Mandy Freeman, Ellie Jean, and Jenna Nighswonger. However, Ali Krieger is missing so they'll have to replace her veteran presence. Mandy Haught started the last meeting in Orlando, but they'll likely have Abby Smith start in goal to ensure the three points.
The biggest concern for the Pride in this game will likely be Purce, who probably would've been at the World Cup with the U.S. if not for some recurring injuries. She was a nightmare for Brianna Martinez in the last meeting, drawing a penalty and nearly drawing a second one. Keeping the international in check will be key if the Pride get anything from this game.
"It's our last (game) this season against them and we've played them multiple times. I feel that last time we went to their place, we controlled the game and walked away with a nil-nil draw," Hines said about tonight's opponent. "We're looking to change that and win the game now. We've done well in the past when we've played against them. Some things haven't gone our way, but we have to control the controllables and put a performance together to win the game. It's going to take everyone, and we have to take that mentality until the end of the season because we are so close to what we want to achieve in the season."
The Pride's availability report remains the same as it was over the weekend. Carrie Lawrence (knee) is still out for the season and Celia (thigh) remains unavailable. Gotham are without four players for this game, including Imani Dorsey (excused absence), Krieger (excused absence), Svava Gudmundsdottir (foot), and Taryn Torres (knee).
---
Official Lineups
Orlando Pride (4-2-3-1)
Goalkeeper: Anna Moorhouse.
Defenders: Kylie Strom, Emily Madril, Megan Montefusco, Haley McCutcheon.
Defensive Midfielders: Mikayla Cluff, Viviana Villacorta.
Midfielders: Kerry Abello, Erika Tymrak, Julie Doyle.
Forward: Messiah Bright.
Bench: Carly Nelson, Caitlin Cosme, Tori Hansen, Brianna Martinez, Jordyn Listro, Maliah Morris, Summer Yates, Amanda Allen, Ally Watt.
NJ/NY Gotham FC (4-4-1-1)
Goalkeeper: Mandy Haught.
Defenders: Jenna Nighswonger, Kristen Edmonds, Ellie Jean, Mandy Freeman.
Midfielders: Yazmeen Ryan, Allie Long, Nealy Martin, Midge Purce.
Attacking Midfielder: Delanie Sheehan.
Forward: Katie Stengel.
Bench: Michelle Betos, Abby Smith, Bruninha, Annika Creel, Sabrina Flores, Taylor Smith, Meleana Shim, Maitane López, Cyera Hintzen.
Referees
REF: Jeremy Scheer.
AR1: Tom Felice.
AR2: Jessica Carnevale.
4TH: Joshua Encarnacion.
VAR: Emma Richards.
AVAR: Craig Lowry.
---
How to Watch
Match Time: 7:30 p.m.
Venue: Red Bull Arena — Harrison, NJ.
TV: None.
Streaming: Paramount+ (U.S.), NWSLsoccer.com (International).
Twitter: For rapid reaction and live updates, follow @TheManeLand and the Orlando Pride's official Twitter feed (@ORLPride).
---
Enjoy the match. Go Pride!
2023 Orlando Pride Season in Review: Rafaelle
Rafaelle joined the Pride on July 3 and immediately was a key part of the team.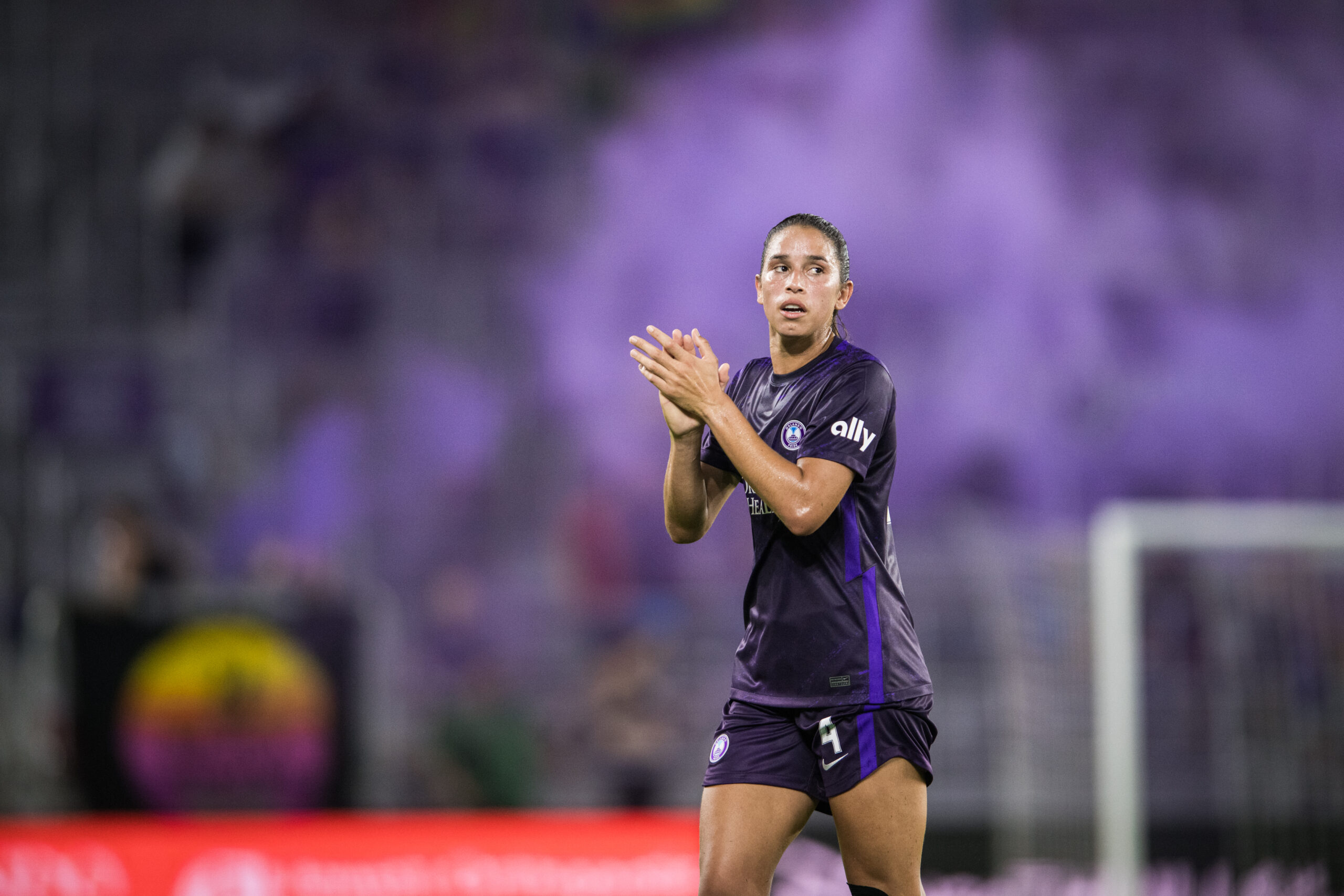 The Orlando Pride signed Rafaelle on July 3 to a contract running through the 2025 NWSL season. The Brazilian international took part in the 2023 FIFA Women's World Cup, joining the Pride after the tournament. She immediately partnered Emily Madril at center back, becoming a key member of the starting lineup as the Pride made a run towards the NWSL playoffs.
Let's take a look at how Rafaelle played after joining the team this season.
Statistical Breakdown
Rafaelle joined the Pride after the end of the 2023 Challenge Cup, so all of her appearances came in the regular season. She made seven appearances, all starts, and played 610 minutes. She played all 90 minutes in six of those games, being substituted for Megan Montefusco on Aug. 20 against the Chicago Red Stars, her first game with the club. The center back finished the season with 31 clearances, seven blocks, and 11 interceptions. She won nine of her 11 tackles (81.8%), 32 of her 50 duels (64%), and 17 of her 23 aerial duels (73.9%).
Going forward, Rafaelle completed 243 of her 305 passes (79,7%) and 30 of her 64 long balls (46.9%). As expected, most of her passes were forward (37.4%) and she played the ball more to her right (30.5%) than to her left (25.2%). She did not register an assist, a key pass, or a cross on the season. She took seven shots, putting four on target, and scored her lone goal in her Pride debut. Additionally, she won one foul and conceded six, but no penalties and she was not booked.
Best Game
Rafelle's best game of the season came in her first appearance for the club, a 5-0 win over the Chicago Red Stars on Aug. 20. The Brazilian was strong defensively, winning all three of her tackles and recording one block, three interceptions, and six recoveries. She completed 28 of her 34 pass attempts (82.4%), with 25 of those passes coming from her own half.
It's arguable whether this was her best defensive game, but it definitely featured the most memorable moment of her first season in purple. In the 14th minute, Penelope Hocking cleared the ball out for a Pride corner. Adriana's set piece sailed beyond several players, but Rafaelle was on the back side of the box to head it towards goal. Chicago goalkeeper Alyssa Naeher got her hand to the ball, but couldn't keep it out, giving the Pride an early 1-0 lead.
The Pride were up 5-0 in the 70th minute when Seb Hines decided to replace the center back with Montefusco, giving the 32-year-old defender a rest before an intense end to the season.
2023 Final Grade
The Mane Land staff gave Rafaelle a composite grade of 6.5 for the 2023 season. She was better defensively than Montefusco and slid in nicely alongside Madril. Joining the team late in the season, she had a smaller sample size than she'll likely have next season, but impressed. Having some competitive games and a full preseason, she might even receive a higher grade next year.
2024 Outlook
Rafaelle joined the Pride late in the season as they made a push for the playoffs. Going into next season, she'll have experience playing alongside her center back partner, Madril, which should provide more comfort. Her current contract is through the 2025 season, so that pairing will likely remain on the starting back line at least through the next two years.
Previous Season in Review Articles (Date Posted)
2023 Orlando Pride Season in Review: Kerry Abello
The midfielder was consistent on defense but was unable to find more goals in the attack.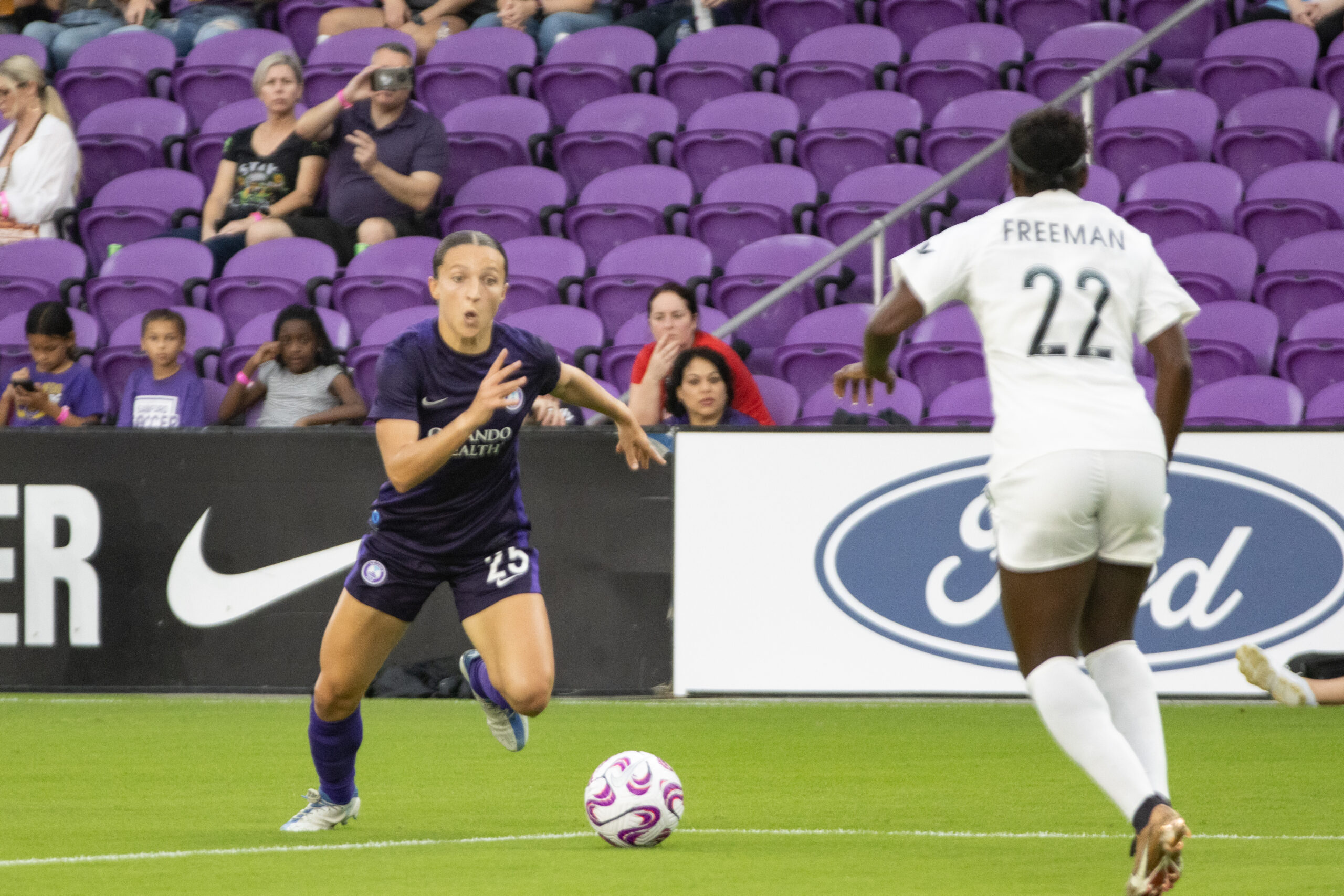 The Orlando Pride selected Kerry Abello 24th overall in the 2021 NWSL Draft but didn't sign her until Jan 28, 2022 to a two-year contract since Abello decided to return to Penn State for a fifth season. On Feb. 23, 2023, the Pride re-signed Abello to a new two-year contract through 2024 with an option for 2025. Since Seb Hines took over as head coach, Abello has become a regular contributor to the Pride midfield.
Let's take a look at the midfielder's 2023 season with the Orlando Pride.
Statistical Breakdown
Abello appeared in 20 regular-season matches, starting 14, for a total of 1,256 minutes. She scored one goal on 22 shots with 12 on target. She provided no assists this season, but made 17 key passes. Abello completed 322 of her 413 total passes (78%). She was accurate on 68.8% of her passes in the opponent's half, and 82.2% in her own half. She was 14 of 38 on her long passes (36.8%). She also completed four of her 23 crosses. Defensively, she made seven interceptions, two blocks, and won 25 of her 39 tackles (64.1%), 83 of her 175 duels (47.4%), and 11 of her 19 aerial duels (59.7%). She also committed 20 fouls, suffered 10 fouls, and was not booked.
The 24-year-old made five appearances in NWSL Challenge Cup play, starting four matches and playing 386 total minutes. Abello did not score any goals but took two shots with one on target. She attempted 10 crosses with one successful, and registered one assist. Abello completed 72 of her 106 total passes (67.9%). She was accurate on 48.9% of her passes in the opponent's half, and 90.9% in her own half.  Abello was three of 13 on her long passes (23.1%), and made four key passes. Defensively, she made one block and one interception, won four of her nine tackles (44.4%), won 18 of her 41 duels (43.9%), and won one of her five aerial duels (20%). She also committed seven fouls, suffered one foul, and was not booked.
Best Game
Abello's best match was the 3-2 loss to Racing Louisville on Oct. 6. Abello scored her only goal of the season on a run from just past midfield and into the left side of the box, where she deftly put her left-footed shot over the keeper and under the crossbar to double the early Pride lead.
Abello's goal was the only goal from the run of play as Marta's goal came on a penalty kick.
Abello played the full 90 minutes and she was very active throughout. Her goal came on five shots, with two on target, and she had one key pass. She also completed 20 of her 24 passes (83.3%) on 51 touches, committed two fouls, suffered two fouls, and was not booked. She earned Player of the Match from Michael Citro on The Mane Land PawedCast.  
2023 Final Grade
The Mane Land staff gave Abello a composite rating of 5.5 for the 2023 season. Abello received a grade of 5 in 2022, mostly due to her lack of finishing. Unfortunately, that continued this season as she had plenty of chances, but not enough goals. Abello was effective in the midfield press that Hines likes to employ, and was good on defense. It's her attacking game that needs some work.
2024 Outlook
Abello is signed through 2024 with an option for 2025, meaning I fully expect her to be with the Pride next season. Since Viviana Villacorta is dealing with an injury, the midfield is an area in which the Pride lack depth. While Abello needs to improve aspects of her game there's no reason for the Pride not to continue to utilize her energy in the midfield. Hopefully, she can improve in 2024 to justify the Pride exercising her option in 2025.
---
Previous Season in Review Articles (Date Posted)
Orlando Pride Announce Roster Decisions Following 2023 NWSL Season
The Orlando Pride have announced the team's roster statuses following the 2023 NWSL season.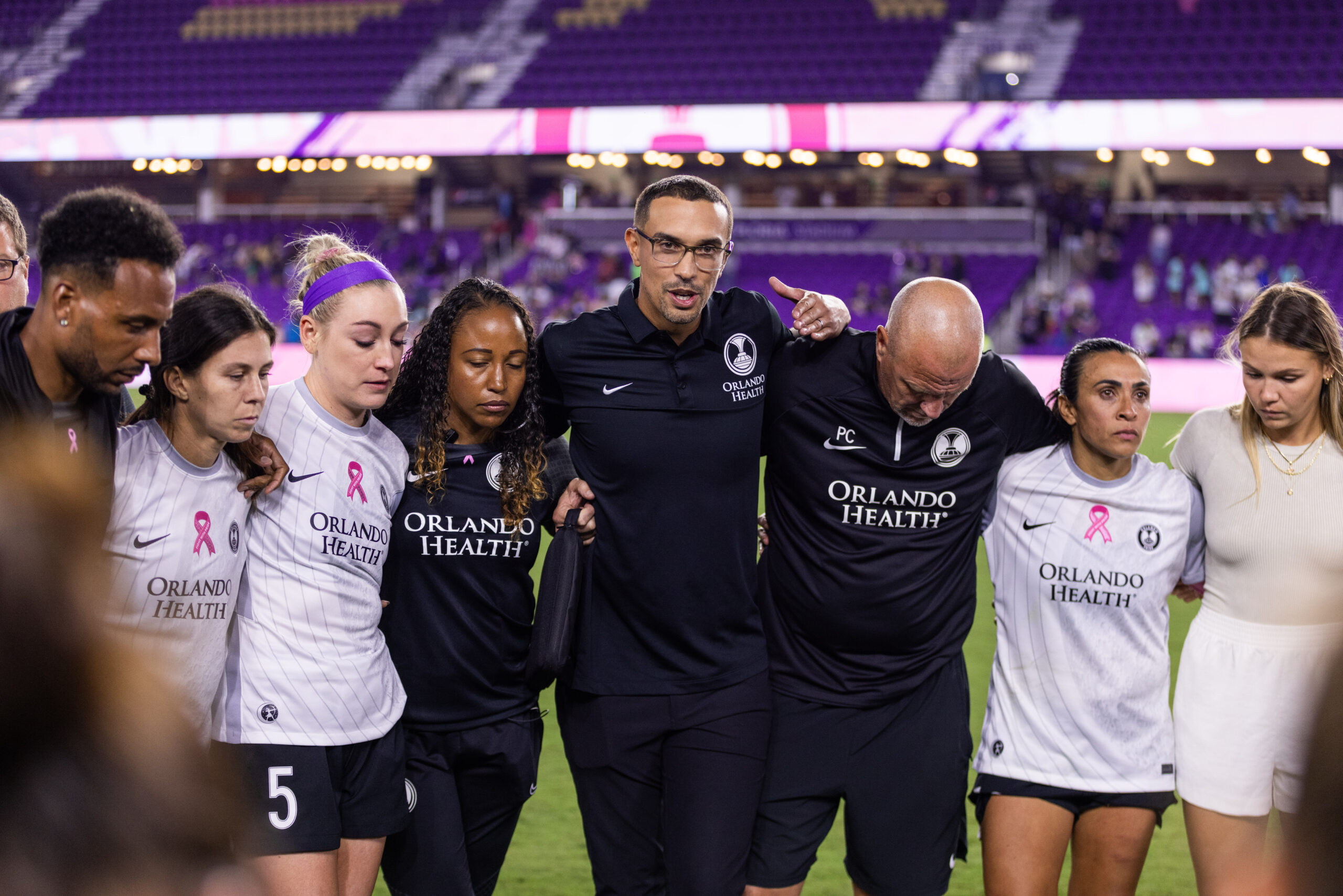 The Orlando Pride updated the team's roster statuses this afternoon following the 2023 NWSL season and announced a few off-season decisions. There are currently 22 players under contract for the club's 2024 season, but the Pride say they're in discussions with "select players" to return next year.
The players currently under contract for 2024 include forwards Amanda Allen, Adriana, Messiah Bright, Julie Doyle, Mariana Larroquette, Marta, and Ally Watt; midfielders Kerry Abello, Erika Tymrak, Viviana Villacorta, and Summer Yates; defenders Tori Hansen, Celia, Carrie Lawrence, Emily Madril, Haley McCutcheon, Megan Montefusco, and Rafaelle; and goalkeepers Kaylie Collins, Anna Moorhosue, and Carly Nelson.
Additionally, the club has exercised its option on defender Brianna Martinez, keeping her in purple for another year. After signing Hansen and Collins to new deals prior to the end of the season, they sent the pair on loan to Australian A-Leauge Women sides Melbourne Victory and Western Sydney Wanderers, respectively, for more playing time.
Goalkeeper McKinley Crone and defender Caitlin Cosme are both out of contract and the club seemed to indicate on social media that the pair will not be offered new contracts, posting graphics thanking them for their service. They also declined the option to bring Thais Reiss back for a third season.
Defender Kylie Strom is an unrestricted free agent and midfielder Jordyn Listro is restricted free agent. Presumably, these could be the "select players" with whom the club is in negotiations. The Pride announced they are also speaking with free agents across the league about joining the team next season.
Last week, the club traded midfielder Mikayla Cluff and a draft pick to expansion side Utah Royals in exchange for Allocation Money and protection in the NWSL Expansion Draft. That deal followed a trade with Bay FC, ensuring the Pride will not have any players selected in that particular upcoming player allocation mechanism.
What It Means for Orlando
It was already known that the 22 players currently under contract would be returning next season, barring trades or some mutual agreement with the players. Probably the biggest surprise is the club not extending the contract of Cosme. The center back was a former first-round draft pick who started the first four regular-season games this year before being replaced by Megan Montefusco in the starting lineup (and Montefusco herself was later replaced by Rafaelle). However, Lawrence will be returning next year after sitting out the season with an injury suffered during preseason, and the club re-signed Hansen before the end of the season.
With a 26-player roster, the club was always going to hold three goalkeepers, and Crone had been the fourth goalkeeper all year. It's also not a surprise that Reiss' option wasn't picked up as she only made three Challenge Cup appearances this year and didn't appear in the regular season.
The next step for the club is to come to an agreement with Strom and Listro. There may be much more competition for Strom's services, as she started at left back in all 22 regular-season games and four of the team's six Challenge Cup matches this season. Pride Head Coach Seb Hines spoke well of the defender last season and this season, undoubtedly wanting her back in the starting lineup next year. Listro, who has been let go by two NWSL teams (including the Pride) in the last couple of seasons, came off the bench for much of the year, but the defensive midfielder became the regular starter when Villacorta tore her ACL. With Cluff being traded to Utah, the club will likely want Listro or a replacement for her in the starting lineup when the 2024 season begins.
Post-2023 Orlando Pride Player Contract Statuses
(Current club players in italics)
Kerry Abello – Under Contract
Amanda Allen – Under Contract
Adriana – Under Contract
Messiah Bright – Under Contract
Kaylie Collins – Under Contract
Caitlin Cosme – Out of Contract 
McKinley Crone – Out of Contract 
Julie Doyle – Under Contract
Tori Hansen – Under Contract
Celia – Under Contract
Mariana Larroquette – Under Contract
Carrie Lawrence – Under Contract
Jordyn Listro – Restricted Free Agent 
Emily Madril – Under Contract
Marta – Under Contract
Brianna Martinez – Option Exercised 
Haley McCutcheon – Under Contract
Megan Montefusco – Under Contract
Anna Moorhouse – Under Contract
Carly Nelson – Under Contract
Rafaelle – Under Contract
Thais Reiss – Option Not Exercised 
Kylie Strom – Unrestricted Free Agent 
Erika Tymrak – Under Contract 
Viviana Villacorta – Under Contract
Ally Watt – Under Contract
Summer Yates – Under Contract