Orlando Pride at Houston Dash: Player Grades and Player of the Match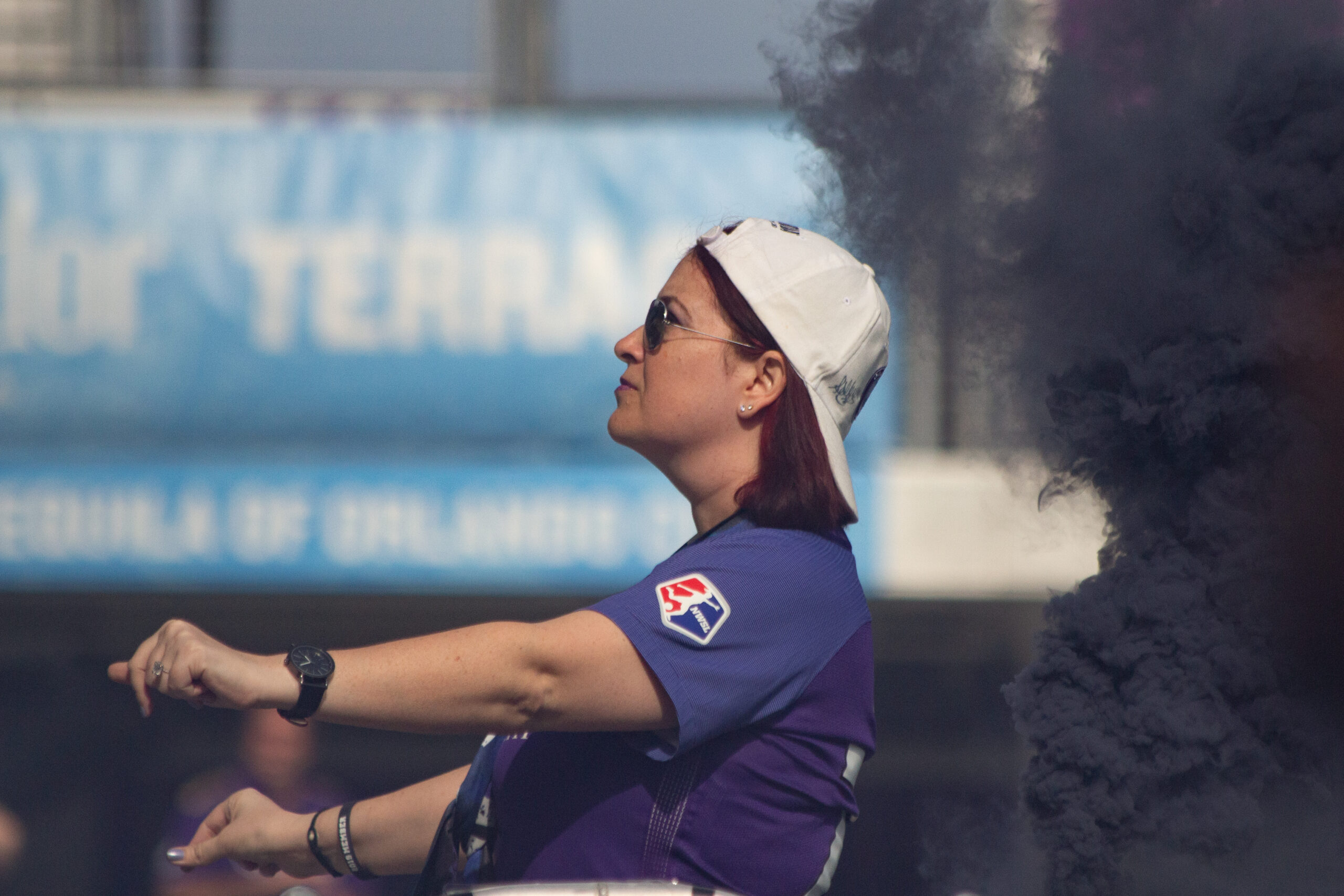 July 14, 2018. That was the last time the Orlando Pride left the field with three points. Less than a month later, on Aug. 5, was the last time they scored two goals in one game. Now, as the team transitions to those not traveling to the World Cup, I, probably like you, am left wondering if it'll all come together just enough to give us something to look forward to.
Enough wallowing. Time to break down the 1-0 loss to the Houston Dash and find our Player of the Match!
Starters
GK, Haley Kopmeyer, 6 — Another solid outing from Kop as she fills in for the next few months. Once again, I feel like there wasn't much she could do on the lone goal, and throughout the match she had several solid saves, including a stellar effort in the 29th minute when she went toe-to-toe with Rachel Daly.
D, Erin Greening, 5 — Erin got her first start for the Pride and things went pretty well. As the game wore on, she got a bit more aggressive, and that was nice to see. It was sorely needed early on, when she and Alanna Kennedy left Kealia Ohai with too much time and space to bury the only goal in the match. I hope to see her get forward a bit more as the season progresses and tighten up that passing (56.5%).
D, Alanna Kennedy, 4.5 — There wasn't much there at the end of the night for Kennedy. I think she had plenty of time to close in on Ohai, well outside the box, and had she done that, the goal doesn't happen. Worst case, it's a foul and a free kick. Especially that far out, I think you have to close in and fight for the ball. The biggest problem was that there were two defenders and they let her cut back inside to unleash the shot. Later in the match, she did move to the midfield, but remained uninvolved.
D, Shelina Zadorsky, 5.5 — Shelina led the team in touches, and played a large part in distributing the ball into the midfield. Adding to that were a handful of clearances. The second half was a bit more sporadic from her as she played the long ball time and time again that couldn't find anyone.
D, Carson Pickett, 6 — Carson was the most accurate defender for the Pride with 72.7% passing. She also created a chance and led the team in tackles, with four. One thing I'm noticing a lot this season is she is able to pick out the opponent's pass and break it up more times than most. Even as the team starts to change, she has been consistent and will be a big part of the team as they move on.
MF, Dani Weatherholt, 5 — The midfield is still lacking any kind of connection, and Dani is definitely a part of that with a meager 56% passing accuracy. I'm not sure what the solution is, but hopefully it becomes a bit clearer when she makes her 50th start next week.
MF, Joanna Boyles, 5 — Joanna's passing was just a tad worse at 54%. Having said that, I enjoyed her hustle and her level of involvement. I also was glad to see she isn't afraid to pull the trigger on taking a shot.
MF, Emily van Egmond, 5.5 — A bright spot in the midfield during the first half, but as things got more desperate, her passes forward became a bit of a liability. A chance created, and the best passing from a starter in the midfield, made it just slightly above average for me.
F, Rachel Hill, 5.5 — It seems like Rachel inches closer and closer to putting one in the net every week, but it has yet to work out. She had several good chances that just couldn't come together. A solid work rate, and a good effort on the defensive side of the ball keep me from getting too down on her though. I remain confident that we'll see some fireworks from her.
F, Marta, 6 (PotM) — It was a bit of a toss-up for Player of the Match, but in the end, I thought Marta put in a good shift in all phases of the game. Her ability on the ball is rarely matched, and most of the chances on the night flowed through her, including her header that couldn't quite sneak under the bar. She had three of the Pride's nine shots and came the closest to scoring.
F, Chioma Ubogagu, 5 — Some bright moments, and some not-so-bright moments for Chi. She put in an awesome ball to Hill at the end of the first half, but around moments like that were needless turnovers and losing possession. I thought she struggled matching up against a few of the more speedy Dash players as well.
Substitutes
MF, Camila (68'), 5.5 — Camila provided a spark, but never found that connection with the front line. She had a couple of great moments getting the ball forward, dribbling over and around the opposition, but never got to provide that final pass. I wouldn't mind seeing one of her rockets from 30 yards out, if the connections are going to continue to struggle.
MF, Abby Elinsky (70'), 5 — Abby too, provided some missing energy, but struggled to get involved in possession. Defensively, she put the pressure on and was able to rush the Dash. It was good to see her and all the subs really, add something different to the match.
MF, Marisa Viggiano (87'), N/A — Coming in 17 minutes later, with only a few minutes remaining, Marisa matched Abby's involvement. She kind of seemed to appear everywhere, and early on got connected with Marta to put a decent cross in. Although she didn't play long enough to fairly earn a grade, she did manage eight touches and completed three of four passes in just a few minutes.
---
There wasn't much swing in the ratings, as no one really stood out one way or the other. There were a couple of good performances, but overall, a very average team performance. Tell me what you think below, and get that vote in for your player of the match!
Polling Closed
| | |
| --- | --- |
| Player | Votes |
| Haley Kopmeyer | 11 |
| Carson Pickett | 4 |
| Marta | 6 |
| Other (comment below) | 5 |
Orlando Pride Sign Kylie Strom to Three-Year Deal
The Pride have signed starting left back and free agent Kylie Strom to a new three-year contract.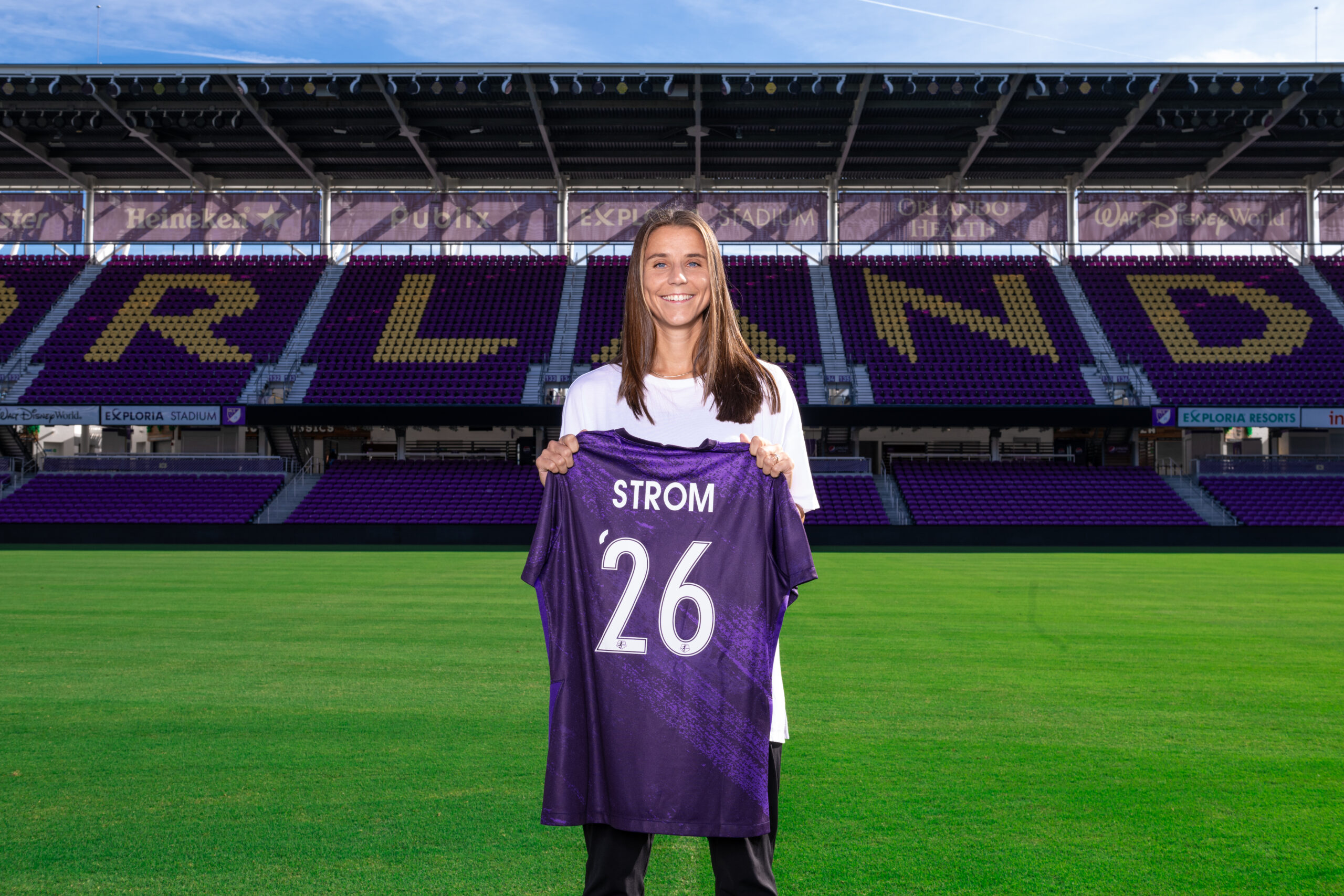 The Orlando Pride announced this afternoon that the club has signed starting left back Kylie Strom to a new three-year contract. The defender became a free agent following the 2023 NWSL season, but the Pride said they were in negotiations to bring her back.
"Kylie is coming off the best season of her professional career, a season in which she was one of the most underrated defenders in the league, and we believe she deserves much more recognition than she's received," Orlando Pride Vice President of Soccer Operations and General Manager Haley Carter said in a club press release. "It means a lot to us that she has not only seen what we are building here, but she has completely bought into it and has chosen to stay in Orlando. She is a vital leader within the locker room and on the field, and we couldn't be more excited to keep her onboard. Our goal is to build off last season's success and ensuring her return was a key aspect of that." 
The Endicott, NY, native joined the Pride from Spanish side Atletico Madrid on July 5, 2021, where she spent two seasons. Her initial contract with Orlando was a two-year deal with an option for a third year. The club picked up her option after the 2022 NWSL season and she became a free agent this off-season. However, she says her intention was to remain in purple and be a part of what the club is building.
"I have said it since the beginning of last year, what we are building here throughout the Pride is really special," Strom said in a club press release. "I think the team that we have, from the players to the people, is all really exciting and I am just excited to continue to be a part of it. I think we can achieve a lot after coming up just short last year. Moving forward, we have learned and grown and have a lot to look forward to." 
In her first three seasons with the Pride, Strom has made 58 appearances in all competitions, with 46 starts, and has played 4,163 minutes. She made her debut on July 9, 2021 in a 1-1 draw against Racing Louisville. Her Pride career began on the bench, but she took over the starting left back job from Courtney Petersen midway through last season. This year, she started 26 of the team's 28 games in all competitions and all 22 of the Pride's leagues games.
The 30-year-old had a breakout year in 2023, starting 26 games and recording 2,281 minutes. She had a goal and an assist, playing the second-most minutes on the team behind center back Emily Madril. Additionally, she was named to the NWSL Team of the Month for both May and August.
What It Means for Orlando
The signing of Strom means that the Pride will have their starting back five returning next season. They previously signed goalkeeper Anna Moorhouse and center back Madril to new contracts, so the next one up is right back Haley McCutcheon. Everyone else is under contract through at least the 2025 NWSL season (McCutcheon is currently signed through 2024).
Finding the right defensive unit has been a struggle for Pride Head Coach Seb Hines since he took over the role on an interim basis midway through the 2022 season. But he settled on Strom, Madril, Rafaelle, and McCutcheon in front of Moorhouse last season. The Pride's 28 goals conceded last year was sixth in the 12-team league, but they showed improvements as the season went on. They only gave up multiple goals once in their last five games, though it was a key 3-2 loss to Racing Louisville, eventually knocking them out of the playoffs.
Regardless, the team sees this defensive unit as essential to the team's success next season and there was little question Orlando wanted Strom back. The only free agent from last year's team now is defensive midfielder Jordyn Listro, who is a restricted free agent. With the club having traded Mikayla Cluff to the Utah Royals for expansion draft protection, bringing Listro back likely becomes the club's new top priority.
2023 Orlando Pride Season in Review: Messiah Bright
The Pride's rookie striker made a name for herself in 2023.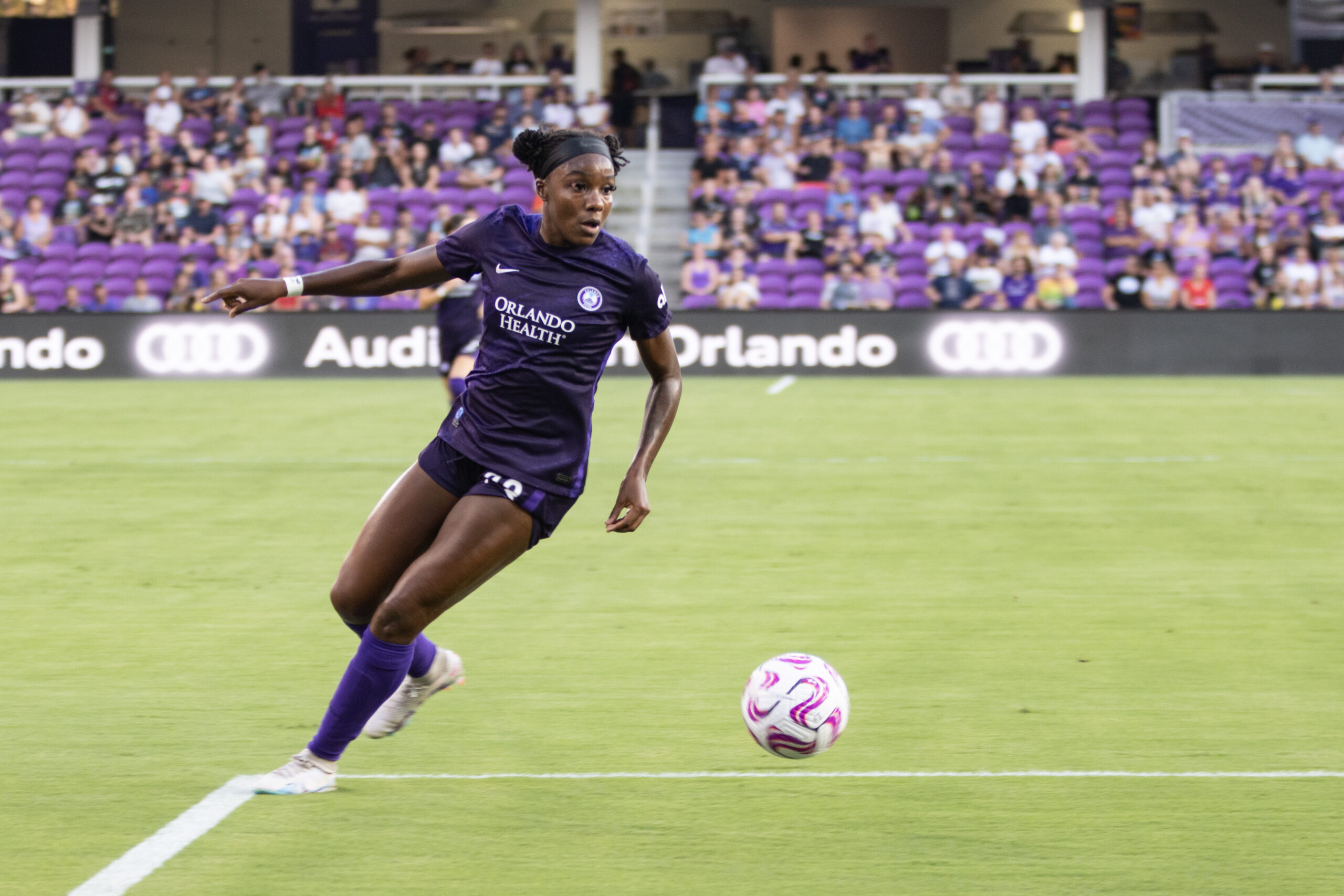 The Orlando Pride selected Messiah Bright with the ninth pick of the second round (21st overall) in the 2023 NWSL draft, and she may have been the steal of that draft. The Pride then signed Bright to a three-year deal on March 2. The Dallas, TX native started all 102 matches she played at TCU during her college career.
Let's take a look at the rookie striker's 2023 season with the Orlando Pride.
Statistical Breakdown
Bright appeared in 22 regular-season matches, starting 16, logging a total of 1,379 minutes. She scored six goals on 41 shots with 12 on target and 10 blocked. She did not have an assist, but she made seven key passes. Bright completed 184 of her 273 total passes (67.4%). She was accurate on 52.7% of her passes in the opponent's half, and 83.7% in her own half. She was three of four on her long passes (75%). She also completed two of her 25 crosses. Defensively, she made one interception and five blocks, won 14 of her 26 tackles (53.8%), won 99 of her 211 duels (46.6%), and won 38 of her 64 aerial duels (59.4%). She also committed 20 fouls, suffered six fouls, and was booked twice.
The 23-year-old made six appearances in NWSL Challenge Cup play, starting three games and playing 307 total minutes. Bright scored one goal on seven total shots with three on target. She attempted four crosses, though none were successful, and registered no assists. Bright completed 48 of her 72 total passes (66.7%). She was accurate on 58.5% of her passes in the opponent's half, and 73.9% in her own half.  Bright was one for three on her long passes (33.3%), and made nine key passes. Defensively, she won two of her four tackles (50%), 20 of her 45 duels (44.4%), and eight of her 14 aerial duels (57.1%). She also committed four fouls, suffered one foul, and was not booked in the tournament.
Best Game
Bright's best match was the 5-0 win over the Chicago Red Stars on Aug 20. She scored the first brace of her professional career with the first goal coming in the 23rd minute on this absolutely stunning volley into the upper right corner of the goal.
Bright followed up that goal with her second early in the second half. In the 49th minute she received a gorgeous through ball from Marta, went around the keeper and then calmly put it inside the left post past the surging defenders.
Bright only played 60 minutes, but she made the most of each minute. Her goals came on four shots with three on target. She also completed seven of her eight passes (85.7%) on 19 touches, committed no fouls, suffered no fouls, and was not booked.
2023 Final Grade
The Mane Land staff gave Bright a composite rating of 6 out of 10 for the 2023 season. She had a very solid rookie season, but she was still a rookie and thus made some mistakes. Bright has all the tools to be a great striker in the NWSL and perhaps eventually for the USWNT. Given this was Bright's first season, she did not receive a grade in 2022.
2024 Outlook
Bright is signed through the 2025 season, though if she continues to develop as expected she may get a new contract before then. She will be a consistent starter for the Pride in 2024 as she was in 2023, and I expect her production to increase despite teams now knowing what she is capable of doing. Her size and strength can't be taught, though she can learn to use those attributes more effectively.
---
Previous Season in Review Articles (Date Posted)
2023 Orlando Pride Season in Review: Emily Madril
The first-year defender played almost every single minute available in the 2023 season.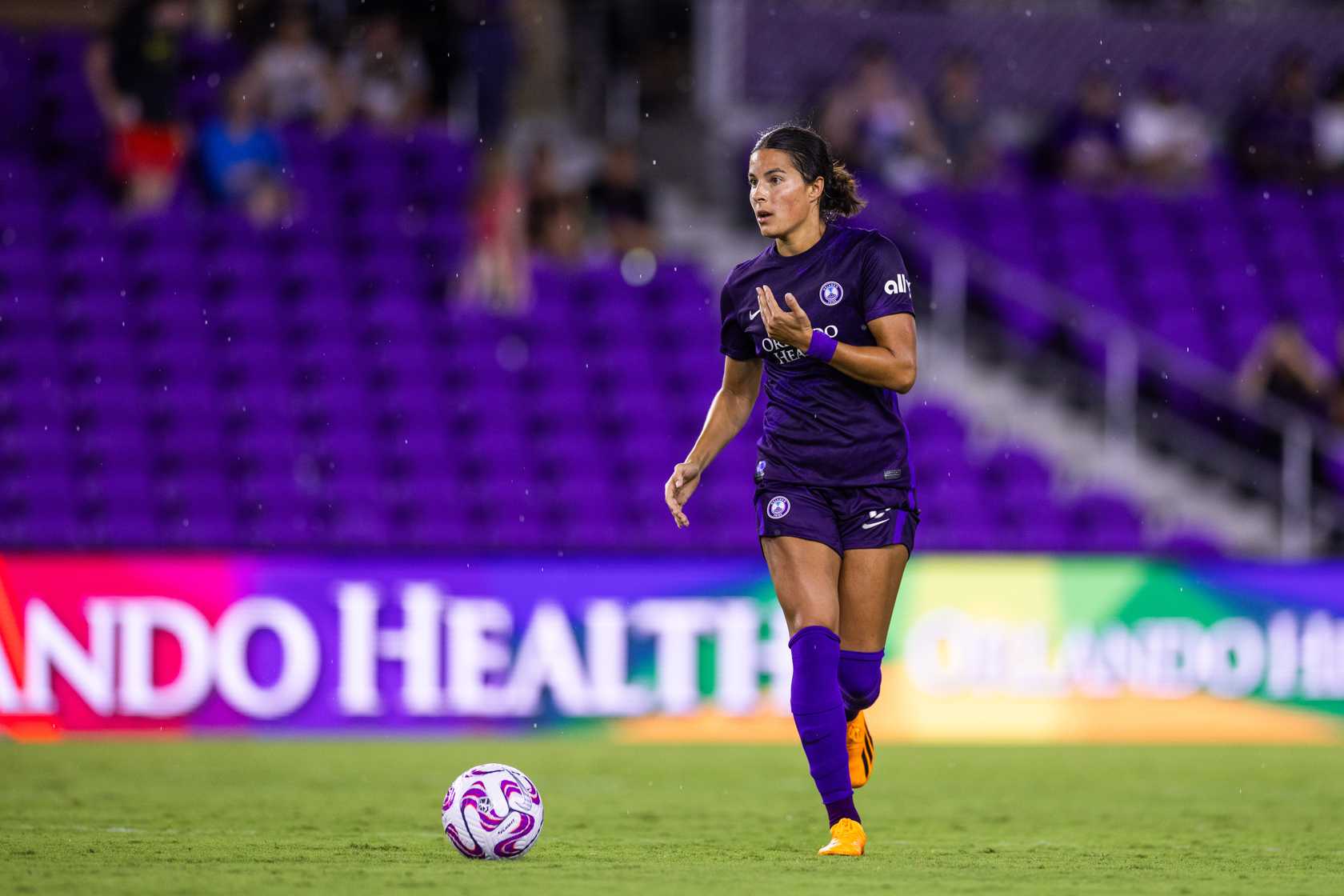 The Orlando Pride selected former Florida State defender Emily Madril with the No. 3 overall selection in the 2023 NWSL Draft. The 5-foot-7 Navarre, FL native decided to forego her last season of eligibility in Tallahassee to begin her professional career. A two-time national champion (2018 and 2021), Madril left FSU, signing a contract with the National Women's Soccer League through 2025 and was loaned to Swedish side BK Hacken FF.
Following a standout first NWSL season in which she played all but three minutes in the regular season, Madril was rewarded by the Pride with a new contract through 2026.
Let's take a look at her first season with the Orlando Pride.
Statistical Breakdown
Madril started all 22 of the Pride's regular-season games in 2023, leading all rookies in minutes played (1,977), and coming off only moments before the end of the club's season finale against the Houston Dash when the Pride were desperately trying to score a game winner to stay in playoff contention. The defender did not record a goal or an assist on the season, attempting just one shot, which was off target. Madril completed 814 of her 953 passes (85.4%), 46 of her 103 long passes (44.7%), and one of her three crosses, while recording five key passes. There wasn't much drop-off in her passing rate related to position on the field, as Madril completed 88.7% of her passes in the defensive half and 75.6% in the attacking half. Defensively, she added 19 blocks and 19 interceptions, won 17 of her 28 tackles (60.7%), and was successful on 76 of her 122 duels (62.3%). She also won 54.5% of her 33 aerial duels. She won 23 fouls while conceding only nine and was booked twice during the regular season.
In the NWSL Challenge Cup, Madril appeared in five of the team's six matches (all starts), and played 450 minutes. She did not score a goal or assist on one and did not attempt a shot. She completed 193 of her 224 passes (86.2%), including 13 of her 25 long passes (52%). Madril passed at an 89% rate in her own half and a 78.3% in the attacking half, recording one key pass, but not attempting a cross in the competition. She recorded 10 blocks and four interceptions on defense, winning 55.6% of her tackle attempts, 68.1% of her duels, and 71.4% of her aerial duels. She committed five fouls, drawing six on the opposition, and was not booked in the tournament.
Best Game
With a number of standout games to choose from, I'll go with the Pride's 1-0 win over OL Reign on July 7. Paired with Megan Montefusco as the center back tandem, Madril and her teammates limited the Reign to just five shot attempts (two on target) across the 90+ minutes of the game. Madril had 55 touches and completed 89.1% of her 46 passes. She recorded two tackles and drew two fouls on her opponents while not committing any. Madril and her teammates helped Messiah Bright's 16th-minute strike hold up over the remainder of the match without constantly being under siege. It was a complete performance and one of the team's best defensive efforts of the year. It was also just the Pride's second win ever against OL Reign.
2023 Final Grade
The Mane Land staff gave Madril a composite rating of 6.5 for the 2023 season. There were several shaky moments early in the year for the first-year NWSL defender that prevented that score from rising higher (such as conceding a penalty against Angel City), but as the season progressed and she became more comfortable with Seb Hines' system, the league, and her teammates, Madril was a solid player on the Pride's back line. She showed her versatility in being able to play both center back positions as well as right back for a couple of matches. A 6.5 is a good rating for a first-year NWSL center back, and Madril showed that she has the potential to develop into one of the league's best defenders.
2024 Outlook
Madril is obviously highly regarded by the organization and has a huge upside. She has expressed on multiple occasions how happy she is to be with the Pride, and I would expect her to be in Orlando until/unless the Pride get an offer they can't refuse from a bigger club or if Madril decides to leave once she's eligible for free agency. Madril should be a starter on the back line for the Pride in 2024 barring something unforseen.
---
Previous Season in Review Articles (Date Posted)